Daisy Ducati
Daisy Ducati Twitter : @DaisyDucati   Just VR : Daisy's VR Scenes
Chaturbate : daisyducati   Kink : Daisy's BDSM Content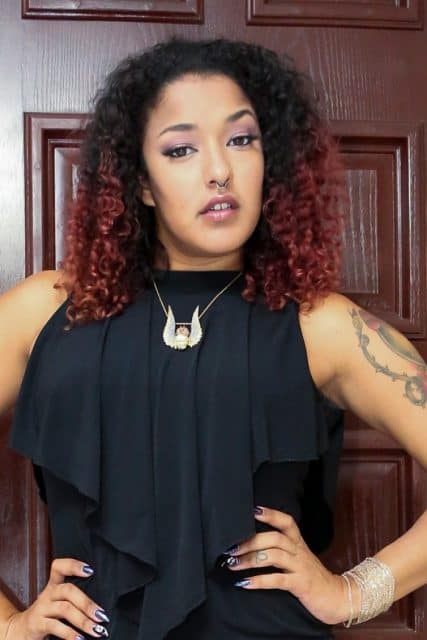 Daisy in Pool Table Machine Fuck at Just VR
Daisy Ducati : Personal Info
Name : Daisy Ducati
Alias : Nikki Lux, Tina Trousersnake (via futanaria.com), Doomsday (via Kink.com's Ultimate Surrender web series)
Date of Birth: December 8th
Home Town : San Francisco, California (US)
Measurements : 34B – 26 – 34
Bra Cup/ Size : 34B
Boobs : Natural
Height : 5'9 (1.75m)
Hair Colour : Red/ Brunette/ Black
Eye Colour : Brown
Piercings : Nose
Years Active : 2013 – present
Number of Scenes : 100+
Born and raised in San Francisco, California, Daisy Ducati is a fan-favorite femdom actress and fetish performer. Daisy Ducati has always been a confident girl and divulged during her September 2014 Fleshbot interview that she has enjoyed 'subverting gender norms' ever since her high school years;
"In high school I had multiple identities that I toyed with. What I really enjoyed was subverting gender norms and being a bad ass. I was stage manager all four years for my drama club. I joined the wrestling team as soon as someone told me I couldn't. I also took two years of welding class and I would often show up in a dress and heels. I did whatever I wanted and no was never an acceptable answer".
Eager to explore her sexuality, Daisy Ducati revealed within her May 2015 Adult DVD Talk interview how she lost her virginity to a male porn star when she was 16 years old;
"I grew up on the East Coast. I was kind of wild, not too wild growing up, but I liked to get into trouble. (laughs) I liked to go out and explore things and try new shit. (laughs)…It was right after my 16th birthday. I was dating this guy for a while. I had definitely messed around with girls before. I was at his house trying to be super sneaky quiet about it. Years later, I found out that he was also doing porn. I don't actually know his stage name and he's not a big performer but he does scenes here and there… Yeah, he was pretty damn good. He kind of ruined me for everybody else. The bar was set pretty high. (laughs)…I had my first threesome within a year of losing my virginity. I was out of the gate running".
Over the years Daisy Ducati has established an eager international fan following due to her wide range of captivating BDSM content. Daisy Ducati has always had a flair for fetish porn and conveyed within her September 2014 Fleshbot interview that she had begun watching raunchy genres of porn during her early teenage years;
"I've been a porn fan for as long as I can remember. I remember coming of age watching raunchy gangbangs on dial up internet and totally getting caught by my mother. I didn't really have any favourite stars until I got older, but I always knew I liked it nasty".
Daisy Ducati first began working within the adult entertainment industry in 2003 as a fetish model and professional dominatrix. Daisy Ducati explained within her Adult DVD Talk interview how she eventually progressed from working within the fetish lifestyle market to shooting porn;
"It kind of happened on accident for me. It was never totally out of the question as an option but I was doing other things like going to school. I had been doing small-time fashion commercial modelling most of my life and then I discovered fetish modelling. Not videos but stills. Some latex and bondage modelling. Once I discovered that, I really, really, really enjoyed it. It helped me realize how much of a pervert I actually am. (laughs) It was fun and I was also getting paid more. Why would I even bother with the other stuff anymore? It was just a natural reaction from there".
After all, as Daisy Ducati further elaborated during her December 2015 Cosmopolitan article;
"Before I was doing sex work, I was fashion modelling and going to school at the same time. Fashion modelling led to fetish modelling, and then I started thinking maybe I could do a session, so I trained [as a dominatrix] and that really worked out well for me. I did finish school. I have a bachelor's degree in communications. I sometimes help people in the industry with PR, but not as a job. It helped me advance as a sex worker for sure, and it made me a damn good stripper. Knowing how to talk to people and how to influence people is a big skill in the industry…I am out to just about everyone about my job. My family is proud that I make a good living doing something I truly love. Sex work is not a dirty secret, it is my job. I honestly believe that fin domming has been around as long as finances have been around. Women have always been able to demand money from people. It's just gotten a little more clearly defined now that we can do it on the Internet".  
Throughout her adult film career Daisy Ducati has been able to remain completely honest  about her adult film exploits with her family and friends. In fact, Daisy Ducati revealed within her Adult DVD Talk interview that many of her relatives have worked within the adult entertainment industry;
"I have relatives that have been in porn; relatives that have escorted; relatives that have stripped. Everybody's kind of done everything… I was once told when I was a kid, I had no idea what this meant at the time, 'Sweetheart, you're sitting on a gold mine.' And it's absolutely true. (laughs) It's kind of a weird situation. Sex work runs in my family. It's not a new thing…(laughs) I'm the only one that's not retired… I have to say my mom was not surprised at all. It took some explaining about testing protocols and how I keep myself safe. Stuff like that".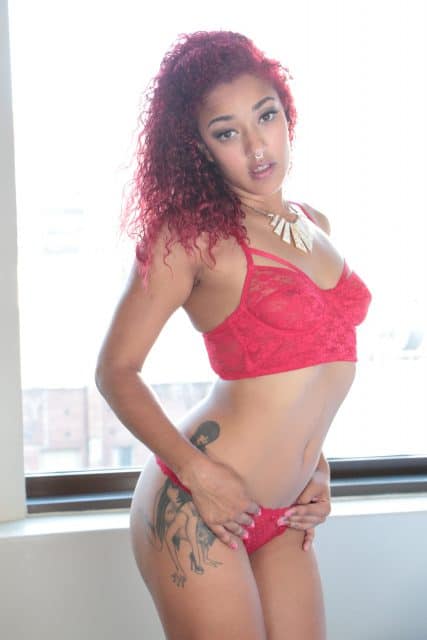 Daisy Ducati – Bisexual Pickups
Daisy Ducati : Adult Film Career
In late 2013 Daisy Ducati progressed from posing as a fetish model to shooting all manner of solo sex scenes and hardcore content for various fetish porn websites and leading pornographic production companies. Daisy  Ducatidivulged within her Adult DVD Talk interview how she came to shoot her first ever sex scenes;
"My first scene, I was so nervous. My first actual hard core scene, I didn't realize it was a hardcore scene until the day before. So that's what I meant that I got into it by accident. I was doing fetish modelling and had done a couple of fetish video shoots but they weren't nude and no sex. I was doing a lot of wrestling fetish stuff and I got booked for this site but I didn't check out the site beforehand. I was booked with a friend of mine and I was coordinating with my friend on how we were getting to the shoot and whatnot and she said, 'Are you ready for the strap-on scene at the end?' I didn't know there was a strap-on scene! I thought it over and it was people I knew so I did it. And it was a lot of fun".
After shooting these raunchy femdom pegging sex scenes, Daisy Ducati decided to pursue a career as a porn star. Within her December 2014 Real Porn Wiki Leaks interview she explained how she chose her porn star stage name 'Daisy Ducati';
"I've been through a few different names, but Daisy Ducati is by far the most fitting. I wanted something with a little sugar and spice that is simultaneously original and also classic. I feel like flower and motor vehicle references are a good formula for a quintessential porn name and I like the juxtaposition of the two. I think of it as sort of a parody of the typical "America's Sweetheart"/ "Girl Next Door" image because I've thrown in a touch of "Exotic Biker Bitch". Also, alliteration makes my panties wet".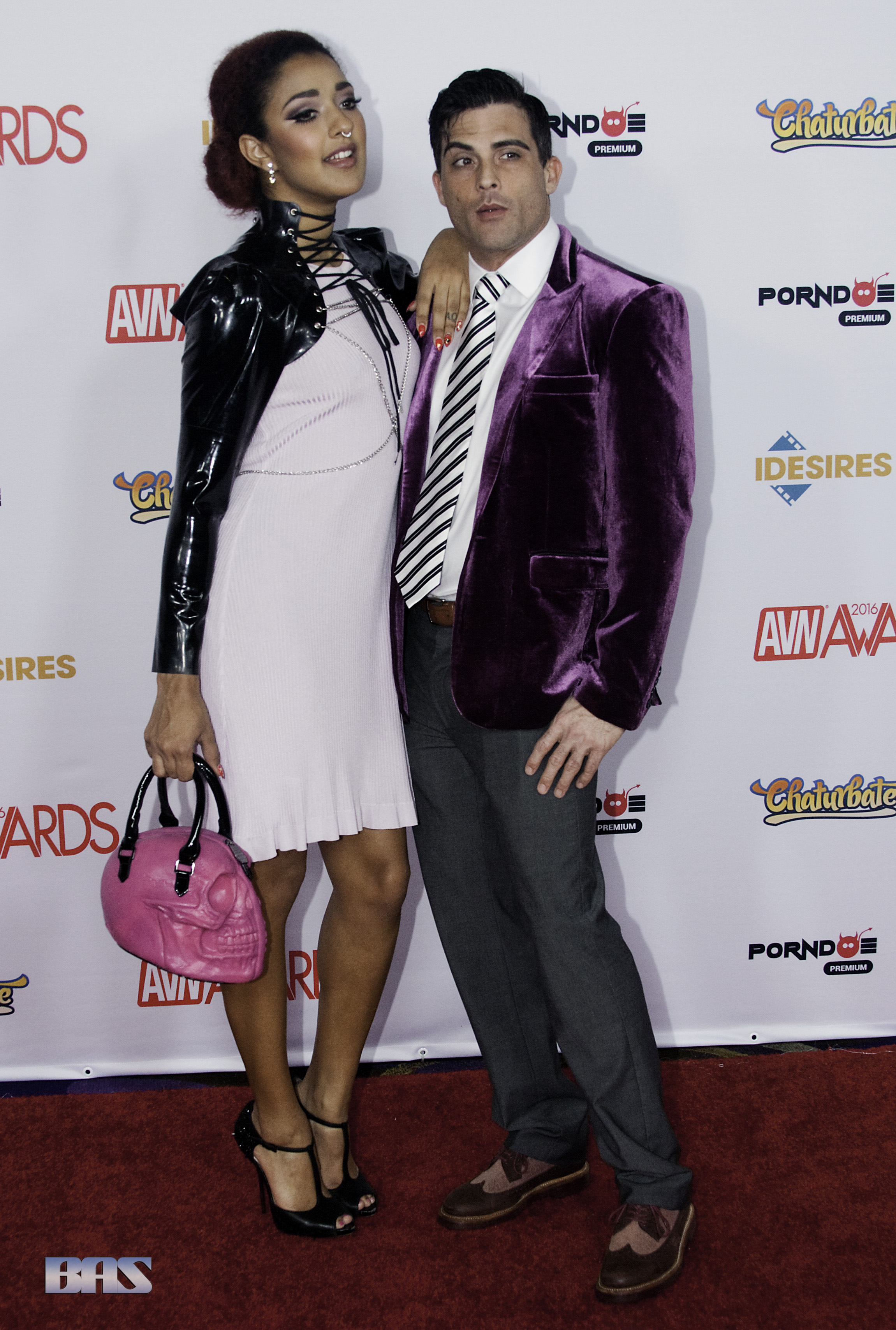 Daisy Ducati and Lance Hart at the 2016 AVN Awards – Image Sourced from Wikimedia
Consequently, from late 2013 onwards Daisy began to perform in a wide range of adult film content. Some of Daisy Ducati's most popular porn productions that were filmed during this time include; The Lesbian Cooking Show Volume 2 (2014) for Girl Co. Studios, San Francisco Lesbians 1 (2014) for Smash Pictures and Pink Velvet Studios, and the TS DVD title Fucking Mystic (2014) for Trouble Films which eventually paved the way for Daisy Ducati to perform in the award-winning DVD feature release Real Fucking Girls (2016) for Grooby Platinum. In fact, if you want to check out even more of Daisy Ducati's raunchy TS sex scenes then you will not want to miss out on viewing her August 2013 punk rock themed sex scenes with Danni Daniels, her February 2014 femdom sex scenes with Nina Lawless, and her January 2016 housewives themed sex scenes with Kelli Lox that were all filmed for Kink.com's pioneering TS Pussy Hunters web series.

Throughout her porn star career, Daisy Ducati has established a reputation as a phenomenal girl/girl performer which is not surprising given that Daisy Ducati has been having sexual experiences with girls from a young age. As Daisy Ducati divulged within her Adult DVD Talk interview when she was asked about her earliest lesbian sexual experiences;
"Oh my God, I was so young. I'm not sure. I had this childhood friend that we grew up together. Nobody suspected anything, we were two little girls. But we would play these really dirty games. Now, looking back on it, it's like, 'How did we even know what that was?' (laughs)".
Among some of Daisy Ducati's raunchiest girl/girl DVD collaborations include; My Best Friend's Perfect Pussy (2015) with Nikki Darling and Arabelle Raphael for Trouble Films, Good Girls Gone Dirty 2 (2015) for Naked Sins Studios, Liquid Lesbians (2015) with Tori Taylor for Evil Angel that was nominated for "Best Fetish/Specialty Release" at the 2015 Nightmoves Awards, Gauntlet Girl (2015) with Layla Price for Diabolic Video, and Belladonna: Fetish Fanatic 16 (2015) for Evil Angel which was directed by Aiden Riley and which  showcased four feisty femdom sex scenes between Daisy Ducati and Ash Hollywood, Abella Danger and A.J. Applegate, Lea Lexus and Sara Luvv, and Cassidy Klein and Sasha Heart. Daisy Ducati has also featured within the Sweetheart Video DVD compilation titles Lesbian Beauties: Interracial Volume 14 (2015),  Lesbian Beauties: All Black Volume 15 (2015) and Lesbian Adventures: Older Women Younger Girls Volume 9 (2016) alongside her fellow female porn stars Aria Alexander, Chanell Heart, Jaclyn Taylor, Abella Danger, Sinn Sage, Melissa Moore, Megan Rain, Alexis Monroe and Dana DeArmond.
As well as being an accomplished girl/girl performer, Daisy Ducati has filmed a wealth of boy/girl, three-way and group sex scenes for such bestselling gangbang, bisexual and orgy themed DVD titles as The Bachelor Party Orgy (2015) for Zero Tolerance, Black Cheerleader Gang Bang 25 (2015) for WoodBurn Productions, Bisexual Pick Ups (2015) and Bisexual Pick Ups 2 (2016) which were both filmed for Evil Angel, Orgy Marathon (2016) for Adam & Eve and Jasper Stone's Bisexual Adventure (2016) for Treasure Island Media.
An accomplished fetish model and professional dominatrix, it was only a matter of time before Daisy Ducati began to appeared within a broad spectrum of femdom, BDSM and fetish porn productions. Fans of Daisy Ducati's kinkier content will not want to miss out on viewing her raunchy sex scenes within Mean Bitches Perverted Facesitting (2014) for Mean Bitch Productions, her stocking fetish sex scenes in Nylons 14 (2014) for Third Degree Films, and her sultry shoot with Ella Nova titled Crash Pad Series 186: Daisy & Ella (2015). Daisy Ducati is famous for her spectacular squirting sex scenes and has subsequently starred within the fan-favourite squirting fetish DVD compilation titles Squirt In My Gape 5 (2016) for Elegant Angel and Squirt Gangbang Volume 5 (2016) for Elegant Angel. Daisy Ducati has explained her sensational squirting process within her May 2015 Adult DVD Talk interview, explaining how;
"It's a very specific formula to make me squirt. I have to have clit stimulation and penetration at the same time, generally. I can do it from just penetration but it's rare. There's a certain moment when the penetration has to come out and then I can squirt. You can see in some of my videos that I'll push someone off of me because I'm not going to squirt otherwise".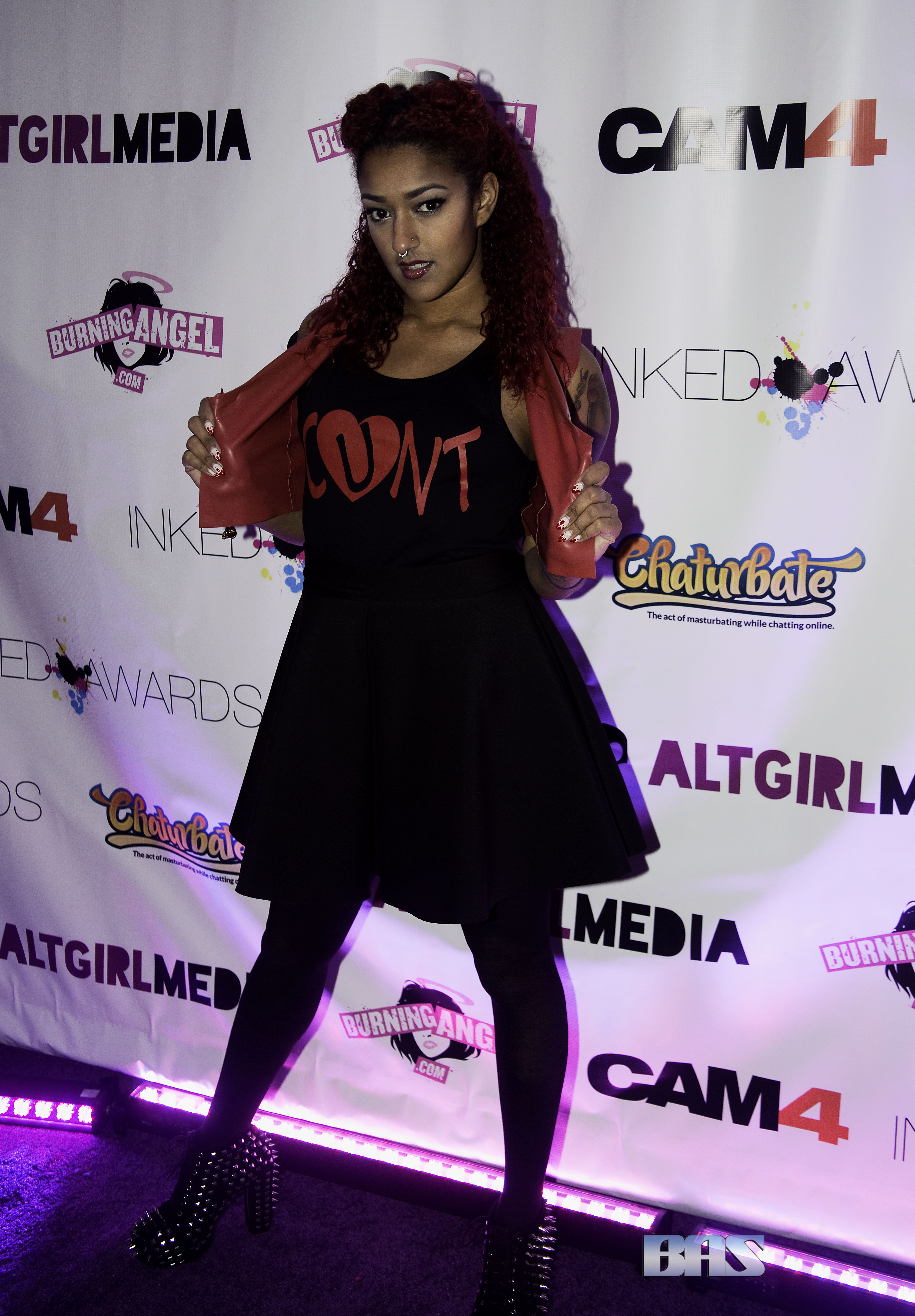 Ever eager to explore all aspects of the fetish lifestyle market, Daisy Ducati has also filmed some devilish dominatrix sex scenes that have been showcased within the femdom pegging DVDs Lesbian Strap-On Fantasies: Roommates With Benefits (2014) for Filly Films, Knock You Down A Peg (2014) for Evil Angel, FemDom Ass Worship 25 (2015) for Mean Bitch Productions and Lesbian Anal Sex Slaves 2 (2016) for Evil Angel. Daisy Ducati has also starred in an epic group sex scenes with Mona Wales, Aaron Wilcox and Anthony Rosano for the pioneering Adam & Eve production Nina Hartley's Guide To Exploring Open Relationships (2015). Daisy idolises Nina Hartley and enthused within her September 2014 Fleshbot interview how;
"I've gotten pretty good at knocking things off of my bucket list lately. There are definitely more than a few performers I have yet to taste, but my real idol is Nina Hartley. My dream scene would involve Nina orchestrating a pansexual gangbang in which she fists me. Is that too much to ask?".
Some of Daisy Ducati's wildest fetish porn escapades took place whilst filming Nina Hartley's Guide To Exploring Open Relationships and they were even mentioned within a June 2015 Men's Health magazine article titled 6 Porn Stars Reveal the Most Insane Things That Have Happened While Filming. Within this insightful article Daisy revealed how;
"I was scheduled to shoot with my idol, Nina Hartley, and my best friend Mona Wales. It was smooth sailing for me that day, five-plus hours of shooting, until the very last scene. Our final circus trick required us to squat side by side on a large box with our butts hanging off of the edge…But the very moment that I assumed the position on that box, a day's worth of clear silicone lube came gushing out of my body with a gurgle and a splash onto the floor…I was mortified. Afraid to look behind me and see just what I had done, all I could do was squeeze out a loud, pitiful, 'Oops!'…As soon as my body unfroze, I scrambled to make my little accident disappear. It was that precise moment that I truly learned to appreciate the role of a porn production assistant. Before I could compose myself enough to stand, the PA on duty had already wiped, mopped, and sanitized the whole area".
Over the course of her prolific porn star career, Daisy Ducati has filmed an impressive collection of porn parody releases, POV sex scenes and anal-themed DVD titles. Some of Daisy Ducati's fan-favourite feature releases include; her performance as Gamora within the Wood Rocket Studios porn parody release Guardians Of The Galaxy And Other Porn Parodies (2015) her POV sex scenes in Mean Bitches POV Volume 10 (2015) for Mean Bitch Productions, her taboo relations sex scenes in Black Babysitters (2015) and Black Wives Matter (2015) for Diabolic Video, and her hot hardcore sex scenes for such best-selling anal-themed productions as Angelic Black Asses 3 (2015) for Devil's Film, Anal Perverts 3 (2015) for Evil Angel, and Big Black Wet Asses! 14 (2015) for Elegant Angel. Upon being asked about the 'interracial label' which accompanies many of her DVD compilation titles, such as All Black (2016) for Fornic8 Films. Daisy Ducati commented within a 2015 Daily Beast article that;
"I do think the labelling is racist but I also think the country and the consumers are racist which is why we have this label".
These phenomenal DVD feature release performances, combined with her compelling collection of BDSM web content, have earned Daisy Ducati many prestigious adult entertainment accolades including;
2014: The Fanny Awards nominee "Kink Performer of the Year"
2016: Spank Bank Awards nominee "Spanking Slut of the Year"
2016: Spank Bank Awards nominee "Tortured Fuck Doll of the Year"
2016: Spank Bank Awards nominee "Fetish Virtuoso of the Year"
2017: AVN Awards nominee "Best All-Girl Group Sex Scene" Whipped Ass 17 (with Mona Wales, Dee Williams & Mistress Kara)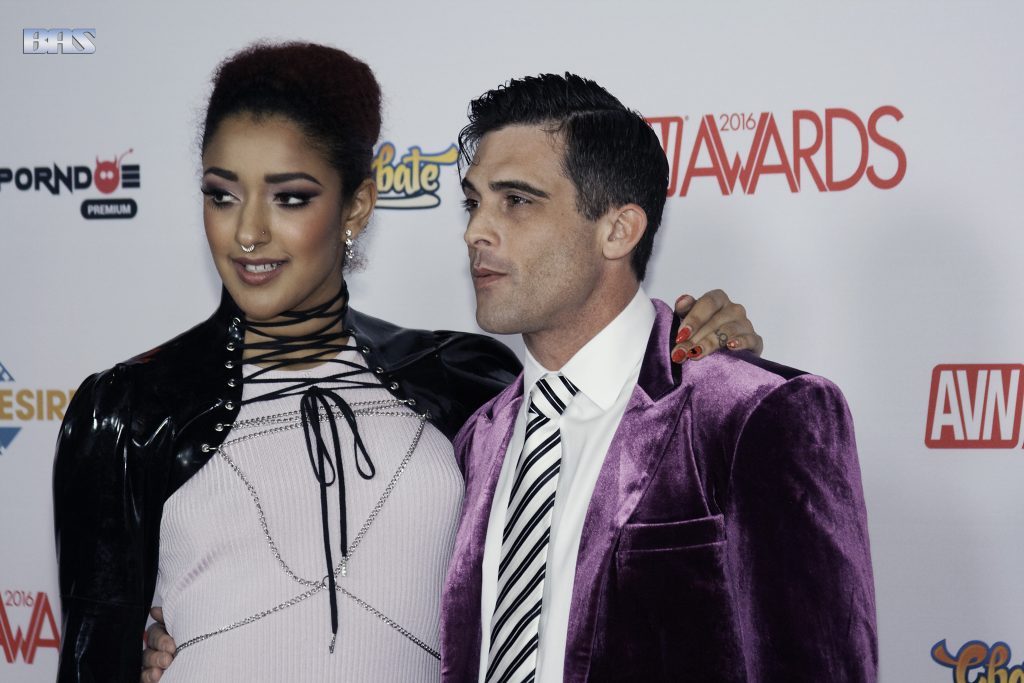 Daisy Ducati and Lance Hart at the 2016 AVN Awards – Image Sourced from Wikimedia
Daisy Ducati : Erotic Wrestling Matches & Kink Studios Collaborations
In addition to her phenomenal DVD feature release performances, Daisy Ducati has amassed a massive international fan following within the fetish lifestyle market due to her show-stopping fetish clips, BDSM content and femdom sex scenes that she films for the fetish porn network Kink.com. Daisy Ducati made her Kink.com debut in June 2013 when she began appearing within Kink.com's Ultimate Surrender erotic wrestling web series under the nickname 'Doomsday'. Throughout her adult film career many of Daisy Ducati's sauciest tag team bouts with Mona Wales, Penny Barber, Serena Blair, Dragon Lily, Cheyenne Jewel, Ella Nova, Jeze Belle, Dee Williams and Izzmar have been showcased within the Kink Studios DVD compilation titles Ultimate Surrender Volume 7, 9, 13 and 16.
In addition to her epic erotic wrestling web content, Daisy Ducati has also filmed for many of Kink.com's raunchiest web series including Public Disgrace, Device Bondage, The Training Of O, Sex & Submission, The Upper Floor, Hardcore Gangbang, Divine Bitches, Dungeon Sex, Sadistic Rope and Kink University among many others. If we had to choose but a few saucy sex scenes for fans of Daisy Ducati's kinkster content to check out, then we'd recommend viewing her August 2013 Whipped Ass sex scenes with Aiden Starr, her Foot Worship group sex scene with Maitresse Madeline Marlowe, Mona Wales and Lance Hart in October 2013, her Electro Sluts sex scenes with Chanel Preston, Ariel X and Nikki Darling that were filmed live in November 2013, her Divine Bitches group sex scenes with Cherry Torn , Maitresse Madeline Marlowe , Mona Wales , Ella Nova , Wenona and Patrick Knight in April 2014 and her Fucking Machines solo sex scenes in May 2015.
Among this broad spectrum of sensational fetish porn content are such Daisy Ducati classics as her May 2015 Electro Sluts medical themed sex scenes with Amarna Miller, her compelling Mummification Bondage Play bondage ex scenes that were filmed for Kink.com's educational fetish porn web series Kink University in August 2015, her October 2015 Halloween special group sex scenes for Hardcore Gangbang with Tommy Pistol , Bill Bailey , Owen Gray , John Johnson  and Marco Banderas, her Medical Play 101 sex scenes in May 2016 for Kink University and most recently her three-way sex scenes with Aiden Starr and Dolly Leigh for Whipped Ass in January 2017.
Daisy Ducati mentioned within her September 2014 Fleshbot interview that she has been extremely grateful to Kink Studios and femdom fatale Aiden Starr for the career opportunities that they have given her, sincerely stating that;
"I don't really like to play favourites. I do, however, have to recognize the major role Kink.com has played in my career. They gave me room to hit the ground running, and they've taken very good care of me every step of the way…While gangbangs and group scenes are a close second, I get the most excited about Kink scenes in which I get to be dominant. Despite what many of my scenes depict, I switch in my personal life and mostly play as a Domme. When I get the rare opportunity to take control on camera, it is very exciting. I can be an incredibly creative sadist, and I thoroughly enjoy the ability to express that side of myself in front of an audience…As far as directors, I have to give props to one of the most brilliant people I know. Aiden Starr is fucking magic, literally and figuratively. She is not only a brilliant director, but also a brilliant performer and business woman. I really look up to her".
Similarly, Aiden enjoys working with Daisy Ducati and has previously explained the nuances of their creative process within her February 2016 Autre interview;
"The movie we just shot Lesbian Anal Sex Slaves Volume 2—Daisy [Ducati] and I were doing a shot together, fleshing out ideas of how we were already interacting and then figured out as other characters, figuring out our dynamics, props. It's a more complicated process now. You can't just put anal porn on the internet now and expect to make money…I don't storyboard… we were talking about it during sex. We were inspired by each other. I talked to her, proposed an idea afterward. She's in a lot of my stuff anyway and I like picking performers who like to be involved in the creative process or are blank canvases. Typically, I like to pair those types together in a scene. Daisy has been in a lot of my stuff and she is a part of the creative process and then I pick a blank canvas, or two, and give them to her and it goes from there. Does that make sense? I just compared it to painting".
In fact, Daisy Ducati has filmed so many hardcore sex scenes for Kink.com throughout her prolific porn star career that she has been featured within many of their hottest DVD compilation titles including Divine Bitches Volumes 12 and 18, Whipped Assed Volume 17 and Device Bondage Volumes 9 and 17 but to name a few!

In addition to her broad spectrum of captivating Kink.com web content, Daisy Ducati has shot a wealth of raunchy online sex scenes for the popular porn sites manyvids.com, lilycade.com, futanaria.com and throated.com among many others. Some of Daisy Ducati's fan-favourite web content includes; her Tarantino Loves Feet 2 foot fetish sex scenes with Ben Solo that were filmed for tarantinoxxx.com in 2014, her I Love Shoving Cocks Deep In My Throat sex scenes with Anthony Rosano for throated.com that were also featured within the Throated Studios DVD compilation title Gaggers 1, her saucy POV Blowjob with Daisy Ducati (2015) and Ass Worship With Daisy Ducati (2015) sex scenes with Owen Gray that were shot for manyvids.com in July 2015, as well as her three-way Nenetls Appointment sex scenes with Nenetl Avril and Nina Hartley for manyvids.com in September 2015 and AVN Adventures 2 (2016) for lilycade.com that she shot Jay Taylor, Miss Quin and Lily Cade. Daisy loves filming these types of raunchy online sex scenes as they enable her to explore her sexual limits. After all, Daisy Ducati describes herself via her Chaturbate profile as a;
"Fetishy feminist glamazon, professional pervert, expert exhibitionist…I will only indulge fetish play in private and group shows. My specialties include latex, corsets, shoes, feet, CD/TV instruction and humiliation".
Daisy Ducati : Professional Fin-Dom, Webcam Model & Future Plans
As well as conquering the fetish lifestyle market, Daisy Ducati works as a professional fin-dom (financial dominatrix). Daisy Ducati has explained this aspect of her adult entertainment career within a December 2015 Cosmopolitan article titled How I Get Men to Give Me Money for No Reason as a Financial Dominatrix which was published as part of their Sex Work web series. During this article Daisy Ducati discussed her fin-dom exploits and explained that;
"I didn't really understand fin domming until I was stripping. To me, stripping is the ultimate in financial domination because you're literally giving them nothing. You're demanding money for just paying attention to them. I wasn't the ass-kissy kind of stripper. I would be like, "Hey, if you want to talk to me, you better go to the ATM." And they would. Sometimes people don't even buy the champagne rooms, they don't even get the time, they just give you money because you exist and you're pretty. And it's not about tricking people or manipulating them — it's just that they want to give you the money. Most of these people, they come in with that particular fetish, and they want to spoil pretty girls… 
There are different brands of financial domination. Some people are more of the bratty style and some people are the bitch that just yells at you. It really depends. My personal style is a little more friendly. I like to pick on people, but I don't feel like I'm taking advantage of people…
I think the no. 1 quality [that makes a good fin domme] is confidence. It's not just about asking, but about expecting to receive, and also not pandering to the people who are potentially going to give you money. I have so many things going on that I don't care if this person goes away and they know that. They know if I give any one person attention, it's special. Even if I'm yelling at them, it's still special that I paid attention to them at all". 
What's more, Daisy Ducati further elaborated within a December 2015 Daily Mail article how;
"Right now, I've been doing so much porn that only about 30 percent of my income is from fin domming…But I do know people who live entirely off of fin domming. It's possible, but it's a lot of work…A lot of the fin dom clients, I don't even meet up with them, they just send me cash online…Some of them are completely anonymous. It depends on the person and their particular fetish with money…Sometimes it's just as simple as a gift, like they'll send me shoes…Sometimes they send me a couple hundred dollars, sometimes a couple thousand…So it's not necessarily as even of an exchange…They're not buying anything – they're just giving you the money because they want to give it to you and you want it…It's not just about asking, but about expecting to receive, and also not pandering to the people who are potentially going to give you money…They know if I give any one person attention, it's special. Even if I'm yelling at them, it's still special that I paid attention to them at all".
Whether she is dominating her fans in professional fetish dungeons or online as a professional fin-dom and webcam model, Daisy Ducati loves her international fan following and has ardently advocated within her September 2014 Fleshbot interview how much she loves the ongoing love and support that they give her;
"My fans are awesome! It's as if my career comes with this built in support network that constantly showers me with love and adoration".
Upon being asked about her future adult film industry plans within this Fleshbot interview, Daisy Ducati mentioned that she would like to;
"I would love to get on the production side of the industry and really get into producing and directing my own fantasies…I just want to thank everyone for their support. Ultimately, it is my fans who keep me working and I think it's important express my appreciation. The more people buy my videos and post about me in forums and on twitter, the more of me they will see…
BDSM porn, in particular, has really taught me what my body is capable of. It is absolutely thrilling to push my body just about to the point of breaking and to be able to snap right back. I've been water boarded, I've been crucified, I've been electrocuted, and I enjoyed every minute of it and those experiences have only made me stronger".
Want to keep yourself updated on Daisy Ducati's latest adult film industry exploits? Then why not use the links provided below to explore her official social networking channels online today? From viewing her most recent BDSM web content and classic fetish porn DVD titles, to checking out her upcoming porn star projects and viewing Daisy Ducati's saucy public and private live chat sessions, there's more than one way to discover the devilishly delightful fetish porn superstar Daisy Ducati!
Daisy Ducati : Social Networks
Twitter : @DaisyDucati
Instagram : @daisyducati
Just VR : Daisy Ducati VR Scenes
Chaturbate : daisyducati
Kink : Daisy's BDSM, Femdom & Fetish Content
The Nude : Daisy at Nude.EU
Babepedia : Daisy at Babepedia