Twitter : @leighravenx  Instagram : @leighravenx  Kink Profile : Leigh Raven  Brazzers : Leigh Raven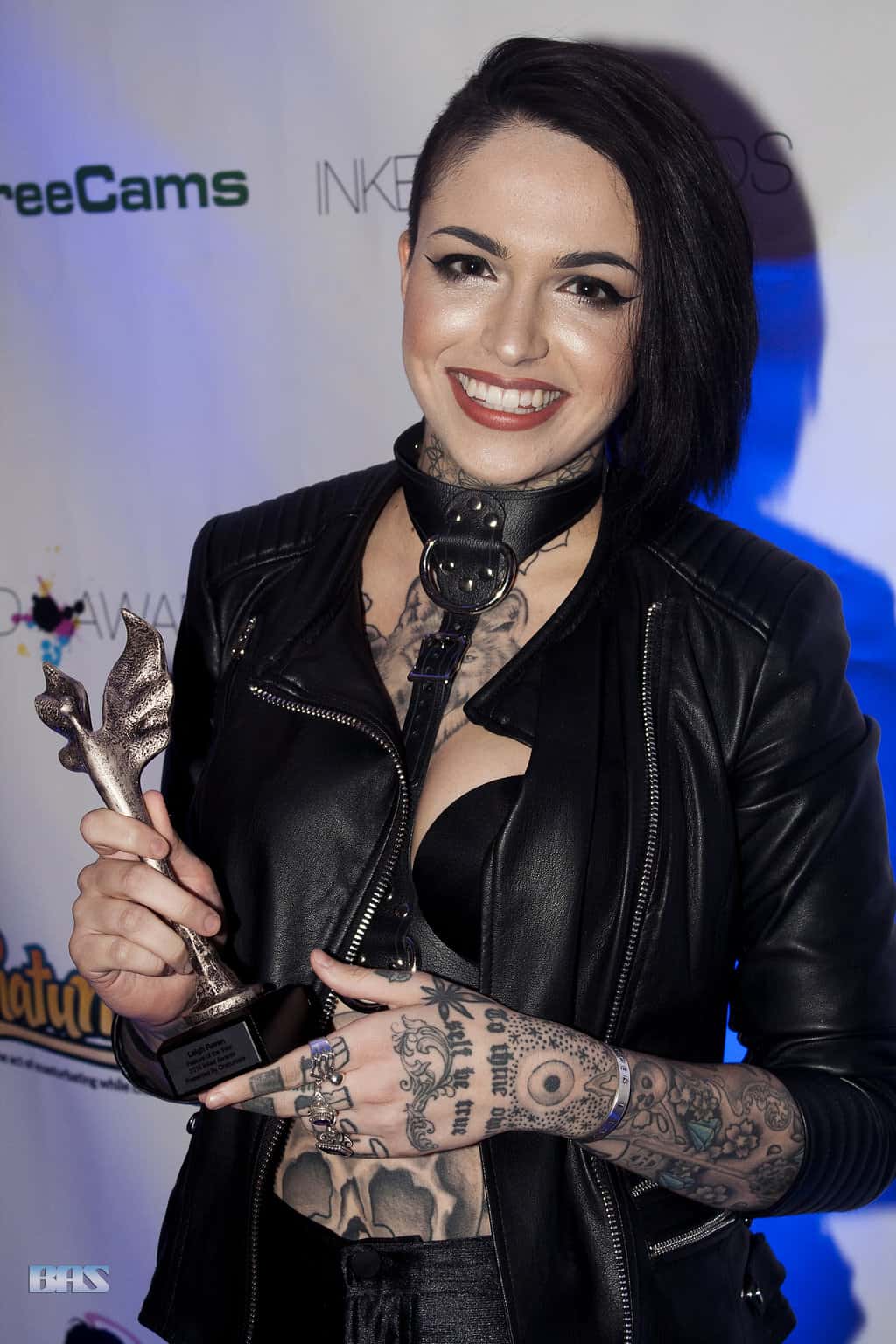 Personal Info
Name : Leigh Raven
Date of Birth: November 11th
Home Town : Brooklyn, New York (US)
Measurements : 32B – 25 – 33
Bra/ Cup Size : 32B
Boobs : Natural
Height : 5'8 (1.72m)
Hair Colour : Black / Brunette / Red
Eye Colour : Brown
Shoe Size : Women's 6 (US)
Tattoos : Leigh is famous for her vast array of vibrant body art. Some of Leigh's most distinctive tattoos include a wolf head surrounded by roses between her breasts, 'Born' script on the back of her left thigh with matching 'Free' script on the back of right thigh and full sleeves on both arms, across her hands and fingers that incorporate all manner of faces, floral, clock, Hello Kitty, star, diamond, spiral and script designs.
Leigh also has some '09-08-15′ script on the side of her hand, a geometric design around her neck, 'Always' script across the front of her left thigh, various script across the front of her right thigh, 'West Side' script across the sides of her upper abdomen, heart outlines around her nipples, a large skull and roses design in the centre of her abdomen, a large butterfly design above her left knee, a floral design above her right knee, a tree design, script and a hockey mask design on the front of her lower left leg, ankle and upper foot as well as various designs on the back of her left calf, on either side of her hips and all across her upper and lower back.
Piercings : Both nipples
Years Active : 2016 – present
Number of Scenes : 25+
Introducing Leigh Raven; a terrifically tattooed starlet who was named "Feature of the Year" at the 2016 Inked Awards! Famous for her sensational sex scenes in the award-winning Burning Angel comedy release Cindy Queen Of Hell (2016) as well as within the Filly Films porn production Lezzz Be Roommates (2016), Leigh is quickly becoming one of the most popular alt-girls in the adult film industry. Definitely one to watch in the years to come!
Born and raised in Brooklyn, New York, but currently living in Los Angeles, California, Leigh began posing as a mainstream model when she was 18 years old. As she began to collect her vibrant array of beautiful body art, Leigh quickly started to attract the attention of various alt-girl websites and tattoo-themed magazines. During this time Leigh also trained as a certified make-up artist; graduating in 2012. Upon discussing her high school years and her early modelling career during her June 2016 Fleshbot interview, Leigh conveyed how;
"In high school, I was the girl that was asleep in the back of the class, or the one mouthing off to teachers because they woke me up. I really wasn't challenged with the idea of traditional learning styles so I chose to not participate much. When it came to my social life I was the goofy, funny, entertaining one. I didn't have many friends but the friends I had were like family, and still are…
I was a big fan of porn before I became a performer. I have always been interested/ intrigued by the sex industry. I love comical porn. I am a total dork in my own life and even sexually, so I can appreciate when performers acknowledge how ridiculous situations can be sometimes…
I love modelling. I have been modelling since I was eighteen and have been featured in magazines from INKED to Marie Claire. I am really focused on building a career in the adult world right now, but if a modelling gig came along, I would absolutely take it!".
After several years of posing as a popular tattooed model, Leigh started to dabble in the adult entertainment industry by performing some live cam shows with her wife and fellow adult film star Nikki Hearts. In fact, Leigh and Nikki performed some of the first ever girl/girl cam shows for SugarInstant's Roku channel in February 2016 alongside Elsa Jean, Amarna Miller and Amber Nevada. Leigh and Nikki have since starred together via SugarInstant's The 288 podcast as well as shooting some sizzling Wild On Cam shows for the leading adult cam site Cherry Pimps. Upon discussing her sexuality and her relationship with Nikki Hearts during her August 2016 Stockroom interview, Leigh conveyed how;
"I've done just about every type of scene now, except for anal. As far as how I identify… I don't. I just like what I like! I am married to a woman, but I have been with more men. I primarily prefer women… But, I don't look at a person's genitals until it's time to look at their genitals, ya know? So maybe I'm pansexual…
My sex life… Well, I am married. And we bang on the reg. We have a, I don't want to say monogamous relationship because that's not exactly true. We are both porn performers, so we both technically have sex with other people. And, we're very open and understanding with one another so we occasionally will have a threesome or whatever. We are open to one another's desires of any kind pretty much, but it's mostly just us as far as intimacy goes…We do a lot of power and impact play. Depending on my mood, I can tend be more dominant and aggressive with it. I am naturally just a sadist, honestly. I use a lot of restraints on her, impact toys, some breath play, spanking… I usually will do that kind of stuff until she doesn't want it anymore and then she usually takes over and has super aggressive sex with me, haha".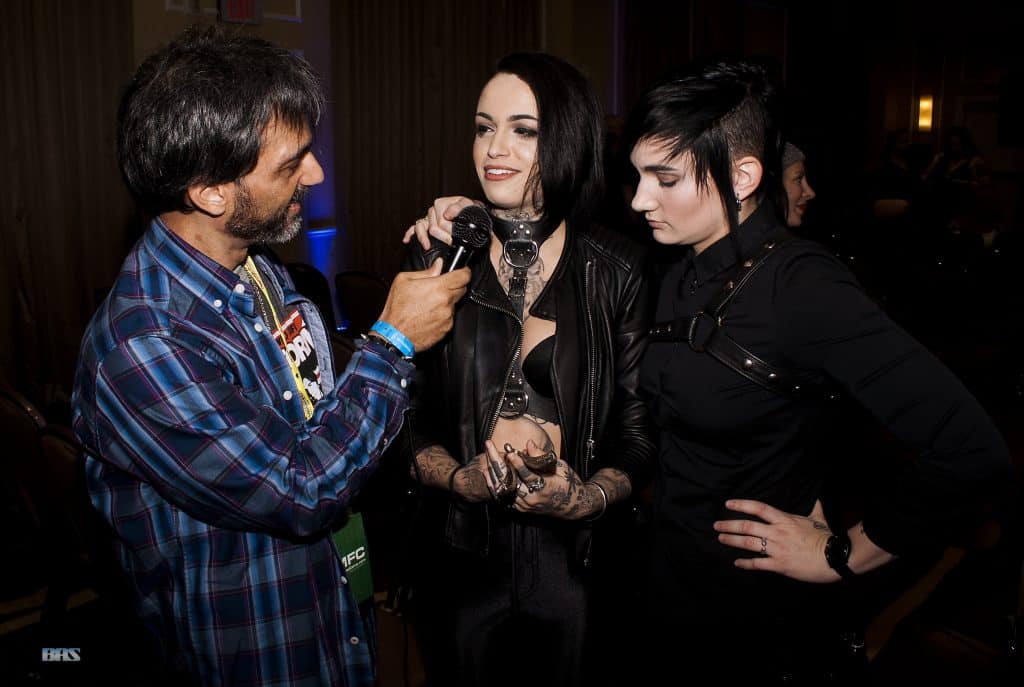 Leigh Raven and Nikki Hearts being interviewed at the 2016 Inked Awards – Image Sourced from Wikimedia
Leigh Raven : Adult Film Career
After performing some thrilling live cam shows with Nikki Hearts for SugarInstant and Cherry Pimps, Leigh began shooting some sizzling solo and hardcore sex scenes for prominent porn production companies such as Burning Angel, Filly Films and the Brazzers Network among many others. Some of Leigh's earliest porn productions include the Burning Angel web clips Lessons In Black Cock that she filmed with Jon Jon in June 2016 and Live Webcam Archives – Episode 22 which she filmed alongside Joanna Angel and Nikki Hearts. Leigh has even appeared in the fan-favourite Burning Angel DVD titles Dykes Takin' Dick (2016) and School Of Black Cock 3 (2016) as well as shooting some saucy sex scenes for the Cherry Pimps DVD compilation title Cherry Spot 14 (2016).

Among some of Leigh's most popular porn productions include the Filly Films DVD titles Lezzz Get Kinky (2016), Turning Girls Out 2: Wifed Up (2016) and Lezzz Be Roommates (2016) for which Leigh's thrilling three-way with Nikki Hearts and Raven Rockette was nominated for "Best All-Girl Group Sex Scene" at the 2017 AVN Awards. Leigh has also filmed a thrilling Sneaky Sharing three-way with Nikki Hearts and Xander Corvus for the Brazzers Network porn site Brazzers Extra in July 2016, she starred in a ravishing Raw Cuts: Lez Be Honest collaboration with Nikki Hearts for digitalplayground.com in September 2016 and she shot some sizzling sex scenes with Katrina Jade for the Brazzers Network porn site hotandmean.com in October 2016.

During this time Leigh began to garner a loyal fan base within the fetish lifestyle market due to the stunning sex scenes that she filmed for the fetish porn network Kink.com. Leigh made her Kink.com performance debut in November 2016 with some brilliant Breaking The New Girl sex scenes for Kink.com's Device Bondage web series.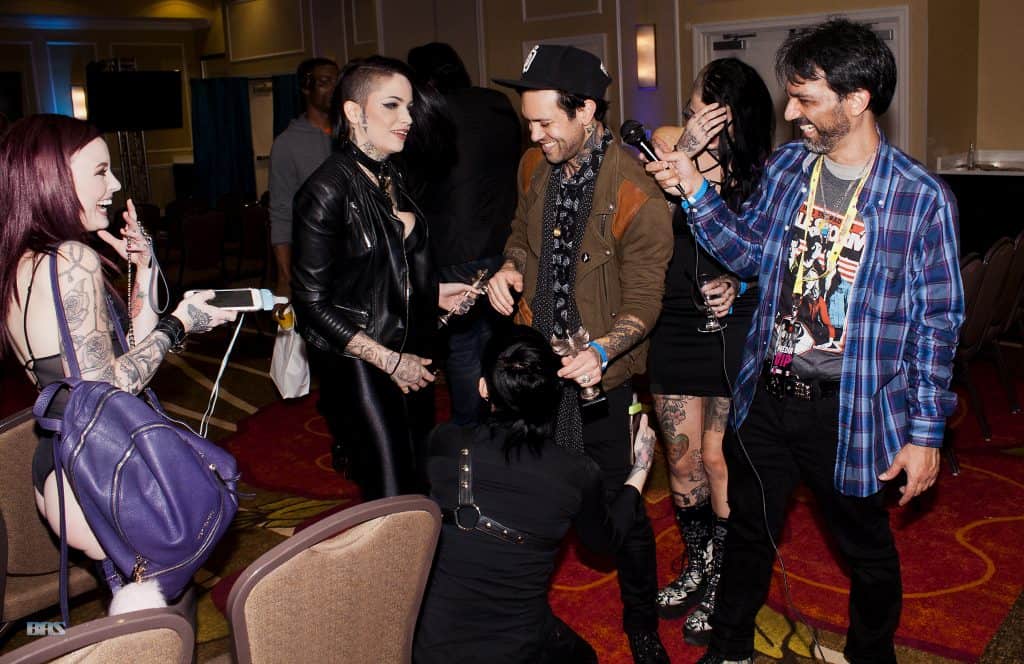 Leigh Raven at the 2016 Inked Awards – Image Sourced from Wikimedia
Fans eager to explore Leigh's kinkiest web clips will not want to miss out on viewing her Alt Sensation Leigh Raven Gets Power Fucked By Our Machines solo sex-toy shoot that was filmed for Kink.com's Fucking Machines web series in January 2017, her Tattooed Pain Slut Endures Brutal Bondage With Agonizing Torment shoot for Hogtied in March 2017, her terrific tattoo parlour role-play sex scenes with rising TS starlet Chanel Santini that were unveiled via TS Pussy Hunters in April 2017 and her most recent electro-sex themed shoot with formidable femdom performer Daisy Ducati that was uploaded via Kink.com's ElectroSluts web series in June 2017. Leigh enjoys experimenting with all manner of raunchy fetishes and niche porn genres. In fact, whilst talking about her favourite sex toy and BDSM restraints in her August 2016 Stockroom interview, Leigh saucily stated how;
"Oh man, I just recently fell for the VibeRite. I never liked the intense vibration stuff before, or even much clitoral stuff at all, but my wife finally turned me to the dark side and now I'm a bit obsessed. Same with oral sex, I never liked it until more recently, it just felt annoying almost. Turns out I needed more intensity and more pressure! It had to be with the right person; most people don't know what the fuck they're doing…
Oh, yes! I love the KinkLab Neoprene Cuffs, they are so convenient. Also, the T Cup Suction Set. Those are really fun to put on your back or chest, super tight, while you're getting fucked and have the other person use them as like, handles. We use a strap on a lot. She wears that though, she usually wears a SpareParts harness. And I like short, and girthy dildos for it, I don't want to feel it hitting my cervix, ouch!".
In addition to her kinky web collaborations, one of Leigh's most popular porn productions to date has been the Burning Angel comedy porn production Cindy Queen Of Hell (2016). This devilishly delightful DVD title served as Leigh's first ever feature release and it enabled her to shoot an epic group sex scene with Anna Bell Peaks, Nikki Hearts and Chad Alva as well as collaborating with prominent porn stars Joanna Angel and Xander Corvus. Within Cindy Queen Of Hell, Leigh played the titular role of Cindy; a young girl who discovers that she is Satan's daughter and that she must choose between remaining on Earth or claiming her birthright as the ruler of hell. Cindy was thrilled to take on this raunchy role and ardently enthused within an October 2016 XBIZ News press release how;
"Having Joanna and Xander play my mom and dad was so appropriate because they really helped coach me through everything…This was pretty much a dream movie for me and it will be hard to top".
After all, Leigh loves shooting with Joanna Angel and has eagerly expressed within her June 2016 Fleshbot interview that;
"She has truly become a best friend and even a family member now. She really looks out for my best interest and genuinely cares about people. Her porn sets are always the most comfortable and fun environments I've come across…She found a need in the porn industry and created an empire. She is a strong, intelligent, business savvy woman…Burning Angel as a whole treats you like family. Once you're a BA girl, you're always a BA girl".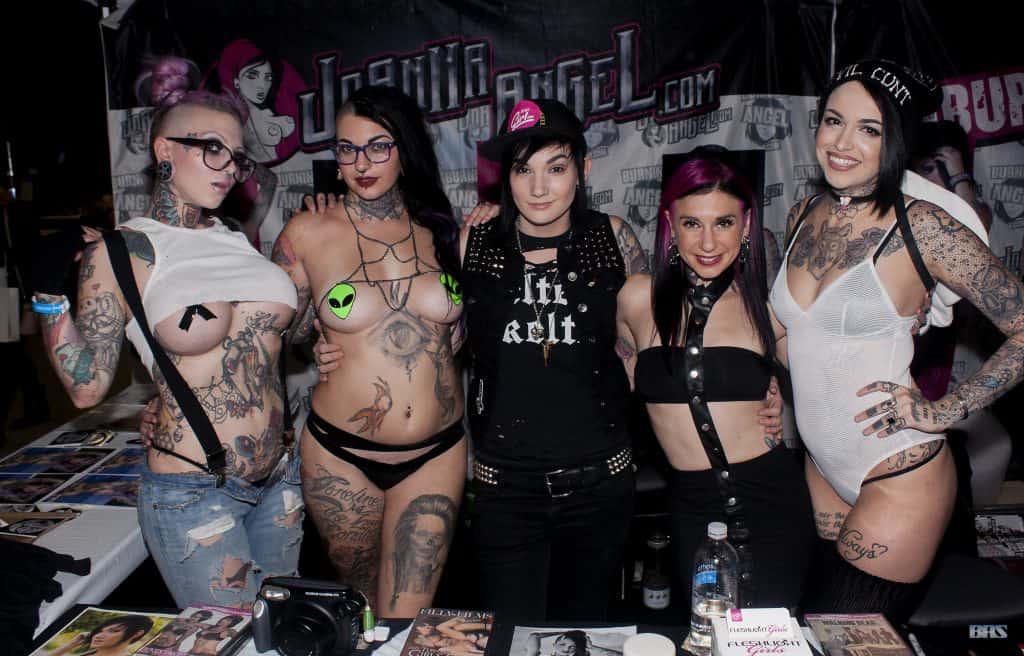 Leigh's hard work paid off as Cindy Queen Of Hell proved to be a critical and commercial success that won "Best Comedy" at the 2017 AVN Awards and which received rave reviews from leading adult film critics such as XCritic column writer cyber5. As cyber5 stated in his November 2016 film review;
"Cindy Queen of Hell is what happens when Joanna Angel puts together a huge cast of heavily talented porn performers, gave them an obviously good budget and let them show off their creative sides. In addition to performing, much of the cast here is involved in the design, production, and technical aspects of this feature film. This is what I assume to be Burning Angel's biggest and most technically robust project ever. There's plenty of Special FX makeup, contact lenses, a fairly elaborate Hell set and a ton of dialog, with plenty of one-liners and humor tossed in…
This is an impressive production. The acting is on point with Xander and Leigh really portraying their roles very well. Xander leans towards the comedic side of things, which he explains at some point. Joanna and Small Hands both are also totally believable in their roles, as is pretty much everyone in this flick! I'm pretty sure this film will get multiple award nominations from AVN and XBIZ. It's already taken some awards home from the Inked Awards…
The fact that the performers actually played double-duty by being involved in the technical aspects of this production is also noteworthy. Joanna assembled a highly creative and capable cast and crew here. Xander even stepped up to the plate and co-directed this, a first for him. All in all, I liked what I saw. The guys are as impressive as the girls here, even when confronted with  multiple holes to drill. If you are a feature fan, and like your Angels inked, then this is a must-own title. Highly Recommended".
Due to her spectacular sex scenes in such best-selling DVD titles as Cindy Queen Of Hell, it wasn't long before Leigh began to receive numerous notable adult film award nominations at the AVN Awards and Inked Awards. Some of Leigh's most impressive adult film award nominations to date include;
2016 Inked Awards winner "Feature of The Year"
2016 Inked Awards nominee "Social Media Queen"
2016 Inked Awards nominee "Perfect Pussy"
2017: AVN Awards nominee "Best All-Girl Group Sex Scene" Lezzz Be Roommates (with Nikki Hearts and Raven Rockette)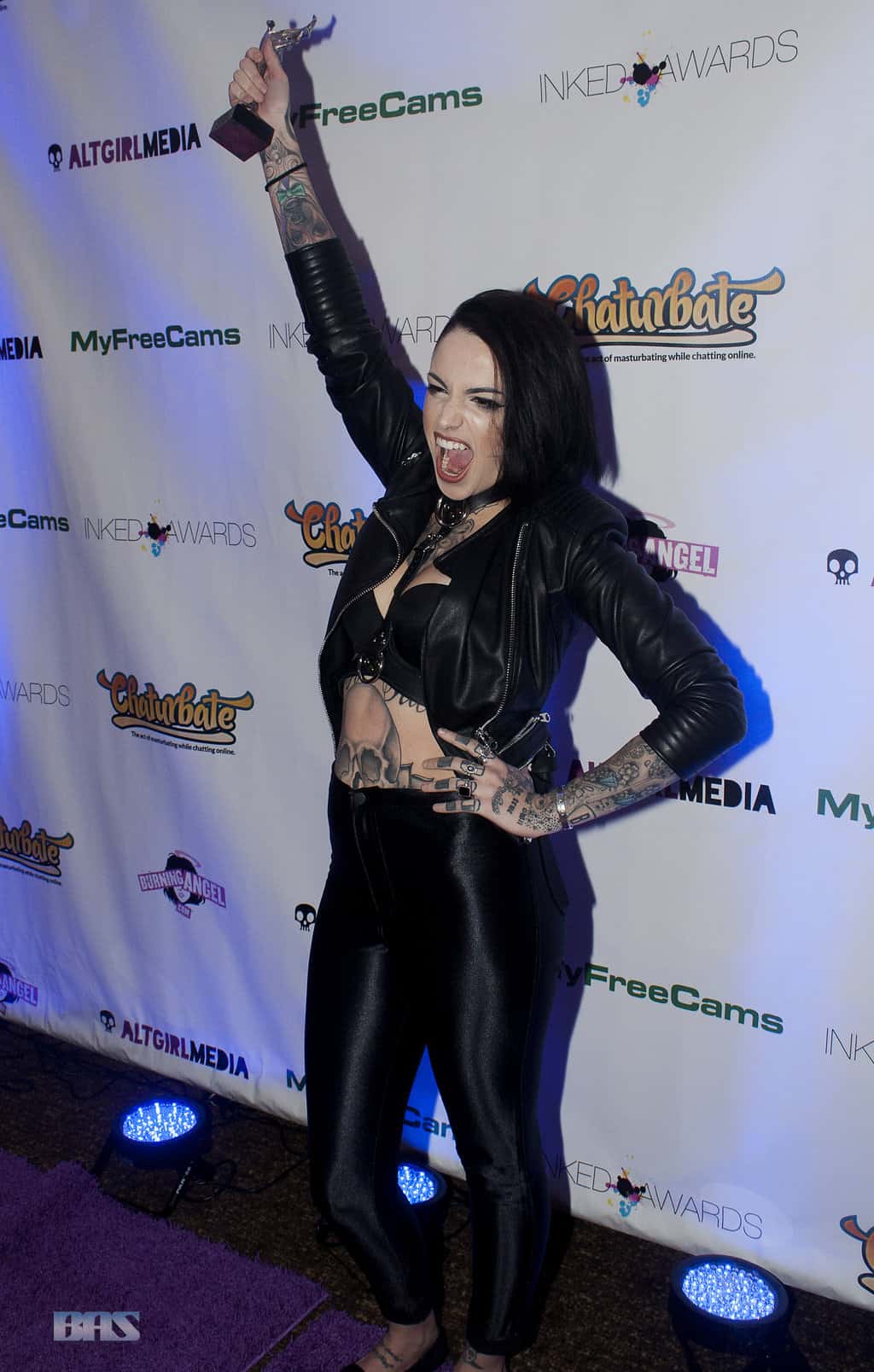 As illustrated above, despite only working within the adult film industry for a little over a year, Leigh has already established a glowing reputation as a multi-talented adult film star. Not only has Leigh won "Feature of the Year" at the 2016 Inked Awards, but she has also attended the Exxxotica Expos in Columbus and New Jersey, and she was even featured within the X:Rated 2: Greatest Adult Film Stars Of All Time! documentary that was first broadcast via Showtime in October 2016.
Ever eager to broaden her adult film industry horizons, in May 2017 Leigh teamed up with her wife Nikki Hearts in order to co-direct their all-girl Filly Films porn production Real Fucking Lesbians: Coast To Coast (2017). Leigh's directorial debut  was an instant hit that showcased some of the adult film industry's most popular alternative porn stars such as Draven Star, Charlotte Sartre, Chloe Carter and Jasmine Summers. Leigh loved working with her wife Nikki Hearts on this popular porn production and has highlighted within her June 2016 Fleshbot interview how;
"She has been in the industry much longer than I have, so she has been my guide into the porn world. I'm really lucky to have someone who understands my job and can even help me land gigs".
Eager to explore some of Leigh's most recent porn productions? Then you'll want to watch the Sweetheart Video DVD title Prison Lesbians 5 (2017), Raw 30 (2017) for Jules Jordan Video and Joanna Angel's sensational Burning Angel porn production Squirt Or Die! (2017) also starring Anna Bell Peaks, Janice Griffith, Lily Lane and Kimberly Chi. We also recommend checking out Leigh's spectacular solo shoot for 1000facials.com in February 2017, her Triple Throating web clips with Chloe Couture and Honey Gold that were promoted via throated.com in March 2017, her Kick Ass Pictures DVD compilation title Black Bi Cuckolding 31 (2017), her Cherry Pop porn production Daddy Lovers (2017) and her My Wife's A Stripper sex scenes with Van Wylde that were released via the Brazzers Network porn site realwifestories.com. Devoted Leigh Raven fans will also love viewing her titillating three-way with Nikki Hearts and Prince Yahshua that was featured within the Jules Jordan Video DVD title Inked Nation (2017); not to be missed!

Leigh Raven is currently represented by the exclusive adult film talent agency OC Modelling (OCM)which has enabled her to continue filming a wide range of kinky web clips, devilishly delightful DVD titles and saucy solo shoots. Leigh is incredibly grateful to OCM for their ongoing support and guidance and has sincerely conveyed within a May 2017 XBIZ News press release that;
"I considered representation by OCM based their solid reputation. They've developed amazing talent, such as Xander Corvus and Katrina Jade, whom I really look up to…OCM is one of the top agencies that embraces women with tattoos, and I really felt at home when I met Sandra and everyone at the office…I've been fortunate enough to direct a few films with my wife, Nikki Hearts, and some solo projects with Filly Films. My co-directorial debut will be released this month and my first solo project is out in June, with many more to come throughout the year. As far as the future goes, I really hope to continue pursuing directing and developing my skills as a well-rounded performer".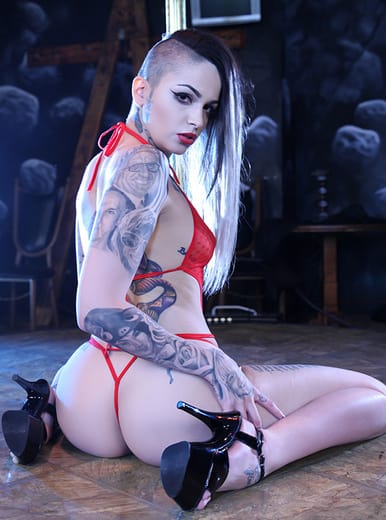 Leigh Raven at Brazzers
Fans of terrifically tattooed starlet Leigh Raven can expect big things from her throughout 2017; including her upcoming Filly Films solo directing project Lesbian Anal Virgins (2017) as well as her sultry sex scenes in the Burning Angel DVD sequel release Cum On My Tattoo 7 (2017), the Mile High Xtreme porn production Lesbian 3 Somes (2017) and Kayden Kross' Sweetheart Video DVD title Kayden Loves Girls (2017). Most recently, Leigh was announced as one of the glamorous Trophy Girls for the 2017 Inked Awards where she handed out awards alongside fellow fan-favourite performers Olivia Black and Catherine Tayler.
When she isn't forging ahead with her amazing adult film career, Leigh enjoys taking the time to interact with her loyal fan base via social media. As Leigh puts it in her own words within her June 2016 Fleshbot interview;
"I'm fairly new to Twitter, most of my following comes from Instagram, but I'm super grateful for the fans I have. I am still surprised so many people want to follow my crazy antics".
Want to keep yourself updated regarding Leigh Raven's ever-evolving adult film career? Then why not use the links provided below to explore all of Leigh's official social networking channels? With just a few quick clicks, you can keep yourself connected with your favourite terrifically tattooed starlet Leigh Raven online today!
Social Networks
Twitter : @leighravenx
Instagram : @leighravenx
Kink Profile : Leigh Raven BDSM & Fetish Content
Brazzers : Leigh Raven at Brazzers

Cherry Pimps : Leigh Raven at Cherry Pimps
Model Mayhem : Leigh Raven's Model Mayhem profile
OCM Profile : Leigh Raven's OCM modelling profile
IMDB Profile : Leigh Raven Filmography