Lily Lane
Lily Lane's Twitter : @LilyLanexxx   Brazzers : Lily Lane Sex Scenes
Lily Lane – Personal Info
Name : Lily Lane
Date of Birth : August 12th
Hometown : California (US)
Measurements : 32DD – 26 – 36
Height : 5'4 (1.62m)
Hair Colour : Black
Eye Colour : Brown
Tattoos : A skull with a bow on her upper chest, a skull with wings across her lower back, a full multi-coloured arm sleeve, two large guns, red roses and script across her abdomen, a Medusa head on her upper thigh, a tombstones, roses and spiderwebs design with script across her other thigh, a design on her foot and symbols on her fingers. Talking about her beautiful body art in her July 2015 Adult DVD Talk interview, Lily explained that;
"I have 3 tattoos and everyone's like, 'You have way more!' I just have really big pieces, my sleeve, all of my stomach, 2 side pieces, my butt, my lower back, the one on my chest and my fingers…On my 18th birthday I got a tramp stamp like a good little slut…I think my favorite is probably pieces of my sleeve. Just whatever I'm feeling that day is my favorite".
Years Active : 2012 – present
Number of Scenes : 100+
Lily Lane is a sensational inked pornstar, cam girl and model who is famous for her best-selling Burning Angel productions and raunchy Kink.com collaborations. Winner of the coveted "Performer of the Year" accolade at the 2017 Alt. Porn Awards, Lily is a fan-favorite performer who continues to receive many "Best Group Sex Scene", "Most Outrageous Sex Scene" and "Best Sex Scene – All-Sex Release" nominations at the AVN and XBIZ Awards.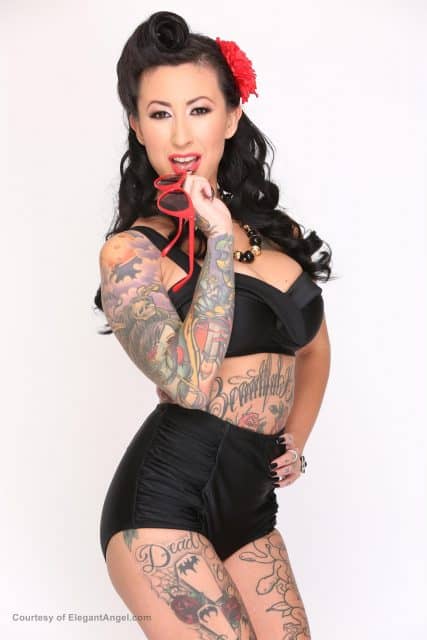 Lily Lane in Busty Pin-Ups Volume 2 – Elegant Angel
So where did it all begin? Born and raised in California, petite big tits pornstar Lily Lane has always had a rebellious streak and mentioned during her July 2015 Adult DVD Talk interview that;
"I'm a typical, normal Valley Girl. I grew up in between Burbank and San Francisco so I've been a Cali girl all my life. Just went to school like a good kid. I got good grades but I was a bit of a troublemaker. I really liked to hang out with the boys and go out and party with them. I was never big into partying with drinking or drugs; I was more flirty and trying to have fun".
In fact, Lily Lane revealed during this July 2015 Adult DVD Talk interview that she has been interested in working in the adult industry since she was a teenager. As busty inked angel Lily Lane puts it in her own words;
"I've always been a very sexual person. I've always been interested in my body. Even when I was little, I used to love being naked and dance around naked. By the time I was 15 or 16, I knew I wanted to do porn or I wanted to strip. Anything sexual, I wanted to do it. I started dating my ex-husband when I was 17. I got married and tried to do the whole be a good fucking person, what you're supposed to do; whatever society says is right. But I wasn't being me and I truly wanted to explore my sexuality, I really wanted to do porn. By the time I got out of that relationship, I figured 'why the fuck not? I'm free now and I can fucking do porn!' And that's when I signed up on Burning Angel, I sent some pictures in and the next day I got a text message asking if I wanted to shoot. And that's how it all started".
Lily Lane : Adult Film Career
Lily Lane filmed her first ever sex scenes for Joanna Angel's pioneering alt. porn production company Burning Angel. Busty pornstar with tattoos Lily Lane discussed shooting her porn debut within her July 2015 Adult DVD Talk interview, revealing that;
"To be honest, I freaked out because on my drive there, I got lost. I get anxiety. I like to get places early, I'm really punctual about things which is good being professional, right? I freaked out because I got lost. I'm already anxious and really nervous because I'm going to fuck on camera. I finally got to set and everyone was so fucking nice. I don't know what I imagined but everyone was so seriously sweet and nice and helpful. It was amazing!.. I actually shot for the first time in 2013 but I stopped. I shot for Burning Angel and then dropped off the face of the earth. Then I started shooting again a few months ago…The typical stupid relationship and all that jazz".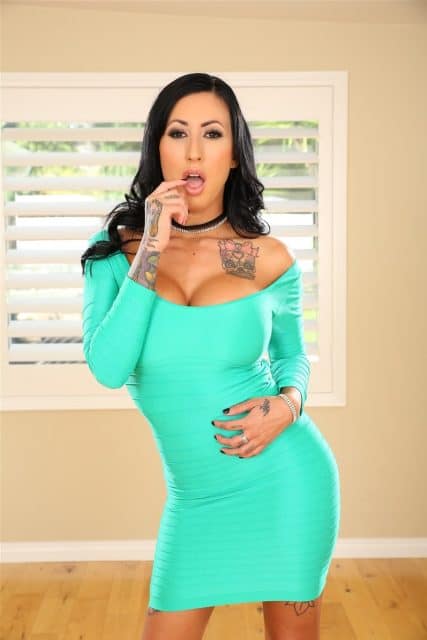 Lily Lane in Anal Couples Swap – Evil Angel
Over the years, Lily Lane collaborated with Joanna Angel on an impressive collection of Burning Angel productions including Rooftop Lesbians 1: Going Up To Come Down (2013). It was nominated for "Best All-Girl Release" at the 2014 AVN Awards. Moreover, Lily lane starred in POV Punx 7 (2013) that was nominated for "Best POV Release" at the 2014 AVN Awards. In fact, you'll also love viewing Lily Lane's sizzling sex scenes in Slumber Party Sluts (2014) which was nominated for "Best Comedy" at the 2016 AVN Awards, Cum On My Tattoo 6 and 8 (2016-2017) and Squirt or Die (2017) which was nominated for "Best Niche Movie" at the 2018 AVN Awards. The list goes on!
But wait, there's even more. Fans of Lily Lane will love watching her raunchy group sex scenes with top goth and emo pornstars Joanna Angel, Jordyn Shane, Nikki Hearts and Small Hands in the Burning Angel production Making The Band (2015). It was nominated for "Best Group Sex Scene" at the 2016 AVN Awards. Making The Band was an instant hit which was nominated for "Best Parody: Comedy"  at the 2016 XRCO Awards as well as "Best Parody", "Best Editing" and "Best Director: Parody" (for Joanna Angel) at the 2016 AVN Awards. Lily Lane loves collaborating with Joanna Angel and has ardently enthused within her September 2015 Fleshbot interview that;
"It's fucking great! She's the first director I'd ever worked with and … not going to lie…my favorite! She's so fun and easy to work for/with. She's full of so many awesome ideas! She's like my pervy slightly older sister!".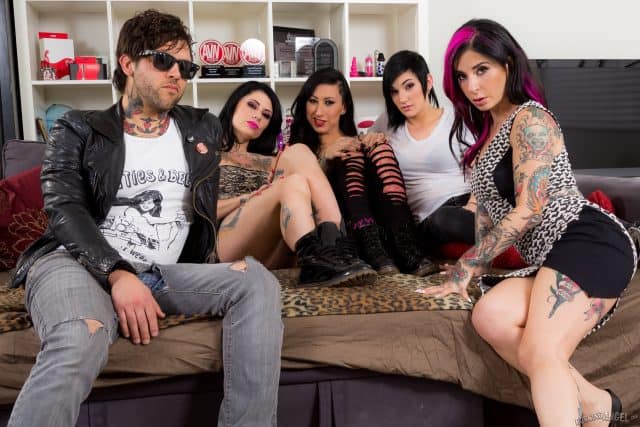 Small Hands, Jordyn Shane, Lily Lane, Nikki Hearts and Joanna Angel in Making The Band – Burning Angel
Without a doubt, Lily Lane's most popular Burning Angel production to date has been Cindy: Queen of Hell (2016). Directed by Joanna Angel and Xander Corvus, this Heaven and Hell themed comedy featured Lily Lane in an epic group sex scene with Gage Sin, Owen Grey and Tommy Pistol that was nominated for "Best Group Sex Scene" at the 2017 AVN Awards. Also starring Leigh Raven, Anna Bell Peaks, Sarah Jessie, Nikki Hearts and Ophelia Rain, Cindy: Queen of Hell was a critical and commercial success which won "Best Comedy" at the 2017 XRCO Awards as well as "Best Comedy", "Best Supporting Actress" (for Joanna Angel) and "Best Director: Feature" (for Joanna Angel and Xander Corvus) at the 2017 AVN Awards. Cindy: Queen of Hell even received a wholehearted endorsement from XCritic column writer J.W. Sharp who highlighted in his June 2017 film review how;
"This great award winning movie is so terrific on so many levels. First the performances, Joanna Angel is just so terrific as the loving mom. When she's not fucking she plays the heavy metal happy homemaker to a tee. And Xander Corvus is terrific as the very chill Lucifer. In most films Satan is portrayed as wicked evil entity with an English accent. Here Xander shows him a cool, actually very down to Earth, and loving father to her daughter Cindy. Second, the great makeup work with the horns and contacts designed by the talented Nikki Hearts.
Third, the sex scenes are scorchingly terrific. Everyone is having a ball fucking and screwing each other and it shows making it so much hotter for the viewer. And finally I've really, really got to give it up the Mike Quasar and his phenomenal photography. His over saturation of the sex scenes give the film a nice '70's and '80's grindhouse vibe, plus it accentuates everyone's ink making it all so much brighter and more beautiful. The film won AVN's and XRCO's awards for best comedy, and it completely deserved it. I'm giving this film the coveted Xcritic Pick".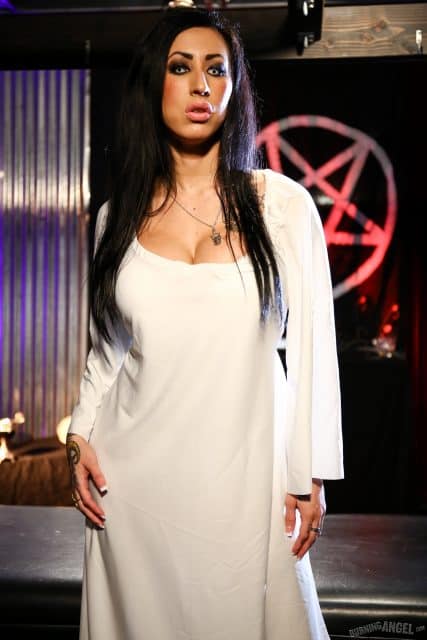 Lily Lane in Cindy: Queen of Hell – Burning Angel
In addition to her ongoing Burning Angel collaborations Lily starred in a steady stream of bestselling Evil Angel DVDs. For example, we recommend watching Lily Lane's thrilling anal three-way with Bonnie Rotten and Mike Adriano in Tattooed Anal Sluts 1 (2012) and her hot hardcore shoot with Alex Legend in Whore's Ink 3 (2016). Furthermore, Lily Lane shared a raunchy three-way with Dollie Darko and Erik Everhard in Kevin Moore's Inked Angels 5 (2015) and she shot an epic group sex scene with Francesca Le, John Strong and Mark Wood for Anal Couples Swap (2017).
Most notably, inked angel Lily Lane filmed her first ever gangbang with Codey Steele, Eric John, Filthy Rich, John Strong, Justin Hunt and Markus Dupree for Jonni Darkko's Gangbang Creampies (2017). Lily Lane's first ever gangbang incorporated some sensational double vag, double anal, double penetration, squirting and triple penetration scenes which earned her high praise from director Jonni Darkko who enthused in a September 2017 AVN press release how;
"Lily is a ravenous pleasure bot!…It was super fun to shoot her and see her with all those men. I'm sure the fans will agree that Lily is an amazing performer. More, please!".
Busty tiny spinner Lily Lane enjoyed shooting Gangbang Creampies with Jonni Darkko and eagerly expressed in an October 2017 AVN press release that;
"I was insanely excited when Jonni Darkko told me what he had in store for me…I finally got my gangbang! And not just any gangbang, but a creampie gangbang. Thank you so much Jonni, you fucking rule!".
Eager to discover even more of Lily Lane's sauciest sex scenes? Then you have to check out her amazing all-girl group sex scene with Briana Banks, Lily Cade, Romi Rain and Violet Monroe in the Devil's Film star showcase The Destruction Of Romi Rain (2016). Moreover, Lily Lane shared a kinky three-way with married couple Leigh Raven and Nikki Hearts in the Filly Films production Turning Girls Out 2: Wifed Up (2016). Lily Lane even shared a kinky group shoot with Arya Fae, Briana Banks, Kenzie Taylor, Savana Styles and Zoey Monroe in The Destruction Of Briana Banks (2017) for Devil's Film.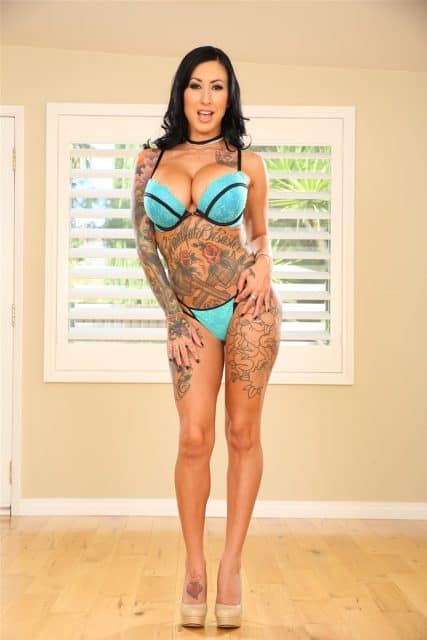 Lily Lane in Anal Couples Swap – Evil Angel
Consequently, Lily Lane starred in a sensational squirting three-way with Amara Romani and Mick Blue for the Elegant Angel DVD Swallow My Squirt 8 (2017) and she shared a raunchy role-play with Eden Sin and Mark Zane in My Husband Brought Home His Mistress 11 (2018) for Devil's Film. Lily Lane even filmed a captivating group sex scene with Anna Bell Peaks, Jessica Drake, Sarah Jessie, Small Hands and Will Havoc for the Wicked Pictures signature showcase Jessica Drake Is Wicked (2017). It was nominated for "Best Sex Scene – All-Sex Release" at the 2018 XBIZ Awards.
Many of Lily Lane's raunchiest sex scenes were filmed for the fetish lifestyle network Kink.com. Eager to discover Lily Lane's formidable fetish, femdom and BDSM content? Then you'll love viewing Lily Lane's sizzling Divine Dungeon Punishment femdom pegging session with Mike Panic which was filmed for Kink.com's Divine Bitches web series in July 2016. Moreover, Lily Lane filmed an epic The Prospect shoot with Draven Star and Xander Corvus for Sex & Submission in October 2016. In particular, you'll love watching Lily Lane's unforgettable Anal Punishment For Lame Millennials BDSM three-way with Kacie Castle and Violet Monroe which was distributed via Everything Butt in September 2017. It earned Lily Lane a "Most Outrageous Sex Scene" nomination at the 2018 AVN Awards.
A fan-favourite fetish performer, Lily Lane also filmed a kinky Mob Rules three-way with Avi Love and Tommy Pistol for Sex & Submission in November 2017. Furthermore, Lily Lane shot a compelling The Revolution Is Coming femdom three-way with Mia Li and Cherry Torn for Whipped Ass in December 2017 and she shared a sizzling Anal Rebel ASSault sex scene with Missy Martinez for Everything Butt in December 2017. When Lily Lane was asked about how she first discovered her devilish domme side during her Domme Addiction interview, she explained that;
"To be honest I kind of fell into this by accident. A friend of mine asked if I wanted to do a few FemDom scenes with him, things like water boarding, smothering , ball busting, etc. So I said yes, and realized how much fun it really was! He asked me if I had ever considered being a Domme and that's when he put that amazing idea in my pretty little head! I didn't pursue it very much until a few months ago after Glenn King called me about an upcoming opportunity!…
I do try and find out what each slave is into exactly, because not all slaves are into the same things. Some may be little sissy fucks who like to dress up but not necessarily get fucked with a strap on. You have to get to know your slave".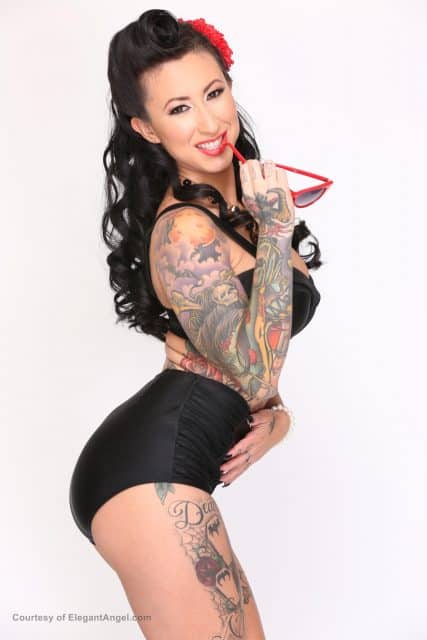 Lily Lane in Busty Pin-Ups Volume 2 – Elegant Angel
Lily Lane : Industry Accolades & Award Nominations
Want to know the most impressive part? Lily Lane's formidable femdom content and bestselling movies have earned her an impressive array of notable award nominations. Listed below are some of Lily Lane's most coveted industry accolades to date;
So what does the future hold for fan-favorite inked pornstar Lily Lane? Well, you'll be happy to hear that Lily Lane continues to shoot a wide range of sizzling sex scenes as well as hosting regular lusty live cam shows with her fans. Lily Lane enjoys interacting with her fans on social media and has conveyed in her September 2015 Fleshbot interview how;
"I like being able to share my new projects. It's probably one of the easiest ways to interact with fans…I think loving what I do makes me a great performer. I love having my limits pushed".
Keen to stay connected with terrifically tattooed vixen Lily Lane? Then use the links provided below to discover all of Lily Lane's hottest sex scenes, exclusive web content and upcoming porn productions!
Lily Lane – Social Networks
Twitter : @LilyLanexxx
Brazzers : Lily Lane at Brazzers
Burning Angel : Lily Lane at Burning Angel
Evil Angel : Lily Lane at Evil Angel
Instagram : @lilyxlane
Kink : Lily Lane BDSM, Femdom & Fetish Content
IMDB : Lily Lane Filmography
The Nude : Lily Lane at The Nude