Kendra Spade
Kendra Spade Twitter : @KendraSpade   Kink : Kendra's BDSM Content
Evil Angel : Kendra's Sex Scenes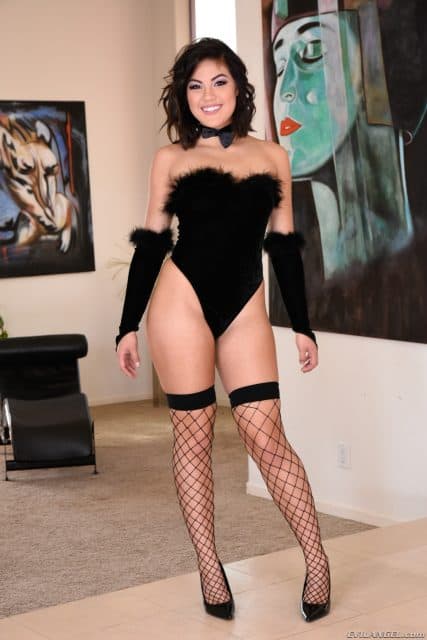 Kendra Spade in Anal Players 4 – Evil Angel
Kendra Spade – Personal Info
Name : Kendra Spade
Date of Birth : May 11th
Hometown : Washington (US)
Measurements : 32DD – 26 – 37
Height : 5'4 (1.62m)
Hair Colour : Brunette
Eye Colour : Brown
Tattoos : Right nostril
Shoe Size : Women's 7 (US)
Years Active : 2017 – present
Number of Scenes : 150+
Kendra Spade is a stunning adult film star and glamour model who has been performing in porn since the summer of 2017. A fan-favorite porn star known to her fans as the 'Queen of Spades', Kendra Spade has already been signed by the exclusive adult film talent agent Mark Spiegler and she has been cast in several bestselling Babes, Evil Angel, Mofos, Sweetheart Video and Zero Tolerance productions, Definitely one to watch throughout 2018!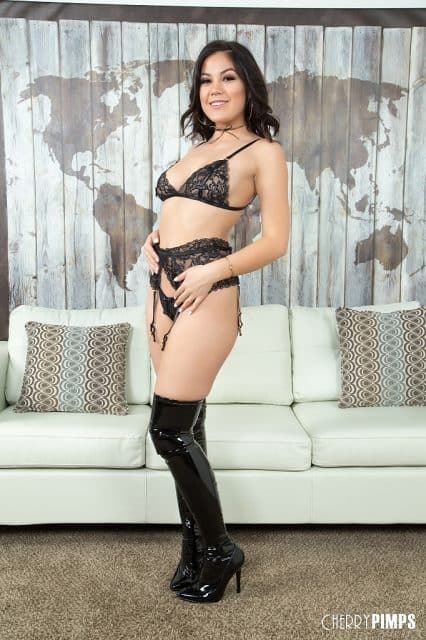 Kendra Spade at Cherry Pimps' Wild On Cam
So where did it all begin? Born in New Orleans but raised in Kelso, Washington, Kendra Spade has Filipino heritage. Kendra Spade had a small town upbringing and mentioned during her December 2017 Adult DVD Talk interview that;
"I'm Mormon so I was in a small town…I grew up in a small town in Washington state. I was actually born in New Orleans because my family was in the military. Then we moved to Washington to be with my mom's mom and her new husband, so my mom's new stepdad. I just grew up in that area of Washington. It's a really small town. Everyone knows everyone's business. It's like a town out of a movie. For example, my friend that's visiting me right now doesn't even know how to Uber. She was surprised! It's a very small, dated town".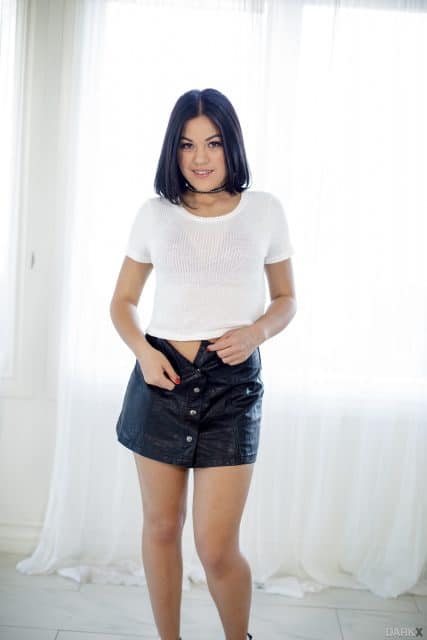 Kendra Spade at Dark X
Kendra Spade initially planned to attend the University of Washington but ended up going to college in California. As Kendra Spade explained within her December 2017 Adult DVD Talk interview;
"I actually wanted to get into the University of Washington. It was my goal. I wanted to get there so bad. My boyfriend before, the one that I told you about, he wanted to get into the University of Washington as well so that we could be together and go to college and get married, etc. So he got into the University because I did his essay. Actually, I also did his essay so he could get into his major he's going for right now just recently. (laughs)…
I did it because he called me one night! So I got him into the college and, let me tell you, he had a worst class rank than me, a worst SAT score, a worst GPA, worse extra-curricular activities…I was an excellent candidate and I wrote both of our papers and he got in and got way more scholarships and I didn't get in and didn't get any scholarships! And my parents couldn't pay for me to go to college. So I went to California and kept on doing the job I was doing since I was 15 and went to college here. I became a resident because it's much cheaper than Washington state".
Wondering how Kendra Spade first began working in the adult industry? Well, it all began in the summer of 2017 when Kendra Spade started responding to amateur porn jobs listings via Craig's List. During this time Kendra Spade was advised by photographers to investigate adult film talent agencies. By October 2017 Kendra Spade had signed with Mark Spiegler and started to feature with several best-selling porn productions! Talking about this pivotal period of her life during her December 2017 Adult DVD Talk interview, Kendra Spade divulged that;
"I started doing amateur porn from Craig's List. Then I was getting pictures taken from this photographer and he knew things about the industry. I was telling him what I was doing and was going to get an agent in the porn industry. He said I needed someone like Mark Spiegler. This was in June so I went and found Mark and here I am!…
I went up on the Spiegler site on October 31. He told me I was a Spiegler Girl at the end of September. I was actually booked for my first shoot on October 27. Before that, starting in June, I was shooting amateur porn. So there is some amateur content of me on the internet".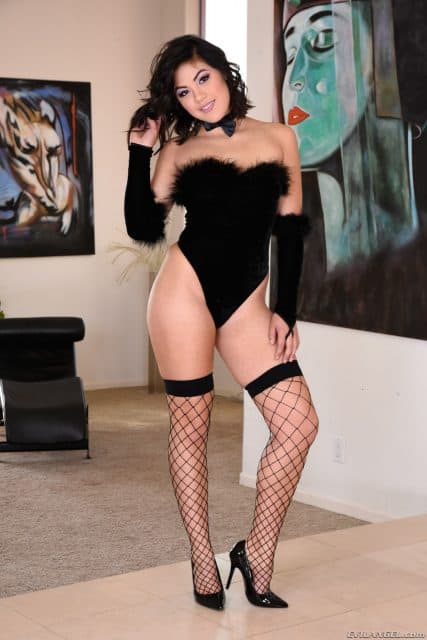 Kendra Spade in Anal Players 4 – Evil Angel
Kendra Spade : Adult Film Career
Although Kendra Spade first began shooting amateur porn productions in the summer of 2017, she regards her first professional sex scene to be her My Hard Time Boyfriend BDSM three-way with Markus Dupree and Maya Kendrick that was released via the fetish lifestyle network Kink.com in December 2017 as part of their Sex & Submission web series. Talking about shooting her porn debut within her December 2017 Adult DVD Talk interview, Kendra Spade highlighted how;
"I would consider my first, first, first scene to be the one I did as an amateur. It was honestly so scary. I just remember afterwards that I felt so numb and I didn't know what I'm doing with my life. Why am I putting myself in a place where I was so uncomfortable? That was my first scene and I was scared! And I didn't know if I was going to be able to keep doing it. Within a week, it was on PornHub and it reached over a million views. Within a week after that, everyone from my hometown knew what I was doing. Not only did they know what I was doing, I wasn't in the best shape so my body didn't look very good. Everyone was sharing this video and tagging my name on social media. It was a huge mess…
When I shot my first professional scene which I consider to be with Kink because that was the first scene that Mark Spiegler booked me for and that was my first scene in the professional end of the industry. Mark booked me for a B/G/G/A with Markus Dupree and Maya Kendrick and that was amazing! That was when I was, 'Why the fuck haven't I been doing this the entire time!' Mark books me for the best shoot with the best people and I honestly can't explain how grateful I am for him.
Every shoot I've gone to that he's booked me for, I've had so much fun, I felt safe, I felt like everyone wants to treat me like a Princess and want to bring me water and want to do everything for me. It's so fun. I love my job. I fucking love my job!…After everyone found out, all my close friends said, 'No, dude, just own it. We love you It's totally ok!' All my true friends were out there supporting me. Honestly, probably 5-600 of my followers on Twitter and Instagram are actually people that have known me my entire life and went to kindergarten with me. I have a lot of people and a safety net of friends and family that really do care about me and even if they don't necessarily support the job I'm doing, they support me".
Since making her official adult film industry debut Kendra has starred in several fan-favourite porn productions including Francesca Le and Mark Wood's Evil Angel/LeWood sequel release Anal Heartbreakers 3 (2018) featuring Elena Koshka, Kylie Martin and Noemie Bilas, Strap On Anal 3 (2018) for Zero Tolerance and Mick Blue's Evil Angel/BAM Visions production Anal Players 4 (2018) also starring Vicki Chase, Liv Revamped and Audrey Noir. We also recommend checking out Fantasy Role-play 3 (2018) for Erotica X for which Kendra posed as its DVD cover model, Nice Girls Swallow 10 (2018) for Amateur Allure and Mike Quasar's Zero Tolerance DVD Cheerleaders Love Massive Cocks (2018) within which Kendra starred alongside Alexa Grace, Gia Paige and Moka Mora.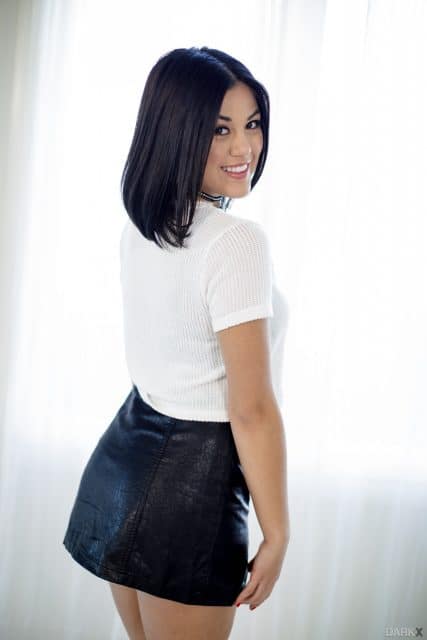 Kendra Spade at Dark X
Interested in discovering some of Kendra's sauciest sex scenes? Then you'll love viewing her steamy shoot with Reagan Foxx in Mother-Daughter Exchange Club 51 (2018) for Girlfriends Films, her sizzling oral shoot with Kira Noir and Mike Adriano in the Evil Angel DVD Swallowed 15 (2018) and her captivating Kendra In Lace And Latex Live scene with Codey Steele that was first broadcast via Cherry Pimps' Wild On Cam channel in March 2018.
Fans of Kendra Spade will also want to watch her hot hardcore shoot with Prince Yahshua in the Hustler production Barely Legal 158 (2018), her raunchy oral scene with popular pornstars Maria Jade and Mike Adriano in the Evil Angel DVD Swallowed 16 (2018) and her scintillating scene with Whitney Wright in the upcoming Evil Angel production Two//Girl Anal Three-Way (2018).When Kendra was asked about her personal sexual fantasies during her December 2017 Adult DVD Talk interview, she saucily stated that;
"A lot of things. I really love watching porn. I've been watching porn since I was too young. (laughs) I have always loved watching bondage porn or really rough BDSM sex. Just the idea of being someone's toy or fulfilling someone's desires or pleasing someone is just so erotic for me. That is what turns me on the most. If I can get in the mindset of being someone's sex slave, than I can literally be turned on by anything".
A multi-talented adult film star and glamour model, Kendra was recently showcased in the 2018 Spiegler Girls Charity Calendar alongside stunning Spiegler Girls Alex Harper, Abella Danger, Casey Calvert, Vanessa Sky, Kira Noir, Anna de Ville, Chloe Cherry, Marica Hase, Victoria June, Chanel Preston and Anikka Albrite. This 12 month car-themed charity calendar treated fans to  glamorous pictorials of everyone's favourite Spiegler Girls as well as raising funds for The Animal Rescue Alliance; a charity which is dedicated to rescuing and adopting animals to loving homes. Adult film star and fellow Spiegler Girl Alex Harper was instrumental in organising this 2018 Spiegler Girls Charity Calendar alongside photographer Kevin Britton and she highlighted in a January 2018 AVN press release how;
"Kevin Britton from KB PhotoImagery and I had an idea to work on a calendar together…We thought that it'd be great to incorporate Spiegler Girls and exotic cars for an animal charity. We decided to choose the charity, The Animal Rescue Alliance, owned by Kelly Holland. All of the models and car owners involved were very kind to take time from their busy schedules to help our cause. Spiegler Girls are always punctual, stunning, respectful, and all the ladies brought their A game. It was a pleasure seeing everything come together so nicely…
KB is an amazing photographer and I'm glad that he was available to shoot the Spiegler Girls Car Calendar. He has 10+ years of experience with photography, retouching, and graphic design so he was able to not only shoot the calendar, but also design it. Kevin is a part of several automotive groups that helped organize cars for the shoots".
Kendra was thrilled to be featured within this star-studded charity calendar and enthusiastically stated via this AVN press release that;
"I love and appreciate Mark Spiegler so much and I'm proud to be a Spiegler Girl. I love animals and when I found out about the calendar, I was ready to support it, but unfortunately I became a Spiegler girl after the 2018 Calendar girls had already been chosen. So, I was sad that I didn't get to be part of it. But, one of the models had a scheduling conflict, so when Alex texted me and asked if I could be there at 5 p.m., I was super-excited!".
Want to keep in touch with ravishing rising starlet Kendra Spade and her ever-evolving adult film career? Then please feel free to use the links provided below to stay connected with the captivating 'Queen of Spades' Kendra Spade!
Kendra Spade – Social Networks
Twitter : @KendraSpade
Instagram : @kendraspade
Kink Profile : Kendra Spade's BDSM & Fetish Content
Evil Angel : Kendra at Evil Angel
Wild On Cam : Kendra Spade at Cherry Pimps' Wild On Cam
Erotica X : Kendra Spade at Erotica X
Dark X : Kendra Spade at Dark X
IMDB : Kendra's Filmography