Ivory Mayhem
Ivory Mayhem at Grooby Girls : Ivory's Solo Scenes    Tgirls.porn : Ivory's Sex Scenes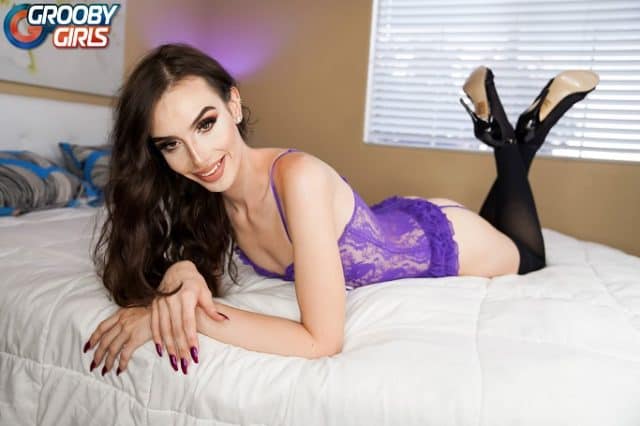 Beautiful Ivory Mayhem! – Grooby Girls
Ivory Mayhem – Personal Info
Name : Ivory Mayhem
Date of Birth : March 8th
Star Sign : Pisces
Hair Colour : Brunette
Eye Colour : Brown
Piercings : Nipples and left nostril
Years Active : 2018 – present
Number of Scenes : 10+
Ivory Mayhem is a popular pornstar, glamour model and beauty blogger who made her adult film industry debut in early 2018. A fan-favorite performer, Ivory Mayhem has already starred in an impressive collection of Gender X, Grooby Girls and Trans Angels porn scenes. Definitely one to watch out for in the years to come!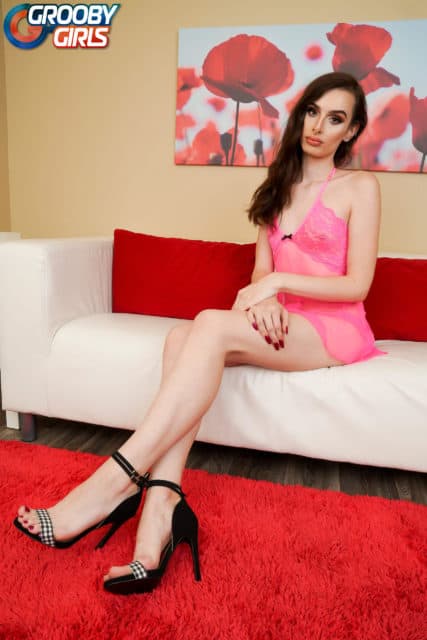 Ivory Mayhem's Amazing Cumshot! – Grooby Girls
Ivory Mayhem : Adult Film Career
Hailing from Florida, Ivory Mayhem made her adult film industry debut in January 2018 when she filmed some saucy scenes with Christian XXX for his popular TS POV and Pure TS porn sites. We recommend checking out Ivory Mayhem's raunchy Brand New Teen Stunner Show Off Her Sexual Skills hardcore scene with Christian XXX that was uploaded via Pure-TS.com in January 2018 and her kinky Amateur Teen Beauty Is Just Starting Her Transition POV oral scene which was released via TSPOV.com in February 2018.
Meet Groobie Newbie Ivory! – Grooby Girls
A landmark moment in Ivory Mayhem's adult film career occurred in the summer of 2018 when she made her official Grooby Network modelling debut. Ivory filmed a seductive Meet Grooby Newbie Ivory! solo scene which was unveiled via the prominent Grooby Network porn site Grooby Girls in June 2018. Ivory Mayhem's porn debut was filmed by popular cinematographer Ellis who saucily stated that;
"Ivory is a stunning tgirl who's just starting her transition, and what a start! This girl is going to be a heartbreaker and we're thrilled to have her. Enjoy this sultry beauty stroking her rock hard cock for you!".
You'll be happy to hear that Ivory Mayhem has worked with Ellis another scintillating solo shoot – Gorgeous Ivory Cums! – that was released via Grooby Girls in July 2018. As the description hotly hints;
"Without a doubt, Ivory is one of the most beautiful Grooby Girls to make her debut this year! This girl is just stunning! A natural beauty and genuine sweetheart who has only recently started her transition means we can only expect great things from her".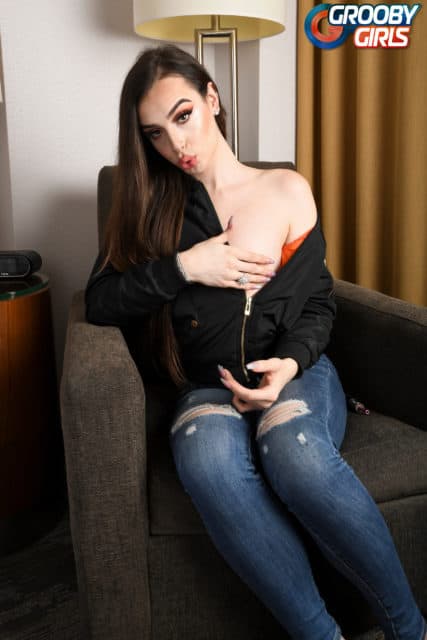 Gorgeous Ivory Cums! – Grooby Girls
Want to know the best part? Following her steamy solo scenes with Ellis, Ivory Mayhem started to collaborate with award-winning photographer Radius Dark on some sensational solo and hardcore scenes for Grooby Girls. You'll love viewing Ivory Mayhem's raunchy Ivory Mayhem Enjoys Hard Fucking! romp with Tony Orlando in September 2018 and her steamy Beautiful Ivory Mayhem! solo shoot in October 2018. These sizzling scenes were highly recommended by adult film blogger Caramel Black who eagerly expressed in her October 2018 TS Dreamland review that;
"I'm here to discuss Ivory's latest Grooby Girls solo performance, but allow me to touch on her hardcore scene with Tony. There's so much great trans porn to cover, it's impossible to review every scene when it's released. This Ivory and Tony update almost escaped me, but it's a beauty to observe. We begin with Tony and Ivory already in progress, making out on the bed, scantily clad…
Tony is already a major porn star and as long as Ivory stays in the game, she'll go straight to the top, too! You'll agree I'm sure once you see her go from the red hardcore theme to her blue-themed update, also shot by Radius Dark…She's absolutely riveting to watch playing with nothing but her hands and with a large dildo. And you can thank Ivory's producer for presenting her with not a stitch of clothing on eventually in this extraordinary GroobyGirls.com update!".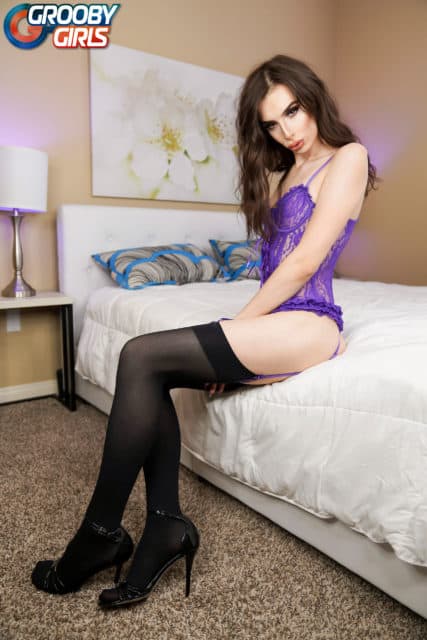 Beautiful Ivory Mayhem! – Grooby Girls
Most recently, Ivory Mayhem has filmed a kinky Ivory Mayhem's Amazing Cumshot! solo scene which was promoted via Grooby Girls in November 2018. Radius Dark has also filmed Ivory's hot hardcore scene with sexy TS pornstar Korra Del Rio that was released via the Grooby Network porn site Tgirls.porn in October 2018. Radius has praised Ivory Mayhem's stellar performances, advocating via her official Grooby profile how;
"One look at Ivory and there's no doubt that this girl is going to break hearts! A natural beauty and genuine sweetheart who has only recently started her transition means we can only expect great things from her…I can't wait to shoot her again!".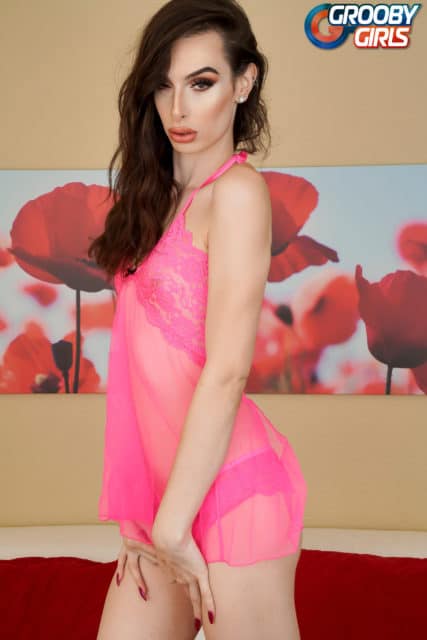 Ivory Mayhem's Amazing Cumshot! – Grooby Girls
With so many saucy scenes already to her name, it looks like Ivory Mayhem is going to be one of the hottest rising starlets of 2018/2019. Want to stay updated on all of Ivory's upcoming productions and exclusive web content? Then use the links provided below to stay in touch with ravishing rising TS pornstar Ivory Mayhem!
Ivory Mayhem – Social Networks
Grooby Girls : Ivory at Grooby Girls
Tgirls : Ivory at Tgirls.porn
TS POV : Ivory at TSPOV.com
Instagram : @ivory_mayhem_
Only Fans : ivory_mayhem