Casey Kisses
Casey Kisses Website : CaseyKissesxoxo.com   Twitter : @Caseykissesxoxo   Grooby VR : Casey's VR Scenes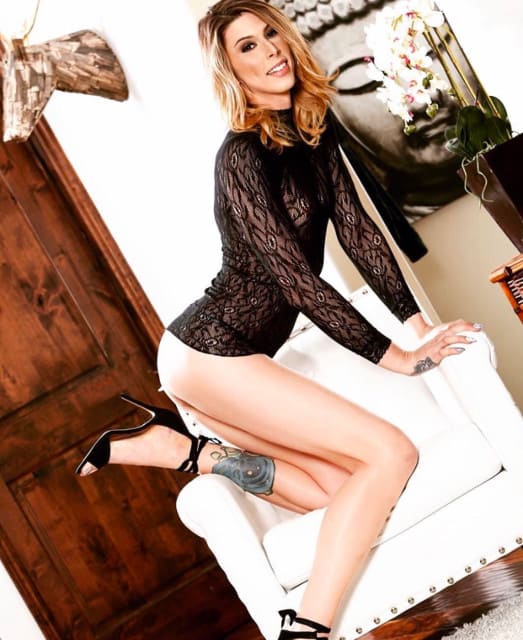 All images have been used with kind permission of @Caseykissesxoxo
Casey Kisses – Personal Info
Name : Casey Kisses
Alias : Casey Haze
Date of Birth: September 23rd
Star Sign : Libra
Height : 6'0 (1.83m)
Hair Colour : Brunette / Blonde
Eye Colour : Brown
Tattoos : Large black rose design on her shoulder, 'Mary' script across her breast, fish design underneath her breast/along her rib cage, a diamond design on her ring finger, matching black ink designs along the sides of her hands, a multi-coloured blue skull design on her calf, a small design on her inside of her ankle and an intricate black skull design on her foot.
Want to know an interesting fact about Casey Kisses' alluring body art? Casey Kisses revealed in her July 2017 Through The Benz interview that;
"All of my tattoos were given to me by friends and I let them pick out the design".
Years Active : 2016 – present
Number of Scenes : 30+
Introducing sexy webcam model and rising TS starlet Casey Kisses! Over the past few years Casey Kisses has amassed a devoted fan following due to her sultry solo shoots, hot hardcore Transfixed and Trans Angels collaborations and kinky cam shows. The end result? Casey Kisses remains a fan-favorite TS performer who was named "Stroker of the Year" in a tie with Korra Del Rio at the 2017 TEAs as well as winning "Cam Performer of the Year" at the 2018 TEAs and "Best Solo Performer" at the 2019 TEAs. Most recently, Casey Kisses won "Cam Performer of the Year" and "Best Solo Model" at the 2020 TEAs.
But how did it all begin? Well, Casey Kisses first began working within the adult entertainment industry as a webcam model. Performing under the screen name 'tscaseyhaze_xxx', Casey Kisses continues to attract over 73,000 Chaturbate fans with her lusty live cam shows. Casey Kisses loves camming and has mentioned in previous interviews that;
"I've been camming on sites such as Streamates, Chaturbate, and imlive for the last 4 years. 2017 has been my best year to date. I just broke my personal record for most users in a solo show with 6k live users, and my couple shows usually contain 8-15k active viewers on chaturbate. I started camming full time because I lost my job and was in a wheelchair due to a car accident. It's been 3 years and it's truly turned my life around and become my lifestyle. Hugs!!".
As matter of fact, Casey Kisses' sizzling live chat sessions have proved so popular among fans that she has just been nominated for "Top TS Webcam Model" and "Cam Girl Social Media Super Star" at the 2018 Adult Webcam Awards!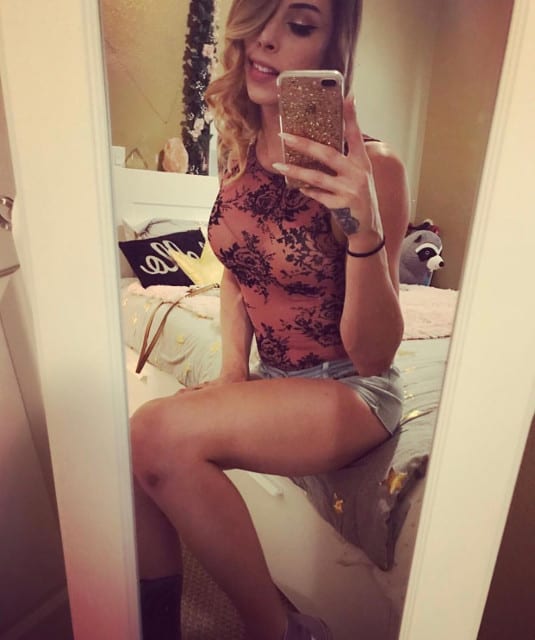 Casey Kisses : Adult Film Career
Already a popular cam girl, Casey Kisses' international fan following skyrocketed in May 2016 when she made her adult film modelling debut via the Grooby Network porn site Grooby Girls. Titled Stunning Casey Kisses!, this seductive solo scene was directed by leading porn cinematographer Omar Wax.
You'll be happy to hear that Casey Kissses has since starred in Casey Kisses Jacks Her Delicious Cock! that was uploaded via Grooby Girls in August 2016. In fact, within the very same month Casey Kisses filmed a captivating hardcore sex scene, titled Casey Kisses Takes On Mike Panic's Big Cock!, which was directed by prominent adult film director Radius Dark. Casey Kisses' first ever Grooby Girls hardcore shoot received a rave review from adult film blogger TS Caramel who advocated via her official website how;
"I raved about Casey's SM Yum debut here back in May. It was clear to me that she'd develop a huge fan base with her solo performances. With Mike in this hardcore scene, she's out of this world…This is something you could stream, but it's better to download and save it for keeps. Your porn collection will either thank you or feel the competition and not say anything at all. Radius delivers an interview with both stars before the actual action begins and I really love that he does this. Not only is it sexy, but it provides interesting background information on them. Plus it's candid and has some humorous moments. If you like knowing something about how a production is created, you'll feel like you're getting some inside professional technique tips…Rather than being plot-oriented, it's more like a straight up couples scene geared toward couples"
You may be interested to know that Casey Kisses' first ever hardcore shoot was actually a steamy shoot with Korra Del Rio for the pioneering porn site TwoTGirls. Titled Online Friends Meet To Fuck, this thrilling transbian scene was directed by Mayumi Sparkles and promoted via TwoTGirls.com in July 2016. Casey Kisses regards her first hardcore shoot as one of her favorite scenes to date. After all, as Casey Kisses revealed within her July 2017 Through The Benz interview;
"My first hardcore and it was for Two Tgirls. It was my favorite because it was the first time Korra Del Rio and I kissed. We haven't been too far apart since".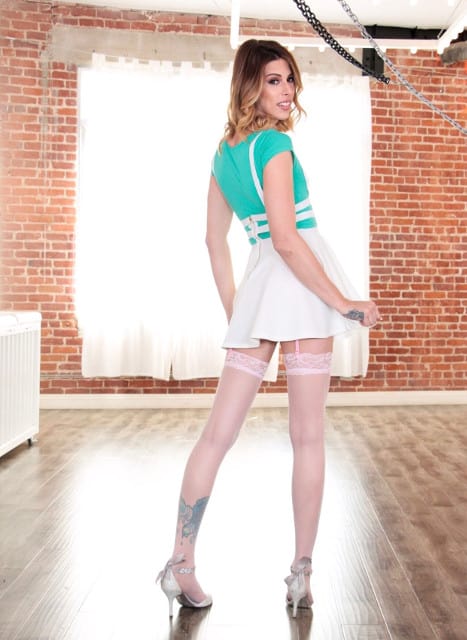 It gets even better; Casey Kisses has continued to collaborate with Mayumi Sparkles on several saucy TwoTGirls scenes throughout her adult film career. Our top picks? Casey's sizzling The Real Estate Agent Fucked My Girlfriend scenes with Sydney Farron in September 2016, her kinky Teen Spirit cheerleader collaboration with Jelena Vermilion in February 2017 and her raunchy Office Slacker Gets Fucked role-play with Kayleigh Coxx in August 2017.
Can't get enough of Casey Kisses' thrilling transbian scenes? Then you'll be happy to hear that Casey Kisses has teamed up with famous porn photographer Radius Dark in order to film a series of raunchy scenarios for the popular Grooby Network porn site Tgirls.porn. Among some of Casey Kisses' sauciest Tgirls.porn scenes include her sultry shoot with Lianna Lawson in August 2016 and her steamy session with Lena Kelly in November 2016.
Want to know the most impressive part? Casey Kisses' Tgirls.porn shoots have proved so popular among fans that she is currently ranked as the site's #1 Top Rated performer! Casey Kisses has loved filming these Tgirls.porn scenes, highlighting within her caramelstgirls.com interview how much she enjoyed working with Lianna Lawson;
"I'd already seen her pictures, but meeting Lianna Lawson in person the night before the shoot and experiencing her beauty first hand had me excited to work with her. With most of my sexual experience being with guys, Lianna was a lot prettier with a much nicer ass than the guys I've been with. She was a really good kisser with a gorgeous face. Her hair was soft as soft as her lips, and easy for me to run my fingers through. She has a nice, firm body with amazing thighs to hold on to. I loved the first position we tried. She has a really nice sized cock that bounced up and down as she rode me in reverse cowgirl. It was a huge turn on to be able to see how turned on she was while I was fucking her. It turned me on even more. I loved fucking her doggy style the most. I don't have a ton of experience topping, but you'd never know it from watching us together, because she's a natural bottom. It also didn't hurt that she has such a visually stimulating ass".
In the same manner, Lianna Lawson was thrilled to work with Casey Kisses on these Tgirl.porn scenes, revealing within this caramelstgirls.com interview how;
"I met Casey Kisses at the Grooby 20th Anniversary Party in Los Angeles and was excited to hear that I would be working with her for my shoot for Tgirls.porn. I've always been attracted to other girls, but the opportunity to be with one had never presented itself. Casey is tall, with a very beautiful face. Her makeup was on point and her hair was nice and soft. Her tattoos are awesome – it just added to her sex appeal. So did her tanned skin. I loved the way it contrasted with mine. When she slide in behind me and I felt the warm touch of her lips on my neck, I felt a chill down my back. It was amazing when we turned to each other and our lips touched for the first time. I was so turned on, that I started to get rock hard. I loved the way she sucked my cock before I sat on her huge dick, still rock hard, and bounced up and down. My absolute favorite position that night was missionary. I'd never been fucked like that before. It was so primal. After that sex, I definitely felt like the itch that needed to be scratched, had been scratched".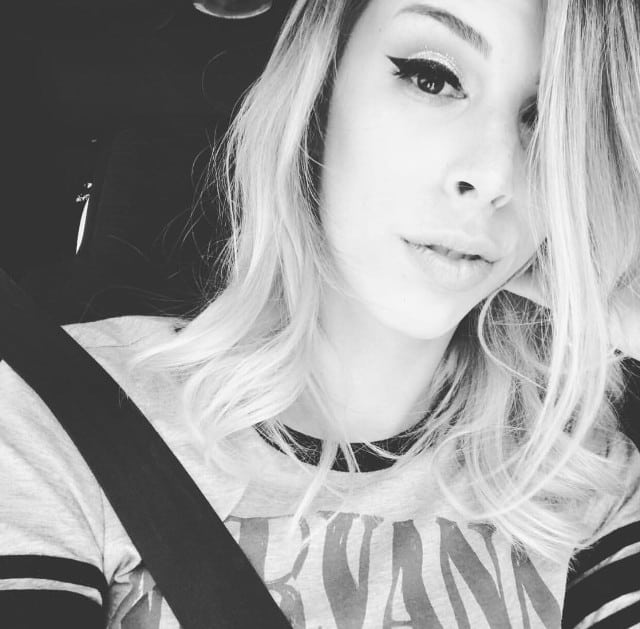 Casey Kisses : Best-Selling Porn Productions
Hot on the heels of her captivating Grooby Network web clips, Casey Kisses began to star within several of Joey's Silvera's best-selling Evil Angel DVD titles. We recommend checking out Casey Kisses' seductive shoot with Draven Star in TS Factor 6 (2016) and her raunchy medical role-play with Gabriel D'Alessandro in Rogue Adventures 45 (2016) for which Casey Kisses also posed as its DVD cover model.
Spurred on by the success of these Evil Angel sequel releases, Casey Kisses has continued to film for numerous trans-friendly porn networks including SM Club, TGirls.XXX, SM Strokers, Tgirls.porn, Grooby Girls and Bob's TGirls. Fans of Casey Kisses' raunchy web content have to check out her sizzling solo shoot for Sammi Mancini's award-winning SMStrokers.com website in August 2016 as well as her sensational solo scenes, titled Meet Casey Kisses!, which were directed by award-winning porn cinematographer Blackula for TGirls.XXX in September 2016. With so many stunning solo shoots under her belt you can see why Casey Kisses won " SM Stroker of the Year" at the 2017 Transgender Erotica Awards!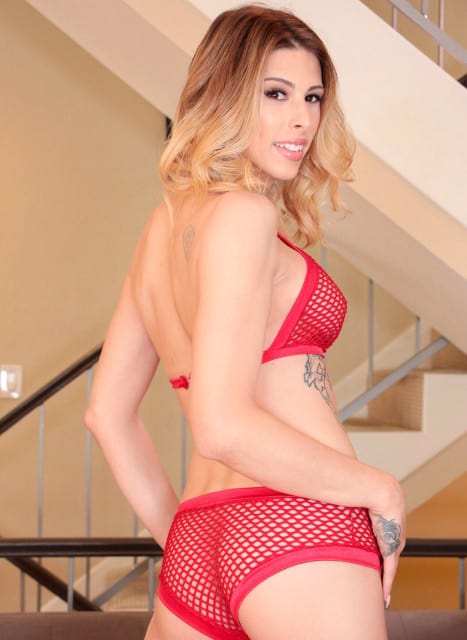 Would Casey Kisses stop here? Definitely not! In fact, Casey Kisses has continued to shoot such compelling TGirls.XXX  solo scenes as Casey Kisses All Oiled Up! that was first released in September 2016 as well as Come and Play in Bed with Casey! and Super Hot Casey in Bikini! that were both unveiled via TGirls.XXX in July 2017.
It gets even better; Casey Kisses has since starred in a steady stream of best-selling DVD titles including Ménage A Tranny (2017) for Devil's Film within which Casey Kisses shared a thrilling three-way with porn star power couple Leigh Raven and Nikki Hearts, TS I Love You (2017) for Gender X, Monstercock Trans Takeover 19 (2017) for Trans 500 Studios, TS Bad Girls 2 (2017) for TransSensual and the Devil's Film sequel releases TS Hookers 2 (2017) and Transsexual Girlfriend Experience 5 (2017) featuring Juliette Stray, Natalie Mars and Lena Kelly.
Just can't get enough of captivating cutie Casey Kisses? Then you have to check out Casey Kisses' stellar performances in Aiden Starr's Evil Angel DVDs Hot For Transsexuals 4 (2017) and Transsexual Addiction (2017); both of which have featured Casey Kisses alongside famous TS pornstars Natassia Dreams, Lena Kelly, Sofia Sanders, Aubrey Kate, Chanel Santini and Korra Del Rio. Not to be missed!
What does the future hold for Casey Kisses? Well she has launched her official website CaseyKissesxoxo.com through which she treats her fans to an impressive collection of exclusive video, photo and live cam content. So what are you waiting for? Stay connected with your favorite TS pornstar Casey Kisses online today!
Casey Kisses – Social Networks
Official Website : CaseyKissesxoxo.com
Grooby VR : Casey's VR Scenes
Twitter : @Caseykissesxoxo
Instagram : @caseykissesxoxo
Chaturbate : tscaseyhaze_xxx
Grooby Girls : Casey at Grooby Girls
VRB Trans : Casey at VRB Trans

TGirls XXX : Casey at TGirls XXX
TransSensual : Casey's TransSensual Movies
Vibbi : caseykissesxoxo