Kasey Kei
Kasey Kei Twitter : @callmekaseykei   Chaturbate : Callmecaseyy   Grooby Girls : Kasey's Sex Scenes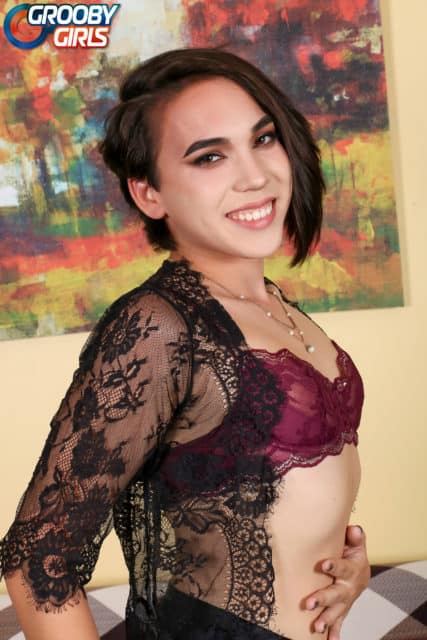 Kasey Kei Cums! – Grooby Girls
Kasey Kei – Personal Info
Name : Kasey Kei
Date of Birth : October 8th
Star Sign : Libra
Measurements : 36B – 30 – 35
Height : 5'7 (1.70m)
Hair Colour : Brunette/Black
Eye Colour : Brown
Years Active : 2018 – present
Number of Scenes : 10+
Kasey Kei is a popular porn star, cam girl and model who made her industry debut in late 2018. During this time Kasey Kei has attracted a devoted fan following due to her lusty live cam shows and sizzling scenes for Gender X, Grooby Girls, Transfixed and Two Tgirls. Definitely one to look out for in the months to come!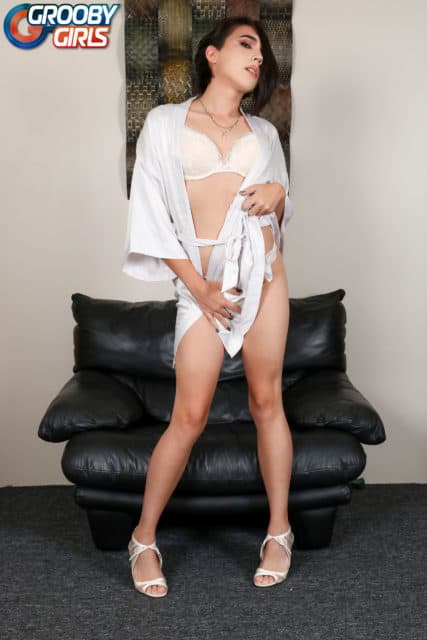 Introducing Kasey Kei! – Grooby Girls
Kasey Kei : Adult Film Career
Born in Japan but raised in Florida, Kasey Kei made her official adult film industry debut in October 2018 when she filmed a sultry solo scene for the Grooby Network porn site Grooby Girls. Titled Introducing Kasey Kei!, this sensual solo scene was directed by Jack Flash and it was released via Grooby Girls with the hot description;
"What a way to end another amazing week here on Grooby Girls! This Saturday we have an immense pleasure to introduce one gorgeous Grooby Newbie! Meet Kasey Kei! Just discovered by Jack Flash, this cutie is of Japanese and American descent and she hails from central Florida. Her skin is flawless silky smooth and she has an amazing body with a perfect booty! Kasey is absolutely stunning! Watch her stripping, posing, stroking her cock and having fun in her first scene ever!".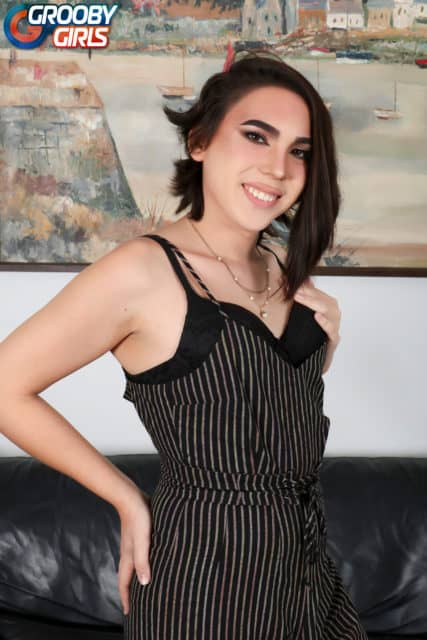 Cumshot Monday: Kasey Kei! – Grooby Girls
Kasey Kei's solo debut was also ardently endorsed by prominent porn critic Caramel Black who conveyed in her October 2018 Caramel's TGirls review how;
"As I'm watching Kasey's interview with Mr. Flash, I can see her Asian heritage now, but I only saw the Caucasian side of her first. I wonder if she gets a lot of 'exotic' comments on her looks. If so, I wonder if it's annoying to her. I just see beautiful and it's totally understandable why Mr. Flash was blown away upon seeing her in person for the first time. I live in Florida and I don't see chicks looking this good every day here either, and believe me, they look pretty damn good here! Some smiles are mysterious and some are friendly. Kasey's smile has an intelligence behind it – my favorite kind of smile. Her body is virtually flawless and her speech pattern is the type you could listen to all day…
Kasey talks about the types of men she likes and what she likes them to do with her. She has a specific naughty fantasy that involves getting fucked nice and hard in her tight ass…Kasey doesn't miss a trick in her debut to get your cock raging hard. She peppers her scene with blazing hot dialogue, incredible butt shows, foot fetish content and mesmerizing toy fucking! I'm so curious to see how far Kasey will take her porn career. She could go straight to the top if she wants to. Don't miss her spectacular debut on the world's longest running adult transsexual website – GroobyGirls.com!".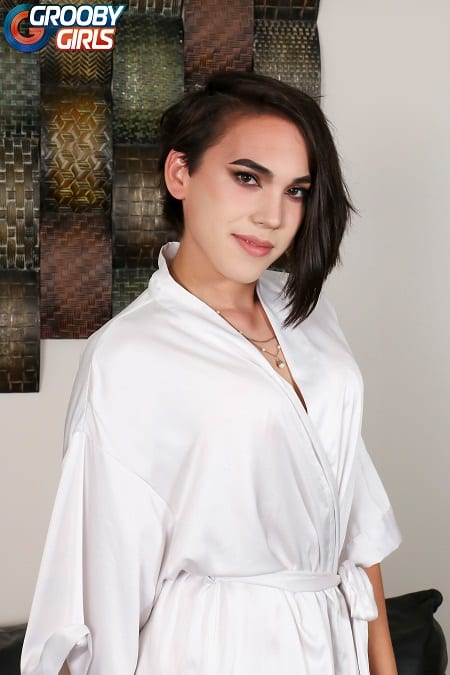 Introducing Kasey Kei! – Grooby Girls
You'll be happy to hear that Kasey Kei has filmed several steamy solo scenes for Grooby Girls. We recommend checking out Kasey Kei's seductive Kasey Kei Cums! shoot in November 2018 and her saucy Cumshot Monday: Kasey Kei! scene in March 2019. Kasey Kei has also shared a raunchy Kasey Kei Enjoys Hard Fucking! scene with Smash Thompson that was released via Grooby Girls in November 2018. This hot hardcore scene earned Kasey Kei even more high praise from Caramel Black who mentioned in her November 2018 TS Dreamland review that;
"Beautiful Kasey made her GroobyGirls.com debut in October of 2018 and her climactic encore performance in November. We didn't have to wait long to see her here again and 'Kasey Kei Enjoys Hard Fucking' exceeds my expectations. I wouldn't say it's plot-driven, but a little dialogue set up the scene like it's date night for a new couple. Smash Thompson is one of the newest male sensations from the Sunshine State and he's a great addition to trans porn. But more on that later…
Kasey is a natural performer. Her acting skills are so seamless I forget she's saying words from a script. She's also petite so it's almost bizarre to think of what she's going to do with big Mr. Thompson's big ole' dick!…Their bodies aren't the only amazing things in this scene. There's also lots of intimacy and the fucking is incredible!…It finally dawned on me that this GroobyGirls.com production is pro[fessional] porn with everything I love about amateur porn in it – real passion".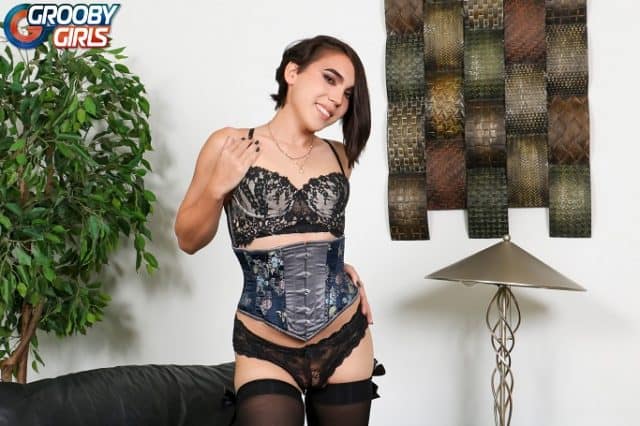 Kasey Kei Enjoys Hard Fucking! – Grooby Girls
Alongside her sensational Grooby Girls shoots, Kasey Kei has filmed some hot hardcore scenes for the popular porn site TwoTgirls.com. We recommend watching Kasey's titillating I Wish To Get Ass Fucked and Girly Pillow Fight Ends In Hardcore Fucking scenes with Kami Kartel that were both promoted via TwoTgirls.com in November 2018. Most notably, Kasey and Kami's sizzling I Wish To Get Ass Fucked scene was named as Two Tgirls' "#1 Porn – Fall 2018". A must see sex scene for Kasey Kei fans! Naturally, this unforgettable Two Tgirls collaboration was highly recommended by Caramel Black who divulged in her November 2018 Caramel's TGirls review that;
"I haven't met Kasey, but I've heard nothing but great things about her. If her personality is half as sweet as she is attractive, she's a walking love trap. I'm not at all surprised to see her on the brilliant site of Mayumi Sparkles who is based in central Florida. The blowjob sequence with Kasey going down on Kami is mesmerizing to watch. And after tossing the Genie's salad, Kasey is held in a forceful embrace as she gets the Genie's big dick thrust inside her tight ass! This pounding from Kami is the most powerful I've seen Kami deliver and I absolutely love it. There are 4 remarkable position changes and TwoTgirls.com isn't kidding about that huge cumshot at the end!".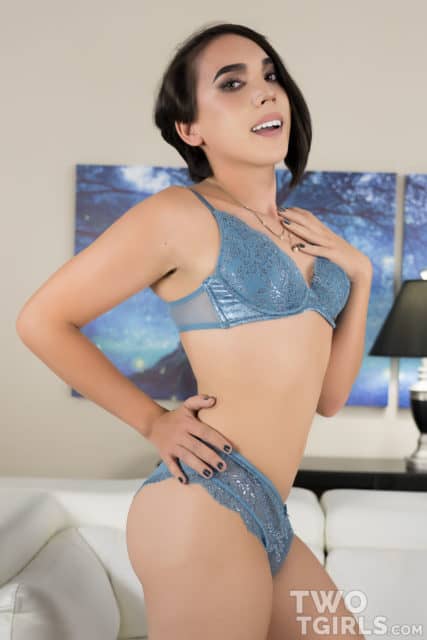 Kasey Kei in I Wish To Get Ass Fucked – TwoTgirls.com
Hold on, it gets even better. Kasey Kei and Kami Kartel's raunchy role-plays have since been featured in the Two Tgirls DVD compilation title Two Tgirls #7 (2019). Kasey Kei and Kami were showcased on the box cover of this raunchy release which also stars sexy TS pornstars Aubrie Scarlett, Jelena Vermilion, Aubrey Leigh, Chelsea Marie, Bailey Love and River Enza. What's more, Kasey Kei and the cast of Two Tgirls #7 received an ardent endorsement from Two Tgirls CEO and director, Mayumi Sparkles, who highlighted in a March 2019 XBIZ News press release how;
"All of the girls did a tremendous job and really got into their roles. I'm confident our fans will love this new instalment of the Two Tgirls series".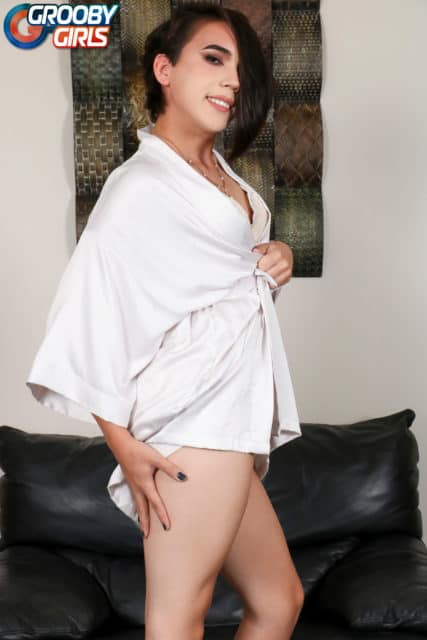 Introducing Kasey Kei! – Grooby Girls
During this time Kasey Kei started to share a wealth of compelling web clips via the Grooby Network porn site T.porn. Fans of stunning TS pornstars will love watching Kasey Kei's saucy A Hot Fuck With Kasey Kei! scene in October 2018, her raunchy Kasey Fucked On The Bed! romp in November 2018, her scintillating Kasey And Her Man scene in March 2019 and her sizzling Kasey Receives A Load Of Cum shoot in April 2019.
When she isn't performing in porn, Kasey Kei enjoys hosting intimate live cam shows via Chaturbate (as 'Callmecaseyy'). Kasey Kei also loves watching anime and playing video games. As Kasey Kei revealed via her official T.porn profile;
"I'm just a cute half Japanese White Tgirl with geeky interests. I love watching anime and playing video games. Of course also lusting after men and getting laid. My type of man is a laid back muscular geek. Someone who can hold me down and fuck me but also watch anime together afterwards. I love filming my rendezvous and I hope you enjoy them as much as I enjoy having my body touched".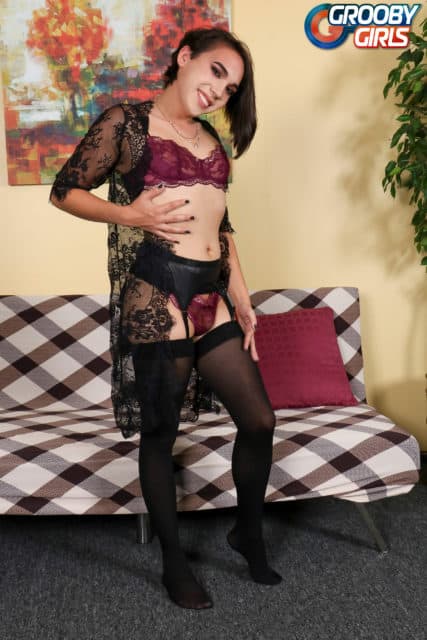 Kasey Kei Cums! – Grooby Girls
Keen to stay connected with rapidly rising starlet Kasey Kei? Then use the links provided to discover all of Kasey Kei's hottest sex scenes, exclusive web content and upcoming live cam shows!
Kasey Kei – Social Networks
Twitter : @callmekaseykei
Chaturbate : Callmecaseyy
Grooby Girls : Kasey at Grooby Girls
PornHub : KaseyKei
T Porn : Kasey at T.porn
Two Tgirls : Kasey at TwoTgirls.com
Clips4Sale : KaseyKei
Adult Empire : Kasey's DVDs