Aubrie Scarlett
Aubrie Scarlett Twitter : tsAubScarlett   Chaturbate : aubriescarlett
VRB Trans : Aubrie's VR Scenes   Grooby Girls : Aubrie's Sex Scenes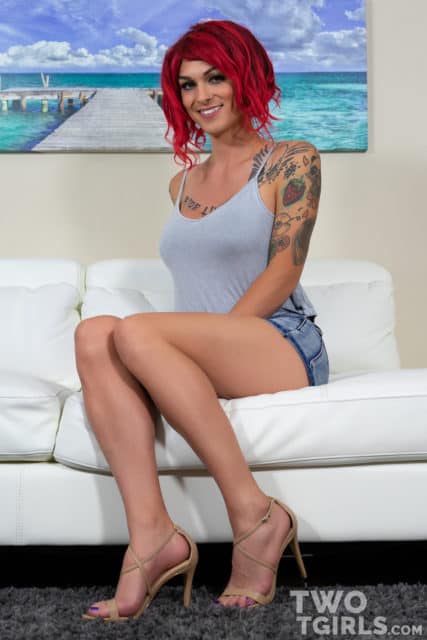 Aubrie Scarlett at TwoTgirls.com
Aubrie Scarlett – Personal Info
Name : Aubrie Scarlett
Date of Birth : August 13th
Star Sign : Leo
Hometown : Kansas City, Missouri (US)
Measurements : 32G
Height : 5'6 (1.68m)
Hair Colour : Red
Eye Colour : Hazel
Tattoos : A vivid purple octopus and green skull design across her right shoulder and upper arm, a seahorse on the inside of her upper right arm, a five pointed star inside a circle on the back of her upper right arm, 'Ride Like Hell' script across her chest and various designs across her left shoulder and upper arm including a large skull with wing-like design, a panda eating from a bowl with chopsticks, flowers with falling petals, a broken record with music notes, a strawberry, a Turbonetics engine part and a multi-colored butterfly
Piercings : Left nostril and navel
Years Active : 2017 – present
Number of Scenes : 30+
Aubrie Scarlett is a ravishing redhead porn star, cam girl and model who has been thrilling fans since the summer of 2017. Best known for her kinky live cam shows and compelling web clips, Aubrie Scarlett has already starred in a wide range of Grooby Girls, TGirls XXX, Pure TS and Two TGirls porn productions. Watch this space!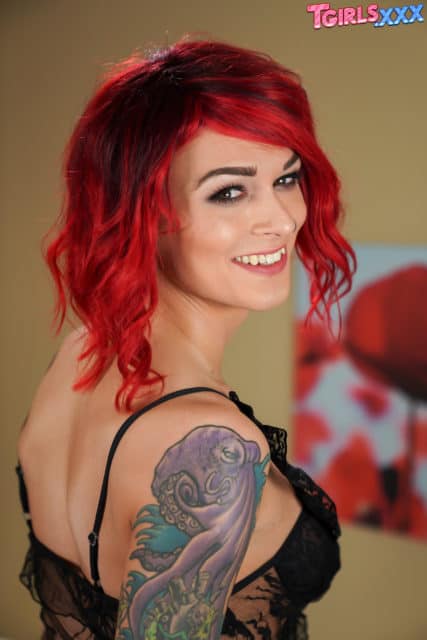 Beautiful Aubrie Scarlett! – TGirls.XXX
Aubrie Scarlett : Adult Film Career
Hailing from Kansas City, Missouri, Aubrie Scarlett made her official adult film industry debut in the summer of 2017 when she filmed a sultry solo scene for Grooby Girls. Titled Introducing Aubrie Scarlett!, this steamy solo shoot was released via Grooby Girls in July 2017 with the hot description;
"Grooby Girls is on its mission once again: discovering beautiful new trans girls and introducing them to the world! Well, we have a very pleasant surprise for you this Saturday: meet Aubrie Scarlett! Now this gorgeous Grooby Newbie is exactly all Grooby Girls is about! She's young, pretty and eager to show us what she got! Aubrie is from Kansas City and even though she's versatile – she doesn't hide the fact that she prefers being on the bottom! But guys, watch out – Aubrie only likes guys with BIG dicks! She did amazing job for her first scene ever, we can't wait to see more from this hottie!".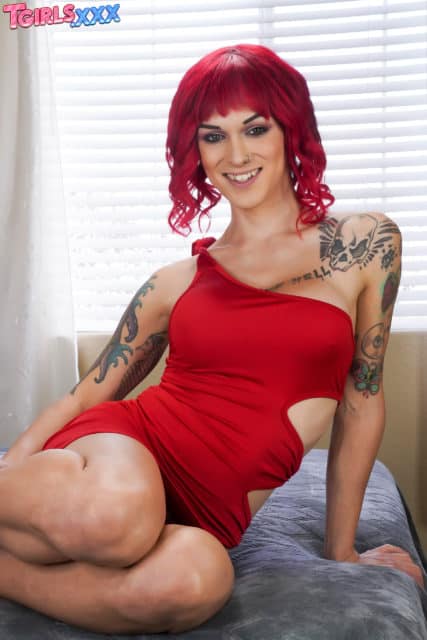 Aubrie Scarlett Gets A Creampie! – TGirls.XXX
You'll be happy to hear that Aubrie Scarlett has filmed several sizzling scenes for Grooby Girls. We recommend watching Aubrie Scarlett's seductive Aubrie Scarlett Strokes And Cums! solo scene in August 2017 and her saucy Cumshot Monday: Aubrie Scarlett! shoot with Jenny Crystal in November 2017.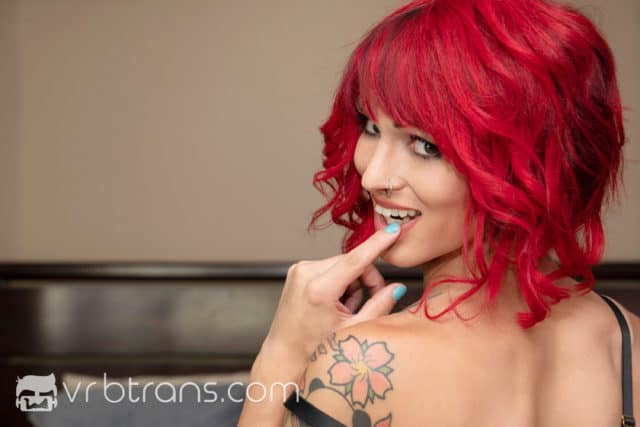 Aubrie Scarlett in Trans-Formation – VRBTrans.com
During this time Aubrie Scarlett started to shoot some hot hardcore scenes for the Grooby Network porn site Tgirls.porn. You'll love viewing Aubrie's steamy shoot with Jenny Crystal in September 2017, her titillating scene with Lena Kelly in February 2018 and her sizzling scene with Crystal Malone in August 2018. These compelling collaborations were all directed by Radius Dark and they earned Aubrie some ardent endorsements from prominent adult film critic Caramel Black. Most notably, Caramel praised Aubrie and Jenny's September 2017 Tgirls.porn scene, highlighting in her September 2017 Caramels TGirls review how;
"Here's a killer update from one of my all-time favorite sites starring and produced by three people I really like: Aubrie Scarlett, Jenny Crystal and Radius Dark. Before this TGirls.Porn update the very fortunate ones amongst us have enjoyed both Aubrie Scarlett on Grooby Girls and Jenny on Grooby Girls. I remember because I've raved about each model individually. What I didn't know about Aubrie and Jenny was who was going to fuck who. I think of Aubrie as mostly submissive and the same goes for Jenny. Would this turn out to be an intensely passionate scene with lots of kissing and realistic intimacy? Well, there was only one way to find out what exactly what went down between these beauties. It's fire from the first kissing moment as in "We're actually dating," kind of fire. I don't know what goes on between them in their actually personal likes, but this is like watching a true couple going at it…
I don't know why but I'm really keen about good chemistry particularly with trans lesbian sex. I'm bisexual but when it comes to porn with a trans woman and a male, I don't care so much if they're just making a suck and fuck scene. This is certainly not a BDSM scene but there's a hint of a power exchange. One minute, Aubrie seems to be the more aggressive partner. Then Jenny takes the lead. Once Jenny begins fucking Aubrie bareback, she's the more dominant one until Aubrie is ready to fuck her back! This top notch production TGirls.Porn took me everywhere I wanted to go with a whole lot of cum thrown in to top things off! As for the intimacy…it's electrifying".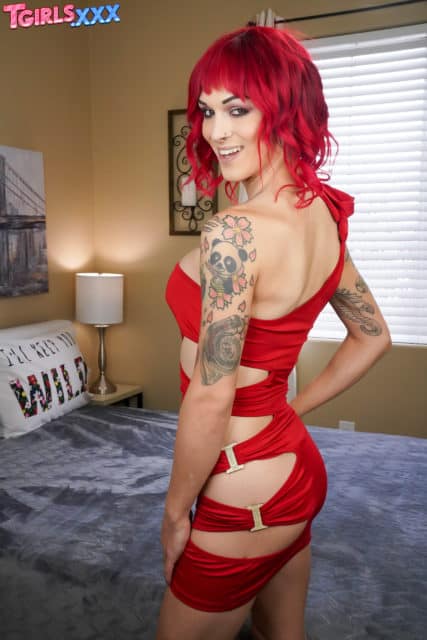 Aubrie Scarlett Gets A Creampie! – TGirls.XXX
Hold on, it gets even better. Aubrie Scarlett has also filmed some compelling web clips for the Grooby Network porn site TGirls.XXX. Aubrie made her official TGirls.XXX debut in May 2018 when she filmed a sultry Beautiful Aubrie Scarlett! solo scene and a thrilling three-way with Chanel Noir and D. Arclyte. Both of Aubrie Scarlett's TGirls.XXX solo and hardcore debuts were directed by Radius Dark and they were released via TGirls.XXX with the tantalising descriptions;
"As usual, Wednesday is the hardcore day on TGirls.XXX and Radius Dark got something amazing for you today: two gorgeous Grooby stars, Chanel Noir and Aubrie Scarlett are joined by D. Arclyte for some amazing threesome action! Two of the hottest new faces of 2017 continue to amaze us in 2018 too!…
Gorgeous Aubrie Scarlett was without a doubt one of the hottest Grooby newcomers of 2017. She was introduced to the world last summer on Grooby Girls, just to make her TGirls.XXX debut a couple of weeks ago with a smashing threesome hardcore scene also featuring Chanel Noir and D. Arclyte! Today, she's back with Radius Dark once again for her TGirls.XXX solo debut and she looks smoking hot! Watch her as she proudly shows off her beautiful new big boobs".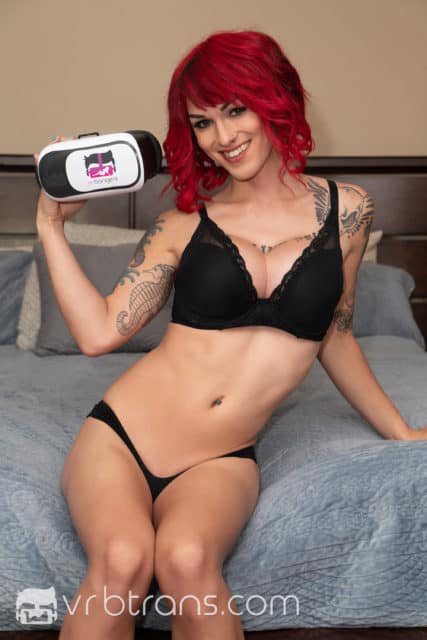 Aubrie Scarlett in Trans-Formation – VRBTrans.com
But that's not all. Aubrie Scarlett has since collaborated with Radius Dark on a raunchy Aubrie Scarlett Cums For You! solo shoot and a scintillating Aubrie Scarlett Gets A Creampie! hardcore scene with King Epicleus that were both released via TGirls.XXX in May 2018 and December 2018. Not to be missed!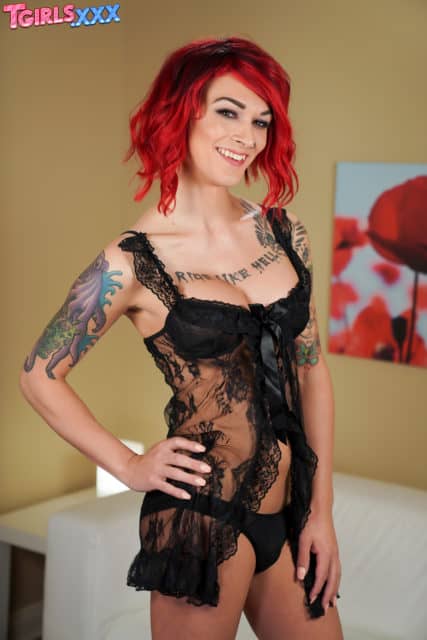 Beautiful Aubrie Scarlett! – TGirls.XXX
Aubrie Scarlett : Popular Porn Productions
Many of Aubrie Scarlett's hottest hardcore collaborations have been featured in the Grooby DVDs Lena Kelly: TS Superstar (2018), TS 3Somes (2019) and T-Girls Porn #15 (2019) starring hot TS pornstars Korra Del Rio, Aspen Brooks, Chanel Noir, Crystal Malone, Kristen Kraves and Ivory Mayhem.
In addition to her fan-favorite Grooby collaborations, Aubrie Scarlett has shared some immersive POV scenes with Chanel Noir and Christian XXX that were uploaded via TSPOV.com in December 2017 and March 2018. Aubrie has also filmed some raunchy hardcore scenes with Jenny Crystal and Christian XXX which were both released via Pure-TS.com in January 2018 and February 2018. Aubrie even treated her fans to an intensely alluring Trans-Formation virtual reality experience that was unveiled via VRB Trans in July 2018. It's like Aubrie Scarlett is in the room with you!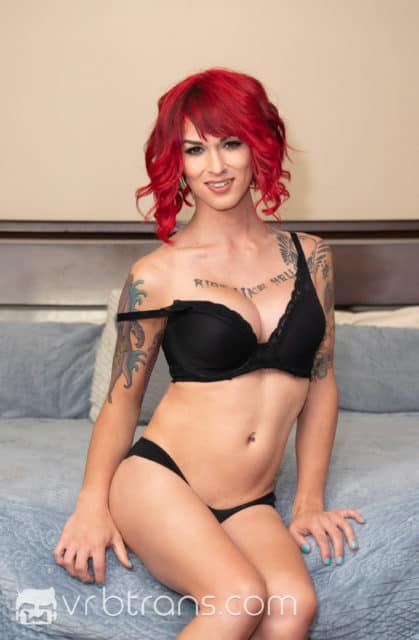 Aubrie Scarlett in Trans-Formation – VRBTrans.com
Wait, there's even more. During this time Aubrie Scarlett also filmed some unforgettable scenes for Mayumi Sparkles' popular porn network TwoTgirls.com. Aubrie made her official TwoTgirls.com debut in December 2017 when she shared some raunchy Trying Out For Porn and Teen Lesbian Schoolgirls Find A Giant Dildo role-plays with Kira Crash. In particular, Aubrie Scarlett and Kira Crash's Trying Out For Porn scene was wholeheartedly endorsed by Caramel Black who stated in her January 2018 Caramels TGirls review that;
"Being a makeup artist is fun but difficult work. Aubrie Scarlett is doing Kira Crash's makeup and starts to ask her a bit about her line of work. Kira Crash explains that she's in porn. Aubrie Scarlett has always wanted to try getting in to porn. Let's just say Kira's more than happy to show her the ropes. Here's a few more details about this super-hot TwoTgirls.com update:
Kira's makeup done by Aubrie is indeed a bit garish. She's intending to do a solo porn shoot after all and this shoot calls for the that extra slutty look. Imagine you're an established porn star and Aubrie tells you she's an aspiring one. Wouldn't you make a move on her and see how far it takes you? That's what Kira does and it results in a passionate kiss…
But Kira really needs to find out if Aubrie truly has what it takes to enter the adult entertainment industry. So she moves this make out session to the bed. Kira is just wearing a black midriff-baring top and matching skirt with no stockings, shoes and obviously no panties. Aubrie has on a grey knit dress and tall green sandals. She's also wearing panties but it's easy for Kira to withdraw her cock and to begin sucking on it. Kira has an even easier time giving Aubrie head one she removes the black undies".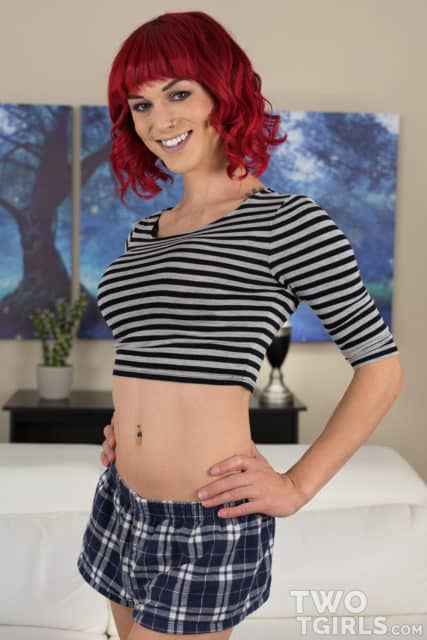 Aubrie Scarlett in College Girl Cumshots – TwoTgirls.com
Aubrie Scarlett has continued to shoot some sizzling scenes for TwoTgirls.com. Fans of Aubrie Scarlett will love watching her seductive Comparing Boob Sizes and Where's the Meat!? scenes with Kayleigh Coxx in June 2018 as well as her kinky Board Game Babes Fuck and College Girl Cumshots scenes with Jelena Vermilion in December 2018. Unsurprisingly, Aubrie has been featured in several Two Tgirls DVD compilation titles including Two TGirls #6 (2018) that features Aubrie on its box cover, TGirl Schoolgirls #2 (2018) that was nominated for "Best Transsexual Movie" at the 2019 AVN Awards and Two TGirls #7 (2019). Must see movies for Aubrie Scarlett fans!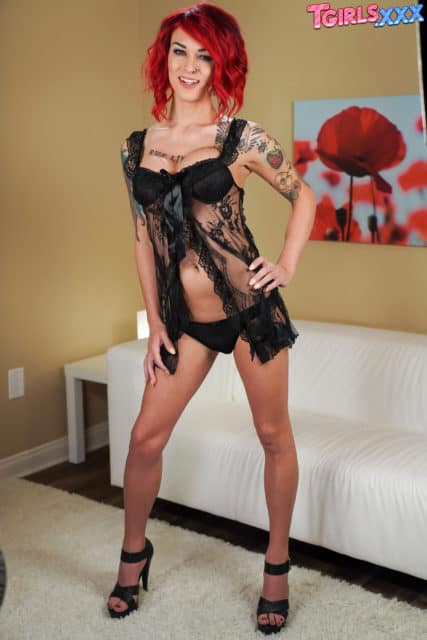 Beautiful Aubrie Scarlett! – TGirls.XXX
When she isn't starring in these popular porn productions, Aubrie Scarlett is an avid adrenaline junkie who loves mountain biking. Aubrie also enjoys interacting with her fans via social media, hosting lusty live cam shows via Chaturbate (as 'aubriescarlett') and shooting exclusive videos and photo sets for her ManyVids subscribers (as 'TSAubrieScarlett'). As Aubrie hotly hints;
"I love feedback from my fans feel free to write me a message. I try my best to respond to all. if you could please put more effort in then just say Hey to me. Love Aubs!!!!!!".
Keen to stay connected with sexy new TS pornstar Aubrie Scarlett? Then use the links provided below to discover all of Aubrie's hottest sex scenes, exclusive web content and upcoming live cam shows!
Aubrie Scarlett – Social Networks
Twitter : tsAubScarlett
Chaturbate : aubriescarlett
VRB Trans : Aubrie Scarlett VR Scenes
Grooby Girls : Aubrie at Grooby Girls
ManyVids : TSAubrieScarlett
TGirls XXX : Aubrie at TGirls.XXX
Tgirl.porn : Aubrie at Tgirls.porn
Two TGirls : Aubrie at Two TGirls
Adult Empire : Aubrie's DVDs