Penny Pax
Penny Pax Twitter : @PennyPax   New Sensations : The Submission of Emma Marx Movies   Kink : Penny's BDSM & Fetish Scenes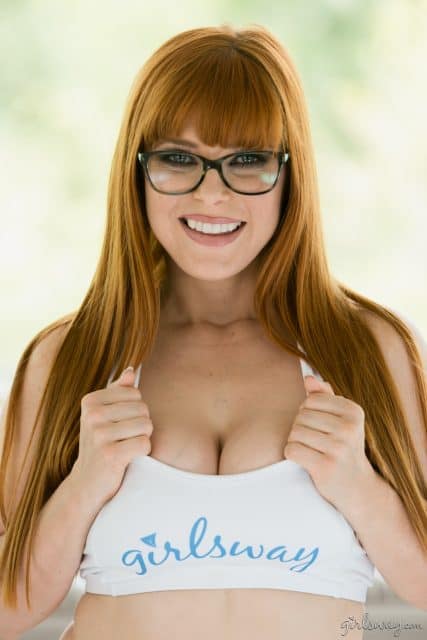 Penny Pax : Personal Info
Name : Penny Pax
Date of Birth: February 18th, 1989
Home Town : Fort Lauderdale, Florida (US)
Measurements : 34C – 24 – 35
Height : 5'0 (1.52m)
Hair Colour : Blonde/ Red
Eye Colour : Blue
Piercings : Navel
Shoe Size : Women's 6 (US)
Years Active : 2011 – present
Number of Scenes : 250+
Ravishing redhead Penny Pax is a multi-talented adult film star, fetish performer and model who made her porn debut in 2011. Famous for her The Submission of Emma Marx BDSM movies and critically acclaimed porn parodies, Penny has won many "Best Actress" accolades at the AVN, XBIZ and XRCO Awards and she is widely regarded as one of the most accomplished performers in the industry.
Wondering where it all began? Born in Miami, Florida, Penny Pax has Irish heritage. Penny Pax lived in Sacramento, Hawaii and Pacifica, California, as a child before she moved to New Zealand when she was in the third grade. Penny Pax discussed her brief yet enjoyable stay in New Zealand during her 2013 Le Tag Parfait interview, divulging that;
"New Zealand is like nowhere I have lived before. It's so quiet and peaceful. The water flushes the other way in the toilets and because if the iron in the water my hair turned a lovely shade of green. I lived on a sheep station near Omakau on the South Island. The nearest town was too far to walk and I went to a school that housed 1-12th grade! Talk about different! I also came back with a bit of a kiwi accent which was just darling".
This international relocation was short-lived when, after nine months, Penny Pax returned to the United States and settled in Fort Lauderdale, Florida, with her mother. Penny Pax discussed her jet-setting childhood in her 2012 interview with Brad Berkwitt and Misty Emerald, noting that;
"I was born in Miami, we didn't stay long though, moved to Sacramento for a few years then to Hawaii for what I think was a little over two years. From there we went to Pacifica, Ca up until my 3rd grade year, that's when we moved to New Zealand. My mother and I only lasted 9 months before we moved back on down to Florida! Yeah I know, like why didn't we just skip all that and stay where I was born? My mother follows her heart, I guess. Anyways I spend the next 13 years in Fort Lauderdale with my mom before I moved out here to my favorite state California".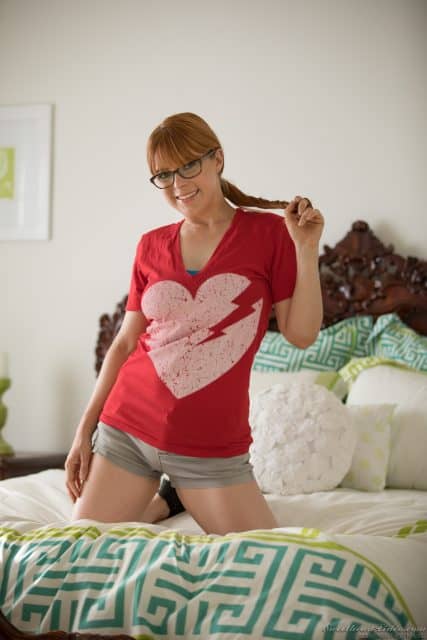 Penny Pax has discussed her love of California via her Model Mayhem profile, stating that;
"Even though I was raised on the west and east coast I still consider myself a California girl. My long term goals for myself are to move back to the west coast and work in the film industry".
You may be interested to learn that Penny Pax has always been an outgoing girl who loves the theatre. Both her middle school and high school hosted performing arts programs and natural born performer Penny Pax was an ardent member of both of these groups. As Penny explained during her Adult DVD Talk interview and her July 2014 Fleshbot interview;
"I attended a Performing Arts school all the way through high school for music theatre and dance. So basically my whole life, I feel, was preparing me for porn. I did stage shows and plays starting when I was 7 years old. And ever since then, I loved being an entertainer and giving people something to watch and enjoy…
"I hung with the drama geeks and tech nerds. I went to a performing arts high school for musical theatre and dance, so I was pretty lucky to be able to be around like minded people. I was pretty bitchy if you ask anyone I went to school with and straightedge".
When Penny Pax was asked about her early sexual experiences during these interviews she revealed how she lost her virginity when she was 14 years old;
"I was really young, I was 14. It wasn't anyone from school, it was always someone from my neighborhood. There were a lot of kids my age so I got into trouble with them…I wouldn't say I was promiscuous right away. I was pretty excited when it finally happened because I was hearing stories about how awesome it was. II was pretty excited to have eventually done the deed. At that point, not really. A few years later, I started to actually explore. I wasn't super-slutty. I guess it depends on your definition of it. I had sex with about 30 people before porn….
I was actually with girls before guys. I don't even know, I was in like 1st or 2nd grade. I had a really good girlfriend and you hang out enough and you start to get curious about each other's bodies and what everything does. We kind of helped each other out with that. (laughs)".
As well as performing in live theatre and musicals, Penny Pax was also an athletic child who played soccer in her sophomore year. In fact, Penny Pax was a core part of her school's swim team. After graduating Penny Pax went on to work as a South Florida lifeguard for five years within the Seminole Hard Rock Hotel and Casino Hollywood as well as within the International Swimming Hall of Fame.
So just how did Penny Pax go from being a lifeguard to performing in porn? Bored with her job as a lifeguard, Penny Pax signed up with Model Mayhem in 2011 and she was soon spotted by an adult film talent agent who booked her to shoot her very first sex scenes for Reality Kings in November 2011. As Penny Pax recounted in her Adult DVD Talk interview;
"I was modeling a lot in Florida. I was developing my portfolio and got photos of me modeling different things, showing off my skills. An agent in Florida, I never actually met him, contacted me through Model Mayhem. He asked if I ever considered doing porn and at the time, I was not happy. I was lifeguarding for over 5 years and was pretty bored with it so I thought what the hell. I tried it out, it was super easy, I liked the excitement and the rush I felt when the camera came on. I felt like I was entertaining someone. I embraced this really slutty character. I don't feel like I'm like that in person but the camera brings it out for some reason. I really like that feeling…
I was actually really skeptical about it because it was just myself and a camera guy. He had a little handheld camera in this big mansion and there was nothing else there. I was thinking to myself, 'Am I going to get murdered?' Prior to that, the agent sent me to another guy's place and he told me he worked for Vivid and he was scouting for girls. I met with this guy and he was totally full of shit. Thankfully, I had known somebody in the industry and he told me this guy wasn't legit. My friend scared the crap out of him and hopefully he won't be taking advantage of any other girls. But I am waiting for the scene to come out because he shot a solo scene of me on his fucking iPhone so it's only a matter of time before it comes out".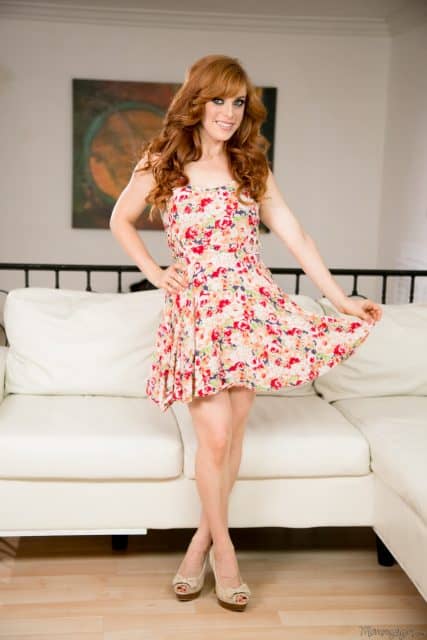 Penny Pax explained within this Adult DVD Talk interview that, although her mother was not pleased to discover her daughter had become a porn star, she has always been able to rely on her family for support and guidance;
"My mom knows. She wasn't super stoked at first but over time, she realized that I really enjoy what I do and have never been happier. She can just tell. I'm actually healthier than I've ever been. Porn has inspired me to take the best care of my body and try to make it look as good as I can because I'm butt naked on camera. (laughs)".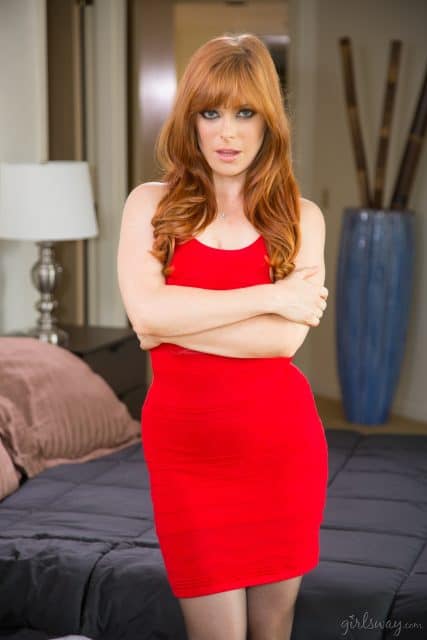 Penny Pax : Adult Film Career
Penny Pax filmed her very first sex scenes in November 2011 for Reality Kings. Titled Put It To Penny, this raunchy porn debut was released via Reality Kings's Street Blowjobs web series  in December of the same year. Soon after she launched her porn star career, Penny signed with Mark Spiegler's exclusive talent agency Spiegler Girls. As Penny Pax explained in her Adult DVD Talk interview;
"The people I shot for in Florida were really digging how I performed so they suggested I talk to Mark. They thought I would definitely be a good girl for his agency. I emailed him and Mark called me and told me if I can come out to California, he'd be happy to meet with me and see what happens. So I jumped on a plane and Mark said he would give me a shot. I flew back, packed up all my stuff and never looked back!".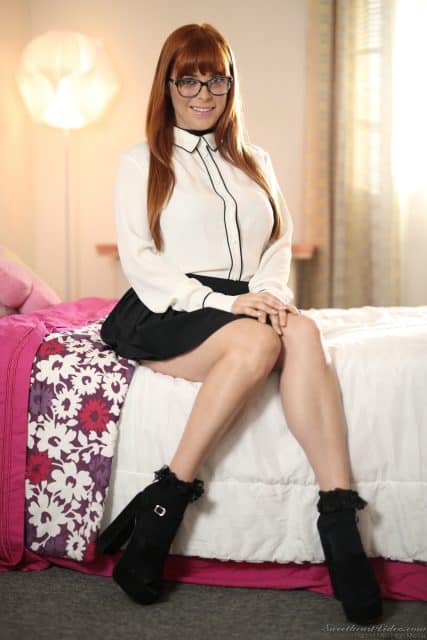 During this interview Penny Pax discussed how, unlike many female porn stars, she started to film anal sex scenes very early on in her adult film career;
" I was doing anal in my personal life because I just wanted to see what it was all about but my first scene ever was an anal scene. I guess I was just able to grasp the idea of doing anal. I just relaxed my body and I started liking it pretty much from the get go. I figured if I liked doing it and I didn't know how long I would last in the industry, I figured I might as well do everything I enjoy and show all my skills. (laughs)".
Hold on, it gets even better! After working within the adult entertainment industry for several months, Penny PAx soon found her niche within the porn parody market. As Penny Pax enthused within her Hot Movies interview;
"I have an acting background from the age of 7 and when I found out about porn parodies and features being done in the industry I was stoked!!".
In no time at all Penny Pax began to feature within the popular porn parodies Breaking Bad XXX: A Sweet Mess Films Parody and Dark Knight XXX: A Porn Parody. Both of these 2012 parody movies were nominated for "Best Parody: Drama" at the AVN Awards and Penny's performance with Brendon Miller in Dark Knight XXX: A Porn Parody even earned her a "Best Scene – Parody Release" nomination at the 2013 XBIZ Awards!
Want to know the best part? Throughout 2013, 2014 and 2015 Penny continued to appear within many porn parodies including Love Boat XXX for Adam & Eve, American Hustle XXX for Smash Pictures, Newlywed Game XXX: A Porn Parody and Dating Game XXX for Vivid/Wicked, This Ain't Star Trek XXX 3 for Hustler Video and Parodies Awaken for Digital Playground. The list goes on! Appearing within these popular parody releases enabled Penny to collaborate with some of the industry's most popular female porn stars including Carter Cruise, Veronica Avluv, Abby Cross and Samantha Saint.
Many of Penny Pax's most successful porn parodies were directed by renowned director Axel Braun. Among Penny and Axel's most popular parody collaborations include; 24 XXX: An Axel Braun Parody which won "Best Parody", "Movie of the Year" and multiple "Best Screenplay: Parody" accolades at the 2015 AVN Awards, as well as Avengers XXX 2: Along Came A Spider, Wonder Woman XXX: An Axel Braun Parody, and Cinderella XXX: An Axel Braun Parody which earned Penny a nomination for "Best Oral Sex Scene" at the 2015 AVN Awards.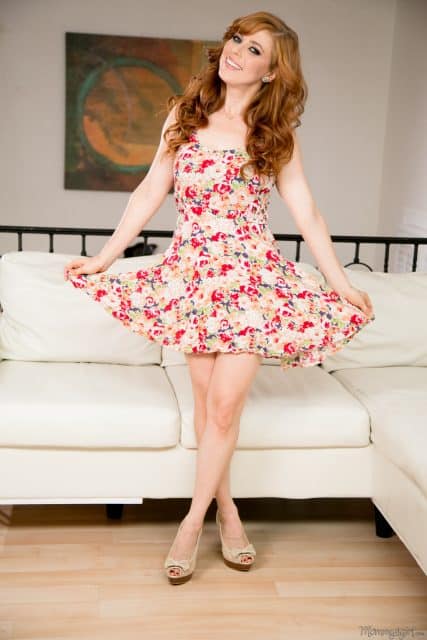 Penny Pax : Kink Collaborations & Fetish Porn Productions
Just when you thought it couldn't get any better, in between shooting award-winning parody releases, Penny Pax started to experiment within the fetish lifestyle market. Ever since she filmed her first online sex scene for fetish porn website Kink.com in February 2012, Peeping Tom Gets Revenge On Busty Blonde, Penny has been eager to appear in a wide range of femdom, BDSM and hardcore fetish content alongside Anikka Albrite, Aiden Starr, Francesca Le, Maitresse Madeline Marlowe, Tanya Tate, Chanel Preston, Mona Wales, Simone Sonay, Bella Rossi and Aidra Fox.
Eager to explore Penny Pax's captivating kinkster content? Then you have to check out her saucy swinging scene for Kink.com with Xander Corvus and Kimber Woods titled Evil BDSM Swingers Trap An Anal Lesbian. When Penny Pax was asked about these ongoing Kink.com collaborations during her Le Tag Parfait interview, she enthusiastically stated that;
"It's always a positive experience and a learning one too! I absolutely love shooting with them. Everyone on staff from the editors to the security, each are friendly and always there to help. It's totally a teaching company to work for and I'm grateful that they continue to have me back".
Penny Pax reinforced this view during her Adult DVD Talk interview when she was asked to name her favorite director or studio;
"That would have to be Kink.com, they have by far shot me the most and I have gained so much knowledge not only about bdsm but also about myself".
As matters stand, Penny Pax has featured within many of Kink.com's most popular web series including; Electro Sluts, Device Bondage, The Upper Floor, Everything Butt, Bound Gang Bangs, Foot Worship, Fucking Machines, Whipped Ass, Shades of Kink, Sex & Submission and Public Disgrace. Penny also starred in the Severe Sex movie Kink School: A Guide To Erotic Role Play which was nominated for "Specialty Release of the Year" at the 2016 XBIZ Awards.
One of Penny Pax's most popular Kink.com collaborations has been the 2014 Halloween feature release Le Dragon Rouge which won "Role-play Scene/ Clip of the Year" at the 2015 Femdom Awards. This compelling BDSM movie was directed by Maitresse Madeline Marlowe and it showcased Penny alongside formidable femdom performer turned director Mona Wales. Although Penny had collaborated with Mona on many Whipped Ass productions, Le Dragon Rouge was the first time that the pair had ever shared a saucy sex scene together. Mona loved working with Penny and eagerly expressed in an AVN press release that;
"I could spend an eternity staring into her eyes, they are so expressive they can tell the whole story in themselves".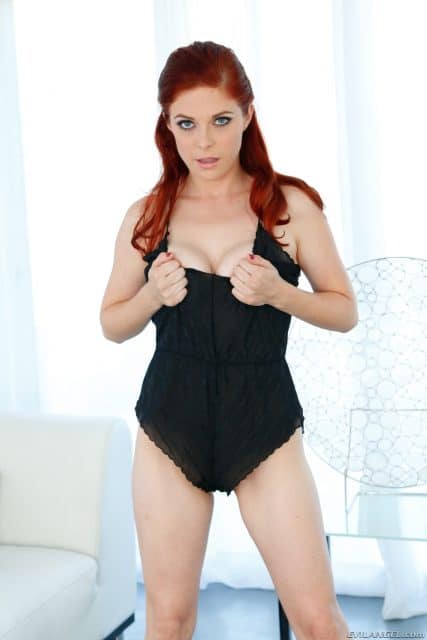 Penny Pax : The Submission of Emma Marx Movies & Award Wins
Out of all her porn projects, Penny Pax is best known for her role as 'Emma Marx' in the 2013 New Sensations feature movie The Submission of Emma Marx. Inspired by the Fifty Shades of Grey franchise, this BDSM themed production was directed by Eddie Powell and Jacky St. James and it starred Penny Pax alongside Riley Reid, Van Wylde, Richie Calhoun, Jacky St. James and Lillian.
The Submission of Emma Marx was extremely well received by fans and film critics alike and it won numerous industry accolades including "Best BDSM Release" at the 2014 AVN Awards and "Best Release" at the 2014 XRCO Awards. It was even named as "One of the Greatest Adult Films of All Time" in Showtime's 2015 X-Rated documentary! Penny was amazed at the ongoing commercial and critical success of The Submission of Emma Marx, noting during her Hot Movies interview how;
"I continue to be shocked by how much people enjoy The Submission Of Emma Marx! It was my first lead role in a feature so I was super nervous to do a good job!".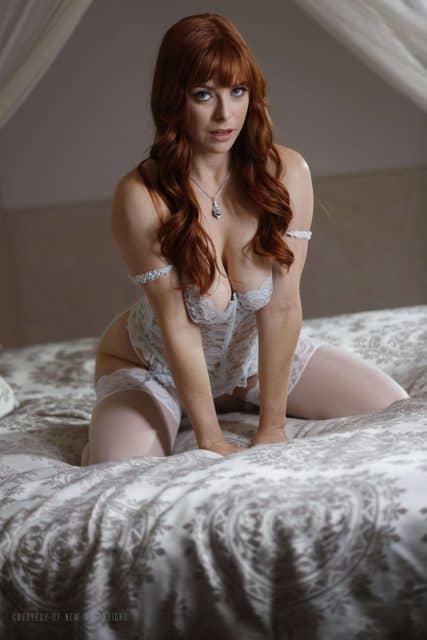 Given the overwhelming success of The Submission of Emma Marx, it was only a matter of time before a sequel was released; The Submission of Emma Marx 2: Boundaries (2015). This BDSM sequel release was another instant hit – winning "Best BDSM Movie" at 2016 AVN Awards and earning Penny multiple "Best Actress" accolades at the 2016 AVN and XRCO Awards.
You'll be happy to hear that Penny Pax has starred in two more Emma Marx movies – The Submission of Emma Marx 3: Exposed (2016) which won "Best Cinematography", "Best Editing", "Best Soundtrack" and "Best Screenplay" at the 2017 AVN Awards as well as The Submission of Emma Marx: Evolved (2017) which received multiple "Best BDSM Movie" and "Feature Movie of the Year" nominations at the 2018 AVN and XBIZ Awards.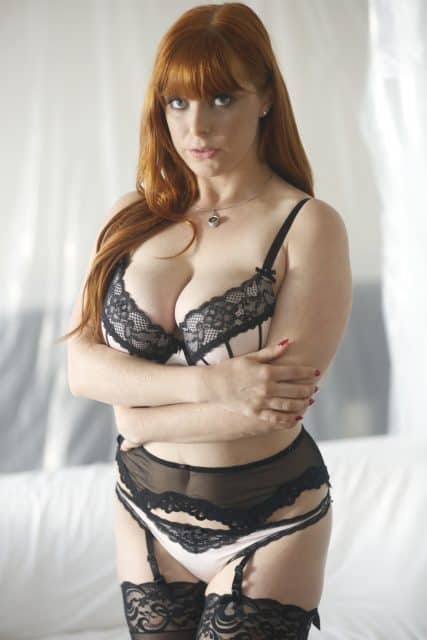 As well as receiving many notable award nominations, The Submission of Emma Marx movies have been extremely well received by fetish fans and even the mainstream media. In fact, The Submission of Emma Marx 2: Boundaries was showcased in a 2015 Huffington Post article titled Fifty Shades of Filth Or Fun?. Within this feature article Penny Pax explained how working on these BDSM feature movies has opened her eyes to the fetish lifestyle market. Penny Pax also noted that the series would also serve as a great eye-opener for adventurous couples;
"It opened my eyes a lot to what the whole BDSM world is…because I never read the books that these movies are loosely based on…In the first movie, Emma is totally vanilla and had never done anything risky like that and I hadn't done anything like that in my personal life until I got into porn and had the opportunity to shoot for sites that do that kind of stuff. I've been real surprised by how much the human body can take and recover from…
I think people are really going to enjoy it…because, for me, when I watch a mainstream movie I'm always wanting them to go that extra step and actually see more action. And with the porn version, you actually get to see the sex and people are really kissing, it's not stage kisses. I personally like that but I don't think everybody has as dirty a mind as I do. I would like to think that couples do watch this kind of stuff but I never watched porn with my boyfriends. I was always watching it by myself but I would like to think it appeals to the masses".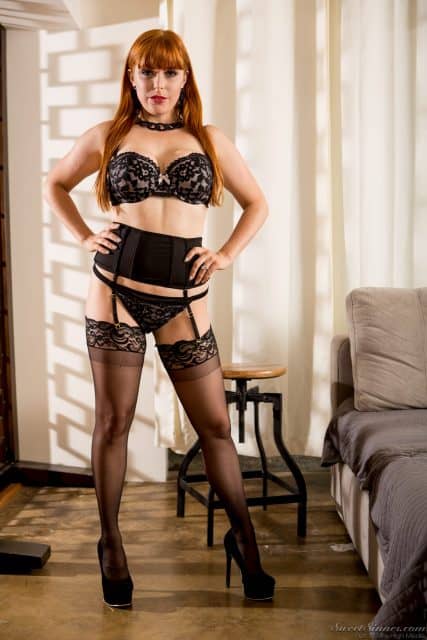 What's more, when Penny Pax was asked about The Submission of Emma Marx during her Adult DVD Talk interview, and about the impact that its subsequent sequels have had upon her adult film career, she revealed that;
"It was really exciting because the character continues to evolve and continues to face obstacles and overcomes them. It was exciting to continue on with the same character. I was shocked that everyone liked the first one so much. Personally, when I look back on it, I am not the biggest fan of how I played the role. It's a learning experience. Overall, I think it was wonderful and I think Jacky (St. James) did an amazing job writing it and directing it. She got the emotions out of me but I feel the second movie, I have progressed as an actor and it's going to be even better than the first. I'm really excited to see it. I've only seen the trailer so far. I look totally different! I hope everyone recognizes me! (laughs)…
Emma Marx is so similar to myself. The fact that she was just discovering BDSM and having the type of relationship she did. I haven't been in a BDSM relationship myself but I have been discovering BDSM through Kink when I got into the industry. So I felt that we were having the same experiences at the same time as the movie was being shot. So it was kind of crazy. I'm also kind of reserved and kind of shy which Emma also was. My favorite thing was that it wasn't that much of a stretch for myself".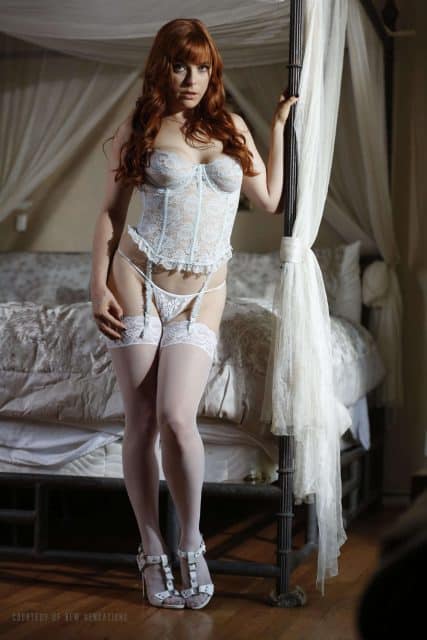 Want to know the most impressive part? Penny Pax's stellar performances in a broad spectrum of mainstream and BDSM porn productions have earned her many coveted industry accolades including;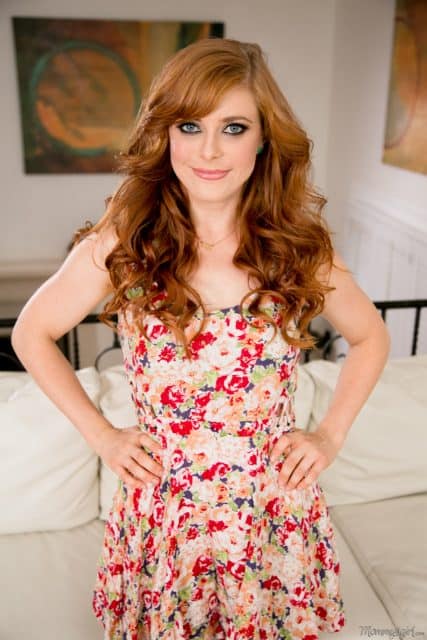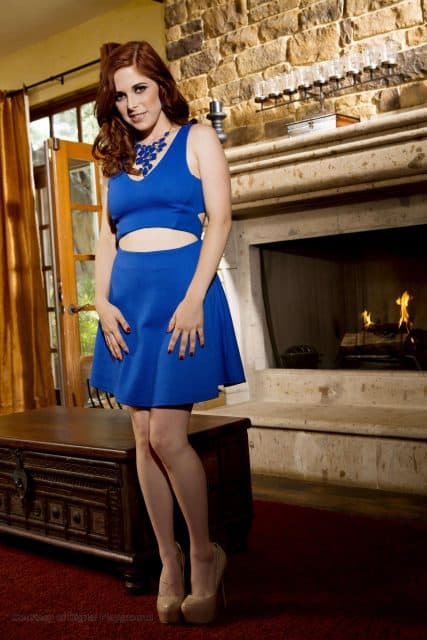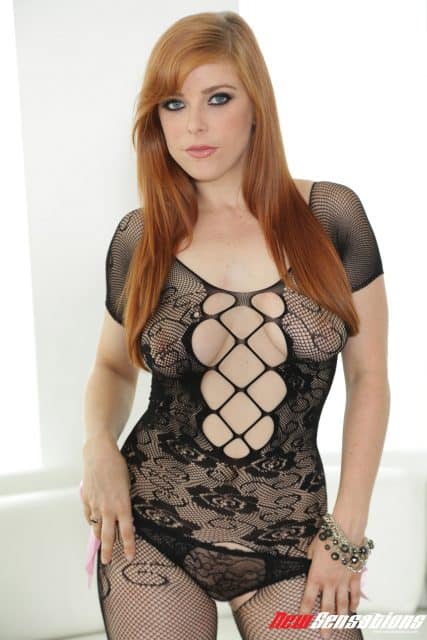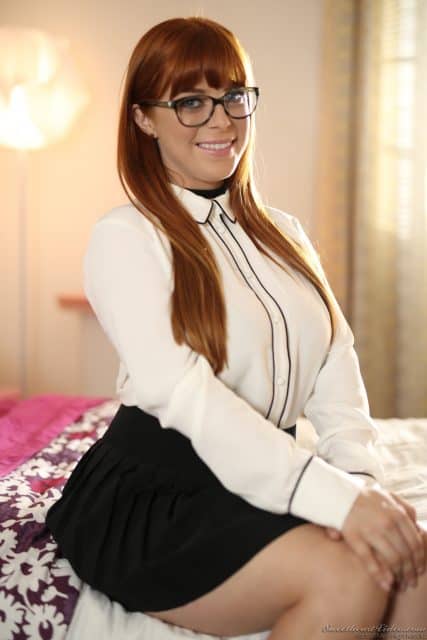 Try and think of another performer who has achieved so much success in both the mainstream porn industry and fetish lifestyle market. Difficult isn't it?!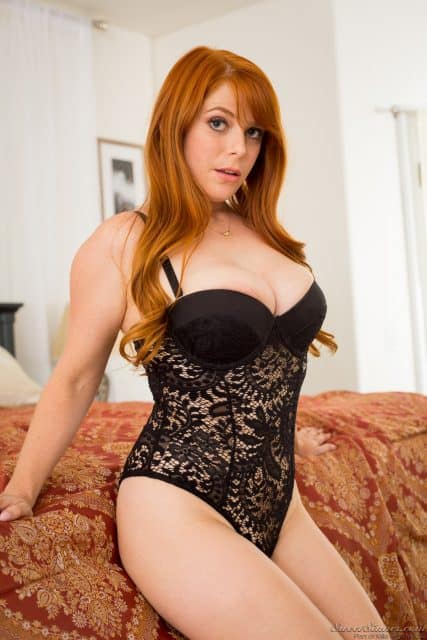 Penny Pax : Mainstream Media Projects & Future Plans
Hold on, we're not finished yet! Alongside her porn superstar status, Penny Pax has collaborated on many  mainstream media projects – such as the 2012 independent horror film Bloody Homecoming. Penny also participates in various sexual health and dating advice projects. For instance, in December 2015 Penny teamed up with her fellow porn stars Dana DeArmond, Anikka Albrite and Skin Diamond in order to create an online video tutorial titled Let Porn Stars Teach Your Guy How to Give You Oral Sex in This Video which was promoted by Cosmopolitan magazine.
In February 2016 Penny Pax reunited with this group of performers in order to offer some unconventional dating advice for men who use the Tinder mobile dating app. These Tinder dating 'do's and don'ts' were turned into a four minute video tutorial titled Swipe Left Or Right? Porn Stars Offer Their Dating Advice.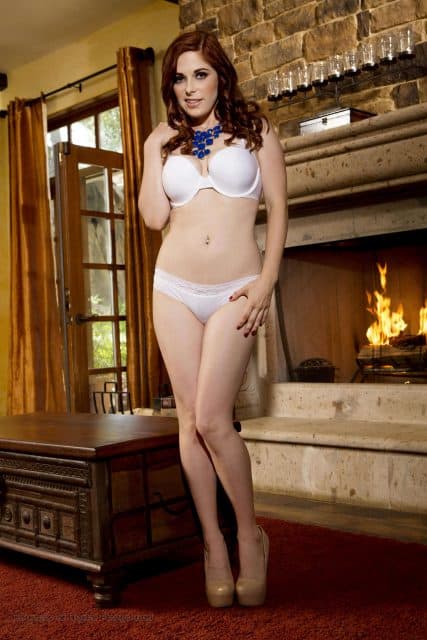 Ultimately, whether it's dating advice or her personal life experiences, Penny Pax has always been an open-minded individual. As such, Penny Pax adopts the same easy-going approach towards all topics such as smoking marijuana, sexuality and the adult entertainment industry as a whole. As Penny Pax puts it in her own words;
"I say whatever floats your boat! As long as you're not hurting yourself of others, why not spice up your life a little? This world certainly isn't enough for me!".
Want to stay updated on all of Penny Pax's upcoming projects and hottest Brazzers, Digital Playground and Sweetheart Video sex scenes? Then use the links provided below to stay connected with your favorite ravishing redhead Penny Pax!
Penny Pax : Social Networks
Twitter : @PennyPax
Brazzers : Penny Pax at Brazzers
Digital Playground : Penny Pax at Digital Playground
Evil Angel : Penny Pax at Evil Angel
Girlsway : Penny Pax's Girl/Girl Scenes
Kink : Penny Pax BDSM & Fetish Content
New Sensations : Penny Pax at Digital Sin/New Sensations
Naughty America : Penny Pax at Naughty America

Reality Kings : Penny Pax at Reality Kings
Instagram : pennypaxparty
IMDB : Penny's Filmography
The Nude : Penny at Nude.EU
Babepedia : Penny at Babepedia