Missy Martinez
Missy Martinez Twitter : @MissyXMartinez   Kink : Missy's BDSM Content
Cherry Pimps : Missy's Sex Scenes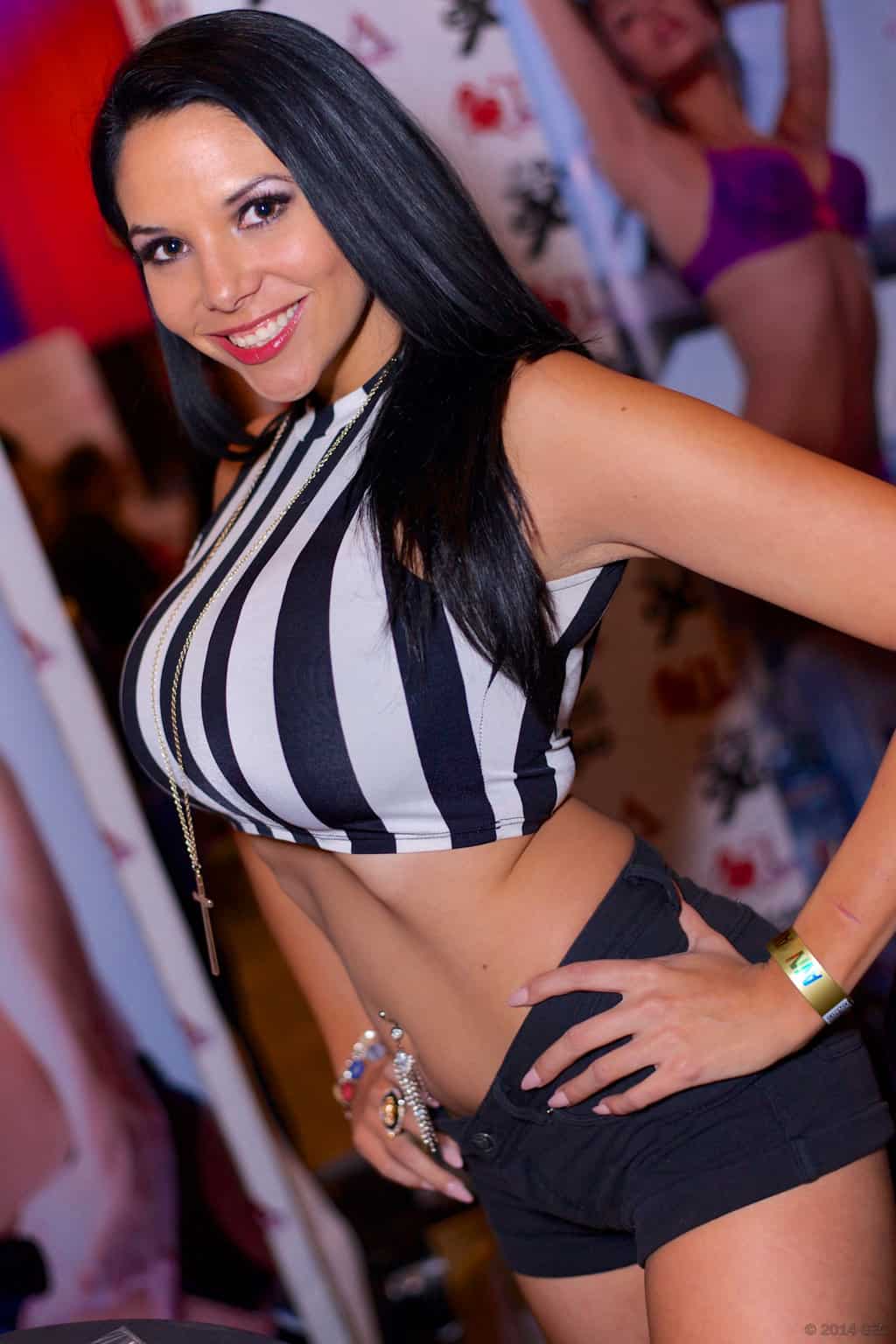 Missy Martinez : Personal Info
Name : Missy Martinez
Date of Birth: July 15th, 1986
Home Town : Los Angeles, California (USA)
Measurements : 37E – 24 – 35
Height : 5'7 (1.70m)
Hair Colour : Brunette / Black
Eye Colour : Brown
Tattoos : A Hello Kitty design behind her left ear. When she was asked about whether a woman can have too many tattoos during her XCritic interview, Missy jokingly stated that "Women should have at least one portrait of me on their bodies".
Piercings : Navel
Years Active : 2009 – present
Number of Scenes : 140+
Latina lovely Missy Martinez is a fantastic female porn star who has been captivating fans across the globe since 2009 with her saucy selection of girl/girl sex scenes and best-selling feature movies!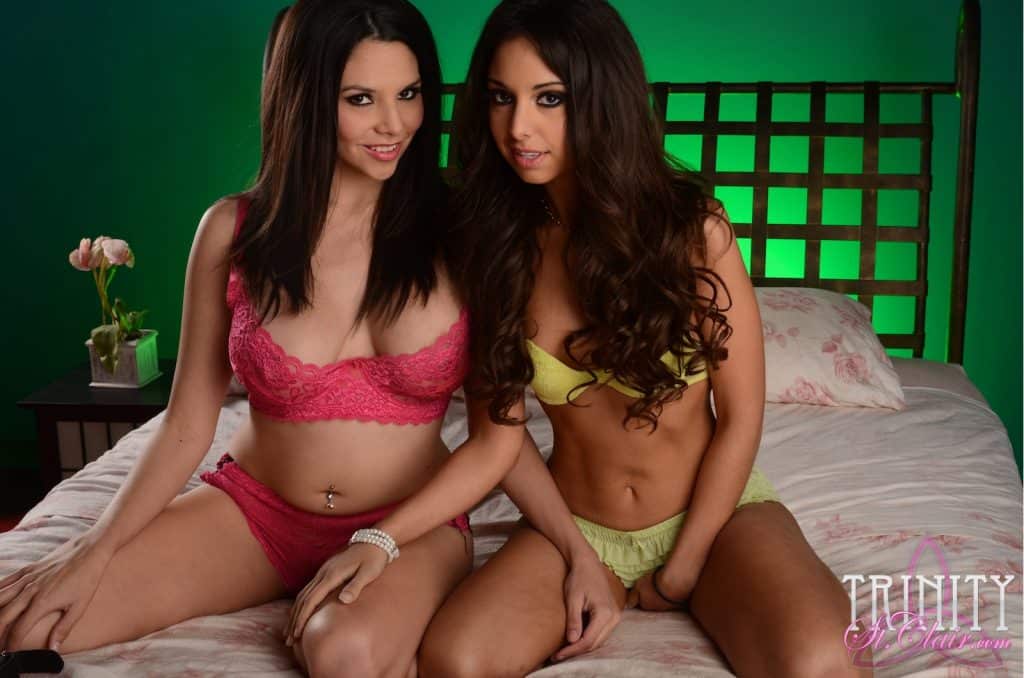 Missy Martinez and Trinity Sinclair at Pornstar Platinum
Born and raised in Los Angeles, California, Missy Martinez has mixed Mexican, German, Greek and Hopi Indian heritage. Missy Martinez is proud of her Cali girl roots and stated within her Adult DVD Talk interview that;
"I'm a true Cali girl, born and raised in Southern California which I know is pretty rare for the industry. (laughs) I'm really close with my family, I was a good Christian girl. I was actually home schooled so I was extremely sheltered which might explain a few things. I graduated high school early, when I was 16, started college and got my college degree, so I'm a little bit more than just a pretty pink butthole. (laughs) My training's in autopsy so I deal with a different kind of boner".
As mentioned above, Missy Martinez was home-schooled until she was 16 years old before attending college where she trained to become an autopsy technician. In fact, it was whilst she was at college that Missy Martinez first discovered her porn star potential when Missy Martinez and her college boyfriend attended the famous Exxxotica Expo at the LA Convention Centre. Attending this adult film convention sparked Missy Martinez's passion to perform in porn and resulted in her contacting the famous female performer Shy Love who introduced Missy Martinez to the adult film talent agency Talent Managers. As Missy Martinez herself explained during her Adult DVD Talk interview;
"I was actually with a boyfriend at a convention when it was Erotica LA at the LA Convention Center years ago. I was the cool girlfriend where I would watch porn with my boyfriend and stuff like that. We went as fans to get some autographs and people kept coming up to me because they thought I was a porn star. I had big boobs and I had a dress on and I thought 'Wow, if that's the only requirements for porn, then sign me up!'".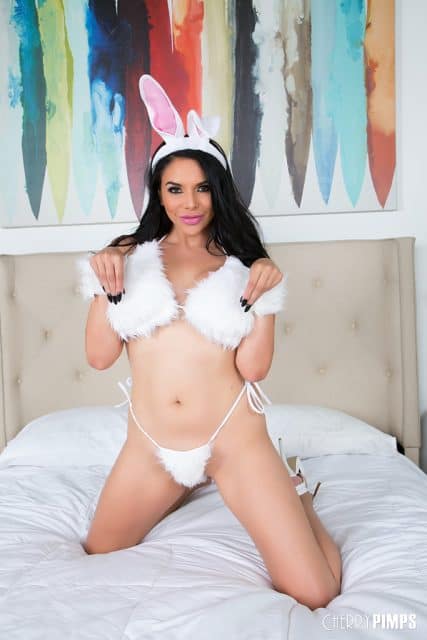 Missy Martinez at Cherry Pimps
Missy Martinez : Adult Film Career
Before signing with the adult film talent agency Talent Managers, Missy Martinez filmed her first ever girl/girl sex scenes in 2009 for the Digital Playground production L Factor after she responded to a job listing on Craigslist. Directed by Dana Dane and starring female porn star Rose, Missy Martinez described how nervous she was shooting her first ever sex scene during her Adult DVD Talk interview;
"I remember my first scene ever, it was for L Factor. It was directed by Dana Dane. I don't even think she's around anymore, I know L Factor isn't. I answered an ad on Craig's List, that's how long ago this was. That was before I knew about agencies and all that. You never answer a porn ad on Craig's List if you want to keep your organs intact! (laughs) I did that and there was a shoot in downtown LA. There was a girl named Rose, I don't think she did any other scenes. She was 2 hours late because her car broke down. She showed up and her hands were covered in oil from the car. So my first scene was the worst experience ever. I was super nervous, you can actually see in the video that I was shaking. I got into my head that I'm going to do to her what feels good on me and that's all she wrote. She was getting into it and she was making a noise when I was doing something so I just kept doing it. Go with the flow of a woman's body. It was fun!".
Missy Martinez had never even had a sexual experience with a girl before performing in porn but she revealed within her Adult DVD Talk interview that she had always been attracted to girls;
"I was never actually with a girl before porn but I've always been attracted to women. I've always had that 'Oh, she's pretty' kind of thing but I always thought that other girls would not be into me. But I am as bi as the day is long! Sometimes I'd rather have a pussy in my face than a cock in my mouth. When I started in porn, I did girl/girl only for two years. That was my bread and butter. I got to satisfy my Sapphic desires. That's still my favorite type of scene to shoot. That's why my website, MissyMartinez.com is girl/girl only. I know that no matter what, I'm going to have a good time on set".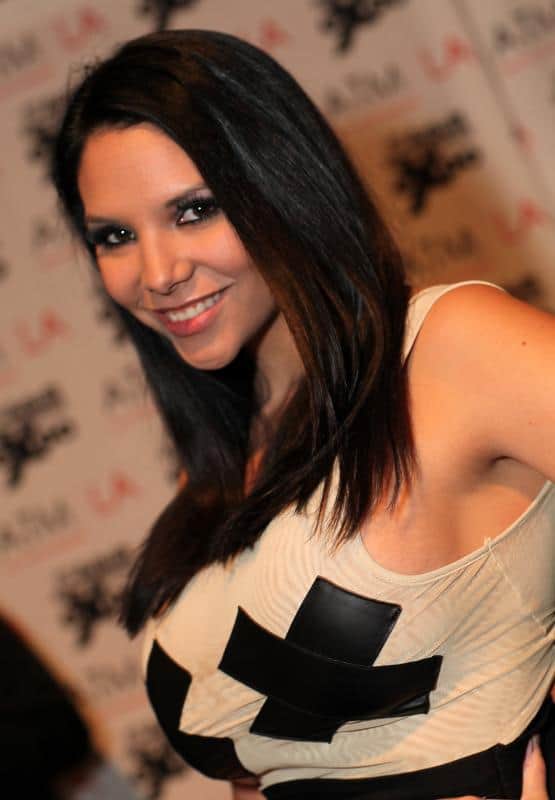 Missy Martinez at 2013 AVN AEE – Image Sourced from Wikimedia
In this manner, Melissa Martinez adopted the porn star stage name 'Missy Martinez' and began featuring within all manner of best-selling all-girl feature releases. Some of Missy's most popular girl/girl DVD titles include; the 2010 L Factor production Her First Lesbian Experience 3 which showcased Missy Martinez in a saucy sex scene with Ariel X., as well as the 2011 Pure Play Productions DVD feature release Slumber Party 12 with Brandy Aniston, Britney Amber, Haley Cummings, and Vicki Chase, and the 2011 Digital Playground production Cherry 2 with Vicki Chase, Brooklyn Lee, Zoey Holloway and Diamond Foxxx that won "Best All-Girl Release" at the 2012 AVN Awards and earned Missy Martinez a "Best All-Girl Group Sex Scene" award for her performance with Brooklyn Lee, Zoey Holloway and Diamond Foxxx.
Missy Martinez has also starred within the 2012 New Sensations production Against Her Will 1 that was nominated for "All-Girl Release of the Year" at the 2013 XBIZ Awards and which earned Missy Martinez a "Best Scene – All-Girl" XBIZ Awards nomination for her raunchy three-way sex scene with Joslyn James and Josi Valentine. Between 2010 and 2011 Missy Martinez even featured within four instalments of the long-running Girlfriends Films DVD series Women Seeking Women. Missy Martinez starred alongside India Summer in Women Seeking Women 66 (2010), with Kennedy Kressler in Women Seeking Women 68 (2010), Jiz Lee in Women Seeking Women 75 (2011), and with Prinzzess in Women Seeking Women 78 (2011).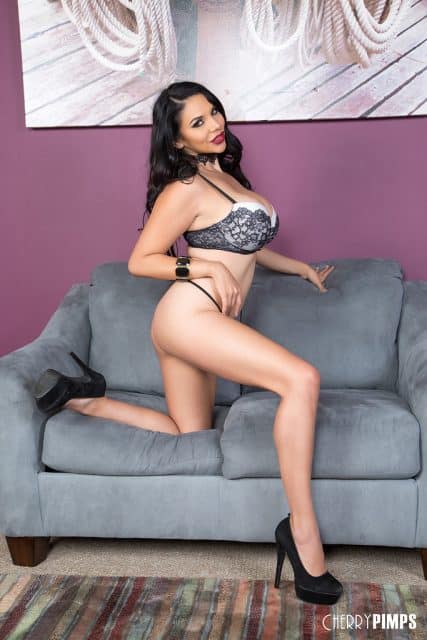 Missy Martinez at Cherry Pimps
After working in the adult film industry for two years and dominating the girl/girl genre, Missy Martinez decided to begin performing within hardcore boy/girl sex scenes. Missy Martinez's first ever hardcore sex scene was actually a three-way with Calvin Callaway and Nikki Delano for the Mofos production I Know That Girl 7 (2012) and she divulged during her Adult DVD Talk interview that;
"I was extremely nervous. It was for Mofo's and I flew down there and it was a boy/girl/girl with Calvin Callaway and Nikki Delano. She's still a good friend of mine to this day. I was her first girl/girl scene and she was my first boy/girl scene. I was really nervous and had to shake myself out of it. I thought, 'I had sex before, I've had a penis inside of me so I know what to do!' It was one of those amateur things where it looks like the guy is holding the camera but he really isn't. One of those POV type things. It was just fun. I just let myself go and made sure I looked pretty while I was getting fucked".
Before long Missy Martinez became confident shooting boy/girl sex scenes and appeared in a wealth of fan-favourite feature releases with some of the biggest male porn stars in the industry. Fans of Missy Martinez should check out her hot hardcore sex scenes with James Deen in the Elegant Angel DVD Seduction 2 (2012) and in the Digital Playground production Mineshaft (2013) that was nominated for "Best Sex Comedy" at the 2014 TLA Raw Awards, as well as her three-way sex scene with Erik Everhard and MILF star Ava Addams in the Brazzers DVD Slutty Wife Happy Life (2015) that was nominated for "Best Polyamory Movie" at the 2016 AVN Awards, and her sex scene with Derrick Pierce for the Zero Tolerance production Bangin' The Boss 5 (2016).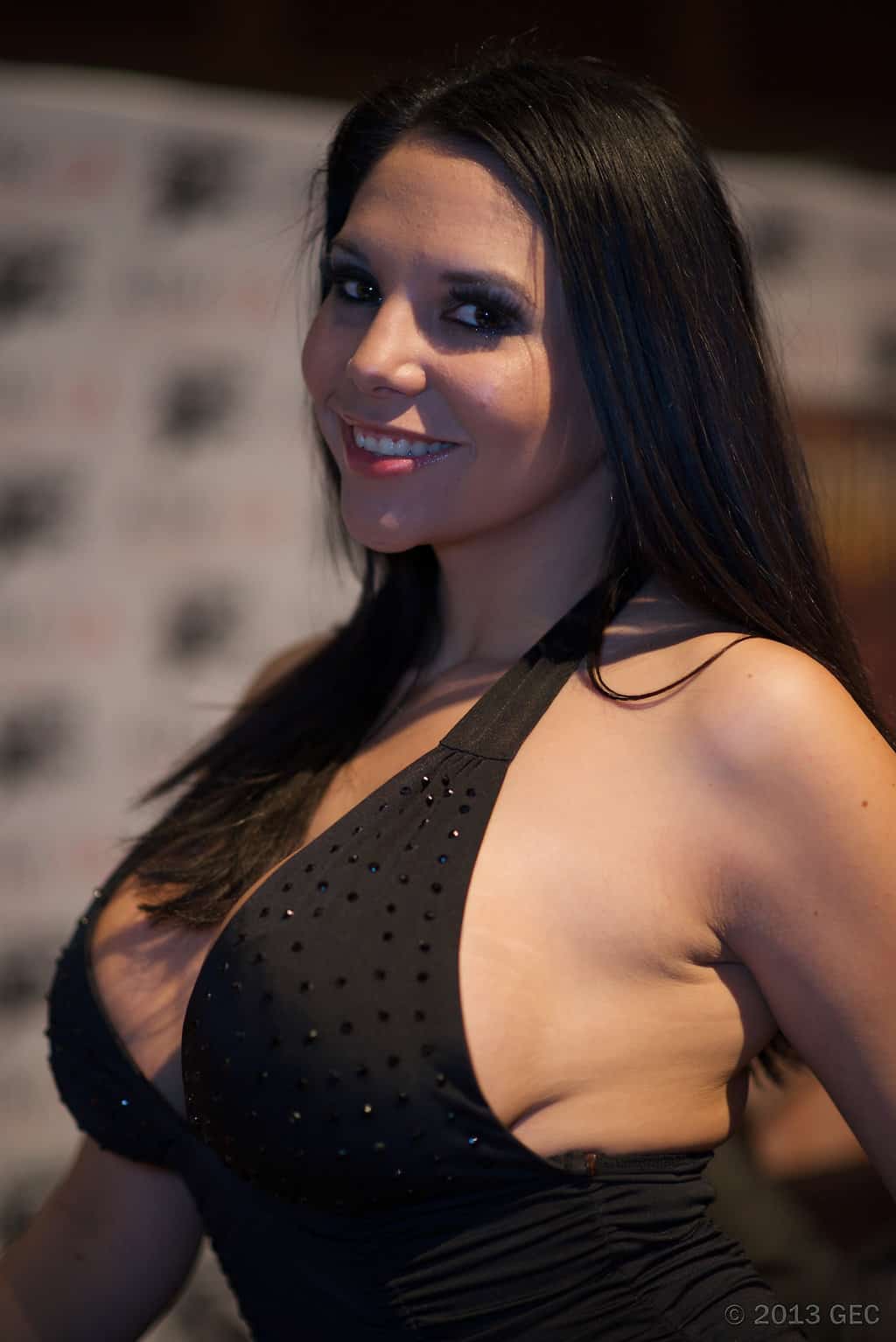 One of Missy's most popular porn productions has been the Brazzers DVD Pornstars Like It Big 20 (2014) that was nominated for "Best Vignette Release" at the 2015 AVN Awards. Performing within this best-selling DVD enabled Missy Martinez to star alongside James Deen as well as famous female porn stars Chanel Preston, Asa Akira and Madison Ivy. Between 2012 and 2014 Missy Martinez also featured within four fan-favourite instalments of the popular Naughty America DVD series Latin Adultery; appearing in Latin Adultery 20 (2012) with Bill Bailey, in Latin Adultery 22, 24, 26 and 27 (2013-2014) with Van Wylde. During this time Missy launched her official solo website, MissyMartinez.com, in collaboration with the Cherry Pimps network. Missy Martinez was thrilled to announce the launch of her official solo website within a July 2014 AVN press release and exclaimed that;
"I just got the best birthday gift in the world…My brand new website just launched! Plus it's a gift I can share with everyone else. I'm so excited for people to see what I have in store for my site". 
Missy Martinez's impressive collection of girl/girl performances and boy/girl sex scenes have earned her a coveted Hustler magazine cover model shoot as well as a wealth of prestigious adult film award nominations over the years. Listed below are some of the most notable nominations that Missy Martinez has received to date;
2012: AVN Awards winner "Best All-Girl Group Scene" Cherry 2 (with Brooklyn Lee, Zoey Holloway and Diamond Foxxx)
2013: XBIZ Awards nominee "Best Scene – All-Girl" Against Her Will 1 (with Joslyn James and Josi Valentine)
2013: Nightmoves Awards nominee "Best Ethnic Performer"
2013: Sex Awards nominee "Porn's Best Body"
2013: The Fannys Awards nominee "Thirsty Girl (Best Oral)"
2014: AVN Awards nominee Best Tease Performance" Seduction 2
2014: XBIZ Awards nominee "Best Scene – Non-Feature Release" Seduction 2 (with James Deen)
2015: AVN Awards nominee "Best Boobs (Fan Award)"
2015: Spank Bank Awards nominee "Most Voluptuous Vixen"
2016: Spank Bank Awards winner "Tweeting Twat of the Year"
2016: Spank Bank Technical Awards winner "(Cl)Ass Clown"
2016: Spank Bank Awards winner " Most Damaged Taste Buds (Caused By Excessive Ass Eating)"
2016: AVN Awards nominee "Best Double Penetration Sex Scene" Fucked Ra (with Erik Everhard and James Deen)
2016: AVN Awards nominee "Best Porn Star Website"
2016: AVN Awards nominee "Best Boobs (Fan Award)"
2016: XBIZ Awards nominee "Best Scene – All-Sex Release" Fucked Ra (with Erik Everhard and James Deen)
2016: XRCO Awards nominee "Unsung Siren of the Year"
2016: Spank Bank Awards nominee "Boobalicious Babe of the Year"
2016: Spank Bank Awards nominee "Prettiest "Whore Mouth"
2016: Spank Bank Awards nominee "Bionic Butthole"
2016: Spank Bank Awards nominee "The Dirtiest Player in the Game"
Missy Martinez's adult film career continued to soar to new heights in 2015 when she starred in two signature showcases; Only Missy Martinez for Cherry Pimps and Fucked Ra for AE Films. Missy Martinez loved filming both of these star showcases and enthused about her ongoing adult film projects with Cherry Pimps during an AVN Magazine interview;
"I've had several websites before but none were at the right time or had the resources needed to really come to fruition. I joined the Cherry Pimps family last year to run my website and I couldn't be happier. … They let me have artistic and casting control, which is important to me".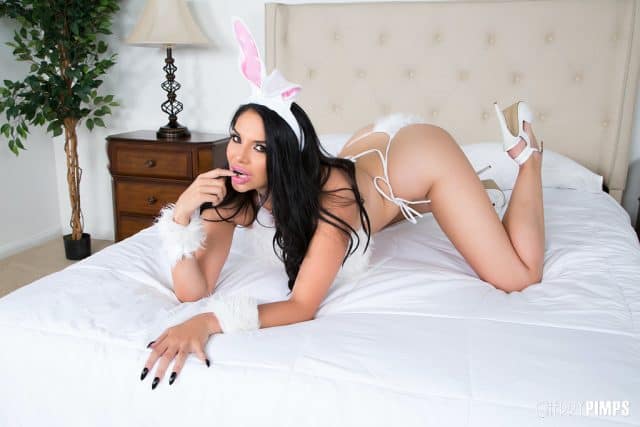 Missy Martinez at Cherry Pimps
Similarly, Fucked Ra was a defining moment in Missy Martinez's adult film career because it featured her first ever anal sex scene with James Deen and her first ever double penetration sex scene with Erik Everhard and James Deen. Also starring Abella Danger, Adriana Chechik, Vicki Chase and Sarah Shevon, Fucked Ra was nominated for numerous accolades at the 2016 AVN and XBIZ Awards including "Best Double Penetration Sex Scene", "Best Star Showcase", "Performer Showcase of the Year" and "Best Director". Fucked Ra also received a wealth of praise from prominent adult film critics such as Rob Perez who stated within his XCritic online review that;
"Fucked Ra has so many positive going for it it's difficult to know where to begin. If you love exotic looking ladies including Latinas, you got them here. If you love anal, this title is loaded with it. DP action, you won't be disappointed. Anal, b/g/g and lesbian orgies, it's all here. Missy finally gets her shot at the spotlight and you see what this sexually explosive performer can do . . . unleash all her sexual might and prove to the world that she can be as hardcore as the hardest banging babes in the business. Additionally, Fucked Ra raises the bar for showcase films…Missy has been a quiet but dominant performer for years but Fucked Ra puts her in another level and that's as one of the best performers in the business…This is one to own, keep around and stroke it to over and over again. If there's no such thing as perfection, Fucked Ra comes fucking close to being the perfect showcase title and it fully earns a well deserved XCritic Pick!".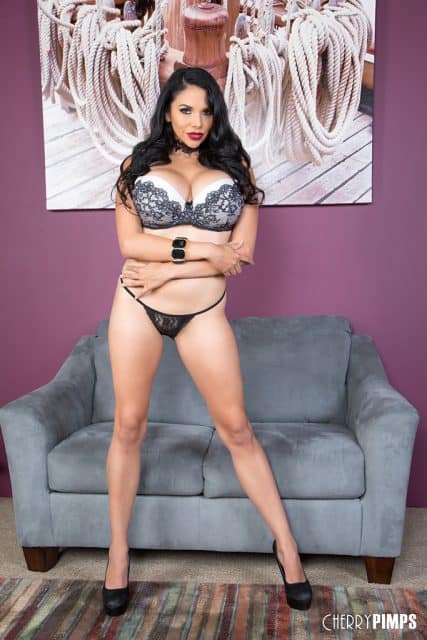 Missy Martinez at Cherry Pimps
Missy Martinez discussed the creation of her stunning Fucked Ra signature showcase within an October 2015 AVN Magazine interview, revealing how;
"It's been a goal of mine in my six-year career, and I'm eternally grateful they chose to spotlight me and see what I can do…I chose the name…I'm a fan of puns. I chose all the scenes and cast the movie. I wanted to give my fans a variety of scenes and include something I've never done before. I made sure I chose amazing talent to take the movie to the next level. I couldn't be happier with everyone and their performances".
Talking about her first ever double penetration sex scene within this AVN Magazine interview, Missy Martinez ardently enthused that;
"It was an out-of-this-world experience. I enjoyed every second…I had worked with both James and Erik many times before, so I have a relationship of trust with them. They are both known for DPs so I knew my holes were in good hands. They were gentle and understanding and it ended up being an insanely great scene! I love those guys!…I wanted to make it extra special. It added that 'exclusivity' factor, and if people want to see me do a DP, they have to see this movie".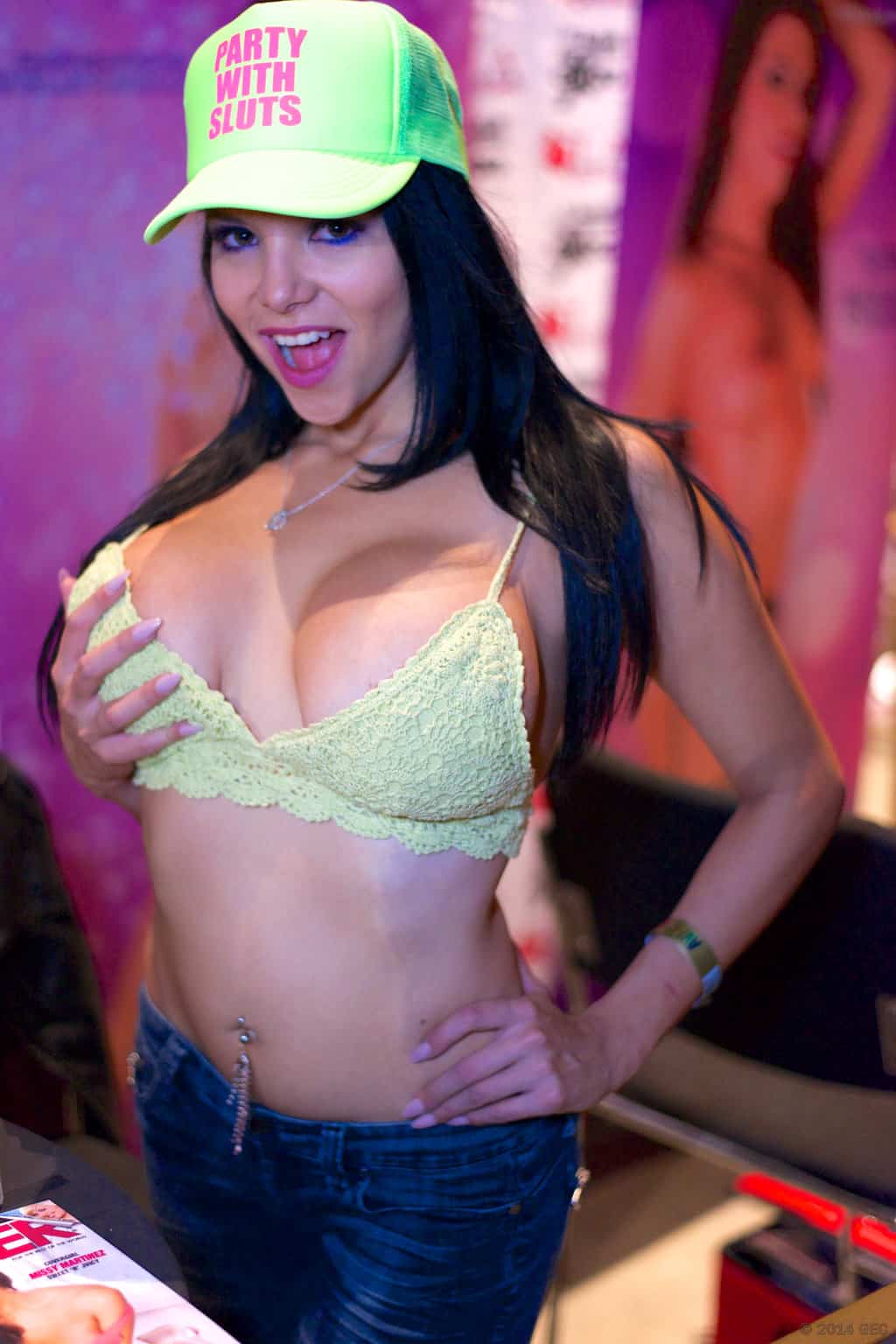 Missy Martinez swiftly followed the success of her Fucked Ra signature showcase by filming a series of show-stopping boy/girl and girl/girl sex scenes for Evil Angel, Cherry Pimps and Filly Films. We recommend checking out Wild On Cam 11 (2015) for Cherry Pimps starring Abigail Mac, Veruca James, Aaliyah Love, Lexi Belle, Dillion Harper, Sara Luvv and Megan Rain, Fuck The Police (2015) for Filly Films that was nominated for "Best Comedy" at the 2016 AVN Awards, Lesbian Anal Sex Slaves for Evil Angel which starred Missy alongside femdom fatales Dana DeArmond, Aiden Starr and Kimberly Kane, and Our Girls 2 (2016) for Cherry Pimps with Dana Vespoli. Missy Martinez even featured within a saucy sex scene with Gianna Nicole for the 2015 DVD Brazzers House. Performing within this award-nominated gonzo porn production enabled Missy Martinez to star alongside fan favourite performers Nikki Benz, Phoenix Marie, Kaylani Lei, Dani Daniels, Tory Lane, Romi Rain and Alektra Blue among many more male and female adult film superstars!

Although she has become famous for her Fucked Ra signature showcase and her wealth of captivating girl/girl collaborations, Missy Martinez also harbours a kinkier side and has revealed within previous interviews that she has had sex off-camera in movie theatres, dressing rooms, on the beach and even in church! Most recently Missy Martinez has filmed some spectacular BDSM content for the fetish porn site Kink.com and for the new Velvet Stars Studio online archive network JDPornoClub.com.
Fans eager to discover Missy's kinkier side have to check out Porno Barbie: Lesbian bondage, domination, and anal strap-on fucking! that she filmed in November 2016 with Lea Lexis for Kink.com's Whipped Ass web series as well as her November 2016 Deviant Hardcore sex scene that she shot with John Strong titled Brandy Aniston's Oral Chamber: Missy Martinez, John Strong. Missy Martinez has hinted that she would love to film even more fetish porn content in the future and revealed during her Adult DVD Talk interview that;
"Off-camera, I think I get kinkier because there's not all the rules you have in porn…I always wanted to do a forced orgasm where you're tied up and forced to cum over and over again. It goes back to the whole letting go and giving up control thing again. I'm just a control freak I guess. (laughs)".
In fact, one of Missy Martinez's favourite aspects about working within the adult entertainment industry is the fact that it has enabled her to broaden her sexual horizons. As Nikki commented during her May 2011 She Needs It interview;
"I love how you are free to drop your taboos and live out your fantasies… and get paid for them! I love the modeling and performing, it's nice that you can mix it up".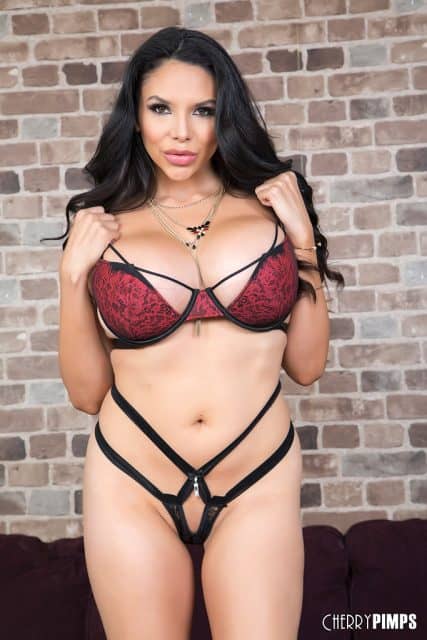 Missy Martinez at Cherry Pimps
Missy Martinez : Latest Projects and Future Plans
In addition to starring within multiple award-winning pornographic productions, Missy Martinez is a phenomenal feature dancer who has performed at exclusive nightclubs and gentlemen's clubs across the nation. Missy Martinez is also a talented presenter who has interviewed many of her fellow porn stars at the 2016 AVN Expo. Missy remains a frequent feature at adult film conventions such as the Adult Entertainment Expo (AEE) and various Exxxotica Expos across the United States because these appearances enable her to socialise with her ever-expanding international fan following. Missy Martinez has always been incredibly grateful for the ongoing support of her fans and sincerely expressed within her March 2015 Fleshbot interview that;
"It's super rewarding to have people I've never met be genuinely interested in not only pictures of my butthole but what's happening in my life off of set. I do my best to make each fan know I truly appreciate their support, because without them I'm just a weird girl posting nudes! The fans create "porn stars", not the performer".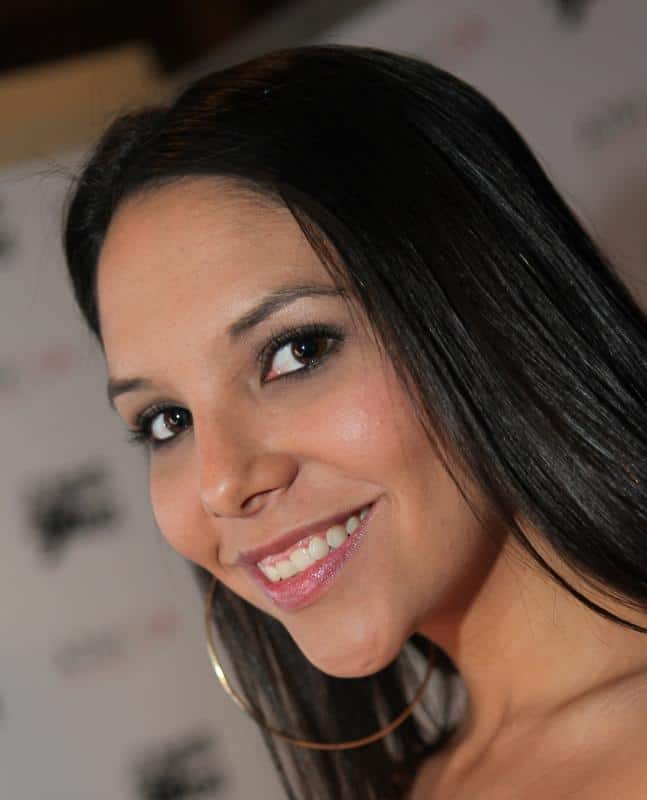 Missy Martinez at 2012 AEE Expo in Las Vegas – Image Sourced from Wikimedia
Ever eager to broaden her adult film industry influences, in March 2016 Missy Martinez launched her exclusive line of moulded sex toy products in collaboration with leading manufacturers Doc Johnson. Missy Martinez hinted about the commercial release of her sex toy line within her August 2015 TRPWL.com interview and saucily stated that;
"It's been a career goal for me. Plus my holes look like they've never been used. I felt morally obligated to share my orifices".
After all, as Missy Martinez enthused within a March 2016 AVN press release;
"Being molded has always been a career goal of mine and to be chosen by the best in the business, Doc Johnson, is unbelievable and icing on the cake!…I can't wait for my fans to be able to get their hands on my molds!".
As well as losing her moulded sex toy virginity, Missy Martinez made her mainstream media acting debut as a zombie deputy in the October 2015 for the Paramount Pictures horror comedy feature film Scouts Guide To The Zombie Apocalypse! Talking about her future plans during her AVN Magazine interview, Missy Martinez commented that she would love to direct her own pornographic productions in the future;
"I have a whole list of scene ideas and titles. Some tame while others are really out there. I want to bring even more of my wacky personality into the adult industry".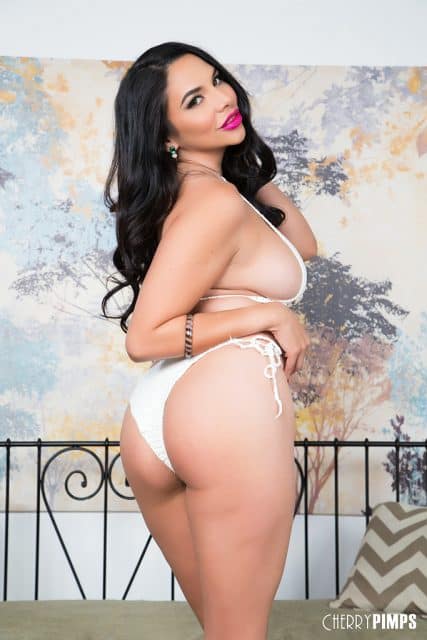 Missy Martinez at Cherry Pimps
When she isn't shooting her latest DVD feature releases, mainstream media projects or fetish porn content, you can find Missy Martinez relaxing at home with her friends. An avid gamer girl, Missy Martinez conveyed within her Adult DVD Talk interview that;
"I'm a hardcore gamer. I have a PS4 and I love first person shooters and RPGs. A lot of people know that but don't know how serious I take it. I've been gaming since I was 8. I also like Netflix and wine".
You can discover all of Missy Martinez's girl/girl sex scenes, exclusive hardcore video clips and feature film productions by visiting her official social networking channels online today! Use the links provided below to view Missy Martinez's impressive porn star portfolio, to reserve a spot within one of her saucy live chat sessions and to find out more about her upcoming adult film projects; the sky's the limit!
Missy Martinez : Social Networks
Twitter : @MissyXMartinez
Kink Profile : Missy Martinez BDSM & Fetish Content
Pornstar Platinum : Missy Martinez at Pornstar Platinum
Cherry Pimps : Missy Martinez at Cherry Pimps
The Nude : Missy at Nude EU
Babepedia : Missy at Babepedia