Mia Melano
Mia Melano Twitter : @realmiamelano   Camsoda : Mia-Melano   Adult Empire : Mia Melano DVDs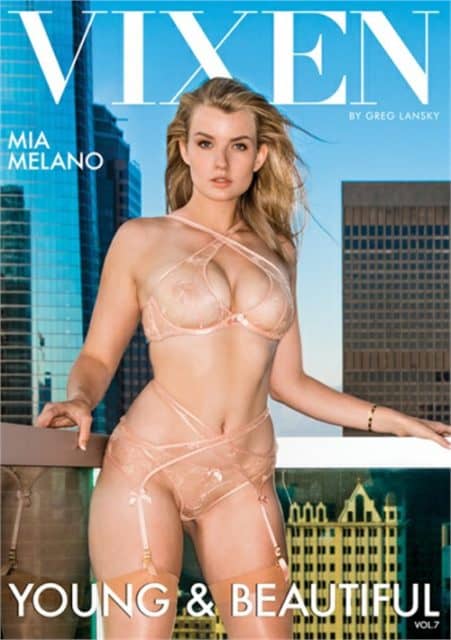 Click here to watch Mia Melano in "Young & Beautiful #7 (2019)" at Vixen
Mia Melano – Personal Info
Name : Mia Melano
Date of Birth : May 2nd
Star Sign : Taurus
Hometown : Seattle, Washington (US)
Measurements : 36DD
Height : 5'11 (1.80m)
Hair Colour : Blonde
Eye Colour : Blue
Shoe Size : Women's 9 (US)
Years Active : 2018 – present
Number of Scenes : 10+
Mia Melano is a stunning adult film star and glamour model who has been performing in porn since August 2018. In this short space of time, tall busty blonde beauty Mia Melano has already attracted an avid international fan following due to her seductive sex scenes for Vixen, Blacked and Blacked Raw. Mia Melano was also named as the latest Vixen Angel in April 2019. Watch this space!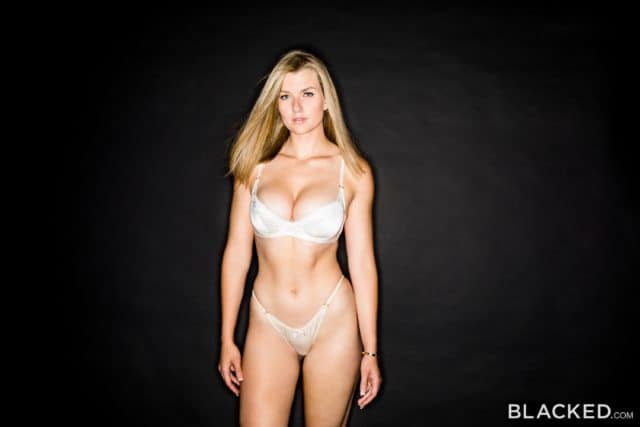 Click here to watch Mia Melano in "My First Interracial #13 (2018)" at Blacked.com
Mia Melano : Adult Film Career
Hailing from Seattle, Washington, Mia Melano made her official adult film industry debut in August 2018 when she filmed a sultry High Life sex scene with Mick Blue that was released via Greg Lansky's critically acclaimed porn site Vixen.com. Hot blonde bombshell Mia Melano actually contacted Vixen herself because she was a fan of Greg Lansky's work. As Mia Melano explained in an April 2019 AVN interview;
"I contacted Greg because I liked his work. Then we just hit it off and got the ball rolling and I've just been very fortunate and very honored to work with him. It's been such a great experience…I just remember it [Vixen.com] was such high quality. It was just very different from everyone else—from the other content that's out there. I was just very impressed. Before I never really considered porn, but when I saw that I thought, OK, this is really changing the game up. So I just kind of wanted to see if I could get my foot in".
When sexy tall pornstar Mia Melano was asked about shooting her first ever sex scene during this April 2019 AVN interview, she revealed that;
"Oh, was I nervous [laughs]. I was close to tears—not because it was a bad experience—but because I was so overwhelmed. But it turned out very well. Mick Blue was amazing and he just kind of coached me through everything and everyone was so understanding and nice. It was a good experience".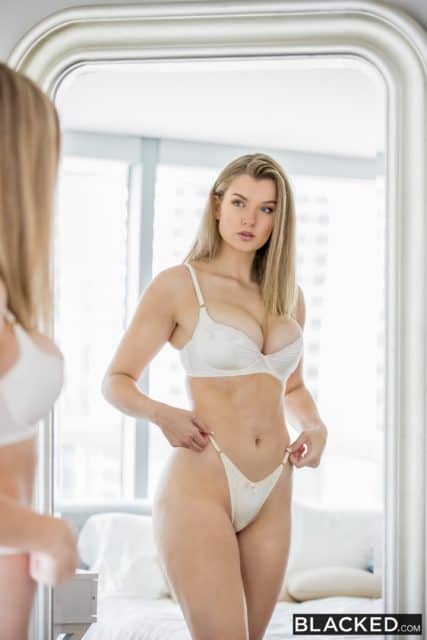 Click here to watch Mia Melano in "My First Interracial #13 (2018)" at Blacked.com
Mia Melano swiftly followed her porn debut by shooting a steamy Cold Feet sex scene with Jason Luv which was promoted via Greg Lansky's Blacked.com in September 2018. This sizzling sex scene was featured in the Blacked DVD My First Interracial #13 (2018). Mia Melano was showcased on the box cover of this best-selling DVD which also stars Brooke Benz, Paige Owens and Lacey Lenix.
You'll be happy to hear that sexy big tits pornstar Mia Melano has continued to collaborate with Greg Lansky on several sensational Vixen and Blacked porn productions. We recommend watching Mia Melano's seductive Wanna Chill? sex scene with Rob Piper that was uploaded via BlackedRaw.com in November 2018, her sultry Prove Me Wrong sex scene with Johnny Sins which was promoted via Vixen.com on Christmas Day 2018 and her sensual Wild Side sex scene with Derrick Pierce that was unveiled via Vixen.com in April 2019. Not to be missed!
As well as shooting these compelling sex scenes, Mia Melano has hosted a lusty live cam show via Camsoda (as 'Mia-Melano'). Mia Melano was the first Vixen model ever to perform via Camsoda and she enthusiastically stated in a March 2019 AVN press release that;
"I couldn't be more excited for my show on CamSoda tonight. I owe much of my success to Vixen, their incredible team, fans, who support me as I continue to build my career, and I'm really looking forward to intimately interacting with them tonight and showcasing my delicious curves. Make sure you tune in!".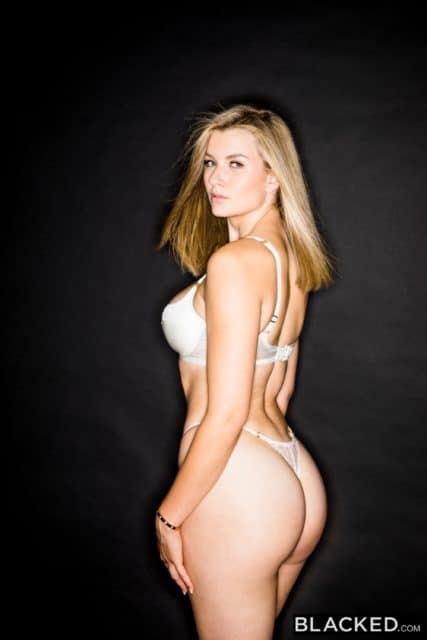 Click here to watch Mia Melano in "My First Interracial #13 (2018)" at Blacked.com
A landmark moment in Mia Melano's adult film career occurred in April 2019 when she was named as the next Vixen Angel. As the latest Vixen Angel, Mia Melano received a Tiffany brilliant-cut diamond necklace, a pair of custom-made Christian Louboutin red-bottom heels and a set of luxurious Vixen lingerie. Mia Melano will also be featured in an exclusive Vixen editorial photo-shoot that will be shot in Europe in May. Vixen owner Greg Lansky had high praise for tall stunner Mia Melano and he highlighted during an April 2019 AVN interview how;
"She actually applied to Vixen herself. We didn't recruit her. She wanted to be a Vixen Angel…We're very picky about who we let into the family, but we started talking to her and we saw her potential and we decided to make a deal with her…And even though she had a reserved personality I could see the potential long term. That's what I do with every person I invest time and energy in. I don't look at them the way they are now, I look at their potential and what they can become…[Mia is] genuine. And that's what people are looking for. She asked me at first, 'How should I perform? What should I do?' I said to her, 'Just be yourself. Let your natural style come out and express yourself'".
But that's not all. Within a matter of months, Mia Melano had already attracted over 96,000 Twitter followers and 50,000 Instagram followers. Fans have been captivated by Mia Melano's statuesque frame, all-natural beauty and sultry stage presence. Mia Melano has been incredibly grateful for this overwhelming fan support and she divulged during an April 2019 AVN interview that;
"I'm definitely a little overwhelmed. I was not expecting that reaction at all. I'm very honored though. I love all my fans. I'm very…I don't know—shocked really".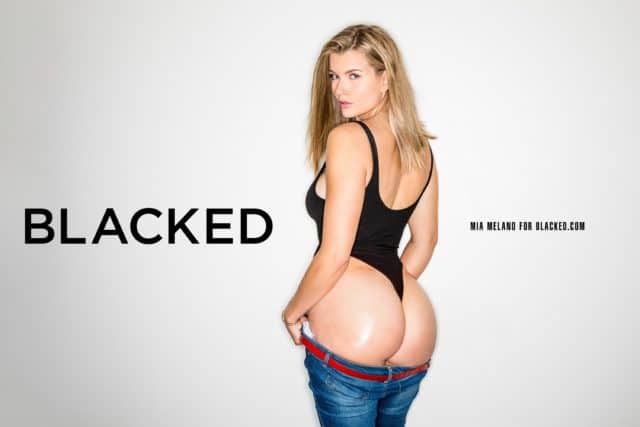 Click here to watch Mia Melano in "My First Interracial #13 (2018)" at Blacked.com
Wondering what the future holds for rapidly rising starlet Mia Melano? Well, Mia Melano has recently shot her first girl/girl sex scene with fellow Vixen Angel Alex Grey. What's more, Mia Melano has starred in (and posed as the box cover model for) the Vixen DVD Young & Beautiful #7 (2019) featuring Haley Reed, Sadie Blake and Harley Dean. Mia Melano has also graced the cover of the Blacked Raw DVD Blacked Raw V17 (2019) which stars Angela White, Evelin Stone and Lacey Lenix.
Keen to stay connected with all-natural blonde beauty Mia Melano? Then use the links provided below to discover all of Mia Melano's hottest sex scenes, exclusive web content and upcoming porn productions!
Mia Melano – Social Networks
Twitter : @realmiamelano
Camsoda : Mia-Melano
Adult Empire : Mia's DVDs
Instagram : @officialmiamelano
The Nude : Mia at Nude EU
 Babepedia : Mia at Babepedia