Angela White
Angela White's Twitter : @ANGELAWHITE  Brazzers : Sex Scenes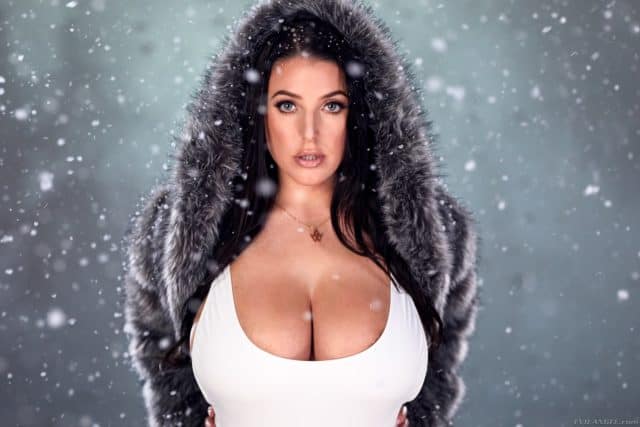 Angela By Darkko – Evil Angel
Angela White – Personal Info
Name : Angela White
Date of Birth: March 4th, 1985
Home Town : Sydney, Australia
Measurements : 32GG – 28 – 40
Bra/ Cup Size : 32GG. As Angela explained within her Adult DVD Talk interview; "They are actually 32GG at the moment and 100 percent natural. My breast size fluctuates depending on the most mundane things. My boobs are biggest in summer, when I'm hydrated, after a massage and at the end of my cycle. A lot of it has to do with circulation…I was flat chested until around 13 years of age. By the time I was 14 years old I had DD-cup breasts".
Height : 5'3 (1.60m)
Hair Colour : Brunette
Eye Colour : Blue
Piercings : Navel
Tattoos : 'Love Sucks' script on the back of her neck
Shoe Size : Women's 6 (US)
Nationality : Australian
Years Active : 2003 – present (as a performer) , 2013 – present (as a director)
Number of Scenes : 200+ (as a performer), 120+ (as a director)
Can't get enough of all-natural big bust beauties? Then you're going to love Angela White! With her captivating curves, raw sexual charsima and saucy sex scenes, this amazing Australian porn star has been taking the adult film industry by storm since 2003. Inducted into the AVN Awards "Hall Of Fame", Angela White co-hosted the 2018 AVN Awards alongside Harli Lotts and she continues to star in many popular Brazzers, Mile High, Naughty America, Property Sex and Reality Kings porn productions.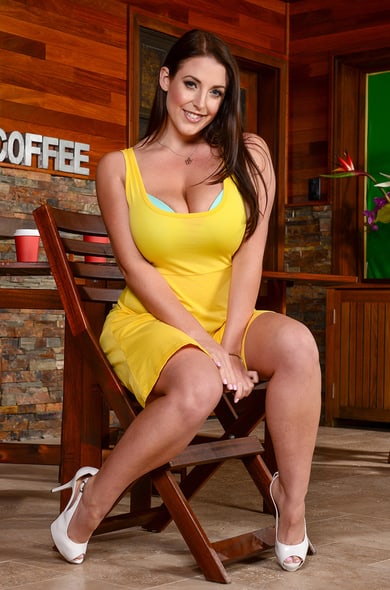 Angela White at Naughty America
Wonderinf where it all began? Born and raised in Sydney, Australia, Angela White comes from a large family where her mother worked as photographer and her father worked as a carpenter. Angela White lived in Central Sydney until she was 8 years old when her family moved to live on a farm in Victoria. By the time Angela White was in high school her family had moved to the Australian East Coast where she remained until she began her adult film career when she was 18 years old. Angela White is proud of her Australian roots and even teased within her Sexpo interview how her Australian accent has helped her porn star career;
"I just be myself. The Aussie accent is definitely a selling point for my US and Japanese fans. But since it's there naturally I don't need to do anything to reap the benefits".
Angela White described her Australian upbringing within her December 2013 Adult DVD Talk interview with Captain Jack and commented that;
"The people are quite relaxed and have a very strong sense of loyalty. The continent itself has everything from gorgeous beaches to snow fields to deserts. It's a wonderful place to grow up…I grew up in a large family of which I am the eldest child. I was very shy for the most part. I liked cats and horses. I read Goosebumps. I was scared of sex".
However, once Angela White turned 13 years old and started puberty she began to discover sex and the adult entertainment industry. Angela White conveyed within her Adult DVD Talk interview how losing her virginity when she was 14 years old opened her eyes to sexual exploration and sparked her interest in pursuing a career as an adult film star;
"14. It was also the age that I knew I wanted to do porn. I grew and experimented a lot at that age…It was with a long term boyfriend. By long term I mean we had been dating for 2 months. I was in love. He came over high as a kite, fucked me, finished in around a minute and then left. It was a special moment. I don't regret a thing…Once I had my first experience out of the way I felt like I was finally free to explore…I was playing sexual games with girls from a pretty young age. I kissed my best girl friend when I was 13 years old and had sex with an older woman just after I turned 15…I saw porn for the first time at the age of 14 (that magic number!) and from that point on I wanted to get into the industry. I had been slut shamed for my sexuality in high school and the adult industry seemed like a space in which my sexuality would finally be celebrated".
Angela White elaborated on these views within her July 2016 Die Screaming interview, advocating how;
"I had wanted to perform in pornography from the age of 14 so it was exciting to finally turn 18 and be able to pursue my dream. When I was in high school there was no anti-slut-shaming movement or SlutWalk. I was criticized heavily for expressing my bisexuality so openly. Pornography appeared to me to be a space in which I could explore my sexual desires and fantasies with like-minded peers…So performing in pornography while I was still in high school was not something that I had to 'manage' or 'survive' – performing in pornography finally gave me a chance to be myself. I think this has been a large part of my success in the industry; authentic passion and desire resonates with fans".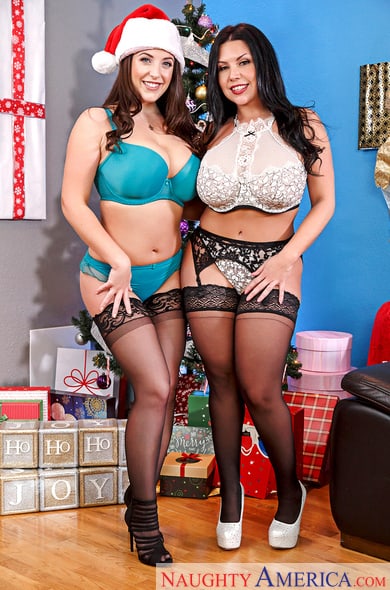 Angela White and Sheridan Love in My Wife's Hot Friend – Naughty America
Eager to kick-start her adult film career, Angela White waited until she turned 18 years old and then immediately sent some nude modelling photos to a prominent pornographic production company, the Score Group, who were based in Miami, Florida. Angela White's ambitious personality and natural curves impressed Score Group representatives who arranged for her to fly from Australia to the United States in order to film her first ever hardcore sex scenes. As Angela White explained within her July 2012 Barelist interview;
"I was employed at Burger King for a little while during high school…I had wanted to get into the adult industry from around the age of 14. As soon as I turned 18, I sent my photos off to The Score Group and they gave me my start in the industry. It was very exciting to be flown to the other side of the world by myself at such a young age. I was still in high school at the time so it created quite a stir at my school…My friends and family are very supportive of everything that I do. They understand that even though the adult industry may not be their first choice as a career for me, being in the adult industry is what I love".
Angela White has always appeared in porn productions under her real name, Angela White, and explaining her reasons for doing so within her Adult DVD Talk interview;
"I use my real name. It was a deliberate political move. I wanted the world to know that I was happy and proud to publicly share my sexuality. There is still so much shame surrounding sex and sexuality and part of my life's mission is to help people feel confident and comfortable about their sexual fantasies and desires".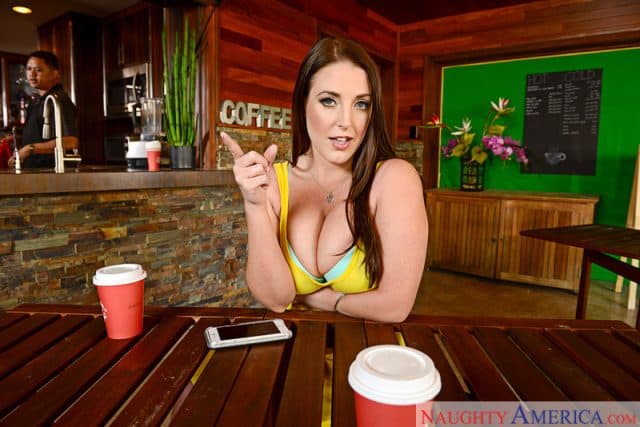 Angela White at Naughty America
Angela White : Adult Film Career
In 2003 Angela White filmed her first ever sex scenes for the Score Group production A Day With Angela White which was directed by Tushna. When asked about her emotions upon shooting her first ever hardcore sex scenes, natural busty beauty Angela White conveyed during her Adult DVD Talk interview that;
"It was such a rush. I had been waiting since I was 14 years old for that moment. The moment I walked onto set I knew I was doing the right thing…I've only ever been nervously excited on set. I like to explore exhibitionism so people watching me is no issue, if anything, it's a turn on. But when the sex is amazing, I don't even notice the crew".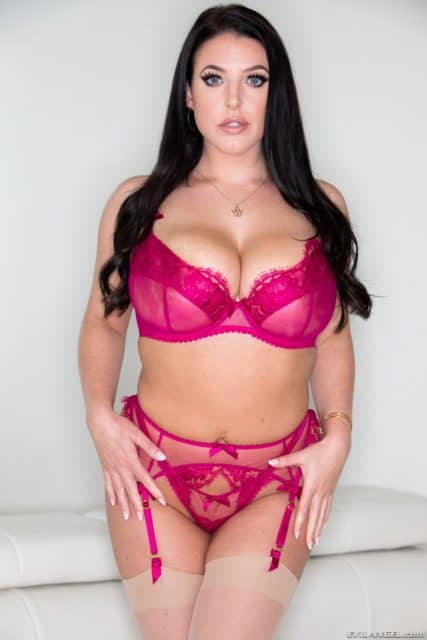 Angela White in I Am Angela – Evil Angel
Angela White has starred in multiple Score Group productions throughout her adult film career alongside fellow big bust adult film stars Gianna Michaels, Christy Marks and Cherry Brady. Some of these fan-favourite feature releases include; Ultimate Cherry (2004), Bosom Buddies 6 (2005), B.L.O.W: Busty Ladies of Oil Wrestling (2006), Big Boob Paradise (2007) which was nominated for "Best Big Bust Release" at the 2014 AVN Awards. On top of Big Fat Tits (2008), Big Tit Overload (2008), Tit 2 Tit with Christy Marks (2008), Tits and Tugs 7 (2011), Leanne's Stacked Summer (2011) and Tits and Tugs Hardcut 3 (2011).
During this time Angela White also filmed numerous online sex scenes and DVD titles for Abby Winters Studios. These included Erotic Moods (2008), Girls Craving Girls (2008),Real Girls Real Orgasms (2008), Girls Who Lust (2008), Girls With Desire (2008), Girls Touching Girls (2011), Girls Indulging (2011), Alone and Lovable (2011), Tasty Girls (2012) and Hairy & Horny (2012).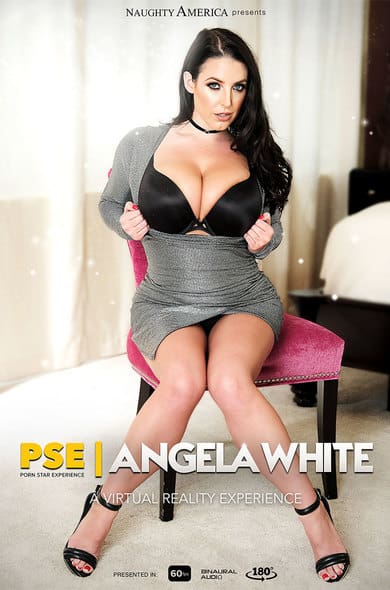 Angela White in Porn Star Experience – Naughty America VR
Angela White has since modelled for Scoreland, Abby Winters' various websites as well as the popular BBW websites XX-Cel and DDF Busty. Angela White was named "Model of the Year" by Voluptuous magazine in 2007 and became the first Australian model ever to pose for the Score Group. In fact, Angela White was ranked as one of Score Group's "Top Ten Models of the Decade" in 2009 and was named their "Hardcore Performer of the Year" in 2011. Angela White discussed these early years of her adult film career within her AVN interview, divulging how;
"The first company I worked with was The Score Group, because obviously I have these big natural breasts and they specialize in that, so I did some solo sets for them…My first DVD, which was a solo showcase, A Day With Angela White, came out in 2003, and I was like, 'I really want to do girls,' but they wanted to see what I was like first—but the next time I shot with them, they were like, 'All right, here you go; here's some girls'…I was worried that once I started doing boy/girl, no one would be interested in seeing me eat pussy, and I very much want to continue eating pussy".
Angela White : Academic Studies & Political Campaigns
Whilst pursuing her porn career, curvy cutie Angela White also attended the University of Melbourne and graduated with a first class honours degree in Gender Studies in 2010. Angela White was actually able to combine her two passions, porn and gender politics, for her honours thesis which she delivered at the Erotic Screen and Sound conference at Griffith University in 2011. As Angela White herself explained within a Simply Pleasure Q&A;
"I learned a lot about other performers' experiences in the industry and it certainly confirmed for me that the industry can be a transformative space for performers. I think it's really important for research on sex workers to make reference to sex workers voices so I made sure I did so in my Thesis…Pornography was the first place in which I saw my own sexual desires being represented positively. In pornography, having multiple partners of every gender is encouraged rather than looked down upon".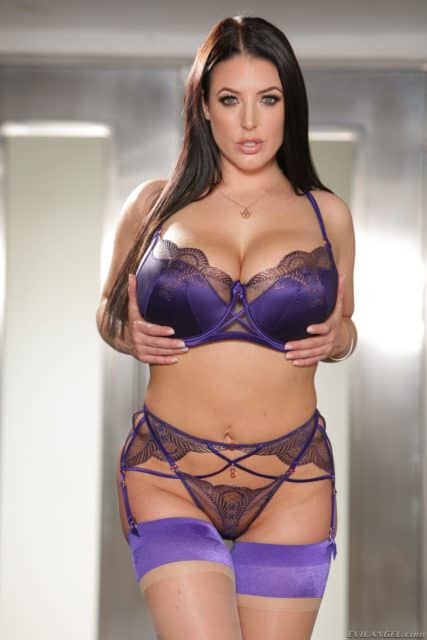 Angela White in Top Heavy Sluts – Evil Angel
Despite pursuing a thriving adult film career, Angela White also found the time to study abroad for a year at the Institut d'Études Politiques de Paris (Paris Institute of Political Science) in France. During her XCritic interview with Apache Warrior, Angela White expressed how working within the adult entertainment industry actually sparked her interest in politics;
"I was actually less interested in politics before I entered the adult industry. Being involved in an industry that is so heavily stigmatized and regulated forces you to become more aware of politics. It was a threat to the rights of sex workers in Australia that prompted me to run for political office in the 2010 Victorian State Election. The adult industry is being attacked from both sides of the political spectrum – from the conservative-religious right and the anti-porn feminist left – and everyone in the adult industry should have an awareness of their place within these debates". 
As mentioned above, in 2010 Angela White ran in the Victorian State Election as a candidate for the Richmond seat of the Australian Sex Party. Angela White explained her motivations for running for office within her May 2014 VICE interview;
"The difference is that politics is sleazy while porn is honest…I was motivated to run when I found out that the Greens candidate Kathleen Maltzahn was planning on banning brothels if she won the seat…Criminalising any part of the sex industry merely sends it underground, making it far more dangerous for the workers, so my aim in that campaign was not to win but to make sure Maltzahn didn't. It was a success".
Angela White also attracted mainstream media attention for her political campaigns when she sent copies of her adult film DVDs to the Attorney General as part of her ongoing campaign to reduce the stringent regulations placed upon X-rated films. What's more, Angela and her fellow Australian Sex Party candidate Zahra Stardust also made history when they became the first political candidates ever to film a porn production together!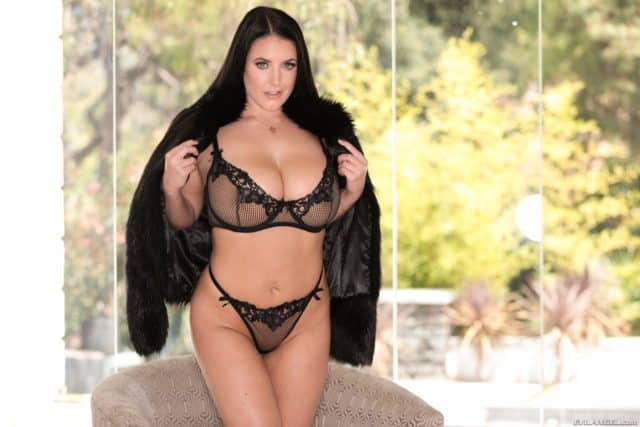 Angela White in I Am Angela – Evil Angel
Angela White : Adult Film Career (Hardcore Debut)

Between 2003 and 2011 Angela White only filmed solo and girl/girl sex scenes. However, upon graduating from college in 2010 Angela White decided to take her adult film career to the next level. In this manner, in spring 2011 Angela White filmed her first ever boy/girl sex scenes for the Score Group production Angela Finally Fucks. When asked about this turning point in her adult film career, Angela White told adult film blogger Captain Jack during her Adult DVD Talk interview that;
"The reason I do anything in the adult industry or in life more generally is because I want to and feel ready. So I started doing boy/girl as soon as I wanted to and was ready. I had just finished my Honours degree and wanted to try something new".
As Angela White further elaborated within her Dialogue Magazine interview;
"When I finished my honors degree at the end of 2010, I was ready to transition to something new. I contemplated doing boy/girl hardcore and it was the first time I had thought about it without any doubts emerging. The only thing I felt was eagerness and excitement. That's how I knew I was ready. I've never regretted that decision…The business has improved my self-esteem dramatically as fans have loved me in spite of, and even because of, my flaws. I'm also a lot more sexually open and at ease with my sexual desires".
Angela White appeared in multiple boy/girl sex scenes and girl/girl DVDs for Kelly Madison Productions during this time such as Natty Knockers 2 alongside hottest pornstars Ava Addams, Charley Chase, Maserati and Kelly Madison which was nominated for "Best Big Bust Release" at the 2013 AVN Awards and Cumgasm 2 alongside Kagney Linn Karter, Kelly Madison, Breanne Benson and Lisa Ann in January 2013.
In 2013 Angela White launched her official solo website, AngelaWhite.com, and her own production company, AGW Entertainment, through which she began to shoot all manner of saucy online sex scenes with some of the biggest adult film stars in the business. Some of Angela White's most successful online collaborations include; Sophie Dee in October 2013, Jayden James and Rocco Reed in December 2013, Bree Daniels, Ramon Nomar and Dani Daniels in January 2014, Alexis Texas, Manuel Ferrara, James Deen in February 2014, Phoenix Marie in March 2014, Anikka Albrite and Asa Akira in April 2014, Chanel Preston in January 2015, Ava Addams and Manuel Ferrara in July 2015, Kagney Linn Karter and Flash Brown in August 2015, Erik Everhard and Bonnie Rotten in September 2015, Jada Stevens and Prince Yahshua in November 2015, with best cam pornstars Alexis Texas and Anikka Albrite in December 2015 and Valentina Nappi and Manuel Ferrara in January 2016.
When asked about shooting this plethora of online sex scenes during a May 2016 Fleshbot interview celebrating the release of her 100th sex scene, Angela White ardently expressed that;
"Being in the triple digits is exciting, but it's not just about the number. The scenes on my website tell a story about my journey through pornography. There are a lot of "firsts" on angelawhite.com: my first anal, first interracial, first double penetration, first blowbang, first gangbang, first double vaginal, first double anal, first triple penetration. As you go through the scenes you will see me grow as a performer and watch me explore my sexuality and push my own boundaries. You can also see the development in production as I gain confidence as a director and producer. It gives you a lot of insight into how much I've grown".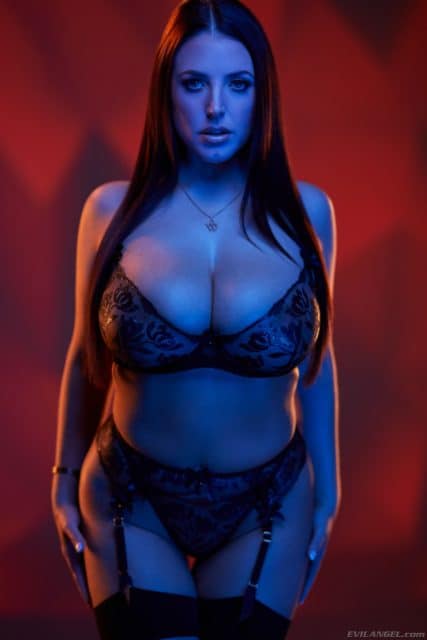 Angela By Darkko – Evil Angel
After all, as Angela White elaborated within her Adult DVD Empire interview;
"Producing and directing my own films allows me to create a space in which I feel completely comfortable to push my boundaries with the knowledge that I can call "cut" at any moment. I am in complete control of the filming and how the scene will play out and that has allowed me to make my fantasies a reality".
As well as her raunchy online sex scenes, Angela White has amassed a dedicated international fan base due to her show-stopping signature showcases. Produced by AGW Entertainment, Angela White's debut star showcase, the aptly named Angela 1, was distributed by Girlfriends Films in 2014. This star showcase featured Angela White's first ever anal sex scene with James Deen, her first ever interracial sex scene with Lexington Steele, her first ever boy/girl/girl three-way sex scene with Kelly Divine and Manuel Ferrara which was nominated for "Best Three-Way Sex Scene" at the 2015 AVN Awards, and culminated with her first ever double penetration sex scene with Mr. Pete and Toni Ribas. Angela 1 was a smash-hit among fans and film critics and it was nominated for "Best Star Showcase" at the 2015 AVN Awards as well as "All-Sex Release of the Year" at the 2015 XBIZ Awards.
Angela 1 was swiftly followed by the equally popular Angela 2 in September 2015. Once again Angela White directed her own star showcase and starred within four saucy sex scenes including; her first ever lesbian three-way sex scene with Alexis Texas and Anikka Albrite, her first ever blowbang with seven male porn stars and her first ever interracial double penetration and airtight sex scene with Lexington Steele, Rico Strong and Moe Johnson. Angela 2 concluded with a spectacular finale; Angela's first ever gangbang scene which incorporated her first ever double vag, double anal and triple penetration sex scenes as well as all manner of raunchy anal, airtight, double penetration and ass-to-mouth content! Angela White noted within her July 2016 Die Screaming interview that she regards these double vag and double anal sex scenes among some of her proudest porn star career achievements;
"Doing my first double anal and double vaginal. That probably sounds like a really weird thing to be 'proud' of but it was more what it represented than the acts themselves. It demonstrated that I had reached a point in my life where I was confident enough to allow myself to be vulnerable and completely let myself go in the moment".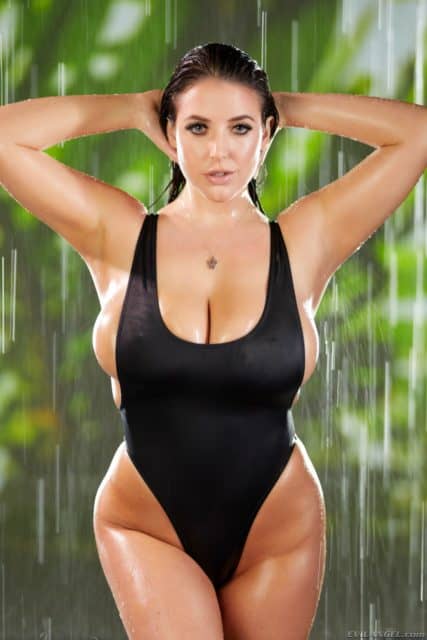 Angela By Darkko – Evil Angel
Angela White was similarly enthusiastic about shooting her first gangbang as a whole. Angela White described the experience within her Sexpo interview as;
"One of the best things I have ever done. Period. I was euphoric afterwards. I was able to have my sexual fantasy fulfilled on my own terms and it was cathartic and validating to be so desired and ravished. I think I appreciated it even more once I realized how difficult gangbangs are to organize. I had already had to postpone a gangbang once due to talent cancelations and I was lucky to get the team I did for the second round. It was a dream come true. The thing I actually remember most about the day was how confident I felt afterwards. I felt like I could do anything, that no challenge was too great, and that feeling has stayed with me".
What's more, this action-packed DVD feature release also came equipped with some bonus content pairing Angela White with Anal Queen Asa Akira. Consequently, Angela White's no-holds barred performance within Angela 2 earned her a wealth of adult film awards at the 2016 AVN, XBIZ and XRCO Awards including "Best All-Girl Group Sex Scene", "Best Oral Sex Scene" and "Best Gonzo Movie". Angela has received several notable nominations throughout her adult film career and she has even hosted the 2017 XRCO Awards alongside Eva Lovia. Listed below are some of Angela White's most impressive adult entertainment accolades to date;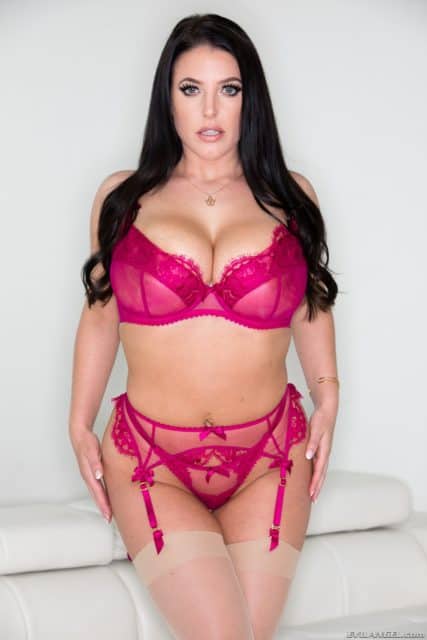 Angela White in I Am Angela – Evil Angel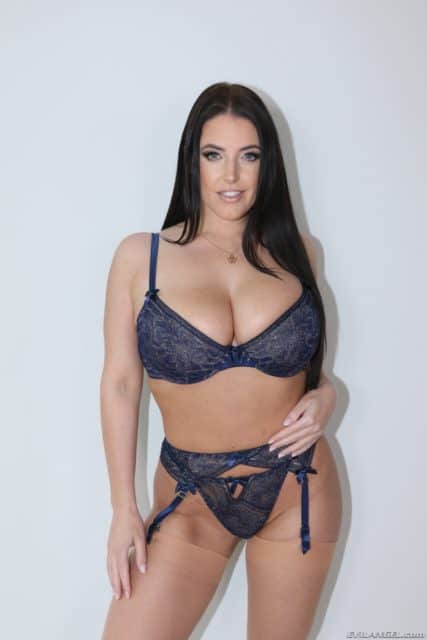 Angela White in First Class Anal – Evil Angel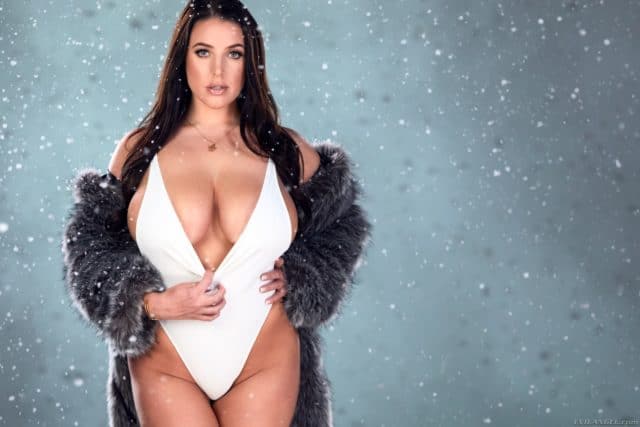 Angela By Darkko – Evil Angel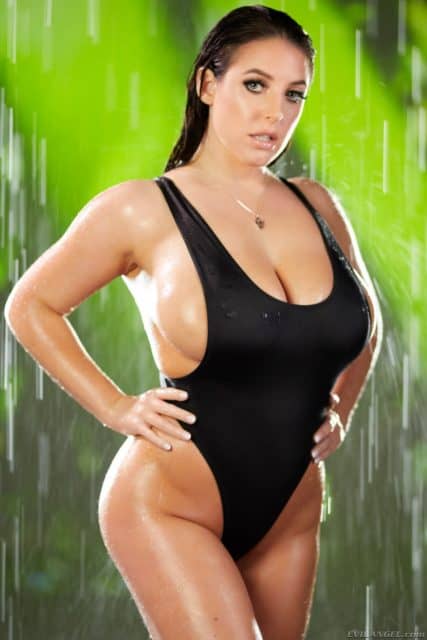 Angela By Darkko – Evil Angel
Angela White was thrilled to receive these notable nominations and coveted industry accolades. As Angela White herself enthused within her July 2016 Die Screaming interview;
"I'm really proud of all of my wins at the 2016 AVN, XBIZ and XRCO awards particularly winning the XBIZ Award for Foreign Female Performer of the Year. That was a dream come true!".
Moreover, upon discussing her "Best All-Girl Group Sex Scene" award win at the 2016 AVN Awards and her multiple XRCO Awards nominations, Angela White divulged within her Sexpo interview that;
"I'm so happy we won! I have such amazing chemistry with both Anikka and Alexis so I knew it was going to be intense having both of them in a scene together. I pretty much won at life when I got to have both of their butts in my face at the same time…It is an amazing honor just to be nominated by XRCO for these 4 awards. But if I had to choose just one award to win, I would go for Orgasmic Oralist since I've never actually met anybody that loves giving head more than me. I love going down on both men and women alike and I really get off on it so I think Orgasmic Oralist is an accurate descriptor for me. It would also be a great award to bring up at the family Christmas dinner".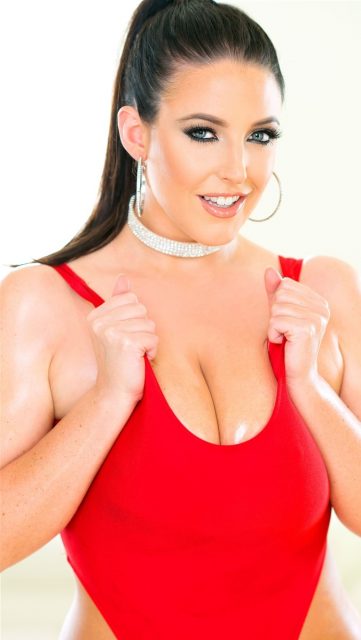 Angela White in Anal Fitness Sluts – Evil Angel
Angela White : Exclusive Fleshlight Product Line & Recent Releases
In October 2014 Angela White achieved another landmark moment in her adult film career when she became the first Australian adult film star ever to launch their own Fleshlight sex toy line! Angela White enthused about this achievement within her AVN interview, revealing how;
"I was quite excited to become the first Australian Fleshlight girl—mine came out in October of last year—so that was exciting, and then obviously being part of the Fleshlight team is so much fun; they're great people to be involved with; they really treat you as part of the family," White said. "Sales are great, and it's another way that I can offer my fans to become intimate with me, to get closer to me, and because I do webcam shows through my website, my fans are able to use the Fleshlight to imagine that they're fucking me. When I have time, when I'm not producing or editing, I log on to see my fans, and it's  another way for me to have fun with them as well, because if we do cam-to-cam, then I can actually see them fucking my Fleshlight and I can talk to them and ask them how it feels and tell them how to use it".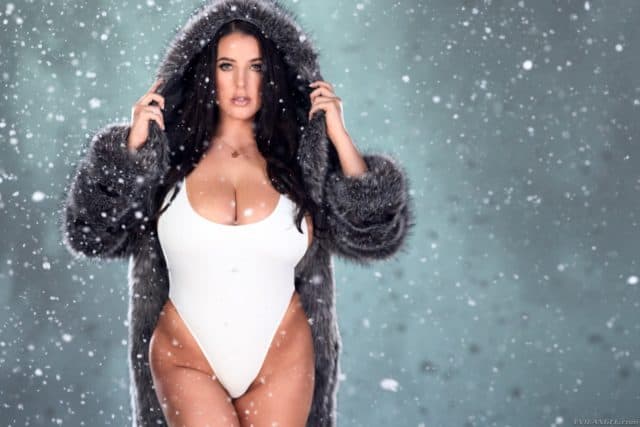 Angela By Darkko – Evil Angel
As well as her successful star showcases and saucy online sex scenes, Angela White continued to feature within multiple fan-favorite DVDs throughout 2015 and 2016 including Interracial Icon 2 for Blacked.com and Jules Jordan Video alongside Chanel Preston, Jade Nile, Kendra Lust and Layna Landry. As XCritic adult film blogger Rob Perez enthused within his online review;
"A real stroker from beginning to end, Interracial Icon 2 has so much good going for it that it deserves to be praised with accolades. The sexual performances are nothing short of steamy, the camerawork is stellar, the sexual connections are strong, and only the good stuff is included. The girls are beautiful and their appetite for black cocks is so evident you feel glad for them that they're getting what they crave. The guys definitely pump them up with all their meat to the girl's total satisfaction. And you'll finish jerking it fully satisfied and agreeing with us that this title deserves a High Recommended".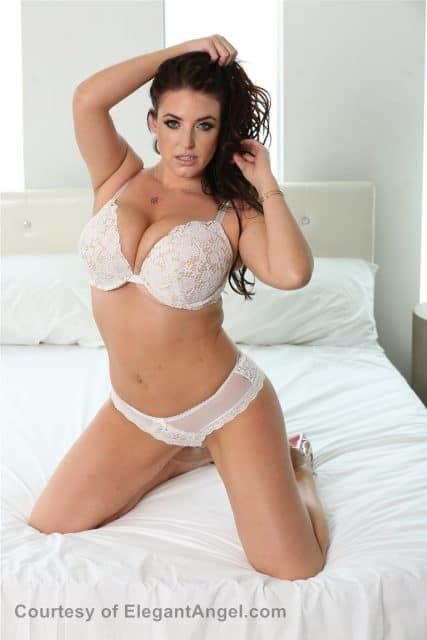 Angela White Is Titwoman – Elegant Angel
Over the years Angela White has performed within, and directed, numerous award-nominated porn productions that have been produced by AGW Entertainment and distributed by Girlfriends Films. Among these star-studded DVD feature releases include; Angela Loves Men (2015) which was nominated for "Gonzo Release of the Year" at the 2016 XBIZ Awards and its subsequent DVD sequels Angela Loves Men 2 (2016), Angela Loves Threesomes (2015) starring Bonnie Rotten, Jada Stevens and Kagney Linn Karter, Angela Loves Gonzo (2016) with Anikka Albrite and Angela Loves Women 1 (2015) which starred Angela alongside Bree Daniels, Celeste Star, Gracie Glam and Dani Daniels.
This fan-favourite all-girl DVD feature release won "Best All-Girl Movie" at the 2016 AVN Awards, was nominated for "All-Girl Release of the Year" and "Best Scene – All-Girl" at the 2016 XBIZ Awards and was so successful that it spawned another fan-favourite sequel; Angela Loves Women 2! This all-girl DVD sequel featured a stellar cast of female performers including A.J. Applegate, Carter Cruise, Lexi Belle and Remy La Croix. As Roger T. Pipe raved within his online review of Angela Loves Women 2;
"It is that time again my friends. Yes, time for me to tell you all how fucking awesome Angela White is. If you don't already know it, then you are behind the curve. On the other hand, welcome to the party. She is gorgeous from head to toe and shows some of the best sexual energy in the business. If you haven't seen her other DVDs, pick them up ASAP because you are either already in lust with her or will be by the time this one is done. Of course it helps if you like girl on girl action. This movie features Angela with four of the hottest babes in XXX…If you like hot lesbian sex and/or Angela White then grab this and add it to your collection. I still like Angela Loves Gonzo more, but mark this down as one of the hottest girl/girl DVDs of 2016".
Most recently, Angela White featured within Busty Lovers 2 (2015) for DDF Studios which was nominated for "Foreign Non-Feature Release of the Year" 2016 XBIZ Awards, Mantequilla Bay Bay (2016) with Jessy Jones for the Brazzers Network and Angela White Titty-Fucks A Voyeur for the Mofos website Pervs On Patrol in October 2016. Is there anything Angela White can't do?!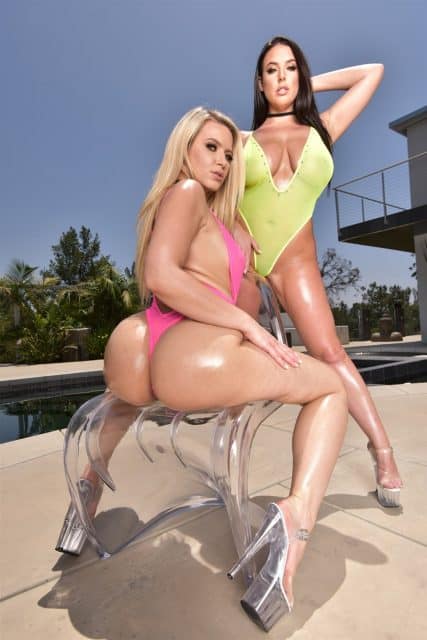 Anikka Albrite and Angela in Hardcore Threesomes – Hard X
Angela White : La Trube University Sex Scandal
In 2014 Angela White's adult film exploits sparked mainstream media controversy after she filmed some amateur sex scenes inside the library of La Trube University in Melbourne, Australia. Although AGW Entertainment swiftly removed the video from Angela's official website, this controversial content had already attracted mainstream media coverage from various print media and online news outlets. Angela White discussed the fallout from this saucy scandal within her May 2014 VICE interview, highlighting how;
"That scene went viral when it was never even supposed to go live. It was an amateur video I shot with a lover for fun and turned out to be the most popular thing I've ever done…Unfortunately, when the media got hold of it there was a lot of speculation over where it was shot and an institution was named. There's not much I can say about it, although I will say that much of what was published was incorrect. I don't care to correct the details because the damage is done and I don't want to drag it out any longer… I'm a firm believer in the power of education, so if the scandal encouraged a few people to pick up a book then I'll take that small victory".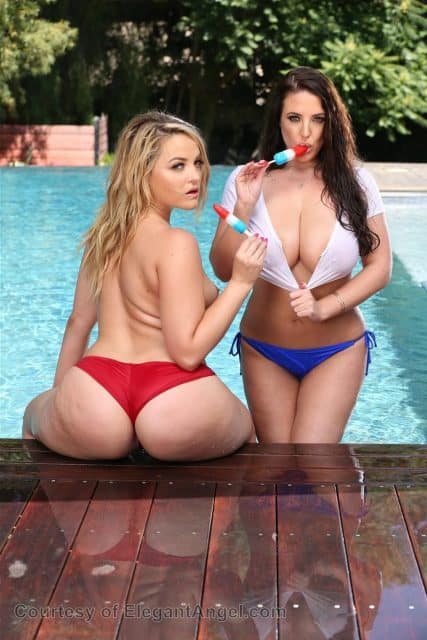 Angela and Alexis Texas in Angela White Is Titwoman – Elegant Angel
Angela White utilised this VICE interview and the mainstream media coverage on her raunchy campus content to highlight the main problems which adversely impact the Australian adult entertainment industry as well as to dispel some of the most common misconceptions concerning adult film performers. As Angela White puts it in her own words;
"The current laws regulating the production and distribution of adult material in Australia are strict and archaic. The laws don't reflect current community standards and make it very difficult to legally produce adult content…Despite this, there are more companies producing pornography in Australia than ever, and there are a number of companies producing amazing feminist and alternate visions of human sexuality. The industry is just more underground and grass roots than it is in the States…
I conducted qualitative research into female experiences in the Australian pornography industry and the findings did not support the assumption that porn performers are addicted to drugs or deficient in anyway. In a lot of instances, the reality of performing in porn is quite banal, much to the disappointment of a media that like a sensationalist story, but it seems studies like mine still can't dismantle the lingering assumptions…
Another prominent myth is that porn performers can't maintain intimate relationships. I find this myth to be very misleading, given that the vast majority of marriages end in divorce, which suggests that most people, regardless of profession, struggle to maintain relationships.
My own experience has been that people in the sex industry have more honest relationships that are longer lasting. The nature of our professions requires such sexual transparency that I've experienced and observed more communication and less adultery in relationships in which one or more people work in the adult industry…If I've made even a handful of people change their perceptions about sex workers by the time I've left porn, I'll be happy".
Angela White elaborated within this VICE interview upon how she feels that the media must share a fair portion of the blame with regards to the stereotypical image of 'damaged' porn stars. As Angela White herself stated;
"I would argue that the media has played the biggest role. I can't do an interview without having the same tired questions thrown at me about drug addiction or sexual victimisation. There needs to be a paradigm shift in the way the media engages with sex industry workers. Journalists should respect that sex industry workers are agents that are capable of making their own decisions. Otherwise, in order to be fair they need to ask the same questions to every lawyer, mechanic, [insert any professional] they interview".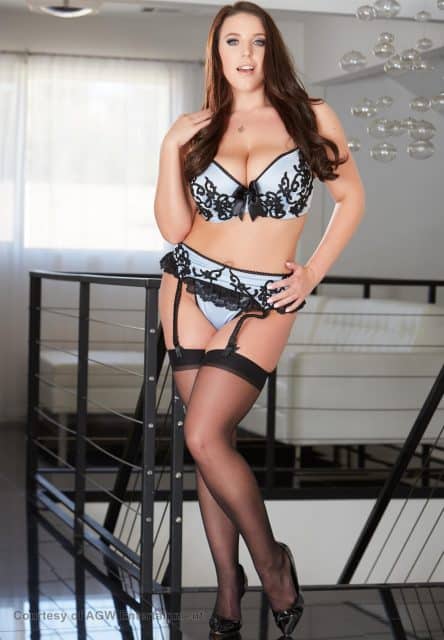 Angela Loves Anal – AGW Entertainment
Angela White : Mainstream Media Projects & AGW Entertainment
In 2007, Angela White made her mainstream media acting debut when she starred as 'Ruby', a porn star and Bobo's ex-girlfriend, within four episodes of Pizza , the popular Australian TV  comedy series. Angela White's multi-episode story arc within Pizza had a substantial impact upon her adult film career because, at the time of airing, Pizza was the highest-rated Australian TV series on the SBS broadcasting network.
This mainstream TV acting debut paved the way for Angela White to feature within articles for mainstream magazine publications such as Cosmopolitan, Time Out and Penthouse. Angela has even been featured on the front page of the Sydney Morning Herald! In addition to these magazine pictorials and feature articles, Angela White has also appeared as a guest on multiple radio talk shows for Fox FM, Triple J, as well as appearing on shows for the Australian TV networks ABC and SBS. In 2013 Angela White was chosen to act as the official MC for Sexpo, the largest sexuality and adult lifestyle exhibition of its kind. Angela White has also been interviewed for Crave Online, YNot.com, Beat.com, Herald Sun and XBIZ News on countless occasions as well as collaborating with Buzzfeed for the October 2014 feature article This Is What It's Actually Like To Work As A Female Porn Star.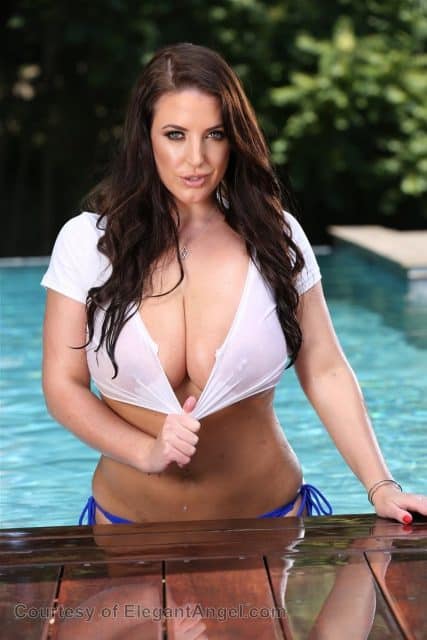 Angela White Is Titwoman – Elegant Angel
As mentioned earlier, in 2013 Angela White also launched her own production company AGW Entertainment B.V. and her official solo website AngelaWhite.com. Although popular thick and curvy pornstar Angela White struggled to launch her official solo website at first, she conveyed within her December 2013 Boobsrealm interview how it was well worth the effort;
"Being an Australian citizen made getting my website up extremely difficult. I had to open up an overseas company and bank account, which was costly and time consuming. Then I had some other issues with individuals lying to me and taking my money without delivering a product. Unfortunately, this made pushed back the launch of my site. I am so happy to finally have my website live and very excited to be able to share my content with the world…On angelawhite.com, fans can expect to see me doing things that I've never done before. My first squirting scene with Ramon Nomar is already live on the site. Every month members get a new and exclusive solo, girl/girl, boy/girl and candid photo and video update. Plus, every week there is a free live webcam show where members can interact with me, get to know me more intimately and get off with me…Webcamming is a great platform to interact with and meet fans. Plus, it's fun to be able to engage with my exhibitionist streak and masturbate with so many people watching".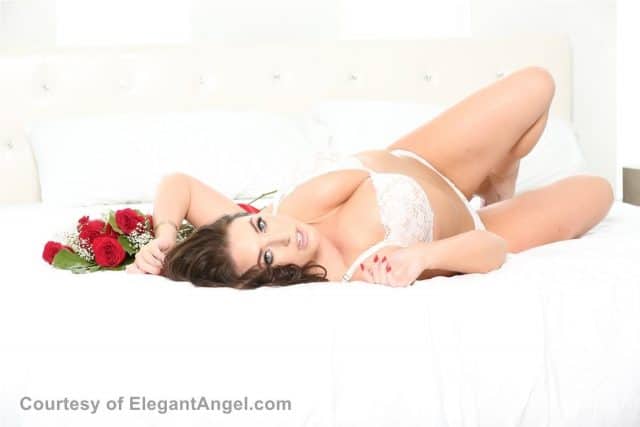 Angela White Is Titwoman – Elegant Angel
Angela White is responsible for performing, directing, producing and editing all of the exclusive content for her official solo website. Angela White also utilises her website to host her own public and private webcam modelling sessions with her loyal fans on a weekly basis. Angela White explained within her Dialogue Magazine interview how these group chat sessions and one-to one webcam modelling shows liberate her to act out her sexual fantasies with her followers and enable her to relate to her fans on a personal level;
"There are a lot more female performers moving into directing and producing now. But I would say that even more prevalent is the move towards interactivity with fans through live webcam shows. Not only are performers more connected with their fans than ever before, they are able to have more control over their income, hours and working conditions".
Angela White often refers to these webcam modelling sessions as 'Tits Out Therapy' and stressed the importance of these types of personal performances via adult cam-sites and her official solo website within her HotMoviesForHer interview;
"There is so much shame surrounding sex and sexuality in our culture that it can be profoundly validating to have someone simply accept you and your sexual desires without judgement. Through my webcamming, I try to create a safe environment for my fans to express their fantasies without guilt or embarrassment. My webcam regulars come for the tits, but stay for the therapy…
I've produced scenes that are directly informed by my intimate encounters with fans on webcam. For example, I've learnt that some fans who have limited mobility can feel alienated by physically intense scenes where I am picked up and fucked or thrown around the room – something that they cannot replicate. So as a result I've shot a number of POV scenes where the male talent is completely stationary. I've learnt that despite our cultural assumptions about masculinity, many men feel vulnerable about their capacity to be loved, so I've shot scenes which simulate a 'girlfriend experience'…
I see the porn industry moving towards more live streaming and interactivity, which is what I'm working to accomplish with my site. The industry has been hit hard by piracy in recent years; however, the experience of seeing a live performance and actually interacting with porn stars in real time cannot be torrented".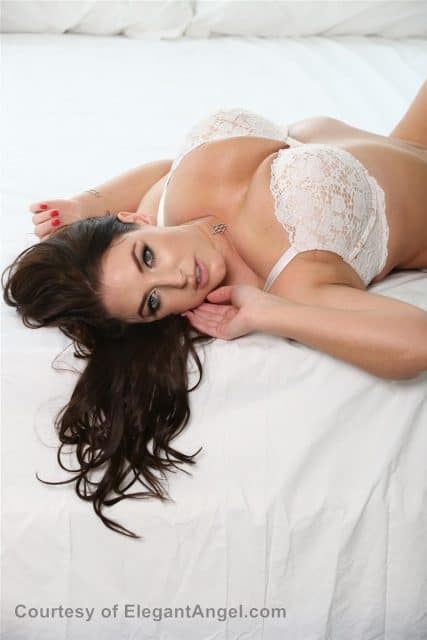 Angela White Is Titwoman – Elegant Angel
Angela White : Personal Life & Future Plans
When asked about her private life and romantic relationships within her Dialogue Magazine interview, natural beauty Angela White expressed that;
"Traditional monogamous relationships simply do not work for me. I identify as polyamorous so I believe it is possible to be truly in love with more than one person at the same time. I'm a very affectionate partner and I really enjoy giving sexual pleasure. I don't like dates; I'd rather skip the flowers and chocolates and just spend some quality time making out on the couch…I've been very fortunate in my relationships. Even the ones that haven't worked out have been amazing".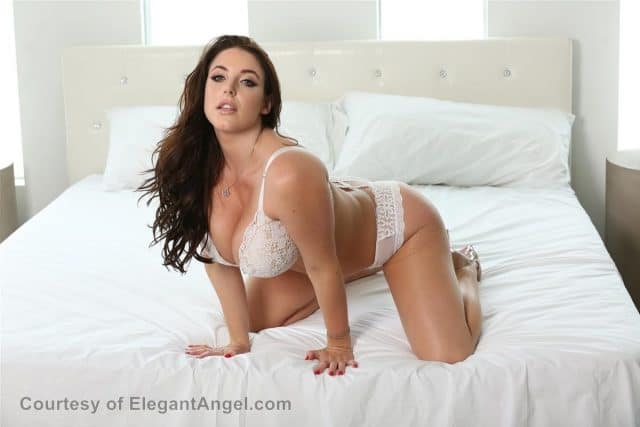 Angela White Is Titwoman – Elegant Angel
Furthermore, Angela White enthused within her July 2016 Die Screaming interview how she has no plans to retire from the adult entertainment industry in the near future and that she is eager to experiment with new porn content as well as pursuing her PhD in General Studies;
"I don't plan on slowing down anytime soon, but it's not the pressure to 'be successful' that drives me. I am fortunate to be in an industry that allows me to experiment with fantasies and experience new sensations and this inspires me to explore the depth and breadth of my sexuality…I still plan on going back to university to pursue a PhD in Gender Studies. There are also other things I want to experience and achieve in the pornography industry but I'm going to keep my lips sealed on what those things are. In my usual style, you'll be hearing about some surprises very soon".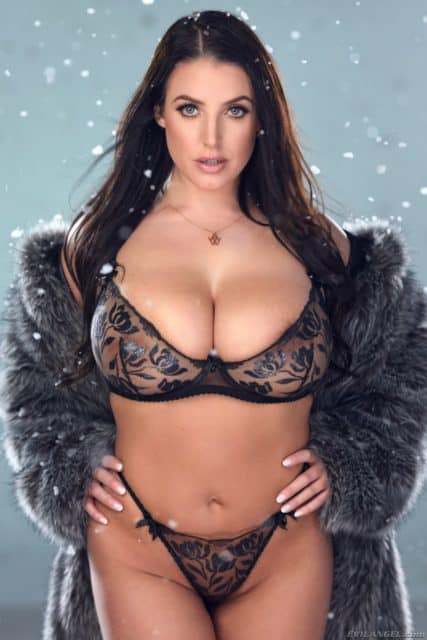 Angela By Darkko – Evil Angel
Want to stay updated on Angela White's latest Brazzers, Evil Angel and Wicked porn projects, webcam modelling sessions and political campaigns? Then why not use the links provided below to discover all of Angela White's exclusive web content!
Angela White – Social Networks
Official Site : AngelaWhite.com 
Twitter : @ANGELAWHITE
Instagram : @theangelawhite
VR Bangers : Angela White VR Scenes
Brazzers : Angela White at Brazzers
Evil Angel : Angela at Evil Angel
Naughty America : Angela at Naughty America
The Nude : Angela at Nude.EU
Babepedia : Angela at Babepedia