Mrs Robinson
Twitter : @MrsRobinsonXo   FanCentro : mrsrobinson   Brazzers : Mrs Robinson Sex Scenes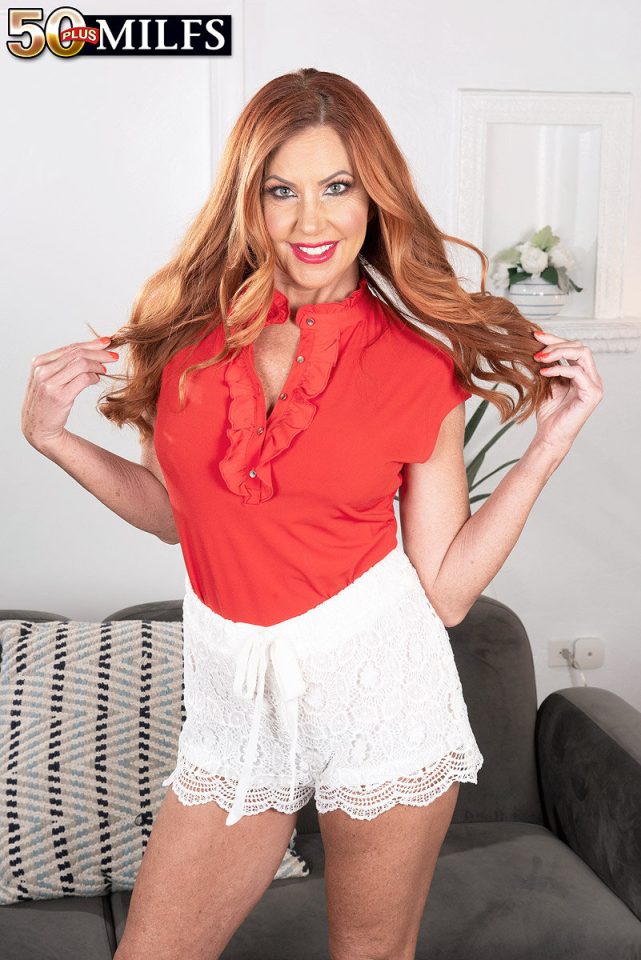 Click here to watch "Mrs Robinson, Cock-Sucker Extraordinaire" at 50 Plus MILFs
Mrs Robinson – Personal Info
Name : Mrs Robinson
Date of Birth : March 24th
Star Sign : Aries
Measurements : 36C – 28 – 36
Height : 5'10 (1.78m)
Hair Colour : Red
Eye Colour : Blue
Tattoos : Blue flower with 'to thine own self be true' script above it on her right butt cheek. Design in the middle of her lower back
Shoe Size : Women's 11 (US)
Years Active : 2020 – present
Number of Scenes : 10+
Mrs Robinson is a multi-talented MILF pornstar, content creator, cam model, former teacher and digital strategist who began taking the adult industry by storm in 2020. In a short space of time, busty beauty Mrs Robinson became one of the top 0.01% OnlyFans content creators. Moreover, ravishing redhead Mrs Robinson continues to attract an avid fan following due to her sensational sex scenes for Brazzers, MILFED and Missa X. Furthermore, curvy cutie Mrs Robinson received many nominations including "Hottest MILF (Fan Award)" at the 2022 AVN Awards and "Best MILF Premium Social Media Star" at the 2022 XBIZ Cam Awards.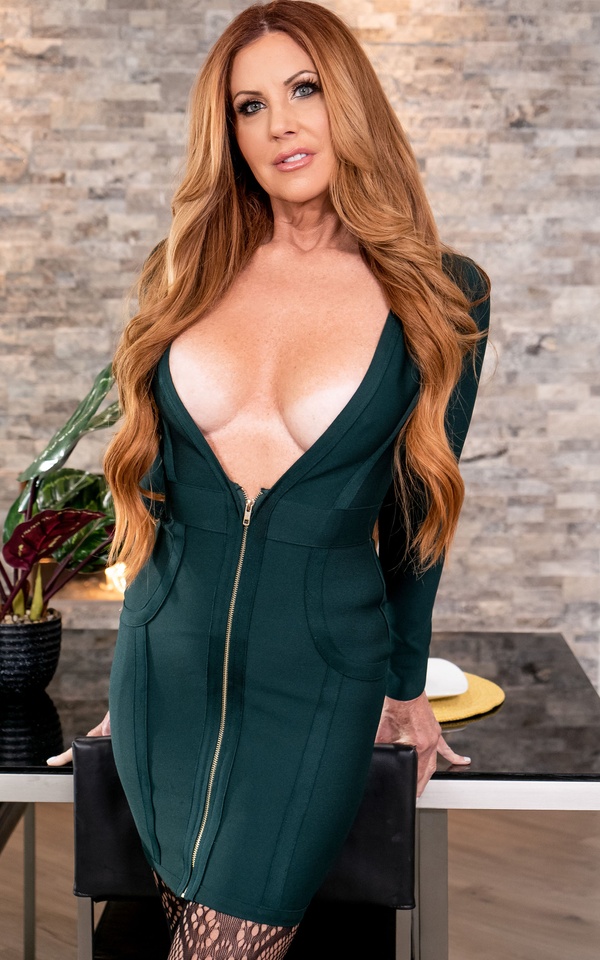 Click here to watch Mrs Robinson in "Nerd Loves Big Naturals" at Brazzers
So where did it all begin? Born and raised in western Pennsylvania, south of Pittsburgh, sexiest redhead Mrs Robinson has Italian heritage. Mrs Robinson is the mother of fellow content creator Amber Blake. Statuesque stunner Mrs Robinson has always been a highly active individual who ran track, played basketball and was very sociable throughout high school. In fact, Mrs Robinson was even offered a basketball scholarship! Talking about these early years during her December 2021 Fleshbot interview, natural busty beauty Mrs Robinson recounted how;
"I was a chameleon in high school. And I hung out with the smart kids, the partiers, and the athletes (never at the same time, obviously). I was on Homecoming Court, ran track, played basketball, skied, drank A LOT. And I was voted Class Flirt and Most Athletic. I guess you could say I started trying to figure out who I was from a very early age. I was also in and out of a relationship that ended up lasting 10 years.
When we were 'off' or taking a break, I managed to become quite the hoe but had a lot of fun doing it. I have always had an open-minded perspective about sex. And I have also always fought hard against the double standard of guys being able to sleep around but when girls do it, they get a bad reputation".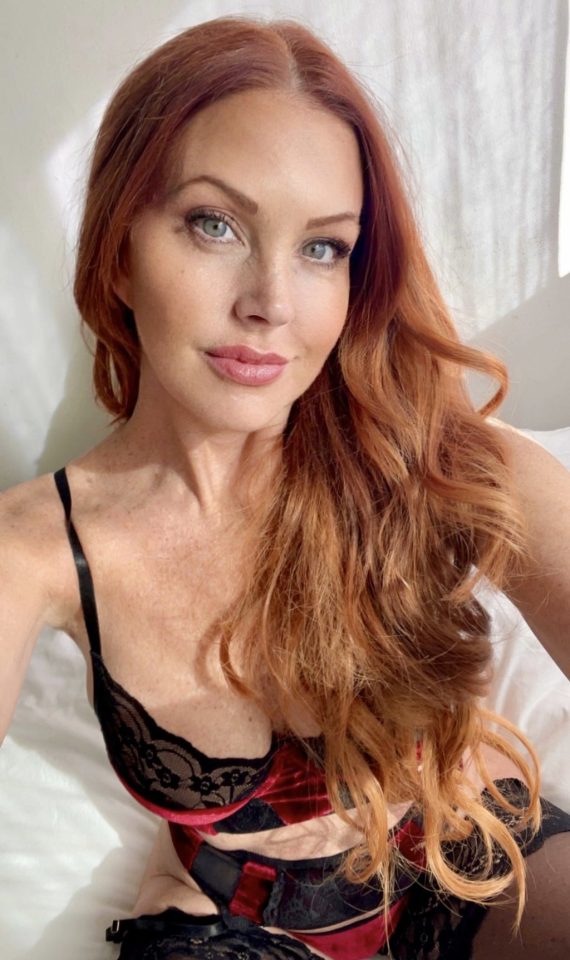 Click here to discover Mrs Robinson's exclusive content at FanCentro
Upon graduating from high school, Mrs Robinson attended college and grad school where she received her master's degree in Education. From here, fit and athletic stunner Mrs Robinson worked as an English teacher for 8 years throughout her 20s. Ultimately, Mrs Robinson decided to postpone her teaching career in favour of working her way up the corporate ladder. Consequently, Mrs Robinson's diligent work ethic and business acumen enabled her to become a senior software executive and digital strategist in the advertising industry. Talking about this definitive period of her life during her January 2022 Adult DVD Talk interview, fan-favorite redhead MILF Mrs Robinson divulged that;
"I went to college and grad school. And then I was a teacher in my 20s. I did that for 8 years and had kids. Then went back into the workforce and went in a totally different direction. I started off at the bottom, the very bottom, of the corporate ladder. I was selling newspaper ads. That's how long ago it was! I was with a company based in Virginia. And when they transitioned to digital, I ended up being recruited by a bigger company. I moved my way up the ladder.
And by the time it was all said and done, right before I turned 50, which was almost 2 years ago, I retired as a Senior Software/Digital Strategy exec in the ad industry. I was tired and burned out and Covid had just hit. I was tired of being on the road all the time. And my age was starting to catch up with me. I was a single mom and it wasn't good for my younger child at the time. He was 14 and my mom had to come and watch him when I was on a plane every week. And it just got to be too much".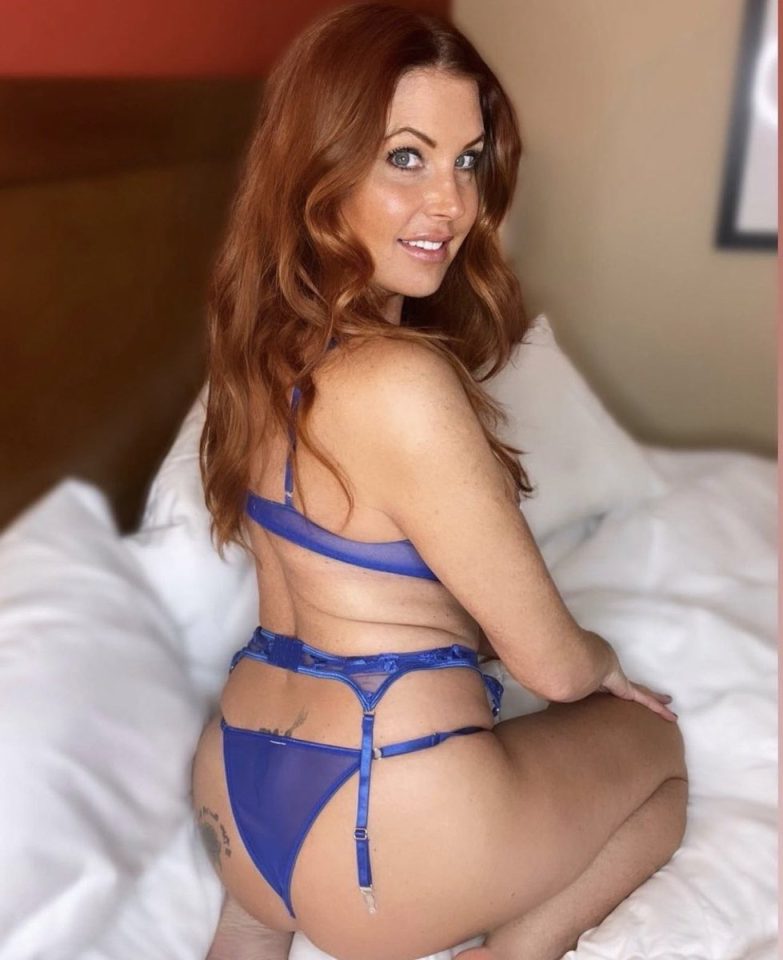 Click here to discover Mrs Robinson's exclusive content at FanCentro
Mrs Robinson: Top 0.01% OnlyFans Content Creator
Mrs Robinson first began working in the adult entertainment industry in 2020 as an independent content creator. Busty beauty Mrs Robinson decided to create her official OnlyFans account 'mrsrobinsonvip' after she was asked to pretend to be a stepmom for a friend who was already shooting OnlyFans content. After some careful deliberation and discussion with her family, statuesque stunner Mrs Robinson decided to give it a go. And she hasn't looked back since! Bubble butt stunner Mrs Robinson discussed this pivotal decision during her January 2022 Adult DVD Talk interview, explaining how;
"I found myself at a socially-distanced bonfire, and there was this guy there who asked me what I thought about being on OnlyFans. I didn't even know what that was! He told me his wife was on there and she made a couple hundred thousand a month selling pictures and videos. 'Excuse me, did you just say a couple of hundred thousand a month?'. He showed me her site. And he asked what I thought about playing her pretend stepmom.
I said, 'I went to grad school, I have my Master's Degree, I was in corporate America, I have two kids, I can't! I'm not doing anything like that!'. So, I drove home. And I thought about it ALL freaking night…I called that dude up and said, 'I'm in!'. Mrs. Robinson was born that day and I used my advertising skills to build a brand. I started a free OnlyFans page and that grew really fast. And I launched a VIP page and that was crazy growth!".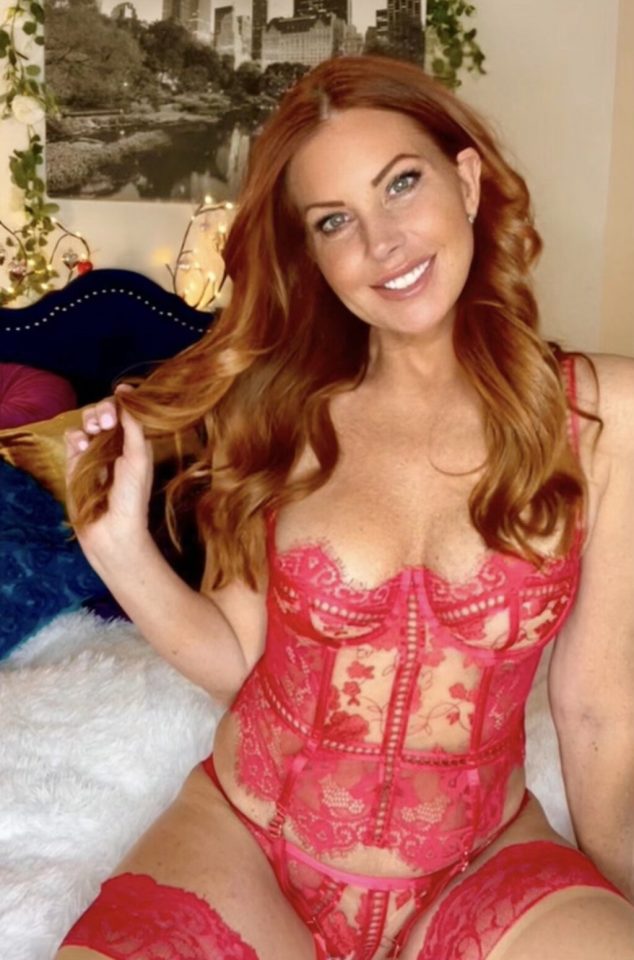 Click here to discover Mrs Robinson's exclusive content at FanCentro
From this point onward, beautiful freckles pornstar Mrs Robinson became one of the most popular MILFs on OnlyFans. As a matter of fact, within 6 months of creating her official account, Mrs Robinson became one of the top 0.01% OnlyFans content creators! During this time, Mrs Robinson was told by her fans on Twitter that she should be on the internationally renowned porn network Brazzers. As fate would have it, Keiran Lee of Brazzers responded to this Tweet and added that he wanted to direct Mrs Robinson. Subsequently, within a month of receiving this response, Mrs Robinson was booked and flown out to Los Angeles, California, to shoot her official porn debut. And the rest is history! Talking about the advent of her adult film career during her December 2021 Fleshbot interview, tallest busty beauty Mrs Robinson conveyed that;
"I decided to go big or go home. And I started to use my digital advertising and social strategy skills to grow my brand. I started an LLC, hired a media team, and branded myself as Mrs. Robinson from the movie The Graduate. Going from OnlyFans to mainstream porn happened after Keiran Lee saw me on Twitter. I had tweeted that someone told me I should be on Brazzers. And Keiran replied, 'I agree, and I want to direct you'. Within a month or so of Keiran's Tweet, I was in L.A. shooting for Brazzers. It was all a whirlwind after that. And it still is!".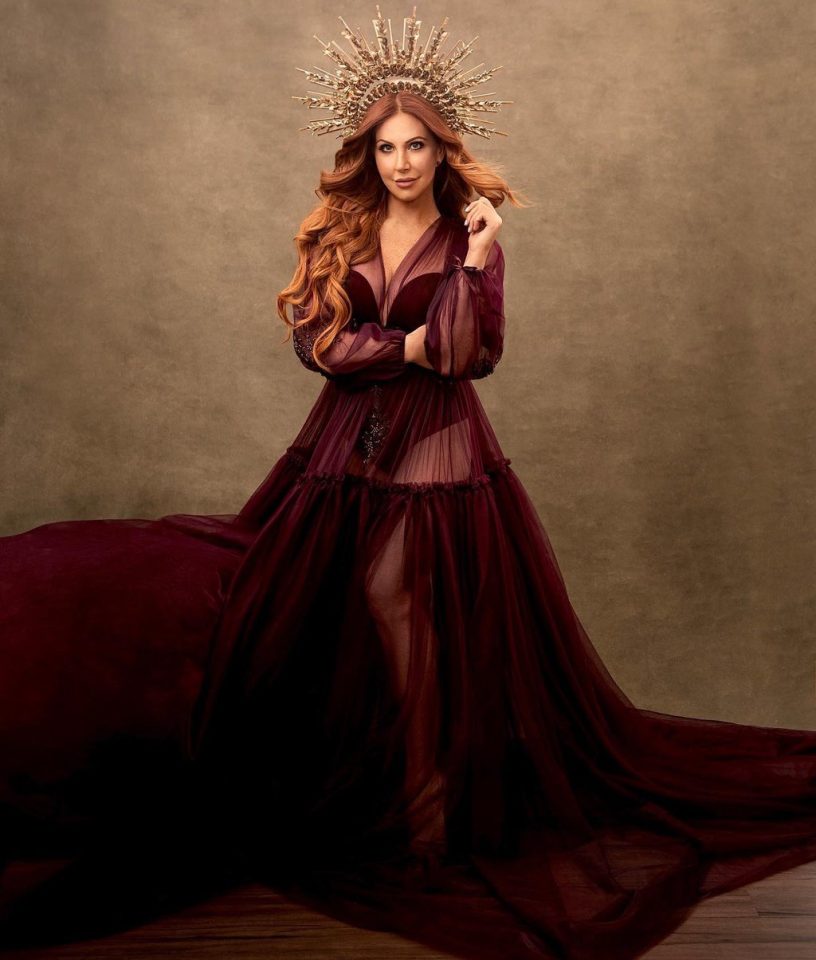 Click here to discover Mrs Robinson's exclusive content at FanCentro
Mrs Robinson : Adult Film Career
After becoming one of the most popular OnlyFans content creators, Mrs Robinson made her official porn debut in early 2021. Mrs Robinson is credited in some of her initial shoots as 'Ginger Robinson' and 'Mrs. Robinson'. One of Mrs Robinson's first ever porn productions was her sizzling Nerd Loves Big Naturals sex scene with Van Wylde. This hot hardcore shoot was unveiled via Brazzers in April 2021. As the scene description hotly hints;
"Sexy MILF Mrs Robinson is trying to chat with her husband over dinner. But he's just not listening and has his eyes on his phone. Luckily, there's another man around who seems a lot more interested in her. The mysterious nerd window washer Van Wylde. Mrs Robinson starts teasing the nerd by flashing her tits and pussy at him. All under her husband's nose! When her husband finishes eating and leaves the room, Mrs Robinson opens the patio door. And gives Van a proper greeting. She lets him inside to suck and fuck him. After all, her husband will never notice!".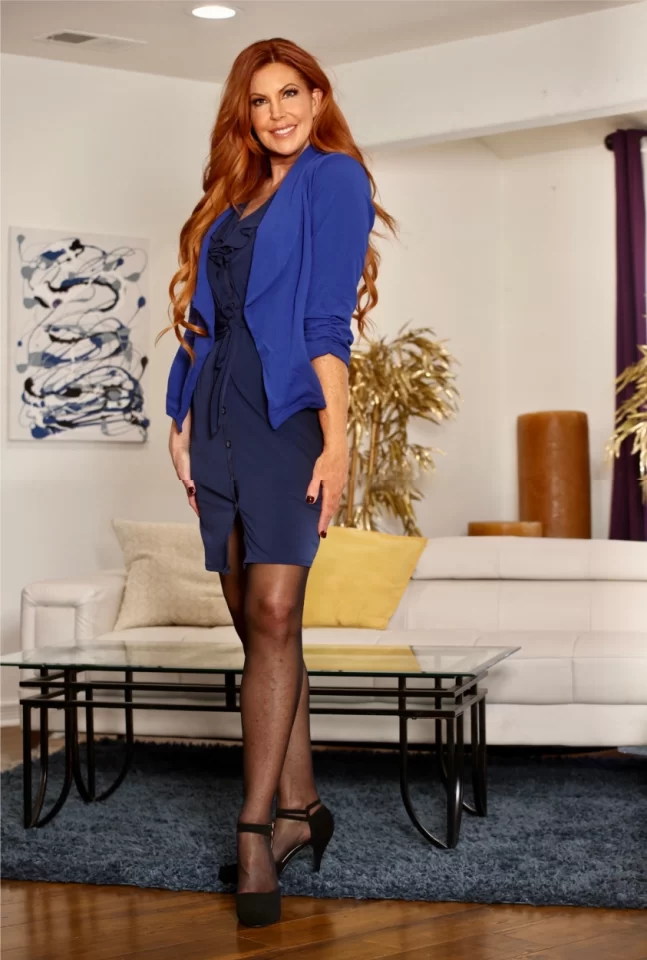 Click here to watch Mrs Robinson in "MILF Threesomes" at MILFED
But hold on, it gets even better. Subsequently, Mrs Robinson's amazing Nerd Loves Big Naturals porn debut was showcased in the Brazzers porn production Filthy Moms #10 (2022). This bestselling movie also features top MILF pornstars Alexis Fawx, Cory Chase, Katie Morgan, London River and Sally D'Angelo. Furthermore, Filthy Moms #10 received a nomination for "Best MILF Release" at the 2022 Nightmoves Awards. Busty all natural stunner Mrs Robinson discussed shooting her industry debut for Brazzers during her January 2022 Adult DVD Talk interview, recounting how;
"[Shooting for Brazzers] I wasn't nervous and I kept wondering why not. I was so excited. The only thing I was nervous about was; I understand corporate culture, and I kept trying to apply corporate culture to what I was doing. It's very much of a business to me. In fact, it's more business than anything else…I just had to learn the ropes. And I'm a lifelong learner being a teacher. So I was open minded for them to tell me what to do when I did it!".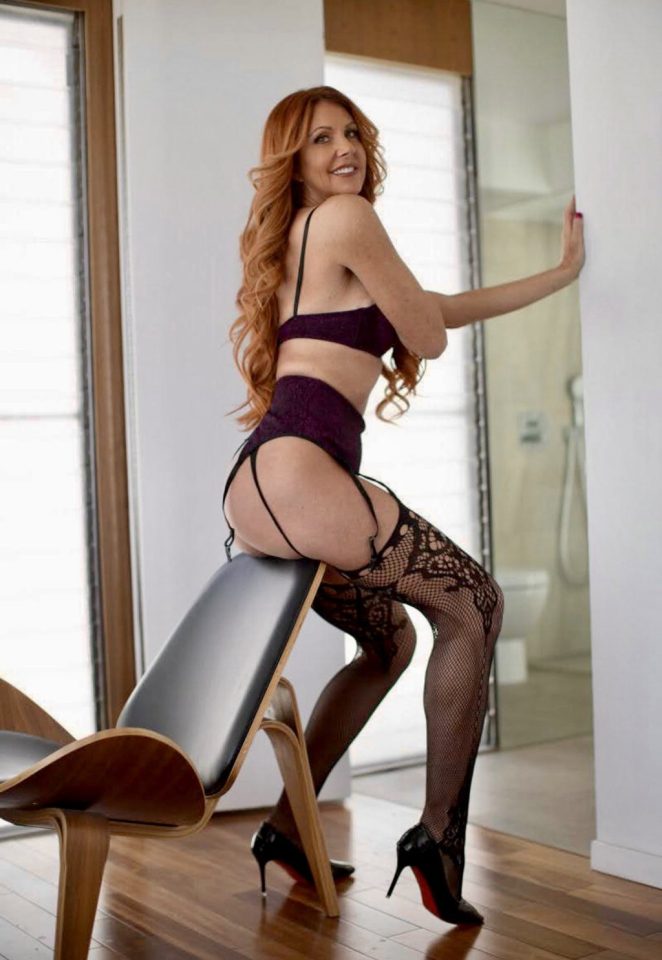 Click here to see more of Mrs Robinson's hottest sex scenes at 50 Plus MILFs
During this time, bubble butt beauty Mrs Robinson also started to shoot some spectacular sex scenes for the Scoreland web channel 50 Plus MILFs. For example, Mrs Robinson filmed some fantastic Yes, Mrs Robinson Is Trying To Seduce You and Here's To You, Mrs Robinson solo scenes in March and April 2021. Moreover, you'll love watching curvy cutie Mrs Robinson's steamy Mrs Robinson, Cock-Sucker Extraordinaire shoot with Nicky Rebel in March 2021. Furthermore, statuesque stunner Mrs Robinson starred in an incredibly immersive 50 Plus MILFs Remakes The Graduate…With A Creampie! POV sex scene in April 2021. Mrs Robinson loves performing in porn and she ardently expressed during her December 2021 Fleshbot interview that;
"I love and appreciate the fans who enjoy watching what I create. I also love the people I work with. And I've met some of the smartest and kindest humans since entering the industry. I'm an east coast girl, so the frequent traveling out west can be a little exhausting, but I love that I can make my own schedule!…[Favorite performers] I've been fortunate to work with so many amazing professionals like Nikki Benz. Van Wylde. Holly Hotwife. Keiran Lee. Alexis Fawx. Nathan Bronson. Vanessa Sky. Johnny Sins. And Cherie DeVille. I will say that Cherie has been absolutely incredible as my 'MILF Mentor'. She's insanely smart, kind, funny. And she's really helped me navigate the industry. And damn, that ass of hers! WOW!".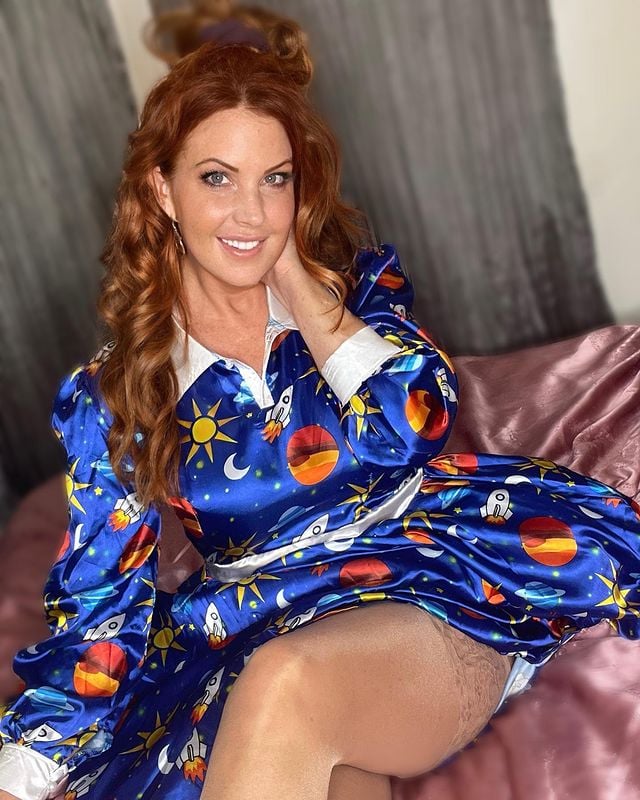 Click here to discover Mrs Robinson's exclusive content at FanCentro
Mrs Robinson : Popular Porn Productions
You'll be happy to hear that Mrs Robinson continues to appear in many popular porn productions. For instance, fit and flexible stunner Mrs Robinson shared a thrilling Mrs Robinson three-way with petite Latina starlet Vanessa Sky and Nathan Bronson for MILFED in December 2021. Consequently, Mrs Robinson was featured in the MILFED movie MILF Threesomes (2022). This raunchy release also stars hottest MILF pornstars and sexiest rising starlets Anne Amari, Christie Stevens, Leda Lotharia, London River, Rachael Cavalli, Savannah Bond and Skylar Snow. Talking about shooting MILF Threesomes in a December 2021 XBIZ News press release, Mrs Robinson and director Mike Quasar both eagerly enthused how;
"Mrs Robinson: I'm so happy for this scene to be released. Vanessa [Sky] and Nathan [Bronson] were a pleasure, in more ways than one! And Mike Quasar is one of the best directors I've worked with so far. I had a blast during this scene. And my fans will love it!
Mike Quasar: As a fan of shooting age-appropriate women, Mrs. Robinson was an absolute pleasure. She was professional, personable and an amazing performer. I can't speak highly enough about how great her scene was!".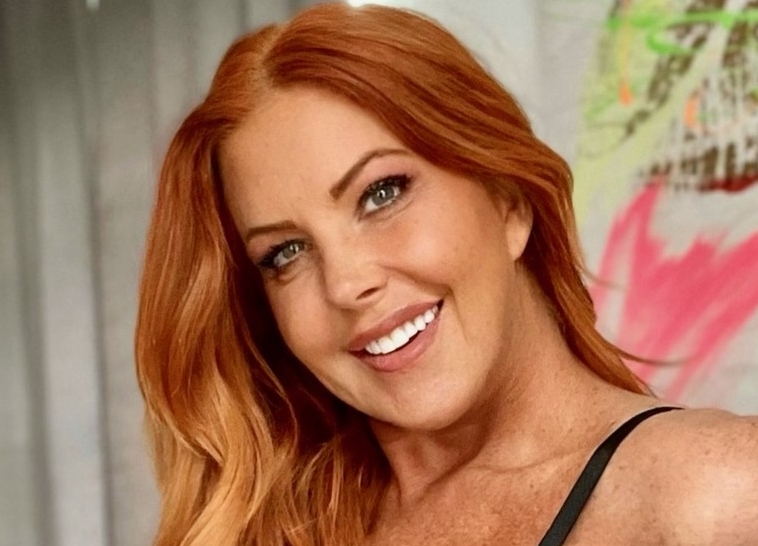 Click here to discover Mrs Robinson's exclusive content at FanCentro
But that's not all. Subsequently, beautiful busty MILF Mrs Robinson shot a seductive Don't Tell Anyone Part 1 sex scene with Chad Alva for the fan-favorite Missa X web series A POV Story in January 2022. Moreover, you'll love viewing Mrs Robinson's terrific Don't Tell Anyone Part 2 three-way with tall natural beauty Ashley Lane and Chad Alva in January 2022. Mrs Robinson enjoyed shooting these sensational sex scenes for Missa X and she advocated in a February 2022 XBIZ News press release that;
"I love how this story was made into a two-part scene. I was so excited to work for MissaX. And I enjoyed every minute of working with the incredible director Ricky Greenwood. I also had such a great time working with Chad [Alva] and Ashley [Lane]. I want to thank everyone who helped make this creative scene!".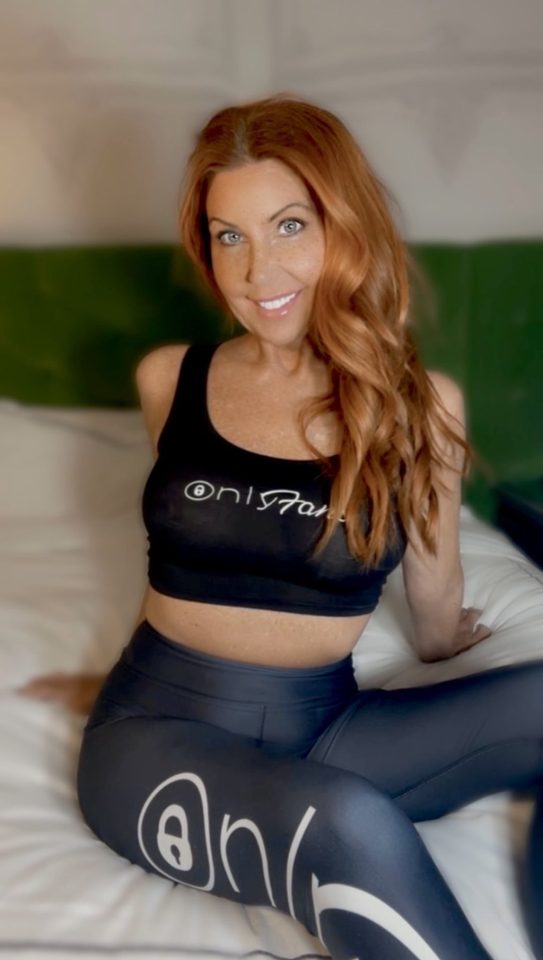 Click here to discover Mrs Robinson's exclusive content at FanCentro
But wait, there's even more. During this time, Mrs Robinson starred in (and posed as the box cover model for) the Scoreland movie Horny 50 Plus MILFs X Cut #15 (2022). It also features popular curvy and thick pornstars Beth McKenna, Charli Adams, Lacy Cummings, Mandy Monroe and Melissa Johnson. Starring in so many popular porn productions led to Mrs Robinson being nominated for "Hottest MILF (Fan Award)" at the 2022 AVN Awards and "Best MILF Premium Social Media Star" at the 2022 XBIZ Cam Awards. Ravishing redhead Mrs Robinson was thrilled to receive these notable nominations and she enthusiastically conveyed in a January 2022 AVN press release how;
"I was completely in shock when I heard about my 'Hottest MILF' AVN nomination! Just to be in the ranks of so many talented, smart and gorgeous powerhouse women blows my mind and is such an honor. I feel a lot of gratitude toward AVN and my fans for the nomination And I plan on performing and creating content for as long as possible. The last few months have been a whirlwind. Between shooting for Mile High, MissaX, shooting content for my OnlyFans, and being a guest on a handful of podcasts. I've been having so much fun!".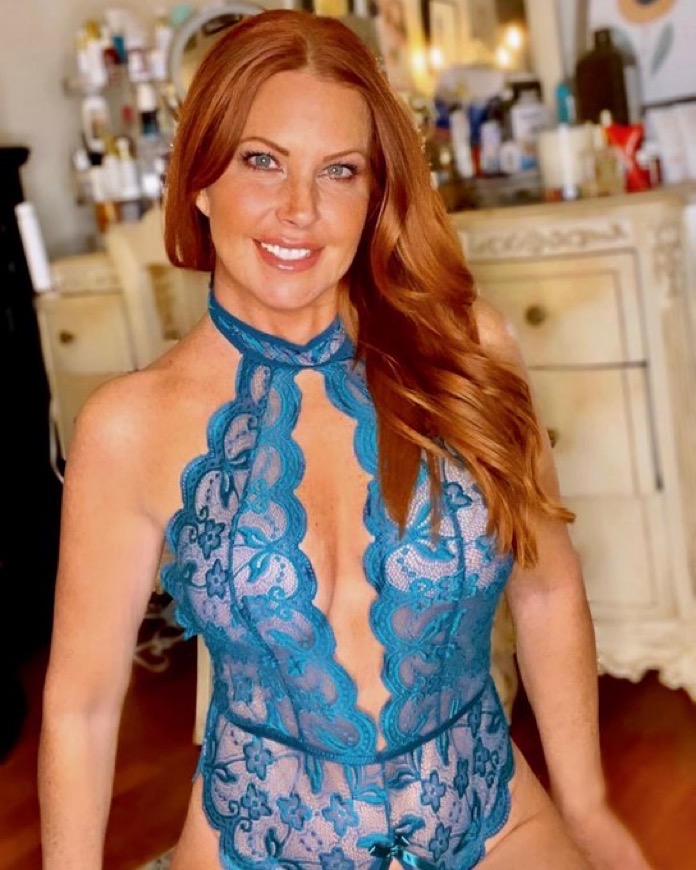 Click here to discover Mrs Robinson's exclusive content at FanCentro
Mrs Robinson : Personal Projects
When she isn't starring in these popular porn productions, Mrs Robinson remains an incredibly popular independent content creator. After all, Mrs Robinson is one of the top 0.01% OnlyFans content creators! Moreover, sexiest redhead Mrs Robinson is a talented webcam model who hosts many lusty live cam shows on Camsoda (as 'mrsrobinsonxo') and Chaturbate (as 'mrsrobinson'). Furthermore, Mrs Robinson shoots a wealth of exclusive video, photo and live chat content for her official FanCentro profile ('mrsrobinson'). As fan-favorite fit and athletic pornstar Mrs Robinson hotly hints;
"Hi love! 🌸 Welcome to my XXX page! I answer all DMs & love to chat & sext with you. So DM me & say hi. I want to get to know YOU! I'm really just a regular mom with a naughty side. I was a teacher in my 20s. And then spent the rest of my career in corporate America as a senior software exec in the advertising industry. When I retired at 49, I decided to get naked on the Internet. 😇🕺🙈 And I've been loving every minute of the last 3 years! I have thousands of naughty pics and videos. So let me know what you're into, and I'll send you something special ;). Also, large tips notify my cell phone. Thanks for being here! I appreciate YOU! Xoxo".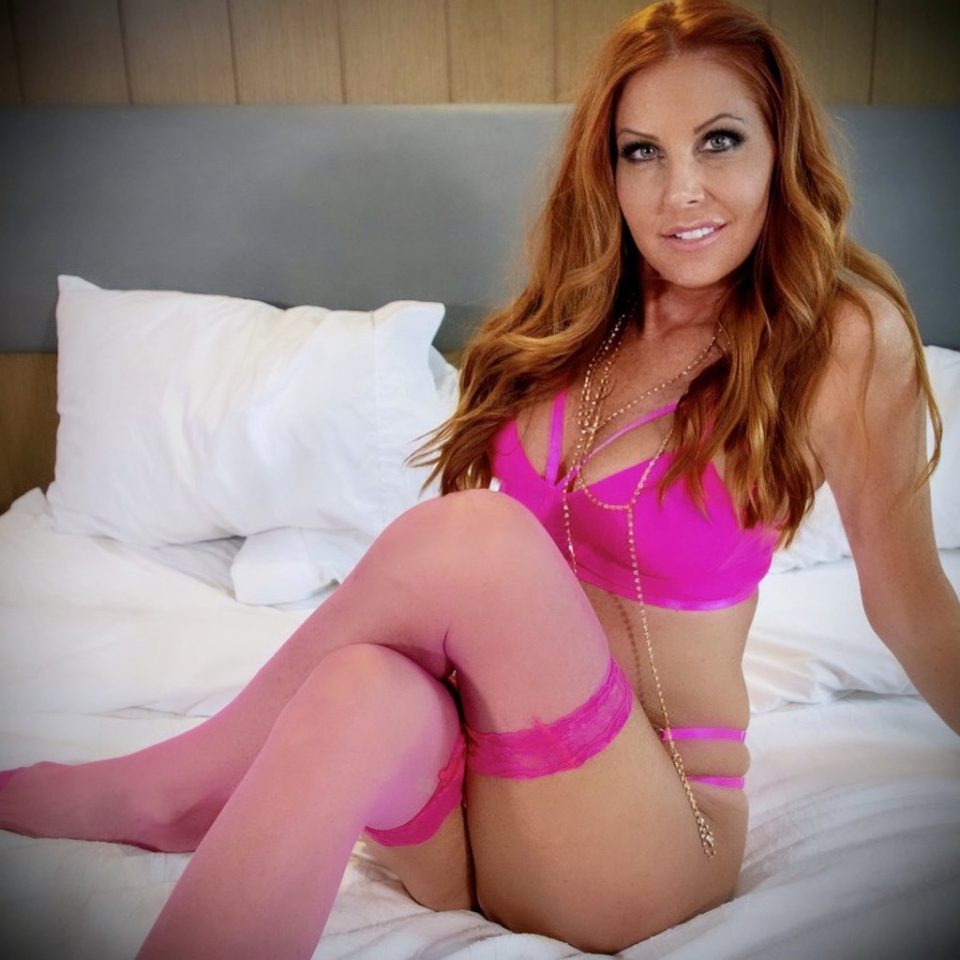 Click here to discover Mrs Robinson's exclusive content at FanCentro
Never one to rest on her laurels, hottest redhead MILF Mrs Robinson also enjoys interacting with her fans via social media. You can stay connected with statuesque stunner Mrs Robinson by visiting all of her official Twitter, Instagram and TikTok accounts that are listed below. Curvy cutie Mrs Robinson loves having these authentic interactions with her fans and she sincerely stated during her December 2021 Fleshbot interview how;
"It's really important to me to have authentic interactions with my fans. At the core of who I am, I care about people. So I want to be able to treat my fans as I would hope to be treated. I've learned so much about sex and fetishes from my fans. But it's not always about sex. Many of them message to chat because, let's face it, life can get stressful and lonely. I've virtually held hands with a fan going in to have major surgery because he had no family and didn't want to be alone. I've had some pretty cool and amazing interactions, and I love getting to know my fans!…Thank you for being here and for all the love and support you continue to show me. I appreciate you all so very much! And if you're a newer fan, come say hi!".
Keen to stay connected with your favorite busty redhead MILF Mrs Robinson? Then use the links provided below to discover all of bubble butt beauty Mrs Robinson's hottest sex scenes, exclusive web content and upcoming porn productions! This content was published on XXXBios.com. If it appears on any other website, it is a violation of the copyright owned by XXXBios.com.
Mrs Robinson – Social Networks
Twitter : @MrsRobinsonXo
Brazzers : Mrs Robinson at Brazzers
Camsoda : mrsrobinsonxo
Chaturbate : mrsrobinson
FanCentro : mrsrobinson
Instagram : @mrsrobinsonxox
MILFED : Mrs Robinson at MILFED
OnlyFans : mrsrobinsonvip
TikTok : mrsrobinsonn
50 Plus MILFs : Mrs Robinson at 50 Plus MILFs