Vanessa Sky
Vanessa Sky at Brazzers : Sex Scenes   Kink : Vanessa Sky's BDSM Content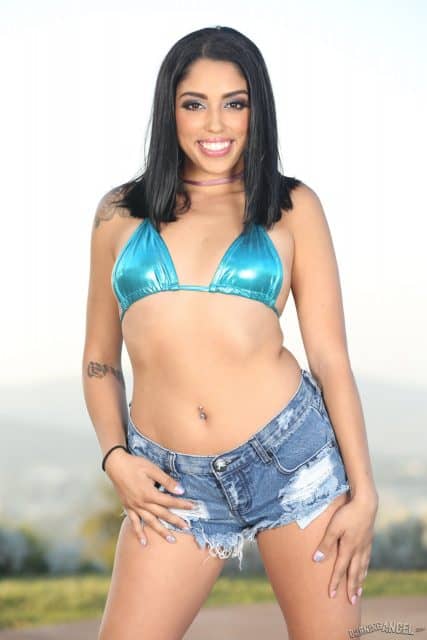 Click here to watch Vanessa Sky in "Bratty Teens Like It Rough" at at Burning Angel
Vanessa Sky – Personal Info
Name : Vanessa Sky
Date of Birth : March 24th, 1996
Hometown : Miami, Florida (US)
Measurements : 34A – 27 – 36
Height : 5'3 (1.60m)
Hair Colour : Black
Eye Colour : Brown
Tattoos : Roses across her right shoulder, a peacock feather on her right wrist, a tiger on her arm and lyrics from a Billy Joel song, a dog on her hip, a heart on her ankle, a gun pointed downward on her left hip, a treble note behind her ear and a column of chakra symbols travelling down her back. Talking about her tattoos within her January 2018 AVN: Fresh Faces interview, Vanessa Sky commented that;
"I have quite a few, all very spontaneous. Rose on my shoulder. Feather on my arm. A tiger on my arm. And my favorite song, a Billy Joel song. A dog on my hip, a heart on my ankle. My actual initials, which I have to get removed some day. The chakra going down my back. A treble note behind my ear. And I think we covered it all…[laughs] I don't know about getting more. I think I'm done for now".
Piercings : Navel
Years Active : 2017 – present
Number of Scenes : 100+
Vanessa Sky is a rapidly rising starlet who began performing in porn in the spring of 2017. Instantly recognisable by her captivating curves and alluring body art, Vanessa Sky continues to star in many bestselling Evil Angel movies, Kink.com BDSM content and fan-favourite Mile High porn productions. Watch this space!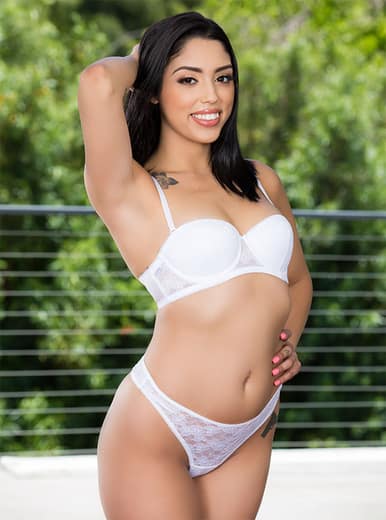 Click here to see more of Vanessa Sky's hottest sex scenes at Brazzers
So where did it all begin? Born and raised in Miami, Florida, but currently based in Los Angeles, California, Vanessa Sky has Cuban heritage. In fact, Vanessa Sky mentioned in her January 2018 AVN: Fresh Faces interview that;
"Both my parents were born in Cuba. I'm first-generation American. I'm completely Cuban, I go there every summer to visit my family. It's beautiful, I love it there".
Vanessa Sky is a creative individual who began playing piano since she was 5 years old. Sexy tiny spinner Vanessa Sky also loves to paint and she mentioned in her January 2018 AVN: Fresh Faces interview that she loves to create;
"Very abstract stuff. It's just really fun, getting messy with paint and putting on the paper…I've played piano since I was like five, and I love it. Every time I'm on a set and there's a piano I'm like, 'It's going to be a great day, guys.'".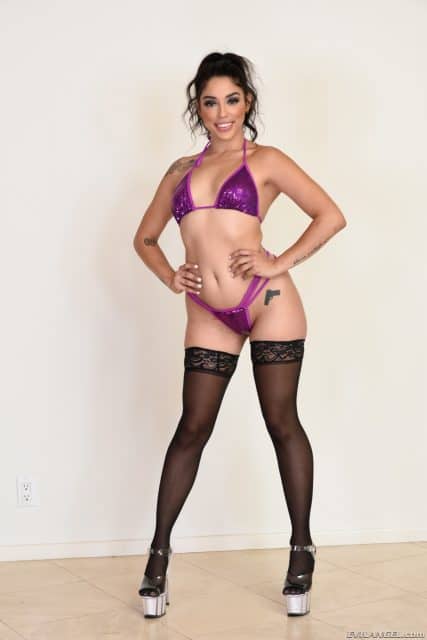 Click here to watch Vanessa Sky in "Mick's Anal PantyHOES #7" at Evil Angel
You may be interested to learn that Vanessa Sky was very sociable throughout her high school years but that she did not begin to discover porn until she was in her late teens. As natural beauty Vanessa Sky explained during her November 2017 Fleshbot interview;
"I was a popular and super outgoing girl, but also kind of crazy and 'out there'. I one time walked around the cafeteria wearing nothing but a giant banner that my friend had made to run for class president. I had a serious boyfriend my first couple years, whom I lost my virginity to and had all my 'firsts' with, including my first heartbreak. After that relationship, I slept around more than I 'dated'. I wasn't known as the school slut or anything, or maybe I was and no one told me, ha ha….
I definitely enjoy watching porn, but I don't think I really started watching it until I was 19 or20. I was more a fan of the industry as a whole and the performers as individuals rather than just porn stars. My favorite porn star is Asa Akira, although I don't think I've ever actually watched her porn. I found her on Twitter one day and was so intrigued by her wit and sense of humor after reading her books, I decided to get into the industry".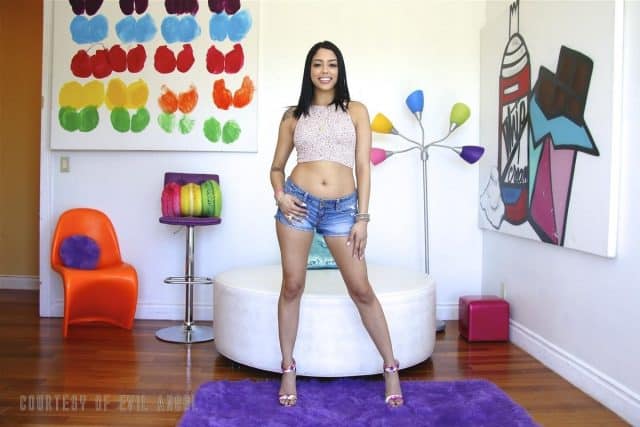 Click here to watch Vanessa Sky in "Vanessa Sky's First Anal Scene!" at Evil Angel
Vanessa Sky decided to pursue a career in porn in March 2017 after she was inspired by Asa Akira's book. With the help of a friend who was a photographer for Reality Kings, Vanessa Sky was booked to shoot her first ever sex scenes for Bang Bros. And the rest is history! Sexy Latina starlet Vanessa Sky discussed this pivotal moment in her life during her November 2017 Fleshbot interview, highlighting how;
"I said earlier that reading Asa's book was really the deciding factor for me. I always flirted with the idea of one day doing it, after multiple exes and friends insisted I would do well in the industry. Asa's book just answered a lot of questions and misconceptions I had and after reading it, I decided I was going to do one and if I hated it, I would chalk it up to a bucket list accomplishment. If I loved it, I would pursue it seriously. It's 6 months later so obviously, I love it".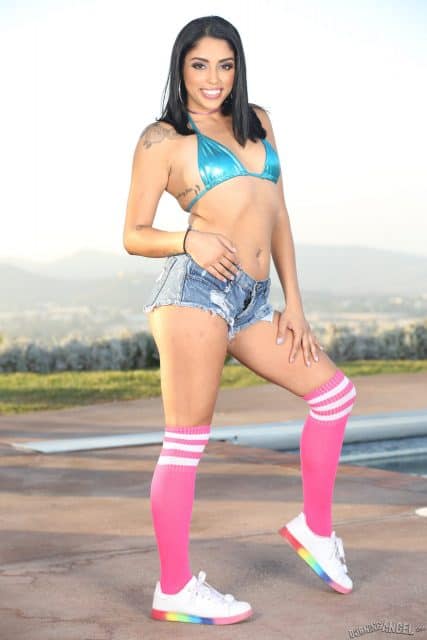 Click here to watch Vanessa Sky in "Bratty Teens Like It Rough" at Burning Angel
Vanessa Sky : Adult Film Career
In March 2017, petite all natural stunner Vanessa Sky filmed her first ever sex scenes with Derrick Ferrari for Bang Bros. Titled The BangBus Gets Pulled Over, this hot hardcore porn scene was released via Bang Bros in April 2017. Moreover, Vanessa Sky official porn debut was showcased in the Bang Bros DVD Bang Bus 67 (2017) which was nominated for "Best Lewd Propositions Movie" at the 2018 AVN Awards. Vanessa Sky enjoyed shooting her porn debut and she explained in her January 2018 AVN: Fresh Faces interview how;
"One day I was bored and I tried it out and I absolutely loved it. My first shoot was for Bang Bros, with Derrick Ferrari, and it was the BangBus—we had sex on the bus. I was driving around Miami and it was great fun".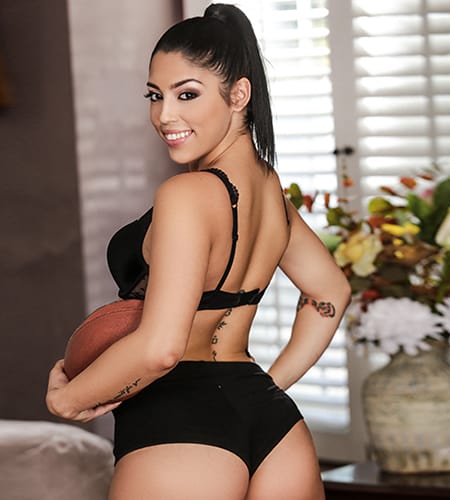 Click here to see more of Vanessa Sky's hottest sex scenes at Reality Kings
In the months that followed, bubble butt beauty Vanessa Sky filmed several sizzling scenes for the Florida based production companies Reality Kings, Mofos and Team Skeet. For example, you'll love watching Vanessa Sky's steamy Candid On Camera shoot with Bambino for Reality Kings in May 2017 and her Messy Mouth sex scene with Ike Diezel for Team Skeet in July 2017. Moreover, Vanessa Sky shot a raunchy You Can't Leave The House Like That! sex scene with Keiran Lee for Brazzers in June 2017.
Eager to explore new career opportunities, popular Latina pornstar Vanessa Sky moved from Florida to Los Angeles, California, in order to sign with LA Direct Models. Vanessa Sky's first porn production since moving to Los Angeles was the Evil Angel/BAM Visions sequel release Fill Me Up! 2 (2017) which enabled her to share some saucy sex scenes with Mick Blue. Consequently, Vanessa Sky filmed her first ever anal sex scene with Mike Adriano for the Evil Angel DVD Deep Anal Action 4 (2017). Vanessa Sky loved collaborating with Mick Blue and Mike Adriano on these raunchy releases, enthusing within her January 2018 AVN: Fresh Faces interview how;
 "I fangirled a little bit when I saw him [Mick Blue]. I was like omigod! It was a lot of fun. I did my first anal scene for Evil Angel, and Mike Adriano. Also a really great guy. I also fangirled a little bit too…
'Do you want to do an anal scene tomorrow?' I was like, sure. I was half asleep. He [Vanessa's agent] insisted on calling at eight in the morning. He sent me all my information for my scene and I was like, 'Wait a minute, I'm doing an anal scene?' So I called him up, 'I don't know if I'm ready.' 'C'mon, do it, you're a big girl.' And I was like, 'All right, I can do this.'…So I think I read every chapter of Asa Akira on anal, doing anal with her husband Toni [Ribas]. And it was great…After reading her book [Insatiable], I really wanted to give this a try…I would like to work with Asa too some day—a threeway would be awesome! My dream sex scene would be a super-submissive scene with Toni".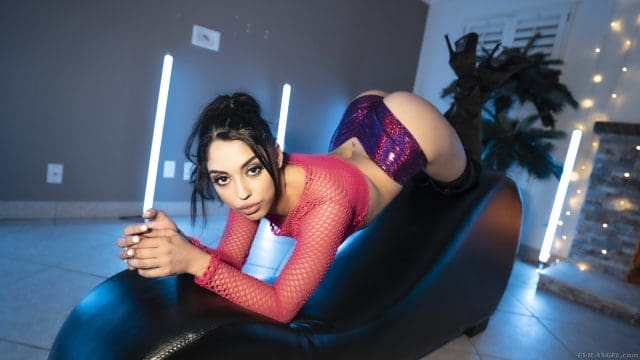 Click here to watch Vanessa Sky in "Oiled & Spoiled #2" at Evil Angel
Vanessa Sky : Popular Porn Productions
Over the years, Vanessa Sky appeared in many popular porn productions such as Interracial Teens 4 (2017) for Dark X and Cum Swapping Stepsisters (2017) for 3rd Degree within which Vanessa Sky shared a thrilling three-way with Alexa Grace and Seth Gamble. Moreover, Vanessa Sky was featured in Anal Newbies 6 (2017) for LeWood/Evil Angel and Ass Workout 2 (2017) for Evil Angel/BAM Visions. During this time, Vanessa Sky also began to collaborate with award-winning director Joanna Angel on several fan-favorite Burning Angel productions. Our top picks? They'd have to be Vanessa Sky's sizzling sex scenes in Creamy Teens (2017) and Bratty Teens Like it Rough (2018). Vanessa Sky loved working with Joanna Angel on these Burning Angel productions and she ardently enthused in her November 2017 Fleshbot interview how;
"She [Joanna Angel] is my favorite person to work for, honestly. She's great 'cause she really lets the performers enjoy the sex and get lost in it. She always has a clear vision for the scene and explains what she wants really well, but allows the performer to add their own 'flavor' to it. She also always has the best snacks on set!…I love the whole rock n roll/ punk vibe that Burning Angel has. I was on set dressed in light up sneakers, listening to rock and about to take a dick up my butt. That kind of vibe you only find working with Burning Angel…
Joanna Angel is such a boss bitch. She is someone I look up to as a porn star and as a business woman. I also love Riley Reid, Asa Akira and Francesca Le; all women who have used porn as a platform and turned their sexuality into a business".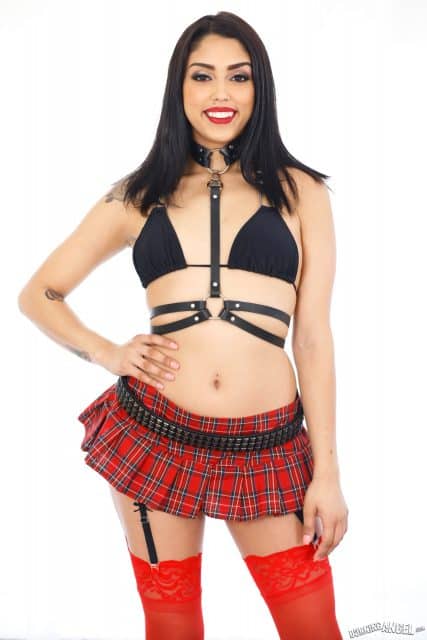 Click here to watch Vanessa Sky in "Creamy Teens" at Burning Angel
Consequently, Vanessa Sky continued to star in many popular porn productions including Swallowed 15 (2018) for Evil Angel within which Vanessa Sky shared an epic oral three-way with Victoria June and Mike Adriano. Furthermore, you'll love watching Naughty Newcummers 5 (2018) for Reality Kings and Latina Interracial Cuckold 2 (2018) for Metro/She Will Cheat that enabled Vanessa Sky to film a compelling cuckolding session with Lexington Steele and Marcelo. Brunette big booty pornstar Vanessa Sky enjoys shooting these raunchier sex scenes and divulged during her November 2017 Fleshbot interview that;
"There are still a lot of scenes that I haven't done! But so far, I love doing super submissive stuff. I also love anal scenes, I get so turned on by the kinky bad ass factor. There's nothing more bad ass than taking a dick up your butt in front of a bunch of cameras!… I get to fuck all these different people who each have their own unique vibe and distinct way of having sex, and being able to experience that is so much fun. I also get to explore different sex acts that maybe I wouldn't have done without porn and that's super exciting…I love role playing. I love being the cliché 'naughty babysitter' or 'stepdaughter'; that stuff is always kinky and fun. Getting into character during sex totally transforms the experience and it's always exciting when I get to be someone else".
In fact, sexy rising pornstar Vanessa Sky saucily stated in her January 2018 AVN: Fresh Faces interview that;
"I'd love to work for Kink.com, doing my favorite kind of kinky stuff…great sex and great co-stars. I'm always in my best mood when I'm on a set".
You'll be happy to hear that captivating kinkster Vanessa Sky made her Kink.com debut – starring in a captivating Honey Trap sex scene with Derrick Pierce that was released via Kink.com's Sex & Submission web series in February 2018. Fans of Vanessa Sky will also love viewing her sensational Anal Submissive Sluts Ravaged & Squirting At Holiday Winter Orgy group sex scene with Aiden Starr, Karlee Grey and Ramon Nomar that was unveiled via Kink.com in February 2018 as part of their The Upper Floor web series.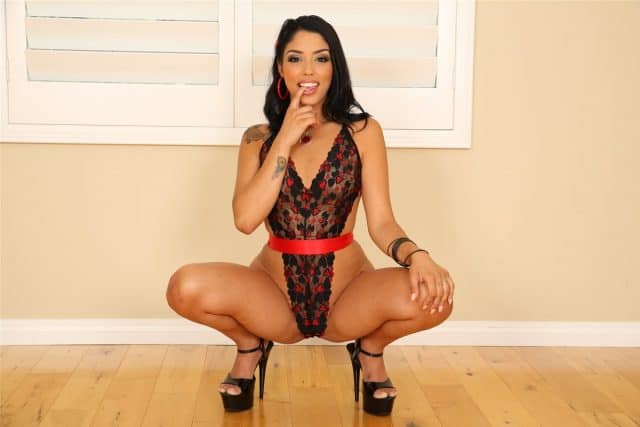 Click here to watch Vanessa Sky in "Anal Newbies #6" at Evil Angel
Vanessa Sky : Spiegler Girl Calendar Model
Currently represented by the famous adult film talent Mark Spiegler, Vanessa Sky was showcased in the 2018 Spiegler Girls Charity Calendar alongside her fellow 'Spiegler Girls' Alex Harper, Abella Danger, Casey Calvert, Kira Noir, Anna de Ville, Chloe Cherry, Marica Hase, Victoria June, Chanel Preston, Anikka Albrite and Kendra Spade.  This car-themed charity calendar was organised by Alex Harper and photographer Kevin Britton in order to raise money for The Animal Rescue Alliance, a charity dedicated to rescuing and adopting animals into loving homes. As Alex Harper explained in a January 2018 AVN press release;
"Kevin Britton from KB PhotoImagery and I had an idea to work on a calendar together…We thought that it'd be great to incorporate Spiegler Girls and exotic cars for an animal charity. We decided to choose the charity, The Animal Rescue Alliance, owned by Kelly Holland. All of the models and car owners involved were very kind to take time from their busy schedules to help our cause. Spiegler Girls are always punctual, stunning, respectful, and all the ladies brought their A game. It was a pleasure seeing everything come together so nicely…
KB is an amazing photographer and I'm glad that he was available to shoot the Spiegler Girls Car Calendar. He has 10+ years of experience with photography, retouching, and graphic design so he was able to not only shoot the calendar, but also design it. Kevin is a part of several automotive groups that helped organize cars for the shoots".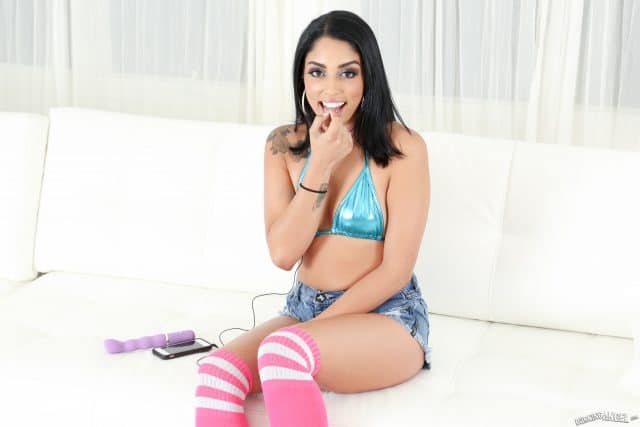 Click here to watch Vanessa Sky in "Bratty Teens Like It Rough" at Burning Angel
When she isn't collaborating on these impressive industry projects, popular Latina pornstar Vanessa Sky can often be found chatting with her fans on social media. In fact, Vanessa Sky enjoys interacting with her fans online and she highlighted in her November 2017 Fleshbot interview how;
"I love getting their feedback and hearing from them. Sometimes my fans have the most hilarious responses to my tweets, so I enjoy some back and forth comedic chit chat with them too".
Eager to discover all of Vanessa Sky's hottest sex scenes, exclusive web content and upcoming porn productions? Then use the links provided below to stay connected with your favorite Cuban cutie Vanessa Sky!
Vanessa Sky – Social Networks
Brazzers : Vanessa at Brazzers
Burning Angel : Vanessa at Burning Angel
Evil Angel : Vanessa at Evil Angel
Kink : Vanessa's BDSM, Femdom & Fetish Content
Naughty America : Vanessa at Naughty America
Reality Kings : Vanessa at Reality Kings
IMDB : Vanessa's Filmography
The Nude : Vanessa at The Nude