Patrice Hepburn
Patrice Hepbrun Twitter : @PatriceHepburn   Femout : Patrice's Solo Scenes
Grooby Girls : Patrice Hepburn Sex Scenes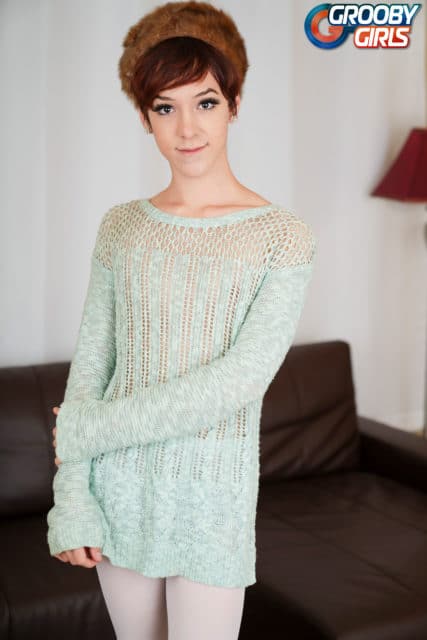 Cumshot Monday: Patrice Hepburn Cums Again! – Grooby Girls
Patrice Hepburn – Personal Info
Name : Patrice Hepburn
Date of Birth : February 2nd
Star Sign : Aquarius
Height : 5'4 (1.63m)
Hair Colour : Red/Auburn
Eye Colour : Brown
Tattoos : A design around her left ankle
Shoe Size : Women's 7 (US)
Years Active : 2017 – present
Number of Scenes : 10+
Patrice Hepburn is a pretty petite pornstar and glamour model who has been thrilling fans since 2017. During this time, Patrice Hepburn has garnered a devoted fan following due to her sizzling scenes for Femout, Grooby Girls and TGirl Pornstar. There's no denying it; Patrice Hepburn is one of the hottest petite TS pornstars in the industry today.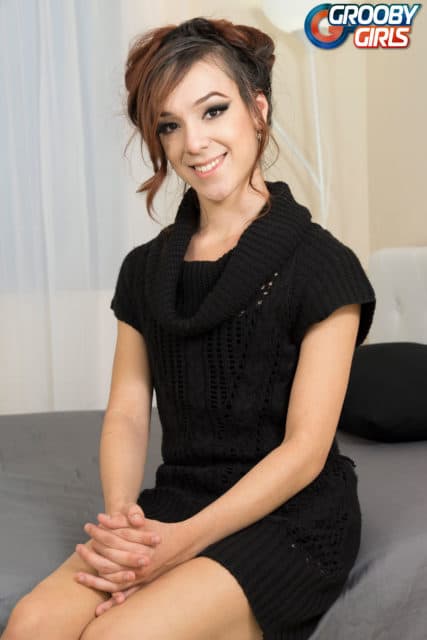 Cumshot Monday: Patrice Hepburn! – Grooby Girls
Patrice Hepburn : Adult Film Career
Patrice Hepburn made her official adult film modelling debut in June 2017 when she starred in a steamy Young, Fresh And Naughty Patrice! solo scene for the Grooby porn site Femout.XXX. As the scene description hotly hints;
"YOWSERS! We've had a bit of a tough time keeping this fresh faced starlet under wraps but it gives us great pleasure to unveil the debut performance of Grooby Newbie Patrice Hepburn! A gorgeous young up and cummer who really has the world at her feet and could have a big career in the industry if she so wishes…you seen her here first – Patrice Hepburn!".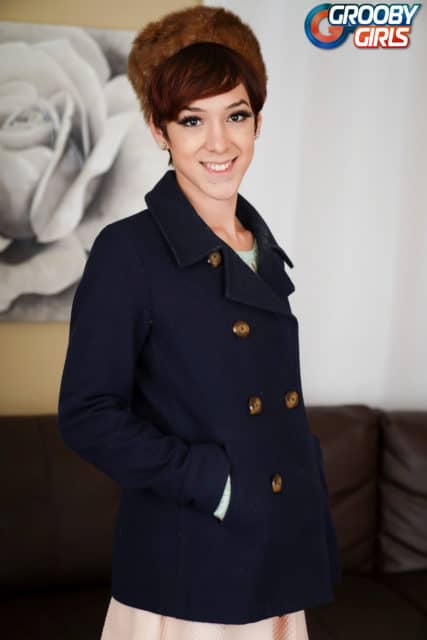 Cumshot Monday: Patrice Hepburn Cums Again! – Grooby Girls
Patrice Hepburn's Femout debut was produced by Radis Dark who has shot many of Patrice's hottest sex scenes throughout her career. What's more, Patrice's first ever solo scene earned her high praise from prominent porn critic Caramel Black who stated in her June 2017 Caramel's TGirls review that;
"Radius Dark continues to present the hottest, sexiest new and returning models and here we go again with another fresh one named Patrice Hepburn. Femout is often described as a website to launch a model's career and a sort of training school to graduate from. I might be part of the minority but I mainly think of Femout models as virtually perfect whether they move on to other sites or not. Take 19 year old Patrice, a cosmetology student who has put school on the back burner temporarily to get her funds together. She likes to draw and write music and I love that Mr. Dark gives us an opening interview that's very informative. I like the way Patrice speaks and I could watch her go on at length even if she's not in a setting to eventually strip and masturbate. That's the proverbial icing on the cake with this debut…
Naturally her hair and makeup are en pointe considering her career goals but she's never made an adult video before. She's originally from Arizona and moved to Las Vegas five years ago when she started High School. The warm climate is something she was already used to but she'd like to eventually move to California. She might be used to desert heat but she's not in love with it. But she does like the more diverse cultural scene of Sin City. The sexual content of this debut builds up nice and starts at the bottom. Mr. Dark focuses on her cute little feet in wedges as she talks about the ankle tattoo she got at 18 and her ex-boyfriend who had a foot fetish. Patrice says she does quite a bit of walking which would explain why her legs are so well-toned and virtually flawless…This Femout.XXX debut set is brilliant and I think you'll crave seeing Patrice Hepburn make a repeat performance".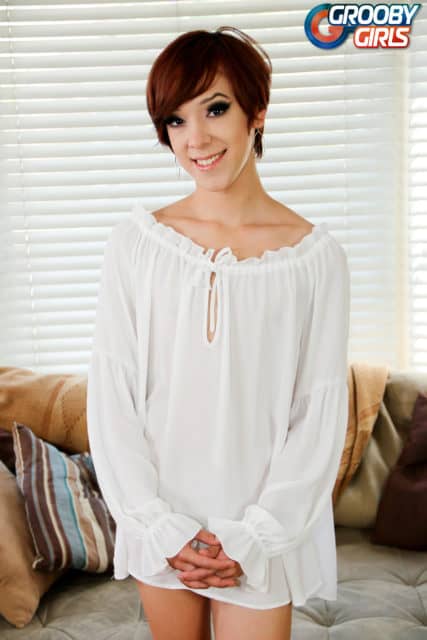 The Return Of Patrice Hepburn! – Grooby Girls
You'll be happy to hear that Patrice shot another sizzling solo scene – Cumming With Vegas Sweetheart Patrice! – that was released via Femout.XXX in June 2017 with the tantalising description;
"Patrice Hepburn is our next Femout phenomenon! After making an almighty splash across our social media and blogs with her debut performance, Vegas sweetheart Patrice has propelled herself into the biz and when she looks this goddamn good it ain't too hard to see why. Adorable in every way, she's a stunning young starlet with the world at her feet. What a 24 carat babe!".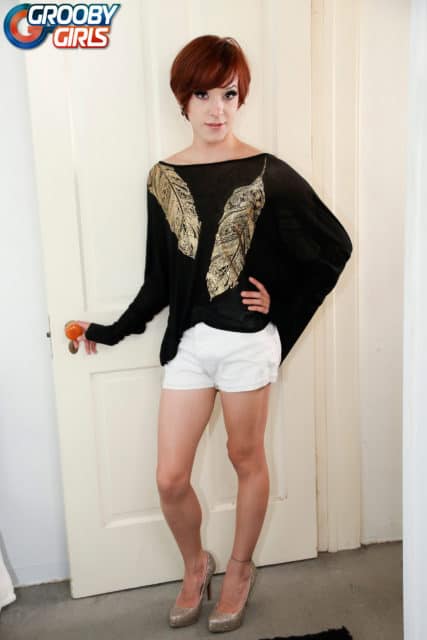 Patrice Hepburn's Sticky Cumshot! – Grooby Girls
A landmark moment in Patrice Hepburn's career occurred in August 2017 when she filmed her first ever solo scene for the internationally renowned Grooby porn site Grooby Girls. Titled Teen Sensation Patrice Hepburn!, Patrice's official Grooby Girls debut was such a hit that she filmed another sizzling Patrice Hepburn's Big Cumshot! solo scene for Grooby Girls two weeks later. As the scene description saucily states;
"We were excited to see all the amazing feedback Patrice Hepburn's Grooby Girls debut scene got two weeks ago! Well deserved, Patrice is indeed GORGEOUS! This cute redhead Femout graduate returns today with a follow-up scene!…Keep an eye on this beautiful petite girl, more coming soon!".
In fact, Patrice Hepburn's Big Cumshot! earned Patrice another rave review from Caramel Black who eagerly enthused in her August 2017 Caramel's TGirls review how;
"I've already raved about all of Patrice Hepburn's previous performances. It all started for her on Femout.XXX and later on the renamed GroobyGirls.com with another two sets with her original producer, Radius Dark. She looks all kinds of cute in her orange top, long socks and grey panties…Patrice is well-known for bare leg admirer and foot lovers posing and those fans of hers won't be disappointed either…She engages with intense naughty talk all throughout this GroobyGirls.com update".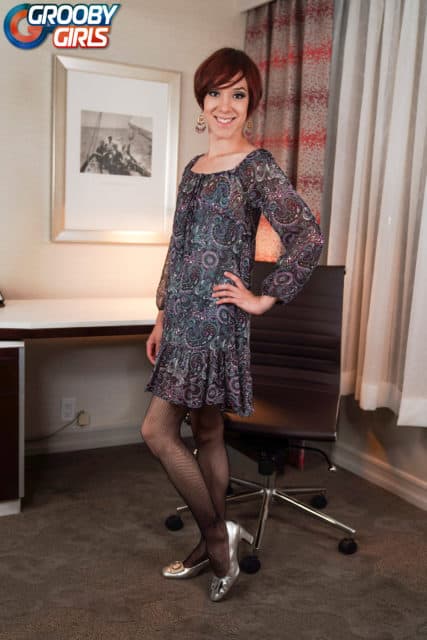 The Amazing Patrice Hepburn! – Grooby Girls
Over the years, Patrice Hepburn has filmed many sensual solo scenes and hot hardcore collaborations for Grooby Girls. We recommend watching Patrice's raunchy Patrice Hepburn & Kai Donec Fuck Hard! hardcore scene with Kai Donec in September 2017, her saucy Cumshot Monday: Patrice Hepburn! solo scene in October 2017, her steamy The Return Of Patrice Hepburn! solo scene in September 2018 and her kinky Patrice Hepburn's Sticky Cumshot! solo scene in October 2018. Most recently, Patrice has treated her fans to a seductive Cumshot Monday: Patrice Hepburn Cums Again! solo scene in March 2019, a sultry The Amazing Patrice Hepburn! solo scene in August 2019 and a sizzling Patrice Hepburn Cums Hard! solo scene that was unveiled via Grooby Girls in September 2019 with the hot description;
"Patrice Hepburn's comeback was without a doubt one of the most exciting things to happen on Grooby Girls recently! We just can't get enough of this sexy petite lady and her big hard dick! Horny as hell, she returns in another Radius Dark-produced scene today and she can't wait to start with the action! Watch her talking dirty, having a lot of fun and cumming just for you!".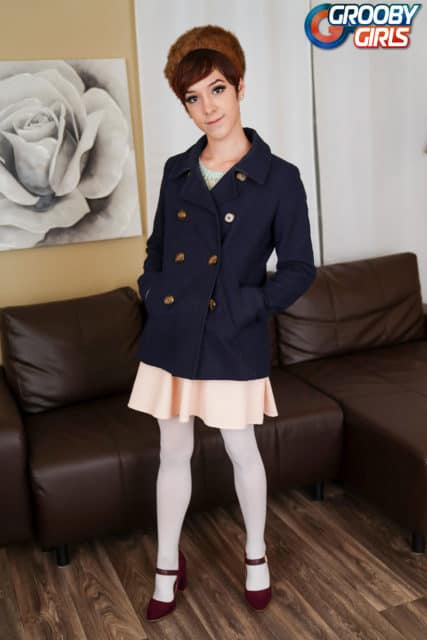 Cumshot Monday: Patrice Hepburn Cums Again! – Grooby Girls
In addition to her amazing web clips, Patrice Hepburn has been featured in several fan-favorite DVDs such as Sammi Mancini's Transational Fantasies #11 (2019) and Radius Dark's Grooby compilation titles TGirl Teasers #6: Redheads (2017) and TGirl Teasers #13: Dildo Edition (2019) starring sexy TS pornstars Chanel Noir, Jamie Gaymer, Jenny Crystal, Jenna Creed, Nikki Jade Taylor and Tallia Skye.
When she isn't shooting these sensational sex scenes, Patrice loves chatting with her fans via social media as well as drawing, writing songs and singing. Keen to catch up on all of Patrice's hottest sex scenes and exclusive web content? Then use the links provided below to stay connected with your dream girl Patrice Hepburn!
Patrice Hepburn – Social Networks
Twitter : @PatriceHepburn
Femout : Patrice at Femout.XXX
Grooby Girls : Patrice at Grooby Girls
TGirl Pornstar : Patrice at TGirl Pornstar
TGirl Sex : Patrice at TGirlSex.XXX
Adult Empire : Patrice's DVDs