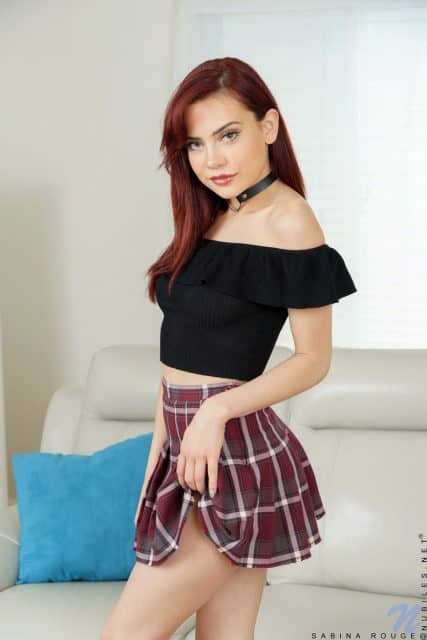 Sabina Rouge in Sweet Pussy – Nubiles.net
Sabina Rouge – Personal Info
Name : Sabina Rouge
Date of Birth : August 16th
Hometown : Haddonfield, New Jersey (US)
Measurements : 34C – 25 – 32
Height : 5'4 (1.63m)
Hair Colour : Red
Eye Colour : Green
Years Active : 2017 – present
Number of Scenes : 30+
Sabina Rouge is a fan-favorite cam girl, girl/girl pornstar and glamour model who began working in the adult entertainment industry in 2017. In the years that followed, Sabina Rouge continues to take the industry by storm; shooting some sensational sex scenes for Girlway, posing for the covers of Hustler and Taboo as well as being photographed by Holly Randall for Playboy Plus. Most notably, Sabina Rouge became Penthouse magazine's "Pet of the Month" for May 2018!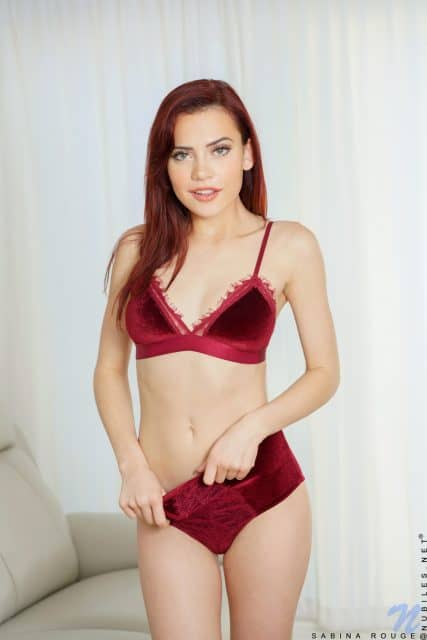 Little Vixen – Nubiles.net
Wondering where it all began? Hailing from Haddonfield, New Jersey, Sabina Rouge has French, English and Italian heritage. Sabina Rouge has always been a creative individual with a passion for music – especially classic rock. In particular, Sabina Rouge is a lifelong fan of Pink Floyd and divulged during her May 2018 Penthouse Pet interview that;
"Long story short: My grandma is an awesome hippie. She hated television, she hated radio, she thought it would corrupt my brain, so she threw books and vinyl at me. She played me a Pink Floyd record when I was six. When I first heard the music, it freaked me out, but it was captivating. Then, when I finally got it, they became my favorite band. I always wondered what Pink Floyd meant when I was little. When it hit me, I was hooked…She is cool, she is super into music, art, her garden. She had a beehive at one point. I remember that being wild…
I'm a huge music fan…I love making music. I'm working on a side project right now. It's definitely a passion of mine…The first show I went to was this band my dad loved called Sister Hazel. I was dancing like crazy. I was only five. My dad loves music, just like my grandma, and my mom loves to sing. She was always singing. We would sing together, harmonize. It was fun".
You may be interested to learn that Sabina Rouge enrolled in college whilst she was still in high school. In fact, Sabina Rouge studied Neuroscience at college in Tennessee whilst also working part-time as a vocal coach. As Sabina Rouge explained in her August 2018 AVN: Fresh Faces interview;
"I would get people who needed my help and then I would teach them how to sing…They would come over or I would do it over Skype and it would be $35 an hour, which is like the cheapest you can get somebody…I did this for about a year-and-a-half to two years".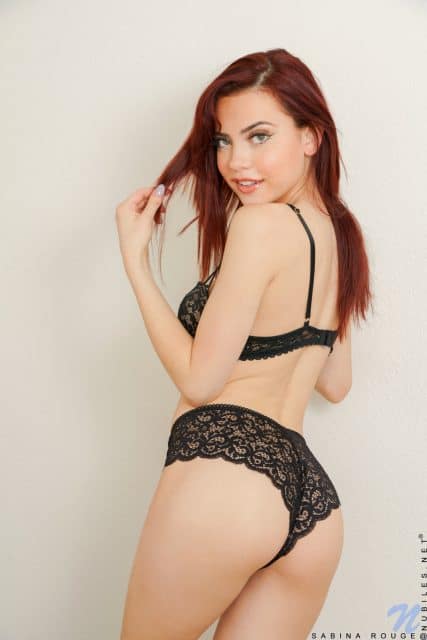 Sabina Rouge in Playful Tease – Nubiles.net
Before she lived in Tennessee, Sabina Rouge lived all across Florida in Gainesville, Jacksonville, Miami and Tampa. A free spirit, Sabina Rouge actually backpacked across the United States when she was 18 years old and briefly lived in a hippie commune in Virginia. Talking about this experience within her August 2018 AVN: Fresh Faces interview, Sabina Rouge divulged that;
"And I found a place in Virginia. It was this place called the Rainbow Gathering—this little hippie commune that runs around everywhere…I found them and I lived with them for three months".
Wondering how Sabina Rouge first started working in the adult entertainment industry? Well, it all started in February 2017 when Sabina Rouge hosted her first ever live chat session via Chaturbate. Before then, Sabina Rouge had spent a year travelling to music festivals. You'll be happy to hear that Sabina Rouge continues to host intimate live cam shows via Chaturbate under the screen name 'sabinarouge'. Sabina Rouge discovered her webcamming potential through a friend and recounted in her August 2018 AVN: Fresh Faces interview how;
"She had all this money out of nowhere. I was like, 'What?' We're both hippies. We don't have money. She's like, 'Let me show you what I do'…So we're drinking a little bit. She gets on camera. I've seen her naked so many times it's not even funny. So I just sit down and I'm like, 'Give me a show.' I'm behind the camera and I'm watching her and I'm like, 'Damn, this looks like so much fun'…
I didn't see a smile leave her face, I was like, I want to smile like that too, I want to feel like that. So the day after I'm like, 'Can I cam with you?' So we get everything settled. Right when I get onto cam it was like this is what I was supposed to be doing this entire time. That's when it hit me".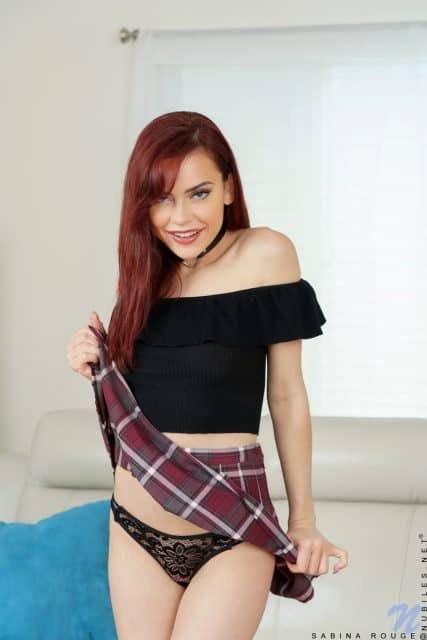 Sabina Rouge in Sweet Pussy – Nubiles.net
Sabina Rouge soon discovered that she loved webcamming and eagerly expressed in her August 2018 AVN: Fresh Faces interview that;
"Not only do I absolutely adore everybody on cam because they're all so sweet and so kind, but I can also be my little sexy self that I was afraid to bring out my entire life. I was always conservative—like don't touch me. And now I'm over here like, 'This is my body.' And I love it. They make my day every single day…If I've had a good night [on cam] I'll go in another room [on Chaturbate] and just shower them with tokens. I'll be like, 'You guys are freakin' great. Thank you so much for being beautiful'…
I remember in the beginning not having any money and not knowing what I was doing and one cam girl would come in and tip me 5000 tokens and she was like, 'If you need any help with anything, here's my Twitter.' I'm like, 'Wow, thank you.' And she helped me. I love watching Chaturbate because I think everyone who's trying their best is so sexy. Any way they do their art is all sexy to me. I believe the body only exists to verify one's own existence".
Within less than a year of making her webcamming debut Sabina Rouge became one of the best cam pornstars. In fact, Sabina Rouge earned the title of 'Chaturbate Cutie' and attracted the attention of adult film talent scouts such as Matrix Models owner John Steven. Moreover, John has high praise for Sabina Rouge and stated during her August 2018 AVN: Fresh Faces interview that;
"From the moment I saw her I just knew she was drop-dead gorgeous, so it was really kind of a no-brainer…We're always very exclusive. We're not interested in just any model who comes along…She's an amazing performer…She's a true lesbian, so when companies book her for a girl/girl scene they're getting a true lesbian rather than someone who is gay for pay…A lot of the girl/girl companies now are much more interested in booking girls who are actually into girls rather than just a payday…All the solo sites booked her immediately and at the same time the companies who do girl/girl were booking her and were just raving to me that, 'Thank god we've finally found a gorgeous girl who's really into girls'…They love working with her".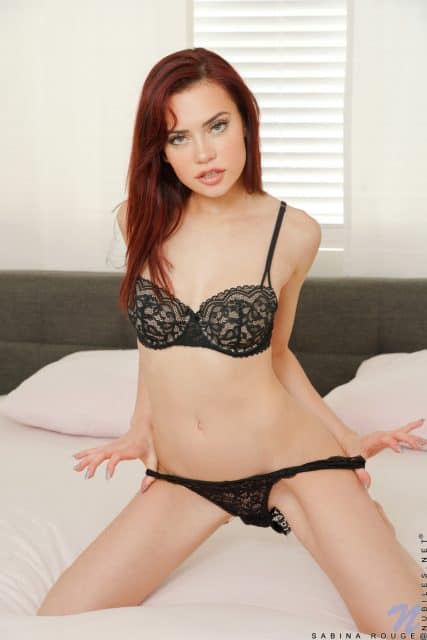 Sabina Rouge in Playful Tease – Nubiles.net
After signing with Matrix Models, rising starlet Sabina Rouge travelled to Los Angeles, California, to pose for a Playboy Plus modelling shoot with the internationally renowned photographer Holly Randall. This sultry shoot quickly caught the eye of Penthouse magazine officials. Before you know it Sabina Rouge was named as Penthouse magazine's "Pet of the Month" for May 2018! Sabina Rouge has since appeared in Barely Legal magazine and she has posed for the covers of Hustler and Taboo. Talking about this pivotal moment in her career during her August 2018 AVN: Fresh Faces interview, Sabina Rouge highlighted how;
"That's when Penthouse saw me…They wanted me and that's when everybody else started coming to me. In three months I was able to get five magazines. I was like, 'Oh my god, like what?'…It was a lot of hard work but it was so much fun".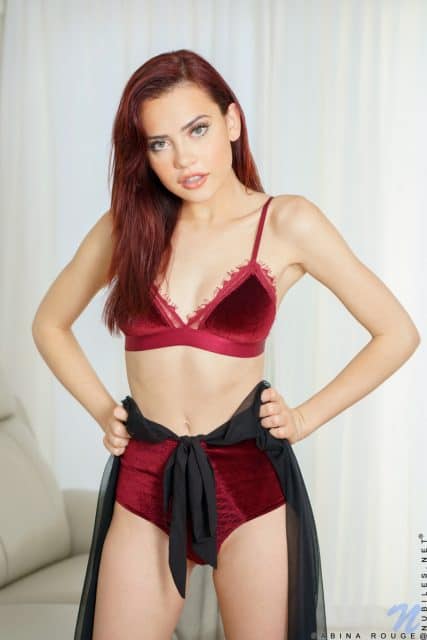 Little Vixen – Nubiles.net
Sabina Rouge : Adult Film Career
Sabina Rouge made her official porn debut in April 2018 when she started filming some seductive solo scenes for FTV Girls, Nubiles, Playboy Plus and Twistys. We recommend checking out Sabina's Little Bit Of Lust and Flower Power debut solo shoots that were released via Playboy Plus in April 2018. Wondering how Sabina chose her sultry stage name 'Sabina Rouge'? Well, popular girl/girl pornstar Sabina Rouge revealed in her August 2018 AVN: Fresh Faces interview that;
"I got that when I was very young, actually. My grandma used to call me Little Rouge running around. 'Little Rouge, Little Rouge.' And so one day—because my grandmother was French as hell—one day she called me Sabina. And I was like, 'What, who are you talking to?' And she was like, 'It means cat eyes, honey'…So I chose Sabina Rouge because I knew that my grandmother gave it to me so it must mean something, and it was easy to remember".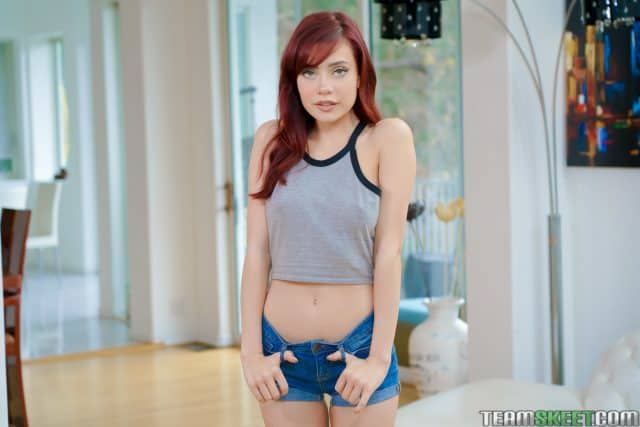 Sabina Rouge at Team Skeet
Sabina Rouge is an exclusively solo and girl/girl performer who has started to appear in some sizzling all-girl web clips for Team Skeet and Mofos. Our top picks? They'd have to be Sabina's Petite Punishment By A Tall Stepmother three-way with Ember Snow and Lauren Phillips that was unveiled via Team Skeet in April 2018 as part of their Exxxtra Small web series, her raunchy Getting Over Him And Under Her scene with Samantha Hayes which was filmed for Mofos in July 2018 for their Girls Gone Pink web series and her saucy Full Service Hair Salon role-play with Sarah Banks which was promoted via Team Skeet's Dyked web series in July 2018.
But wait, it gets even better; Sabina Rouge has also treated her fans to some intensely alluring virtual reality sex scenes that were released via Babe VR. Fans of Sabina Rouge will love experiencing her steamy Birthday Gash VR collaboration with Xandra Sixx in July 2018 and her sultry Expanding Whorizons VR solo shoot that was unveiled via Babe VR in August 2018. Must see sex scenes for avid Sabina Rouge fans!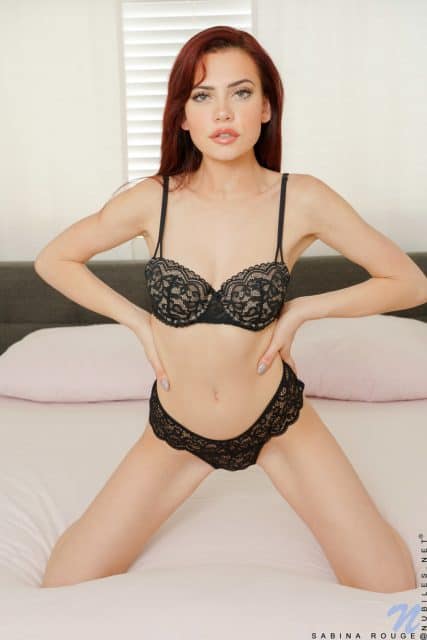 Sabina Rouge in Playful Tease – Nubiles.net
But what have been Sabina's favorite scenes to shoot? Well, Sabina Rouge particularly enjoyed filming her Independence Day poolside romp with Gina Valentina for Penthouse in July 2018. Sabina Rouge loved collaborating with Gina and hotly hinted in her August 2018 AVN: Fresh Faces interview that;
"It was probably the hottest scene I was ever involved in because Gina Valentina and I have chemistry…We would look at each other and growl and smack each other. It was so much fun. I like when I can have a connection with somebody".
Sabina Rouge has discussed her sexuality in greater detail during her August 2018 AVN: Fresh Faces interview, elaborating upon how;
"I've been obsessed with women. I've been gay since I can remember and I only recently started getting into men, honestly. After I turned 18 I was like maybe I'll try a guy out…But I've been gay my entire life because women are just glorious…I've only been involved with a man once in my life and he was my gay best friend. It was weird and he's actually a woman now…That's when I realized I don't mind dick. But I don't want to just throw myself into boy/girl porn. That's just a little too quick for me. I watch it though".
When Sabina Rouge was asked about her personal sexual fantasies during this August 2018 AVN: Fresh Faces interview she raunchily revealed that;
"I know it's really weird but I love seeing the woman who you would normally see as the dominant type being submissive to a beautiful, young, skinny, tiny girl…I love that because it's so different. And I was like, I would want to do that to a bigger person. I would want to dominant you like that. I'm usually the tiny one so I never get to…And fuck machines. For some reason I just love the fuck machines. I would love to do something like that. Just being tied down and pinned and being fucked by this fuck machine".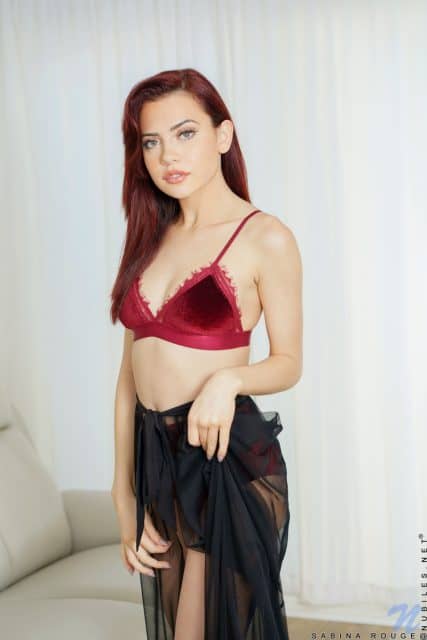 Little Vixen – Nubiles.net
In recent months Sabina Rouge has started to appear in several Girlfriends Films and Sweetheart Video movies. Fans of Sabina Rouge have to check out her cheerleader themed role-plays with Prinzzess and Gracie May Green in the Girlfriends Films movies Cheer Squad Sleepovers #26 and #27 (2018) as well as her steamy scene with Alexis Fawx in Dana Vespoli's Sweetheart Video sequel release Lesbian Adventures: Older Women Younger Girls #12 (2018). Sabina Rouge and Alexis's saucy scene received a rave review from adult film blogger Holly Kingstown who enthusiastically stated in a July 2018 Fleshbot article that;
"Fawx dreams of walking in on Rouge when Rouge is just emerging from a bubble Bath in Fawx's gorgeous bathroom with a huge bathtub and a fireplace. The sex from there is just fucking awesome and Rouge really, really has Fawx's orgasms dialled in here. Wow, she is amazing at getting Fawx's rocks off. Seriously, if you are a fan of Fawx, you need to watch the full scene of this today. These two women are fucking amazing together. The tribbing alone is worth the price of admission, I promise. Go watch the whole scene right now!".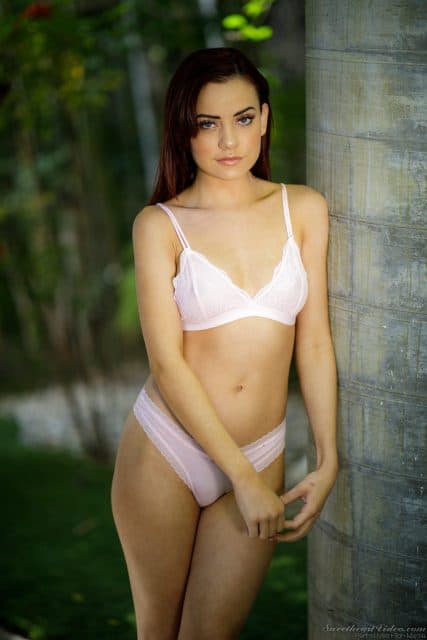 Sabina Rouge in Lesbian Adventures: Older Women Younger Girls #12 (2018) – Sweetheart Video
When she isn't performing in porn, sexiest redhead Sabina Rouge enjoys producing her own music and she has had songs accepted on SongwriterVault.com. In fact, Sabina Rouge also sings and mentioned in her August 2018 AVN: Fresh Faces interview that;
"A lot of the work that I did I didn't really show to people…But I was so passionate about it I had to make it. I had all these songs and recordings and I never would show anybody them. It was only recently that they got accepted. I've gotten more comfortable with my own art in a way…
I loved what I did, but I was too afraid to show what I was capable of. But once I realized what I'm capable of is when I realized I should've done this a long time ago. I should've been showing everybody my flaws because that's what makes me, me…My life has spun beautifully into a dream when I came out here and started doing porn because now I'm producing music for this website and now I'm able to be in Penthouse magazine and all this different stuff…
I sing all the time. Singing is so therapeutic for me. I love music so much. If someone were to be like, 'Hey, I need you to sing a song right now.' I'd be like, 'I don't care what it is, let's do this. I'm honored to be a part of your project'".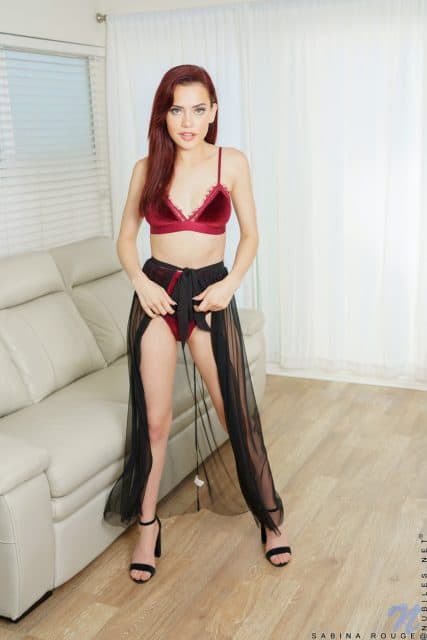 Little Vixen – Nubiles.net
Furthermore, Sabina Rouge enjoys interacting with her fans via social media and she continues to host intimate live cam shows via Chaturbate under the screen name 'sabinarouge'. Moreover, Sabina Rouge has always been grateful to her fans for their ongoing support and sincerely conveyed in her August 2018 AVN: Fresh Faces interview that;
"I'm grateful…Because if it wasn't for all those people out there wanting to see me I wouldn't be where I am today. I love them all, I really do…I want to be the girl who not only is able to show that the body is beautiful, but also that you can create art".
Wondering what the future holds for rapidly rising starlet Sabina Rouge? Well, you'll be happy to hear that Sabina Rouge has no plans of retiring anytime soon! In fact, Sabina Rouge stated in her August 2018 AVN: Fresh Faces interview that;
"I want to do this for a long time…I love every aspect of it—the emotions, the nastiness…Everything about it is amazing to me…I'm just so excited. I want to work my ass off. I want to prove to everybody that I totally love what I do. Waking up and eating a pussy for breakfast, what?".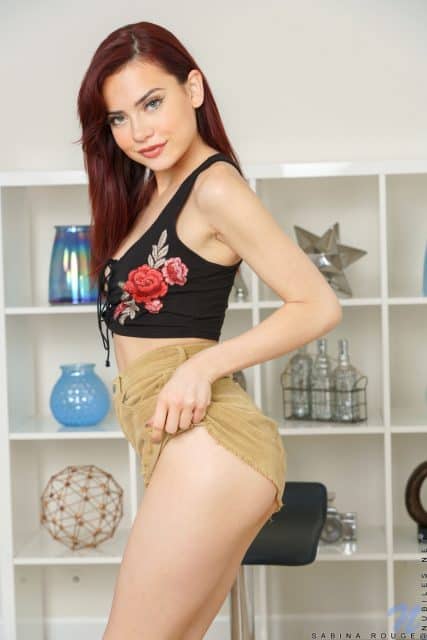 Sabina Rouge in Legs Spread – Nubiles.net
Keen to stay connected with ravishing redhead Sabina Rouge? Then use the links provided below to stay updated on all of Sabina Rouge's hottest girl/girl sex scenes, upcoming live cam shows and exclusive web content!
Sabina Rouge – Social Networks
Twitter : @SabinaRouge
Instagram : @sweetlittlesabi
Chaturbate : sabinarouge
Babe VR : Sabina Rouge VR Experiences
Girlfriends Films : Sabina Rouge at Girlfriends Films
Girlsway : Sabina Rouge at Girlsway
Mile High : Sabina Rouge at Mile High Media
Mofos : Sabina Rouge at Mofos
Nubiles : Sabina Rouge at Nubiles.net
Team Skeet : Sabina Rouge at Team Skeet
The Nude : Sabina at The Nude
Babepedia : Sabina at Babepedia