Twitter : @scarletsadexxx   Evil Angel : Scarlet de Sade   Spizoo : Scarlet de Sade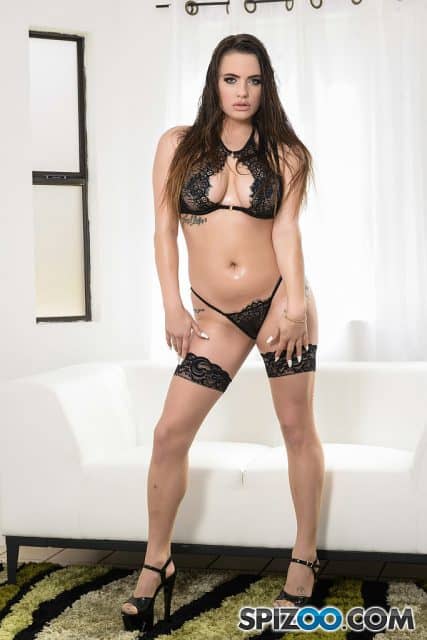 Scarlet de Sade at Spizoo
Scarlet de Sade – Personal Info
Name : Scarlet de Sade
Date of Birth : December 3rd
Hometown : Calabasas, California (US)
Measurements : 34G (natural) – 28 – 39
Height : 5'4 (1.63m)
Hair Colour : Brunette
Eye Colour : Green
Tattoos : 'Mom' script inside a heart with an arrow through it on her butt, planets along her spine, script on her upper back, a skull on her butt, matching snakes on the backs of her thighs, script underneath her breast, a flower on the side of her hip, script across the side of her other hip and matching mendola flower designs on her breasts. Scarlet de Sade discussed these mendola tattoos within her August 2017 Adult DVD Talk interview, mentioning that;
"They're like little mendolas. I have no idea why I did it. I was 20 or 21. I think I had seen a girl with tattoos on her tits and I thought that was pretty cool. I started looking up different designs. I didn't even know I was going to get it. I walked into a tattoo shop in Newport Beach one day and he had already done the little skull on my butt. I said, 'Hey, you've already seen my ass before, do you want to tattoo my tits?' And he said, 'Uhhhh, yeah!' (laughs) So he took me as a walk-in and drew something up and did it…
My tattoos are all funny tattoos. None of them are artistic. Tattoos, for me, are a really intense form of release. When you go in and get tattooed, you fucking sit there and you need to find a way, mind over matter. For me, the prophecies are very appealing and spiritual but the tattoos themselves aren't. My favorite one is probably the 'mom' tattoo on my butt because that has some double entendre' to the word. If you just look at it, it just says 'mom', it's the traditional sailor mom tattoo. But the whole reason I got it, if you turn me upside down and you're fucking me in pile driver, it'll say 'Wow'. I thought it was clever and funny".
Shoe Size : Women's 8 (US)
Years Active : 2015, 2017 – present
Number of Scenes : 10+
Scarlet de Sade is a popular adult star, cam girl and model who has been taking the industry by storm over the past year. Instantly recognizable by her all-natural 34G bust and alluring tattoos, Scarlet de Sade has attracted an avid fan following due to her sizzling scenes in several Devil's Film, Evil Angel and Spizoo productions.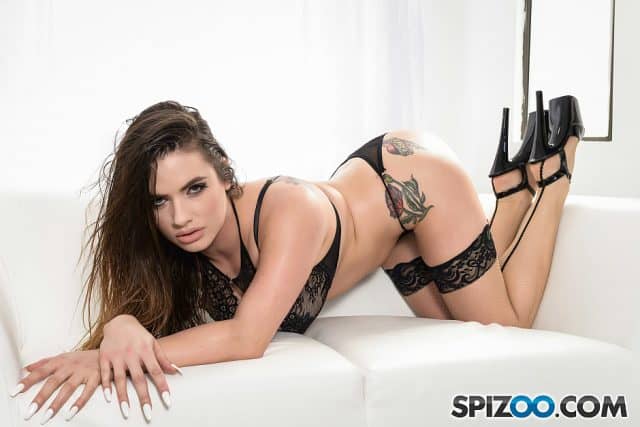 Scarlet de Sade at Spizoo
Wondering where it all began? Born and raised in California, Scarlet de Sade is the youngest of 5 siblings and was raised Catholic. Talking about these early years during her August 2017 Adult DVD Talk interview, Scarlet de Sade explained how;
"I was born in California, near Calabasas north of the Valley, about 10 or 15 minutes away. I was the youngest kid of 5 and the young, attention grabbing person. I went to a private all-girls Catholic school from 7th grade to 12th grade, the typical bad Catholic school girl. I did well at school, it just got boring after a while and I was always looking for the next thing, something to catch my attention. I had a really normal family life, nothing too gnarly. I was always the outcast, the outrageous one, I was always doing things for attention".
You may be interested to learn that Scarlet de Sade held several jobs before she discovered her porn star potential including various retail and sales jobs as well as working at a rehab centre. Scarlet de Sade actually started performing in porn in 2015 for a couple of months before making her official porn debut in June 2017.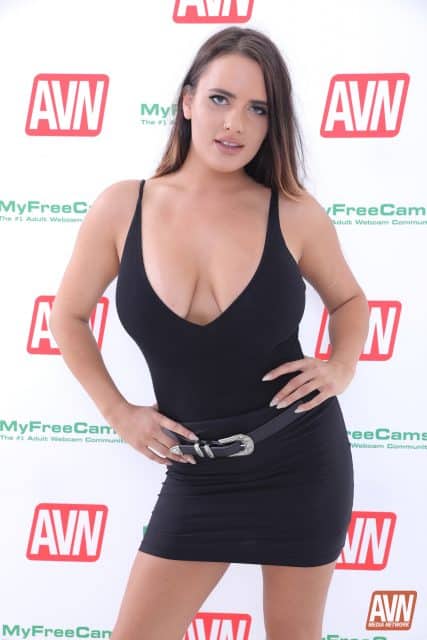 AVN Talent Night – June 2017 – AVN Media Galleries
During this interlude Scarlet de Sade discovered webcamming and she quickly amassed a keen fan following with her lusty live chat sessions. In fact, Scarlet de Sade actually resumed her porn career after being contacted by a male performer who saw one of her kinky cam shows! Scarlet de Sade has discussed this pivotal period of her life within her August 2017 Adult DVD Talk interview, highlighting how;
"I went to the University of San Francisco but I only lasted a couple of months because I was partying way too much! Then, I moved to Orange County off and on for a couple of years and did clothing sales, worked at a rehab…a couple of different jobs. Nothing ever kept my attention…
I was in the industry for 2 or 3 months back in 2015. Then I had the typical, girl-gets-a-boyfriend, boyfriend-gets-jealous situation. The reason why I came back is because, for the last two years, I've been having the most tragic, boring sex so I started webcamming. Then a male performer started contacting me to shoot content. I went and I shot and I had so much fun and I finally had fucking good sex. I said, 'Fuck this. I want to get back in the industry!' The next couple of days, I met with ATMLA and I said, 'Alright, let's go!' I know everyone says this but it's true, I was getting tired of having bad sex".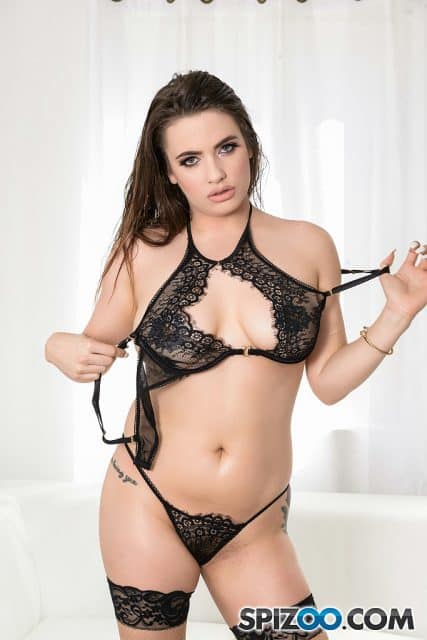 Scarlet de Sade at Spizoo
Scarlet de Sade : Adult Film Career
Scarlet de Sade first dabbled  with performing in porn in 2015 and her official adult film industry debut was a sizzling scene with Alex Knight for the Girlfriends Films/Skow Digital production Sexually Explicit 6: Big Titty Tattoo Gonzo (2015). Directed by B. Skow, Scarlet de Sade loved shooting her porn debut and eagerly enthused in her August 2017 Adult DVD Talk interview how;
"I was really excited. The first scene I ever shot was with B. Skow which was an insane blessing. Some girl cancelled and they said, 'we need a girl with tattoos!' I thought it was really fun. Part of the thing I really love about porn, everyone is very positive. There will be certain people who are negative but everyone on set was telling me how beautiful I was or anything I was self-conscious about, they said it looked great. Just because you don't fit the mold of one person, another person will like you. I'm really comfortable being naked, I wasn't nervous about that. I just didn't know anything. I didn't watch as much porn as I do now. I thought that you just had sex and then cashed out, I didn't understand all the other aspects of it like how to position your body. I didn't get that part. My first scene isn't my favorite but it was fun. I was on-set with some pretty big people that I had no idea who they were. It's embarrassing now to think about it. Tommy Pistol was on set and I had no idea who he was".
Some of Scarlet de Sade's earliest porn productions include Daddy Says I'm The Best (2015) for Diabolic Video which was nominated for "Best Taboo Relations Movie" at the 2016 AVN Awards and the Immoral Productions DVDs Rebellious Reform School Girls (2015) and She Likes It Rough (2015). Scarlet starred in these productions under the stage name 'Scarlet de Sade' and explained within her August 2017 Adult DVD Talk interview that;
"At first, it was Scarlet de Sade after the Marquis de Sade, the creator of BDSM and all that gnarly shit, which is what I like. I decided to drop the 'de' because I would have figured most people in porn knew who the Marquis de Sade was but nobody got it. I would show up on set and they'd ask my name and say, 'Oh, cool.' Nobody got it".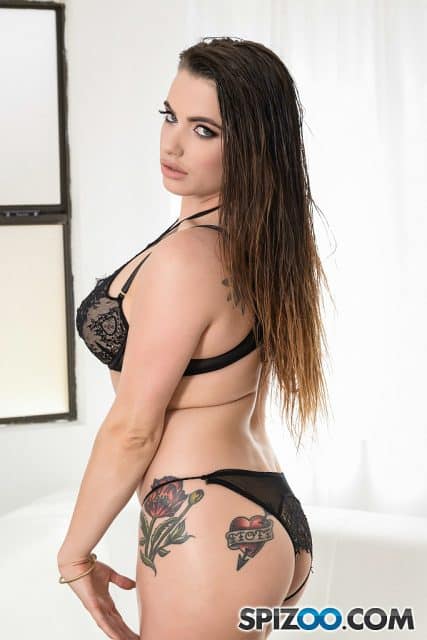 Scarlet de Sade at Spizoo
Scarlet de Sade took a break from performing in porn in late 2015. Much to the joy of her fans, Scarlet de Sade resumed her adult film career in June 2017. Scarlet de Sade's first scene back in the industry was with Dirk Huge for the Devil's Film sequel release Seduced By The Boss' Wife (2017) starring Tana Lea, Vanessa Cage and Crystal Rush. Scarlet enjoyed shooting this saucy scene and mentioned in an August 2017 AVN press release that;
"I'm excited to give you the girl next door everyone loves in porn, but turned tattooed bad girl, and kind of break some rules about what I should be doing in this industry. I want to do it all and just be the slut I am, no holding back and just do what I want. Hopefully my fans will be able to tell from my first scene back that I am having fun, and everything they're seeing from me is raw and me actually just being a slut that happens to be caught on film".
Since resuming her adult film career Scarlet de Sade has starred in Babes On Fire 7 (2017) for Sticky Video, Brad Knight's Teen Fuck Sluts (2017) for Blazed Studios and Full Anal Service 5 (2017) for Evil Angel featuring Adriana Maya, April Dawn, Chloe Cherry and Gina Valentina.
A landmark moment in Scarlet de Sade's adult film career occurred in March 2018 when she filmed her first ever anal scene with L.T. that was showcased in the Elegant Angel DVD Big Tit Fanatic 4 (2018). Scarlet de Sade loved shooting her anal debut and commented in an AVN press release how;
"This scene was fucking amazing. Working with Elegant Angel is a dream come true, and I'm so happy I had this opportunity. And, getting fucked in the ass for the first time on camera by L.T.'s big cock was unreal. I'm dripping just talking about this scene. I can't wait to get fucked in the ass again!".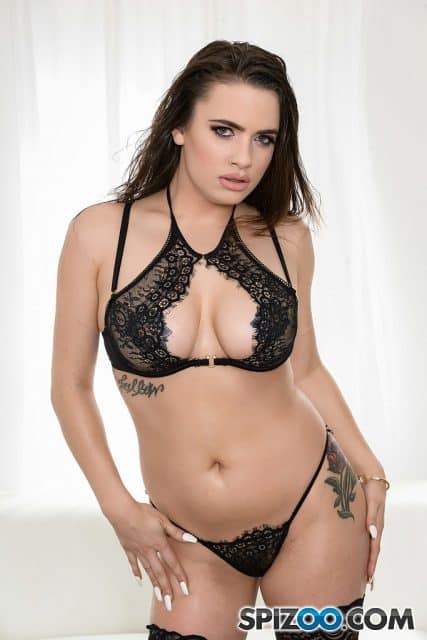 Scarlet de Sade at Spizoo
You'll be happy to hear that Scarlet de Sade has starred in many more popular porn productions including Francesca Le and Mark Wood's LeWood/Evil Angel DVD Anal Brats 5 (2018), Down The Hatch 29 (2018) for Diabolic Video and Aiden Riley's Evil Angel production Whore School (2018) appearing alongside Noemie Bilas, Keira Croft and Lisey Sweet. Scarlet de Sade enjoys shooting these raunchier sex scenes. In fact, when Scarlet de Sade was asked about her dominant/submissive preferences within her August 2017 Adult DVD Talk interview she divulged that;
"I have that [dominant] side of me but I'm just more naturally submissive. I was on set with a guy last week and, in order to get him going, he wanted me to slap him and all that stuff and it was so not my style. You can spit on me and choke me and do whatever the fuck you want. But if I get into it, I have to be there for a long time. I can't just go in-and-out of it. I have to either be very submissive or very dominant".
Currently represented by ATMLA, in recent months Scarlet de Sade has filmed some sizzling scenes for Perv City's Anal Creampies #2 (2018), Big Tit Threesomes (2018) for Pornstar Platinum and she has posed as the box cover model for the Spizoo DVD Babes Gone Black (2018) featuring Anna Bell Peaks, Savana Styles, Jenna Foxx and Tana Lea.
Want to keep yourself updated on all of Scarlet de Sade's upcoming projects? Then use the links provided below to stay in touch with your favorite tattooed vixen Scarlet de Sade!
Scarlet de Sade – Social Networks
Twitter : @scarletsadexxx
B Skow : Scarlett de Sade at B. Skow Digital
Devil's Film : Scarlet de Sade at Devil's Film
Evil Angel : Scarlet de Sade at Evil Angel
Spizoo : Scarlet de Sade at Spizoo
IMDB Profile : Scarlet de Sade Filmography
The Nude : Scarlet at The Nude
Babepedia : Scarlet at Babepedia