Serene Siren
Serene Siren Twitter : @Serenesirenxxx   Kink : Serene Siren BDSM Content
Girlfriends Films : Serene Siren Sex Scenes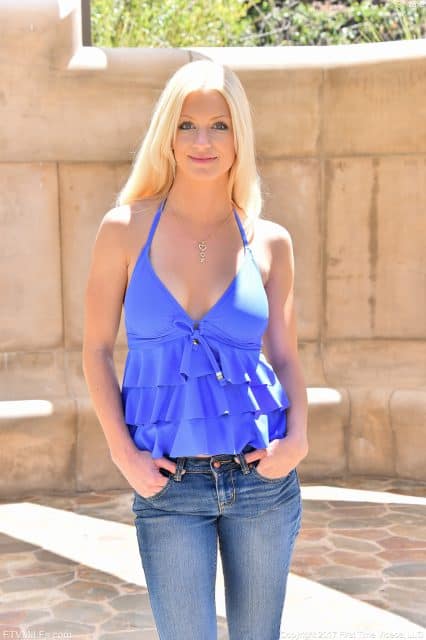 Serene Siren at FTV MILFS – FTV Girls
Serene Siren – Personal Info
Name : Serene Siren
Alias : Bella Bends
Date of Birth : May 1st
Measurements : 34D – 26 – 35
Height : 5'5 (1.65m)
Hair Colour : Blonde
Eye Colour : Green
Piercings : Navel
Years Active : 2013 – present
Number of Scenes : 20+
Serene Siren is a popular girl/girl performer, glamour model and cam girl who first began working in the adult entertainment industry in 2013. Best known for her thrilling Kink.com fetish content, hot MILFED hardcore shoots and seductive Girlsway, Girlfriends Films and Sweetheart Video collaborations, Serene remains a fan-favorite girl/girl performer who looks set to take the adult film industry by storm in 2018!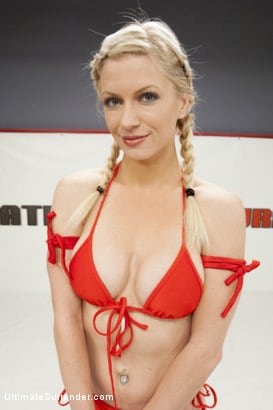 Serene Siren – Ultimate Surrender – Kink.com
You may be interested to learn that Serene has always been an ambitious, hardworking individual. In fact, Serena participated in competitive gymnastics and worked two jobs whilst taking honor roll classes. Serene has discussed these early years in greater detail during her March 2018 Fleshbot interview, elaborating upon how;
"Hmmm… I've often pondered whether or not my self-portrait of school days is accurate or not. I'll give it a shot, but if any of you went to school with me and beg to differ, do tell me otherwise…I worked hard in school. I always wanted to get straight As and excellent scores on standardized tests. I had big dreams and plenty of energy and focus to attain them. I went straight from competitive gymnastics to working two jobs to buy my first car while juggling honors classes and my parents' divorce…
I was very social and always tried to look and smell as good as I could. I liked being the designated driver. My sound system was the shit and my car was fast and grippy. I was a sober partier who would go to events and dance my ass off all night! I loved when women would grind on me and get sweaty, getting lost in the music together".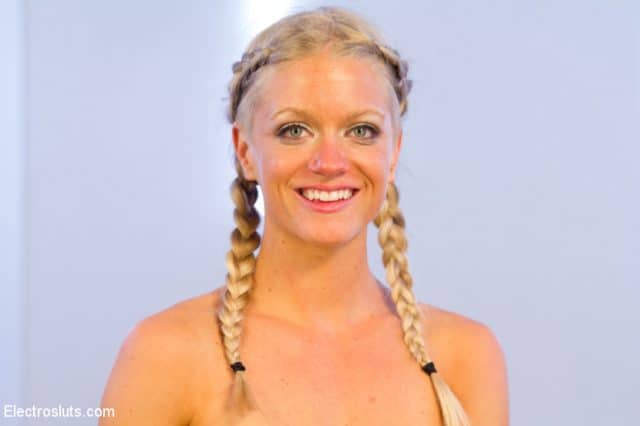 Serene Siren – Electro Sluts – Kink.com
Serene has a sexually curious nature and was enamoured by famous female performers such as Jenna Jameson and Briana Banks before she started working in the adult entertainment industry. As Serene divulged during her March 2018 Fleshbot interview;
"I've always loved porn. I thought the women were just so liberated to not give a fuck and be fucked as much as they wanted! I would watch porn to learn how to please my lovers. Cosmo magazines never quite explained sex like a pornstar would perform it. I used to want to be Jenna Jameson or Briana Banks. They were such happy looking women with the best hair and most amazing bodies. I was always so skinny, and I just prayed I would grow up with some curves. For some reason, I was more attracted to watching lesbian porn or threesome (FFM) porn from the beginning. I'm thinking it was because back then, male stars were no match to the beauty of the women…
I was always curious about going all the way with a girl, especially fantasizing about making love to one of my hot cheerleader friends with my boyfriend. I never did get to fully hook up with a girl in high school, other than some titty fondling and kisses".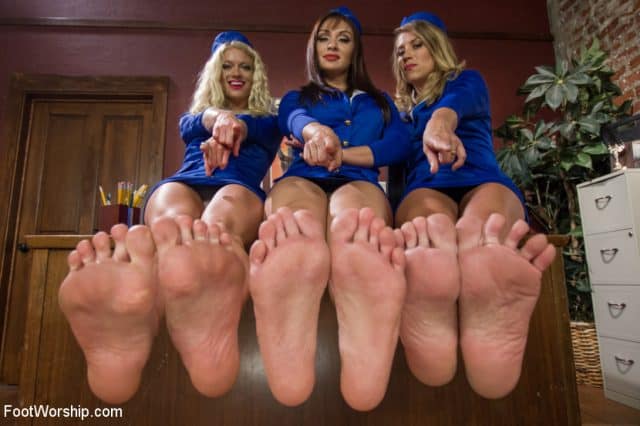 Serene Siren, Lea Lexis and Bella Wilde in First Class Foot Service – Foot Worship – Kink.com
A natural born performer, Serene has been modelling since she was a teenager and after turning 18 she started to pose for nude modelling shoots. Serene loved indulging her exhibitionist nature and explained during her March 2018 Fleshbot interview how her nude modelling career progressed into performing in porn. As Serene puts it in her own words;
"I think there were hints I was going to be a porn performer from as early as high school. I would send my boyfriends dirty pics and videos of me. I remember one where I was masturbating with a mascara bottle in the school bathroom. I masturbated daily…I always wanted to be a model, since I was like eight years old. I had got random jobs modeling things like coats, dresses, makeup, hairstyles… Of course, the moment I turned 18, I did my first nude "fine art" modeling gig and loved the giant increase in pay just for showing nips…
I ended up dating a handsome nude model man who swooned me into oblivion and knocked me up at 19 years old. We had a lot in common and stayed together for many years, traveling and making two little angel kids along the journey. Long story short, our relationship soured after years of joy and prosperity. We were trying hard to put the kids' needs first, but we were growing apart, going broke, and feeling broken-hearted…
I had moved to California where everything was fast paced and expensive. If we slipped up for a month or got too lazy, it would put us out on the street. I loved being home with the kids as much as possible, but their father wasn't able to make money anymore, so he started to just give up on everything. Without income, I saw the end ensuing. I got more desperate than I'd ever been. Curious, I began to wonder about being an all-girl performer. Perhaps that could be the solution to meeting new women and also paying the pressuring bills. I had gotten my body back relatively easy post-birth, but after breastfeeding for four years my tits were destroyed. I still felt hot as a young mom and wanted to explore my exhibitionism".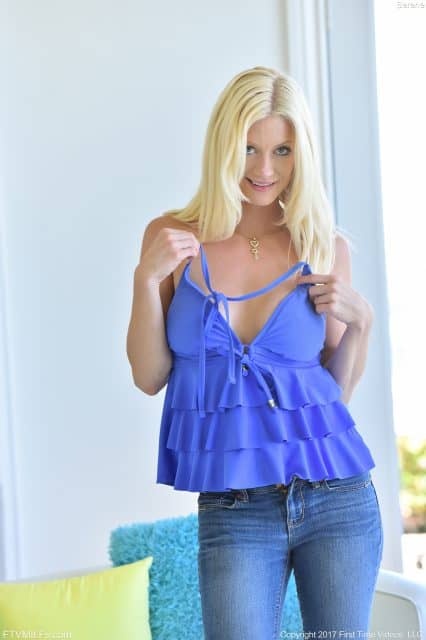 Serene Siren at FTV MILFs – FTV Girls
Serene Siren : Adult Film Career
Serene made her adult film industry debut in 2013 and initially performed under the stage name 'Bella Bends'. An exclusively solo and girl/girl performer, some of Serene's earliest porn productions include Girl Fights (2013) for Hustler Video, My Gigantic Toys 18 (2013) for Devil's Film and My Hairy Sugar Walls (2013) for AMK Empire which was nominated for "Clever Title of the Year" at the 2014 AVN Awards. Talking about these early days during her March 2018 Fleshbot interview, Serena mentioned that;
"I signed with an agency and ended up shooting solo and lesbian porn for a few months in 2013 as Bella Bends. I enjoyed it. I got to play with toys, hot girls, and bondage, which was a blast and also intense! I worked with some great companies pushing my exhibitionism to the max. I finally got time with women as intimate as I'd imagined all those years…
Back at home, though, things with babies' daddy were too tumultuous to balance. Things turned violent quickly, and I knew I couldn't keep going down that path. I used the money I made modeling to get away from him. I won a couple court cases and full custody of the kids. I temporarily stopped modeling to focus on how to be a better mother and how to protect what I cherish…
Even when I wasn't shooting, I was always staying in touch with my favorite fans online. I eventually reached the "Hall of Fame" on this site called "MyFreeImplants" that funded my boob job. I absolutely love my new breasts and couldn't wait to show them off. That's when I decided I wanted to try performing again. I knew I looked better now than before".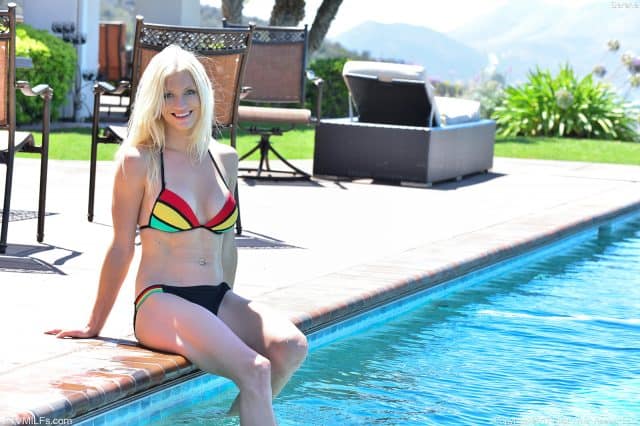 Serene Siren at FTV MILFs – FTV Girls
Serene resumed her adult film career in 2017 whereupon she changed her porn star stage name from 'Bella Bends' to the sultry 'Serene Siren'. It was during this time that blonde bombshell Serene Siren signed with the exclusive adult film talent agency 101 Modeling. Serene was thrilled to sign with 101 Modeling and has ardently enthused in her March 2018 Fleshbot interview that;
"It was crazy how many agencies rejected representing me, because I still don't want to do any boy-girl work. I found 101 Modeling and they welcomed me warmly. Now, I'm in such a better place in life, that maybe I can actually enjoy my scenes this time around. I feel like I'm hotter and hornier than ever, too! I feel like I can show up ready to shoot and appreciate every second I have with these amazing women. I don't feel like I'm doing it for the money or the fame. I'm doing it because I really want to and it's my choice to do it. It feels empowering to enjoy and share my body. So far, it's going well. I have a new boyfriend (well, it's been like three years already, so not very new) who I adore and treasure so much! He keeps me laughing and appreciating all my blessings. It's wonderful to love him. It's great that he's supportive and open minded to my desires".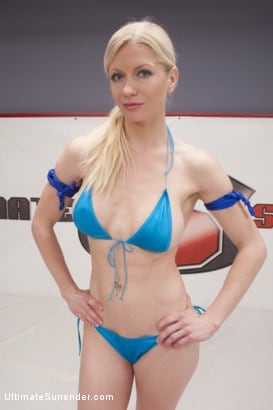 Serene Siren – Ultimate Surrender – Kink.com
Over the years, Serene Siren amassed a devoted fan following within the fetish lifestyle market due to the impressive collection of femdom, fetish and BDSM content which she has filmed for Kink.com. We recommend checking out Serene's captivating Hogtied bondage debut in June 2013, her raunchy Fucking Machines solo sex-toy shoot in September 2013, her saucy First Class Foot Service fetish scene with Lea Lexis and Bella Wilde in October 2013, her scintillating Electro Sluts group shoot with Lea Lexis, Mz. Berlin and Veruca James that was released via Kink.com in November 2013 and her sizzling Bella Bends: Gymnast Electrified! electro-sex femdom scene with Lea Lexis in January 2014.
Most recently, Serene has starred in several sensational erotic wrestling bouts that have been released via Kink.com as part of their fan-favourite Ultimate Surrender web series. Fans of Serene Siren have to check out her compelling wrestling sessions with Cheyenne Jewel, London River, Johnny Starlight and Kelli Provocateur that were uploaded via Kink.com in October 2017, December 2017 and February 2018. When she was asked about her personal fetish fantasies within her March 2018 Fleshbot interview, Serene raunchily revealed that;
"I love anime porn, Hentai, and cartoon porn. I think it's hot as hell to see an artist's fantasy come to life. I also love porn that involves video games, either as character cosplay or a couple fucking while playing. I have a good imagination and like when I can achieve full immersion in a fantasy. I think my fans already know how much I love female legs and feet, especially in stockings or nylons".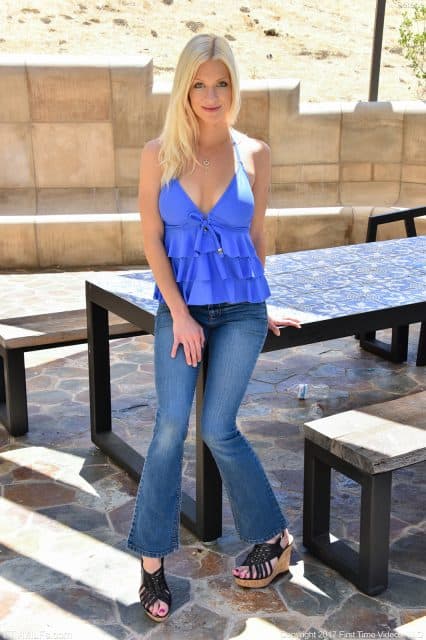 Serene Siren at FTV MILFs – FTV Girls
In addition to her ongoing Kink.com collaborations, Serene Siren was featured in an impressive collection of ATKingdom DVDs. Fans of Serene Siren will love viewing her saucy solo scenes in ATK Bush Patrol (2014), ATK Natural and Hairy 47 (2014) and ATK Grind Against The Machine 10 (2017) featuring Kacie Castle, Olive Glass, Cindy Nine and Khloe Krush.
But hold on, it gets even better! Serene has also appeared in New Meaning of Food Porn (2015) for AMK Empire and Sapphic Explorations (2014) for Nubiles Films within which she shared a sizzling scene with Cassie Laine. In recent months Serene has even shared some steamy scenes with Carolina Sweets and Danni Rivers that have been showcased in the Girlfriends Films DVDs Women Seeking Women 152 and 153 (2018). Serene has since starred in the Girlfriends Films productions Lesbian Legal 13 (2018) and Mother Daughter Exchange Club 52 (2018). Serene always enjoys collaborating with Girlfriends Films on these seductive all-girl shoots and has mentioned in her March 2018 Fleshbot interview that;
"It's always so much fun to shoot with women, even when it's been a long and arduous day. Once I finally make it to that moment where I get to feel her naked body, our lips touching, our breasts pressed together, I get so high! It brings me an immense amount of pleasure to simply feel and explore the soft curves of a free woman who's open minded and in the moment. I do feel pressure to please her, to give her the best orgasms ever. I realize I'm still a noob and haven't figured out exactly how to make a lady writhe in delight all night yet…
The set crew: those guys are good people! I love working for them, it's easy going and fun. The homes they use for sets have been really luxurious, so I feel like a queen when shooting. They unquestionably respect boundaries and are patient and kind. Not to mention, the videos and pictures display their obvious talent for angles, lighting, and creativity! The storylines are always humorous and hot, allowing me to explore my sexuality and fetishes. I get to work with the most beautiful women imaginable while being paid well, what's not to love?!".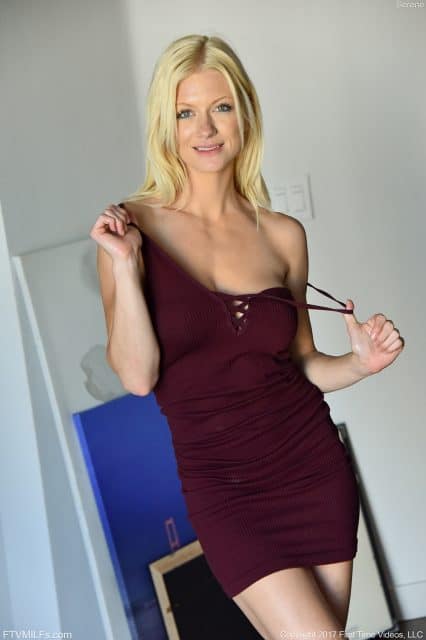 Serene Siren at FTV MILFs – FTV Girls
When she isn't performing in these popular productions, Serene Siren enjoys interacting with her fans via social media, posting custom videos via Many Vids and hosting lusty live chat sessions via Camster (under the screen name 'Serene Siren'). Serene loves communicating with her fans and has sincerely conveyed in her March 2018 Fleshbot interview that;
"Fans are very empowering. My fans have funded me through hard times and always like to see me smile. My fans are as into me eating pussy as I am! They have given me the space to be as free as I want to be. They have seen every angle and every inch of me in HD and still accept me. To me, fans are good friends that just want attention and acceptance, too. Many of my fans have been around since my very first shoot and have signed up for all sorts of sites for me…
I feel very blessed to have the ability to be naked and make money having fun. If it weren't for fans supporting me, I wouldn't have that option. Having a fan-base helped me feel confident enough to get out of a bad relationship, start a new life, and stay healthy. Sometimes, I get paranoid and sketched out by the few bad fans, but usually even their feedback helps me know when I'm on (or off) track…My fans have made everything possible for me, thanks for following and admiring. It's been a pleasure modeling in virtual fantasy land for you!".
Serene Siren – Ultimate Surrender – Kink.com
In her spare time, Serene Siren enjoys practicing yoga and continues to attend college where she is majoring in Communications. Serene also enjoys indulging her passion for music and has explained in her March 2018 Fleshbot interview that;
"A lot of fun is happening for me over the next few weeks including shooting, traveling, catching up on custom video requests, and trying to get As in my college classes. It's been a tough semester so far! I've also been doing much more music lately. I have a little studio at my house where I sing and drum. I'm still an infant at it, but I'm having tons of fun! Even though it's a really busy time for me, I'll be updating Twitter as often as possible and keeping everyone in the loop…
I think Darcie Dolce is a great example of an all-girl performer who has inspired me. Not only is she gorgeous and an excellent model, she looks like she makes love to women really passionately. She also gets to pursue a career in music, making people happy and getting them dancing. It is motivating to me that as porn stars we can still have other public professions that people can enjoy".
Currently represented by 101 Modeling, Serene Siren looks set to continue thrilling adult film fans throughout 2018. After all, as popular lesbian pornstar Serena suggested within her March 2018 Fleshbot interview;
"For once, I'm not too goal-oriented. Making a girl squirt is definitely one of my goals!
I'm just enjoying my time here, not even sure how long I will last. If I am able to stay fruitful and have fun, then I'm hitting my goals. I would love to be a contract star, that would be super amazing. I'm not expecting anything, though. It's supposed to be pleasurable and glamorous to be a porn star, right?…
I feel empowered and free. That makes me happy. I love that I don't have to work a typical 9 to 5 right now. It's enabled me to go back to college to finish my degree. I love that I'm able to spend time at home with my family. I feel so much love in this industry which bolsters my confidence and widens my wandering path".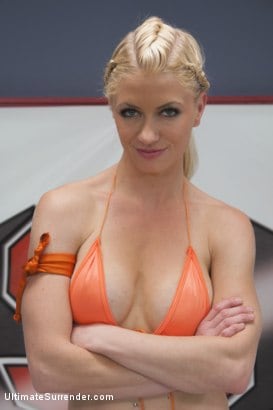 Serene Siren – Ultimate Surrender – Kink.com
Want to keep yourself updated on all of Serene's upcoming productions, saucy social media updates and exclusive web content? Then feel free to use the links provided below to stay connected with your dream busty blonde bombshell Serene Siren!
Serene Siren – Social Networks
Twitter : @Serenesirenxxx
Kink : Serene Siren BDSM, Fetish & Femdom Content
Camster : Serene Siren Live Cam Shows
Girlfriends Films : Serene Siren at Girlfriends Films
IMDB : Serene Siren (aka Bella Bends) Filmography
The Nude : Serene Siren at The Nude