Silvia Saige Twitter : @silviasaigexxx   Instagram : @silviasaigesex   MILF VR : Silvia's VR Scenes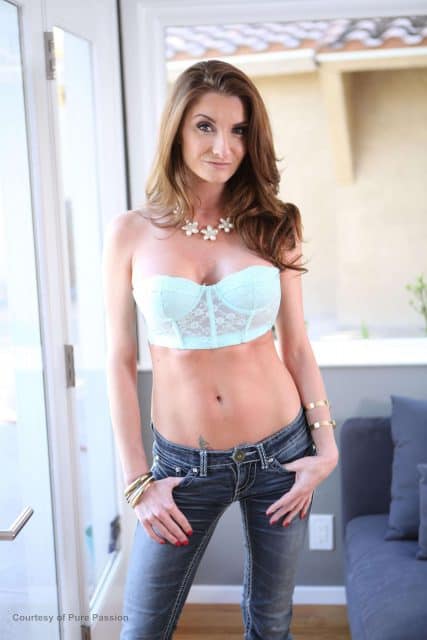 Pure Anal Pleasure 4 with Silvia Saige – Digital Sin/Pure Passion
Silvia Saige – Personal Info
Name : Silvia Saige
Date of Birth : March 5th
Star Sign : Pisces
Hometown : Kansas City, Missouri (US)
Measurements : 34D – 26 – 32
Height : 5'7 (1.70m)
Hair Colour : Brunette
Eye Colour : Brown and blue. Silvia Saige has mentioned in her May 2017 V Porn Blog interview that; "It is incredibly rare. I do get a lot of compliments on my eyes, however, not everyone notices them right away. No one has really ever told me if they have a favorite one way or the other, but I definitely favor the blue one myself. I had always wished I had two blue eyes growing up. Little did I know that they would make me the only person I am today".
Tattoos : A cherry on her hip and a design across her lower back
Shoe Size : Women's 8 (US)
Years Active : 2015 – present
Number of Scenes : 100+
Silvia Saige is a popular adult film star, stand-up comic and actress who has been performing in porn since 2015. Best known for her thrilling three-ways and MILF porn DVDs, Silvia Saige continues to star in many best-selling Reality Kings, MILFED, Evil Angel and Sweetheart Video productions.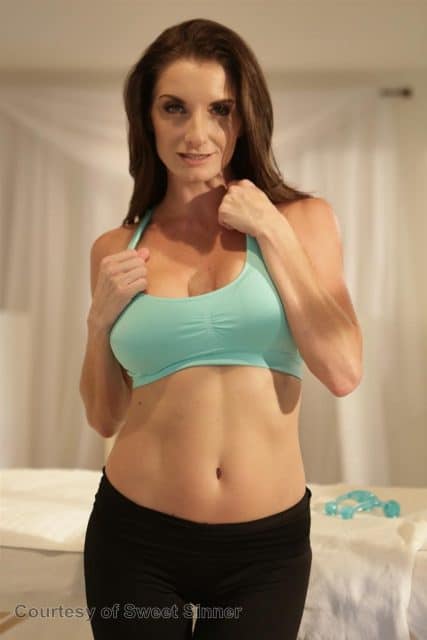 Silvia Saige in The Masseuse 11 – Sweet Sinner
Hailing from Kansas City, Missouri, Silvia Saige discussed her Midwestern roots during her January 2015 Adult DVD Talk interview, highlighting how;
"I grew up in the Midwest in a very small town. I have an amazing family that supports me in whatever I do, even porn, which is great. My mother is a bit on the religious side and this is a little bit more for her to swallow than anyone else but she is coping with it. More or less, she just wants to pretend it doesn't happen and wants to continue the relationship.
Everyone else is pretty supportive. Friends are pretty good. Once word started leaking back to my hometown high school, that got a little on the sticky side. Some people were not so nice about that but that's a small town atmosphere. Not everyone can wrap their head around what porn is. Which is what's nice about LA. It's kind of a guilt free zone here in LA. I can tell anyone what I'm doing out here and no one bats an eye. (laughs)".
After graduating from high school Silvia Saige attended college where she focused upon medicine. For the next eight years Silvia Saige worked as an X-ray technician in chiropractic offices. Unfulfilled with these 9-5 jobs and eager to explore her passion for comedy, Silvia Saige left her job and started performing as a stand-up comic in Kansas City. Talking about these early years in her January 2015 Adult DVD Talk interview, Silvia Saige mentioned that;
"After high school, I went to college and got my degree. I worked in my field of study which was in the medical field. I was an X-Ray technician. And I ran chiropractic offices for 8 years. I just knew I wasn't an 8-5er and knew I would never be happy in that situation. I've always thought about doing stand-up. So I said 'fuck it' and I started bartending and doing stand-up in Kansas City. Been doing stand-up for about a year and a half then I thought if I'm going to be serious about it, I'd move out to LA".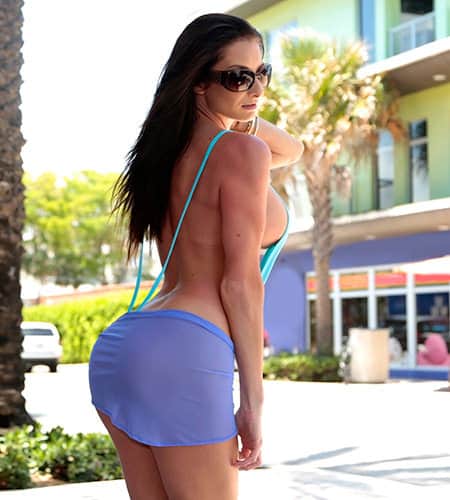 Silvia Saige at Reality Kings
Silvia Saige loves performing as a stand-up comic and has appeared in clubs across Kansas City, Las Vegas and California. When Silvia Saige was asked about her passion for comedy during her June 2015 AIP Daily interview she conveyed how;
"I had been performing standup for about two years prior to getting into adult films. I had always known I wanted to standup, I just took the right nudges from the right people to get me on stage for the first time. Once I left that stage, I knew, I wanted nothing more in life. That was my passion and I would not stop until I made it. And I have not stopped since!…
I do not know that I have a style of comedy per-say. But I like to shock people. I like that I look innocent, but can hit topics that most will not venture to risk. I gave up tiptoeing around subject matter. And preferred to just go for the jugular. I figure, I do porn, those who hate me, already hate me. Let the rest laugh their asses off! As far as influences. I can sincerely say that I love all comedy and enjoy pulling from all types of comics!".
Wondering how Silvia Saige first began working in the adult industry? Well it all started when Silvia Saige moved to Los Angeles, California, in order to pursue a career as a stand-up comic. Whilst in LA Silvia's friend, adult film star Kylie Kalvetti, called her up and asked to stay with her. After hearing about Kylie's shoots Silvia Saige decided to apply to the same agency and the rest is history! As Silvia Saige herself explained during her January 2015 Adult DVD Talk interview;
"I lived here in LA. I do stand-up comedy. So I wanted to be here in LA for comedy reasons. I moved out about 3 months ago. Then she called out of the blue and said, 'Hey, I'm coming out to LA to do porn, can I stay with you?' I knew she wanted to do porn for as long as I knew her so it wasn't a shock to me. So she came out here and shot a few scenes and we talked and she told me how fun it was. One day, she was at a shoot and she had no idea what I was doing. I submitted into the same agency she worked with. They called me back and by the time she got home, I told her I was doing porn as well…
I didn't really know what to expect of it. Everyone always says that porn sex isn't real sex and that's so true. I was expecting to go in and have sex with someone and that's not what I found at all. When they said 'that's it', I was like, 'where did the sex go? Let's have sex!' (laughs) It was different. I don't know that I would even say freeing. What I've experienced so far is so structured. I was more concerned with looking good on camera than on getting off or getting anyone else off. (laughs)".
Silvia Saige : Adult Film Career
Busty beauty Silvia Saige made her adult film industry debut in 2015 when she filmed a three-way with Kylie Kalvetti for the Net Video Girls DVD Amateurs Wanted 4 (2015). Some of Silvia Saige's earliest porn productions include Pure Anal Pleasure 4 (2015) for Digital Sin/Pure Passion, MILFs Love Anal (2015) for Northpole Entertainment, Please Bang My Wife (2015) for 3rd Degree and Anal Fiends (2015) for Evil Angel featuring Mandy Muse, Megan Rain and Sara Luvv. Silvia Saige never originally intended to pursue a career in porn and jokingly stated in her October 2015 AVN interview that;
"It was never something I thought about. [Laughs] I think you have those general thoughts about porn, but never would I have thought a year ago that I was going to be doing porn. It was never a thought of mine".
Over the years Silvia Saige has been featured in many best-selling MILF productions such as Cum To Mommy 2 (2016) for Reality Kings, Seduced By Mommy 12 (2016) for Filly Films, Stepmom Videos 9 (2016) for Bang Bros which was nominated for "Best Older Woman/Younger Girl Movie" at the 2018 AVN Awards and Jacky St. James' Sweet Sinner/Mile High sequel release MILF Pact Volume 2 (2017). Silvia Saige has also starred in the Reality Kings DVDs Moms Bang Teens 19 and 21 (2017), Moms Lick Teens 8 (2017) and Sweet MILF Pussy (2017). Silvia Saige discussed her MILF performer status during her June 2015 AIP Daily interview, commenting that;
"The biggest surprise to me was how old the industry made me. I went in thinking I was hot shit, the industry however, saw things differently! Here I am, 31, no children, and nothing but MILF porn! Perfect".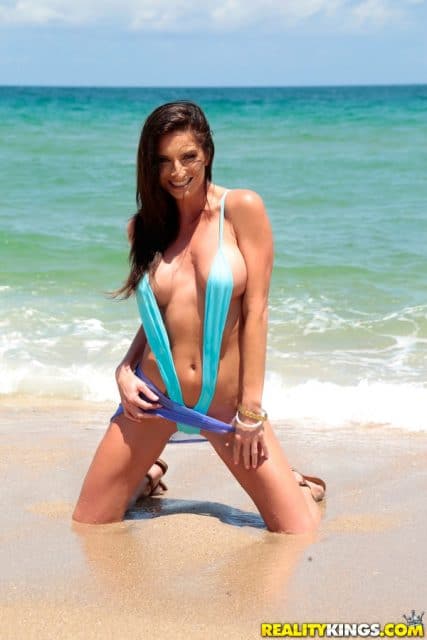 Silvia Saige at Reality Kings
Interested in checking out some of Silvia Saige's sauciest sex scenes? We recommend watching her sizzling group sex scene with Adriana Maya, Blair Williams and Donnie Rock in the Sweet Sinner sequel release The Masseuse 11 (2016), her thrilling three-ways with Aria Alexander and Alex Jones, Dillion Harper and Ryan Driller in Moms Teach Sex 7 (2016) for Nubiles Films, her raunchy role-play with Zoe Parker and Marcus London in My Husband Brought Home His Mistress 10 (2016) for Devil's Film and her steamy shoot with Sofi Ryan in the Sweetheart Video DVD Lesbian Babysitters 15 (2018). When Silvia Saige was asked about her personal sexual fantasies in her January 2015 Adult DVD Talk interview she hotly hinted that;
"I'm a big gambler so my ultimate fantasy is me wearing a very sexy dress with no panties and sitting at a blackjack table. The guy gets frisky under the table to the point where we have to leave. We go to the elevator and start going at it. People get on and we have to stop. Then we go again. Once we get to the room, he throws me up against the wall. I'm all about the raw emotion of sex. I love the 'can't wait until you get inside' moment in sex. That's why I'm not a big one-night stand person, the emotions of sex get me off".
Most recently Silvia Saige has starred in Twisted Threesome Tales (2018) for Crave Media, Cougar's Revenge (2018) for She Will Cheat and The Babysitter 12 (2018) for Sweet Sinner featuring Moka Mora and Blair Williams. Silvia Saige has also filmed an intensely alluring Bragging Rights VR experience that was released via MILF VR in November 2017. Represented by Kendra Lust's exclusive modelling agency Society 15, Silvia Saige conveyed in her XCritic column interview how;
"I do consider myself extremely lucky to be a part of Society 15. Kendra and her crew actually reached out to me when I was attempting to leave the business. They were looking for a new MILFS to add to their roster, and I was among the top people they were looking to take in. I said yes, a beautiful relationship emerged!…
Kendra and her entire team have been nothing short of exceptional. I look at Kendra in a very idolizing type of way, she is a beast!! They are very big into the branding of their talents, and that is something I have found with no other agency. I think it is key to have an agent, however, I would warn women looking to get into the industry to do their research into who they are picking as an agent. It is certainly not a level playing field".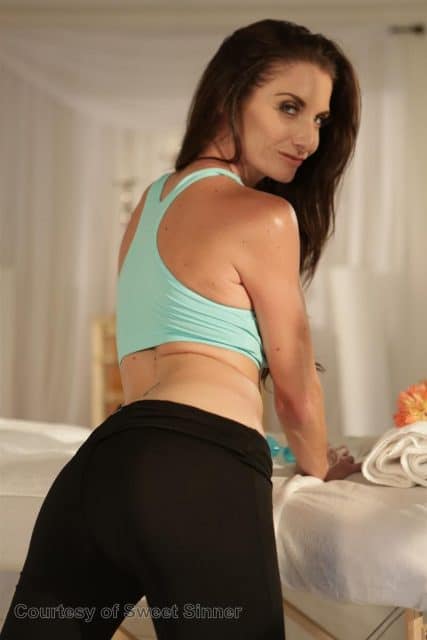 Silvia Saige in The Masseuse 11 – Sweet Sinner
Silvia Saige : Stand-Up Comic & Future Plans
Alongside her thriving adult film career Silvia Saige is a popular standup comic who has performed at the Ontario Improv in Ontario, California, as well as within various clubs in Kansas City and Las Vegas, Nevada. Silvia Saige also continues to upload videos via her YouTube channel Sexy Funny Raw. Talking about her comedic inspirations during her XCritic column interview, Silvia Saige highlighted how;
"First off, let me just say I absolutely adore Evan Stone it myself. He is a character unlike anyone I've ever met before. However, I think my true inspiration came from more of the comedy greats. George Carlin and Ellen DeGeneres we're probably the two main people inspiring me to speak my truth. However, as a working Comedian, I truly look up to people like Anthony Jeselnik, Joe Rogan, Ron White, Russell Peters and Jay Mohr. I am fortunate now to have befriended all these gentlemen as well… So, they are truly shaping me into the comic I feel that I am becoming…
Although it might sound odd, I grew up watching Ellen DeGeneres do stand up and then Per sitcom, in which she came out as being gay on television. Although I was not gay, I certainly knew I was hiding who I was from everyone around me. Watching someone be so vulnerable, at such a time in history when that wasn't really allowed, it was truly inspiring for me. The kicker to it was she was doing it in a hilarious style. I truly idolize strong women, and she was one of the first to show me what that could look like".
Wondering how Silvia Saige juggles her stand-up career with her adult film projects? Well, Silvia Saige explained during this XCritic column interview that;
"Everyone assumes that I am some dark demented soul. But in fact, that could not be farther from the truth. I have in fact gone through incredibly dark moments in my life… But those are exactly what shaped me into the positive person that I am today. I truly feel I have a platform to speak on with both of my careers, and I hope to open the minds and hearts of people across this nation into what it looks like to be a happy soul who exposes herself in both comedy and porn.
I love to laugh and I love watching others laugh… Whether it be at my expense or not! And as far as the sex aspect, I only wish that more people felt as free as I do sexually. I grew up fearing being sexual in anyway, thinking that it would make me less desirable. It's an awful way to feel. Porn opened my eyes and my mind to so many things, and I could not be more thankful for that".
You may be interested to learn that Silvia Saige is also a talented actress who has appeared in several mainstream media projects including the HBO film Wicked Needs (2015). Silvia Saige has since appeared as 'Lindsey' in Peter Hyoguchi's upcoming horror film The Tarot (2018). In her spare time Silvia Saige enjoys working out and writing comedy, revealing in her January 2015 Adult DVD Talk interview that;
"I'm a big gym rat. I love working out. It makes me feel amazing. I love going to hikes in the mountains. Or going to the beaches. I love being active, really. I want to preserve my youngness as long as I can, I want to be the 75-year old playing tennis every morning!".
Wondering what the future holds for multi-talented performer Silvia Saige? Well, Silvia stated in her October 2015 AVN interview that she hopes to;
"Maybe get my shot at hosting the AVN Awards and then go after chasing comedy. Tie it all together and maybe you'll see me on Saturday Night Live one day. Anything that I can try and points me in a new direction, that's the way I'm going".
Want to keep yourself updated on all of Silvia Saige's upcoming porn productions, stand-up performances and exclusive web content? Then use the links provided below to stay connected with your dream girl Silvia Saige!
Silvia Saige – Social Networks
Twitter : @silviasaigexxx
Instagram : @silviasaigesex
MILF VR : Silvia Saige VR Scenes
Kink : Silvia Saige BDSM & Fetish Content
Evil Angel : Silvia Saige at Evil Angel
Brazzers : Silvia Saige at Brazzers
Naughty America : Silvia Saige at Naughty America
Reality Kings : Silvia Saige at Reality Kings
VR Bangers : Silvia Saige VR Experiences
YouTube Channel : Sexy Funny Raw
IMDB Profile : Silvia Saige Filmography