Sovereign Syre
Sovereign Syre Website : SovereignSyre.net  Twitter : @SovereignSyre  Podcast : Observations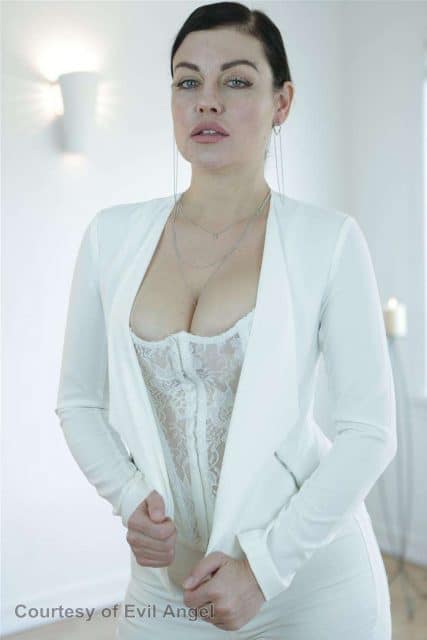 Sovereign Syre in Girl/Boy 2 – Evil Angel
Sovereign Syre – Personal Info
Name : Sovereign Syre
Date of Birth : July 4th
Hometown : California (US)
Measurements : 36C – 27 – 40     
Height : 5'8 (1.73m)
Hair Colour : Brunette
Eye Colour : Blue
Pets : An ardent animal lover, Sovereign mentioned in her March 2011 Barelist interview that; "I rescue pit bulls. I have two pits at my father's house. Since I've been in NYC, I haven't been able to have one. I'd love a French Bulldog. I've already picked out his name and everything. Jacques de Sores, like the Huguenot pirate. Cute, non?".
Years Active : 2011 – present
Number of Scenes : 150+ (as a performer) , 2+ (as a director)
Sovereign Syre is a multi-talented writer, stand up comic, internationally published poet and the host of the weekly Observations podcast who has a master's of fine arts degree in creative writing and a background in sociology. Moreover, Sovereign Syre performed in, wrote and directed numerous porn productions which earned her many notable "All-Girl Performer of the Year" and "Best Actress" nominations at the AVN and XBIZ Awards.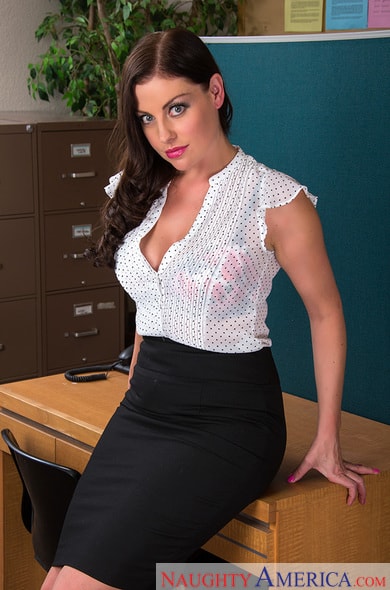 Sovereign Syre at Naughty America
Raised in the Central Valley in California, Sovereign Syre was interested in the performing arts from a young age. In fact, Sovereign attended a performing arts high school where she trained as a ballerina. Talking about these early years in a May 2014 Fleshbot interview, Sovereign divulged that;
"I was very driven and indistractable, I attended a performing arts high school where I was a ballerina. I hung out with other art kids. Mainly from costume design and theater, but I spent most of my time with a group of older writers and artists in the bohemian section of town after school. School was something completely different from my social life. When my friends went to work in the morning, I went to school. It was just like a workplace to me. I worked really hard though. By the time I was sixteen I was already in college, but still a virgin. I had a girlfriend, but I wouldn't let her do anything but kiss me. I thought sex might become a distraction".
Before she began working in the adult entertainment industry Sovereign held several different jobs among which included teaching English as a second language as a tutor, working as a ballet teacher as well as working as a bartender and waitress in various establishments. All whilst studying for an MFA at Fresno State! Sovereign first began working as a model in 2009 after leaving college to write a book. As Sovereign herself explained via her solo website;
"My career started in 2009 when I left graduate school and moved to NYC to work as a model and write the Great American Novel.  I have been fortunate enough to be photographed by master photographers Andrew Einhorn, George Pitts, Ken Lichtenwalter, Keith Major, Richard Avery, Ken Penn, Allan Amato, Chris Cuffaro, Clayton Cubbit and Nathan Appel.  Images of me have been published in Vogue Italia and a ton of other arthouse digital and print publications along with a few coffee table books".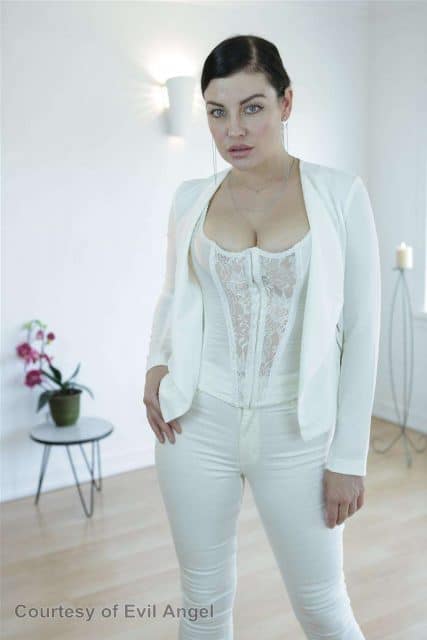 Sovereign Syre in Girl/Boy 2 – Evil Angel
Sovereign Syre discussed this period of her life in greater detail during her September 2013 Adult DVD Talk interview, elaborating upon how;
"Well, I quit school to write a book. I was in school on a scholarship for writing. That was my thing, I was a poet. So I wanted to make money doing something that wasn't going to take up a lot of my time, so that I could write. I was kind of bumming around in Seattle trying to decide what I was going to do. And several people suggested that I shoot for Godsgirls.com.
So I looked into it and got paid for doing a couple of photo sets. You start out taking naked photos of yourself and they pay you $60 or $70 for a set. Eventually they fly you out for professional shoots and pay you substantially more money. So I started doing that. And before I even had my first professional shoot, a photographer named Joshua Darling started writing me and we had this immediate love affair.
I told him about my book and he told me his story and it was almost like he was someone I had written about in one of my books. So a little later, he flew me out to New York. I bought a book of the 50 best erotic photographers. I looked up everyone who was in New York City and I just sent them all my rates. And half of them wrote back to me and hired me and I just started working. It was crazy! It was something I hadn't even really thought about and I was working!
So basically I fell in love with erotic photography and I got into adult. They took a lot of photos of me and helped me get a lot of work. There's nothing like having someone in-house that is constantly taking promotionals of you. Because he was in the industry, he could point me in the direction of reputable photographers. He taught me how to check references…basically he taught me to be my own agent.
At that time, there was no discussion of porn. To be honest, when I first started taking naked photos, I thought porn was gross. Because I didn't consume it, I had these really backward notions of what porn was. I liked erotica and I liked art and I knew there were some things I liked that were very explicit. So I guess even though some of the stuff I liked was porn, I didn't think of it as evil. (laughs) So I was modeling and I think the first week BangBros called me and wanted to shoot and I was "Oh my God! No!!" (laughs) I was so innocent. (laughs)
Then, a friend of mine, Jesse Lee, she's an alt-girl, punk girl who works for Burning Angel a lot, had a very bad car accident. And she had these medical bills and my boyfriend at the time wanted to do something for her. So we had 2 big events and got a bunch of photographers to donate prints. We did one in New York and one in LA. So I came out to LA to shoot for Holly Randall and do this event and there were a lot of porn people there. I never really associated with anyone in hardcore and found these people to be really cool. They weren't outlaws and were really friendly.
And I liked that. I met a few people there that did web design for some alt stuff. We became friendly and through Twitter, they set me up with Nica Noelle. And we started tweeting back and forth and she said, "Let's do a movie around you!" And I was nervous about it, so I called my boyfriend in New York. I told him about it and said I was going to do it, which was a big deal for me at the time. And for 8 months, I was the unofficial contract girl for Nica Noelle. I was working all the time with some top talent so it was fun".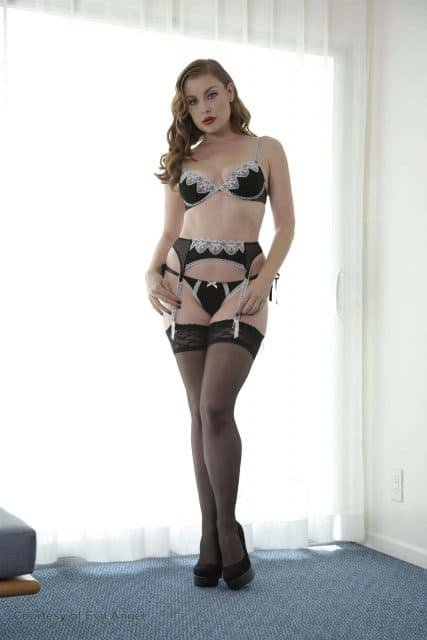 Sovereign Syre in She's Come Undone – Evil Angel
Sovereign Syre : Adult Film Career
Busty beauty Sovereign first began working in the adult entertainment industry in 2011 and some of her earliest porn productions include Lesbian Sorority (2011) for Sweetheart Video that featured Sovereign alongside Sinn Sage and Lesbian Slumber Party: The Kissing Game (2011) for Girl Candy Films within which Sovereign shared a scene with Dani Daniels. When she was asked about shooting her porn debut in her September 2013 Adult DVD Talk interview, Sovereign divulged that;
"I was super nervous. I was sooo nervous because there's nothing that prepares you for having sex on camera. And I'm also a very big stage fright person. I wasn't nervous about doing porn, I was nervous about performing well. So my concerns were more technical. There was no emotional anxiety, it was all related to performance. But that's kind of my nature".
Over the years Sovereign has established herself as a fan-favourite performer due to her thought-provoking girl/girl feature releases and her broad spectrum of BDSM, femdom and fetish porn productions. Fans of Sovereign Syre will love viewing her sultry scenes with Dana Vespoli and Lea Lexis in She's Come Undone (2013) for Evil Angel which was nominated for "All-Girl Release of the Year" at the 2014 XBIZ Awards, her compelling femdom shoot with Cherry Torn that was showcased in the Kink.com DVD compilation title Whipped Ass 6 (2014), her BDSM session with Jenna Foxx in Nikki Hearts' Filly Films DVD Lezzz Get Kinky (2016) and her scintillating shoot with Venus Lux in Girl/Boy 2 (2016) for Evil Angel that was nominated for "Transsexual Release of the Year" at the 2017 XBIZ Awards.
You may be interested to learn that Sovereign has also starred alongside Chastity Lynn in the Wicked Pictures erotic educational movie Jessica Drake's Guide To Wicked Sex: Woman To Woman (2013). Starring Allie Haze, Jelena Jensen, Elexis Monroe and Sinn Sage, Jessica Drake's Guide To Wicked Sex: Woman To Woman was nominated for "Best Educational Release" at the 2014 AVN Awards and "Specialty Release of the Year" at the 2014 XBIZ Awards.
In 2014 Sovereign filmed her first boy/girl movie, Hollywood Babylon (2014), which was directed by Dana Vespoli for Evil Angel. Hollywood Babylon showcased Sovereign in five sultry scenes alongside Dana DeArmond, Valentina Nappi, Ramon Nomar, James Deen, Steven St. Croix and Ryan Driller. An instant hit among fans and film critics alike, Hollywood Babylon was nominated for "Best Drama" at the 2015 AVN Awards, "Couples-Themed Release of the Year" at the 2015 XBIZ Awards and "Best Feature" at the 2014 Nightmoves Awards. When she was asked about her reasons for shooting her first boy/girl movie during her May 2014 Fleshbot interview, Sovereign had high praise for Dana Vespoli and mentioned that;
"I'd wanted to do it since I started, but there's the social aspect, being ready to sever those bonds with civilian society. A year ago I did a g/g movie called "She's Come Undone" and there was a b/g softcore scene in the movie where I'm being roughed up by the guy. After the scene I kept thinking to myself that it would have been better if it was just a hardcore scene. I realized that I was ready, that I didn't even care about what people would think if they saw me in a b/g scene, I was just thinking in terms of the movie. The next day I called Dana Vespoli and asked her if she wanted my first b/g scene…
Like working with a big sister that you both admire and trust completely. I want to be her when I grow up. She has a gift for casting, she makes everything feel like a collaboration. You get a sense of her passion and intellect right away, but she's also incredibly humble and earthy so you feel comfortable to sort of give her everything and you know she's going to honor it and make it work".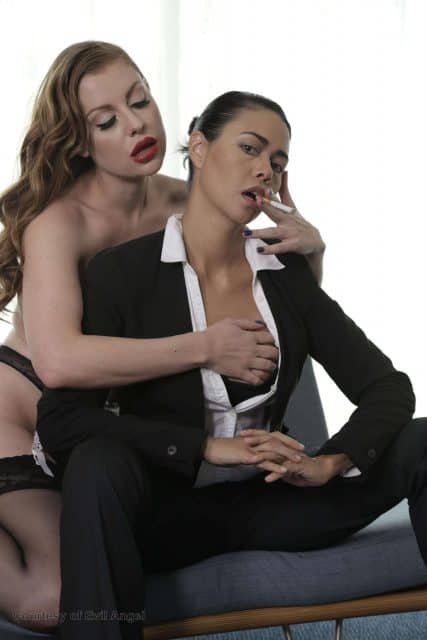 Sovereign Syre & Dana Vespoli in She's Come Undone – Evil Angel
Sovereign Syre: Industry Accolades & Award Nominations
With so many critically acclaimed productions to her name, it was only a matter of time before Sovereign Syre started to receive some notable nominations at the AVN and XBIZ Awards. Listed below are some of Sovereign's most impressive industry accolades;
2013: XBIZ Awards nominee "Best Actress – All-Girl Release" My Sister Celine
2014: AVN Awards nominee "All-Girl Performer of the Year"
2014: XBIZ Awards nominee "Best Actress – All-Girl Release" Lesbian One Night Stand
2015: AVN Awards nominee "Best Girl/Girl Sex Scene" Tombois 2 (with Jiz Lee) and "Best Boobs (Fan Award)"
2015: XBIZ Awards nominee "Best Actress – Couples-Themed Release" Hollywood Babylon and "Best Scene – Couples-Themed Release" Hollywood Babylon (with Valentina Nappi and Ramon Nomar) and "Girl/Girl Performer of the Year"
2016: AVN Awards nominee "Most Epic Ass (Fan Award)"
But what have been Sovereign's favourite adult film productions? Well, when Sovereign was asked to name some of her favourite scenes to shoot via her March 2017 VICE interview, she cited She's Come Undone (2013) and Hollywood Babylon (2014), conveying how;
"My favorite scenes I performed in were in She's Come Undone and Hollywood Babylon, two movies in which the story of the protagonist was made more emotionally vivid by the sexual scenarios, they walked a line in terms of traditional porn tropes. In She's Come Undone, it was an all-girl movie, and the unspoken rule in lesbian productions is that the characters live in a world where men don't exist. In She's Come Undone, we put in a soft core rape scene with Manuel Ferrara. We chose him for a sort of shorthand. His scenes are rough and intense, and he's immediately recognizable.
I was a girl on girl only performer so the audiences who knew us could do the math of how overwhelmed I might be in a very short amount of time. It was a thirty second cutaway, but when people wrote to me about the movie, that was the scene that was filled with the most eroticism for them. In Hollywood Babylon, we have a scene at the beginning that seems like rape, or at best, dubious consent, but the character isn't acknowledging what is happening. For many viewers this same non-consent scenario made them incredibly uncomfortable because it mirrors the real life reaction of many rape victims and the scene wasn't meant to be arousing. I supposed that's my specific obsession. That carried over when I wrote/directed my first film".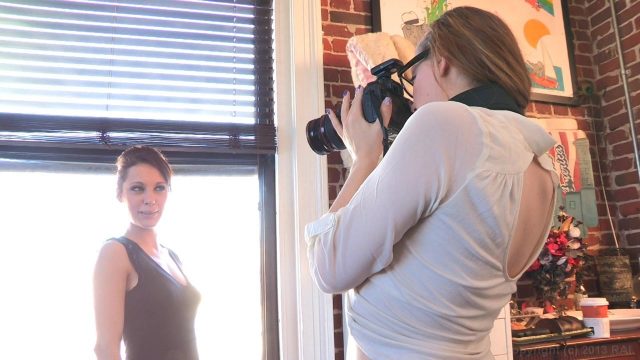 Nikita Bellucci and Sovereign Syre in Sovereign Syre's Lesbian Surrender – Filly Films
Sovereign Syre : Directorial Debut
In 2013 Sovereign Syre made her directorial debut with the Filly Films DVD Lesbian Surrender (2013). As well as writing and directing Lesbian Surrender, Sovereign starred in its four scenes alongside Ela Darling, Nikita Bellucci, Aaliyah Love and Elle Alexandra. Talking about how she came to make her directorial debut for Filly Films during her March 2017 VICE interview, Sovereign explained how;
"A studio called Filly Films had an open call for directors. I submitted my idea about four scenarios. Involving women and consent that didn't have to do with age, incest, or race. I had the idea to create taboo story lines without broaching the obvious. I wrote Lesbian Surrender in a day. One story is about a girl who finds her girlfriend has been having an affair with a young senator, so the girl goes to the senator's house and confronts the senators hapless wife. She makes her take off her clothes and photographs her for blackmail. They both realize they have horrible partners and end up fucking.
The second is a photographer that shoots a French model that can't speak English. She's lonely so she talks the girl into having sex with her for money. The third story is a girl recounting how she was talked into doing porn by another girl while they were shooting a fetish video. The fourth was about a Christian conversion therapist that's trying to help a recent college grad become straight. The girl turns the tables on the therapist. That scenario still turns me on. I'm still proud of that movie.
The camera work wasn't the best, and I was dealing with performers that weren't actors/weren't going to memorize the script, but I thought the stories were solid…I think the takeaway I found from writing Lesbian Surrender is that you can create taboos anywhere, but that for sex to be hot, it needs to be a little bit transgressive. People like to fight when they fuck, whether it's physically, socially, or spiritually. That goes hand in hand with writing about people in a novel or writing a joke, there has to be something at stake and people are always looking for someone to shake them out of their bounds".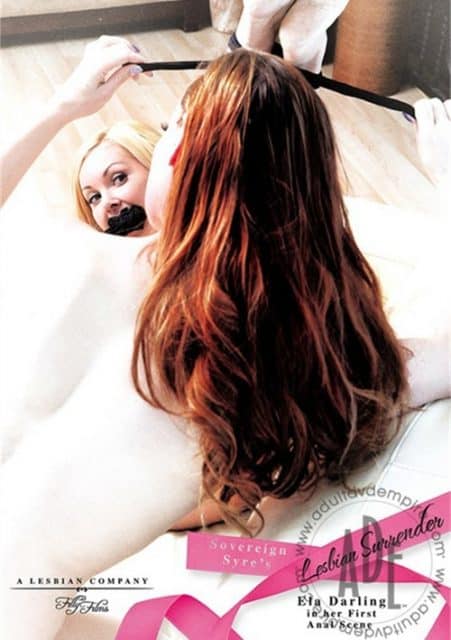 Sovereign Syre's Lesbian Surrender – Filly Films
Following the success of Lesbian Surrender, Sovereign Syre directed another Filly Films DVD; Girls In Heat (2013). Once again Sovereign starred in some sultry scenes with Dana Vespoli and Violet Monroe for Girls In Heat as well as directing some captivating collaborations between Aaliyah Love and Natasha Malkova, Reena Sky and Vanessa Veracruz. Upon making her directorial debut with these Filly Films productions, Sovereign was keen to credit Nica Noelle for teaching her the importance of chemistry, a good script and making the actors feel comfortable. As Sovereign aptly put it during her September 2013 Adult DVD Talk interview;
"I wanted to do it [direct] right away but I was the unofficial contract girl for Nica Noelle. So I just followed Nica around. We had a really good relationship. So I had the call out but I didn't want to violate my exclusivity. I didn't talk about it with Nica because I felt it could wait. And I'm glad I did. I learned a lot being on Nica's sets. I learned the importance of a script, the importance of chemistry, what makes actors feel comfortable….Then I started working for other companies.
I was ambitious and had these ideas but it wasn't the right time. But then I came up with Lesbian Surrender, Filly Films gave me their blessing, they gave me a budget and I did it! I know porn's changing right now but if you're motivated and ambitious and hard-working…the world is yours! People are more than willing to give you an opportunity if you ask. You just have to humble yourself, I work a lot but that's because I ask people for work.
I want to stay in this industry for a long time and the key to longevity is branching out. It's involving yourself in as many different aspects of adult as you can. If one revenue stream dries up, you have something else to fall back on. For me, directing and all that stuff, I just love the industry and I want to get my finger in every pie, so to speak. (laughs) It seems to be working so far".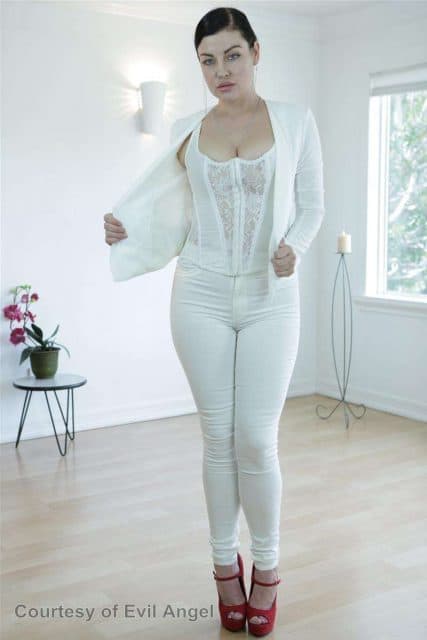 Sovereign Syre in Girl/Boy 2 – Evil Angel
Sovereign Syre : Stand Up Comic, Writer & Observations Podcast Host
In addition to her adult film performances and directorial projects, Sovereign Syre established herself as a popular stand-up comic, writer and Observations podcast host. As a matter of fact, Sovereign has performed as a stand-up comic at several famous venues including The World Famous Comedy Store, The Ice House, The Stand, New York Comedy Club, The Funny Bone and Dangerfield's but to name a few! Sovereign has even opened for famous comedian Marc Maron and featured for Big Jay Oakerson.
Alongside her thriving stand-up career, for the past few years Sovereign has been hosting her own weekly podcast, Observations. Every week Sovereign interviews comedians on a broad spectrum of topics; from their personal backgrounds and comedy careers to international politics and the economy!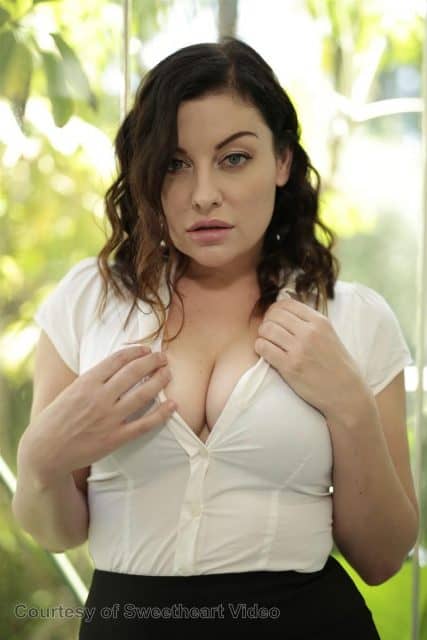 Sovereign Syre – Sweetheart Video
Over the years, Sovereign Syre also continued to collaborate with Wisecrack; a fan-favourite YouTube channel which explores the deeper meanings behind your favourite literature, games, movies and TV shows in a fun and entertaining way. Through her work with Wisecrack, Sovereign has also created her Boss Bitches Of History show with Ela Darling which celebrates 'girl power through the ages'. Created, written and hosted by Sovereign and Ela, Boss Bitches of History is comedic series that is dedicated to;
"Celebrating emboldened women throughout the ages who bucked the system and boldly faced the sexist hegemony of their time. The show is created, written and hosted by Sovereign Syre and Ela Darling – two entertainers who defy contemporary standards of American intellectualism and feminism".
Never one to rest on her laurels, Sovereign Syre continues to create a wide range of comedic and thought-provoking content. When she has been asked about the ways in which her adult film career has impacted her literary and comedic projects during her September 2016 The Establishment interview, Sovereign highlighted how;
"I don't think I would have gotten here without my time in the adult industry. I don't think you can take out any of your experiences. Life isn't like Jenga. I don't talk about porn at all in my act. A lot of audiences don't realize that I've also worked in porn, but all the same, it's informed my point of view. Porn has made me brave and it's made me tenacious. I am relieved to have to worry less about my looks when I'm on stage doing stand-up, but I just think that's part of the evolution of life.
I used to fantasize about being objectified because I was so intellectually driven, and now I'm cycling back into a phase where I want to engage with ideas and challenge people in a different way…Some people treat me differently if they find out I "do adult" before they meet me. They might come at me like I'm stupid or promiscuous, but that usually gets shut down pretty fast when they meet me — the minute I start talking. I don't really deal with much static in my immediate social circles. I like genuine connections with people…
People think that everyone in the sex industry is damaged and out of options. The fact that I don't hide my education or try to dumb myself down on social media, that fact that I don't play the character of the "sexy baby," are all ways that I fight against that stigma. I understand that someday someone is going to have a problem with the fact that I starred in some controversial films, but so far, everyone I've encountered has been supportive, in terms of writing and stand-up".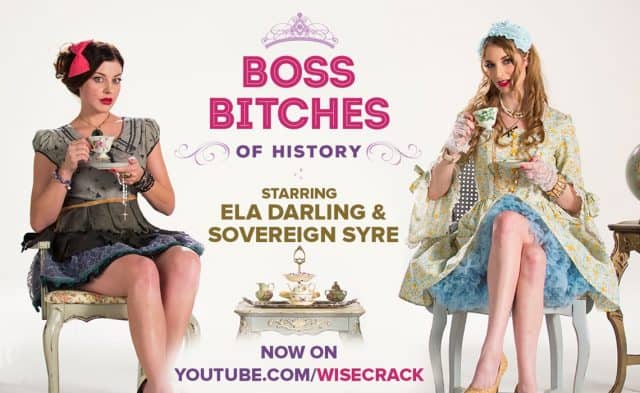 Sovereign Syre & Ela Darling – Boss Bitches Of History
Interested in checking out some of Sovereign's upcoming personal projects and exclusive Evil Angel, Filly Films and MILFED web content? Then please feel free to use the links provided below to stay connected with the ever-evolving career of Sovereign Syre!
Sovereign Syre – Social Networks
Twitter : @SovereignSyre
Instagram : @sovereign_syre
Evil Angel : Sovereign Syre at Evil Angel
Filly Films : Sovereign Syre at Filly Films
Kink : Sovereign Syre BDSM, Femdom & Fetish Content
Camsoda : sovereignsyre
Patreon : SovereignSyre
Wisecrack : Boss Bitches Of History
IMDB Profile : Sovereign Syre Filmography 
The Nude : Sovereign at The Nude