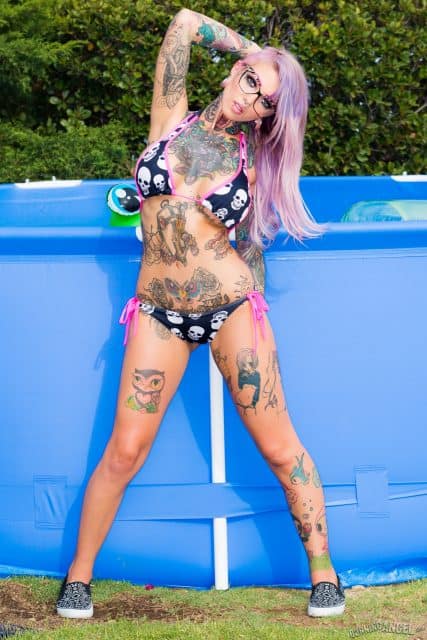 Sydnee Vicious in It's My First Time 3 – Burning Angel
Sydnee Vicious – Personal Info
Name : Sydnee Vicious
Measurements : 34E
Height : 5'5 (1.65m)
Hair Colour : Purple/Pink
Eye Colour : Blue
Tattoos : Sydnee has an impressive collection of tattoos across her back, chest, stomach, neck, arms, hands, hips and legs that incorporate various cartoons, symbols, cosplay, animal and floral designs.
Piercings : Septum, upper lip and lower lip
Shoe Size : Women's 8 (US)
Years Active : 2015 – present
Number of Scenes : 10+
Sydnee Vicious is a terrifically tattooed star who has been performing in porn since 2015. Best known for her raunchy Burning Angel productions, Sydnee's kinky cosplay clad shoots and captivating curves have earned her the coveted "Best Punk Shoot (Fan's Choice)" accolade at the 2016 Alt Porn Awards as well as a notable "Scene of the Year" nomination at the 2016 Inked Awards.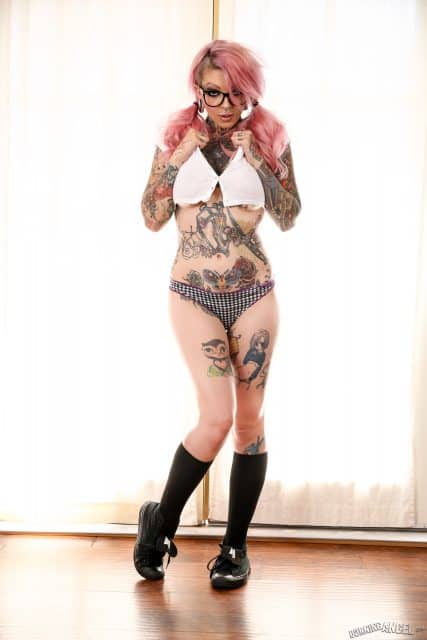 Sydnee Vicious at Burning Angel
Wondering where it all began? Well, you may be interested to learn that Sydnee Vicious's parents were teachers (her father was also a preacher!) and that she discovered her love of punk and goth styles during her high school years. As Sydnee explained in her April 2016 Fleshbot interview;
"Well, my mom was a teacher at my school, and my father was the president of the school board and . . . wait for it . . . a preacher. So, of course, I hung out with the punks and goths and dated whoever owned a dangerous motorcycle and had a lip ring. ;)… I was—am—a big fan of hentai. They're all just so perfect.:)".
Sydnee first started working in the adult entertainment industry as a fetish model and she had already worked in a professional fetish dungeon when she decided to pursue a career in porn. Sydnee discussed her progression from fetish work to performing in porn during her October 2016 Alt Porn interview, divulging that;
"I'm just a punk rock hippy chick that was definitely born in the wrong era haha. I live on a farm which I'm turning into a commune, and i love to make dirty movies…I'd dabbled in some fetish work for private collections. And worked in a couple dungeons before. And I finally wanted to make the switch, and I had a friend of mine that knew some people over at Burning Angel and it was all happily ever after from there".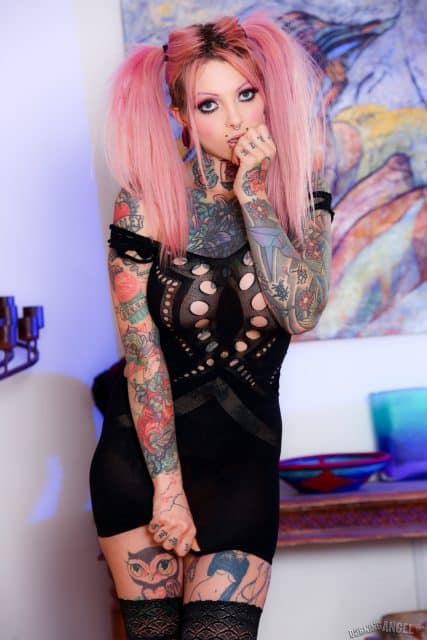 Sydnee Vicious at Burning Angel
Sydnee Vicious : Adult Film Career
Sydnee Vicious filmed her first ever sex scenes in September 2015; a double vag scene with Joanna Angel, Bill Bailey and Seth Gamble! Sydnee's sensational porn debut won "Best Punk Shoot (Fan's Choice)" at the 2016 Alt Porn Awards and it was featured in the Burning Angel DVD It's My First Time 3 (2015) also starring Nikki Hearts, Sammie Six, Jessica Creepshow and Adriana Angel. Sydnee enjoyed shooting her first ever sex scenes with Joanna Angel and highlighted in her October 2016 Alt Porn interview how;
"All hail the queen Joanna, she was so amazing head talking me through everything. She paired me with the two most amazing people. Bill Bailey and Seth Gamble are just such wonderful performers. I was super excited when I found out! I never expected it that's for sure haha".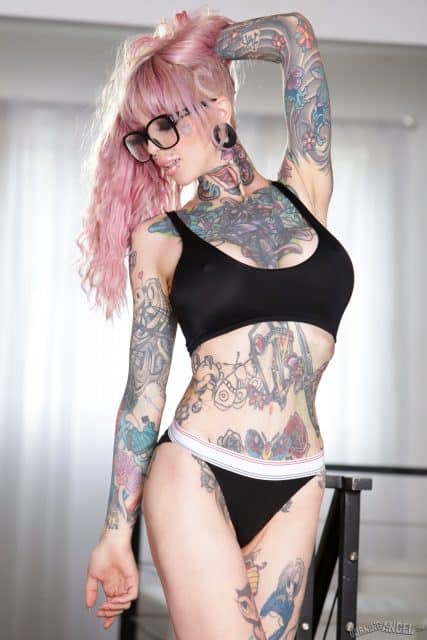 Sydnee Vicious at Burning Angel
But wait, it gets even better! Hot goth starlet Sydnee Vicious actually posed as the box cover model for It's My First Time 3 which was nominated for "All-Sex Release of the Year" at the 2017 XBIZ Awards. Sydnee also received an ardent endorsement from director Joanna Angel who enthused in a September 2015 AVN press release how;
"This has become such a popular series for BurningAngel…I truly love breaking these beautiful girls into the industry! Every scene in this movie is so unique and feels so real. The box cover girl, Sydnee Vicious, chose to do double vag in her very first scene, and Sammie Six got so horny in the middle of her scene she demanded to do anal. This is definitely the best movie in this series so far. I'm excited to see the response!" .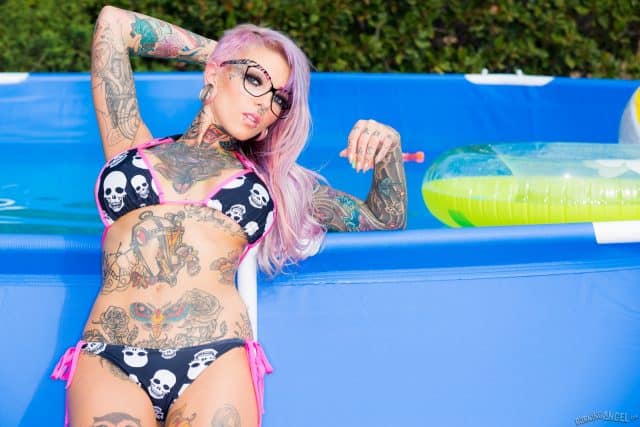 Sydnee Vicious in It's My First Time 3 – Burning Angel
You'll be happy to hear that Sydnee has continued to collaborate with Joanna Angel on a wealth of kinky Burning Angel web clips. We recommend checking out Sydnee's raunchy Pokémon Go Sex Tricks and Tips scene with Mr Pete and Small Hands that was uploaded via Burning Angel in November 2015, her steamy Sydnee Vicious POV shoot in February 2016 and her raunchy Big Tit Tattooed Stepsister Sydnee Vicious role-play with Bill Bailey in July 2016. Fans of Sydnee Vicious will also love watching her titillating Sydnee Vicious Soaking Wet Tits session with Gage Sin in November 2016 and her kinky  Sydnee Vicious – Anime Girl romp with Xander Corvus which was unveiled via Burning Angel in January 2017.
So what are Sydnee's favourite scenes? It would have to be her cosplay themed shoots. After all, Sydnee Vicious mentioned in her October 2016 Alt Porn interview that;
"I could go on for way too long haha. I'm such a nerd. Cosplay is my number one favorite thing. And I make sure to go to almost every Anime Con or cosplay Expo I can find. So I tried to carry that over and what I do. I've spent my whole life trying to turn myself into a real life anime girl, I hope it's paying off haha".
Sydnee Vicious, Tank, Nikki Hearts, Joanna Angel & Leigh Raven at 2016 Exxxotica Expo New Jersey, Image Source : Baldwin Saintilus
Some of Sydnee Vicious's hottest web clips have been showcased in the Burning Angel DVDs Cum On My Tattoo 5 (2016) which was nominated for "Best Anthology Movie" at the 2017 AVN Awards, POV Punx 12 (2016) and Curves For Days 2 (2017) also starring Savana Styles, Amber Ivy, Samantha Mack and Ivy Lebelle which was nominated for "Best Gonzo Alt Porn Video" at the 2018 Alt Porn Awards. Joanna Angel highly recommended Curves For Days 2 in a July 2017 AVN press release, eagerly expressing that;
"We've got such a hot cast of beautiful curvy ladies in this film, and every scene is filled with incredible passion and intensity".
In addition to her brilliant Burning Angel collaborations Sydnee has also starred in, and posed as the box cover model for, the Porn Fidelity production Thou Shalt Not Print Marks Upon Thee (2016) featuring Anna Bell Peaks, Dollie Darko and Indigo August. Sydnee shared a sizzling scene with Ryan Madison in Thou Shalt Not Print Marks Upon Thee that was nominated for "Scene of the Year" at the 2016 Inked Awards. Art director and Co-Producer Kelly Madison had high praise for Sydnee and her fellow cast members, highlighting in a March 2016 AVN press release how;
"Making a movie always has its challenges, but when we put together this beautiful cast, we knew we had the makings of a really sexy movie…These girls had great tattoos and the fun, ready-for-anything attitude that made for some amazing scenes. Fans of sexy tattooed girls with killer bodies will have a lot to love in this movie".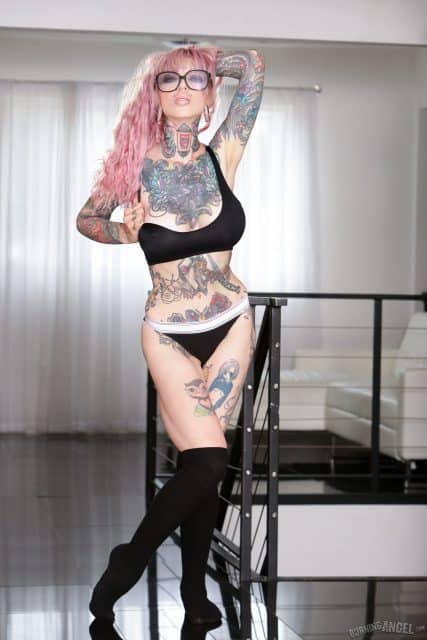 Sydnee Vicious at Burning Angel
What does the future hold for terrifically tattooed vixen Sydnee Vicious? Well, you'll be happy to hear that, after a brief hiatus from performing in porn in late 2017, Sydnee Vicious made her triumphant return to Burning Angel in May 2018 with a sizzling Sydnee Is Back shoot with Will Havoc. You can keep yourself updated on all of Sydnee Vicious's exclusive web content and upcoming projects using the links provided below!
Sydnee Vicious – Social Networks
Twitter : @Sydneevicious
Instagram : @theonlysydvicious
Burning Angel : Sydnee Vicious at Burning Angel
Babepedia : Sydnee at Babepedia