Tiffany Watson
Tiffany Watson's Twitter : @TiffanyWatsonX  Camsoda : tiffanywatson  WankzVR : VR Scenes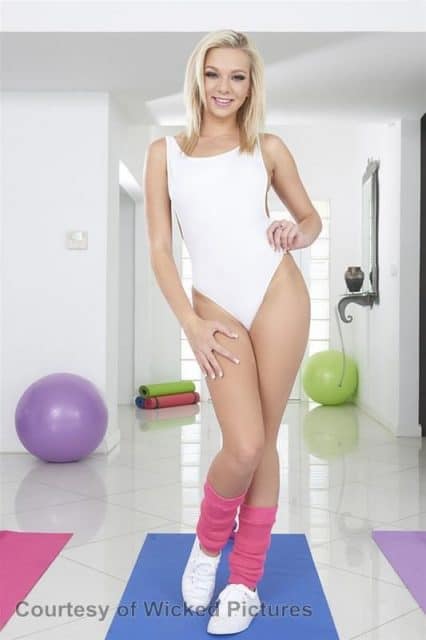 Tiffany Watson in Teen Yoga – Wicked Pictures
Tiffany Watson – Personal Info
Name : Tiffany Watson
Date of Birth : October 2nd, 1995
Hometown : Boise, Idaho (US)
Measurements : 32D – 25 – 31
Height : 5'7 (1.70m)
Hair Colour : Blonde
Eye Colour : Blue
Tattoos : Floral design and script under her breast
Piercings : Navel, both nipples and tongue
Shoe Size : Women's 9 (US)
Years Active : 2015 – present
Number of Scenes : 100+
Tiffany Watson is a popular porn star, model, cam girl and feature dancer who has been performing in porn since 2015. Best known for her raunchy DVDs and intensely alluring VR productions, Tiffany has already been named as Hustler magazine's "Honey of the Month" (for February 2017) and she was nominated for "Best Virtual Reality Sex Scene" at the 2017 AVN Awards. Definitely one to watch throughout 2018!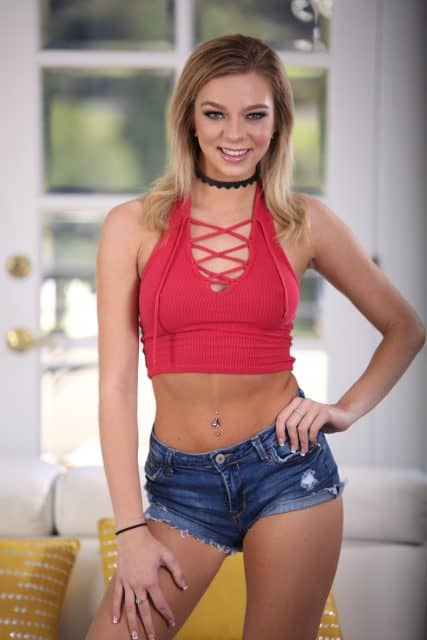 Tiffany Watson in Stepdad Seduction 3 – Evil Angel
Born and raised in Boise, Idaho, but currently living in Los Angeles, California, Tiffany Watson has three sisters and her parents divorced when she was very young. Tiffany's father became a Mormon and for four years of her life Tiffany attended a Mormon church. However, blonde beauty Tiffany has always had a rebellious streak and began to explore her sexuality in high school. A cheerleader during her senior year of high school, Tiffany has also studied social work at college and worked at Wal-Mart before she discovered her porn star potential. Talking about these younger years during her July 2017 Adult DVD Talk interview, Tiffany revealed how;
"I was adopted when I was younger. I was adopted from my family into my family, if that makes sense. I had 3 other sisters and my parents were divorced. Then my dad decided to start going to the Mormon church. We went there for about 4 years. I guess when I was a baby they were in the church too but I don't remember that. Then I started to become rebellious. My best friend that lived down the street, she was actually going to the same church. So we were both mischievous.
We always tried to sneak out of church because that shit's four hours long! It's so dumb, I'm not about to sit there on the ground with the bugs learning some bullshit. Then my dad moved to a different city, far from my best friend. My mom kicked me out so I was living with my dad full-time and he was still going to church. My mom wasn't but my dad was…
Right before I transferred schools, I had my first kiss with a neighbor. He was like four years older than me and I had been crushing on him for a while. I was really shy and an outside kind of girl. I didn't have too many close friends, I just had a small clique that I rolled with. My dad had told me, 'Look, you can be whoever you want to be. You can change whatever you want to change.' He was talking to me like I was a bad kid or something. By this time, my parents had already wanted to send me to bootcamp! (laughs) I don't know why because I wasn't doing anything out of normal teenager shit…
Senior year, I was a cheerleader and I was the stereotypical cheerleader, I was fucking everyone on the team…I wasn't even a porn watcher either. It was impossible for me to watch it too because I didn't have a phone. And my parents were really strict on my computer usage. At this point, I decided I really wanted to be a porn star.
You get paid to fuck, that's awesome! And hundreds of thousands of people get to watch you do it too! And I was so about it, I was 'Hell yeah!' I was the biggest slut in my school. In my senior year, I started living with my mom again because of court-ordered bullshit. I lived there for a short amount of time then she kicked me out again. I went to live with a friend for my entire senior year. It was fun as shit. The weekend I moved in, we partied. And we partied every weekend…
People always had something to say about me. I graduated and the summer after graduation, I just wilded it out. I planned to go to college but I said 'Fuck it, let's go all out!' I went to college and it was a complete fail! I was studying social work. I fucked around and partied a lot and didn't last. I was so slutty! I had a list that was up to 90 by now. Just stupid numbers! I had a lot of threesomes".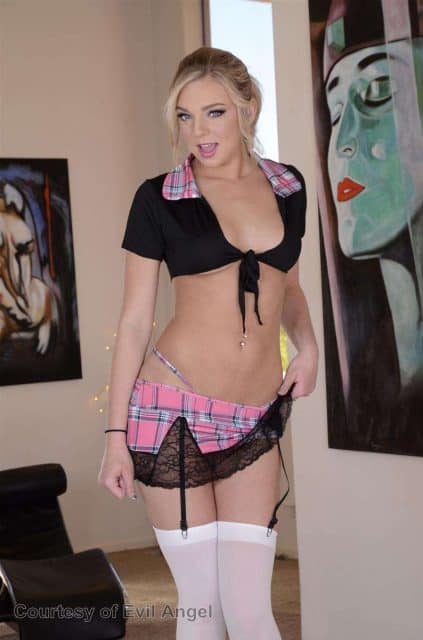 Tiffany Watson in Anal Freshmen – Evil Angel
Unfulfilled with her job at Wal-Mart, blonde bombshell Tiffany Watson started looking for modelling jobs on Craig's List which led to her stumbling upon an advert for Hussie Models. In no time all, Tiffany had flown out to Las Vegas, Nevada, and filmed her adult film industry debut for PornPros! Unfortunately, Tiffany had some terrible experiences whilst being represented by Hussie Models so she contacted a friend in Arizona who flew her out from Florida. From here, Tiffany was booked on a flight from Arizona to Los Angeles, California, whereupon she was signed by the exclusive adult film modelling agency LA Direct Models. Tiffany has discussed this period of her life in greater detail during her July 2017 Adult DVD Talk interview, explaining that;
"I'm from Idaho and it's such a small community, maybe 50,000 people. I got an apartment and was working at Wal-Mart. I was on Craig's List and was looking at model ads or something. I was so tired of working at Wal-Mart. I came across an ad for a recruiter for Hussie Models. They asked for 3 selfies and 10 minutes later, they called back and said that I was what they were looking for. They probably say that to every bitch but in a couple of days, I flew to Vegas and shot for PornPros…
The first scene I ever did was my first ever anal. I couldn't tell you what I was at this point because I had no guidance. I'm kind of happy I did it when I did it. I shot so many anal scenes in the two years I've done porn that the one rate you're going to get is going to go back down quickly. You might get over a good amount for your first but I figure I made more money not waiting. It's the same thing with IR too. I was doing IR in my personal life and I didn't see it as anything special. There are black guys who want to fuck…
I didn't end up with Hussie Models. I went with this other guy in Florida. It was a horrible time. I was shooting but not very much. I was traumatized by this guy. His house was dirty and there were a lot of drugs around. Of course, I was participating in party drugs but now I can't do that. There were really hard times for the 3 ½ months I was there.
I got in contact with a guy in Arizona and he knew my situation. This guy said he would fly me out for the weekend to chill out, then he'd fly me out to LA. I snuck out of this guy's house in Florida and flew to Arizona. Now I'm with LA Direct Models and I'm very happy! My pornoversary is July 27 and I'm excited! It's like a birthday!".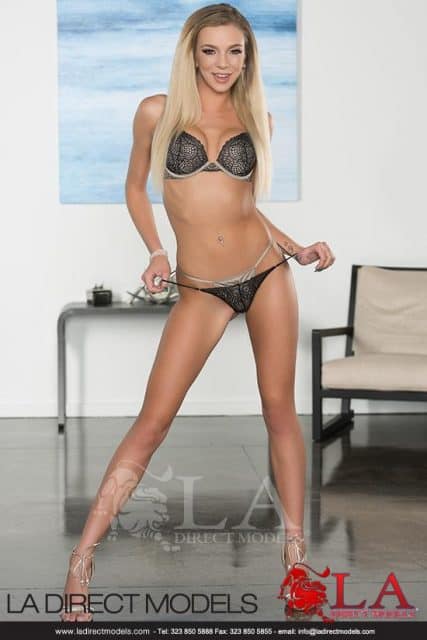 Tiffany Watson Modelling Profile – LA Direct Models
Tiffany Watson : Adult Film Career
Tiffany filmed her first ever sex scenes in 2015 for PornPros and she has since been featured in the PornPros DVD Perfectly Natural 11 (2016) alongside Natalia Starr, Brooke Wylde, Anissa Kate and Alexis Adams. From 2015 onwards Tiffany began to star in a wide range of raunchy anal DVDs, thrilling taboo relations titles and group sex porn productions such as Internal Love (2016) for Erotica X which was nominated for "Best Specialty Movie – Other Genre" at the 2017 AVN Awards and Young Anal Adventures (2016) for Reality Junkies within which Tiffany Watson shared an epic group sex scene with Amara Romani, Cristi Ann and Bill Bailey.
We also recommend checking out Tiffany's saucy scenes in Manuel Ferrara's Ripe 2 (2016) for Jules Jordan Video also starring Nina North, Sydney Cole and Gina Valentina, in Sharing My Wife – Couples Retreat (2016) for Colette that was nominated for "Best Polyamory Movie" at the 2018 AVN Awards and in Detention Hall (2016) for Porn Fidelity. Tiffany enjoyed collaborating with Kelly and Ryan Madison on this raunchy release and hotly hinted in an October 2016 AVN press release that;
 "Shooting Detention Hall for Kelly Madison Media with Ryan Madison was so much fun…This is a totally a 'me' kind of scene. Troubled teenager, breaking the rules and I end up getting fucked like crazy by my detention teacher. All in all, it was a great time working for them".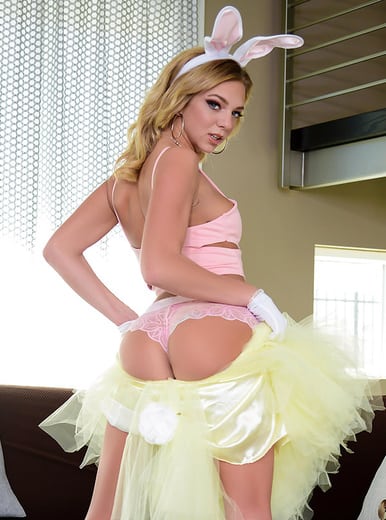 Just can't get enough of captivating cutie Tiffany Watson? Then you'll love viewing her epic oral shoot with Amara Romani and Mike Adriano in Swallowed 4 (2017) for Evil Angel as well as checking out her raunchy scenes with Steven St. Croix in the Devil's Film sequel release Don't Get Mad..I Fucked Your Dad 4 (2017) and her sizzling shoot with Steve Holmes in the Evil Angel DVD Stepdad Seduction 3 (2017) which were both nominated for "Taboo Release of the Year" at the 2018 XBIZ Awards. When she was asked about her submissive/dominant preferences during her July 2017 Adult DVD Talk interview, Tiffany revealed that;
"I don't call myself either. I like to be dominant but I'm also submissive. But I feel like I'm mostly dominant. I'm not really sure. I don't know myself well enough yet. It's weird! But I do like to be in control! I never came until I was in porn. I didn't know I was a squirter until I was in porn. The first time I used a Hitachi was at PornPros and I squirted all over the set.
I was 'Oh my God! I'm so sorry! I just peed all over your set!' And he was like, 'No, that was fucking awesome! You just squirted!' I hate people who argue. Squirt is not pee. I did an anal scene and I squirted a lot. Some guy on Twitter kept insisting, he wouldn't give it up, that they pumped water into me. I said, 'Bro, do you know how small the hole is that I pee out of?' It's just what happens".
Tiffany Watson in Hot Anal Yoga – Evil Angel
Due to her sensational scenes in these critically acclaimed DVDs, Tiffany Watson was cast in Will Ryder's kinky Adam & Eve comedy Bad Babes Inc. (2017). Also starring Katie Morgan, Adriana Chechik, Sunny Lane and Sarah Vandella among many more fan-favourite female performers, Bad Babes Inc. was a critical and commercial success that was nominated for "Best Comedy" at the 2018 AVN Awards and "Comedy Release of the Year" at the 2018 XBIZ Awards. Tiffany thoroughly enjoyed shooting Bad Babes Inc. and enthusiastically stated in a September 2017 AVN press release that;
"This has to be the biggest cast I've worked with to date. It was so crazy on the set with so many people all at the same time, but it also upped the energy, and made the sex even hotter and the movie even better as a result…What really surprised me is that I got picked to be on the cover. I was so honored that they would pick me to be on the cover of this blockbuster feature. It really is a great movie. It's funny, it's sexy, it's just incredible".
Tiffany Watson in Teen Yoga – Wicked Pictures
But hold on, it gets even better! In addition to her hot hardcore scenes Tiffany Watson is also a fan-favourite girl/girl performer. We recommend watching her saucy scenes with Summer Day and Tanya Tate in the Filly Films DVD Lesbian Family Affair 4 (2017), her steamy shoot with Olivia Austin that was featured in the Reality Kings DVD Moms Lick Teens 8 (2017) and her sensational group scenes with Alix Carter, Jenna Sativa, Anya Olsen, Sydney Cole and Zoey Laine in the Nubiles production Unscripted: Rally Race (2017). One of Tiffany's hottest girl/girl collaborations to date has been her thrilling squirting three-way with Dillion Harper and Blair Williams in the Digital Playground production Squirt Bang 4 (2017). Talking about filming this kinky shoot via an October 2017 AVN press release, Tiffany saucily stated that;
"Sometimes when you are on set with certain girls you just click. You can't really explain what it is, but there is just the spark…That was what it was like with Dillion Harper, Blair Williams, and myself. Even when the cameras weren't rolling, we didn't care. we were just together and enjoying each other and loving every minute of it".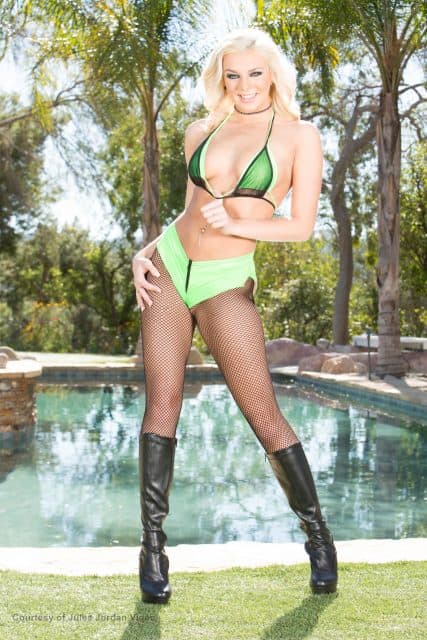 Tiffany Watson in The Brother Load 9 – Jules Jordan Video
In recent years, Tiffany Watson starred in a wealth of intensely alluring virtual reality sex scenes.  Fans eager to get up close and personal with Tiffany Watson will not want to miss out on viewing her Sharing Is Caring scene with Amara Romani and her Pole Position shoot with Haley Reed that were both released via WankzVR in June 2016 and January 2017. Most notably, Tiffany has starred in the sensational Adam & Eve TV VR production Sorority Sex Party Experience (2016) alongside Alexa Nicole, Cadence Lux, Dolly Leigh, Joseline Kelly, Lily Jordan, Loni Legend, Marilyn Moore, Sydney Cole, Taylor May, Tia Cyrus, Alex Davis, Dylan Snow, Isiah Maxwell, Logan Long and Lucas Frost which was nominated for "Best Virtual Reality Sex Scene" at the 2017 AVN Awards. Tiffany was thrilled to receive this notable nomination and enthused in a November 2017 AVN press release how;
"It was great to work on a VR scene and then be recognized for it. I'm honestly so honored that AVN would nominate me…I hope to do more virtual reality in the future. I think virtual reality is going to be big in the coming years".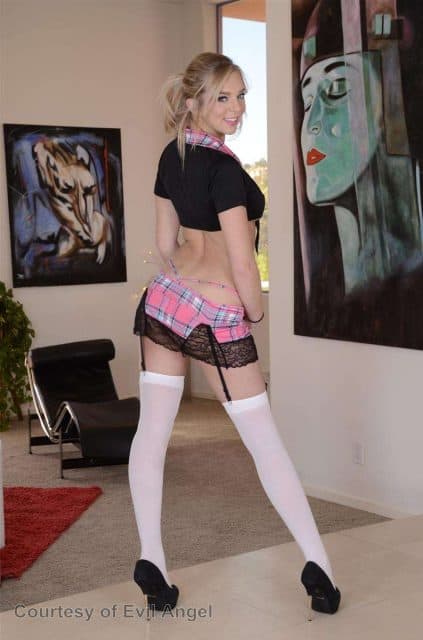 Tiffany Watson in Anal Freshmen – Evil Angel
Tiffany Watson : Industry Accolades & Award Nominations
You'll be happy to hear that Tiffany Watson continues to receive many notable awards nominations as well as being named Hustler magazine's "Honey of the Month" for February 2017. Listed below are some of Tiffany Watson's most impressive industry accolades to date;
2017: Spank Bank Technical Awards winner "Best Display of Bubble Bath Twerking"
2017: Spank Bank Technical Awards winner "Best Presentation of 'Daisy Dukes'"
2017: AVN Awards nominee "Best Virtual Reality Sex Scene" Sorority Sex Party Experience (with Alexa Nicole, Cadence Lux, Dolly Leigh, Joseline Kelly, Lily Jordan, Loni Legend, Marilyn Moore, Sydney Cole, Taylor May, Tia Cyrus, Alex Davis, Dylan Snow, Isiah Maxwell, Logan Long and Lucas Frost)
2017: Spank Bank Awards nominee "Best 'Come Fuck Me' Eyes"
2017: Spank Bank Awards nominee "Gloryhole Guru of the Year"
2017: Spank Bank Awards nominee "Natural Born Cock Killer"
2017: Spank Bank Awards nominee "Porn's Next Superstar"
2017: Spank Bank Awards nominee "Smooth As Silk (aka Best Bald Beaver)"
2017: Spank Bank Awards nominee "Snapchat Sweetheart of the Year"
Never one to rest on her laurels, in recent months Tiffany Watson subsequently starred in the Pure Taboo production Right To Refuse (2018) alongside Adria Rae and Dick Chibbles. Tiffany has also starred in, and posed as the DVD cover model for, Mike Adriano's Evil Angel DVD Anal Insights (2018). Tiffany loved collaborating with Mike and mentioned in a February 2018 AVN press release that;
"Mike Adriano is brilliant and working with him is amazing…I'm really happy with how well the scene turned out. It was such an intense scene, with so much passion and hardcore naughty fun".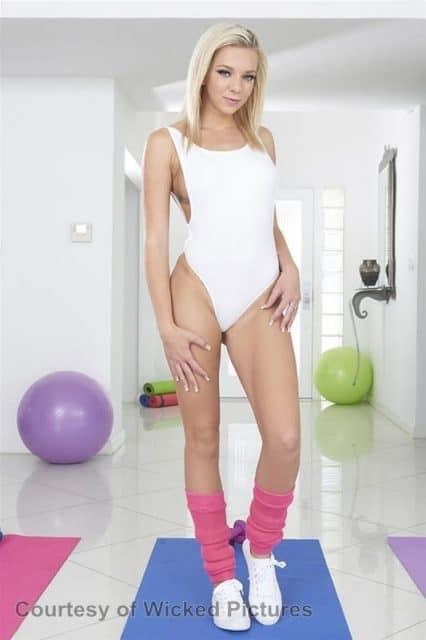 Tiffany Watson in Teen Yoga – Wicked Pictures
Wondering what the future holds for rapidly rising starlet Tiffany Watson? Currently represented by LA Direct Models, Tiffany Watson continues to star in a wealth of popular porn productions and she also hosts some lusty live chat sessions via Camsoda (under the screen name 'tiffanywatson'). What's more, Tiffany also performs some fabulous feature dancing shows in exclusive gentlemens' clubs across the United States including the famous Sapphire clubs in New York and Las Vegas. Tiffany enjoys feature dancing and has highlighted in a January 2018 AVN press release how;
"I love feature dancing because it allows me to get even closer to my fans…My shows are very upbeat. I love to draw on the energy of the crowd".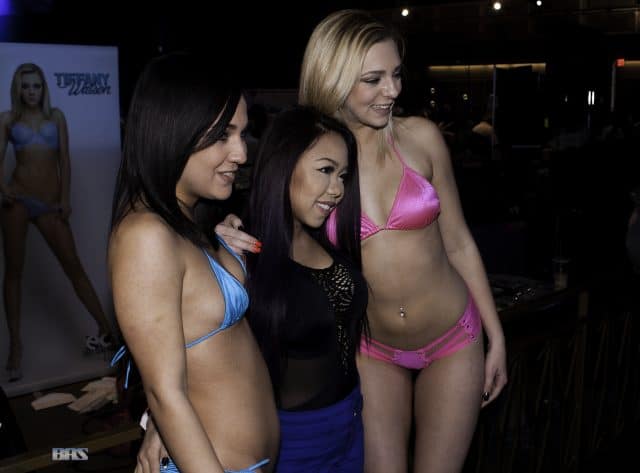 Amara Romani, Miss Jae Lee and Tiffany Watson at 2016 AVN Adult Entertainment Expo (January 23rd, 2016), Image Attribution : Baldwin Saintilus
Eager to stay connected with your favourite rising starlet Tiffany Watson? Then use the links provided below to discover all of Tiffany Watson's hottest sex scenes, exclusive web content and upcoming projects!
Tiffany Watson – Social Networks
Twitter : @TiffanyWatsonX
Camsoda : tiffanywatson
WankzVR : Tiffany Watson at WankzVR
Naughty America : Tiffany Watson at Naughty America
Reality Kings : Tiffany Watson at Reality Kings
Brazzers : Tiffany Watson at Brazzers
VR Bangers : Tiffany Watson VR Scenes
IMDB : Tiffany Watson Filmography
The Nude : Tiffany Watson at The Nude