Twitter : @TSAnnabelleLA   Grooby Girls : Annabelle Lane   Grooby VR : Annabelle Lane VR Experiences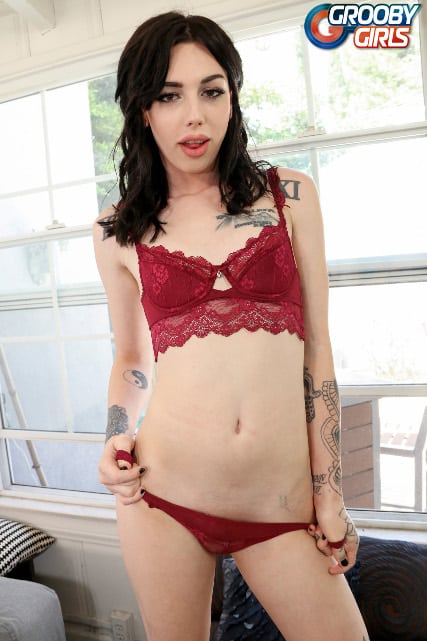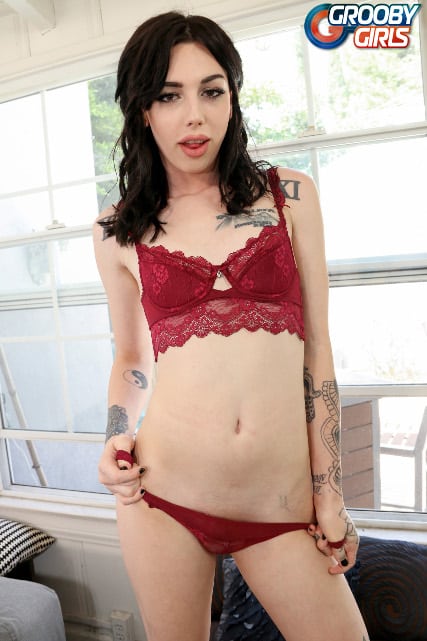 Annabelle Lane at Grooby Girls
Personal Info
Name : Annabelle Lane
Date of Birth : June 22nd
Hometown : Los Angeles, California (US)
Hair Colour : Brunette / Blonde
Eye Colour : Brown
Tattoos : Mountain designs and script across her left breast, 'XI' Roman numerals on each of her shoulders, symbols across her left hand and fingers, intricate designs around her left forearm, a floral design around the outside of her right wrist and forearm, a red flower with leaves across her upper left thigh, a flower with script across the back of her left calf, script on the inside of her left wrist and a Ying/Yang design on the inside of her upper right forearm
Years Active : 2016 – present
Number of Scenes : 10+
Introducing Annabelle Lane; a terrifically tattooed TS star who has been taking the adult film industry by storm since 2016. With her sultry solo shoots and hot DVD collaborations, it's no surprise that Annabelle has been nominated for "Trans Performer of the Year" at the 2018 XBIZ Awards.
So where did it all begin? Based in Los Angeles, California, Annabelle made her official adult film industry debut in December 2016 when she filmed a sizzling Meet Sweet Fresh Faced Annabelle! solo shoot that was photographed by award-winning porn director Buddy Wood for the Grooby Network porn site TS Casting Couch. Buddy has high praise for Annabelle and enthused via her TS Casting Couch profile how;
"Annabelle is fucking gorgeous!! A star is most definitely born…if she wants. We talked on and off for a bit and then I met her out at a bar in North Hollywood where she dances. I was so impressed I told her we had to shoot immediately…A gorgeous face and an amazing body. Incredibly feminine and sexy from head to toe. And that ass is a thing of true beauty! Happy to have her debut on ts-castingcouch and you'll be seeing much more of her".
Following her successful adult film industry debut, Annabelle has been ranked as the #4 most popular performer on TS Casting Couch. What's more, Annabelle has continued to collaborate with Buddy Wood on some sensational solo scenes for the Grooby Network porn site Grooby Girls (formerly Shemale Yum). Eager to explore Annabelle's sauciest solo shoots? Then you'll want to check out to Meet Stunning Annabelle! that was released via Grooby Girls in December 2016, Stunning Annabelle Jacks Off! in January 2017, Annabelle Lane Gets Wet! in March 2017, Horny Annabelle Lane Cums! and Annabelle Lane's Kitchen Fun! that were both unveiled in April 2017, Annabelle Lane Strokes And Cums! in May 2017 and Cumshot Monday: Annabelle Lane! which was recently uploaded via Grooby Girls in September 2017.
It gets even better; Annabelle has filmed some hot hardcore scenes with Rob that were uploaded via Grooby Girls in March 2017 and she currently ranks as the #12 most popular performer on Grooby Girls! Buddy Wood has enjoyed shooting these captivating web clips with Annabelle, commenting via her official Grooby Girls profile that;
"Annabelle is without a doubt one of the hottest girls I've shot this year. Straight up gorgeous from head to toe. The kind of girl you can bring home to mom. A beautiful face, pearly white skin and an ass that dreams are made of. She's so feminine she makes her sweet little hard cock look girly. I met her out at Cobra in North Hollywood and knew right away I had a potential superstar on my hands. She's fun to hang out with, very laid back and quite funny as well. I've already shot her for the new ts-castingcouch.com and sure we'll be seeing much more of Annabelle if she wants. Enjoy!!".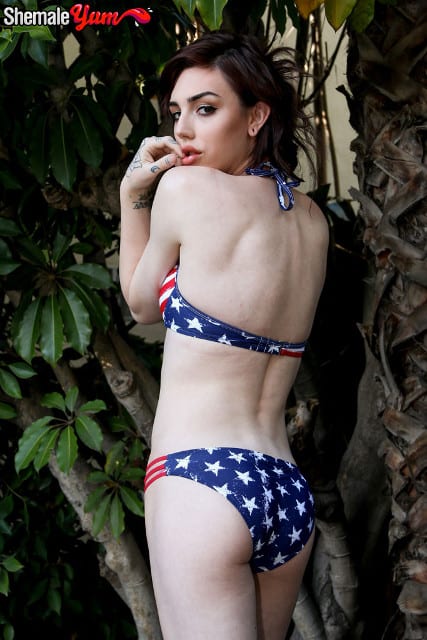 Annabelle Lane at Grooby Girls
Want to know the best part? During this time Annabelle also began to shoot some sizzling solo scenes with critically acclaimed photographer Blackula for the Grooby Network porn site Shemale.XXX. Fans of Annabelle Lane will love viewing her sultry Yummylicious Annabelle Is Here! and Annabelle Gets Naughty On Cam solo scenes that were released via Shemale.XXX in February 2017 and March 2017 as well as her Beautiful Naughty Annabelle! and Annabelle Milks Her Cock! solo shoots which were both photographed by Buddy Wood for Shemale.XXX in September 2017.
Can't get enough of Annabelle's amazing solo shoots? Then you have to check out her  thrilling transbian scenes with Chanel Santini and Jelena Vermillion which were both released via the Grooby Network porn site Tgirls.porn in March 2017 and May 2017. Not to be missed!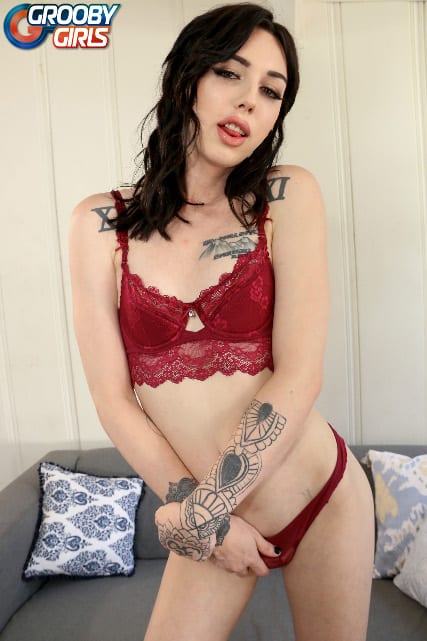 Annabelle Lane at Grooby Girls
Annabelle Lane : Best-Selling Porn Productions
Ever eager to explore exciting new career venues, Annabelle has begun to feature within several best-selling DVD series. Our top picks? Annabelle's scene-stealing moments with Chad Diamond in Tranny Hoes In Panty Hose 4 (2017) for Goodfellas Productions featuring Natalie Mars, Shiri and Nikki Vicious, her steamy scenes in Group Trans-Action (2017) for Gender X alongside Chanel Santini, Aubrey Kate and Jessy Dubai, as well as her alluring solo scenes in Sammi Mancini's Rodnievision/ Mancini Productions DVD compilation titles Shemale Strokers 88 and 90 (2017).

So what has Annabelle been up to in recent months? Well, you'll be happy to hear that she has filmed an immersive POV shoot, titled Annabelle Lane – Virtual Reality, for Grooby's exciting new virtual reality porn site Grooby VR. This intensely alluring shoot was even nominated for "Best VR Scene" at the 2018 Transgender Erotica Awards.
It gets even better; Annabelle has posed as the DVD cover model for the Devil's Film sequel release TS Hookers 3 (2017) featuring Isabella Sorrenti, Sofia Sanders and Lily Demure, she has been showcased within Buddy Wood's Grooby Presents porn production TS Debutantes (2017) alongside Kendall Dreams, Alexa Scout, Carrie Emberlyn and Aurora Jade, and she has appeared alongside Chanel Santini in the "no holes barred group love story" Transsexual Gangbangers 19 (2017) for Devil's Film. Annabelle has even shared a raunchy sex scene with Gabriel D'Alessandro for Joey Silvera's award-winning Evil Angel DVD series TS Factor 10 (2017) also starring Adriana Chechik, Chanel Santini, Lara Machado, Kelly Lorran, Miran and Karolyne Vibe. Once again Annabelle's stellar performance in TS Factor 10 was an instant hit; so much so that it has earned her a "Best Scene" nomination at the 2018 Transgender Erotica Awards. There's just no stopping this rapidly rising starlet!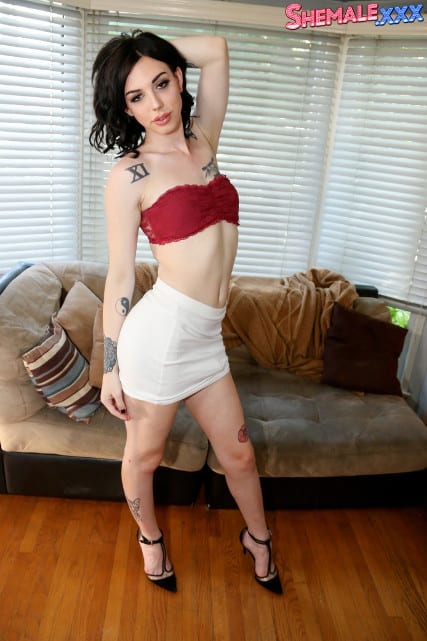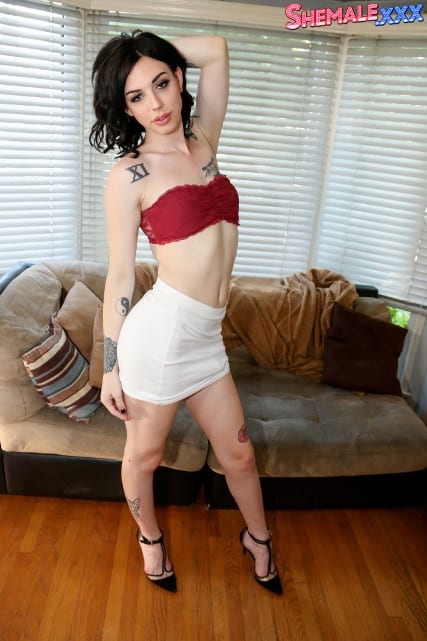 Annabelle Lane at Shemale.XXX
As matters stand, Annabelle continues to shoot some exciting web content for the Grooby Network as well as hosting intimate live chat sessions with her fans via I'm Live (using the screen name 'iAmAnnabelleLA'). Currently nominated for "Trans Performer of the Year" at the 2018 XBIZ Awards as well as "Best New Face", "Best Solo Performer" and "Best Hardcore Performer" at the 2018 Transgender Erotica Awards, there's no doubt in our minds that Annabelle will be one to watch throughout the 2018 awards season.
Keen to keep yourself updated on Annabelle's upcoming porn productions and lusty live cam shows? Then please feel free to use the links provided below to stay connected with your favourite rising starlet!
Social Networks
Twitter : @TSAnnabelleLA
Grooby VR : Annabelle Lane VR Experiences
Grooby Girls : Annabelle at Grooby Girls
Shemale.XXX : Annabelle Lane at Shemale.XXX
Tgirls.porn : Annabelle Lane at Tgirls.porn
I'm Live Cam Profile : iAmAnnabelleLA