Shiri Allwood
Shiri Allwood Twitter : @ShiriAllwood   Chaturbate : shiritrap
GroobyVR : Shiri's VR Scenes   TransSensual : Shiri's Sex Scenes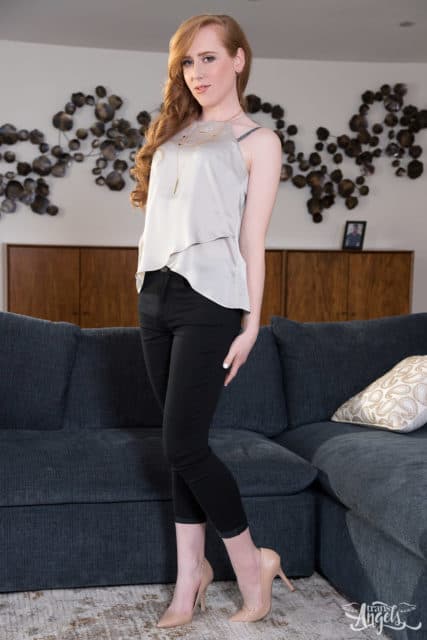 Shiri in Ex Sex Revenge – Trans Angels
Shiri Allwood – Personal Info
Name : Shiri Allwood
Date of Birth : December 22nd
Star Sign : Capricorn
Measurements : 34B – 26 – 36
Height : 5'8 (1.73m)
Hair Colour : Red
Eye Colour : Blue
Years Active : 2016 – present
Number of Scenes : 30+
Shiri Allwood is a ravishing redhead who has been working in the adult film industry since 2016. A fan-favorite porn star, cam girl and glamour model, Shiri Allwood's sizzling scenes in several Grooby, Transfixed, TransSensual and Devil's Film productions have earned her an avid global fan base as well as the coveted "Grooby Girl of the Year" accolade at the 2018 Transgender Erotica Awards.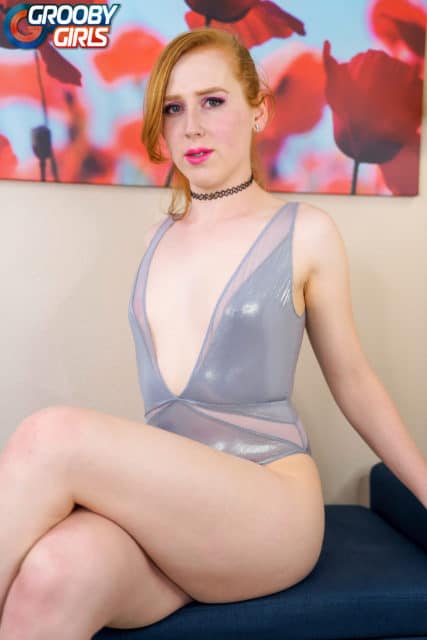 Shiri Allwood in Shiri Blows A Huge Load! – Grooby Girls
Shiri Allwood: Adult Film Career
Originally from Portland, Maine, but currently based in Las Vegas, Nevada, Shiri Allwood first started working in the adult entertainment industry as a webcam model and she continues to host lusty live cam shows via Chaturbate (under the screen name 'shiritrap'). Talking about these early years via her Grooby profile, Shiri Allwood has divulged that;
"I'm a farm-raised ginger tgirl, college graduate, and gamer. I love being in front of a camera, especially naked and horny. I began my transition in 2014 after having considered myself a crossdresser for a few years. In 2016 after graduating I starred in my first adult film and can't get enough of the fun. On the side I love interacting with my fans, streaming video games, and playing my violin".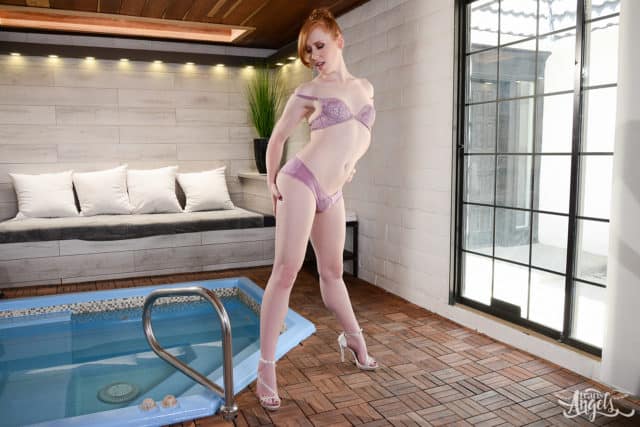 Shiri Allwood in Neighbor Gets A Mouthful – Trans Angels
Having already attracted an avid fan following via Chaturbate, Shiri Allwood decided to make her porn debut in early 2016. Some of Shiri Allwood's earliest porn productions include her thrilling Angelic Shiri & Devilish Natalie Get Fucked Together three-way with Natalie Mars and Christian XXX that was released via Pure-TS.com in May 2016 and her steamy A Biology Lesson scene with Beth Bell which was uploaded via TwoTgirls.com in June 2016. The saucy school-girl role-play was even featured in the TwoTgirls compilation title TGirl Schoolgirls #1 (2017) that was nominated for "Best DVD" at the 2018 Transgender Erotica Awards.
A landmark moment in Shiri Allwood's adult film career occurred in the summer of 2016 when she made her Grooby Network debut. Shiri starred in some seductive Beautiful Redhead Shiri! and Stunning Strawberry Redhead Shiri's Dildo Play! solo scenes which were filmed by Jamie French for Grooby Girls in July and August 2016. You'll be happy to hear that Shiri Allwood has continued to collaborate with Jamie French on several saucy sex scenes. In fact, Shiri Allwood was featured in Jamie's critically acclaimed Grooby Spotlight/Deadgirl Productions sequel release Trans6uals #2 (2017). Also starring Natalie Mars, Korra Del Rio, Sarah Webb, Kira Crash and Jamie French, Trans6uals #2 was an instant hit that received high praise from Grooby CEO Steven Grooby. As Steven enthusiastically stated in a January 2017 Grooby News press release;
"It's not hyperbole to say that the first Trans6uals was ground-breaking in its concept and although the sequel follows the same format, it's no less exciting…I believe this has been the most anticipated release of the last 12 months, with many fans contacting us via social network or directly since the cast was released in mid-2016. This DVD has brought together some of the cutest, hottest, and most sought after trans performers and all shot beautifully, tastefully and very erotically. Fans of transgirls with trans girls will love this DVD and the unique style and humour which Jamie French delivers to us in Trans6uals II, demonstrating her as one of the only auteurs in TS filmmaking today".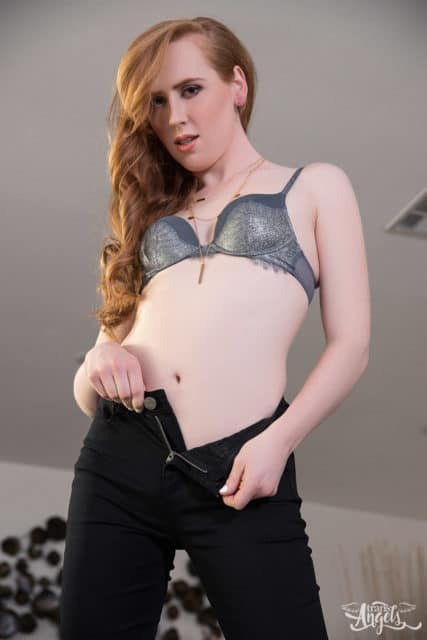 Shiri Allwood in Ex Sex Revenge – Trans Angels
Over the years Shiri Allwood has continued to collaborate on a wealth of sensational solo scenes and hot hardcore shoots for the Grooby Network porn sites Grooby Girls and T.porn. We recommend checking out Shiri Allwood's raunchy Shiri Gets Fucked! scene with Kai in April 2017, her sultry Love Sense shoot in April 2018, her sensational Shiri Is Back! solo scene in May 2018, her raunchy The Gingers Fuck! hardcore romp with Rob in August 2018 and her steamy Showering With Chloe scene with Chloe Wilcox in September 2018. Starring in so many sensational scenes resulted in Shiri winning the coveted "Grooby Girl of the Year" accolade at the 2018 Transgender Erotica Awards.
Just when you thought it couldn't get any better, Shiri Allwood has started to treat her fans to some incredibly immersive virtual reality sex scenes which have been released via Grooby VR. Always wanted to share a scene with Shiri Allwood? Well then you'll love immersing yourself within Shiri's intensely alluring So Horny and Shiri Rides Again scenes. You also have to check out Shiri Allwood's incredible Virtual Threesome VR role-play with Natalie Mars. It's like you're in the room with them!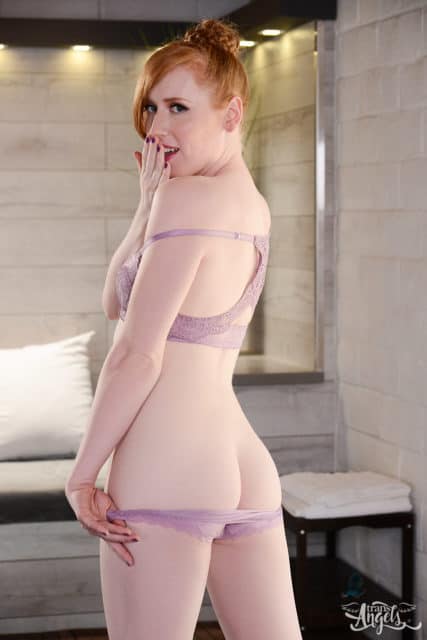 Shiri Allwood in Neighbor Gets A Mouthful – Trans Angels
Shiri Allwood: Popular Porn Productions & Award Nominations
Over the years Shiri Allwood has starred in an impressive collection of best-selling movies. Our top picks? They'd have to be Shiri Allwood's scintillating scenes with Ella Nova and Rain in the Gender X porn productions Transsexual Mashup (2017) and Interracial Transsexuals (2017), her sizzling scene with Kai Bailey in the Devil's Film sequel release Tranny Hoes In Panty Hose #4 (2017) and her sultry scenes with Jonah Marx and D. Arclyte in Dana Vespoli's TransSensual Studios films TS Girls Love Them Big (2017) and TS Taboo: Our Friends & Neighbors (2018) featuring sexy TS pornstars Casey Kisses and Natalie Mars.
Fans of Shiri Allwood will also love viewing her stellar performance in Michelle Austin's Kenniston Productions film Transcest: An Unreal Family Tale (2017) which was nominated for "Best Transsexual Movie" at the 2018 AVN Awards and "Trans Release of the Year" at the 2018 XBIZ Awards. What's more, Shiri Allwood personally received a "Best Transsexual Sex Scene" nomination at the 2018 AVN Awards due to her compelling scene with Eddie Wood. Shiri Allwood also received an ardent endorsement from XCritic column writer Apache Warrior who stated in his June 2017 film review that;
"Michelle Austin, Shiri Trap, and Eddie Wood make a very intriguing and fun trans family. Michele is a very demanding and sexy stepmom who has a tender lovemaking side to her. Shiri is very cute and Eddie wants to pleasure his female family members in his horny and determined manner. The sex provides good turn-on value and hotness and good chemistry. A sequel should be made so we can see this family get it on much more. I recommend it".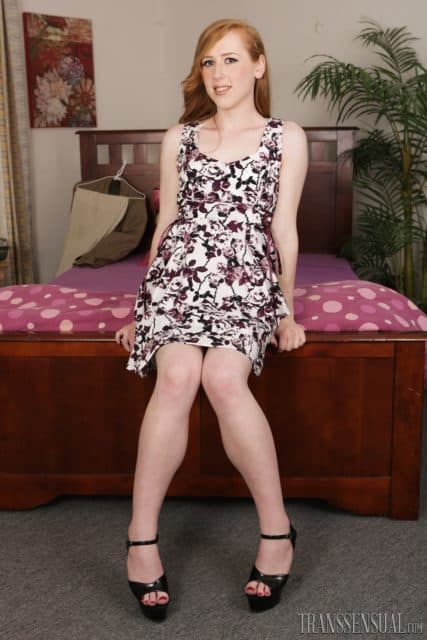 Shiri Allwood in TS Girls Love Them Big – TransSensual Studios
Without a doubt, one of Shiri Allwood's most popular porn productions has to be Real Fucking Girls #2 (2017) for Grooby Platinum. Shiri Allwood posed as the box cover model for this highly anticipated sequel release alongside her co-star Dee Williams. Directed by Mona Wales and starring Honey Foxx, Mia Li, Chelsea Marie, Jelena Vermilion, Natalie Chen and Riley Nixon, Real Fucking Girls #2 was a critical and commercial success which won "Best DVD" at the 2018 Transgender Erotica Awards.
What sets Real Fucking Girls #2 apart from other movies is the fact that all of its scenes have been based on the real-life experiences of the film's TS performers. Talking about Real Fucking Girls #2 in an October 2017 Grooby News press release, director Mona Wales highlighted how;
"We are so thrilled to share 'Real Fucking Girls 2' with the world…This release is just as special as the first, with an all-star cast and a world-class crew. After the success of our first project, we wanted to bring the public an even deeper exploration of female sexuality. With all of our projects, the quality of the sex comes first and these scenes are so hot that they will melt your computer screen. We really cover the gamut with everything from Shiri having sex with a cis girl for the first time to experienced BDSM players Honey FoXXX and Mia Li demonstrating how incredibly sexy consent can be…What makes this movie unique is the same thing that made the first: our performers sharing their own stories and fucking the way they want to. From Penthouse Pets to military vets, we have it all".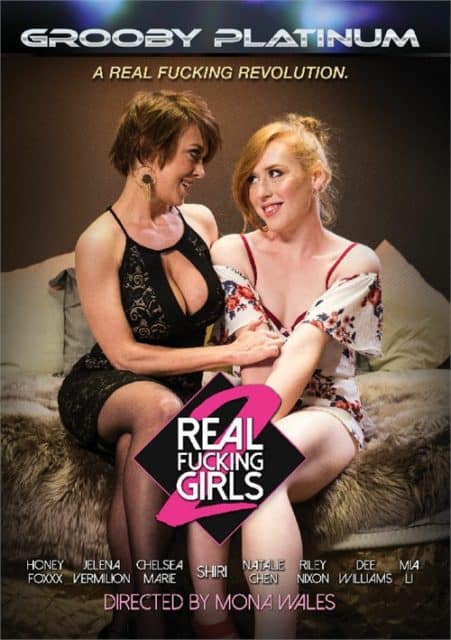 Dee Williams and Shiri Allwood in Real Fucking Girls #2 – Grooby Platinum
Want to know the most impressive part? Starring in so many best-selling movies has earned Shiri Allwood many coveted industry accolades and notable nominations including;
2017: Transgender Erotica Awards nominee "Best Solo Model"
2018: Transgender Erotica Awards winner "Grooby Girl of the Year"
2018: AVN Awards nominee "Best Transsexual Sex Scene" Transcest: An Unreal Family Tale (with Eddie Wood)
2018: AVN Awards nominee "Transsexual Performer of the Year"
2018: Transgender Erotica Awards nominee "Best Solo Model"
2018: Transgender Erotica Awards nominee "Best Hardcore Model"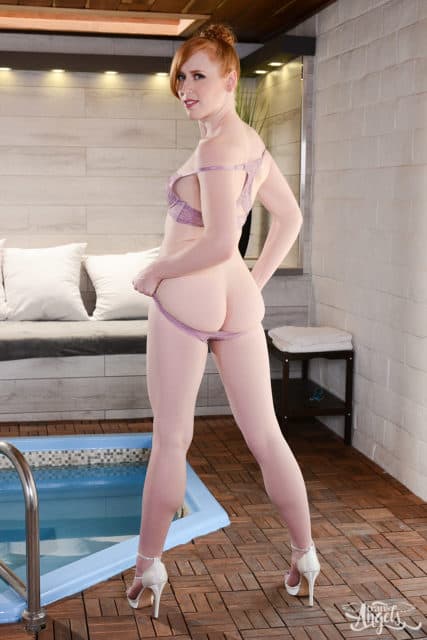 Shiri Allwood in Neighbor Gets A Mouthful – Trans Angels
Shiri Allwood : Recent Releases & Upcoming Projects
Never one to rest on her laurels, Shiri Allwood has continued to star in many fan-favorite movies including the Trans Angels productions Housewives (2018) and Angels Gone Bad (2018), the CX WOW DVDs Tranny Blowies #3 (2018) and Popular TGirlz #4 (2018), as well as the Grooby compilation titles TGirl Teasers #9 (2018) and TGirls Porn #12 (2018). Shiri Allwood has even indulged her captivating kinkster side by shooting a titillating Booty Calls Ep 1: Shiri Allwood Fucks Nikki Darling's Whore Holes! BDSM shoot with Nikki Darling and a captivating Shiri Allwood Leads Trusting Alana Cruise Into The Haunted Fuck House! femdom role-play with Alana Cruise which were both released via Kink.com in August and October 2018. Not to be missed!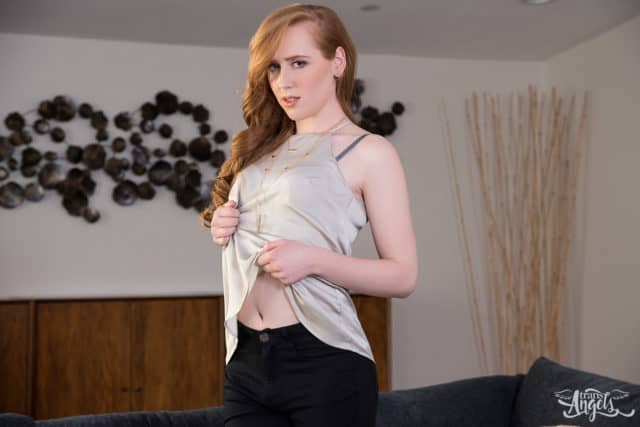 Shiri Allwood in Ex Sex Revenge – Trans Angels
A multi-talented glamour model, Shiri Allwood posed as the cover model for Transformation Magazine (Issue #105) in August 2018 and she is one of a select few performers to be showcased in the annual Grooby Girls calendar. Shiri Allwood shines in this charity calendar alongside fellow rising TS pornstars Casey Kisses, Aubrey Kate, Aspen Brooks, Megan Snow, Kendall Penny, Korra Del Rio, Kayleigh Coxx, Khloe Kay, Valentina Mia, Lena Kelly, White Chinaa and Alisia Rae. Some of the proceeds from this 2019 Grooby Girls Calendar will be given directly to the Trans Adult Industry Foundation (TAIF) which donates money to emergency support services that benefit trans performers. As Grooby CEO Steven Grooby explained in an October 2018 AVN press release;
"It's always an exciting time when we get to announce the models we've chosen for the 2019 calendar, especially given the amount of time given to choosing and debating not only the models for the calendar but the exact photo which shows her qualities to the best…The idea for the calendar has always been to titillate without being explicit; to choose beautiful shots from a wide range of the beautiful trans women we've worked with over the year; to have a work of art, that you can hang anywhere".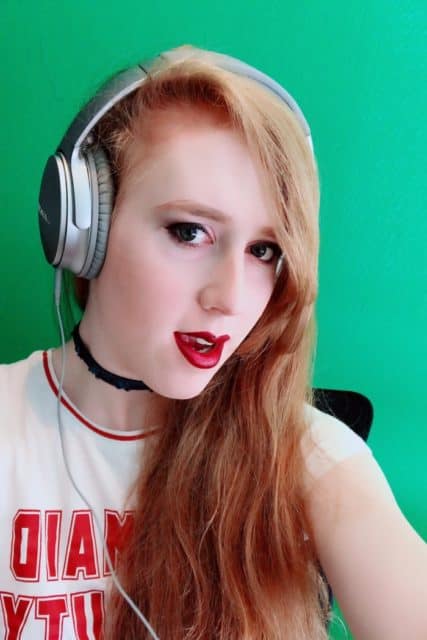 Shiri Allwood – T.porn
When she isn't performing in porn, Shiri Allwood enjoys streaming video games, playing her violin and interacting with her fans online. As Shiri Allwood states via her official Chaturbate profile;
"I like to think of myself as being kind and caring. I really hate conflict and seeing people getting along makes me happier than anything. I'm emotionally pretty aware, and what's hard for me is sensing when someone is upset but not willing to talk about it. I'm much more talkative through text based chats, and I tend to be shyer in real life. When I warm up to someone I become quite outgoing however".
Keen to catch up on all of Shiri Allwood's hottest sex scenes and custom web clips? Then use the links provided below to stay connected with your favorite ravishing redhead Shiri Allwood!
Shiri Allwood – Social Networks
Twitter : @ShiriAllwood
Instagram : @shiriallwood
Chaturbate : shiritrap
Grooby VR : Shiri's VR Scenes
Devil's Film : Shiri at Devil's Film
Grooby Girls : Shiri at Grooby Girls
Kink : Shiri's BDSM, Femdom & Fetish Scenes
T.porn : Shiri at T.porn
TransSensual : Shiri at TransSensual Studios
Trans Angels : Shiri at Trans Angels
TwoTgirls : Shiri at Two Tgirls
ManyVids : ShiriAllwood
Official Website : Shiri.xxx
Adult Empire : Shiri's DVDs
Babeapedia : Shiri at Babeapedia