Athena Addams – Personal Info
Name : Athena Addams
Alias : Athena Adams
Date of Birth: December 12th
Star Sign : Sagittarius
Hometown : Thibodaux, Louisiana (US)
Height : 5'7 (1.70m)
Hair Colour : Blonde/ Brunette/ Pink
Eye Colour : Blue
Tattoos : Athena has numerous multi-coloured tattoos of skulls, hearts, various script, symbols and floral tableaus across her arms, chest, thighs, calves, hands and across her back. During her January 2016 Porn OCD interview Athena explained how she acquired her first ever tattoo;
"That's a day I'll never forget. It was my 18th birthday and I had the flu. I was so sick. I was living in New Orleans at the time and wanted to do something for myself to celebrate turning 18. I had been living on my own for so many years without the certain privileges that come once you turn 18. So I walked to a little tattoo shop and got a tramp stamp. I remember being terrified about coughing or something while the guy was working on me. I didn't want to make him mess up. I'm in the process of covering it up now with my entire back piece I started this year".
Piercings : Both nipples
Years Active : 2004 – 2008 , 2015 – present
Number of Scenes : 20+
Terrifically tattooed TS performer Athena Addams is a fan-favorite adult film star and webcam model. Born and raised in Thibodaux, Louisiana, Athena has also lived in Detroit, Michigan, and New Orleans, and she currently resides in California. Athena has mixed Native American and German heritage and knows American Sign Language.
Unafraid to take risks, and eager to be true to herself, Athena Addams has acquired an alluring mix of artistic body art during her travels. Athena discussed her ever-changing style within her January 2016 Porn OCD interview, highlighting how;
"My always changing style is something built of necessity – a pure desire to be true to the person I am and have fun and take a few risks with the only body I have and finite time that I have it. I've collected my tattoos from almost all different artists while travelling. I've never been a fan of being told what to wear. I don't feel anyone is in a position to tell someone else how to dress or adorn their bodies. I wear what I own till it falls apart and I found my favourite dress in a goat barn while camping a few years ago".
Athena Addams explained during this Porn OCD interview that she has always been interested in pornography. In fact, Athena first considered pursuing an adult film career when she was 17 years old after she was contacted by a Grooby Productions representative via MySpace;
"I imagine like with many people, pornography entered my life at a very young age, like finding yourself watching the fuzzy channel on the TV hoping to see something dirty. lol It wasn't until I was 17 I believe, that someone from Grooby Productions and Shemale Yum reached out to me on MySpace. I told them I wasn't 18 yet and would have to talk to my boyfriend, but of course I was interested. So my then boyfriend and I had the talk; the one that is important and private and makes sure nothing is done that would hurt the one you love. Getting into porn was exciting, but I remember back then cherishing the love we had...My mom has always been extremely accepting and then I have my step brother who is amazing. Both of them are a big part of my life. So I'll focus on the positive that's there".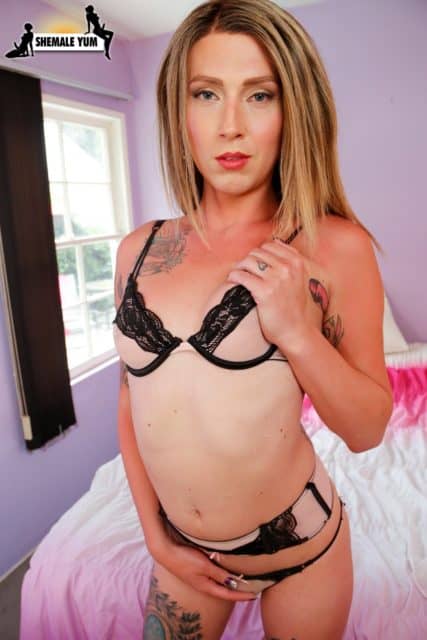 Athena Addams at Grooby Girls
Athena Addams – Adult Film Career (2004 – 2008) & Hiatus (2008 – 2015)
When she was 18 years old Athena Addams made her adult film modelling debut via the Grooby porn site Grooby Girls. Athena's first ever adult film modelling shoot, Seductive Athena Addams, was filmed by Crag Rockheart and it was distributed via Grooby Girls at the beginning of October 2004. This stunning photo set earned Athena the coveted title of Grooby Girls' "Model of the Month" and paved the way for her to film a broad spectrum of saucy web content for Grooby Girls and the Grooby Network. Between October 2004 and April 2009 Athena filmed 14 exclusive video clips for Grooby Girls. Among this impressive array of raunchy web content included some sultry solo modelling sessions, such as Athena Addams Shows Off in February 2007 and Athena Addams Big Party in August 2007, as well as multiple hardcore sex scenes that were filmed by Crag Rockheart including Athena Addams Gets Fucked in December 2008 and Athena Addams And Alyssa Fuck in April 2009.
In 2009 Athena Addams decided to retire from performing in porn productions due to the fact that she needed more time to focus on her personal transition process. After all, as Athena explained during her Porn OCD interview, she had commenced her hormone replacement therapy whilst she was working within the adult film industry so she had never had a chance to transition outside of the spotlight. As Athena puts it in her own words;
"I had been living as a woman already before I turned 18, but I didn't even know hormones were a thing until right around 18. So the same time I started porn, I also started the medical part of my transition. By 2008, I just felt like I hadn't given myself the chance to transition outside of the spotlight and truly take time to figure out the kind of woman I was meant to be – not just the kind of model I was meant to be…
I'm not an authority on the industry as a whole. I can only speak to my experience. When I started, I did a lot of solos. I really enjoyed them. My last two before I took the long break were hardcores – my first two hardcores ever actually. I remember at the time thinking all the shoots looked the same to me. But maybe I just wasn't paying as much attention as I felt like I was. I felt like so many where in hotel rooms. In reality I'm sure that there were many types of shoots I was just completely unaware of. The Transgender Erotica Awards didn't come into existence until the year after I quit and I didn't pay too much attention to the players in the trans porn business while I was on break. I focused more on who I was. Having started porn so early, I didn't really give myself a chance to transition outside of the public eye, and I felt I owed that to myself".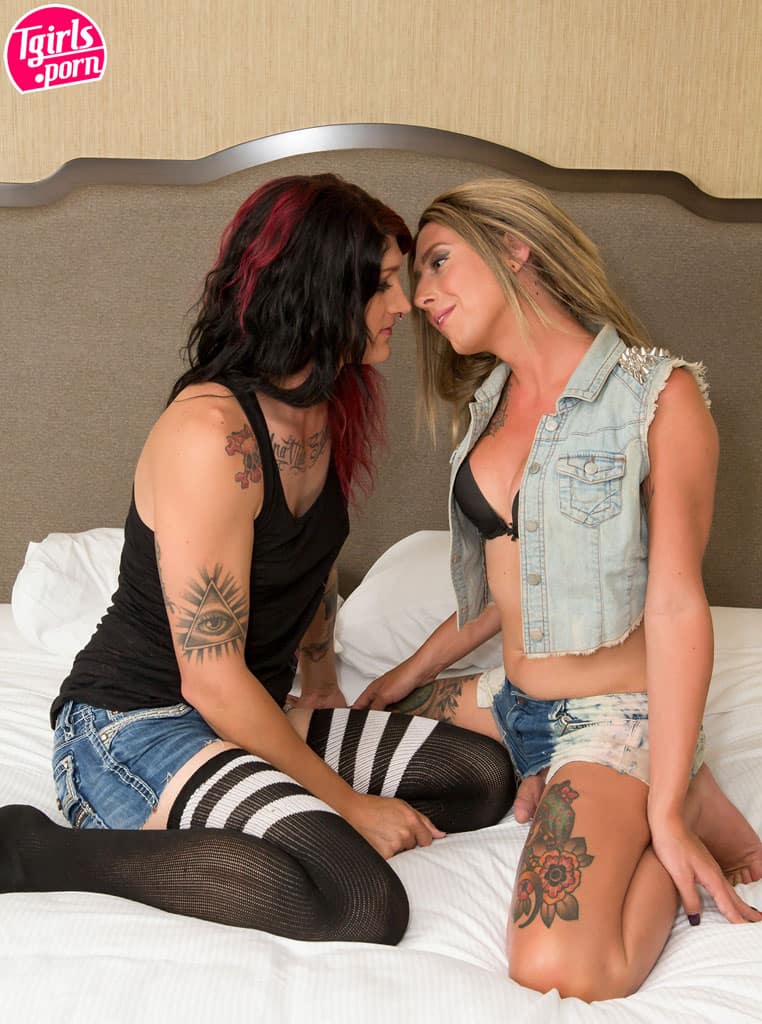 Athena Addams and Kaylee Kuddlez at Tgirls Porn
Athena Addams – Comeback Career (2015 – present)
Much to the joy of her devoted fan following, Athena Addams made her triumphant return to the adult film industry in February 2015. Athena conveyed within her Porn OCD interview that she decided to resume her porn star career following a chance meeting with fellow trans performer Mandy Mitchell;
"It was about two or three years ago when I bumped into Mandy Mitchell outside of my house in San Diego, CA. A friend brought her over and we started talking about growing gardens, feeding the homeless, train hopping and tranny porn. We hit it off immediately. I was so excited to hear about all the things she was doing on her site – things I hadn't remembered seeing being done before I quit. That's when I started reaching out to Grooby and considering getting back into the business".
Motivated by her discussion with Mandy Mitchell, in February 2015 Athena decided to launch her official website, TSAthenaAddams.com. Athena quickly began to film all manner of thrilling hardcore sex scenes and solo scenes for her official website and utilised this new and exciting online platform to reassure her fans that;
"It's me Athena Addams, The same girl you've seen on big porn sites since 2004. I'm excited to be bringing you my own site with more and more amazing content to come…I'm in my twenties, I live in sunny California, and love sex, tattoos, sushi, the beach, and of course porn. I enjoy performing in it, arranging it, producing, directing, editing, and in the end hearing the feedback from all those who watch it… Come on in, Sign up, and stay connected with me and all my adventures. xoxo".
Some of Athena Addams's most captivating solo website clips include; her March 2015 solo sex shoot titled Stroke and Cum In My Pink Dress, her Forest Hump parody sex scenes with LT Dan that were first unveiled in April 2015, her Met A Blow And Blew Him sex scenes with Hung Hi and her Panty Boy Gets Plowed sex scenes with Gunner Tail that were both filmed in April 2015. During this time Athena also shot some sizzling hardcore sex scenes with Brock Avery that were uploaded via tsathenaaddams.com in May 2015 alongside her POV Handjob sex scenes with Christian XXX. Athena and Christian even shot an exclusive behind-the-scenes interview segment to accompany this raunchy collaboration.
Athena Addams and Christian's hardcore sex scenes were such a hit among fans that the pair proceeded to shoot several raunchy video clips for Christian XXX's trans-friendly porn site, Pure-TS.com, in June 2015 and July 2015. During this time Athena filmed a fantastic Lips Full Of Services three-way sex scene with her fellow sexy TS pornstars Trixxy Von Tease and Eva Cassini that was distributed via Trixxy's official website, TrixxyVonTease.com as well as a compelling Hot TGirl Action transbian sex scene with Kaylee Kuddlez that was distributed via the Grooby Network porn site Tgirls.porn. What's more, Athena has since begun to perform regular webcam modelling sessions for her devoted fan base via the adult cam-site Chaturbate. Performing under the name Tstessa85, Athena frequently hosts some lusty public and private live chat sessions which enable her to interact with her loyal fans on a personal level.
In April 2015 Athena Addams unveiled a raunchy hardcore sex scene for Grooby Girls with BNefarious titled Athena Addams Get Banged. Filmed by Buddy Wood, this comeback caper served as Athena's first Grooby Girls shoot in six years and it showcased her new and exciting electric pink locks. This sizzling Grooby Girls shoot resulted in Athena filming a variety of hardcore sex scenes and solo sex shoots for Grooby Girls throughout 2015 and 2016 including the phenomenal poolside solo sex shoot Bikini Babe Athena Addams in July 2015, a raunchy September 2015 solo sex scene titled Athena Addams Masturbates And Cums!, her hot Heritage Model #23 – Athena Addams photo set in June 2016 and her fantastic fishnet stocking themed shoot Heritage Model #23 – Athena Addams Jacks Off! that was uploaded via Grooby Girls in August 2016.
Following her Grooby Girls shoot in April 2015, Athena Addams made her return to porn official when she appeared in a captivating hardcore sex scene with Robert Christian that was distributed via the Grooby Network porn site TGirls XXX in May 2015. Titled Athena Addams and Robert Axel Fuck Like Rabbits!, this raunchy hardcore sex scene was filmed by award winning cinematographer Blackula and it led to Athena shooting some spectacular hardcore sex scenes for many popular trans-friendly porn sites throughout 2015 such as Bob's TGirls, Tgirls Porn, TrixxyVonTease.com and Pure-TS.com. Athena has often praised her fellow co-stars for making her return to the adult film industry so successful. As Athena ardently expressed within her Porn OCD interview;
"As I'm sure many people know, I just came back to the industry in February of 2015. It was really excited to get to work with some big names and true professionals. I love sex, but didn't really know what to expect with new photographers as I had only ever worked with one in the past on all my ShemaleYum shoots and he no longer worked for the company. I was a bit awkward for sure, but extremely fortunate to be working with such talented and wonderful people that week such as, Robert Axel, Blackula, B Nefarious, Buddy Wood, and Christian XXX. They definitely made the transition back possible, and I can't imagine trying to come back without them. I remember being very aware of the camera and concerned about my angles and wondering how things would look and what each photographer I had never worked with wanted as far as angles and stuff went. I was super aware of their lighting and where they were standing. Hardcores were kinda new to me all over again. They really went above and beyond to make me as comfortable as I could be. Every scene I do, I become less and less aware of the camera, especially when working with people I've already worked with. It's exciting to see scenes get better and better".
In addition to her high quality photo sets and epic online sex scenes, Athena Addams began to feature within multiple best-selling TS DVDs for the first time in her career. Fans of Athena Addams have to check out her sizzling scenes in  Amateur Transsexuals 3 (2015) that was filmed for CX WOW Studios with Trixxy Von Tease, Leanna Monroe, Lina Cavalli and Christian XXX, Tranny Handies (2015) that was also filmed for CX WOW Studios with popular TS pornstars Delia DeLions, Aubrey Kate, Kelli Lox, Miran, Kara Lynn, Oriana Frost, Peach, Tasha Jones, Tyra Scott, Demii D. Best. You'll also love watching Athena's saucy scenes in Blackula's Tattooed TGirls (2016) for Grooby Productions featuring sexy TS pornstars Morgan Bailey, River Stark, Isabella Sorrenti and Baby Bratt, and her most recent Grooby Productions DVD title TGirls Porn: Volume 1 (2016) that featured Athena alongside her fellow fan-favorite transsexual stars Kaylee Kuddlez, Chelsea Marie, Sasha Skyes, Sabina Sinn, Lexi Cooper, Emy Amethyst, Treasure Barbie and Cherry Mavrik.
Athena Addams : Transgender Advocacy Work & Future Plans
Currently living in California, when she isn't working on her latest porn productions Athena Addams enjoys writing, hiking and getting involved in local community projects. As Athena previously conveyed within her Porn OCD interview;
"I write a lot, hike and spend a lot of time alone with nature and my thoughts. I sometimes go bowling by myself or shoot some pool. When I'm in a big city, I like to get involved with this certain group of amazing people who are known for dumpster diving for produce and coming together to clean and prepare vegan meals for the homeless".
Athena Addams is an ardent transgender rights advocate who can often be seen showing support for her fellow performers' various campaigns and personal projects. For instance, Athena attended the first ever RuPaul's Drag Con which was held at the Los Angeles Convention Centre in May 2015. Athena regards it as her duty to 'pass on the torch' and to campaign for the greater acceptance of transgender men and women within the adult entertainment industry and across society as a whole. Athena ardently advocated during her August 2015 blog post titled The Trans Torch that;
"We are all born, we have no say in the matter really, we can't chose the families we are born into or the bodies we are born into. We also don't choose whether or not those bodies match who we truly are…I can't ask you to understand us, that would be like asking you to understand all men, or all women. it's just not possible really. We are each one person, we are each having labels slapped on us by society, (I.E. but not limited to)… this person is cis male, cis female, transgender, transsexual, transvestite, gender queer… this list has grown so large that I can't possibly sit here and claim to be able to list every title that is being used today. I'm also not sure I know many people personally who could say that they could. I feel we all want to be recognized, respected, and protected…
I think a lot of those monumental movements and occurred before the time of my generation. (I'm 29) but they have paved the way for future minorities to stand up and either politely request or demand their own rights. , most recently Gays have been granted the freedom to marry by the supreme court. we knows it's huge and it's a great victory that has only occurred due to the torch that's been passed on by so many trail blazers before us.. every time someone passes the torch in the Olympics it's a moment of victory, accomplishment, honour, and praise, but we all know in that moment it's still " the passing of the torch", it's the moment where the crowd roars for victory on one, and cheers for the success of the next…the torch has come a long way…where do we take it… It's in our hands now".
Athena Addams's comeback career has been a glowing success; in fact she was nominated for "Best Hardcore Performer", "Best Scene" and "Ms. Unique" at the 2016 Transgender Erotica Awards. In addition to this impressive industry recognition, Athena has received high praise from prominent bloggers such as Krissy Kyung, the owner of the popular adult film website krissy4u.com. In fact, when she was asked the name the people who have inspired her during her career within her June 2016 Grooby News interview with Becca Benz, Krissy highlighted Athena's cool, collected manner, her marketing prowess, and heralded her as one of the future stars of the porn industry;
"Recently, I've been inspired by the many, MANY young, smart, fiercely independent girls out there making their own way in the world either within the porn industry or since leaving it – Athena Addams (cool, collected, and an intelligent marketer), Krista Michaels (seriously talented artist and independent thinker), River Stark (fearless for what she believes and willing to say it), Kelly Klaymour (nose to the grindstone, make a business type of girl), Mona Wales (a leader in cross-over work – and totally hot) – all doing awesome things – for themselves, the industry, and the community. I like to do a lot of "off in the distance" watching and observing of girls… does that sound creepy? From what I've seen, I think the future of the porn industry is in very good hands".
Athena Addams is extremely grateful to her fellow adult film industry professionals and to her international fan following for their ongoing support. Athena often enthuses via her official website how;
"I do what I do because I love getting naked and exploring new things and people.. but it's my fans that constantly give me new ideas, push me , & encourage me. Stay connected with all my adult adventures". 
Moreover, Athena Addams loves interacting with her global fan base and has emphasised the wonders of social media within her Porn OCD interview;
"Well, in this industry, I try to just do what I like and put it out into the world. So it's always nice when people enjoy looking at what I enjoy creating. Social media is a great tool to hear directly from those who like my work and to hear any ideas they may have. My Twitter is @AthenaAddams by the way. I try to be pretty interactive with everyone. There have even been a few times where I've been fortunate to meet amazing people only to later find out that they have followed every shoot I've ever done. It's nice when that happens and they see me outside of work mode".
Spurred on by her ever-expanding international fan following, Athena Addams continues to thrill her fans with all manner of soft-core, hardcore, solo, group, gonzo and fetish content. When she has been asked about her future career plans during her Porn OCD interview, Athena has revealed that she would love to shoot some more saucy sex scenes with Trixxy Von Tease and Eva Cassini, and she also declared her hopes of filming with Giovanni Francesco and Michelle Austin among many others in the near future;
"I feel fortunate every day to get to know and interact with more and more performers, it's almost surreal talking to people who shamelessly own their bodies and desires. Knowing that with all these amazing people working today, there's almost nothing on my sexual bucket list that can't come true. Now that's a beautiful feeling…I also want to work more with Trixxy Von Tease, and Eva Cassini. I first met B Nefarious the night before a shoot with Buddy Wood and we hit it off so well that we both asked Buddy if we could do the scene together the next day…
After the scene, I asked him who I would have been working with and he told me Giovanni Francesco. Having just got back in the business, I wasn't familiar with the name. A few weeks later I was out and saw this stunning man and someone told me that that was Giovanni. I have no regrets. I loved the scene I had shot with Buddy and B, but after meeting Giovanni, I can say I totally wanna work with him. It would be awesome if Grooby would do something along the lines of the rad super hero stuff he does. I haven't worked with Michelle Austin of TsMichelle.XXX yet or Parker Reed, Dicky Johnson, Ryder Newman, James Darling FTM Fucker , Cyd St. Vincent, or with Viktor Belmont. I was so excited to come back at a time where trans men and women are coming together and making something beautiful. Those are just some of the guys I hope to work with. I can't forget stopping in my tracks when I first laid eyes on Ruckus on the red carpet at the 2015 TEA Awards. I stood there and just soaked in all his sexiness and later discovered how delightfully sexual he is. I hope I can work with him too. I could answer this question forever probably because the combinations my imagination can come up with are endless. There are tons of names I'm sure I didn't mention and certainly many people I'll meet and want to work with".
What's up next for Athena Addams? Only time will tell! Until then, you can use the links provided below to discover all of Athena Addams's hottest sex scenes and exclusive website content!
Athena Addams – Social Networks
Official Website : TSAthenaAddams.com
Twitter : @AthenaAddams
Instagram : @athena_addams
Chaturbate : tstessa85
Grooby Girls : Athena at Grooby Girls
TGirls XXX : Athena-Adams at TGirls XXX

Tgirls Porn : Athena Addams at Tgirls Porn