Brazilian Transsexuals : Carla Novaes  Shemales from Hell : Carla  Shemale Pornstar : Carla Novaes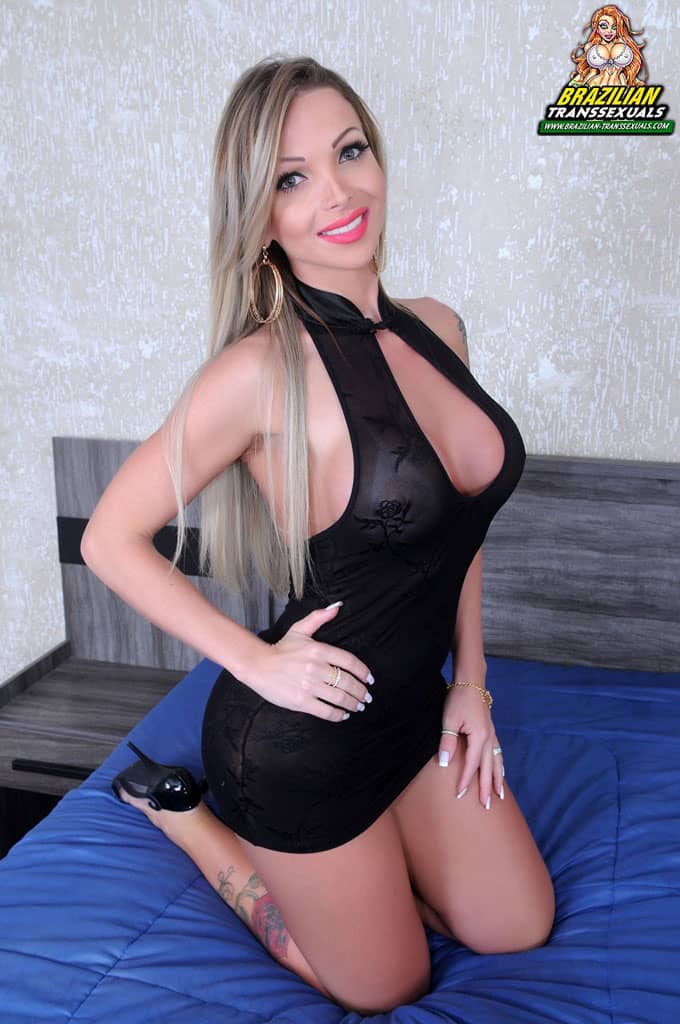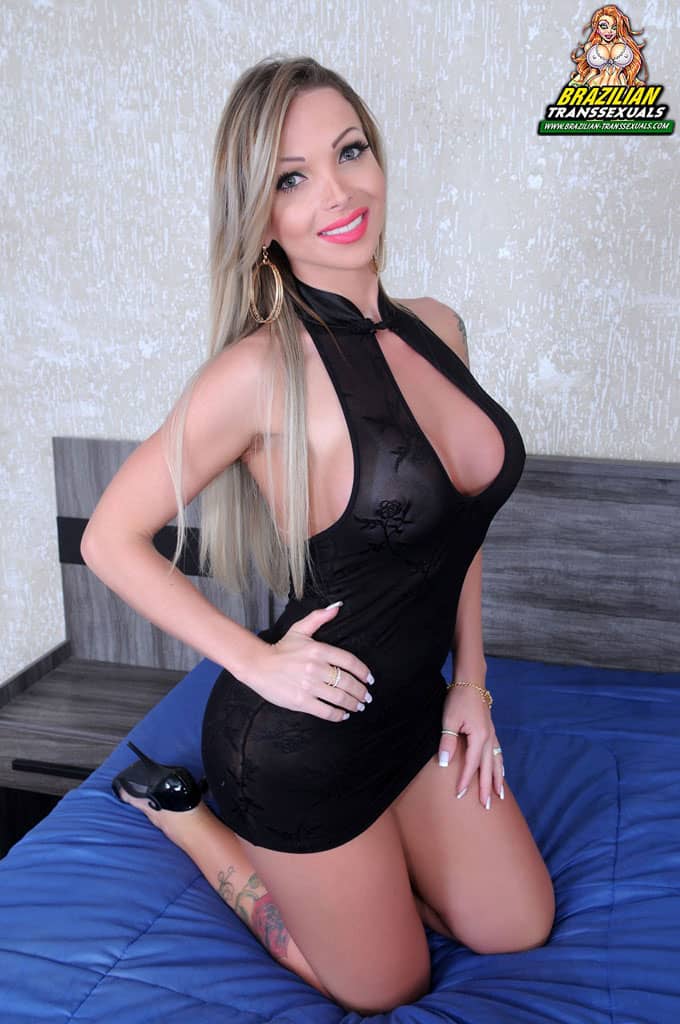 Carla Novaes at Brazilian Transsexuals
Personal Info
Name : Carla Novaes
Alias: Carla Novais, Alana, Carla Novres, Carla Noveas
Date of Birth: May 27th 1986
Home Town : Sao Paulo (Brazil)
Measurements : 34D – 26 – 36
Bra/ Cup Size : 34D (75E)
Boobs :  Enhanced
Height : 5'7 (1.70m)
Weight : 132lbs (60kg)
Hair Colour : Blonde/ Black
Eye Colour : Green/Blue
Tattoos: A butterflies column design across her upper arm and left shoulder, a fairy sitting on a leaf design surrounded by butterflies across the back of her right shoulder blade, and a large rose with vines design on her right calf
Piercings: Navel, tongue and right nostril
Years Active : 2004 – present
Number of Scenes : 200+
Introducing seductive TS starlet Carla Novaes! Born in Sao Paulo, Brazil, Carla Novaes has garnered an ardent fan following and a string of prestigious adult film award nominations over the course of her 12 year porn star career. Although little is known about Carla Novaes before she entered the adult entertainment industry, as soon as she hit the scene in 2004 this Brazilian babe quickly enamoured fans, fellow performers and adult film critics alike due to her seductive charm, versatile talents and stunning looks to match.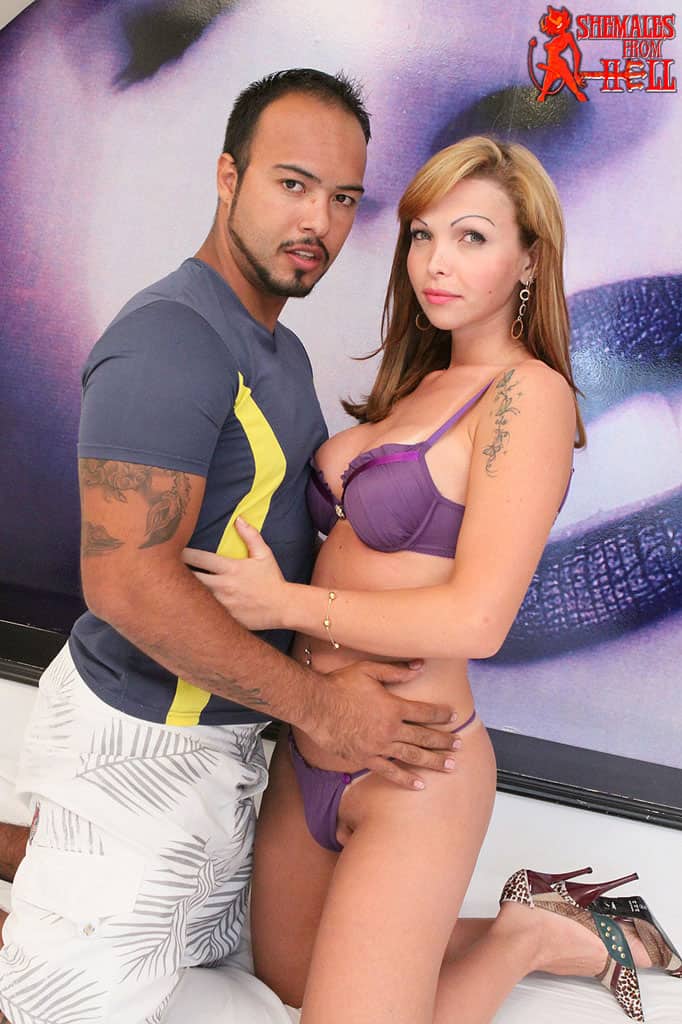 Carla Novaes at Shemales from Hell
Carla Novaes : Hottest Porn Productions
After three years working in the adult entertainment industry shooting all manner of soft-core, hardcore, solo, gonzo, POV, group and three-way scenes, in 2007 Carla made her big break by working with renowned adult film director Joey Silvera in Rogue Adventures 30: Big-Ass She-Male Adventure Continues Again. Appearing under the alias 'Carla Novais' alongside fellow transsexual performers Vaniity, Thias Schiavinato, Adyrana Suzuki, Yris Schmith and Gabriella Martins, this Evil Angel production  resulted in Carla being nominated for "Transsexual Performer of the Year" at the distinguished AVN Awards. Rogue Adventures 30 also proved to have a huge influence on Joey Silvera's directing career. As an AVN press release reported in 2016;
"When Joey started in the late '90s in Brazil, being transsexual was accepted more there than in other countries. You could find better performers there because it was more out in the open than any other society I know of. The U.S. has now caught up to a large extent".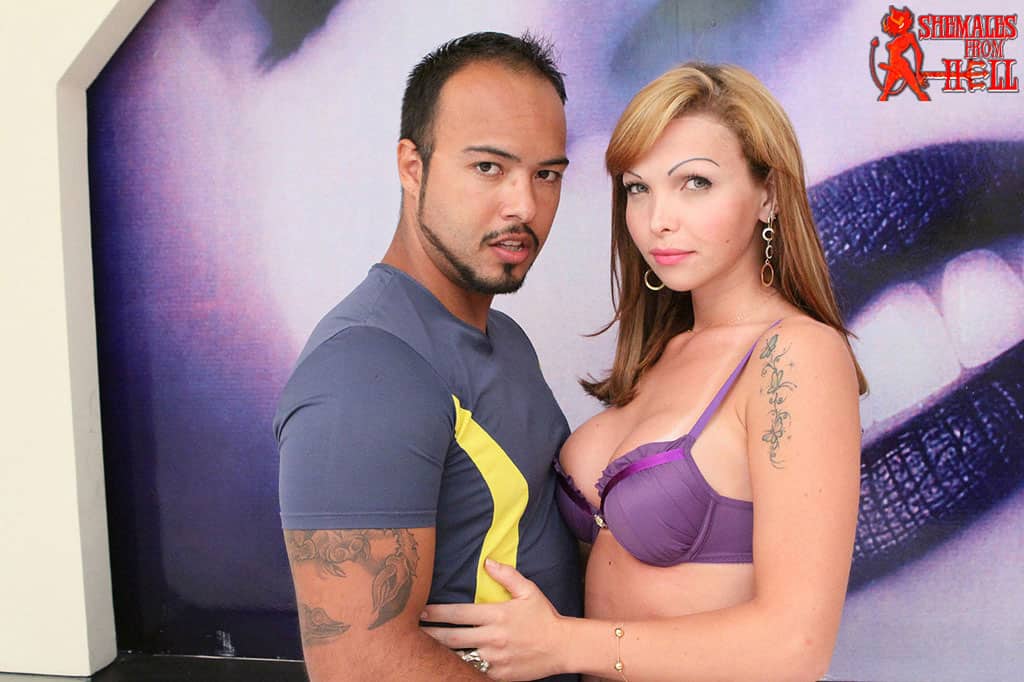 Carla Novaes at Shemales from Hell
Collaborating on this DVD feature releases enabled Carla to kick-start her career and cement her status as one of the most beautiful, talented and respected transsexual performers in Brazil, the United States and across the globe. Carla continued to collaborate with Joey Silvera and Evil Angel on numerous productions throughout her adult film career including; She Male XTC-4 (2008) and Big Ass She Male All Stars 6: Girls With She Males (2009).
Carla enjoyed another commercial success in July 2009 when she appeared in Submissive Gets Owned By Four Dommes alongside fellow Latino transsexual performers Adriana Rodriguez, Carla Renata and Adryana Suzuki as well as male porn star Vini. Distributed by Trannypack.com, this shemalepunishers.com production has become a fan-favourite amongst die-hard Carla Novaes enthusiasts.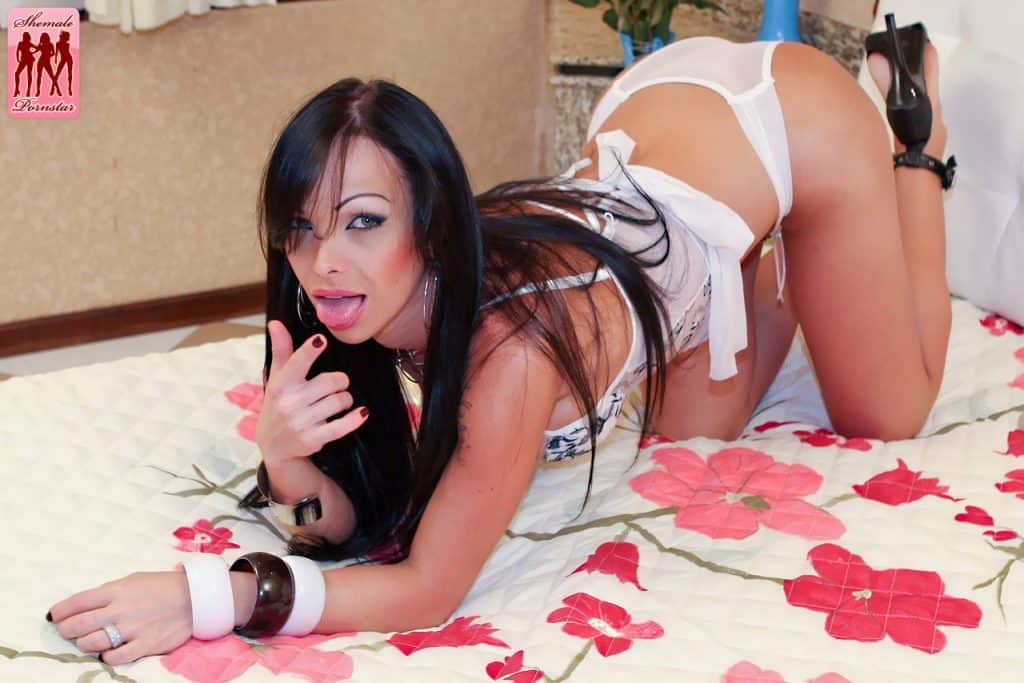 Carla Novaes at Shemale Pornstar
Carla's porn star career excelled to new heights in 2011 when she appeared in the Juicy Entertainment production This Is Definitely Not Ugly Betty: A XXX Tranny Parody. Directed by Tom Thumb and starring fellow transsexual performers Morgan Bailey, Andrea Mel and Foxxy as well as male porn star Christian XXX, this popular parody production was well received by both fans and critics. This Is Definitely Not Ugly Betty: A XXX Tranny Parody was even nominated for "Best DVD" at the 2011 Tranny Awards and "Transsexual Release of the Year" at the 2012 XBIZ Awards.
In 2011 Carla also appeared in T-Girl Rear Entry 5 alongside transsexual performers Renata Tavares, Ann and Nan. This joint Shemale Erotica and Evolution Distribution DVD collaboration was praised by Shemale Erotica's production liaison Todd Langstrom who stated during an AVN press release that;
"We've always delivered top performers giving their all in the hottest scenarios and this film is no different…With stars such as Renata Tavares and Carla Novaes, this volume of T-Girl Rear Entry serves as a fine example of Shemale Erotica once again delivering the best in tranny porn".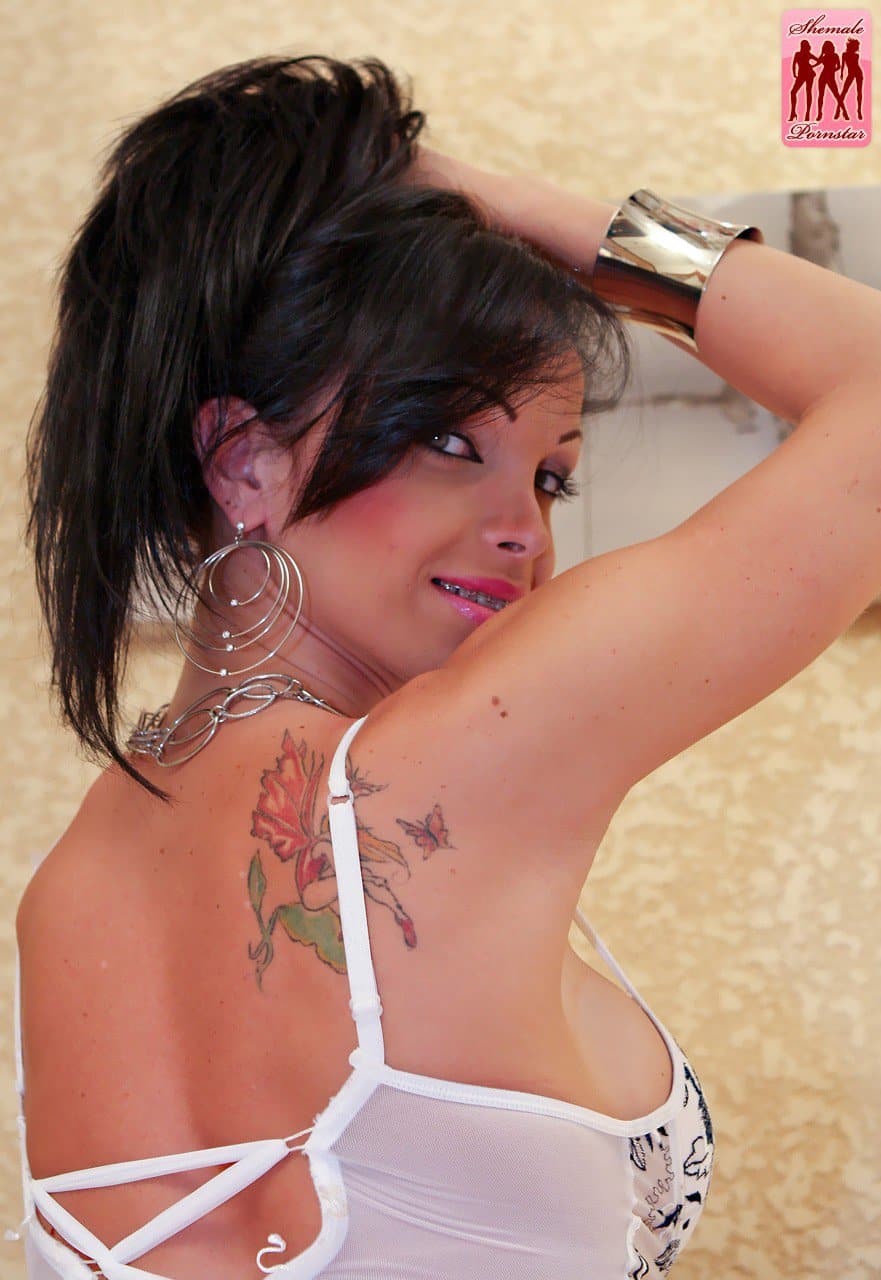 Carla Novaes at Shemale Pornstar
Merely two months later Carla collaborated with Shemale Erotica and Evolution Distribution again upon the DVD feature release TranSEXuality 6. Once again, Shemale Erotica's product liaison Todd Langstrom was eager to sing Carla's praises in an AVN press release, enthusing how;
"As a prominent figure in transsexual erotica, Carla Novaes has assembled an impressive coterie of loyal fans…All retailers need to do is Google her name and they'll see how widespread her fame has reached. This volume of TranSEXuality clearly showcases the talent which made Carla the superstar she is today. Given her appearance here and the amazing supporting performances of her co-stars, any shemale enthusiast will surely adore this title".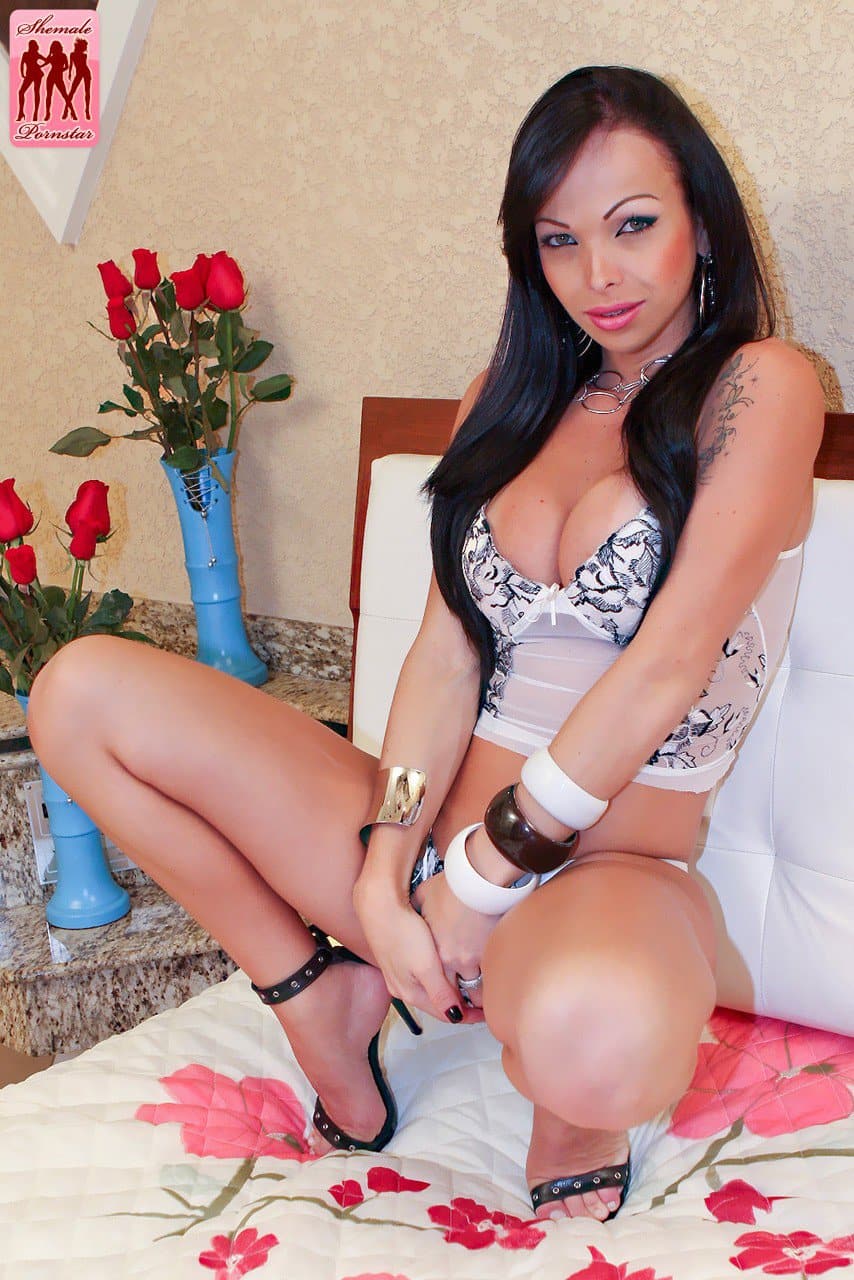 Carla Novaes at Shemale Pornstar
In April 2012 Carla celebrated the release of another commercial success; T-Girl Bottom Feeders. This hardcore feature release was distributed by Pure Play Media and enabled Carla to star alongside her friends and fellow transgendered performers Bianca, Dayane, Bruna and Karen. This pornographic production was a success for the Shemale Zone, with Mr. Ritch, the National Sales Manager for Pure Play Media, raving how;
 "Ever since the first release from The Shemale Zone, fans and retailers couldn't get enough…This budding studio has shown that it has what it takes to run with the big boys. Sales for the previous two titles have rivalled that of major transsexual production houses. We're glad to have them aboard and look forward to more great films".
The following month, the AVN Media Network reported on the release of another Shemale Zone production featuring your favourite Brazilian babe! Distributed by Pure Play Media, Carla appeared in a variety of solo masturbation shoots as well as well hardcore sex scenes with Brazilian porn stars Rafaela, Mylena, Claudia and Thania. Thrilled at the distribution of these show-stopping online sex scenes, Mr. Ritch commented within an AVN press release how;
 "Since its launch, Shemale Zone has rivalled major transsexual studios in terms of both notoriety and sales…By featuring top performers and quality directing, their films have gained an impressive following of dedicated fans. Sharing in that tradition of excellence is their latest title, Shemale Dreams. This highly anticipated release has caught the attention of both fans of the studio and transsexual enthusiasts alike". 
After filming numerous productions with renowned Latino porn stars Jhonathan Kawa, Brunop Stygmata and Rafaela Monteiro, in March 2014 Carla appeared in the DVD title Trans at Play 5. This Trans 500 DVD feature release was heralded by promoters as signifying "The New Era of Transsexual Porn" . Starring fellow transsexual performers Kalena Rios, Milena Vendramini, Amanda Secrets and Crystal Rouse, Carla joined these sexy TS stars in a series of saucy sex scenes wherein they sampled the latest transsexual sex toys. Pure Play Media representatives enthused about this DVD feature release in an AVN article, expressing how;
"Trans at Play is a remarkable DVD series put out by a stellar studio that knows its audience and consistently puts out high quality, engaging titles that keep customers coming back for more. Trans at Play Volume 5 is sure to be a hit".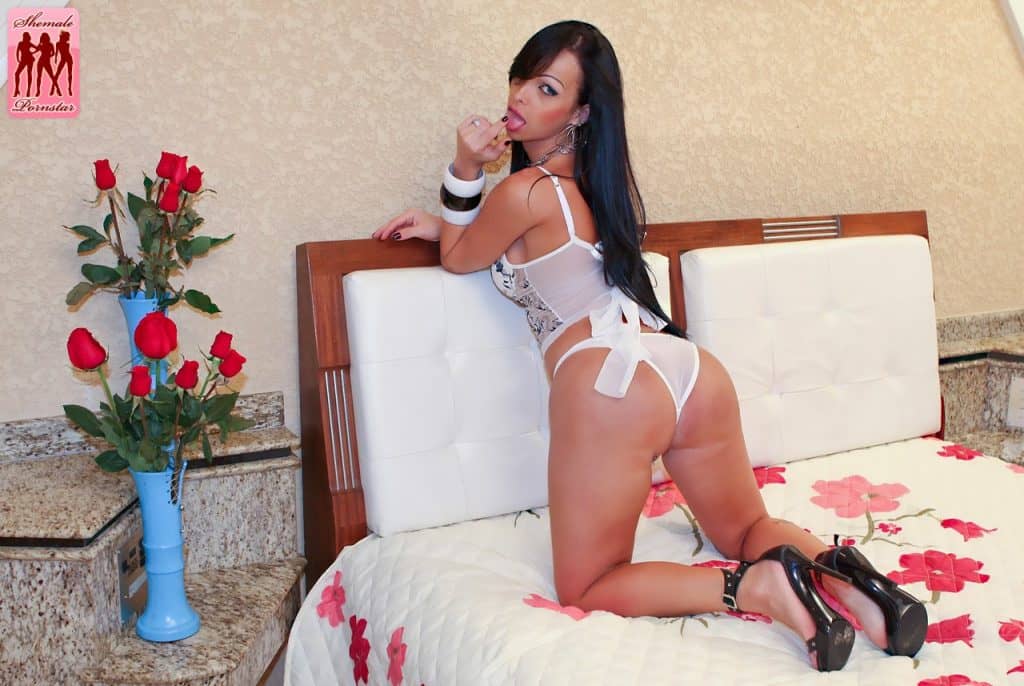 Carla Novaes at Shemale Pornstar
Following the success of Trans at Play 5, Carla also appeared within Trans at Play 7 in July 2014. This fan-favourite DVD feature release called for Carla to team up with some of her former co-stars Fernanda Souza, Nikolly Gaucha, Bruna Prado and Samantha Ferraz to shoot some saucy solo sex sets. Pure Play Media Sales Representative Mike L. promoted the release of this Brazilian babes feature release during an AVN press release, hinting how;
"The Trans at Play series has been a hot seller since the start and gives TS fans straightforward self-love starring the industry's most in-demand transsexual performers…We're pleased to bring a new edition to our customers and keep their consumer base stocked and satisfied with titles from a studio they know and trust. Trans 500 gets it right every time, and Trans at Play 7 is certainly one of this week's must-haves. It streets tomorrow so place your orders now!".
Carla also went on to star in Trans At Play: She Male Exclusive and Trans At Play: She Male Exclusive 2 in 2015 which enabled her to team up with her friends and former co-stars Angelina Castro and Bruna Butterfly as well as newcomers such as Maria Fernanda, Kimberly Ebano and Venus Lux.
In October 2015 Carla collaborated with award winning TS studio Trans 500, as well as reuniting with distributors Pure Play Media, to create the DVD feature release Big Booty TGirls 4. Once again Carla's stunning looks earned her the role of cover model for the DVD's commercial release, and fans were thrilled to see Carla star alongside TS stars Camyli Victoria, Barbie Lea, Rayna Leah, Tatiana Guzman and Alexa Campbell.
Most recently, in January 2016 Carla posed for the cover of her latest DVD release Tranny Panty Busters 2. Photographed alongside co-star Holly Parker, this latest Mancini Productions collaboration also featured top transgender perfumers Bruna Butterfly, Hilda Brazil, Sasha Skyes and Walkiria Drummond with whom Carla has previously worked.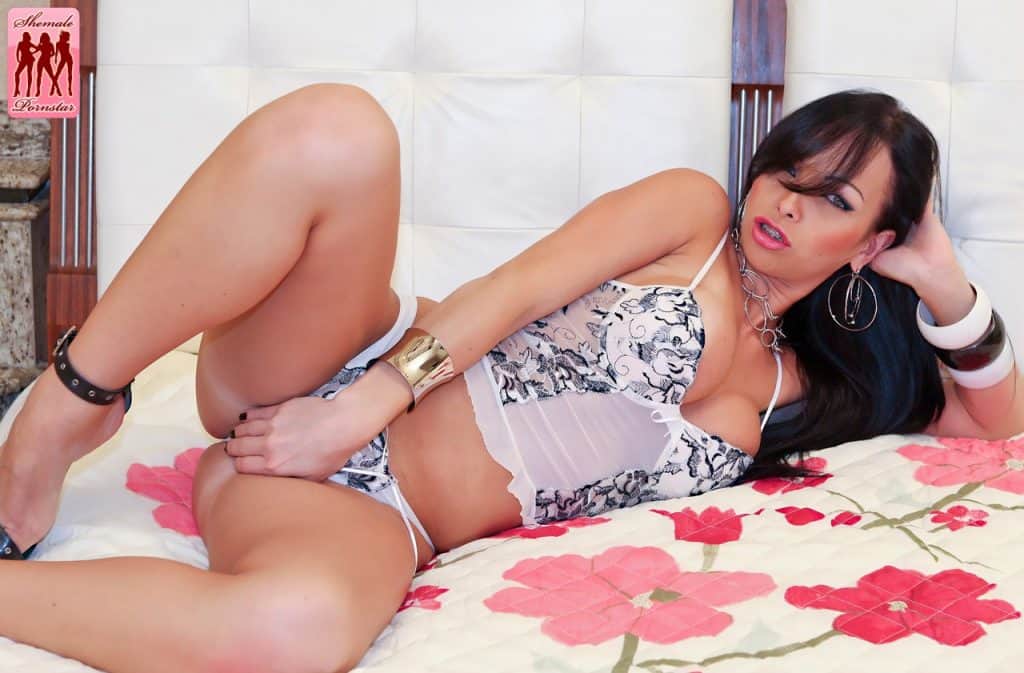 Carla Novaes at Shemale Pornstar
After 14 years Carla still remains one of the most poplar TS performers in the adult entertainment industry. As matters stand, Carla has collaborated with all of the major TS distributors including Robert Hill Releasing, Juicy Entertainment, Ultimate TGirl Productions, TS Seduction, Evil Angel, Universal Trannies, Third World Media, Magnus, Mancini Productions, Shemale Erotica, Colossal Entertainment, Tranny Kingz, Kink.com, Devil's Film, Trans 500 and Epic Distribution. These successful collaborations have earned Carla many adult film nominations throughout her prolific porn star career. Some of Carla's most impressive accolades include;
2008: AVN Awards nominee "Transsexual Performer of the Year"
2016: AVN Awards nominee "Transsexual Performer of the Year"
2016: AVN Awards nominee "Favourite Trans Performer (Fan Award)"
2016: XBIZ Awards nominee "Transgender Performer of the Year"
If you'd like to keep up to date with Carla's recent DVD releases, upcoming adult film convention appearances in the US and Brazil, as well as her latest international public and private live chat sessions that she continues to host via adult-cam sites then please feel free to visit her official social networking channels; the links for which have been provided in the section below. By using these links you can stay in touch with breathtaking Brazilian babe Carla Novaes and ensure you don't miss one moment from her incredible porn star career!
Social Networks

Brazilian Transsexuals : Carla Novaes at Brazillian Transsexuals
Shemales from Hell : Carla Novaes at Shemales from Hell
Shemale Pornstar : Carla Novaes at Shemale Pornstar
IMDB Profile: Carla Novaes Filmography