Website : LiannaLawson.xxx   Twitter : @LiannaLawson   Chaturbate : liannalawson   Grooby VR : Lianna Lawson VR Experiences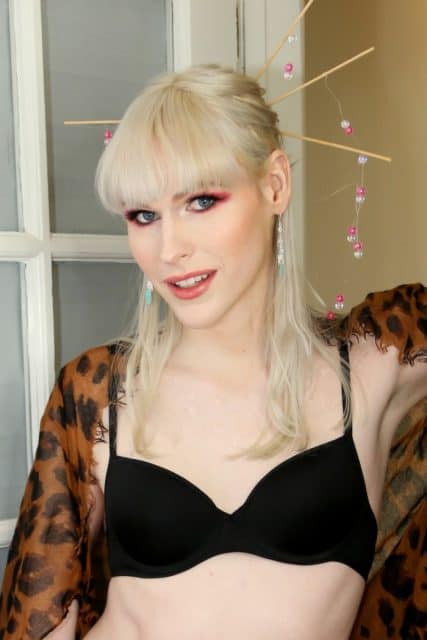 Lianna Lawson at Grooby VR
Personal Info
Name : Lianna Lawson
Date of Birth: August 14th
Height : 6'0 (1.82m)
Hair Colour : Blonde / Brunette
Eye Colour : Blue
Shoes Size : Women's 12 (US)
Years Active : 2016 – present
Number of Scenes : 10+
Introducing rising TS starlet Lianna Lawson! Ever since she filmed some solo scenes for the Grooby Network in the summer of 2016, glamorous TS model Lianna Lawson has amassed a dedicated global fan following alongside a trio of notable "Best Solo Model", "Best New Face" and "Best Scene" nominations at the 2017 Transgender Erotica Awards.
So where did it all begin? Well, Lianna has discussed her childhood years during her February 2017 "Through The Benz" Grooby News interview with Becca Benz, divulging that;
"My childhood was pretty ordinary growing up so to say; I grew up in a military household, so there was lots of moving around and some strict rules. I was also the youngest of three siblings and for the most part I stayed outta trouble, got good grades, and played an unhealthy amount of video games. I didn't necessarily have any long friendships because of the moving, so I found solace with online games and their communities and kinda explored things from there".
Lianna mentioned her transition process within this February 2017 Grooby News interview, revealing that;
"I wouldn't say that I always knew I was trans, but I had a feeling that things were not "right" growing up. My teens were basically a period of self-discovery and lots of teen angst. And being raised in a fairly strict conservative household did push me to hide some of the ways I felt and acted. Initially I thought I was just gay, but I was drawn more to the feminine side of things and felt more comfortable exploring those aspects of myself. Eventually I sought professional help and guidance when I was 23 which allowed me to be more comfortable with myself and much happier".
Wondering how Lianna first discovered her porn star potential? It all started when Lianna began posting some saucy solo photo sets via Tumblr. Lianna has divulged some of her personal fetishes and favourite pastimes via her Grooby Girls profile, commenting that;
"I am a tall/thin Trans-girl with an insatiable anal fetish. Must stuff things up my butt. When I'm not making porn for the internet, I like to play video games (yup I play games, I really enjoy LoZ: OoT & MM, Metal Gear Solid and Dark Souls) Watch movies (Favorite movie is Butch Cassidy and the Sundance Kid) and some photography stuff".
 During this time Lianna started performing as a webcam model via adult cam sites, such as Chaturbate, whereupon she quickly began to garner a loyal fan following due to her intimate live chat sessions. Within her February 2017 Grooby News interview  Lianna discussed how her social media posts paved the way for her to pursue a career in the adult film industry. As Lianna put it in her own words;
"I just started posting images of myself on social media revealing more and more. Eventually Grooby director Omar Wax scouted me and got my ass, quite literally in front of a camera. The rest kinda just went from there… My favorite part about the job is getting to meet all the amazing people in front of AND behind the camera. Some of the most interesting and amazing people I've ever met have been through doing porn. As for the least favorite thing about the job is the stigma attached with being a trans sex worker".
Lianna Lawson : Adult Film Career
Lianna made her adult film modelling debut in the summer of 2016 when she filmed some seductive Introducing Lianna Lawson and Colorado Sweetheart Lianna Lawson solo sex scenes  that were photographed by Omar Wax for the Grooby Network porn site Femout.XXX. Following her successful adult film industry debut, Lianna began to collaborate with prominent porn photographer Radius Dark on some sultry solo sex scenes for the Grooby Network porn site Grooby Girls (formerly Shemale Yum).
Fans of Lianna Lawson will love watching her Gorgeous Lianna Lawson's Long Hard Cock! and Lianna Lawson's Sexy Dildo Play! shoots that were both unveiled via Grooby Girls in September 2016. Radius also filmed Lianna's hot hardcore sex scenes with Ruckus XXX, titled Lianna Lawson Takes Ruckus' Hard Dick!, that were uploaded via Grooby Girls in November 2016.
Throughout her adult film career, popular porn photographer Radius Dark has filmed some of Lianna's sauciest solo, hardcore and fetish porn sex scenes for the Grooby Network porn sites Grooby Girls, TGirls.porn and Foot Fetish TS. We recommend checking out Lianna's titillating transbian sex scenes with Casey Kisses in August 2016 that were nominated for "Best Scene" at the 2017 Transgender Erotica Awards, her hot hardcore collaboration with Korra Del Rio in November 2016 and her fantastic femdom sex scenes with Anastasia Coxx in January 2017 that were all unveiled via the pioneering Grooby Network porn site TGirls.porn.
In addition to her terrific transbian sex scenes, Lianna began to garner a devoted fan following for her fantastic foot fetish web clips. Fans of Lianna's spectacular size 12 soles will not want to miss out on viewing her Liana Lawson Introduces You To Foot Heaven shoot in June 2016, her Lianna Lawson Measures Her GORGEOUS Feet scenes in October 2016 and her intimate Foot Babe Lianna Lawson On The Bar! shoot in December 2016 which were all uploaded via the Grooby Network fetish porn site Foot Fetish TS. Radius Dark has loved shooting Lianna's alluring foot worship shoots and enthusiastically stated via her official Foot Fetish TS profile that;
"Six footer Lianna Lawson has some pillowy soft soles that are absolutely a dream. She's a good talker and has much experience showing off those amazing soles. Her fans love her feet, so it was definitely a treat to work with her and give them what they want!".
 In the months that followed, Lianna became one of the most popular rising TS starlets to shoot for the Grooby Network. Upon discussing her ongoing adult film shoots with the Grooby Network and her fellow Grooby Girls during her February 2017 Grooby News interview, Lianna explained how;
"Well as you know Grooby is one of the flagship companies that produces and distributes trans porn. That being said, it's quite an honor to be featured by them and basically be propelled onto the home screens for those that appreciate and admire trans porn. And for that I'm pretty grateful. It means a great deal that I can be a part of the Grooby community and be accepted for who I am…A lot of my influences comes from fans and friends, some of my friends being people like Shiri, Robin Banks, and Natalie Mars. All wonderful people. As they've all definitely helped me throughout my career in one way or another".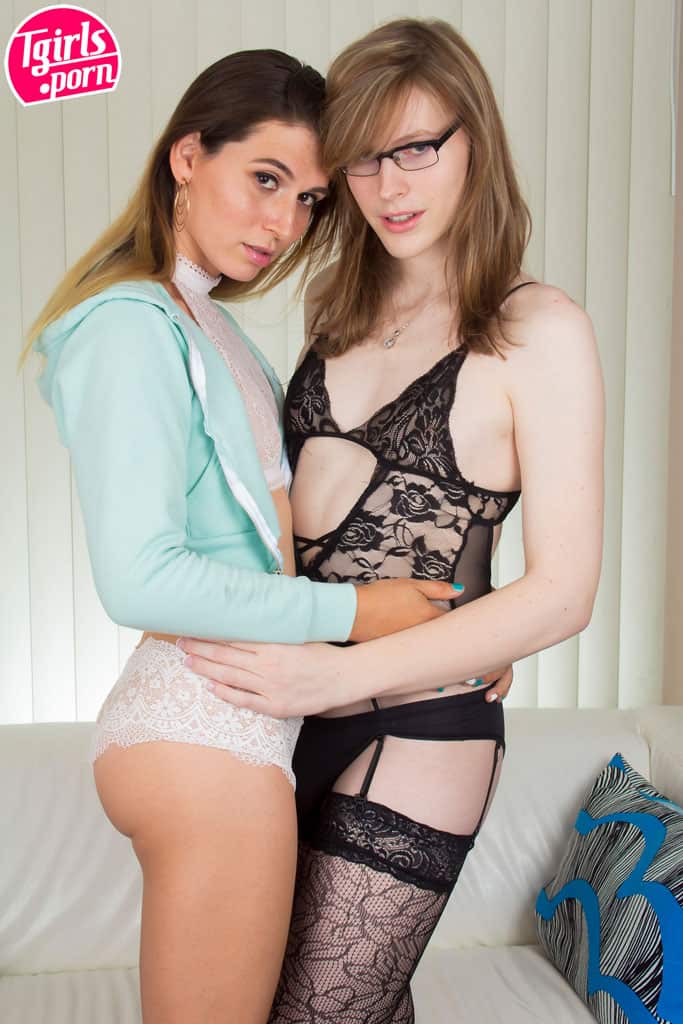 Lianna Lawson and Korra Del Rio at TGirls Porn
Thus far in 2017 Lianna has teamed up with Radius Dark in order to film some thrilling transbian scenes  with Cassidy Quinn that were uploaded via TGirls.porn in March 2017 as well as filming some stunning Lianna Lawson Returns! and Lianna Lawson Cums For You! solo scenes for Grooby Girls in April 2017. Lianna's ongoing collaborations with Radius Dark have earned her a devoted international fan following and several notable nominations at the 2017 Transgender Erotica Awards. Among some of Lianna Lawson's  most impressive adult film award nominations to date include;
2017: Transgender Erotica Awards nominee "Best Solo Model"
2017: Transgender Erotica Awards nominee "Best New Face"
2017: Transgender Erotica Awards nominee "Best Scene" Lianna Lawson & Casey Kisses (with Casey Kisses)
Upon being nominated for these prestigious adult entertainment accolades, Lianna stated within her February 2017 Grooby News interview that;
"It's almost surreal. I wasn't going into porn thinking I'd get nominated for anything, however that being said, it's amazing to have not only one but three nominations among many other talented and beautiful ladies. So something is being done right, I think".
Alongside her amazing adult film shoots with Radius Dark, Lianna has since paired up with famous adult film director Sammi Mancini in order  to film some sizzling solo sex scenes for his award-winning Shemale Strokers DVD series in October 2016 and May 2017. As matters stand, Lianna has starred in the Mancini Productions/ Rodnievision DVD compilation titles Shemale Strokers 83 (2016) and Shemale Strokers 87 (2017). Performing in these sensational solo sex showcases has enabled Lianna to be showcased alongside such fan-favourite TS stars as Kylie Maria, Casey Kisses, Sue Lightning, Aspen Brooks, Chanel Santini, Nadia Love, Cassidy Quinn, Lena Kelly, Elise Luxxx and Tammie Lane.

When she isn't performing in porn, Lianna divulged during her February 2017 Grooby News interview that;
"Well I enjoy playing video games, watching movies, reading books, etc. y'know the usual. Two things worth mentioning though are my interests in photography and dancing. I'd like to explore a little bit more with both, but they're kinda just little hobbies that I dabble in. Also dancing is a great way to stay active".
Moreover, when she was asked about her future career aspirations within this February 2017 Grooby News interview, Lianna conveyed how;
"I think it'd be an interesting move to shift from in front of the camera to behind and end up shooting porn. That would be something to see".
Eager to explore all of Liana Lawson's sultry solo photo sets, fetish web clips and hardcore collaborations? Then you'll be happy to hear that Lianna has just launched her very own solo website LiannaLawson.xxx. This saucy solo site enables Lianna to treat her fans to all manner of exclusive video, photo and live cam content. Curious? Then use the links provided below to stay in touch with your favorite blonde beauty Lianna Lawson!
Social Networks
Official Website : LiannaLawson.xxx
Twitter : @LiannaLawson
Chaturbate Profile : liannalawson
Instagram : @liannalawson
Grooby VR : Lianna Lawson VR Experiences
Tumblr : liannalawson.tumblr.com
Grooby Girls : Lianna Lawson at Grooby Girls
Femout.XXX : Lianna Lawson at Femout XXX
Foot Fetish TS : Lianna Lawson at Foot Fetish TS