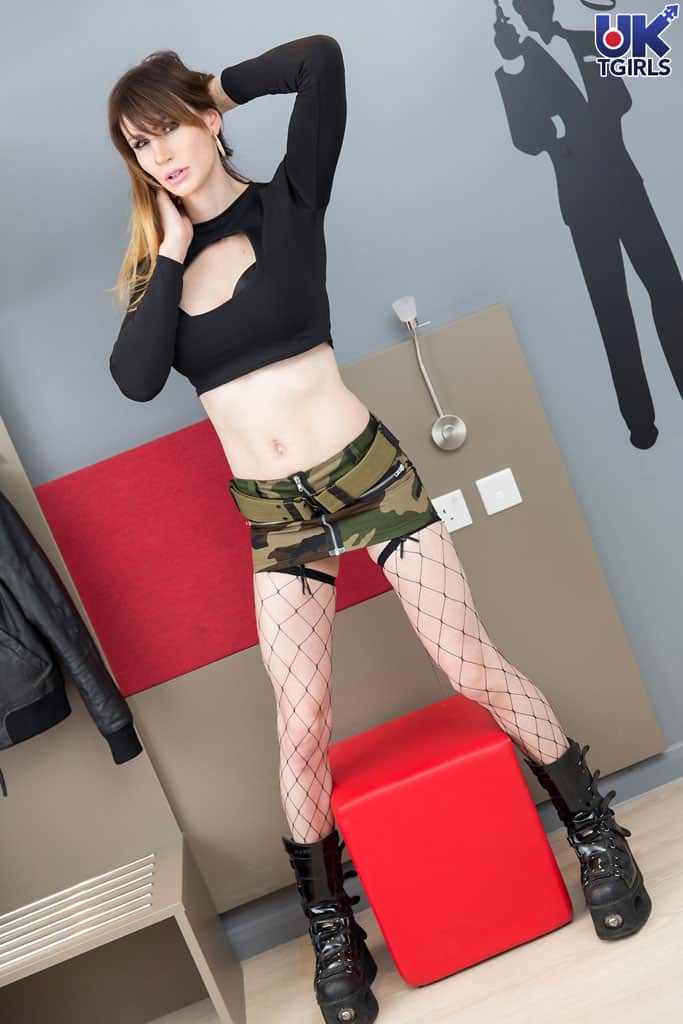 Click here to discover Sadie Kross's hottest sex scenes at UK TGirls
Sadie Kross – Personal Info
Name : Sadie Kross
Date of Birth : April 3rd
Star Sign : Aries
Hometown : Helsinki (Finland)
Measurements : 40G – 30 – 37
Height : 6'2 (1.88m)
Hair Colour : Brunette
Eye Colour : Brown
Shoe Size : Women's 14 (US)
Years Active : 2015 – present
Number of Scenes : 10+
Introducing Sadie Kross; a rising Finnish TS pornstar who was nominated for "Best International Performer (West)" at the 2017 Transgender Erotica Awards. Sadie Kross's glamorous solo scenes, mesmerizingly good looks and amicable nature have resulted in her being ranked as the #5 most popular performer on TGirls.porn, as the #7 most popular performer on UK TGirls and as the #10 most popular performer on Foot Fetish TS; definitely one to watch!
So where did it  all begin? Born and raised in Helsinki, Finland, brunette beauty Sadie Kross is one of a select few Nordic adult film stars. Upon discussing her upbringing and the lack of Finnish porn stars during her February 2016 Porn OCD interview with Caramel Black, Sadie Kross mentioned that;
"Finland doesn't have many porn stars to offer. Only one I know who's really shooting movies for living is Cindy Sun (Twitter @cindysun90). Finland is quite a big country with a low population, only a bit over 5 million, and has remote location. During 90's we had some production, but it didn't succeeded in international markets. I guess it's a combination of too few people interested to work in the industry, remote location (which shows in production costs), and probably lack of people with a vision what and how to produce…As a country. it's a safe place to grow up, but quite boring place. Nothing happens in Finland nor has happened During my childhood and teenage years, I was bullied so that wasn't a fun time. I've never felt I would be a Finn by nature, so for me it's a challenge to live here".
Sadie Kross explained during this in-depth February 2016 Porn OCD interview how she struggled to understand her true gender identity for many years before she began her transition process. As Sadie Kross puts it in her own words;
"I admitted to myself about six years ago that I'm a TS. Before that, I had strongly denied it sub-consciously, but at the same time had a strong interest towards all feminine. I have a background of being bullied a lot as I mentioned. I believe it made me to push my true self on the background, just to survive the next day. Once admitted I would be much happier as a woman there was no turning back".
In this manner, Sadie Kross began to fully embrace her true gender identity and started to pose as a glamour and nude model. In the summer of 2015 Sadie Kross decided to progress from posing as a model to performing in porn. Sadie Kross sent off an application to shoot for the Grooby Network who booked her to film her first ever solo sex scenes. And the rest, as they say, is history! Sadie Kross talked about this turning point in her life within her February 2016 Porn OCD interview, conveying how;
"I have always been a fan of adult entertainment, so it was more natural area for me. I also do glamour and nude modelling as a hobby, so I enjoy being in front of a camera and taking one step further wasn't that scary…After I had made the decision to go for porn, it was a natural to send a model application for them [Grooby]. Not having US citizenship or work permit my choices were very limited as not many companies work outside the States. Grooby is also the biggest producer and can offer best visibility, so I was very delighted they informed they're interested to work with me…When I got a message Grooby wants to shoot with me, I didn't know to which site the material would end up on. As they shoot only in London, outside the States, I had no other choice than travel there. Travelling wasn't an issue as I like it anyways".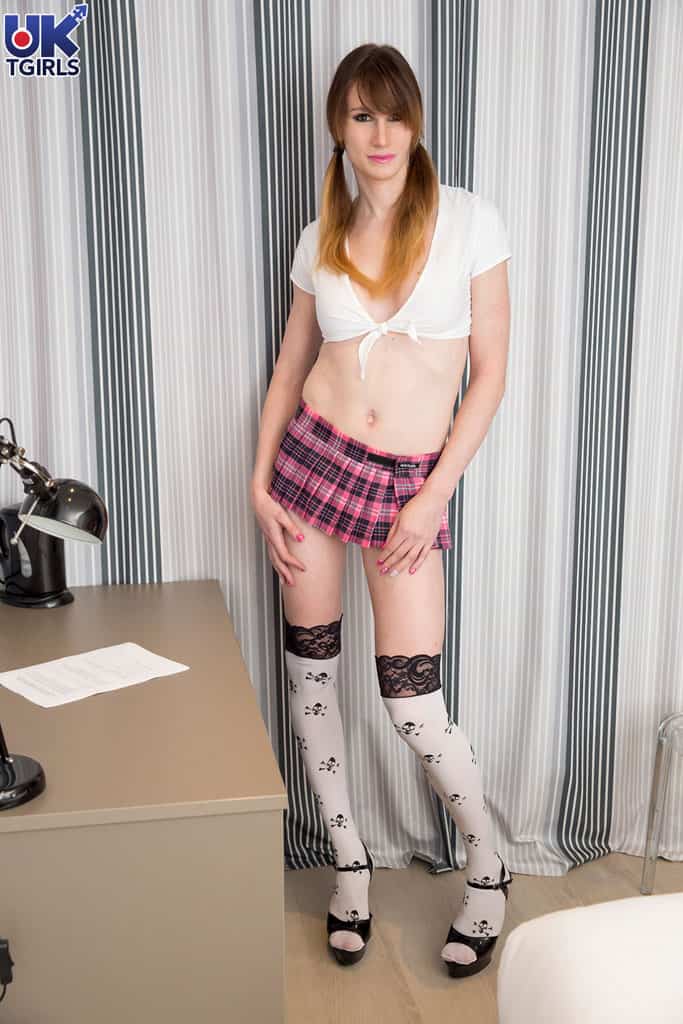 Click here to discover Sadie Kross's hottest sex scenes at UK TGirls
Sadie Kross : Adult Film Career
In the summer of 2015 Sadie Kross travelled from Finland to London in order to shoot her adult film modelling debut for the Grooby Network porn site UK TGirls. Sadie Kross's first ever solo shoot, titled The Finn! It's Sadie Kross, was distributed via UK TGirls in June 2015. Talking about shooting her adult film industry debut during her February 2016 Porn OCD interview, Sadie Kross commented that;
"I was anxious and a bit nervous. Before shooting for Grooby I had shot one solo for The Real Bitch Company (Twitter @bitchcompany), so it wasn't fully new experience for me. The most nerve wracking part was I haven't had experience of shoots lasting 6-8 hours, so I was stressing a bit how it would go. But when I get in front of a camera, I kinda turn off my brains, block surrounding and focus on what I'm doing".
In the months that followed, Sadie Kross proceeded to shoot a wealth of sultry solo shoots for UK TGirls including Sexy Sadie: The Finland Fox! in July 2015, Sadie Laid Bare in August 2015 and Nordic Naughtiness! in September 2015.
A pivotal moment in Sadie Kross's adult film career occurred in January 2016 when she was showcased within the first ever international issue of Transformation Magazine. This pioneering publication listed Sadie Kross as one of Finland's most popular TS porn stars and featured her in a segment alongside internationally renowned TS performers Marissa Minx (Australia), Allison (Canada), Nikki Montero (Chile), Lina Cavalli (Russia), KimberLee (Germany), Angelina Valls (France), Judith Wilde (Spain), Cleopatra Kambugu (Uganda), Audrey Mbugua (Kenya), Shelbe Chang (Taiwan), Jennifer Wang (Hong Kong), Fish (Thailand), Mimi Glamour (Philippines), Trixxy Von Tease (USA), Mona Vela (Mexico), Eva Cassini (USA), Jacquie Blu (Cherokee), Daveena Badree (Trinidad and Tobago) and Bianka Nascimento (Brazil). This international issue was created to shine a light on some of the most beautiful transgender performers across the globe, with Transformation Magazine's Editor-In-Chief Hanna Rodgers highlighting how;
"The idea of an International Issue is to show how truly global trans beauty is. From the United States to France, from Brazil to Russia we searched for the best representatives to give a diverse look at what's going on in different landscapes…As you probably know we have been talking about gender identity and expression for over 20 years but it seems as though these topics are only recently coming to the surface for many others, especially those outside of the LGBT community, both domestically and abroad. And even though we have always been a U.S. based publication Transformation has always done its best to cover all aspects of gender from all corners of the globe, to show that the struggle for equality, understanding, and acceptance is universal".
In February 2016 Sadie Kross returned to UK TGirls in fantastic fashion with a sultry solo shoot titled Sadie Kross The Fuckable Finn! that was filmed by popular porn photographer Kalin. Spurred on by the success of this sizzling solo shoot, throughout 2016 Sadie Kross continued to collaborate with Kalin on a series of stunning solo sex scenes for UK TGirls such as Sadie Knocks Us For Six! that was uploaded via UK TGirls in February 2016, her steamy Sadie's Seventh solo shower scenes in that were first released in March 2016, her stunning Finland's Finest solo shoot that was promoted in April 2016 and her fitness themed Oh Miss Kross! solo sex scenes that were filmed in September 2016.
Sadie Kross's sensational UKTGirls solo shoots have earned her a devoted fan following within the United Kingdom, Europe, the United States and across the globe. Sadie decided to celebrate her tenth UK TGirls collaboration by treating her international fan base to some terrific Sadie Hits Ten! bath tub sex scenes that were unveiled via UK TGirls in October 2016; not to be missed!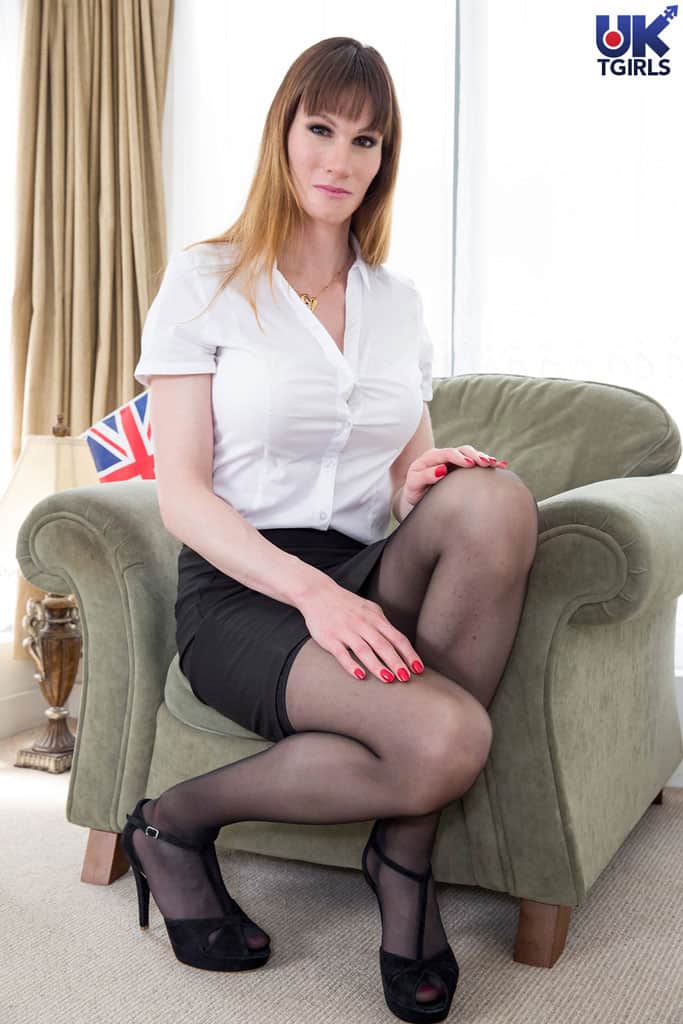 Click here to discover Sadie Kross's hottest sex scenes at UK TGirls
In addition to her ongoing collaborations for UK TGirls, Sadie Kross has filmed some thrilling fetish porn web clips for the Grooby Network porn site Foot Fetish TS. Fans of Sadie's sexy size 14 soles will love viewing her kinky Sadie Kross Strokes The Dildo And Oils Up Her Soles scenes that were filmed by award-nominated porn cinematographer Radius Dark for Foot Fetish TS in April 2017.
In December 2016 Sadie Kross filmed her first ever hardcore sex scenes with blonde TS bombshell Red Vex which were directed by Kalin and distributed via the Grooby Network porn site TGirls.porn. Most recently, Kalin has directed Sadie's raunchy hardcore collaboration with Jak Dolce that was promoted via UK TGirls in May 2017.
When she isn't performing in porn, Sadie Kross loves to keep in contact with her fans via Twitter. Sadie Kross enjoys interacting with her fans and fellow performers via social media and she has hotly hinted within her February 2016 Porn OCD interview that;
"Twitter is a great channel to network and keep in touch with the fans. It took some time to understand the idea behind it, but I think I've got it now. I especially love that I don't have to censor any images I post there! <3…Bailey Jay is one I admire most. She's hot and has an amazing career. Sarina Valentina and Kimber James are also ones I respect. Through Twitter I have found some new girls who have got my attention".
Having been ranked as the #5 most popular performer on TGirls.porn, as the #7 most popular performer on UK TGirls and as the #10 most popular performer on Foot Fetish TS, Sadie Kross's adult film career seems to be growing from strength to strength. In fact, Sadie Kross was nominated for the prestigious "Best International Performer (West)" accolade at the 2017 Transgender Erotica Awards. Upon being asked about her future career aspirations in her February 2016 Porn OCD interview, Sadie Kross has highlighted how;
"Due my remote location, pushing forward my career is a challenge. Right now I'm watching how people welcome the sets I have shot, trying to network as well as I can, and trying to find new opportunities to shoot. I'm also doing some preparations and plans for the future if this kick offs well, so I'm prepared. Considering option to relocate, set up my own site and producing own material. Would love to get to shoot in the States, but that's probably a long term plan".
Want to keep yourself updated regarding all of Sadie Kross's latest porn productions, kinky web clips and upcoming adult film projects? Not to worry; all you have to do is use the links provided below to begin exploring Sadie Kross's official social networking channels. So what are you waiting for? Keep in touch with your favorite Finnish TS star Sadie Kross today!
Sadie Kross – Social Networks
UK TGirls : Sadie at UK TGirls
TGirls Porn : Sadie at TGirls Porn
Foot Fetish TS : Sadie at Foot Fetish TS