Official Blog Site : TiffanyStarrxxx.com  Kink Profile : Tiffany Starr  Twitter : tiffanystarrxxx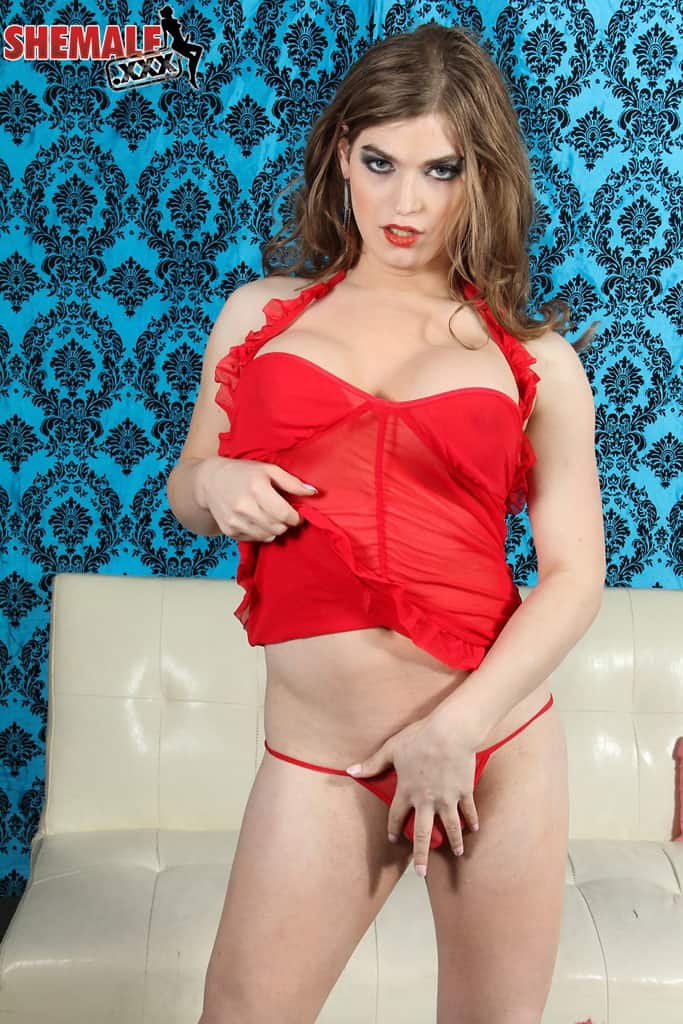 Personal Info
Name : Tiffany Starr
Date of Birth: January 21st
Home Town : Boston, Massachusetts (US)
Measurements : 36D – 24 – 36
Bra/ Cup Size : 36D
Boobs : Enhanced
Height : 5'7 (1.70m)
Hair Colour : Blonde/Brunette
Eye Colour : Blue
Years Active : 2009 – present
Number of Scenes : 24+
Behold Tiffany Starr; show-stopping adult film starlet and ardent transgender rights activist! Born and raised in Boston, Massachusetts, from a very young age Tiffany knew that she was different from the other children in her school. As Tiffany expressed within her Trannylives.com interview;
"I know I born in the wrong body, or perhaps the wrong mind but either way you can't change your brain so that only leaves changing the body. I knew at age five I was different. Obviously I didn't know how or why, I was five lol".
These feelings only grew stronger as Tiffany progressed through childhood and were reaffirmed when Tiffany was 13 years old and discovered that it was possible to undergo gender reassignment surgery. During an interview with Adult DVD Talk Tiffany divulged how;
"I knew there was something different about me at a very young age. I didn't know how I was different until the age of 13 though when I discovered you could change your gender. After I found that out everything in my head clicked and I knew what I had to do. Unfortunately by this time I had a girlfriend who ended up becoming my fiancé. I told her I was trans when we were 15 and she said she would accept me no matter what, but then I started transitioning at 17 and she couldn't handle it. Though I was sad I was finally able to transition into the girl I was always meant to be. I have never been happier".
Tiffany discussed this personal revelation in further detail during a 2012 interview with fellow transsexual performer Wendy Williams;
"I found out about transsexual porn when I was young, around fifteen if I recall correctly. I couldn't put a finger on what exactly was different about me until I discovered you could change your gender online and that there were a lot of people like me out there. This of course got me very curious and I came upon (quite literally) Transsexual porn. So I discovered my love for transsexuals around the same time I discovered I was one. This was also one of the happiest days of my life since now I knew why I was different, what I had to do, and if I started now I would get great results. As for the content of the porn itself? it was just a solo transsexual woman, and that's all I needed…
I started Transitioning around late seventeen after my ex fiancé and I split. She couldn't stand to be with a woman so she broke off the engagement. Though it was heartbreaking I also left the relationship hitting the ground running. In my mind I lost out on a wife, but I would have been miserable if I didn't transition anyways plus now I had nothing to hold me back. I immediately started to transition. first thing I did was come out to everyone I knew, friends, work, and family. I told my dad I was Trans first because I knew he would take it the hardest and after telling him everyone else would be a breeze. Telling work was simple as was the news to my friends and the rest of my family. I didn't run into much resistance which helped a lot in the long run…
Second and third thing I had to do was get my hormones and name change. I did these goals at the same time to save me time and transition as fast as I possibly could. Both involve a bit of waiting. Took three months of therapy then a doctor was chosen for me and viola! Hormones! The name change and getting the F on my license took just as long. Pay a fee to change your name, wait three months for your scheduled court date, go to court and get your name change approved legally by a judge. So after all that was said and done I just played the waiting game and grew up to be a beautiful girl".
In this manner, Tiffany began her transition process when she was 17 years old. Despite wanting to transition sooner, Tiffany's relationship with her high school fiancé and her own emotional conflicts caused her to remain confused about her gender identity for several years after graduating. Even after transitioning, Tiffany was not initially open about her sexuality. During her TransEthics interview Tiffany discussed  that she did not 'come out' as a transgendered woman whilst working as a receptionist;
"I was twenty when I was working as a receptionist, long after I transitioned. I was not open about it as I don't generally like the general public knowing I'm a transsexual woman. So I was working there after my transition, but I was not out…
I generally only want people to find out I'm trans in one of two ways. Either because they're a fan of my work, or I get close enough to someone to tell them. I obviously have to tell people I'm romantically involved with, but other than that I prefer no one knows. Living in stealth helps me personally because I can avoid certain conversations and unwanted judgments. I'm sick of answering the same questions to people who are curious, or ignorant to the community…
A couple of examples of annoyingly dumb questions I have been asked are: "Why do you want to be a woman if you like women?"; "What was your name before transition?"; "Do you still have your penis?" and so many more I just wish to not bother with. Living in stealth has helped me avoid a lot of uncomfortable situations, and I have had unforeseen benefits I never thought of initially such as free drinks, not paying for dinner, and men being a lot "kinder" to me. It also helps with getting certain jobs".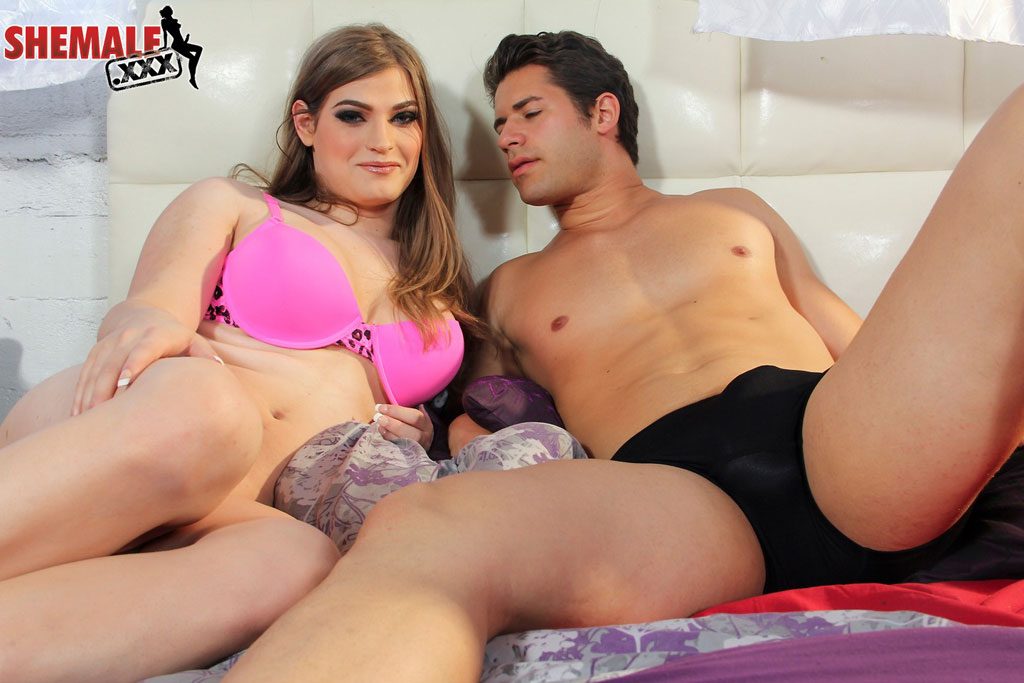 Much of Tiffany's reluctance about coming out as trans was associated with the mixed reactions she received from her family and friends. During her TransEthics interview Tiffany explained how her father was unfortunately the main member of her family who reacted the most negatively to her transition process;
"When I was contemplating how to go about my transition one of the obstacles in my way was how to tell my family and where do I start? After contemplating how I would reveal myself to my family I decided I would start with my farther. The reasoning behind this decision was that I knew he would be the person to take my transition the hardest, and that if I could tell him then I could tell anyone in my family. And that is exactly what I did. Telling my mom, cousins, grandparents, and the rest of my family was a breeze in comparison….
My dad's reaction was aggressive as expected. Throwing lines out such as "I would rather you be a murderer than trans" and, "I'm not entirely sure you're my child anymore". It's also worth noting my dad doesn't know the difference between the gay community and the trans community. He thought I preferred men sexually just because I was a woman (which wasn't true) and treated me poorly…
My mother however had no issues what so ever, in fact she embraced it. She had always wanted a daughter and her face lit up when I told her. The only problem she had was that she wanted a daughter who would marry a man, have kids, and start a family. I had to burst her bubble seeing as how I was still exclusively attracted to women. As for the rest of my family it seems most of them accept me for who I am give or take a few stubborn, close minded uncles and cousins. My grandmother (father's side) was against my transition at first but after a few months called me up to apologize for how she acted realizing that she loved me no matter who I was or what I did. Overall I was pretty lucky coming out to my family".
Tiffany has been on hormone pills since 2005. Discussing her experiences with hormone replacement therapy during her Trannylives.com interview, Tiffany advised young transgendered people considering gender reassignment procedures that;
"The hormones affect every transwoman differently. Some have issues with their sex drive some get better results, it all varies. How they affect me? well I feel and smell great due to the pills. I also have a more feminine shape due to them. Being on the hormones has many advantages. The process was easy for me. I saw a doctor who gave me a prescription to get my hormones and testosterone blockers. Then I took them and after a year I saw a lot of new changes some of which include, fat distribution, softening of the skin, pheromone changes etc… The hormones have made me a happier person today and without them i just wouldn't feel as female as i do now. The pills have not really affected my sex drive so I get all the benefits for my porn. Sexy soft body, girl figure, and a nice sex drive…
Everyone goes through hormone therapy differently. Some side effects could include mood swings kinda like PMS. Others may see their sex drive decline, and there are health risks. If you're a smoker taking the pills could lead to many medical problems. The pills do affect your body in all sorts of unpredictable ways so it's always a risk. The great part is you'll change your body, kind of like  second puberty. If your truly a woman the oestrogen will make you incredibly happy with yourself. It was probably one of the best decisions I have ever made.…
I was thinking of switching to hormone shots instead of pill's but after being on them for so long I doubt the difference would be huge. Still the pill's have been very kind to me. The only thing's left to do are surgeries, my hormones have done as well as i think they are going to do so not much left to my transition".
During this interview Tiffany was also asked if she would ever undergo full gender reassignment surgery to which she replied;
"That's a tricky question. On the one hand sometimes i feel like I should. I think maybe I would enjoy it more than being pre op. On the other hand there are three main reasons why I don't think I should. 1. Losing sensitivity down there would drive me mad. There are many risks and horror stories and once you get that surgery there is no going back so my choice be it right or wrong, good or bad will be permanent. 2. I date women. Lots of women and I am actually quite popular in porn because I can top women very well and I enjoy it while i do it. That being said a lot of the girls I date/have sex with don't want me to get the SRS cause they love my genitals so much. Since women are basically my main interest for love I feel that it may be unwise to get rid of it. 3. I don't hate my genitals. I know a lot of transsexual women can't stand their penis so many of them don't use it but I have no issues with mine. It helps me keep my current job, get laid, and it makes me feel good. So there is no strong hatred towards it to justify SRS right now. So I have decided I'll get the SRS when A. My penis stops working and it would be useless anyways. or B. I figure out 100% that I was a vagina for the rest of my life".
Although she has considered undergoing complete gender reassignment surgery, Tiffany admitted in a Trannylives.com interview that she remains on the fence and will see what the future holds;
"I love meeting new people and getting intimate with a lot of the girls. I am a very sexual person so I feel this line of work fits me. Though this job is ultimately a means to an end. I can't do porn forever and too many of the girls throw all their eggs into one basket. I am still a college student and still planning on having a mostly normal life with a wife, house, and nice car. I also want to get the rest of my surgeries done so this job helps with all those goals".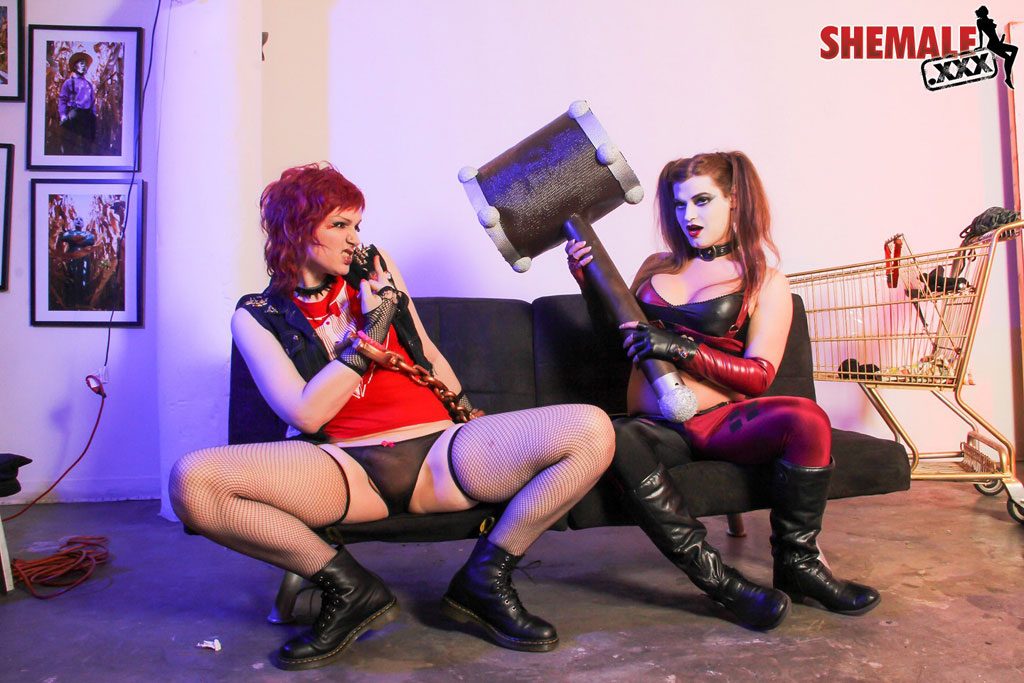 Tiffany Starr : Adult Film Career
After commencing her transition process when she was 17 years old and gradually building up her confidence in her true gender identity, Tiffany decided to become involved with the adult entertainment industry when she was 25 years old following a series of unfortunate events in her life.
In a 2015 TransEthics interview Tiffany discussed how she went from having a well paid job as a receptionist for a large software company, a girlfriend named Sarah to whom she was devoted and a fantastic car. Unfortunately, all of this changed in the course of one month. As Tiffany explains in her own words;
"My car was totalled by a pickup truck and insurance paid just enough to cover the loan. A week after that I was laid off because the company was downsizing and cutting corners. A few days after that my girlfriend at the time and I broke up. I was left devastated, depressed, and with a lot of unpaid bills. Due to the economy being in shambles it was tough finding a replacement job".
Depressed, down on her luck and with ever decreasing funds, Tiffany turned to a friend of her who was working as a successful transsexual porn star. Tiffany conveyed during her TransEthics interview how;
"I grew desperate and reached out to a friend of mine who just so happened to be a popular transsexual porn star. She offered me a shoot on her website and that all I would need to do if fly to L.A. I decided to contact all the porn companies I could before going out there, because if I was going to shoot one scene I may as well shoot a bunch. It was only supposed to be a temporary fix until I found a new job. However after shooting for most of the major Transsexual porn sites out there I grew popular. It was then that SMC (shemaleclub) offered me a website in their network. I took the offer and I have been shooting porn ever since".
In this manner Tiffany filmed her first ever hardcore sex scenes for Grooby Girls (formerly Shemale Yum) in 2011. This solo shoot was filmed before Tiffany's first breast augmentation surgery so it stands as the only natural hormone shoot that she has ever filmed. Tiffany has described this initial filming experience in previous interviews, conveying how;
"Since it was my first shoot I didn't know what to expect. It was at a hotel in Boston. I was nervous slightly and when the photographer stepped out of the elevator he brought me up to the room and that's when I remembered I forgot to bring my outfits to shoot in. He got a bit upset and told me to go get some quickly from downtown Boston. It was embarrassing…
After shopping I returned to him with 3 new outfits and shot in a couple of those. I think the scene came out alright all things considering. I told myself I would never be unprepared again for a shoot. Words of wisdom to any up and coming TS porn stars: Bring a variety of clothes to all your shoots. You never know what will happen and having a backup plan is a must".
Following her adult film debut Tiffany's performed within her first ever DVD feature release titled Transsexual Prostitutes 18 for Devil's Film. Ecstatic about the release of her first ever pornographic production, Tiffany described in an XCritic column interview how;
"It feels amazing! I am proud that I could be on something that will be seen by many all over the place. It will help with increasing my fan base and popularity and I enjoy shooting for the companies I work with. Devil's Films and Evil Angel are great to work for. I was hoping to be in a few DVD's this year. So far, I have shot for five DVD's and hope to appear in more of them in the future".
During her first year working within the adult film industry Tiffany launched her own solo website and appeared in multiple web scenes for Grooby Girls as well as featuring within the Evil Angel feature production She Male Idol: The Auditions 3 and the Devil's Film production America's Next Top Tranny 14. These successful DVD feature releases enabled Tiffany to work alongside seasoned transsexual performers Eva Lin, Sarina Valentina, Morgan Bailey and Mia Isabella. By forging these friendships and industry connections Tiffany was able to bolster her on-screen confidence and began to establish herself as a rising star within the transsexual community.
Whilst establishing her status within the transsexual community, Tiffany began to interact with fellow TS star Amy Daly with whom she would go on to collaborate with on the highly successful DVD release; Amy Daly: Trans Lesbian. Tiffany explained how she and Amy became friends during a caramelstgirls,com interview in August 20111;
"We hooked up on Facebook. I was just starting to get into the career and needed some direction. Amy Daly, being the nice girl she is, saw my message and decided to help me by giving me some guidance and some info. She suggested that I come do some work for her site and how could I say no right? I love women and I owe her so it was obvious I would say yes. So we planned a date and I flew to LA last week and we did our hot shoot the day I landed!".
Following the success of Amy Daly : Trans Lesbian, Tiffany went on to collaborate with Amy Daly and Brittany St. Jordan in the highly anticipated sequel  Amy Daly: The Translesbian 2. In 2012 Tiffany also appeared with Amy Daly in T-Girls Solo, a raunchy release featuring solo toy action from Tiffany, Amy and fellow transsexual performers TS Foxxy, Jesse Flores, Kourtney and Wendy Williams.
Throughout her career Tiffany has always preferred shooting with women and other transgendered performers. Similarly to fellow transgender rights activists Chelsea Poe, Jiz Lee and Courtney Trouble, Tiffany has advocated how;
"I think there should be more girl on girl in transsexual porn. I think the internet is sorely lacking in content like this and I know for a fact that there are a lot of men (and women) who love the girl on girl scenes".
Tiffany Starr : Adult Film Award Wins & Notable Nominations
After less than a year of working within the adult film industry, Tiffany had amassed an ardent fan base even though she had only appeared in 10 DVD releases and web scenes thus far! In fact, Tiffany had become so popular that in 2012 she became the first-ever winner of the "Fan Choice for Transsexual Performer of the Year" accolade at the Nightmoves Awards ceremony . Tiffany was extremely grateful to win this prestigious award, noting in interviews that;
"After winning Nightmoves Fan Choice it gave me more initiative to continue spending time on my social networks chatting with my fans.," said Tiffany. "One great way is doing cam shows and with previous success at Cam4 I am happy to team up with them for weekly Super Shows".
Tiffany proceeded to be nominated for numerous adult film awards throughout her prolific porn star career. Some of Tiffany's most impressive industry accolades include;
2011: Tranny Awards nominee — "Best Hardcore Performer"
2011: Tranny Awards nominee — "Best New Face"
2011: Tranny Awards nominee — "Best Sex Scene" — Transsexual Babysitters 18 (with Wolf Hudson)

2011: Tranny Awards nominee — "Best Sex Scene" — America's Next Top Tranny 14
(with Sarina Valentina)
2012: Nightmoves Magazine Awards winner — "Transsexual Performer of the Year"
2012: Tranny Awards nominee — "Best Hardcore Model"
2013: AVN Awards nominee — "Best Transsexual Sex Scene" — She Male Strokers 50
2013: AVN Awards nominee — "Transsexual Performer of the Year"
2013: The Fannys Awards nominee — "Transsexual Performer of the Year"
2013: Nightmoves Award nominee — "Best Transsexual Performer"
2013: Tranny Awards nominee — "Best Hardcore Performer"
2013: Tranny Awards nominee — "Best Solo Website"
2013: XBIZ Awards nominee — "Transsexual Performer of the Year"
2014: AVN Awards nominee — "Best Transsexual Sex Scene" — Pornstars Love Trannies (with Ava Devine and Naudy Nadia)
2014: AVN Awards nominee — "Transsexual Performer of the Year"
2014: Nightmoves Award nominee — "Best Transsexual Performer"
2014: The Fannys Awards nominee — "Transsexual Performer of the Year"
2014: XBIZ Awards nominee — "Transsexual Performer of the Year"
2015: AVN Awards nominee — "Best Transsexual Sex Scene" — Pornstars Love Trannies 3  (with Ava Devine)
2015: AVN Awards nominee — "Transsexual Performer of the Year"
2015: Nightmoves Award nominee — "Best Transsexual Performer"
2015: Transgender Erotica Awards Show nominee — "Best Hardcore Performer"
2016: AVN Awards nominee — "Favourite Transsexual Performer (Fan Award)"
Spurred on by these adult film award wins and nominations, Tiffany decided to thank her fans for their ongoing support by performing regular weekly live public and private chat sessions via adult-cam sites. Describing these raunchy online performances, Tiffany has divulged how;
"I usually have a girl on and we fondle, kiss, and then have sex in various positions. Sometimes I will bring a guy on or do a Solo but those are rare occasions. we use toys, wear sexy outfits, and have fun with it. The views are very good, and I just bought a new camera to make the show even hotter! I love to please my fans and if they come to see the show they won't be disappointed".
Over the course of her seven year adult film career, Tiffany has appeared within all manner of soft-core, hardcore, gonzo, POV three-way, group and solo sex scenes. Some of Tiffany's fan-favourite pornographic productions include; She-Male Idol: The Auditions 3, TS Bad Girls, I Kill It TS 7, Pornstars Love Trannies 1, 2, 3 and 4, multiple installments for Kink.com's TS Pussy Hunters web series, Transsexual Babysitters 24, American She-Male X 5, Booty Tails 3, Ts Jane Marie 5 Star Bitch, and Banging Babes With Bubble Butts 2 which featured Tiffany Starr in all manner of saucy sex scenes with MILF star Ava Devine, Leah Cortez, Jane Marie, Joanna Jet, Sarina Valentina, Naudy Nadia, BDSM superstar Mona Wales, Wolf Hudson and Robert Christian. From boy and girls to fellow transsexuals, as Tiffany states via her official blog site; "if it's hot, she´ll do it!".
Tiffany Starr : Vatican City Porn Piracy Scandal
In 2013 Tiffany garnered mainstream media attention when it was revealed that her adult film video "TSPH: Tiffany Starr and Sheena Shaw" (Transsexual Pussy Hunters) was being pirated by an unidentified downloader within the Vatican City! Online publication The Daily Dot wrote about the discovery of these downloads and interviewed Tiffany about the incident. Expressing intrigue at these incidents during her Daily Dot interview, Tiffany commented how;
"I was quite surprised…I woke up in the morning, and someone told me right away that the news was in the New York Post. I think it's funny, and I think it's really cool. I really like that my work is reaching out so far that even people in the Vatican are enjoying my work".
Tiffany also took this mainstream media opportunity to highlight the issue of piracy in general and how it adversely impacts adult film professionals;
"What they're doing is stealing. It's throwing it back in their face, but it's true. Practice what you preach…On my personal site, I have a few people who help me look around online and eliminate pirated content. We have one guy who does nothing but look around for illegally hosted content. Personally, I try to provide my fans with free content that they can't illegally download, like free weekly shows for members and events that encourage people to join the site".
Tiffany released a statement following this Vatican revelation which was reported within an AVN press release;
"Starr in fact issued a statement that while appreciative of the interest, also used the opportunity to scold the anonymous Vaticanites for their free(down)loading ways. "Though I am happy that people within the Vatican love my scene with Sheena Shaw," said Starr, "it makes me sad that they had to use a Torrent site to get it.  So I am reaching out to anyone in the Vatican who would like to come forward as a fan.  I will be happy to send them an autograph DVD and a membership to my website.  Even a pornstar can do charity work".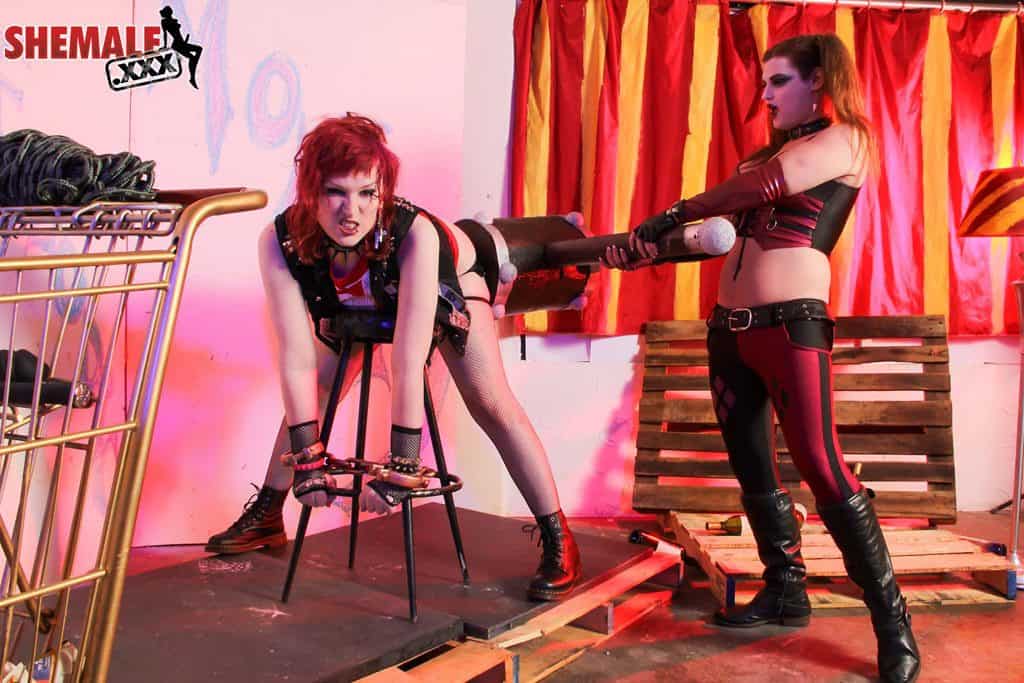 Tiffany Starr : Transgender Rights Activist
Throughout her adult film career Tiffany has always been eager to utilise her own life experiences to advise and support aspiring performers and members of the transsexual community in general. For instance, in March 2014, Tiffany joined fellow TS stars Tyra Scott and Kelli Lox by sharing her story via SexIsBack.com. As described in an AVN press release;
 "Sex is Back is a sex-positive storytelling campaign gathering video testimonials from people of all genders, orientations and walks of life. The site also features stars such as Nina Hartley and Courtney Trouble speaking about issues ranging from stereotypes to masturbation. Starr, Scott and Lox already have some of the most viewed clips on the site, and they hope that their interviews will provoke discussions about healthy sexuality".  
Commenting on her involvement with SexIsBack.com, Tiffany expressed;
"I hope that people who watch my clips get more of an insight into me as a person and not just a porn star".
Dedicated to highlighting the important issues that adversely impact members of the transsexual community on a daily basis, Tiffany also collaborated with fellow transsexual performers Mia Isabella, as well as famous TS stars Venus Lux, Eva Lin, TS Foxxy, Chelsea Poe, and many more TS stars in the 63 documentary Identity: In & Beyond the Binary. Created by renowned adult film photographer Daz, this project was an expansion of his original photography project Trans which you can learn more about by checking out our Eva Lin biography.
Tiffany Starr : Nightclub Hosting Events And Public Appearances
In addition to shooting for some of the biggest TS websites and production companies in the business, including Shemale Club, Pornstar Platinum, T-Girl Pin-Ups, Shemale Pornstar and TS Seductions, Tiffany has also made countless public appearances at nightclub events and adult film conventions in order to stay in touch with her loyal fan base. Some of Tiffany's most notable public appearances in recent years include;
September 2011: Tiffany was crowned "Model of the Month" for Grooby Girls,
September 2011: Following her first ever T-Girl cam show, Tiffany participated in the "T-Girl and Admirers Party" at the Bluegrass Connection nightclub in Lexington, KY. This event was hosted by Wendy Williams and featured live performances from TS Foxxy, Jewel Love, Allanah Allure and Kim Heart

October 2012: To celebrate her 2012 Nightmoves "TS Performer of the Year (Fan Choice)" award win, Tiffany hosted the "Cowboy and Indians" themed nightclub event at New York City's "Tranny Strip" party,
March 2013: Tiffany posed for the monthly issue of Transformation magazine and held an exclusive interview to discuss her recent 2012 Nightmoves Awards win. Tiffany's photo featured on the back cover in conjunction with Sunshyne Monroe posing as the front cover model,
July 2014: During her visit to the East Coast, Tiffany stripped and lap danced at the Satin Dolls nightclub in Providence. Tiffany also starred as the main hostess and feature dancer at the exclusive Tranny Strip nightclub event in New York City,
January 2015: Tiffany posed for photos and singed posters with Sunshyne Monroe at the 2015 Adult Entertainment Expo (AEE) which was held at the Hard Rock Hotel in Las Vegas, Nevada,
June 2015: Tiffany co-hosted the "Aloha! A Transsexual Luau" party with Georgina Van Der Meer at the Headquarters Gentlemen's Club in New York City. This would serve as Tiffany's third Tranny Strip gust appearance,
March 2016: Tiffany attended the Transgender Erotica Awards Pre-Party at the Cheetah Clubs in Hollywood. A joint com, T-Girl Events, Trans500.com and Tranny Strip event, this exotic extravaganza featured Tiffany alongside Domino Presley, Aubrey Kate, Jane Marie, Kylie Maria, Michelle Austin, Natassia Dreams, Penny Tyler, Jamie French, Georgina Van Der Meer, Jessy Dubai, Dicky Johnson, Morgan Bailey, Tyra Scott, Tasha Jones, and TS Jesse,
June 2016: Tiffany hosted the "Trans All Star Party" with Morgan Bailey, TS Foxxy, Tara Emory and Kylie Maria at the EGO Providence Nightclub in Rhode Island. This New York City T-Girls event featured burlesque shows, live dance performances and served as the only transsexual nightclub event in the entire Massachusetts, Rhode Island and Connecticut area!
When asked about her reasons for attending all of these nightclub events, award ceremonies and adult film conventions, Tiffany has ardently stated how;
"I like meeting the fans, seeing old friends, meeting some of the new TS girls, and mingling with everyone in the industry. The awards are actually more fun before they actually start in my opinion. It's also good to go there to show you're still alive and in the industry thriving. I am always excited to meet up with old friends. Plus the after parties are great…
It means everything to me, absolutely everything. Without my fans I wouldn't be where I am. Fans are the ones who scream for more content of you, who love your work, and who pay your bills. Granted it would be significantly harder to do without these big companies, and all my fellow TS performers support and assistance. But it would be impossible to do without a fan base. I love my fans and try to interact with them as much as possible despite my busy schedule".
Tiffany Starr : Gamer Girl & Personal Projects
Throughout her entire life Tiffany has always been an avid gamer girl; even owning a custom Magic the Gathering graphic which she utilises on her Twitter profile! If you'd like to engage in a one-on-one gaming session with Tiffany then why not check out the link to her gamer profiles that have been listed within the social networking links section at the end of this biography.

Tiffany has discussed her self-confessed gamer girl tendencies during her aforementioned Trannylives.com interview, admitting that;
"Yea I am kind of geeky. My favourite superhero is Batman if you're going by marvel/dc heroes. If you're going with any hero it would be Nathan Drake from the Uncharted series on PlayStation. I like Batman because he has no super powers yet he still kicks as much ass as many of the heroes who do. He also has great morals and stability for a man who had his parents murdered in front of him.…My favourite super hero is from DC but Marvel has the better overall characters and stories…I've been playing Dark soul's which is an incredibly satisfying yet difficult game.  I have also been playing Borderlands 2″.
Similarly, whilst conducting her Wendy Williams interview Tiffany enthused how;
"I have lost track of how many video games I own. My collection is pretty intense. Most people who come over and see it can't believe the amount of games I have. I am actually running out of places to put them. I am confident enough to say that I am probably the biggest gamer girl among the TS pornstars. I play everything from consoles to PC. I have too many games I am playing at once but I will list a few: Destiny, Sunset Overdrive, Lords of the Fallen, Assassins Creed Unity, The Evil Within, Alien Isolation, Shadows of Mordor, Minecraft, Lego Batman 3, Call of Duty Advanced warfare, Bayonetta 2, Diablo 3, and Super Smash Bros…
There are plenty more but that's just what's on my TV stand. Before the month is over I will be playing Farcry 4, Dragonage: Inquisition, Little Big Planet 3, and the Wii U version of Super Smash Bros. so I will have plenty on my plate after I get back from travelling, and shooting porn. I am a hardcore gamer and have won video game tournaments in the past. I should stop here because I will go on forever discussing this subject".
As matters stand, Tiffany continues to performs live chat sessions via her official solo website and performing as a feature dancer at the Satin Dolls nightclub all the whilst attending college. Majoring in business, Tiffany has explained that she chose to study this degree due to the fact that;
"There are a lot of opportunities with a business degree. I hope to maybe one day evolve my website even further and possibly make an adult film company of my own, however I would be just as happy working for a big company, getting my big checks, and living in luxury with a wife, house, dog, great car, and my beautiful video game collection".
Despite her business aspirations Tiffany still loves to act and has recently shot a zombie horror film titled Crack House of the Dead for Netflix within which she plays the role of Cheria, a transsexual prostitute.
Tiffany is also an avid rock and metal chick with a penchant for cosplaying! Having previously attended comic book conventions as the transsexual videogame character Poison from the SNES game Final Fight, Tiffany has mentioned in recent interviews that she plans to make both a female Starlord costume, as well as an Ivy and Alice Madness Returns ensemble. Discussing these projects during her Adult DVD Talk interview, Tiffany stated;
"My skills are still not quite there yet but I am learning and have a lot of help from my new girlfriend who has been making cosplay outfits for as long as she can remember. We are planning on doing couples cosplays where we pick two characters from the same movie, video game, or anime, and show off together".
Tiffany Starr : Advice For Aspiring Performers
Tiffany has always been happy to offer advice to aspiring performers and to chat with them via her Twitter profile. During her Wendy Williams interview, Tiffany imparted some advice and support to aspiring performers looking to forge a career within the adult film industry;
"I would usually advise against it unless it's something you have a strong desire to do. Don't get into it thinking you'll be super famous, or rich. My website makes a good amount of money and helps me live, but without a website you will have to resort to shooting for others which is high paying, but inconsistent work. Also always have a plan B. I am currently doing video game reviews on YouTube and my first one is about to be released. Now I have high hopes it'll catch on, but I won't have any delusions about being a hit on there. That's why I have three jobs, and I'm in school. Also if you do get into the industry, be nice to people. No one likes a "primadonna" or "diva" and if you're sweet, then opportunities will present themselves to you…
I am always looking for talent as well for tiffanystarrxxx.com so if you want some great advice and to possibly have your first shoot then message me on Twitter. I won't lie and say it isn't a fun job, it is. I get to travel, make new friends, make money, have sex with attractive people, and you get some limited fame, but unless you have a website or get into the technical/production side of the industry you may be in for a short-lived career. Always be prepared for long stretches of no work. You could shoot fourteen shoots in one month and not shoot for another four. Good luck on your sexy porno endeavour".
Above all else, Tiffany is grateful to her fans for the support they have given her over the years. Enthusing about her fans during both her Adult DVD Talk interview and her Wendy Williams interview, Tiffany stated;

"I want to thank them from the bottom of my heart for their support, and love for my work. They made me the pornstar I am today and I promise as long as people love my work I'll keep making more, and more porn. I love you all and be sure to check out my cam4 super shows every Tuesday at 4pm est. Follow me on twitch, fetlife, my Facebook fan page, and my soon to be YouTube channel. You are what keeps the TS porn community thriving! Game on!…
they are the ones that help put me where I am and give me my porn star status. Without them porn stars would be out of a job. You should love ad appreciate your fans and I want them to know I do. I also want to thank them for supporting my web site www.tiffanystarrxxx.com, DVDs, and other scenes I'm involved with. I hope to be around for a long time and make more hot content and I hope with your continued support that I can thrive in the porn industry. Thank you! xoxo".
As matters stand, Tiffany continues to shoot pornographic productions, study for her business degree, hosts live adult-cam site sessions and, of course, plays computer games! If you would like to watch Tiffany's latest adult film content, learn about her upcoming public appearances, chat with her during a real-time web-cam session, or simply play some Xbox or PS4 games with this gorgeous gamer girl herself, then why not check out all of Tiffany's social networking links provided in the section below? As Tiffany herself states;
"I'm still young, still attractive and I plan on making porn and pleasing fans and friends for a long time. Yes, I plan on doing porn for a long time. I've met so many new friends, travelled to places I've never been, and had a lot of fun doing my work. I also love to please my fans and I want to continue".
Need we say more?
Social Networks
Official Blog Site : tiffanystarrxxx.com
Shemale XXX : Tiffany Starr at Shemale XXX
Kink Profile : Tiffany Starr Femdom & BDSM Content
Twitter : tiffanystarrxxx
Fetlife : TiffanySTarr
Gamer Profile : https://www.twitch.tv/tiffanystarrxxx
Xbox live name : tiffanystarrxxx
PSN name : malvaux