Val Steele
Val Steele Twitter : @asphyxiateval   BFFS : Val Steele Group Sex Scenes   Mofos : Val Steele Sex Scenes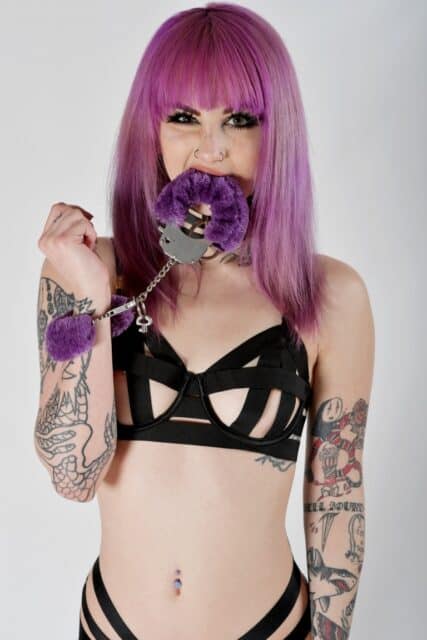 Click here to see more of Val Steele's hottest sex scenes at Hussie Pass
Val Steele – Personal Info
Name : Val Steele
Alias : Valerica Steele
Date of Birth : June 12th
Star Sign : Gemini
Measurements : 32B – 23 – 27
Height : 5'2 (1.57m)
Hair Colour : Purple
Eye Colour : Brown
Tattoos : A snake coiled around a goblet on her upper left thigh, a jellyfish on the left side of her rib cage with its tentacles travelling underneath her left breast, a small broken heart on her right temple, matching scorpions on either side of her neck, the female gender symbol on her right middle finger, 'Self Care' script along the left side of her face, a geometric animal design on the left side of her neck (just below her ear), a heart with an arrow through it and 'Me' script in its centre on the outer side of her lower right leg (just above her ankle), a black bracelet/belt with a smiley face disc on the inside of her left calf, an intricate skeletal creature with green tentacles holding a flaming sword on the left side of her lower back and various designs on her right arm including an Oni head with ornate detailing, two skulls on a cherry vine and a large Japanese dragon. Val Steele also has various designs on her left arm including Kaonashi from the Japanese anime Spirited Away, a cherub with a gun, a red heart with 'Mom' script on a banner across it, red roses, a tombstone with 'See U Soon' script on it, a dagger with a skull on its hilt, 'Hell Bound' script, a moth/butterfly, a shark with a spear through it, a large spiderweb, a red snake and a bloody spiked mace
Piercings : Navel, left nostril, nipples, clithood, right nostril and dermals on either side of her face
Shoe Size : Women's 7½ (US)
Years Active : 2020 – present
Number of Scenes : 20+
Val Steele (aka Valerica Steele) is a popular rising pornstar and model who made her industry debut in early 2020. In no time at all, inked natural beauty Val Steele has garnered a loyal fan following due to her fun loving personality, raw sexual dynamism and sizzling sex scenes for Mofos, See Him Fuck, Swallowed and Team Skeet. Watch this space!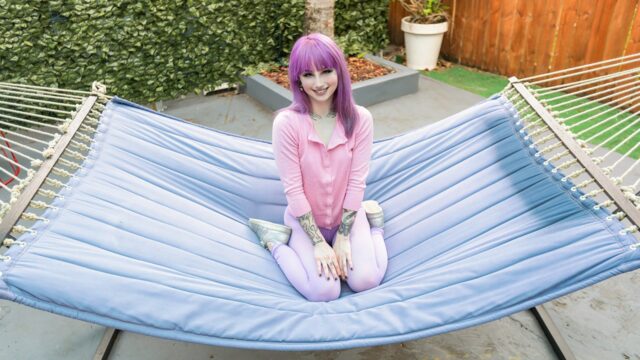 Click here to watch Val Steele in "Best Ever" at BFFS/Team Skeet
Val Steele : Adult Film Career
Hailing from Baltimore, Maryland, sexiest inked pornstar Val Steele used to work as an exotic dancer prior to performing in porn. Hot tiny spinner Val Steele made her official porn debut in early 2020 and she is represented by Hussie Models. Val Steele is credited in some of her initial sex scenes as 'Valerie Steele'. One of Val Steele's first ever porn productions was a sizzling Val Steele Squirts All Over From A Cock Stuffing sex scene with Ulan that was released via Hussie Pass in January 2020. This hot hardcore porn scene was recommended by adult film critic Rik Graves who stated in his February 2020 Black Halo Adult Reviews post that;
"Overall, I felt that this was a really nice scene showcasing a newcomer, who surely will have more than a few porn fan boys on their toes. She has a unique look that is definitely bound to attract some attention, and if it is not her looks that gets it, then it will definitely be her hunger for sex that does so. But in speaking about this sex in this scene in particular, it was good. First-timer or not. As I said in the beginning of the review, Val just went for it, showing that she was more than ready to do so. I feel that she handled herself well here. As we see here, she is one who clearly sucks good dick, and again when it came to the riding, I was really impressed. It basically blew my mind. All in all, with the addition of all the squirting seen in the scene, it is one that truly offers a lot to be enjoyed. I recommend it".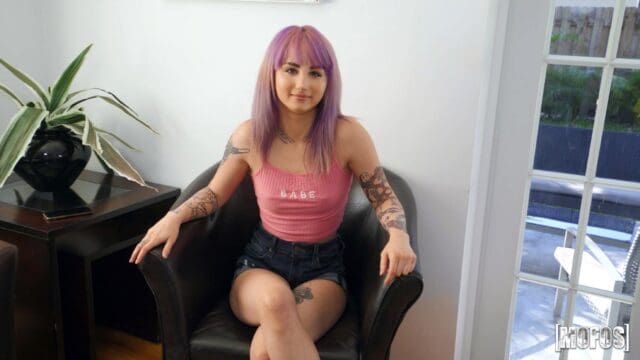 Click here to watch Val Steele in "Little Val Takes Big Dick" at Mofos
We also recommend watching sexy rising starlet Val Steele's raunchy Brickzilla Is Val Steele's 1st BBC porn scene with Brickzilla for Hussie Pass in February 2020, her epic Sloppy Showcase With Val And Lilly oral sex scene with Lilly Bell and Logan Long for Swallowed in February 2020 and her thrilling Vanessa And Val's Deviant Display threeway porn scene with Vanessa Vega and Mike Adriano which was uploaded via All Anal in February 2020. As the scene description hotly hints;
"If you've ever wanted to have a threesome with two hot tattooed babes, now's your chance. Vanessa Vega is ready for a hard backdoor pounding and Val Steele is here to provide much needed oral support. Anal is always better with lube, and Val's wet mouth provides plenty of that! Vanessa's bootyhole swallows that cock while her friend is ready to lick that gape every chance she gets. These sluts will give you everything you've wanted and more!".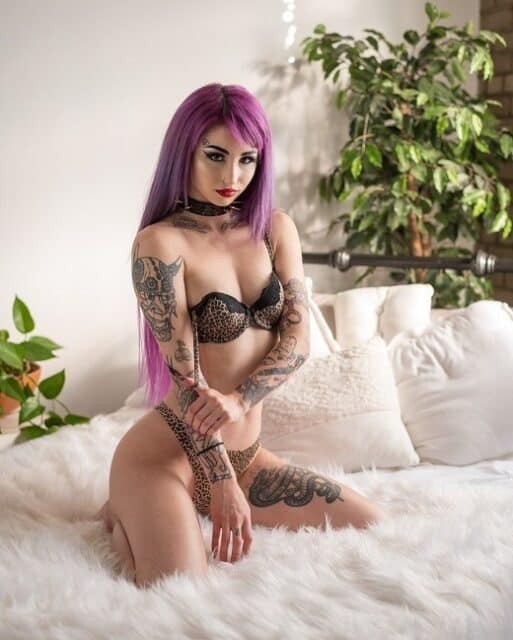 Click here to see more of Val Steele's hottest sex scenes at Hussie Pass
Popular all natural pornstar Val Steele has since filmed a fantastic Little Val Takes Big Dick scene with Jmac for Mofos in March 2020, she shot a steamy More Than A Prank scene with Peter Green for Mofos in March 2020 and she shared a terrific Val Steele Is A Rebel That Loves To Fuck In Public roleplay sex scene with Sean Lawless that was promoted via Bang! Yngr in April 2020. As the scene description raunchily reveals;
"Val Steele is a tattooed alternative hottie that has an expansive imagination. She takes him to a spot under the bridge and sucks on his thick dick in public! She has her tongue pierced and loves to lick up his cock before slurping it down her throat. She is an extra wild dirty slut that needs to be dicked down and shown who is boss!".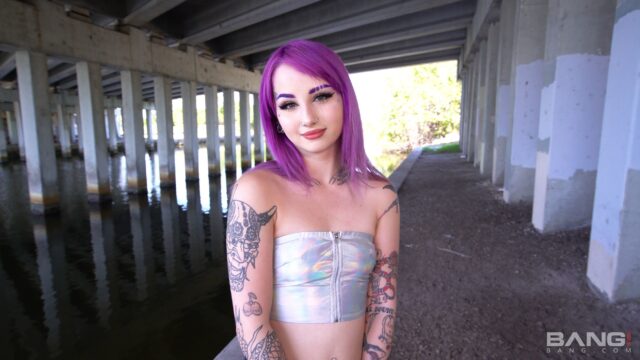 Click here to watch Val Steele in "Val Steele Is A Rebel That Loves To Fuck In Public" at Bang! Yngr
Val Steele : Popular Porn Productions
Many of hot petite porn star Val Steele's most popular porn productions have been those that she has filmed for Team Skeet's fan-favorite web channels. You'll love viewing Val Steele's sensational Best Ever sex scene with Jmac for Exxxtra Small in May 2020 and her kinky Case No. 7906114 shoot with Tyler Steel for Shoplyfter in June 2020. Most notably, Val Steele shared a spectacular Dick Jockeys group sex scene with Indica Flower, Stella Raee and Peter Green which was unveiled via Team Skeet's BFFS web channel in March 2020 with the hot description;
"Tatted up sex kittens Val Steele, Indica, Flower, and Stella Raee love getting all dolled up in sexy black lace and going to wild raves together! This time, the raver chicks try to look as hot as possible so they can get their favorite DJs attention in the crowd. Of course, they succeed and he invites them to his house to experience a little bit of fan love. The edgy besties twerk their jiggly asses for their favorite DJ, exposing their perfect titties and sharing his veiny sausage in a drooling blowjob. They grab the root of his cock and shove it in their pussies, taking turns going for salacious rides. Then, they stroke him to completion and lap up a creamy load. These babes are always ready for the drop!".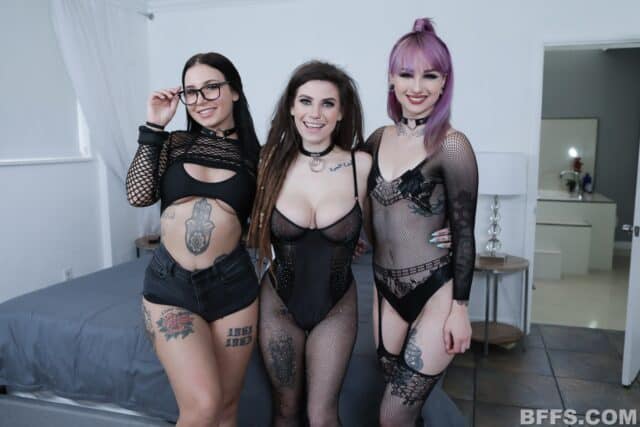 Click here to watch Stella Raee, Indica Flower and Val Steele in "Dick Jockeys" at BFFS/Team Skeet
During this time, natural stunner Val Steele has filmed many sizzling sex scenes for the popular porn site See Him Fuck. As a matter of fact, Val Steele is See Him Fuck's first ever contract star! We recommend watching Val Steele's raunchy Danny Mountain's Debut romp with Danny Mountain in March 2020, her kinky Ravishing Ruben Slikk's Slick Asshole scene with Ruben Slikk in June 2020 and her sizzling Meet Eddie Dean scene with Eddie Dean in July 2020. Inked angel Val Steele has received an ardent endorsement from See Him Fuck studio representatives who highlighted in a June 2020 AVN press release how;
"While alternative-looking models like Val often get turned away from more mainstream shoots, SeeHimFuck celebrates rather dismisses the performers who get the cold shoulder from other sites…With SeeHimFuck, we are breaking ground in many ways, not only with the content, but also who we hire for the content. From day one we knew we wanted to be an inclusive site and that means no discrimination, color, piercings, alt—we simply don't discriminate. We never would have considered doing it any other way. We are thrilled to have Val under contract and think she is perfect for the brand. She is beautiful, enthusiastic and knows exactly what we are looking for and pulls it off perfectly".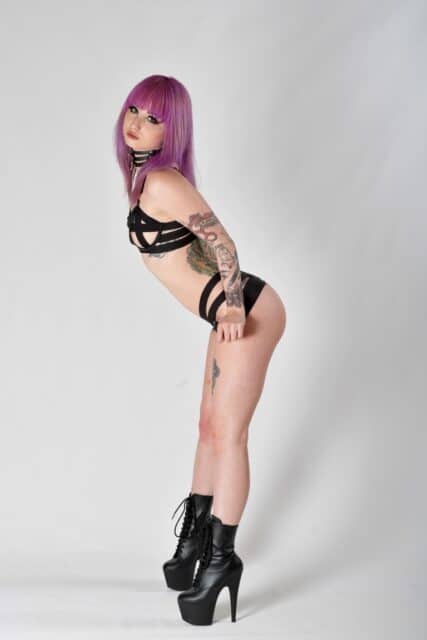 Click here to see more of Val Steele's hottest sex scenes at Hussie Pass
When she isn't starring in these fantastic porn productions, rapidly rising starlet Val Steele enjoys chatting with her fans on social media and creating exclusive videos for her official OnlyFans account. In fact, Val Steele is one of the top 2% of performers on OnlyFans. In her spare time, Val Steele enjoys watching Netflix, going hiking and exploring new cities. As Val Steele's official All Anal profile saucily states;
"Val Steele is an inked cutie who loves everything sex. She's always been into casual encounters and feels no shame about it. A former stripper, Val loves watching Netflix, hiking, or exploring new cities. Relationships aren't her thing, but choking on dick until she almost passes out or having a guy completely destroy her in bed are her favorite sexual activities. The only thing better is if the guy leaves right after".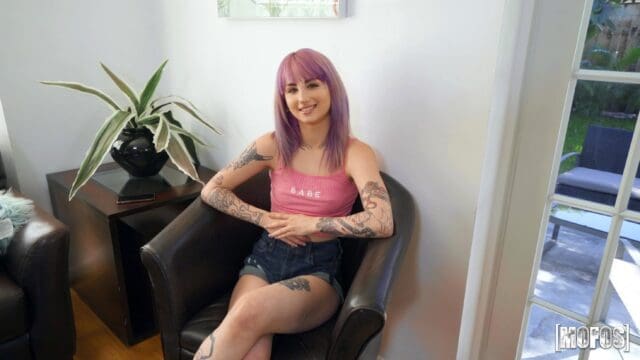 Click here to watch Val Steele in "Little Val Takes Big Dick" at Mofos
Keen to stay connected with your favorite petite pornstar Val Steele? Then use the links provided below to discover all of Val Steele's hottest sex scenes, exclusive web content and upcoming productions!
Val Steele – Social Networks
Twitter : @asphyxiateval
All Anal : Val Steele at All Anal
Bang : Val Steele at Bang! Originals
BFFS : Val Steele at BFFS
Exxxtra Small : Val Steele at Exxxtra Small
Hussie Pass : Val Steele at Hussie Pass
Instagram : @butanebby
ManyVids : Val-Steele
Mofos : Val Steele at Mofos
See Him Fuck : Val Steele at See Him Fuck
Shoplyfter : Val Steele at Shoplyfter
Swallowed : Val Steele at Swallowed
Babeapedia : Val Steele at Babeapedia
The Nude : Val Steele at Nude EU