Indica Flower
Indica Flower Twitter : @IndicaFlowerxxx   Camsoda : Indica Flower
Reality Kings : Indica Flower Sex Scenes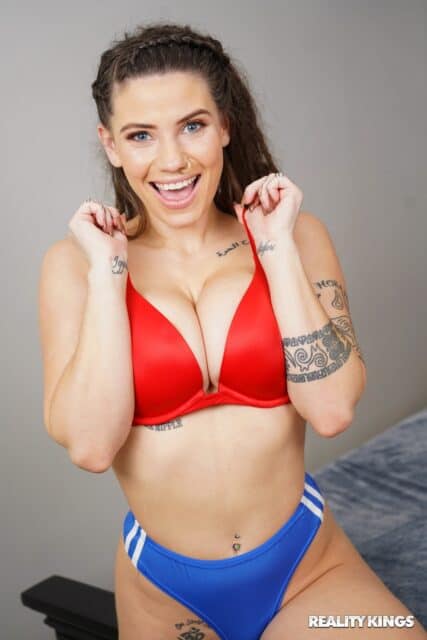 Click here to watch Indica Flower in "The Right Fit" at Reality Kings
Indica Flower – Personal Info
Name : Indica Flower
Date of Birth : May 9th
Star Sign : Taurus
Measurements : 32DDD – 27 – 36
Height : 5'2 (1.57m)
Hair Colour : Brunette
Eye Colour : Blue
Tattoos : A lotus flower across her left side, 'Free the nipple' script underneath her right breast, Arabic script across the left side of her collarbone, the Hindu Om symbol (which represents the one-ness of all creation) on the right side of her lower abdomen with 'Om Shakti Om' script above it, a sun and crescent moon on the back of her left hip, a star with a lion in its centre across the top of her right foot with a design below it, a large bouquet/bundle of flowers with 'Go smudge yourself' script across her upper right thigh, various symbols on her fingers, a woman's face with 'Go Slow' script underneath it on the inside of her right forearm, a band featuring various symbols around her left forearm, script on the insides of both of her wrists, a claw symbol on her upper left arm with 'Hoka Hey Mitakuye Oasin' script (which is a phrase from the Lakotan language representing their world view of interconnectedness, oneness and harmony), a tree on her right shoulder blade with a mountain range above it, an intricate design across her left shoulder blade and a spiral symbol in the centre of her lower back
Piercings : Navel and left nostril
Shoe Size : Women's 5 (US)
Years Active : 2019 – present
Number of Scenes : 30+
Indica Flower is a beautiful brunette pornstar, camgirl, exotic dancer and model who made her industry debut in the summer of 2019. In no time at all, Indica Flower has attracted a devoted fan following due to her raw sexual charisma, piercing blue eyes, cute freckles, all natural 32DDD bust and sizzling sex scenes for Mofos, Nympho, Reality Kings and Team Skeet.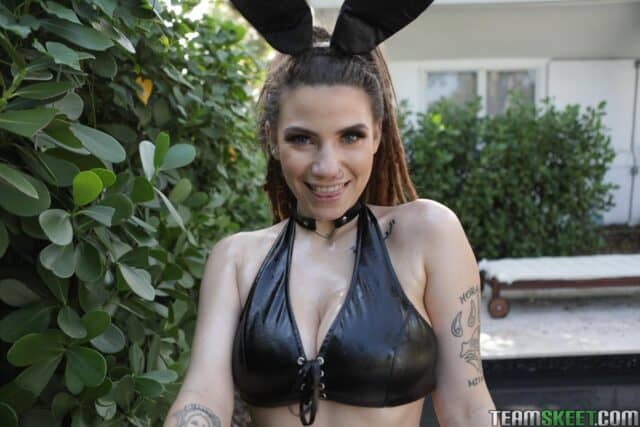 Click here to watch Indica Flower in "Miami" at Titty Attack/Team Skeet
Indica Flower : Adult Film Career
Hailing from Baton Rouge, Louisiana, Indica Flower first started working in the adult entertainment industry as an exotic dancer. Indica Flower quickly discovered how much she loves dancing because it has enabled her to indulge her wild sexual energy. In this manner, sexy petite stunner Indica Flower decided to pursue a career in porn in the summer of 2019 and she is represented by Hussie Models. Indica Flower discussed her reasons for working in the adult industry whilst shooting for House Of Fyre, divulging in a June 2020 AVN press release that;
"I started in the sex work industry when I was 18. Growing up I always said I wanted to try being a dancer. When I was little I would stare at the big, red Penthouse sign and I knew it was where I wanted to be. I know that's not every kid's typical dream, but it was just something I knew I had to try. From a very young age I was very sexual and sexuality has always been such a big part of myself and my life. When I started stripping, I finally felt like I could be myself. Working in sexual environments gives me an outlet for all my wild sexual energy. Being able to channel that energy into something that benefits me physically and financially is amazing".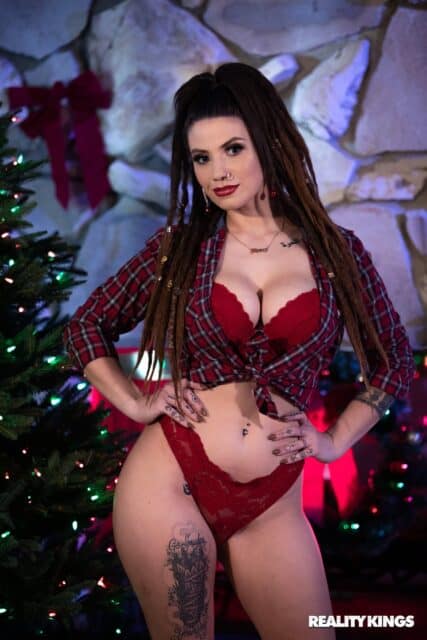 Click here to watch Indica Flower in "Tied Up For The Holidays" at Reality Kings
Some of all natural beauty Indica Flower's earliest porn productions include her thrilling Double The Pleasure For Busty Indica Flower three-way with Brian Omally and Oliver Flynn for Hussie Pass in August 2019, her sizzling Indica Flower Is A Bad Girl That Gets Fucked By The Group Home Leader roleplay sex scene with Mike Mancini for Bang! Fck News in September 2019 and her steamy His Secret Slut scene with Oliver Flynn that was released via Karups Hometown Amateurs in October 2019. As the scene description hotly hints;
"Indica Flower's roommate was going on a date and asked if she could do some laundry for him while he was gone. When she told him that she didn't care for the chick he was going out with, he wasn't sure why she felt that way. As he headed for the shower, Indica decided to show him what he was missing. She sneaked into the bathroom with him to check him out in the shower then got naked and climbed into the shower with him. Seeing her fine, naked body with her big tits and round ass, he knew right away what she wanted…".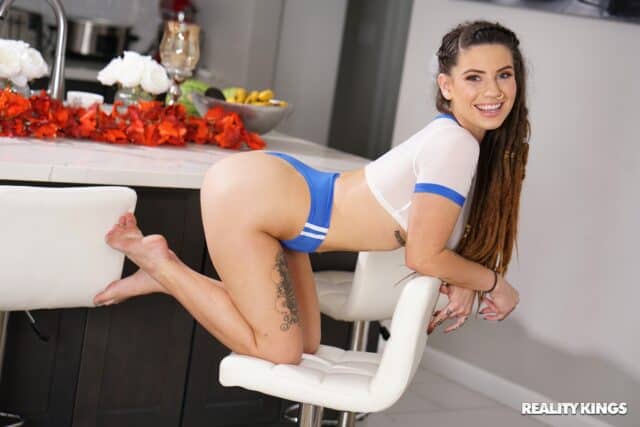 Click here to watch Indica Flower in "The Right Fit" at Reality Kings
We also recommend watching Indica Flower's titillating three-way with Aria Kai and Landon El for Hot Guys Fuck in October 2019, her saucy Free Spirit scene with Ryan Madison for 5K Porn in October 2019 and her steamy Girl Crush scene with Kenzie Madison for House Of Fyre in November 2019. Sexy rising starlet Indica Flower has since filmed a terrific Welcome to Laz Vegas: Kenzie & Indica three-way with Kenzie Madison and Laz Fyre for House Of Fyre in December 2019 and she shared a raunchy femdom pegging three-way with Aria Kai and Dustin Hazel which was uploaded via Hot Guys Fuck in December 2019. Indica Flower is credited in some of these initial sex scenes as 'Summer' or 'Summer Saunders'. When Indica Flower was asked about her favorite sexual positions during her 5K Porn interview, she revealed that;
"I love anything hardcore. BDSM, spanking, choking. spitting :)…I masturbate multiple times a day, usually thinking about whichever woman I'm obsessed with that day LOL…I love casual sex and if I was in a relationship I would absolutely swing….when I'm not working I have sex as much as possible…I do enjoy cream pies!! but my favorite place is my face. Makes me feel extra dirty :)".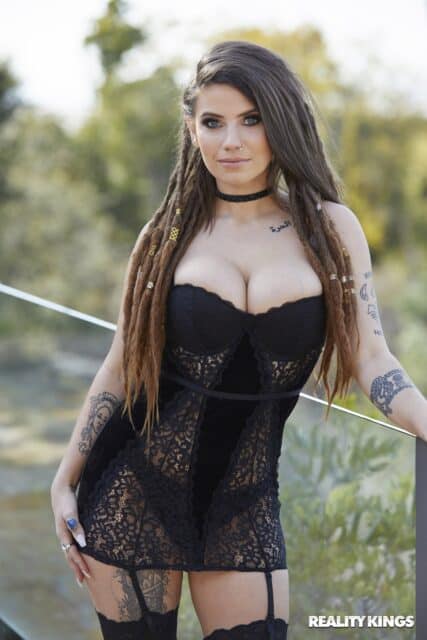 Click here to watch Indica Flower in "Pour Something Sweet On Me" at Reality Kings
Indica Flower : Popular Porn Productions
Many of Indica Flower's most popular porn productions have been those that she has filmed for Team Skeet. In fact, brunette beauty Indica Flower has already appeared on several of Team Skeet's fan favorite web channels. You have to check out Indica Flower's raunchy Stepsister Stash Snatch roleplay with Wrex Oliver for Sis Loves Me in November 2019, her epic Dick Jockeys group sex scene with Stella Raee, Val Steele and Peter Green for BFFS in March 2020 and her steamy Free Love Hippie Chick scene with Johnny Castle for Teen Curves in April 2020. As the scene description saucily states;
"With her super fat ass and edgy style, it's not hard for Indica Flower to get picked up on the street. Today, our stud gives her a ride on his motorcycle and reveals that he's a fashion photographer. He takes her back to his place for a shoot, and it soon turns into a hot and heavy fuck session…Talk about free love…".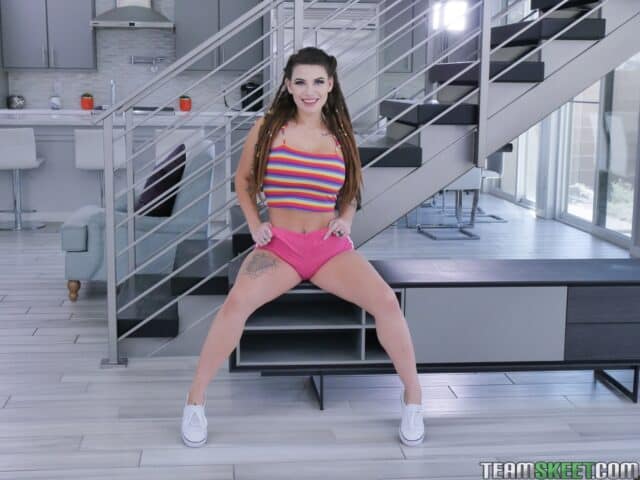 Click here to watch Indica Flower in "Free Love Hippie Chick" at Teen Curves/Team Skeet
Wait, there's even more. Indica Flower has shared a sizzling Miami scene with Johnny The Kid for Titty Attack in May 2020, she filmed a kinky Group Love three-way sex scene for Spank Monster in May 2020 and she shot a fantastic Divorced three-way with sexy MILF Katie Morgan and blonde bombshell Kenzie Madison that was promoted via Team Skeet's Dyked web channel in June 2020. As the scene description raunchily reveals;
"Divorce can be an important rite of passage in a banging MILFs life, and Katie Morgan is no exception. When she finally unties the knot, her besties, Indica Flower and Kenzie Madison come running to celebrate her newfound money and freedom. The experienced freaks make their way to the living room and eat each other's tight MILF slits until they are spasming in pleasure. Then, they use a strap-on to throw some pussy-stretching penetration into the mix. Turns out, divorce can be a pretty pleasurable affair".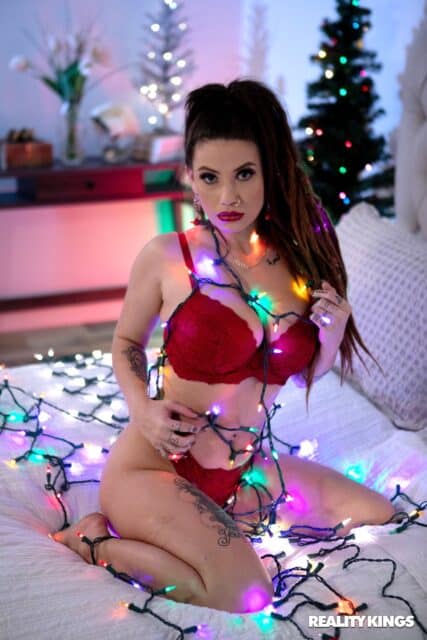 Click here to watch Indica Flower in "Tied Up For The Holidays" at Reality Kings
During this time, Indica Flower has also filmed several sensational sex scenes for the popular porn network Reality Kings. You'll love viewing Indica Flower's kinky Tied Up For The Holidays shoot with Zac Wild in December 2019, her steamy Sudsy Seductress scene with Scott Nails in January 2020 and her terrific The Right Fit scene with Ricky Johnson in February 2020. Indica Flower has since shot a sensual My Secret Wet Hookup: Part 1 scene with ravishing redhead Aria Kai in March 2020, she shared a spectacular My Secret Wet Hookup: Part 2 three-way with Aria Kai and JMac in March 2020 and she filmed a sizzling Pour Something Sweet On Me scene with Zac Wild in April 2020. As the scene description hotly hints;
"Indica Flowers is an all-natural brunette with big tits who knows how she likes to be treated. Her sugar daddy, Zac Wild, does all the right things to make her happy. But she's never fucked him! Indica decides that tonight is the night she is going to milk him of all his cum. Indica starts by giving him a nice wet blow job. Zac decides to oil up her ass, making her booty nice and slippery. Zac glides his cock deep inside Indica making her moan for more. Zac cums all over Indica's beautiful face and tits while Indica loves every last drop of it".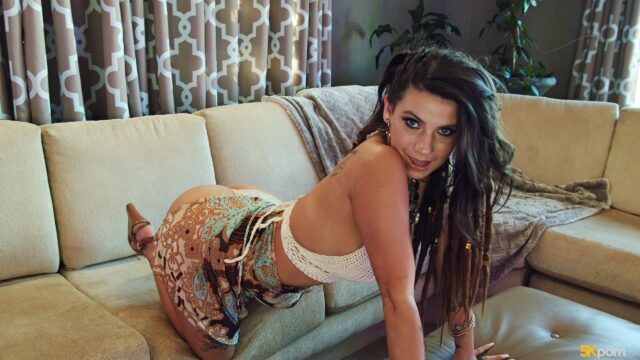 Click here to watch Indica Flower in "Free Spirit" at 5K Porn
Indica Flower : Recent Releases
You'll be happy to hear that Indica Flower continues to shoot a wealth of spectacular sex scenes for many popular porn networks. You'll love watching Indica Flower's raunchy Slutty Tendencies With Indica And Aria three-way with Aria Kai and Mike Adriano for Nympho in January 2020, her thrilling Not My Legs Challenge three-way with Aria Kai and Peter Green in January 2020 and her steamy Morning Sex and Sex Twerker scenes with Laz Fyre which were released via House Of Fyre in February and June 2020. Indica Flower also shared a sizzling scene with Mike Hunt that was featured in the Lethal Hardcore movie I Got Fucked By My Probation Officer #4 (2019) starring sexy teen pornstars Aria Kai, Emori Pleezer and Sky Pierce. As the DVD description saucily states;
"Aria Kai is a bad girl that can't stop breaking the law, so she had to put out for her probation officer to stay out of jail! Sky Pierce knew she would fail a urine test, so she rode her probation officer's hard cock and made him cum instead! Indica Flower loves smoking pot so much, that she would rather smoke her P.O.'s cock instead of being drug tested every month! Emori Pleezer hates checking in with probation, so got her P.O. to sign off on her paperwork by getting him off!".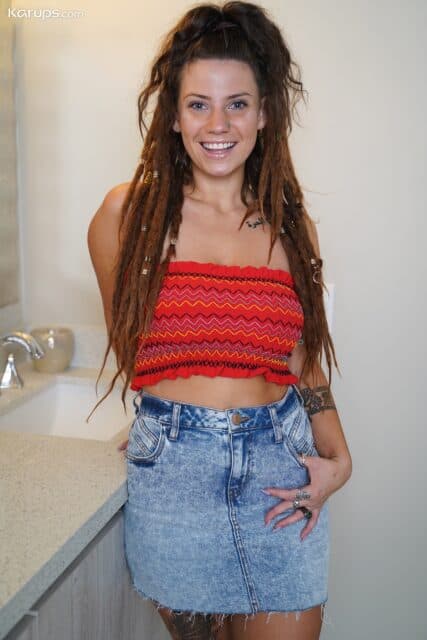 Click here to watch Indica Flower in "His Secret Slut" at Karups Hometown Amateurs
When she isn't starring in these popular porn productions, hot brunette pornstar Indica Flower enjoys chatting with her fans on social media, shooting exclusive videos for her OnlyFans account and hosting lusty live cam shows on Camsoda (as 'IndicaFlower'). As Indica Flower hotly hints;
"Hi guys, I'm IndicaFlower! I've been in the sex work industry for three years as an exotic dancer and have recently started doing porn. You can find my videos on HotGuysFuck, Xvideos, Pornhub. I'm a sexy lil hippie baby who's down for anything and everything ;)".
In her spare time, sexiest pornstar Indica Flower loves listening to reggae music and getting in touch with nature. As Indica Flower mentioned in her 5K Porn interview;
"I'm a bubbly little hippie babe. I love anything involving nature. On any day, you can find me skinny dipping at a local lake jamming to some reggae".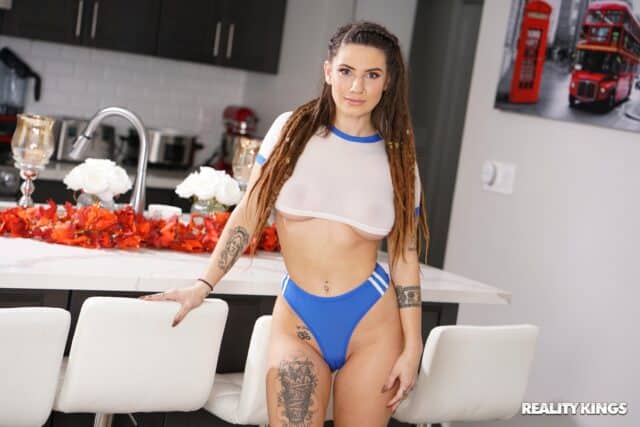 Click here to watch Indica Flower in "The Right Fit" at Reality Kings
Keen to stay connected with sexy rising pornstar Indica Flower? Then use the links provided below to discover Indica Flower's hottest sex scenes, exclusive web content and upcoming productions!
Indica Flower – Social Networks
Twitter : @IndicaFlowerxxx
Bang : Indica Flower at Bang! Originals
Camsoda : IndicaFlower
Instagram : @indicaflower_
Karups : Indica Flower at Karups
Mofos : Indica Flower at Mofos
MyFreeCams : IndicaFlower
Nympho : Indica Flower at Nympho
OnlyFans : indicaflower
Reality Kings : Indica Flower at Reality Kings
Team Skeet : Indica Flower at Team Skeet
5K Porn : Indica Flower at 5K Porn
Adult Empire : Indica Flower's DVDs
The Nude : Indica Flower at Nude.EU
Babeapedia : Indica Flower at Babeapedia