Belle Noire Twitter : @mybelledoll   Instagram : @mybelledoll   Kink Profile : Belle Noire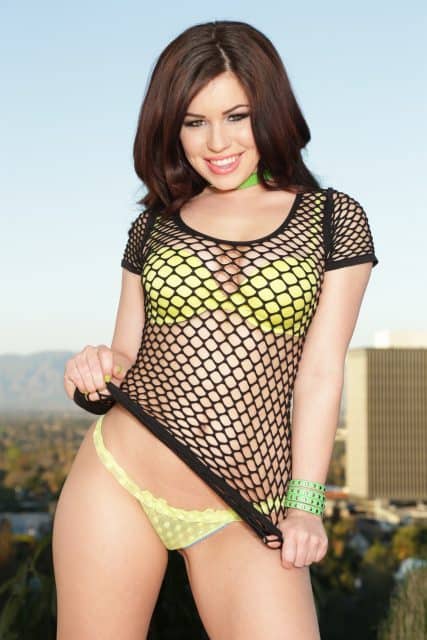 Belle Noire – Diabolic Video – Adult Empire Galleries
Belle Noire – Personal Info
Name : Belle Noire
Date of Birth : June 22nd
Star Sign : Cancer
Hometown : Oklahoma (US)
Measurements : 34C – 26 – 34
Height : 5'4 (1.63m)
Hair Colour : Black
Eye Colour : Hazel
Shoe Size : Women's 7 (US)
Pets : A dog. Belle mentioned in her October 2013 Barelist interview that she has a "Boston Terrier, Lunar. He is a gentleman and wears a tuxedo all the time".
Years Active : 2013 – 2015
Number of Scenes : 90+
Belle Noire is a fan-favourite model, dancer and actress who starred in a wealth of critically acclaimed porn productions between 2013 and 2015. Famous for her sultry girl/girl scenes and BDSM content, Belle Noire received many notable "Best Scene-All Girl" and "Best Supporting Actress" nominations at the AVN and XBIZ Awards.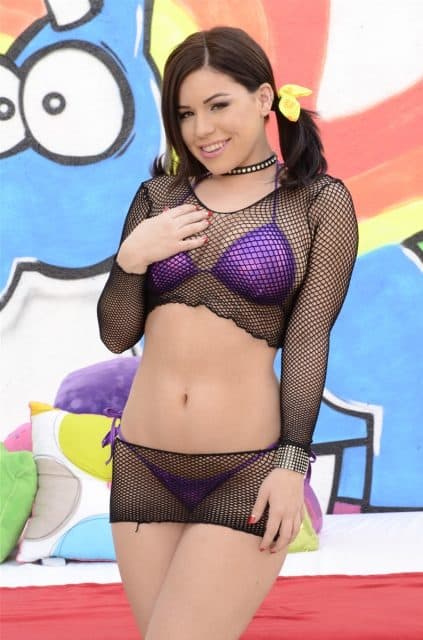 Belle Noire – Evil Angel – Adult Empire Galleries
Born in Oklahoma, Belle Noire has always been an artistic individual – writing scripts and plays as a child as well as participating in various musicals and ballet classes throughout her teenage years. As Belle Noire herself explained in her XCritic column interview;
"I was so much fun! I was writing scripts and plays for the neighborhood kids (making myself lead of course), I was in musicals and ballet, I went to summer camps and travelled the country with my family. I'd show up to Blockbuster or the grocery store in an evening gown and fur for fun when I was in high school! I had a pretty wholesome upbringing. Very family oriented!".
Belle Noire has discussed her upbringing in greater detail during her November 2013 Adult DVD Talk interview, elaborating upon how;
"I was born in Oklahoma and had a pretty wholesome upbringing. My family was pretty close and we've always been that way. I went to a private Christian school and was a nerdy art kid who wanted to have sex with everyone. (laughs) I'm a very sexual being. I've never been very athletic. I tried out for teams but didn't get on any of them. I was a ballerina and gymnast and dancer ever since I was 2. And I've been acting, mostly theatre acting, I got into film acting when I was 15. I'm really into costumes and theatre. I love old films, like film noir, which is where I got my name. My whole childhood was very theatrical and whimsical…
I didn't move from Oklahoma until I was 16 but I travelled a lot. My biological father moved to Chicago when I was 7 so I used to travel there by myself. My family lives all over the country so I was always travelling. My brothers never did this but I did and I thought it was totally normal. I lived in Spain for a little bit. I've also lived in Arkansas, North Carolina, Italy and now Los Angeles".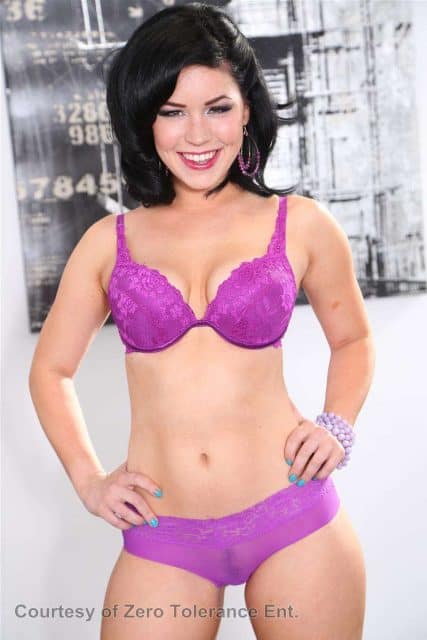 Belle Noire – Zero Tolerance – Adult Empire Galleries
After graduating from high school Belle Noire lived in North Carolina where she worked as a makeup artist and personal assistant on various movies and creative projects. Belle Noire ultimately moved back to Los Angeles in order to complete her cosmetology training at the Toni & Guy Academy. After doing so, Belle Noire continued to travel between the East and West Coast; posing as a professional pin-up model and pole dancing in local gentlemen's clubs as well as performing in burlesque shows. A natural born performer, Belle Noire  has always been intrigued by the adult entertainment industry and explained within her November 2013 Adult DVD Talk interview how;
"It's always been a thought of mine since I was 12. I saw my first porno ever and I don't remember the name but it was about space aliens. There were really hot alien women that came down to earth and they abducted men to use their penises to have sex with them. And I thought it was so fucking hot that I wanted to be one of those women that just used penises! At a hotel I found these red vhs cases that had no titles or anything and I watched them all. I thought it was fucking amazing! It was like a real movie with acting and everything and then they had sex! So I was intrigued but I knew it was not ok with society and my parents and church".
You may be interested to learn that Belle Noire actually worked in adult video stores before she filmed her porn debut. As a matter of fact, Belle Noire mentioned in her October 2013 AVN: Fresh Faces interview that;
"Oh those were my favorite jobs ever. I never got fired from those places. I worked at Adam & Eve for a bit and then I worked at a much seedier place that had video arcades, so a lot of gay guys would come in there, older men—it was so much fun. Just being around porn was great. And I really liked giving advice to people on what to watch, what sex toys they'd like. It was almost like training for what I'm doing now. I loved helping people get off. I had such a knack for it".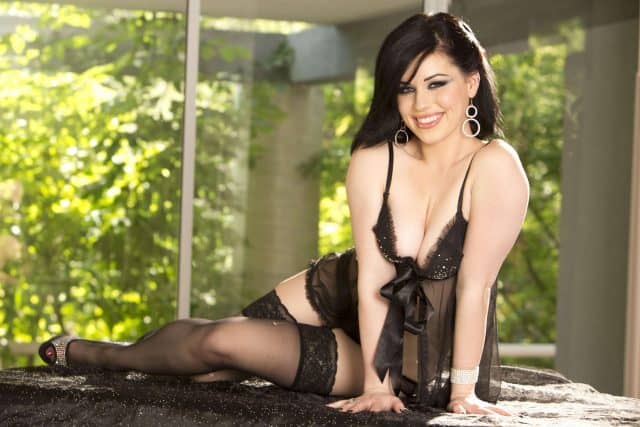 Belle Noire – Jules Jordan Video – Adult Empire Galleries
Wondering how Belle Noire first began working in the adult film industry? Well, it all began in the spring of 2013 when Belle was spotted by an adult film talent scout who contacted Belle Noire via her Model Mayhem profile. Unfulfilled with her 9 to 5 jobs, Belle Noire started to collaborate with this photographer as a BDSM model which paved the way for Belle Noire to meet various adult film industry professionals and shoot her porn debut. Talking about this pivotal period of her life in her November 2013 Adult DVD Talk interview, Belle Noire divulged that;
"I had many regular jobs and I went to school. I went to college for a semester and went to hair school. I just didn't fit in anywhere. I worked in porn shops since I was 18 because every other job I had, waitress, secretary, whatever, I got fired from because I was too sexual. I was always flirting with the boss. So last year, I was bored, bored with life, bored with people and was thinking about what I wanted to do. I wanted to do something sexual…
Then one day, like magic, this famous photographer found me on Model Mayhem. He said my photos weren't that great but I seemed like I could take direction well and I had a lot of spirit in me. I saw his site and it was beautiful bondage bdsm photography and I was so nervous but then I saw a shot of Dita Von Teese tied up that he had shot and I was so down because I love her! So I went there and he shot me. I had never been tied up like that and had some forced orgasms and thought it was awesome! I went to parties with him and besides the alt girls, some porn chicks were at these parties. And they were so beautiful and glamorous. Finally, I decided to do girl/girl but then did boy/girl right away and fell in love with it!".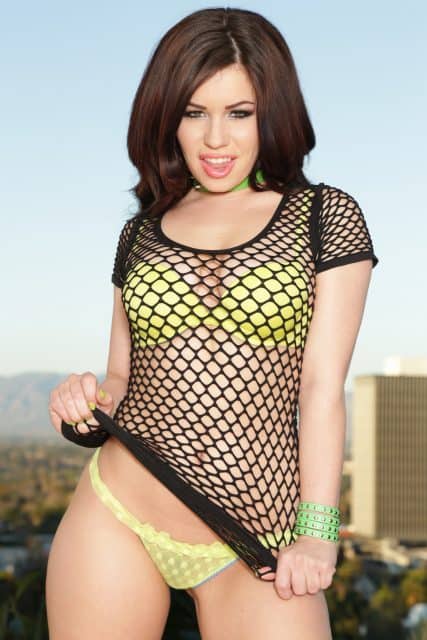 Belle Noire – Diabolic Video – Adult Empire Galleries
Belle Noire : Adult Film Career
In April 2013 Belle Noire filmed her first ever sex scenes with Tommy Gunn for a live webcam show. During this time Belle Noire also collaborated with Megan Salinas on a sizzling girl/girl scene and she teamed up with Eric John on a hot hardcore shoot for Kick Ass Pictures. When she was asked about filming her porn debut during her November 2013 Adult DVD Talk interview, Belle Noire commented that;
"It wasn't an actual scene. It was a live webcam show with Tommy Gunn and a GG scene right before with Megan Salinas. He was late so I didn't meet him beforehand. I was live on webcam and then the door opens and he walked in butt naked. We were live and didn't even have a chance to say hi! I don't know, I thought it should be more ceremonial with candles lit and party streamers and confetti jumping out after the cum shot. (laughs) The next one was a lot more fun and it was with Kick Ass and the talent was Eric John. I love that company".
From this point onwards Belle Noire began performing in a wide range of popular porn productions under the stage name 'Belle Noire'. Belle Noire has explained within her Gamelink's Naked Truth interview that she chose this particular porn star persona because;
"Belle came from Belle de Jour which was Catherine Deneuve's character in the movie by the same name. The title means "beauty of the day". She was a high class prostitute with lots of fetish, bondage, and humiliation fantasies. She was super sexy and I thought she was really cool. Plus she could only be a hooker during the day so her husband wouldn't know. She didn't need to be one at all. It was pretty hot since she was a little slut. Noire came from film noire. I like dark things and I just felt like it suited me well".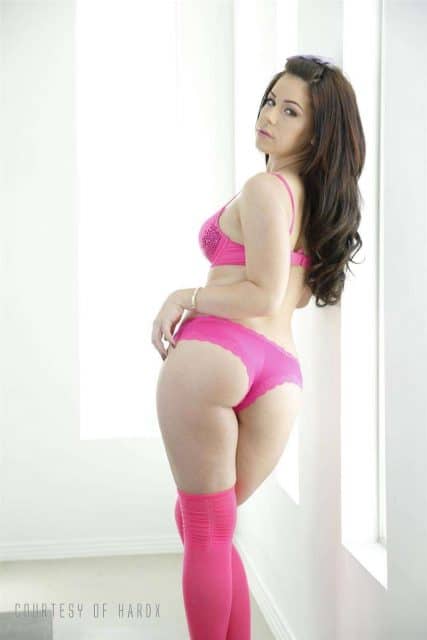 Belle Noire – Hard X – Adult Empire Galleries
During this time Belle Noire starred in many critically acclaimed DVDs including Cheerleaders Gone Bad 3 (2013) for 3rd Degree that was nominated for "Best Young Girl Release" at the 2014 AVN Awards, Maid To Order (2013) for Zero Tolerance which was nominated for "Best Ethnic Release: Latin" at the 2014 AVN Awards and Prom Night Virgins (2013) for Smash Pictures which was nominated for "Best Young Girl Release" at the 2014 AVN Awards and "Couples-Themed Release of the Year" at the 2014 XBIZ Awards.
Fans of Belle Noire will also want to watch her thrilling three-way with Keisha Grey and Bruce Venture in Beautiful New Faces 2 (2014) for Skow Digital that was nominated for "Best Young Girl Release" at the 2015 AVN Awards and her raunchy scenes with Ryan Driller in the Hustler Video parody release This Ain't Boardwalk Empire XXX (2014) which was nominated for "Best Parody" at the 2015 AVN Awards and "Parody Release of the Year: Drama" at the 2015 XBIZ Awards. Belle Noire loved shooting this Hustler Video porn parody and enthused within her XCritic column interview how;
"My most pleasurable moment was when I first worked for Hustler. It has been one of my goals since I was a young teen to be in a Hustler parody and now I get to this month!!".
Alongside her hot hardcore shoots Belle Noire has also established herself as a fan-favourite girl/girl performer. We recommend checking out Belle Noire's scintillating electro-sex fetish shoots that she filmed with Lorelei Lee for Kink.com's Electro Sluts web series in September, October, November and December 2013, her kinky scenes with Penny Pax in Lesbian Ghost Stories 2 (2014) for Girlfriends Films and her steamy shoot with Abigail Mac in All New Hot Showers 2 (2014) for Hustler Video which was nominated for "All-Girl Release of the Year" at the 2015 XBIZ Awards. Fans of Belle Noire will also love viewing her sultry shoot with Siri in the Skow Digital DVD Sweetness and Light (2014) that was nominated for "Best Romance Movie" at the 2015 AVN Awards and her saucy scenes with Aiden Ashley in the Girlfriends Films sequel release Lesbian Love Stories 5: Girls Night Out (2015).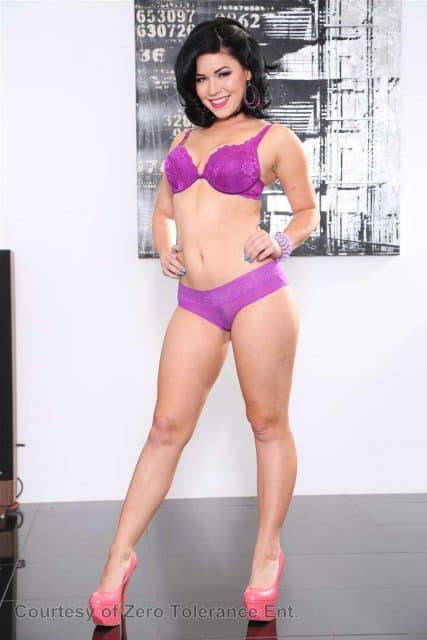 Belle Noire – Zero Tolerance – Adult Empire Galleries
One of Belle's fan-favourite girl/girl scenes has been her terrific three-way with Tanya Tate and Veronica Avluv in the Filly Films DVD Tanya Tate's College Cuties Seduce MILF Beauties (2013) which was nominated for "Best All-Girl Group Sex Scene" at the 2014 AVN Awards. Belle enjoyed collaborating with Tanya Tate and Veronica Avluv on this sizzling scene and raunchily revealed within her  November 2013 Adult DVD Talk interview that;
"That was a fantasy of mine, actually. I remember I got called into the shoot that morning and they told me whom it was with and I was "Done! I'll be there!" I've always loved MILF's. My mom's always been gorgeous and everyone always told me she was a MILF. I was always so proud of her. Just because you're a mom, you can still be hot. I love older women that have children and can still have a very nice look. It's tough to be a woman and keep up with kids!".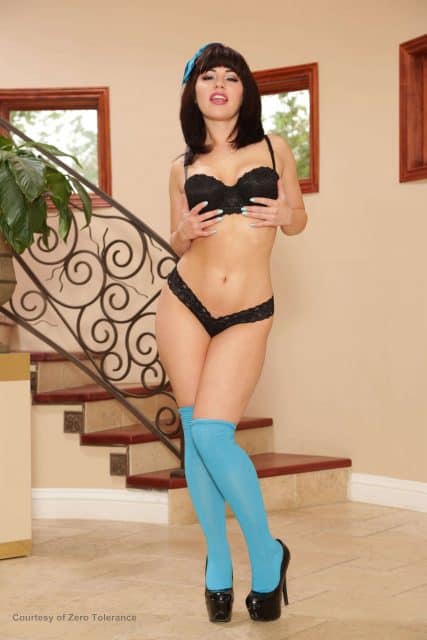 Belle Noire – Zero Tolerance – Adult Empire Galleries
Bella Noire's phenomenal performances in these best-selling porn productions have earned her a wealth of prestigious awards nominations including;
Just can't get enough of Belle Noire's captivating collaborations? Then you'll be happy to hear that Belle Noire's saucy scenes continue to be showcased within such best-selling DVD compilation titles as History of Lesbians (2016) for Hustler Video, Wicked's Best Couples Scenes (2016) for Wicked Pictures and Big Ass White Girls (2017) for Red Light District. We also recommend checking out Belle Noire's raunchy role-play with Marie McCray and Raven Rockette in the Fantasy Massage DVD Teacher vs. Student (2017) and her steamy scenes with Melissa Moore in the Addicted 2 Girls production Twisted Sisters 2 (2017). Not to be missed!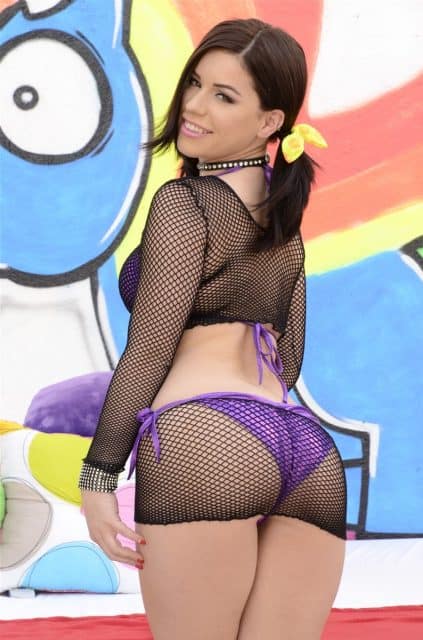 Belle Noire – Evil Angel – Adult Empire Galleries
When she hasn't been shooting these fan-favourite scenes Belle Noire has been interacting with her fans via social media, working on her own artistic projects and raising awareness towards important causes such as Mental Health America. Keen to rediscover all of Belle Noire's best-selling porn productions? Then please feel free to use the links provided below to discover all of Belle Noire's exclusive web content and official social networking channels online today!
Belle Noire – Social Networks
Twitter : @mybelledoll
Instagram : @mybelledoll
Kink : Belle's BDSM, Femdom & Fetish Content
IMDB Profile : Belle's Filmography