Camsoda : caprianderson  Kink Profile : Capri Anderson 21362  Cherry Pimps : Capri Anderson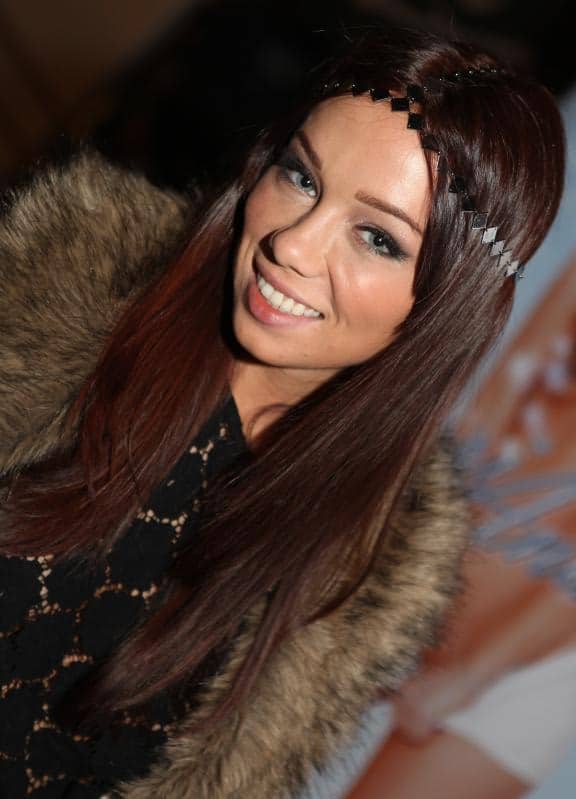 Image Sourced from Wikimedia, Attribution : Michael Dorausch

Personal Info
Name : Capri Anderson
Alias : Alexis Capri
Hometown : New York, New York (US)
Date of Birth: March 30th, 1988
Measurements : 36B – 24 – 34
Bra/ Cup Size : 36B
Boobs : Natural
Height : 5'6 (1.68m)
Weight : 110lbs (50kg)
Hair Colour : Brunette
Eye Colour : Green
Tattoos : 'LA' script on the inside of her left ankle, a heart design with text on both of her wrists, a heart and peace symbol behind her left ear, a heart stabbed by a dagger design with accompanying 'Agape' script on the back of her neck, a treble clef staff behind her right ear, a faint Hello Kitty logo on her lower right calf and a wings design with 'Davey' script in the centre along the outside of her right ankle
Piercings : Navel and left nostril
Shoe Size : Women's 7.5 (US)
Pets : 2 dogs. Capri mentioned in her April 2013 Barelist interview that; "I have 2 dogs, one adopted mutt WYATT and my cavalier king charles: LUX".
Years Active : 2007 – 2017
Number of Scenes : 134+
Former Vivid Entertainment contract girl Capri Anderson is famous for starring in several critically acclaimed feature releases including Spider-Man XXX: A Porn Parody (2011), My Little Black Book (2011) and Pee-Wee's XXX Adventure: A Porn Parody (2012) for which she won "Best Supporting Actress" at the 2013 AVN Awards. A multi-talented porn star, glamour model and webcam star, Capri continues to attract a devoted global fan following with her lusty lesbian web clips and seductive solo photo shoots.
Born in New York, Capri has mixed Irish and Welsh heritage. Capri was raised in New York and but has also lived in Miami, Florida, when she was a teenager. Capri has mentioned in previous interviews that she was a highly active child during these younger years; an avid equestrian, talented dancer and even part of the National Honor Society during grade school. When she has been asked to describe herself when she was a child, Capri has stated that she was;
"ADHD, lively, laughing, curious, rebellious, an Aries to the fullest, opinionated, and head-strong".
Capri first began working in the adult industry when she was 18 years old after she made a sex tape with her boyfriend that was uploaded via the popular porn site Bang Bus. Capri and her boyfriend decided to film this sex tape after seeing an advert on Craigslist and Capri explained during her May 2011 Miami New Times interview how;
"When I was 18 years old, I was living with a boyfriend, working two jobs and going to Miami Dade College. I was working my butt off all the time, and I was young and struggling to pay bills and for textbooks, so I would look online for extra work. We would always see this ad for couples making "this" amount of money in one day. And eventually, we thought we would do it just this once and no one would find out. We filmed for Bang Bus and it was all over from there. (Laughs out loud) I kid".
After all, as Capri jokingly stated within her XCritic column interview;
"It was very "Zack & Miri" so to speak. I'm sure that you can imagine. Only instead of being middle-aged, I was eighteen with two years worth of college expenses, working two jobs in Miami, Florida, and looking to make an honest dollar. I was always a very logical kind of gal and after weighing my options, it seemed as though this would be best in an effort to start gaining some real capital. I was in a relationship with a young man who was willing. So, we searched the Internet until we came across an ad and that's how it all began".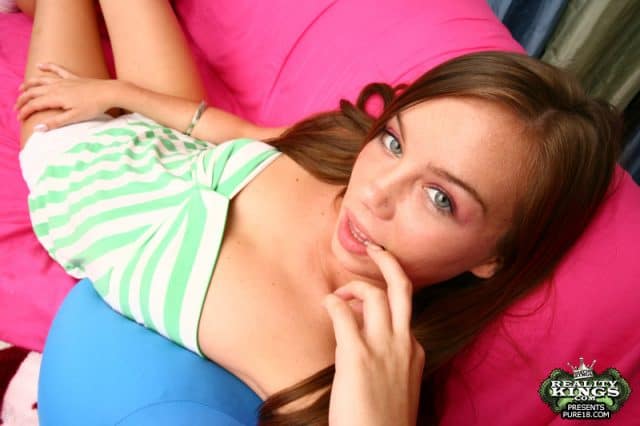 Capri Anderson at Reality Kings
Capri Anderson : Adult Film Career
Capri made her official adult film industry debut in 2007 and some of her earliest sex scenes have been featured within the DVD compilation titles Bang Bus 16 (2007) for Bang Bros, Pure 18 1 (2007) for Reality Kings, Filthy's First Taste 7 (2008) for Vivid, Virgins of the Screen 6 (2008) for Combat Zone, Amateur Angels  22 (2009) for Adam & Eve and the Hustler Video DVD titles Barely Legal 96 and 102 (2009) which won "Best Young Girl Release" at the 2011 AVN Awards.
Capri quickly began to garner a devoted fan following due to her sizzling girl/girl sex scenes among which include her saucy shoot with Julia Ann in Women Seeking Women 59 (2010) for Girlfriends Films, her sultry shoot with Kirsten Price in the Wicked Pictures feature release Until There Was You (2010) and her raunchy scenes with Shyla Jennings in Pretty Filthy 2 (2010) for Abigail Productions also starring Jayden James, Faye Reagan, Jayme Langford, Shyla Stylez, Sea J. Raw, Sophie Dee and Taylor Vixen.
Fans of Capri Anderson will also love viewing her thrilling three-way with Darryl Hannah and Melissa Monet in GirlZtown (2011) for Girlfriends Films that was nominated for "Best All-Girl Release" at the 2011 AVN Awards, her seductive scenes with A.J. Bailey and Mia Lina in her Celluloid Addiction showcase Capricious (2010) and her sultry shoot with Jenna Haze in Meow! (2010) for Jules Jordan Video/ Jennaration X that won "Best All-Girl Release" at the 2011 AVN Awards. When she was asked about what makes a woman sexy during her XCritic column interview, Capri commented that;
"It's all about chemistry. There are many beautiful people in this world, but one has nothing without the ability to connect and see another or their peers for more than just their physical appearance although it is key in this industry. I most admire confidence and cleanliness lol… I like the surprise of meeting new people and talent so I honestly have not put thought into it, but I definitely would have a few repeats such as Georgia Jones, Sunny Leone, and Ashlyn Rae. My dream scene would be all mega hotties in an exotic location abroad, beachside, and sensuality/ chemistry!".
During this time Capri began to feature within a broad spectrum of fetish porn productions, BDSM web clips and feisty femdom shoots. So, if you've always been keen to discover Capri Anderson's compelling kinkster side then we recommend checking out her saucy Fucking Machines solo sex toy shoots that were promoted via Kink.com in April 2010 and October 2010, her fantastic femdom pegging session with Gina Lynn, Kara Novak, Katey Grind, Lynn Love and Megan Jones in Strap-On Sally 25 (2009) for Pleasure Productions, her foot fetish shoot with Ruby Knox in the Kick Ass Pictures DVD series Foot Fetish Daily (2010), her raunchy scenes with Marie McCray in the Reality Junkies taboo relations title Filthy Family (2010) also starring British MILF star Tanya Tate, Diamond Foxxx and Britney Amber, her femdom shoot with Zoey Britton in the Brazzers DVD compilation title Hot and Mean 2 (2011), her Capri Anderson – The Brand New Girl femdom electro-sex bondage shoot with Princess Donna Dolore that was uploaded via Kink.com's Wired Pussy web series in June 2012 and her sizzling scenes with Monique Alexander in Lesbian Psychodramas 12 (2013) for Girlfriends Films.
Capri has enjoyed broadening her sexual horizons within these fetish porn productions . In fact, when Capri was asked to name her favourite thing about being an adult film star during her XCritic column interview, she commented that she loves having;
"The freedom to express my sexuality without hesitation amongst so many others such as myself, and what gal doesn't love doing photo shoots?".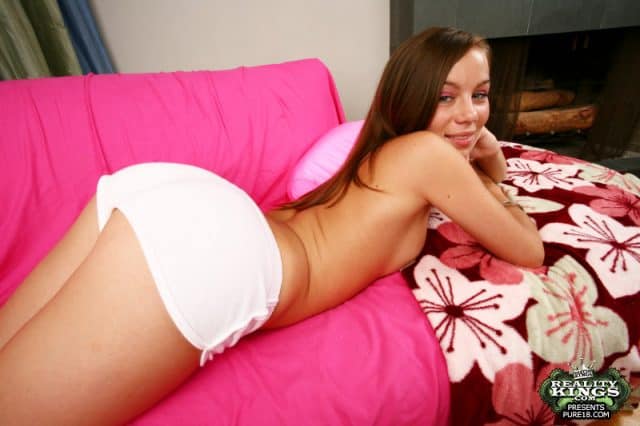 Capri Anderson at Reality Kings
Capri Anderson : Charlie Sheen Controversy & Vivid Contract Performer
Capri attracted mainstream media attention in 2010 when she began socialising with actor and notorious playboy millionaire Charlie Sheen. Capri moved into Charlie's Los Angeles, California, and was named as one of Charlie's 'Goddesses' alongside fellow adult film stars Bree Olson, Georgia Jones, Melanie Rios, Jenna Presley, Kacey Jordan, Ginger Lynn, Brett Rossi and Hillary Scott. Capri has since starred in several 'Charlie Sheen' inspired porn productions with these famous female performers such as Charlie's Angel Capri Anderson (2010) for Reality Kings, Charlie's Devils (2011) for Zero Tolerance, Charlie's Porn Family (2011) for Reality Junkies, Kick Ass Chicks 86: Charlie's Goddesses (2011) for Kick Ass Pictures, Not Charlie Sheem's House of Whores XXX Parody (2011) for X-Play/Digital Sin and Charlie's Girl: Georgia Jones (2013) for Vivid/ SunLust Pictures.
In October 2010 Capri was involved in a widely publicized scandal surrounding her stay at the Plaza Hotel in Manhattan, New York, with Charlie Sheen. According to reports, Charlie caused $7000 worth of damage to a hotel room and police officers responding to a call found Capri locked in the bathroom where she stated she had fled to escape from Charlie who was allegedly intoxicated and threatening her life. After remaining quiet about the situation until November 2010, Capri held an exclusive interview with ABC News wherein she revealed that;
"I never expected the night would unfold the way it did…He definitely was growing more intense as the night grew and went on. It's hard to say being that it was my first time hanging out with him if it was normal of his everyday behavior or not…
He apologized for his behavior and for the entire evening, I guess…The apology was very simple…I was shocked and upset that he would even approach me again…
At this point he was fairly intoxicated…I was sitting on the edge of a coffee table and he was serving us both drinks and he was snorting something…There was a little bit of romance, if you will…In the moment a lot happened…When I became really uncomfortable is when he put his hands around my neck…He started throwing things. He threw a lamp. That was the first thing he picked up…And he threw it across the room at me…
He was, from the beginning of the night, very loud and he had no hesitations when it came to using derogatory language or cuss words…towards the latter half of the night, it got really bad. He started yelling racial slurs…
He threw the lamp against the wall in my direction … And once the lamp flew, it was like there was just stuff coming from every angle. He was just — anything he could pick up, he was trashing the place…
He was calling me a whore a lot. And he was yelling things like, you F-ing bitch. If you don't come out here, I'm going to kill you. If I get in there, you're going to be sorry. If I get in there, you … whore, you whore, whore. Like he just keep screaming and slamming on the door".
Capri's relationship and subsequent hotel incident with Charlie Sheen were covered by numerous mainstream media news outlets including The Daily Mail, ABC News, CBS News, NY Daily News, Entertainment Weekly, People, CNN and the Miami New Times but to name a few. Capri also appeared within A&E's one-hour biography profile; Charlie Sheen Bad Boy On The Edge (2011). Following this intense media scrutiny, Capri focused on her work and divulged during her July 2011 Luke Is Back interview that;
"I have slowly tried to get over it that when anyone looks at me that that is what it's about. I am trying push myself past that. I think it's in my head more than anything else. If I step out with no makeup a lot of times nobody notices me…
they didn't realize how this affected my personal life and my family. How horribly embarrassing it was for them and all the people that didn't know about me being in the adult industry found out due to that. As much as you'd like to have faith in people, people change the way they feel about you almost instantaneously and it's like they never even knew you and people just drop off the face of the mountain and it's really hurtful and really hard…At the same time, I'm not focusing on those things so much anymore. . I'm getting into my work with Vivid".
In fact, a landmark moment in Capri Anderson's adult film career came in March 2011 when she signed an exclusive performance contract with Vivid Entertainment. Capri was thrilled to be chosen as the next Vivid contract girl and eagerly expressed within her XCritic column interview that;
"It's very exciting. As everyone knows, Vivid is the best. I'm so thankful to Steven for granting me this opportunity as it came in a most trying time in my life. Vivid has given me the opportunity to get back to my sense of self and after almost five years in the industry, it feels good to be on top and sometimes bottom. LOL. No pun intended…
I first received the news from my manager and PR Gina Rodriguez (DD Entertainment) in the midst of a lot of stress and controversy. So it was much like a light on my horizon and a very high praise indeed. It's most exciting to feel as though I paved the way into reopening the program for not just me, but future starlets such as Allie Haze. So many young broads would kill for the opportunity to be a part of Vivid and I'm honored to feel as though I have contributed to the possibility that they may one day become a Vivid girl as well".
Capri's first Vivid Entertainment feature release as a contract star was My Little Black Book (2011) that was nominated for "Best Feature" at the 2012 AVN Awards and which earned Capri a "Best Solo Sex Scene" nomination. Capri was eager to tackle her first ever feature acting role and explained within her July 2011 Luke Is Back interview how;
"I'm obsessed throughout the movie with this one guy, who has a girlfriend and is unavailable. So I am doing his laundry and sniffing his clothes. I do end up getting him in the end. It was all good. I had a scene with Dane [Cross]. I've known Dane for years and he's always been a close friend, so it was a little bit awkward. It was great to work with him after all these years. It was really fun".
During this time Capri was cast as 'Mary Jane' in Axel Braun's Vivid Entertainment parody release Spiderman XXX: A Porn Parody (2011) which won "Best Parody: Drama" and "Best Cinematography" at the 2012 AVN Awards as well as "Best Parody: Comic Book" at the 2012 XRCO Awards. What's more, Capri's sizzling sex scenes with Xander Corvus (aka Spiderman), Ash Hollywood (aka Gwen Stacy) and Seth Dickens (aka Flash) in this popular porn parody earned her multiple "Best Oral Sex Scene", "Best Three-Way Sex Scene" and "Most Outrageous Sex Scene" nominations at the 2012 AVN Awards. Capri enjoyed shooting this kinky comic book caper and stated in her July 2011 Luke Is Back interview that;
"I played Mary Jane and that was pretty exciting…We had a lot of fun with that. We did it on green screen and we did fight scenes and that was pretty cool. I've also worked on another movie for Bisco, The Runaways, so now I have three Vivid movies, but 2 are still in production. We really poured our hearts and soul into Runaways".
In fact, Capri has explained in further detail within her XCritic column interview how;
"The experience was one that I'll never forget. It was my first parody, my first time working alongside Axel Braun (as we all know he is the best), and playing the part of Mary Jane (epic!). I was flattered when I learned that they chose me for the role and although I was intimidated to say the least, I was honored. The days were long, but to be on set with the likes of Xander Corvus and Ash Hollywood was always a blast!…I have always been a fan of Marvel in general. I loved Spiderman as a kid as well as all the superheroes!".
Between 2011 and 2012 Capri was featured within numerous best-selling Vivid Entertainment porn productions such as Runaways (2011) with India Summer, Skin Diamond, Lisa Ann, Asphyxia Noir and Phoenix Marie that was nominated for "Best Feature" at the 2012 AVN, XRCO and Nightmoves Awards, My Slutty Friends (2012) featuring Ash Hollywood, Jessie Andrews, Katie St. Ives and Rylie Richman, and Axel Braun's critically acclaimed parody release Superman vs. Spiderman XXX (2012) also starring Andy San Dimas, Alexis Texas, Jenna Presley, Sarah Shevon, Kagney Linn Karter, Lily Labeau and Jazy Berlin that won "Best Parody: Comic Book" at the 2013 XRCO Awards.
During this time Capri starred as 'Lizzy' in the best-selling Vivid parody release Peewee's XXX Adventure: A Porn Parody (2012) alongside Aiden Starr, Jada Fire and Lea Lexis. Directed by B. Skow, this fun flick was a critical and commercial success that was nominated for "Best Parody: Comedy" at the 2013 AVN, XRCO and Nightmoves Awards as well as earning Capri her first ever "Best Supporting Actress" win at the 2013 AVN Awards.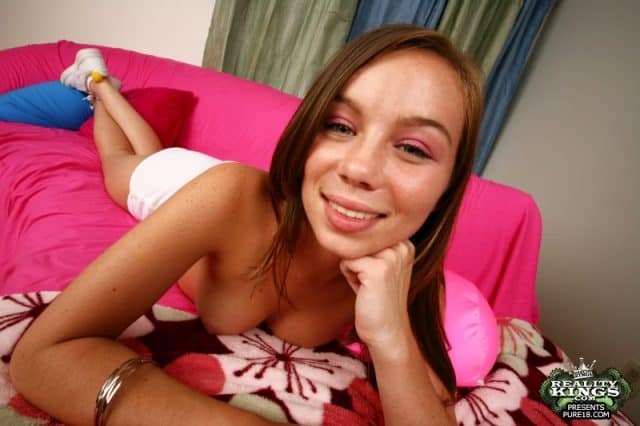 Capri Anderson at Reality Kings
Capri Anderson : Adult Film Award Nominations & Recent Releases
Capri has continued to receive a wealth of impressive adult film award nominations throughout her prolific porn star career, many of which have been listed below;
2009: Twisty's Treat Contest winner "Treat of the Month (January 2009)"
2011: AVN Awards nominee "Best Tease Performance" Meow!
2011: AVN Awards nominee "Best All-Girl Couples Scene" Foot Fetish Daily Volume 1 (with Ruby Knox)
2011: AVN Awards nominee "Best Web Star"
2012: AVN Awards nominee "Best Actress" Runaway
2012: AVN Awards nominee "Best Oral Sex Scene" Spider-Man XXX: A Porn Parody (with Xander Corvus)
2012: AVN Awards nominee "Best Solo Sex Scene" My Little Black Book
2012: AVN Awards nominee "Best Three-Way Sex Scene (Girl/Girl/Boy)" Spider-Man XXX: A Porn Parody (with Ash Hollywood and Seth Dickens)
2012: AVN Awards nominee "Crossover Star of the Year"
2012: AVN Awards nominee "Most Outrageous Sex Scene" Spider-Man XXX: A Porn Parody (with Xander Corvus)
2013: AVN Awards winner "Best Supporting Actress" Pee-Wee's XXX Adventure: A Porn Parody
2013: XBIZ Awards nominee "Best Actress – All-Girl Release" Me and My Girlfriend 2
2013: Sex Awards nominee "Porn's Best Body"
2013: Sex Awards nominee "Sexiest Adult Star"
2013: Spank Bank Awards nominee "Fucking Nerd of the Year"
2013: Spank Bank Awards nominee "Prettiest Girl In Porn"
2013: Spank Bank Awards nominee "The Girl Next Door…Only Better"
2014: AVN Awards nominee "Best All-Girl Group Sex Scene" Streaker Girls (with Heather Vahn, Tasha Reign and Rikki Six)
2014: AVN Awards nominee "Best Tease Performance" Cuties 4
In recent years Capri has continued to thrill her fans with a wide range of girl/girl shoots, parody releases and fetish porn productions. Die-hard Capri Anderson fans will not want to miss out on viewing her saucy solo shoot and hardcore scenes with Tyler Nixon in Jim Powers' ET XXX: A Dream Zone Parody (2013) that was nominated for "Parody Release of the Year: Comedy" at the 2015 XBIZ Awards as well as watching her steamy scenes with Ryan Driller in the Septo Studios parody release OMG…It's The Leaving Las Vegas Parody (2013) which won "Best Parody: Drama" at the 2014 XRCO Awards.
Capri has also filmed some hot hardcore scenes with Ryan Madison that appeared in Obsessed (2014) for Juicy Entertainment also starring Anikka Albrite, Jean Marie Sullivan and Valentina Nappi, she has shoot some amazing group sex scenes with Kiera Winters, Veronica Radke, Chad White and Jay Smooth for the X-Art porn production Eternal Desire (2015) and she has starred in some kinky girl/girl shoots that were showcased in the Cherry Pimps DVD series Cherry Spot 12 (2016) featuring Veruca James, Abigail Mac, Casey Calvert, Darcie Dolce, Marley Brinx, Kleio Valentien and Val Dodds.
Most recently, Capri has starred in a steady stream of lusty lesbian themed porn productions for Girlfriends Films/Girlsway. We recommend checking out Capri's epic group sex scenes with Aspen Rae, Elle Alexandra and Georgia Jones in Summer Lust (2016), her alluring shoot with CeCe Capella in Wet for Women 4 (2016), her seductive scenes with Blake Eden in The Italian Tutor (2017) and her steamy shoots in the captivating cougar-themed DVD title Julia Ann and her Girlfriends (2017) also starring Julia Ann, Veronica Avluv, Bobbi Starr, India Summer, Heather Starlet, Lily Carter, Penny Pax, Jessica Bangkok, Shyla Jennings and RayVeness.
When she isn't shooting these best-selling porn productions, Capri is an outdoor enthusiast who loves travelling, horse riding and surfboarding. As Capri herself stated within her XCritic column interview;
"Horses! I love to ride English, western, boys, and gals lol. I'm very interested in street art and the pop surrealist movement. Travelling is always a fave. I got on a surfboard for the first time in Costa Frica (as I like to refer to it) this past Valentine's Day and I'm sure I will keep this hobby the rest of my life. It's by far one of the most exhilarating feelings. I was born a thrill seeker".
What's more, Capri has always been interested in fashion and she divulged during her April 2013 Barelist interview how;
"If I had not joined the adult industry I think I would be working in fashion and now unlike some other girls I make no high claims but I have styled many a friends and models in the past few years and I believe my ability speaks for itself. Fashion is in my heart, soul, and core of my being. What to make of a naked person? You could almost tell nothing about them.. but what to make of a well dressed individual, well the possibilities are endless!".
Want to catch up on all of Capri Anderson's latest feature releases and raunchiest web clips? Then please feel free to use the links provided below to explore all of Capri's official social networking channels online today!
Social Networks
Camsoda : caprianderson
Kink Profile : Capri Anderson Femdom & BDSM Content
Girlsway : Capri Anderson at Girlsway
Twisty's : Capri Anderson at Twistys
Cherry Pimps : Capri Anderson at Cherry Pimps
Brazzers : Capri Anderson at Brazzers
Reality Kings : Capri Anderson at Reality Kings
IMDB Profile : Capri Anderson Filmography