Twitter : @Nikki_Darlingxo   Instagram : @nikkidarlingxo   Kink Profile : Nikki Darling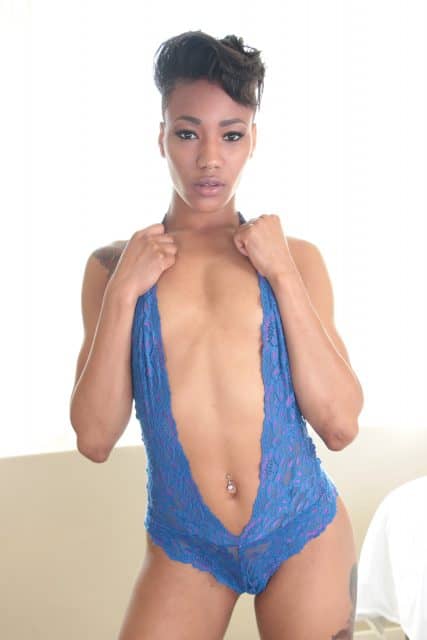 Nikki Darling in Bisexual Pick Ups 2 – Evil Angel – Adult Empire Galleries
Personal Info
Name : Nikki Darling
Date of Birth: June 17th
Home Town : San Diego, California (US)
Measurements : 32A – 24 – 34
Height : 5'3 (1.60m)
Hair Colour : Brunette
Eye Colour : Brown
Tattoos : A red rose across her collarbone and two large multi-coloured designs on her right and left thighs
Piercings : Navel and left nipple
Years Active : 2013 – present
Number of Scenes : 55+
There's no disputing that Nikki Darling is one of the most popular and prolific fetish performers in the adult entertainment industry. This stunningly beautiful kinkster has developed a vast global fan following within the fetish lifestyle market due to the wealth of thrilling BDSM web content that she has filmed for the fetish porn network Kink.com. Nikki has also received critical acclaim within the mainstream porn industry due to her sizzling sex scenes in such Evil Angel and Burning Angel DVDs as Fucking Hostile (2014), Pussy Whipped 3 (2015), Bisexual Pick Ups 2 (2016) and Black Anal All Stars (2017).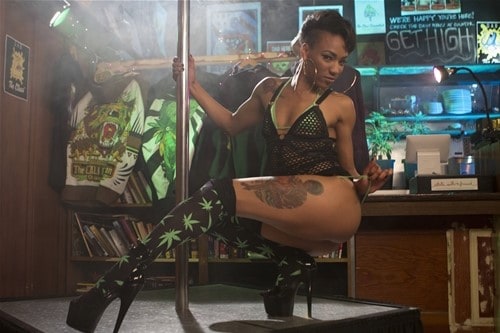 Nikki Darling in The Hot Box – Emerald Triangle Girls – Adult Empire Galleries
Wondering where it all began? Hailing from San Diego, California, Nikki has explained within her February 2015 Fleshbot interview that, although she has become famous for her kinky sex scenes, she did not even begin to date until her college years;
"I was a total Goody Two-Shoes but not by choice. I was a late bloomer and still hadn't grown into my looks quite yet, which didn't make me very desirable to anybody. I actually didn't date until I was in college actually. I had a lot of older friends but once they all graduated I generally kept to myself and spent a lot of my time in the dance room choreographing in order to escape the teasing from all the other kids".
Although Nikki did not begin dating until she was in college she has always been a highly sexual person who drew strength and confidence from her sexuality. As Nikki herself explained within this February 2015 Fleshbot interview;
"I was definitely into porn when I was younger. I remember pleasuring myself to bondage photos and loving girl/girl porn. My favorite porn when I was younger was The Art of Kissing…I think I was always a really sexual person even as a younger girl. I started masturbating at a really early age even before I knew what it was. I would rub my genitalia on stuffed animals because it felt good. I remember stealing Victoria's Secret catalogs from my mom just to look at the pretty girls in lingerie. I would write pre-teen erotica in my journal about the boys and girls I had crushes on. I just always really liked sex even before I experienced it. I used to feel a lot of shame about it because I grew up in a slightly repressive environment, but I think it clicked for me one day that this is just how I am. I am a dirty pervert and there is nothing wrong with that. This does not make me broken, this does not make me stupid, and this does not give me daddy, mommy or self-esteem issues. Once I realized those things, I started seeing my sexuality as a characteristic of strength and just continued on from there".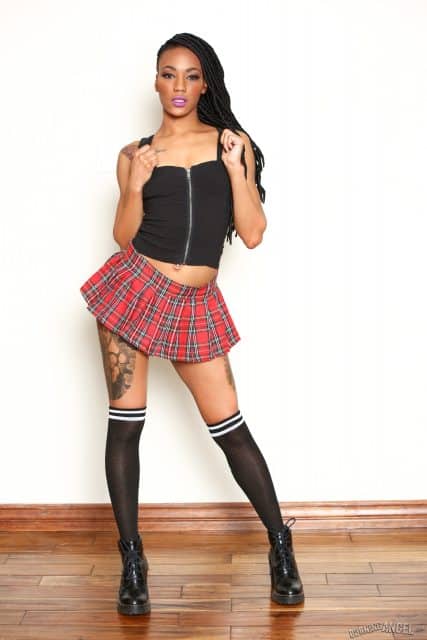 Nikki Darling in Schoolgirl Anal – Burning Angel
Before Nikki began working in the adult entertainment industry she discovered the kinkster scene within the San Francisco Bay Area. Over the years Nikki has made regular appearances at the BDSM themed party Bondage A Go Go, she has attended numerous Mission Control private swinger parties and has also taken part in several BDSM workshops at The Citadel which introduce curious kinksters to exciting new BDSM experiences such as needle play, flogging and femdom scenarios. In fact, Nikki was first asked if she had ever considered fetish modelling whilst she was attending a birthday party for one of her former partners that was being held at the set of Kink.com's live BDSM reality series The Upper Floor. As Nikki herself explained within her October 2016 Peggy Mag interview;
 "I was later asked if I'd given modeling any thought…I was tutoring children at that time so I was a bit apprehensive about performing. It took me a while to come to make the decision… To be honest I thought I would do a few shoots and never get called again. But still 5 years later I keep getting booked".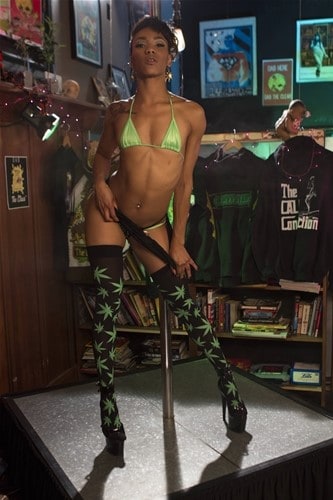 Nikki Darling in The Hot Box – Emerald Triangle Girls – Adult Empire Galleries
Nikki Darling : Adult Film Career
Nikki first began working within the adult entertainment industry in October 2012 when she filmed her first ever sex scenes for Kink.com's Hogtied bondage themed web series. From March 2013 onwards Nikki began to establish a glowing reputation as one of Kink.com's fan-favourite erotic wrestling fetish performers due to the raunchy sex scenes that she filmed for their epic Ultimate Surrender erotic wrestling web series. As matters stand, Nikki has grappled against Lyla Storm, Audrey Rose, Serena Blair, Wenona, Nikki Delano, Sasha Banks and Syd Blakovich and Anna Tyler but to name a few!
It gets even better; Nikki has also taken part in some titillating tag team matches with Mona Wales, Ana Foxxx and Angel Allwood. Among some of Nikki's most recent Ultimate Surrender erotic wrestling sessions include her tag team match with Nikki Delano, Jenna Foxx and Lea Lexis that was distributed via Kink.com in November 2016 and her one-on-one bout with Dee Williams that was released in January 2017.
In the years that followed Nikki garnered a vast international fan following within the fetish lifestyle market due to the broad spectrum of BDSM sex scenes that she filmed for Kink.com as a sexy submissive. Some of Nikki's raunchiest Kink.com submissive scenes include her Device Bondage sessions with seasoned dommes Katharine Cane and Mz Berlin in February 2013, her four day Training Of Nikki Darling sex scenes that were released via Kink.com's Training Of O web series between January 2013 and April 2013, her Total Domination BDSM solo sex scenes for Sadistic Rope in March 2013 and her raunchy role-play with Jacqueline Woods for TS Pussy Hunters in February 2013.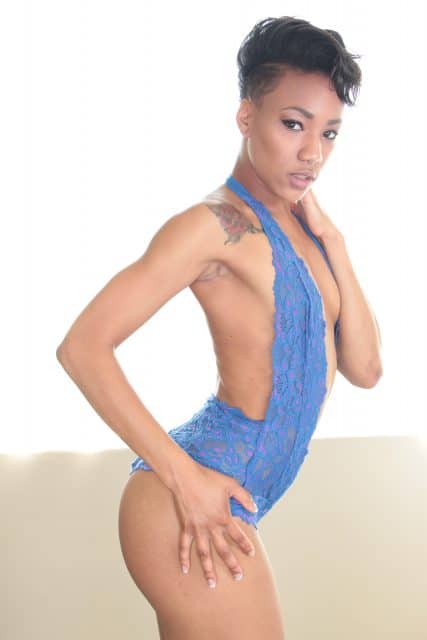 Nikki Darling in Bisexual Pick Ups 2 – Evil Angel – Adult Empire Galleries
Fans of Nikki Darling will also love viewing her live Electro Sluts sex toy sessions with Ariel X, Chanel Preston and Daisy Ducati in November 2013, as well as her wealth of Masquerade Orgy, Lesbian Pussy Service and Porn Star Anal Orgy scenes that were distributed via The Upper Floor between May and November 2013. Nikki has since filmed an epic six-way group shoot for Hardcore Gangbang in July 2014, some feisty Whipped Ass femdom spanking sessions with Bella Rossi in May 2015 and a set of show-stopping electro sex and anal femdom pegging scenes with Daisy Ducati for Electro Sluts in October 2015. Nikki loves working with her friend and fellow kinkster Daisy Ducati and she has ardently enthused during her February 2015 Fleshbot interview how;

"I love working with Daisy Ducati. She's a friend outside of work and it's always wonderful when you get to work with your friends in the industry. I love working with Daisy because our perversion matches well and when we get together it's just explosive and amazing. She's a total powerhouse– incredibly sexy, smart and a total slut which makes her one of my favs".
Just can't get enough of captivating kinkster Nikki Darling? Then you'll be happy to hear that Nikki has since filmed some sizzling Study Break femdom bondage sessions with Ana Foxxx for Whipped Ass in May 2016 and she has shot some raunchy electro sex bondage sessions with Cherry Torn for Electro Sluts in October 2016. Upon being asked about the pleasure she experiences whilst shooting submissive sex scenes during her October 2016 Peggy Mag interview, Nikki conveyed how;
"Being a sub is very therapeutic and gratifying for me. I can sometimes be a very neurotic person and my brain can be my worst enemy. I sometimes can be very uncomfortable with change and I dread when things don't go the way I actually plan them… Submission is a practice in finding peace with putting control in someone else's hands and finding peace through suffering and being under physical stress. It's absolutely terrifying, sexy, intense and cathartic in a lot of ways. By the end of a scene (hopefully, if it goes well) I feel so calm, cleansed, and like a bad ass".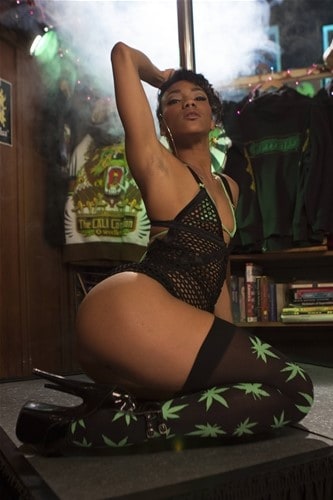 Nikki Darling in The Hot Box – Emerald Triangle Girls – Adult Empire Galleries
Nikki Darling : Femdom Debut
Although she has filmed a variety of captivating sex scenes as a submissive, Nikki has also experimented in some compelling web clips as a devilish domme. Fans who are interested in exploring Nikki's dominant side should check out her kinky Nasty Bitch Nikki Gets Wet In Biker Bar foot fetish sex scenes that she filmed with Christian Wilde for Foot Worship in May 2014, her February 2016 Cuckolding Therapy sex scenes with for Divine Bitches and her Dyke Bar 5 femdom pegging and double penetration sex scenes that she shot with Mistress Kara, Daisy Ducati and Ingrid Mouth for Whipped Ass in November 2016. Talking about the thrill of shooting these femdom scenarios during her October 2016 Peggy Mag interview, Nikki explained that;
"When I dominate I feel like I'm feeding my devious inner imp and child. I know it sounds strange but years ago I heard an amazing female domme and educator named Midori say that BDSM is like childhood games with adult sex privileges. When I am domming I finally get to entertain a very visceral part of myself. It is very complex but in many ways adheres to this very child-like explorative place in my mind. It's a really beautiful exchange and connection that I get when I am able to feed a part of myself while also consensually feeding a need another person has. I receive intense pleasure from giving someone a carnal need such as pain or pleasure. I never really learned how to play an instrument growing up but I can imagine that topping a person feels a lot like mastering a really hard song or is equal to the same rush a musician would get from playing their instrument".
Want to know the best part? Nikki remains an extremely popular fetish performer who has been nominated for "Kinkiest Performer (Fan Award)" at the 2015 AVN Awards. Nikki will often take the time within press releases and interviews to thank her international fan following for their ongoing support and praise. For instance, Nikki enthusiastically stated within her February 2015 Fleshbot interview that;
"I do love my fans!! I love that my fans appreciate my work as well as my personality. I mean, in all honesty, I'm fully aware that they like watching my porn but I also appreciate that they like hearing what I have to say as well. I also love that my fans are so faithful. With Internet piracy at an all-time high your die-hard fans are the ones that will buy your movies and support your work. I think in porn sometimes we get too caught up in our egos and forget that your fans are the ones that make us as big as we are. I try to be cognizant of that, show them my appreciation when I can…Thanks so much for the support and love!! Keep being perverts and Nikki loves you! xo".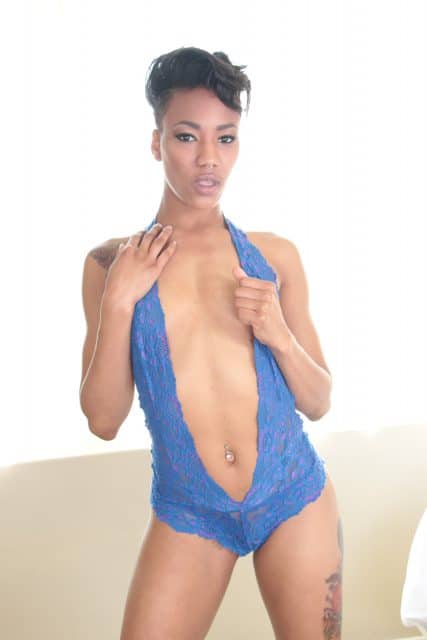 Nikki Darling in Bisexual Pick Ups 2 – Evil Angel – Adult Empire Galleries
Nikki Darling : Intersec Studios & Severe Sex Collaborations
In addition to her ever-expanding porn star portfolio of Kink.com content, from 2013 onwards Nikki started to collaborated with Intersec Studios on multiple installments for their Infernal Restraints, Sexually Broken and Real Time Bondage web series. Fans of Nikki Darling should also check out her sex scenes in the Severe Sex DVDs Best Of Tied 'N' Tickled 3 (2014) and Treacherous (2014) within which Nikki starred in an epic gangbang with fetish porn superstars Aiden Starr, Anna Valentina, Dana DeArmond, Mistress D, Jay Taylor, Jessi Palmer, Maia Davis, Megan Coxxx, Mickey Mod, Ruckus XXX, Slut Bottom Chris and Tim Woodman. Treacherous was a smash-hit among fetish lifestyle fans and it was even nominated for "Best BDSM Release" at the 2015 AVN Awards and "BDSM Release of the Year" at the 2015 XBIZ Awards.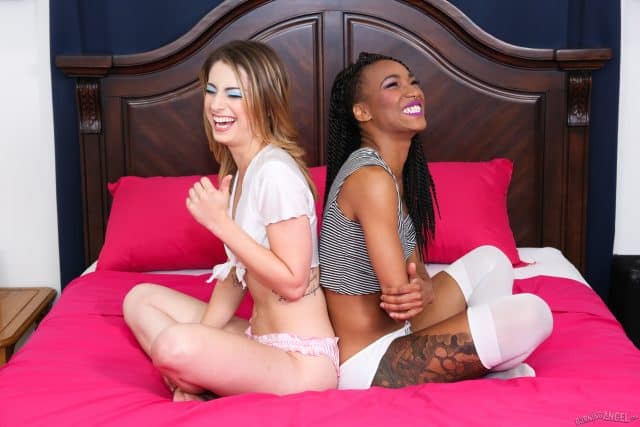 Kristen Scott and Nikki Darling in Stepsisters Share Cock – Burning Angel
Treacherous was directed by Aiden Starr with whom Nikki has collaborated on multiple Evil Angel/Aiden Starr Corporations DVDs such as Fucking Hostile (2014) for which Nikki posed as the DVD cover model, Pussy Whipped 3 (2015) which was nominated for "Best BDSM Movie" at the 2016 AVN Awards and "All-Girl Release of the Year" at the 2016 XBIZ Awards, as well as Bisexual Pick Ups 2 (2016) that featured Nikki in a three-way with Jasper Stone and Wolf Hudson. Aiden and Nikki have even teamed up to film a group sex scene with Mickey Mod and Ruckus XXX for the Severe Sex DVD Perversion And Punishment 2 (2015). Talking about filming Pussy Whipped 3 and working with Aiden Starr during her February 2015 Fleshbot interview, Nikki sincerely expressed that;
"My scene was amazing! I did a scene with Aiden Starr. There are certain performers that you get booked with for a scene where it doesn't feel like you're working. Aiden is 100 percent one of those performers. She is a very dear friend and knows what the hell she is doing especially when it comes to topping. She's the perfect mixture between crazy, sexy, and mean which makes bottoming to her so much fun…
It's always a great learning experience. I think I've told her a couple times that I want to be like her when I grow up. Aiden brings great experience and creativity and is unmoving on how she wants her work to be done and portrayed. Her directing and her performing in my opinion is a perfect reflection of how Aiden is as an individual: kinky, sexy, strange, strong and meticulous…
Aiden Starr is definitely a role model. She is a great performer, director, too damn smart for her own good and is also an incredibly genuine and sweet person. Sometimes as a woman in the industry it's hard to make friends with other women because it can be so competitive. What I love about Aiden is she has seen great success in her career and if she sees something in you she is always willing to help you navigate through this industry. She's kind of like a porn fairy godmother".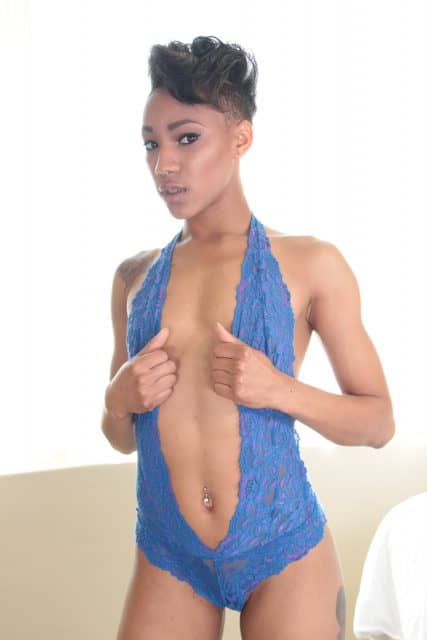 Nikki Darling in Bisexual Pick Ups 2 – Evil Angel – Adult Empire Galleries
Nikki Darling : Girl/Girl Performer
You may be interested to learn that even though Nikki loves shooting hardcore BDSM sex scenes, she also has a soft spot for 'vanilla porn'. As Nikki puts it in her own words;
"I don't know if I can say that I'm as much into it… It goes in waves. There are times where I'm working and shooting a lot and it's like, let's just have vanilla sex because I'm lazy…I don't discriminate on vanilla sex at all. But then there are times when I'm like let's play, let's rustle! … I think it goes in waves. I am definitely still kinky and practice BDSM play with the people that I date. But I don't think it's a requirement in order to date me, because I like regular sex just as fine. It kind of depends on how I connect with another person…Yeah, it's different strokes with different folks".
As such, throughout her adult film career Nikki has appeared in a variety of sultry girl/girl DVDs for the mainstream pornographic production companies Girlfriends Films, Filly Films and Lipstick Lesbian Entertainment. Fans of Nikki Darling should check out her saucy sex scenes in Lesbians In The Wild 2 (2013) and Mermaids And Unicorns (2013) that were both directed by Madison Young. We also recommend watching Lily Cade's Lesbian Lock-Up (2013) that showcased Nikki in a sizzling sex scene with director Lily Cade, her collaboration with Alexa Thomas in Chanel Preston's James Deen Productions DVD Too Pretty For Porn (2015) which was nominated for "Best Anthology Movie" at the 2016 AVN Awards and her thrilling three-way with Leigh Raven and Chanell Heart in the Filly Films production Lezzz Get Kinky (2016) that was directed by Nikki Hearts.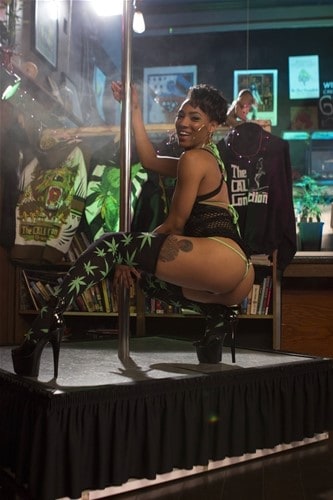 Nikki Darling – The Hot Box – Emerald Triangle Girls – Adult Empire Galleries
But wait, it gets even better! Nikki has also teamed up with pioneering porn director Courtney Trouble in order to film the Trouble Films DVD My Best Friend's Perfect Pussy (2015) that was nominated for "All-Girl Release of the Year" at the 2016 XBIZ Awards. Nikki's three-way with Denali Winter and Daisy Ducati in My Best Friend's Perfect Pussy even received a rave review from adult film critic Apache Warrior who enthusiastically stated within his May 2015 XCritic film review that;

"This film is a good lesbian flick that has hot sex. The first scene with Ela Darling and Draven Star is the hottest one with the three-way performance with Denali Winter, Daisy Ducati, and Nikki Darling is the most memorable on account of the trio's driven work effort, chemistry, and squirting moments. Their pussy pleasuring activities are a big turn-on. Eye candy Sandy Bottoms and Emarald X File's passion should be paired up in the future for a hot sex performance. This film will show off Courtney Trouble's very good eye in pairing up people as well as filming raw sex scenes. She needs to make more of them. I recommend this fine film".
Nikki has since collaborated with Courtney Trouble on numerous groundbreaking Trouble Films productions including Submissive Mixtape (2015) for which Nikki posed as the DVD cover model alongside TS star Chelsea Poe.

A multi-talented fetish performer and mainstream porn star, throughout her prolific porn star career Nikki has featured within a broad spectrum of fetish lifestyle DVD titles, BDSM web clips and mainstream porn productions including Ebony Exposed 2 (2013) for Black Magic Pictures, Dark Love (2014) for Onyx, Marriage 2.0 (2015) for Lion Reach Studios, The Luck Of The Draw (2016) for Adam & Eve, The Hot Box (2017) for Emerald Triangle Girls and the Burning Angel productions Let's Play (2016), Black Anal All Stars (2017) and Stepsisters Share Cock (2017).
A seasoned fetish performer, Nikki has even filmed some informative sex tutorials for Kink.com's illuminating Kink University web series such as Cunnilingus 101: Lap It Up in November 2014, Protocol And Position Training in March 2015, Belt Bondage For BDSM And Rough Sex in April 2015 and Using Clothing For Spontaneous Bondage & Play in April 2016.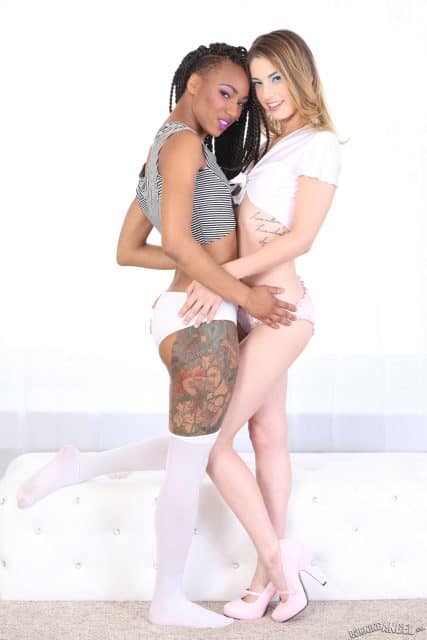 Nikki Darling and Kristen Scott in Stepsisters Share Cock – Burning Angel

Nikki Darling : Advocacy Work & Directing Projects
Over the course of her impressive adult film career Nikki has never been afraid to speak out against important issues and social injustices that are prevalent within the adult entertainment industry. For instance, Nikki has often utilised her prominent porn star status to highlight the lack of representation and proper payment for black performers in comparison to white porn stars. Nikki discussed these pertinent issues within a September 2015 Business Insider article titled Pornography Has A Big Race Problem and advocated that;
 "As a black female performer, often times you have to enter into the industry doing everything — doing anal, doing boy-girl, doing all this stuff…In some ways in mainstream porn there's this idea that black women aren't as marketable, that we're not as innocent as, say, a blonde white girl".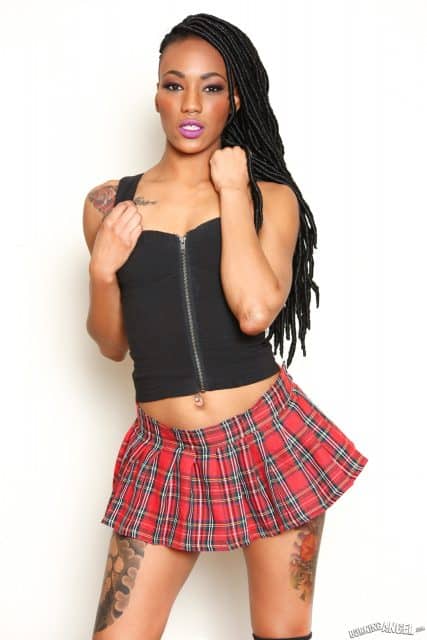 Nikki Darling in Schoolgirl Anal – Burning Angel
Nikki further elaborated upon the importance of representation within the adult film industry, especially for black performers, within her October 2016 Peggy Mag interview when she mentioned that;
"It's something that I as a woman of color have dealt with. It's something that a lot of women of color who are performers and my friends have dealt with. It's something that we've all been talking about, complaining about, and been frustrated about. And I just came to the realization that we can either sit here and complain about it and continue to allow people who aren't a part of our experience to make films and expect to know how we are sexually, or we can take the bull by the horns and direct it the way we want it to be".
In fact, over the course of her adult film career Nikki has been interviewed by numerous multimedia platforms such as Queer Porn TV, LesPOV.com and Behind Kink. Nikki has also filmed numerous illuminating video clips for Wood Rocket's Ask A Pornstar web series. Some of Nikki's most insightful Ask A Pornstar videos include Kinkiest Porn  which was featured within a September 2015 Death And Taxes article, as well as Porn Set Horror Stories that was featured within a November 2015 Metro article. Ever eager to help her fellow porn stars, Nikki imparted some words of wisdom to aspiring adult film stars within her October 2016 Peggy Mag interview when she highlighted how;

"This is a great and wonderful industry but it can also be a place where a lot people can be exploited and taken for granted. Know what you are willing to do for money and what you are not willing to do for money. Also, in this day and age with the internet, social media, and how easily information can be shared and passed around, make sure that you will be okay with people from your past knowing what you do. Start thinking about the conversation you will have with your loved ones, parent, sibling, etc. Prepare yourself for if some people may no longer want to be as close to you. Also, SAVE YOUR MONEY!".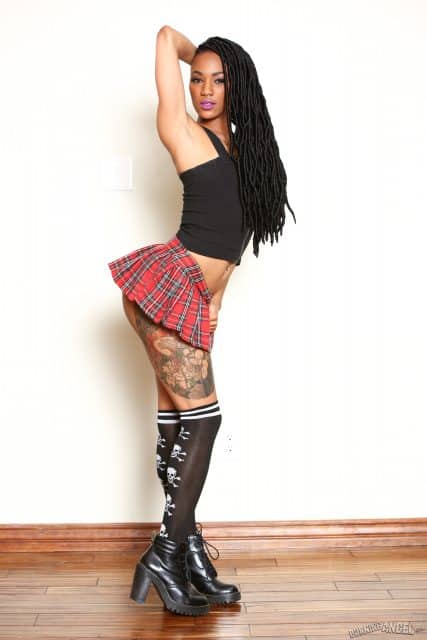 Nikki Darling in Schoolgirl Anal – Burning Angel
In recent years Nikki has begun to demonstrate her cinematography skills by directing some of her own porn productions. Talking about her upcoming directorial projects during her October 2016 Peggy Mag interview, Nikki enthused how;
"I'm so excited! It's still very much in the early stages and I'm still working out sort of what all of my avenues of distribution are… But I'm starting a site called Shades of Babe. You can say that it's the reaction to a problem that I as a woman of color have seen in our industry – which is that there are so many women of color, that are amazing performers, that kind of get typecast in certain ways that to me are negative sexual fetishizations of their ethnicity and their race. I think that there need to be more examples out there where women of color are just seen as what they are – which are beautiful women! And there doesn't need to be this whole racial eroticization of them because their skin color is different. I know it's really weird because in a way I'm highlighting the fact that it's women of color, but at the same time I want to make a good project where they are just enjoying themselves sexually and don't feel pressured, like they have to fulfill a limited role".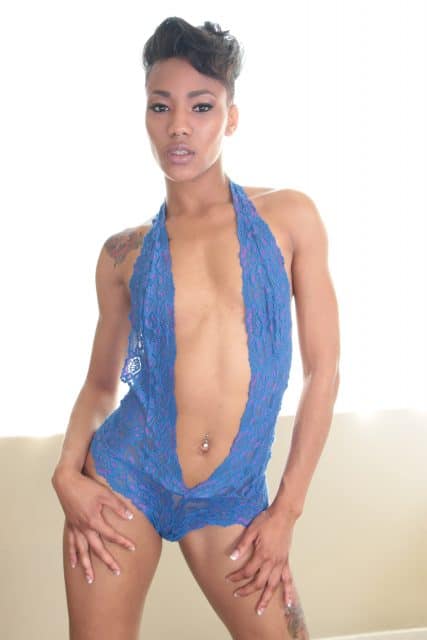 Nikki Darling in Bisexual Pick Ups 2 – Evil Angel – Adult Empire Galleries
If you'd like to learn more about Nikki's upcoming directorial projects and fetish porn productions then please feel free to use the links provided below to visit all of her official social networking channels. From her kinky submissive sex scenes to her formidable femdom productions, with just a few quick clicks you can immersive yourself within the incredible works of sultry fetish porn superstar Nikki Darling!
Social Networks
Official Website : ExperienceNikki.com
Twitter : @Nikki_Darlingxo
Instagram : @nikkidarlingxo
Kink Profile : Nikki Darling BDSM, Femdom & Fetish Content
Burning Angel : Nikki Darling at Burning Angel Entertainment
IMDB Profile : Nikki Darling Filmography