Kenzie Madison 
Twitter : @KenzieMadisonxX  Naughty America : Kenzie Madison VR Scenes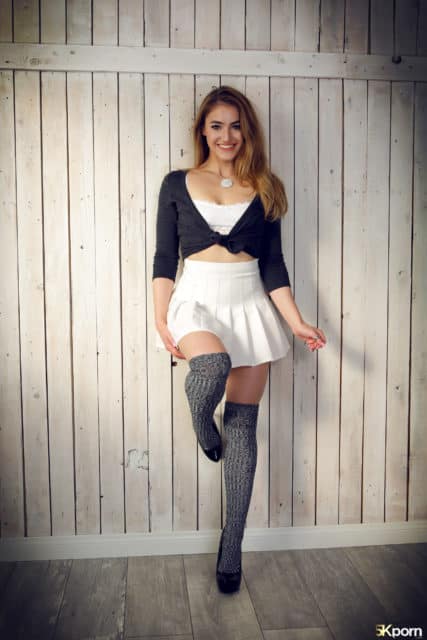 Click here to watch Kenzie Madison in "Kenzie Can't Stop" at 5K Porn
Kenzie Madison – Personal Info
Name : Kenzie Madison
Date of Birth : March 13th
Star Sign : Pisces
Measurements : 34B – 26 – 38
Height : 5'4 (1.63m)
Hair Colour : Brunette
Eye Colour : Hazel
Tattoos : An arrow along the inside of her upper left arm and Roman numerals on the inside of her left forearm (just below her elbow)
Piercings : Navel, left nostril and nipples
Shoe Size : Women's 6 (US)
Years Active : 2019 – present
Number of Scenes : 10+
Kenzie Madison is a pretty petite porn star, cam girl and model who made her industry debut in early 2019. During this time, blonde bombshell Kenzie Madison has already attracted a keen fan following due to her saucy sex scenes for Team Skeet, Property Sex, Swallowed and Naughty America.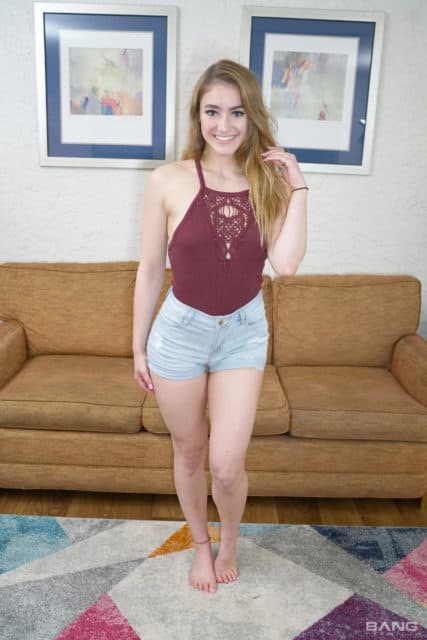 Click here to see more of Kenzie Madison's hottest sex scenes at Bang! Originals
So where did it all begin? Originally from Miami, Florida, Kenzie Madison moved to Arizona when she was 8 years old. Natural beauty Kenzie Madison attended nursing school for a few years prior to performing in porn and she has plans to finish her studies in the future. As Kenzie Madison explained in her December 2018 Adult DVD Talk interview;
"I'm originally from the Southeast coast, I'm from Miami, Florida. I moved to Arizona when I was 8 and have been here for a while. My school life was pretty crazy. I was pretty hated throughout school, I ended up going to college for a couple of years. And I'm just taking a little break…I did all my prereqs and I'm just taking a break right now. Trying to get my life back on track before I go back…What I had started was to go to nursing school. That's my plan right now but anything can change. I want to do so much!".
Kenzie Madison first started working in the adult entertainment industry as a webcam model. Although Kenzie Madison was initially nervous about webcamming, now she is comfortable with appearing on camera and has a lot of fun! Talking about her webcamming career in her December 2018 Adult DVD Talk interview, Kenzie Madison divulged that;
"I started webcamming a few months ago and here I am!…I was super nervous. It took me a good month, month and a half of camming before I realized that I have to be doing stuff to myself if I want to make money doing this! I got over it and said this is what I'm doing! I made myself comfortable. And I ended up having a lot of fun…I think it's kind of hot knowing that a guy is beating off, watching me do the most outrageous shit [laughs]".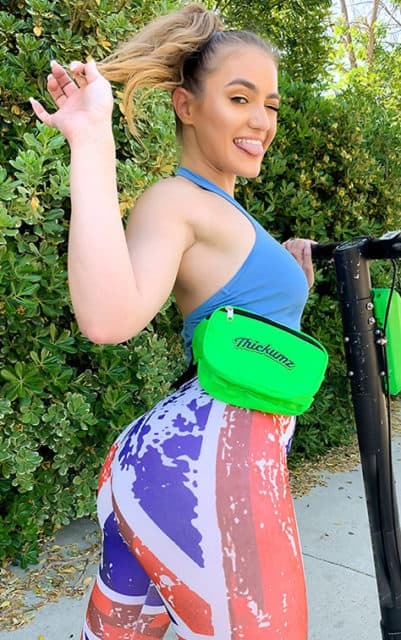 Click here to watch Kenzie Madison in "Thick Day Of Fun And Cum" at Thickumz
Kenzie Madison : Adult Film Career
Kenzie Madison made her official porn debut in late 2018/early 2019 when she shot a sizzling scene for Exploited College Girls. This raunchy sex scene was first released via Exploited College Girls in January 2019 and blonde beauty Kenzie Madison revealed in her December 2018 Adult DVD Talk interview that;
"It went soooo much better than I expected!…I went in super nervous and the male talent was super nice and made me comfortable. It went better than I expected. And I honestly think I did really well!…It was a lot less stop-and-go than I expected but I understand why. It was a lot of fun. They made it more fun than I thought it could be. I was really comfortable and it was kind of surprising…I'm definitely going to do as much as I can and, hopefully, I'll make it. I'm really excited to see what the future holds".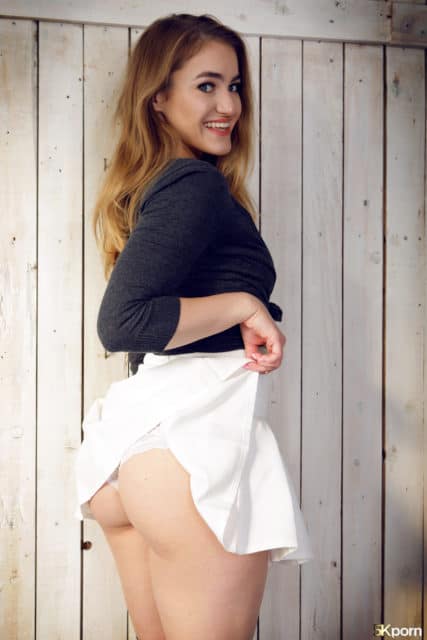 Click here to watch Kenzie Madison in "Kenzie Can't Stop" at 5K Porn
Spurred on by her successful porn debut, Kenzie Madison started to shoot a wide range of compelling web clips. We recommend viewing Kenzie Madison's steamy Kenzie Can't Stop sex scene with Ryan Madison which was promoted via 5KPorn in January 2019, her sizzling NDA sex scene with Rob Piper that was filmed for Greg Lansky's critically acclaimed Blacked.com in March 2019 and her kinky Breast Or Thighs? sex scene with Tony Profane which was released via Team Skeet's Sis Loves Me web channel in March 2019. You'll also love immersing yourself within Kenzie Madison's sensational The Dorm Room VR group sex scene with Alex Coal and Michele James that was unveiled via Naughty America VR in March 2019. Not to be missed!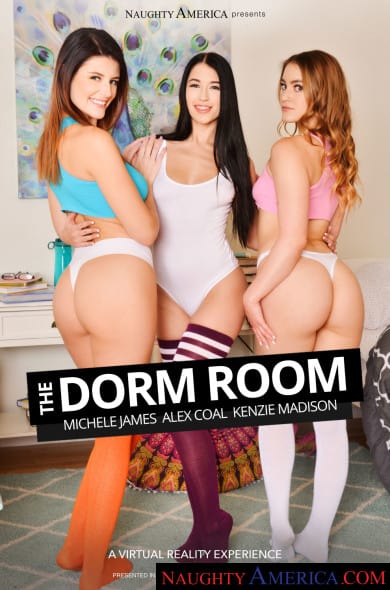 Click here to experience "The Dorm Room: A Virtual Reality Experience" with Michele James, Alex Coal and Kenzie Madison at Naughty America VR
Wait, there's even more. Fans of Kenzie Madison should also check out her thrilling Kinky Combo with Kenzie and Brooklyn threeway porn scene with Brooklyn Gray and Mike Adriano that was released via Nympho in May 2019 and her saucy Thick Day Of Fun And Cum sex scene with Juan El Caballo Loco which was promoted via Team Skeet's Thickumz web channel in June 2019. You may be interested to learn that Kenzie Madison was already a porn fan before she made her industry debut. As Kenzie Madison saucily stated in her December 2018 Adult DVD Talk interview;
"Honestly, I used to watch it [porn] where I was obsessed with it and watched it almost every day…I love lesbian porn…The one I really liked was Dani Daniels. She's the one who really stuck out to me".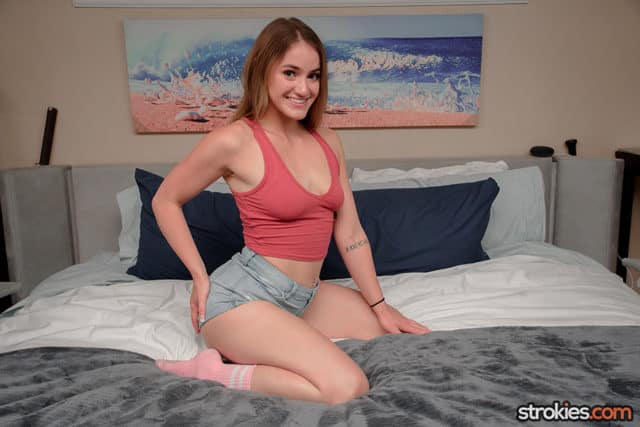 Click here to see more of Kenzie Madison's hottest sex scenes at Strokies
Kenzie Madison has started to collaborate with independent producers Lady Olivia and Laz Fyre on some sensational fetish porn scenes for their House Of Fyre studio. For instance, Kenzie Madison shot a sizzling Picked Up And Fucked scene with Laz Fyre that was released via House Of Fyre in April 2019. Kenzie Madison loved shooting Picked Up And Fucked and she enthusiastically stated in an April 2019 XBIZ News press release that;
"Not only did we knock out three amazing, sexy scenes in two days, but they are two of the most respectful, professional and welcoming people I've ever worked with! I look forward to my scenes releasing and hopefully more in the future".
But that's not all. Hot blonde pornstar Kenzie Madison actually starred in the first ever porn scene for House Of Fyre's latest series; Arched. This fantastic new series showcases the arch in a woman's back and its first sex scene featured Kenzie Madison alongside Laz Fyre. Talking about Arched in a May 2019 XBIZ News press release, Laz Fyre explained how;
"I created the series 'Arched' because I have always been erotically captivated by the small of a woman's back. I am now just beginning my quest to find the models in our industry who have the most extreme of arches. Expect many more chapters of this series. Natalia Queen is next in June!".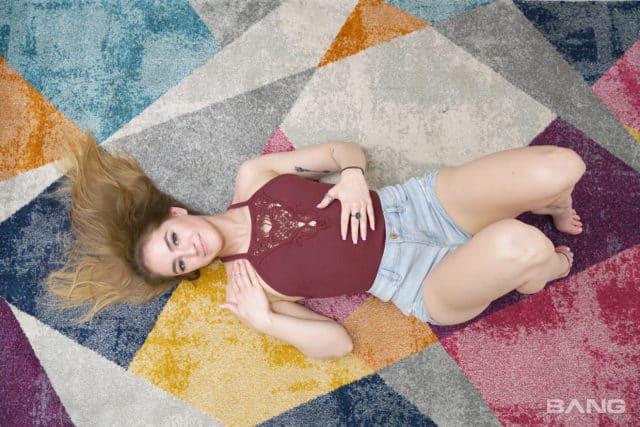 Click here to see more of Kenzie Madison's hottest sex scenes at Bang! Originals
As well as shooting these raunchy web clips, Kenzie Madison has appeared in some fan-favorite movies. Most notably, Kenzie Madison has starred in the Lethal Hardcore releases Cum In My Cunt #3 (2019) and Girl Scout Nookies #9 (2019) featuring Alice Pink, Melody Marks, Bella Rose and Arietta Adams. Kenzie Madison also shot an epic oral group porn scene with Serena Avery, Brooklyn Gray and Mike Adriano that has been featured in Swallowed #29 (2019). Must see movies for Kenzie Madison fans!
When she isn't performing in porn, popular petite pornstar Kenzie Madison enjoys interacting with her fans via social media, working out and going to raves and music festivals. As Kenzie Madison mentioned in her December 2018 Adult DVD Talk interview;
"I love working out, I lift about 5 or 6 times a week, I also like going to raves and music festivals and stuff like that…I'm really into EDM, super dirty dubstep type…it probably doesn't look like it but….[laughs]…I love Italian food. I'm part Italian!".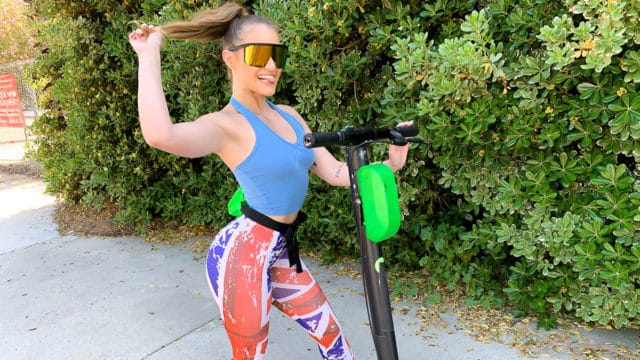 Click here to watch Kenzie Madison in "Thick Day Of Fun And Cum" at Thickumz
Want to stay updated on all of Kenzie Madison's hottest sex scenes, exclusive web content and upcoming productions? Then use the links provided below to stay in touch with your favorite rising starlet Kenzie Madison!
Kenzie Madison – Social Networks
Twitter : @KenzieMadisonxX
Naughty America VR : Kenzie's VR Porn Scenes
Bang : Kenzie at Bang! Originals
Nympho : Kenzie at Nympho
Only Fans : @kenziemadisonxo
Swallowed : Kenzie at Swallowed
Thickumz : Kenzie at Thickumz
5K Porn : Kenzie at 5K Porn
Adult Empire : Kenzie's DVDs
The Nude : Kenzie at Nude EU
Babepedia : Kenzie at Babepedia