Jessica Fappit
Twitter : @JessicaFappit   Chaturbate : jessicafappit   Grooby Girls : Jessica's Sex Scenes
TransSensual : Jessica's Movies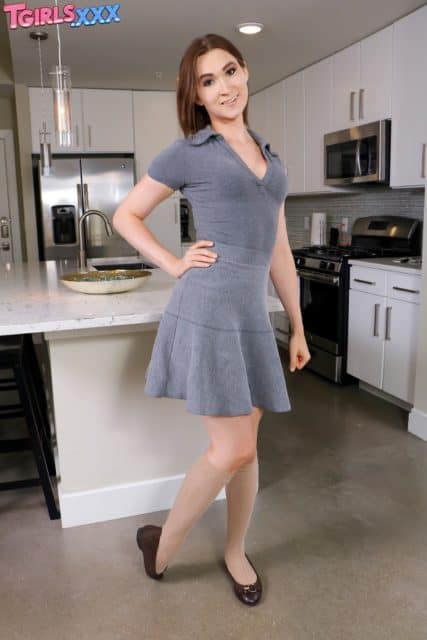 Jessica Fappit Rides Her Dildo! – TGirls.XXX
Jessica Fappit – Personal Info
Name : Jessica Fappit
Date of Birth : November 19th
Star Sign : Scorpio
Hair Colour : Brunette
Eye Colour : Brown
Years Active : 2011 – 2012 , 2015 – present
Number of Scenes : 10+
Intrigued by the bunny ears and lacy lingerie? Then you have to check out kinky cam model Jessica Fappit! A fan-favorite adult film star, glamour model and webcam personality, Jessica Fappit was named "Cam Performer of the Year" at the 2019 Transgender Erotica Awards and she has attracted an avid international following due to her intimate live chat sessions, saucy social media updates and exclusive web content. And we haven't even mentioned her sizzling Grooby Network clips yet!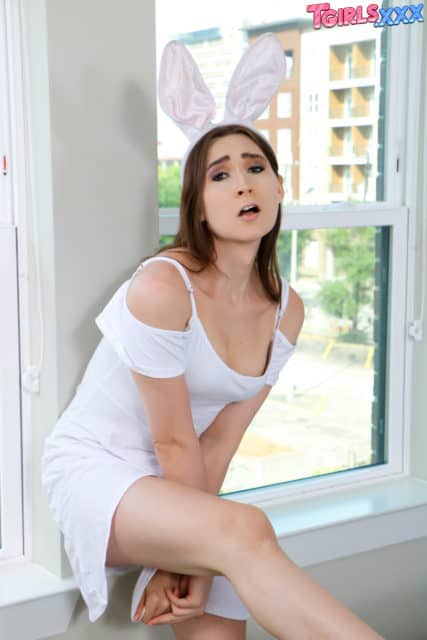 Jessica Fappit Cums For You! – TGirls.XXX
So where did it all begin? Currently based in Las Vegas, Nevada, Jessica Fappit attended college in Dallas, Texas, and she first began working in the adult industry as a webcam model. Best known for her intimate live chat sessions via Chaturbate (which she hosts under the screen name Jessicafappit), it wasn't long before Jessica Fappit attracted the attention of Devil's Film who contacted her via Twitter with the offer of shooting a scene for their upcoming DVD. As Jessica Fappit explained within her April 2016 Porn OCD interview;
"My first work in porn on DVD was for Devil's Film. They reached out to me on Twitter and were super cool about letting me be completely feminine on camera the way that I wanted to be. I jumped at the chance to do it. I'm still really grateful for the opportunity. They were super cool to work with".
In this manner Jessica Fappit filmed her first sex scenes with Robert Axel for the Devil's Film porn production Transsexual Cheerleaders 16 (2015) In fact, Jessica Fappit even posed as one of the film's box cover models alongside Kylie Maria, Diamond Dixon and Laela Knight.
Jessica Fappit : Adult Film Career
You may be interested to hear that before she began performing under the porn star stage name 'Jessica Fappit', Jessica had previously filmed some sultry solo scenes for the Grooby Network porn sites Grooby Girls and TGirls.XXX as 'Texi Trap'. These seductive solo shoots were distributed via Grooby Girls and TGirls.XXX between October 2011 and October 2012 and proved so popular that Jessica Fappit was named "Model of the Month" in November 2011.
So why did Jessica Fappit decide to postpone her adult film career? Jessica Fappit has discussed her reasons for taking a brief hiatus from the adult industry during a June 2017 VICE interview, highlighting how;
"I took a break from the industry at one point, and I came back on the terms that 'OK, if you're gonna shoot me, I'm gonna be a girl on camera'. The way I see it girls don't jerk off, girls don't fuck guys in the mouth, girls don't fuck guys in the ass. And those were my stipulations: I am completely natural, like this is my face, these are my tits, and I can't get on camera, people really don't want to book me. My position in this industry is, you know there are some girls that are like that and cool, more power to them, but absolutely no one is showing the other side of the story, which is that there are a lot of girls who don't want you to fetishize them as a secret way to enjoy cock or rob them of their femininity and use them as a means to get cock".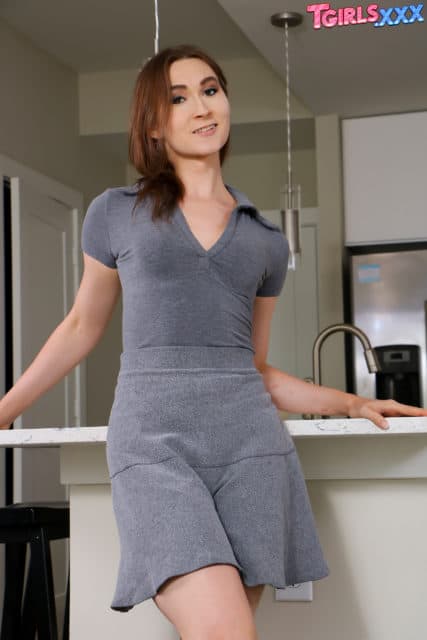 Jessica Fappit Rides Her Dildo! – TGirls.XXX
 Since making her triumphant return to the adult film industry Jessica Fappit has been featured on the cover of the 4th Annual Sexy Swim Issue of Transformation Magazine (Issue #98). During this time Jessica Fappit also filmed a fantastic Heritage Model #25 – Jessica Fappit's Hardcore! shoot with Ruckus that was directed by Radius Dark and promoted via the Grooby Network porn site Grooby Girls in June 2016.
Eager to discover more of Jessica Fappit's captivating web content? Then you'll love viewing her hot hardcore scene with Soldier Boi that was directed by Omar Wax for TGirls.XXX in May 2017 as well as her sultry solo scene that was filmed by Sammi Mancini for his award-winning SM Strokers web series. It gets even better; Jessica Fappit has since been showcased within the Rodnievision/Mancini Productions DVD compilation title SM Strokers 86 (2017) alongside sexy TS pornstars Casey Kisses, Shiri, Brooke Zanell, Holly Parker and Tori Mayes.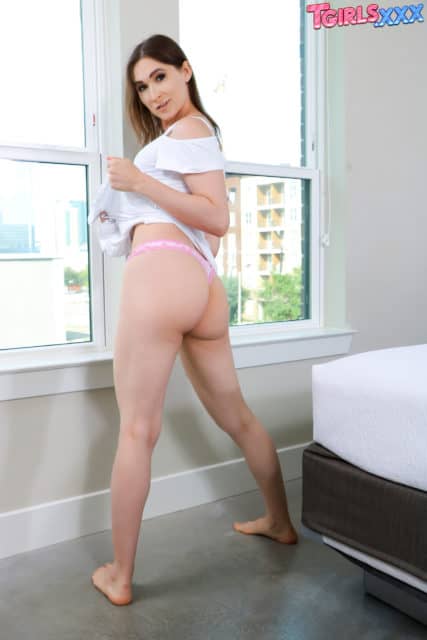 Jessica Fappit Cums For You! – TGirls.XXX
Upon resuming her adult film career, Jessica Fappit has been one of the first TS pornstars to shoot for the pioneering new porn site TSNaturals.xxx. Launched by Luna Loveless, TSNaturals.xxx showcases the beauty of natural TS performers. As Luna explained within a June 2017 VICE feature article;
"Anything involving big boobs or facial reconstruction, I don't allow. I think it's important because a lot of people around the industry feel that girls have to go through surgery, and the reality is that most trans girls I would say are relatively comfortable just taking their hormones and going through a couple of minor surgeries and just living their lives…
I feel like in some sense it sets an unrealistic bar on what a transition is and what it's about. It's not about surgeries and changing your body to look like something. It's about being comfortable in the body that you unfortunately got given. Trans women are women, there is no doubting that. And it's important that they are seen in their more natural form. I feel like that contributes to the normalization of trans women in society…
When they're doing the shoots they have the freedom to do whatever they want, to express themselves however they want. They're portrayed exactly how they want to be portrayed…I hope that people who have been purveyors of trans porn for a long time take the time to really realize there are a lot of aspects to the girls they see, that it's important to learn more about who they are and what they're about. I think that for those people who are only just coming into [trans porn] now, know that it's ok to normalize things in your life through porn, but it's important to make sure you're getting a good narrative when you do it".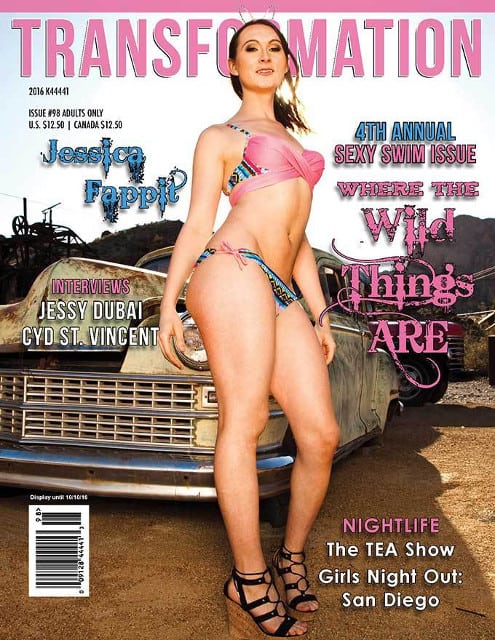 Jessica Fappit – Transformation Magazine #98, 4th Annual Sexy Swim Issue
Jessica Fappit joined Luna in this June 2017 VICE interview whereupon she shared her views on the evolution of trans porn and how it impacts performers in their day-to-day lives. As Jessica Fappit puts it in her own words;
"What the industry calls trans porn isn't really trans porn, it's shemale porn. They push a very specific narrative, they want you to do certain things, they want you to act a certain way. They won't hire you if you won't. I'm like the gleaming example of that: I get booked very, very infrequently because there are a lot of things I won't do, because I don't think they're positive to the image of trans people as a whole. To get really nitty gritty with it, I do have a penis, and I don't use it in any of the porn that I'm in. And for most production companies, at minimum, they need you to jerk off, but at maximum they either want to blow you or they want you to fuck a dude in the ass. When you met actual transgender people, there is a lot of dysphoria involved in being transgender and it almost completely stems from your genitals, because after you've transitioned that's really the only part of you that isn't fully female…
I don't think producers realize that the market [for trans porn] isn't exclusively guys who secretly like cock. Like Luna was saying, people kind of discover new people through porn and trans visibility is at the highest point it's ever been and there are a lot of dudes right now that are learning about trans people and they are learning about them through porn. One thing that has been huge for me my entire life is like "OK, I am this way but I don't really like the interaction with this part," and that's really confusing for a lot of guys. What ends up happening is that straight guys are like "I can't be into you because you have a dick," and really closeted, bisexual and gay guys are like "Oh you're perfect for me because this is exactly what I want." But I don't want anything to do with the closeted guys, I want everything to do with the straight guys and I don't want to have that interaction. And they are not seeing that through porn. If any of these dudes have ever checked out [trans] porn what they're seeing is some chick who has been completely facially and bodily reconstructed to look as womanly as possible, banging a dude in the mouth or in the ass…
What I think is really dangerous about the way we are portrayed in porn is that it make us look like sexual aggressors, which is the whole thing where bathroom bans come from, where people say "Oh they are sexual aggressors, they are deviant and they want to fuck people." The truth is the vast majority of us don't, I don't want to fuck anybody. I'm a bottom, I want to date big strong men that tell me I'm a pretty girl and then bend me over a sofa and give it to me. I don't want to go into a bathroom and creep on women, at all".
Want to stay connected with rising starlet Jessica Fappit? Well you'll be happy to hear that Jessica Fappit continues to host some scintillating live chat sessions via Chaturbate, NexoCams and OnlyFans. Jessica Fappit enjoys interacting with her fans via these social media platforms, enthusing via her April 2016 Porn OCD interview that;
"Social media is really important to me for getting my voice heard. Mainstream porn doesn't really seem to support my message as far as I've seen. And social media has been a great outlet for me to find lots of people who enjoy appreciate and support my message…I have followers, just people a bunch of really cool people that enjoy watching me be a hot little slut. And their support is really meaningful to me so I try to interact with them a lot…I use YouTube a lot and I love it. I think it's really important for people to associate my face and my voice with my message. I like showing people what a real trans girl looks, sounds, feels like, and thinks like".
So what are you waiting for? Use the links provided below to stay updated on all of Jessica Fappit's upcoming cam shows and exclusive web content!
Jessica Fappit – Social Networks
Twitter : @JessicaFappit
Chaturbate : Jessica's Chat Room
Grooby Girls : Jessica at Grooby Girls
TGirls XXX : Jessica at TGirls XXX
TransSensual : Jessica at TransSensual
Tumblr : Jessica's Official Tumblr
Tranny Pros : Jessica at Tranny Pros
YouTube Channel : Jessica's Official YouTube Channel