Katsuni
Katsuni Twitter : @IamCelineTran  Brazzers : Katsuni Sex Scenes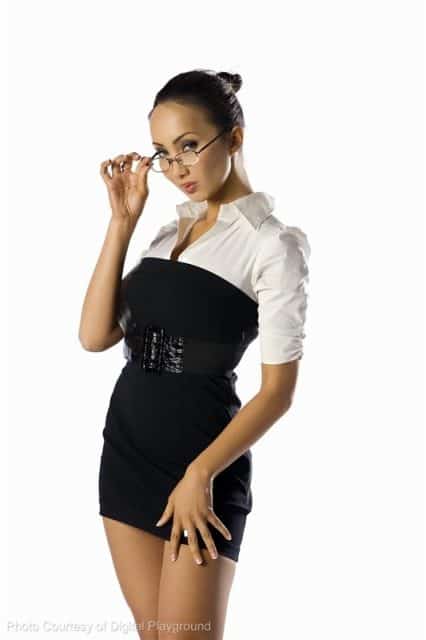 Katsuni in Teachers – Digital Playground
Katsuni – Personal Info
Name : Katsuni / Celine Tran
Alias : Katsumi
Date of Birth : April 9th
Hometown : Lyon, Rhone-Alpes (France)
Measurements : 34D – 23 – 35
Height : 5'5 (1.65m)
Hair Colour : Black
Eye Colour : Hazel
Shoe Size : Women's 7 (US)
Years Active : 2002 – 2013 (retired)
Number of Scenes : 200+
Katsuni is a fabulous former porn star, director and feature dancer who took the industry by storm between 2002 and 2013. Now an accomplished writer and mainstream actress, popular Asian pornstar Katsuni was inducted into the hallowed AVN Awards "Hall Of Fame" in 2014 and she was the first performer ever to win "Female Foreign Performer of the Year" three years in a row at the 2005, 2006 and 2007 AVN Awards.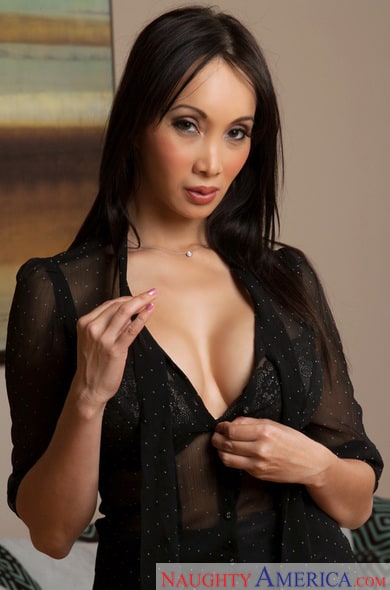 Katsuni in My Dad's Hot Girlfriend – Naughty America
So where did it all begin? Due to her Asian heritage, many people don't realize that Katsuni was actually born and raised in Lyon; the capital city in France's Auvergne-Rhône-Alpes region. Katsuni has mixed French and Vietnamese heritage and she studied Political Sciences and Literature at a prestigious French school.
Katsuni first started working in the adult entertainment industry as a go-go dancer before progressing to striptease and modelling for Penthouse France before she ultimately made her industry debut in 2003. Talking about this pivotal period of her life during her October 2010 Sexpo interview, Katsuni recounted how;
"I was a student in Literature when I met a photographer from Penthouse Magazine in France. Besides my studies, I was a gogo-dancer and I was interested in modeling. Penthouse was looking for a contract girl and asked me if I wanted to do adult movies. I said "Why not! As long as you don't promote me!" I was just curious, was looking for new experiences, to have fun and have sex. So I did my first scene and really liked it right away. Two years after, I gave up my studies and started my career".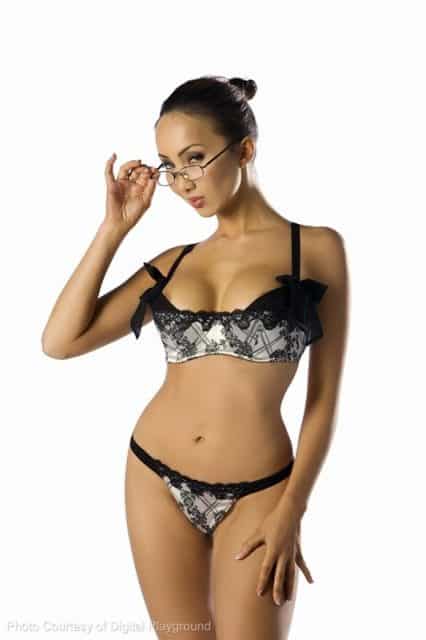 Katsuni in Teachers – Digital Playground
Reflecting on the advent of her porn career during her September 2009 Eden Fantasys interview, sexy Asian starlet Katsuni also highlighted how;
"I had no idea at all that I would have a career in porn when I started. I didn't think that I would be able to be so successful, and I even didn't want to be famous. It took years for me to realize how much I'd become popular. I just wanted to get new experiences when I decided to shoot my first scenes and for the first two years, I kept studying because I still was thinking of becoming a literature teacher. Then I made the choice to do only porn, but still, it was to have fun, learn new things, and meet different people. Each day I tell myself that I'm lucky. But I know also that if I wasn't doing porn today, I would still do crazy things. It's my personality. I can't be "normal".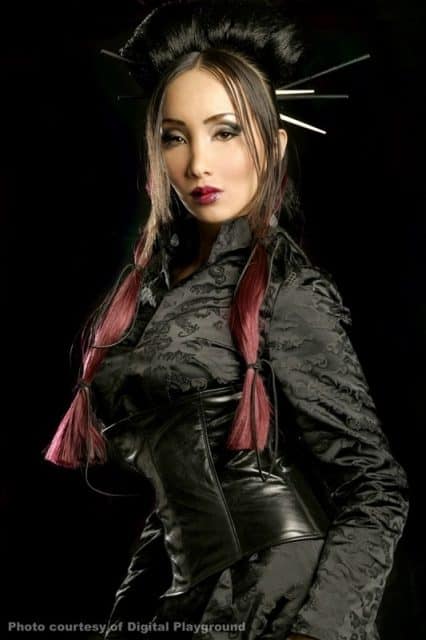 Katsuni in Pirates II: Stagnetti's Revenge – Digital Playground
Katsuni : Adult Film Career
Katsuni made her official porn debut in 2002 and some of her earliest porn productions include the Metro/Colmax movie Amazone Sex (2002) which was named as one of "AVN's 500 Greatest Adult Films" at the 2005 AVN Awards, Anal Trainer #4 (2003) for New Sensations, the Vivid movie Dual Identity (2003) and Katsumi's Affair (2003) for Marc Dorcel/Wicked Pictures which earned Katsuni a "Best Sex Scene in a Foreign-Shot Production" accolade at the 2004 AVN Awards due to her sizzling scene with Steve Holmes. When busty beauty Katsuni was asked about shooting her first ever sex scenes in her October 2010 Hush Hush UK interview she divulged that;
"I was a bit nervous, but I like the exciting feeling. I am sometimes nervous for the first scene when I come to the States to film because I have not had sex since the last job".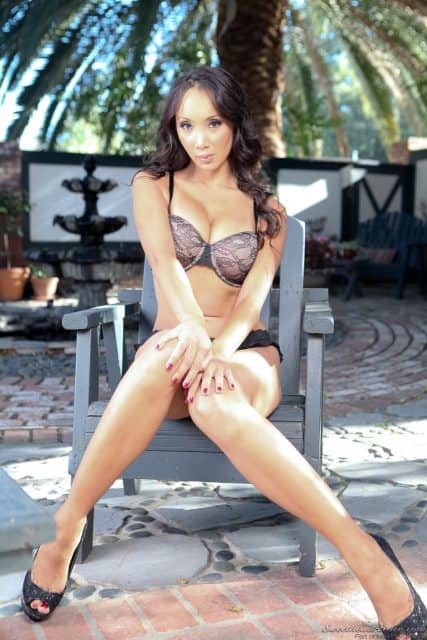 Katsuni in My Sister Celine – Sweetheart Video – Mile High Media Galleries
Wondering about the origins of her sultry stage name 'Katsuni'? Well, she originally chose the name 'Katsumi' due to her love of Japanese comics but changed it to 'Katsuni' in January 2007. Talking about her stage name in this October 2010 Hush Hush UK interview, Katsuni explained how;
"I originally chose the name Katsumi because of a favourite Japanese comics character. I really love Japanese comics and have read them for years…I chose to change my name to Katsuni because Katsumi is a common last name. My fans seem to think that Katsuni is hotter anyway".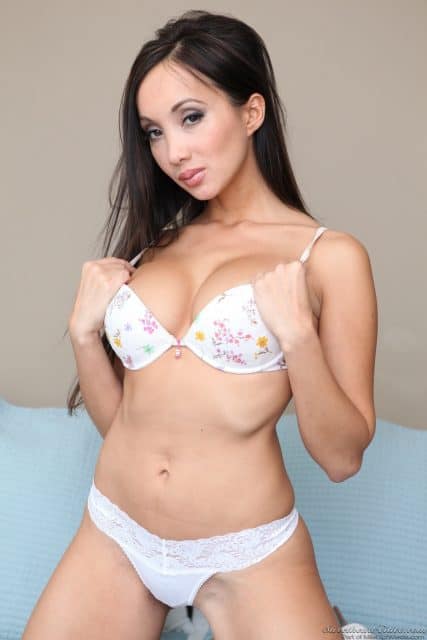 Katsuni in Girls Kissing Girls #18 – Sweetheart Video – Mile High Media Galleries
From 2003 onward, Katsuni started to feature in a steady stream of American and European porn productions. We recommend checking out her Red Light District signature showcase Katsumi's Dirty Deeds (2005), her sensational scenes in Fashionistas Safado: The Challenge (2006) for Evil Angel which was nominated for "Best Epic" at the 2006 XRCO Awards, her Marc Dorcel signature showcase Katsumi – Pornochic #12 (2006) and her New Sensations compilation title I Love Katsumi (2006). Katsuni has enjoyed filming these saucy European and American porn productions, eagerly enthusing in her October 2010 Hush Hush UK interview that;
"I like shooting in the States because there are so many different great companies to work with. The business is much bigger here than in Europe. There are great movies being made in Europe but here there are more choices and I really like working on gonzo films. In Europe, it is not good for a girl to do gonzo…More and more people recognize me each time I am in the States. I can't believe how many fans I have; it seems to have happened all of a sudden. It feels great and big thanks to my fans here".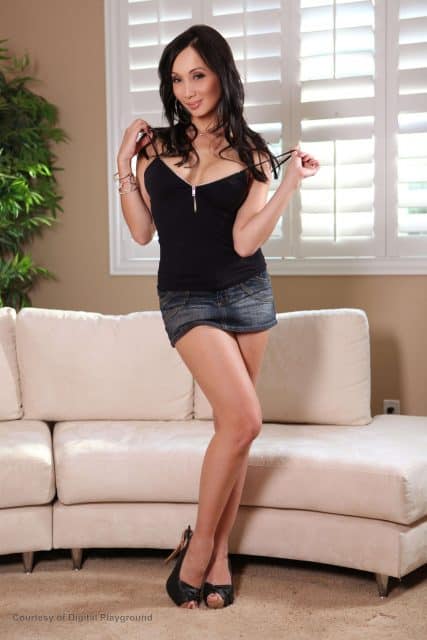 Katsuni in Orgasm – Digital Playground
Katsuni : Digital Playground Contract Star
A landmark moment in Katsuni's adult film career occurred in December 2006 when she was signed as Digital Playground's first ever French contract star. Digital Playground's CEO Samantha Lewis has always had high praise for Katsuni, sincerely stating in numerous AVN press release that;
"Katsumi is one of Digital Playground's most exotic contract stars. She is gorgeous, sexy, enchanting and so many wonderful things. Fans will now have the opportunity to experience all of Katsumi for themselves…Katsuni has an amazing ability to fit into all sorts of niches and series that we offer…She's a smart, sexually charged, domineering, anal-loving, big-breasted French-Asian. All those qualities combined are the reason that she is one of the most awarded adult stars ever".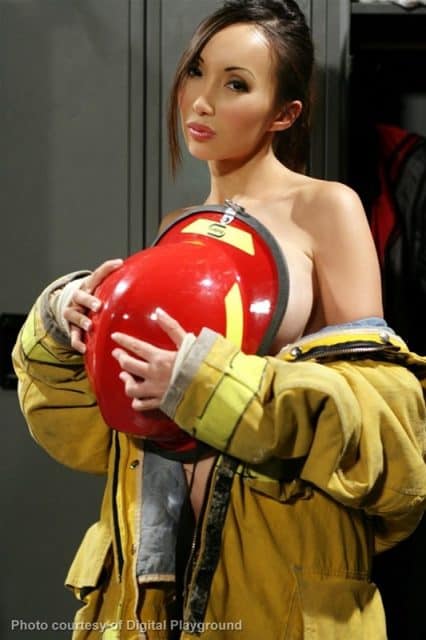 Katsuni in Body Heat – Digital Playground
Katsuni has starred in several of Digital Playground's most popular movies including Nurses (2009), Teachers (2009) and Fly Girls (2010) which was nominated for "Best Comedy" at the 2011 AVN Awards. Katsuni has also been featured in many of her own Digital Playground star showcases such as Virtual Sex With Katsumi (2007), Katsumi: Minx (2008), Sexual Freak #10: Katsuni (2008) Katsuni: Video Nasty #4 (2008), Katsuni: Opened Up (2009) and Katsuni: Dirty Me (2010) starring alongside Andy San Dimas, Capri Cavanni and Mulani Rivera.
Without a doubt, one of Katsuni's most popular Digital Playground movies has to be Pirates II: Stagnetti's Revenge (2008). Directed by Joone and featuring Jesse Jane, Sasha Grey, Stoya, Shay Jordan, Shawna Lenee, Riley Steele, Jenna Haze, Rhylee Richards, Gabriella Fox, Abbey Brooks, Belladonna, Shyla Stylez, Brianna Love and Veronica Rayne, Pirates II: Stagnetti's Revenge is widely regarded as one of the best adult films of all time.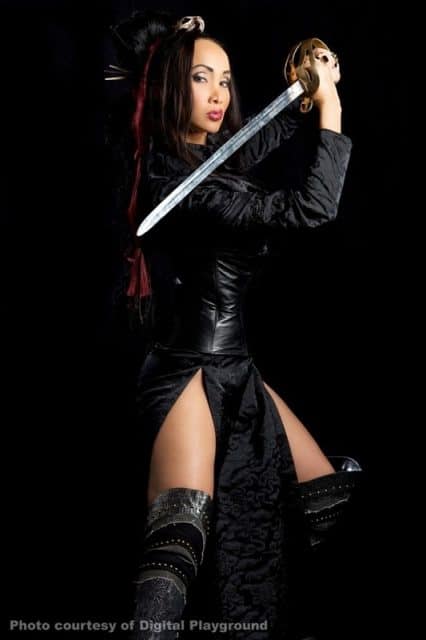 Katsuni in Pirates II: Stagnetti's Revenge – Digital Playground
In fact, this swashbuckling pirate caper won "Feature Movie of the Year" at the 2009 XBIZ Awards, "Best Epic" at the 2009 XRCO Awards and "Best Feature" at the 2009 AVN Awards as well as winning "Top Renting Title of the Year" and "Top Selling Title of the Year" at the 2010 AVN Awards. Beautiful big tits pornstar Katsuni loved shooting Pirates II and reflected in her September 2009 Eden Fantasys interview upon how;
"I can't choose only one favorite movie or scene because I have many great memories with many performers and companies. But the one I've preferred to shoot is Digital Playground's "Pirates II: Stagnetti's Revenge". When you work on this kind of project you realize that you're making something more than just another porn only made to turn people on. It's a real entertainment. You have dialogue to learn, you must play a character , you belong to a story, there's decor, incredible lighting, costumes, make-up….a real atmosphere. For this movie I even had to train for the fight scenes which was probably my favorite part. lol.
Of course I had fun during my sex scenes (I did my first one with Jesse Jane and another one with Belladonna and Stoya in the same time), but it was also interesting to work with a big crew and do scenes which include special effects. I was somebody else other than just "Katsuni having sex". It has been a nice challenge, and I can't wait for the next one. I had the feeling for few days to be a "movie star"…and that's a great feeling. Working on our big release "Teachers" was a similar experience too. It came out just a week ago. I'm really excited to see it!".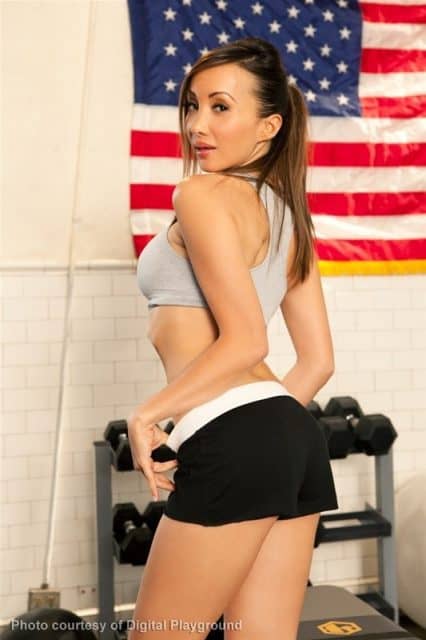 Katsuni in Body Heat – Digital Playground
Another of Katsuni's best-selling Digital Playground movies has been Body Heat (2010) within which she shared a steamy group sex scene with Jesse Jane, Kayden Kross, Raven Alexis and Riley Steele. Also starring Bridgette B, Body Heat was an instant hit which was nominated for "Best Feature" at the 2010 AVN Awards and "Best Epic" at the 2010 XRCO Awards. Katsuni enjoyed shooting Body Heat and explained in her October 2010 Sexpo interview how;
"I play the "leader character", seems that I'm comfortable with this kind of character. I play the captain and really not the cute girl. But I like that, I like playing dominant characters, it allows me to express myself. For example, I usually never yell at people and when I had to it for some dialogues scenes, it made me feel good. I even had to break down a full door with an axe!…
I like that. In fact I'm very dominant with women but very submissive with men. but only if they deserve it. And the older I get, the more experienced I become. But to be honest, I am interested in playing someone else. I hate routine, so I'm waiting for the directors I will work with, to give me new challenges".
Katsuni's stellar performance in Body Heat earned her a rave review high from High Society publisher Vincent Stevens. Sexiest Asian pornstar Katsuni was featured in a 10-page pictorial for High Society's February 2011 issue and Stevens stated in a December 2010 AVN press release that;
"One of porn's most accomplished performers, Katsuni has won virtually every major award the adult industry has to offer. She is truly a performer who consistently raises the bar with her every performance. In Body Heat, her sensuality literally sizzles".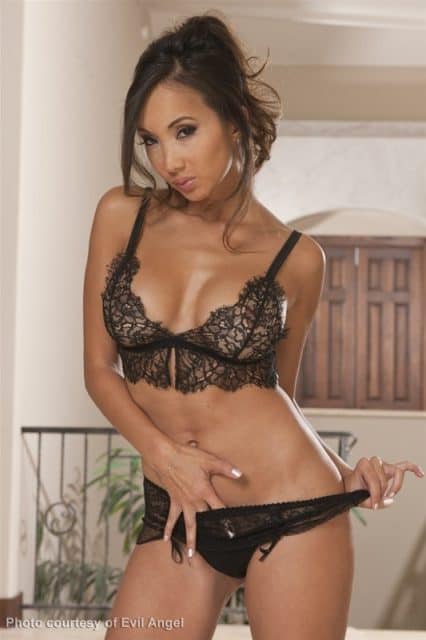 Katsuni in Phat Bottom Girls #4 – Evil Angel
All in all, sexy tall pornstar Katsuni has been thrilled to work as a Digital Playground contract girl for 4 years and she mentioned in her October 2010 Sexpo interview that;
"This is not the kind of offer I could refuse, they are one of the best companies. I really didn't regret my choice. We spent four great years and I was really proud to be in Pirates 2…I'm not a Digital Playground contract star anymore, but I will still work with the company because I really appreciate all that they have done for me. Yes, I did many adult conventions with them: AEE each year in Las Vegas, Venus in Berlin and each time I feature-dance in the USA I 'm introduced as a DP girl. I really like meeting my fans and it's interesting to compare each country, each mentality. My Chinese fans are so different from the American or Italian ones for example. But whatever the country, it's always a pleasure to meet them, they're always very nice, and it's even better when we had the opportunity to meet before on Facebook, twitter or via my website. It creates a kind of complicity".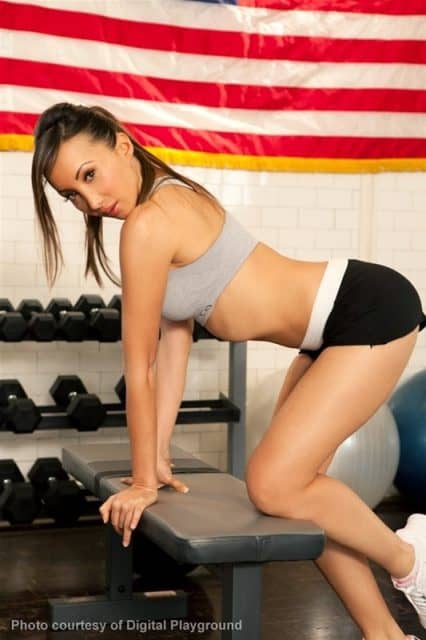 Katsuni in Body Heat – Digital Playground
Katsuni : Industry Accolades & Award Nominations
Let's be honest; Katsuni is a porn superstar. After all, how many adult film stars can you name who have won "Best French Actress", "Best European Actress" and "Best Foreign Female Performer" at countless awards ceremonies? And how many former porn stars have been the subject of five 52-minute documentaries by MCM? What's more, Katsuni was the only French girl in Genesis magazine's "Top 10 Porn Stars On The Planet" list and she was voted "Favorite Actress" on numerous occasions by Hot Video and Chobix.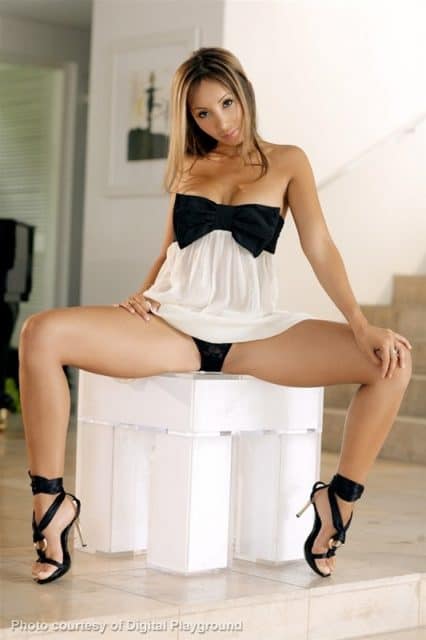 Katsuni in Dirty Me – Digital Playground
It would take forever to list all of statuesque stunner Katsuni's industry accolades. But we're going to give it our best shot! Listed below are some of Katsuni's most impressive award wins so far;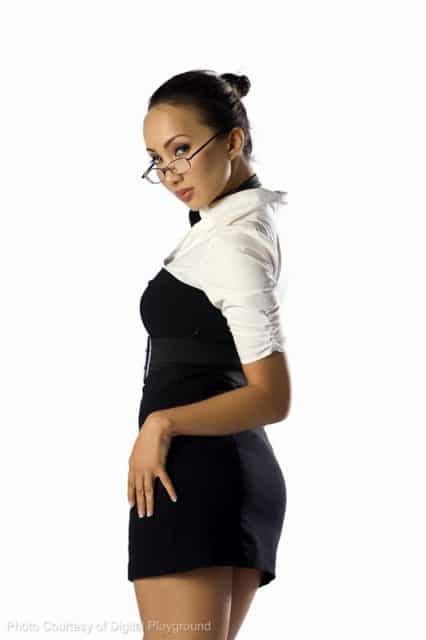 Katsuni in Teachers – Digital Playground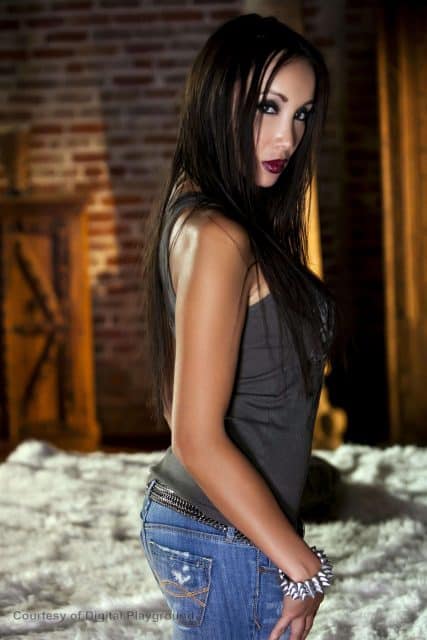 Katsuni in The Hunted: City Of Angels – Digital Playground
Wait, we're far from finished! Katsuni has also received countless award nominations including;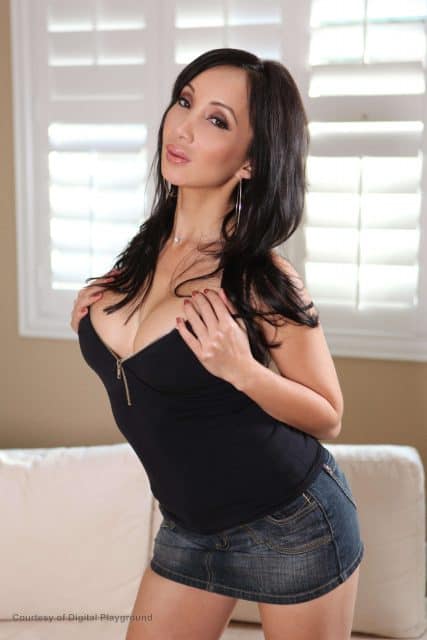 Katsuni in Orgasm – Digital Playground
Pretty impressive!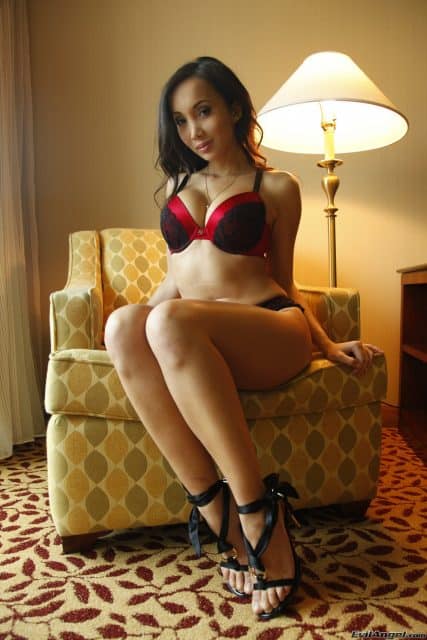 Katsuni in Slutty and Sluttier #14 – Evil Angel
Katsuni : Directorial Debut
As well as performing in porn, busty beauty Katsuni is a skilled director and producer who filmed many fan-favorite productions for her production company (Katsuni LLC.) and her official solo website ClubKatsuni.com. Katsuni also directed several movies for Marc Dorcel including Katsuni's Casting Couch (2011), Orgy: The XXX Championship #2 (2012) that was nominated for "European Non-Feature Release of the Year" at the 2013 XBIZ Awards and In Bed With Katsuni (2012) which was nominated for "Best Gonzo Movie" at the 2012 Erotic Lounge Awards and "European Non-Feature Release of the Year" at the 2013 XBIZ Awards.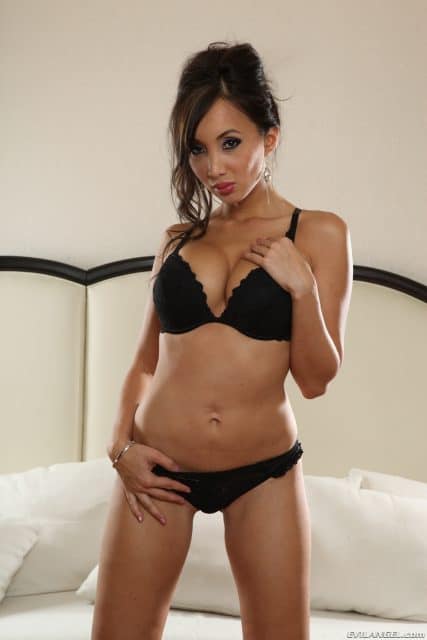 Katsuni in Evil Anal #13 – Evil Angel
When sexy French–Vietnamese pornstar Katsuni was asked about her reasons for directing and producing her own projects during her Eden Fantasy interview, she revealed that;
"I just want to keep doing what I always do. I enjoy what I do and share my pleasure with the people who follow me. It's always a question of sharing and doing new things. Performing in front of the camera is great, but you're still the "doll" of the director. Producing and directing means taking the ultimate control, deciding what you want to show, and totally creating something unique. That's intellectually more interesting…and financially too!…
The movies I produce for my own company are also on French TV, but I still haven't been able to shoot the type of adult feature movies that I'd like to direct. I need time for that and a good budget. Right now I focus more on gonzos, castings, or simple stories…It seems that we have more porn on French TV than in USA, but to be honest I don't really watch American TV. The only thing I realized is that mainstream programs in USA are much more "hardcore" and violent than the ones in France!".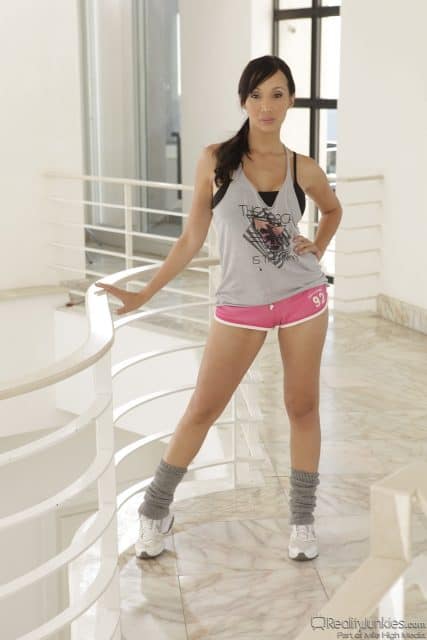 Katsuni in MILFs Seeking Boys – Reality Junkies – Mile High Media Galleries
Katsuni : Mainstream Media Projects
A multi-talented adult film star, producer and director, Katsuni has collaborated on a wealth of mainstream projects throughout her career. Where do we begin? Well, Katsuni launched her own brand of Petit Coeur lingerie in 2010. Katsuni discussed her lingerie line in her Eden Fantasy interview, highlighting how;
"Petit Coeur by Katsuni" is a brand of sexy lingerie that I created. I wanted to get a kind of mix between American lingerie which is very sexy, colorful, provocative, and add a taste of France by putting nice little details. This line of sexy lingerie starts with a catalogue of 16 items (lingerie sets, baby-dolls, teddies, costumes). It's made for any woman who wants to feel sexy and who wants to turn their partner(s) on!".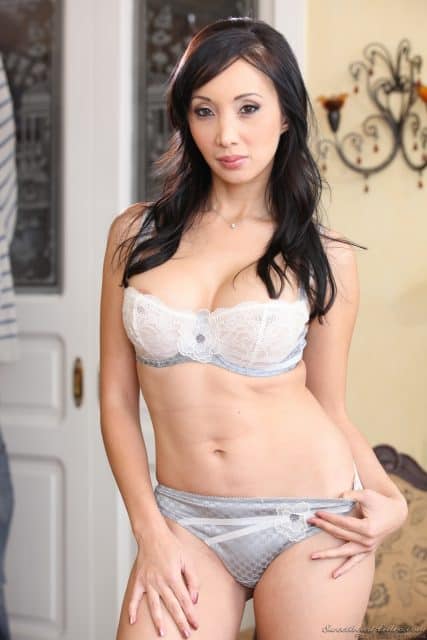 Katsuni in Asa Loves Girls – Sweetheart Video – Mile High Media Galleries
During this time Katsuni became an official Fleshlight sex toy girl in April 2010, she hosted her own TV show about Hentai porn – Les Mangas sexy de Katsuni – on the mainstream French channel MCM in 2011 and she presented the French TV show TPS Star (Waiting For Midnight). Katsuni became the ambassador of the 'geek' T-shirt brand OTAKU in 2011, she played 'Baroness' in Francois Descraques' web series Visitor of the Future which was also broadcast on France 4 and she appeared on the most popular adult TV show in France; Le Journal Du Hard.
A talented actress and artist, Katsuni has appeared in countless TV series, music videos and artistic collaborations such as Miguel Bose's music video Down With Love (2002), Gaspar Noe's short movie 'We Fuck Alone' that was presented at the Sundance Festival, Don Gyneco's music video Funky Maxime & Solitaire (2002), Deborah Anderson's illuminating documentary Aroused (2013) and the Imaginary Zones project which was exhibited at the Splendens Gallery in Paris in September 2015.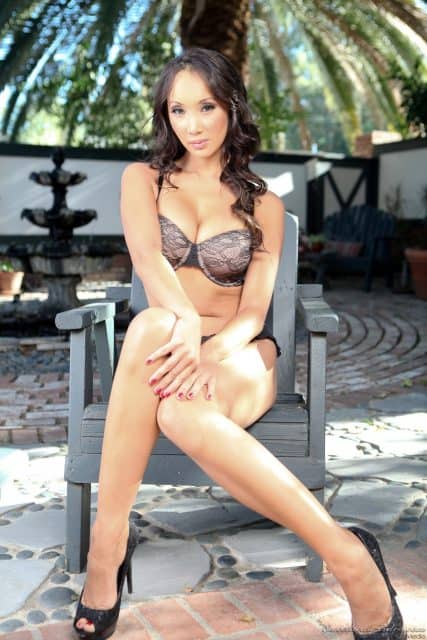 Katsuni in My Sister Celine – Sweetheart Video – Mile High Media Galleries
Hold on, there's even more. Katsuni voiced the character 'Brigitte' in the animated film and TV series The Lascars (2009), she appeared in Xanadu (2011) and she had a guest appearance in the French comedy feature movie Les Kairas (2012). Katsuni even appeared in a commercial for Alloresto that received over 10 million views!
A skilled writer, Katsuni has written her own Inrocks blog as well as contributing to articles for Huffington Post, Plus Nouvel Obs and Dorcel.com. In 2013 Katsuni published her first comic – Doggybags #6 – which she has since followed with Heartbreaker (2014) and Heartbreaker #2 (2017). Talking about her hectic work schedule in her October 2010 Sexpo interview, Katsuni explained how;
"I always say that I'll never stop working. When I don't do scenes, I feature-dance every weekend, do photoshoots, shoot documentaries for French TV, run my websites, work on my lingerie line etc. I don't have so much free time but when I have some, I like simple things: spending time with my friends, having a nice dinner, watching a movie, having a walk in the woods, sometimes doing a little bit of shopping and most of all I love staying in bed with my computer and watching a TV series. I also practice pole-dancing and plan to take dance classes".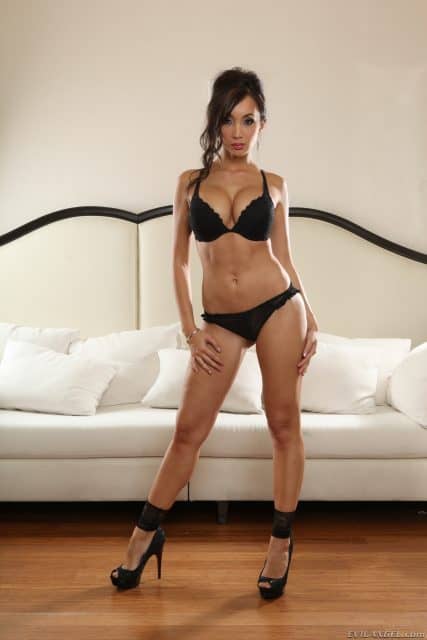 Katsuni in Evil Anal #13 – Evil Angel
Katsuni : Official Retirement & Mainstream Career as Celine Tran
In August 2013 Katsuni announced via Facebook that she was officially retiring from the adult film industry. From this point onward, Katsuni started to pursue more mainstream acting projects under her real name 'Celine Tran'. Fans eager to discover some of Celine's most popular movies, TV shorts and online collaborations should check out Metal Hurlant Chronicles (2013), Bladed Minds (2014), Burst (2014), Dust Machina (2014), Visitor From The Future (2014) and Jailbreak (2017) for starters! Jailbreak is available on Netflix and features Celine as 'Madame Butterfly'; a sword-wielding gang leader who speaks French, English and Khmer. Talking about this Cambodian martial arts action thriller in a June 2018 AVN press release, Celine revealed that;
"This movie is a very low budget but represents a real event in Khmer history…The country is rebuilding itself since a few years, its movie industry almost doesn't exist…It's a good entertainment for the audience who loves martial arts…The script is very simple, the acting is not stunning and it really responds to the Khmer culture with its own codes and sense of humor. But if you want to see great fighters in action and see me speaking Khmer, don't hesitate!".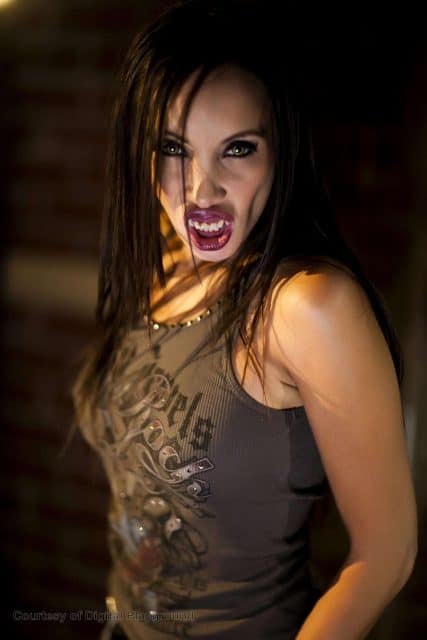 Katsuni in The Hunted: City Of Angels – Digital Playground
Never one to rest on her laurels, busty stunner Celine Tran launched her own YouTube channel and blog Ma Vie de Ninja (2017). Consequently, Celine Tran published her autobiography Ne dis pas que tu aimes ça/Do not say you love it (2018) and she divulged in a June 2018 AVN press release that;
"Every day I receive really nice comments not only from the readers, but also the press…I'm very happy to have reached my goal, which was absolutely not to write a success story. Most of all I wanted to share a path—an intimate experience from my childhood to today…
Porn is of course a big part of the book but most of all I'm talking about my relationship to my body, to men, how I used sexuality as a language to discover myself, how I built my identity and expressed my freedom…Sexual energy is at the center of my life. Today I'm using it to express myself in different ways and not only through sex!…
My speech has always been simple and clear: I chose this job because I liked it. I enjoyed having sex on camera, having different partners, discovering different sexual practices, and being paid for that…Yes, I might've experienced some painful moments in my professional and personal life, but all these moments are a part of this choice. They belong to me. They made me who I am today. And today I'm happy. I know myself. I'm free".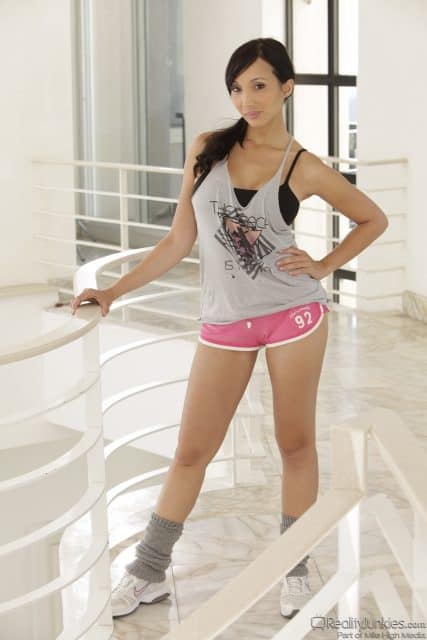 Katsuni in MILFs Seeking Boys – Reality Junkies – Mile High Media Galleries
During this time, Celine Tran started working as Director of Collection at Glenat, one of France's largest comic book publishers. In this role, Celine launched a new Porn & Pop collection which is dedicated to showcasing sexuality in comics. Ever eager to explore new career avenues, Celine Tran started working as a sex coach in 2018. You may also be interested to learn that Celine is 1st dan taekwondo, 2nd shotokan karate, a certified massage wellness instructor (FFMBE) and a certified Thai massage therapist (1st level, Chiang Mai), who is currently studying for her professional certification in Yoga Asthanga. Seriously, is there anything Katsuni can't do?!
Keen to discover all of her hottest porn productions? Want to learn more about her upcoming projects? Then use the links provided below to stay connected with French–Vietnamese sensation Katsuni/Celine Tran!
Katsuni/Celine Tran – Social Networks
Twitter : @IamCelineTran
Brazzers : Katsuni at Brazzers
Devil's Film : Katsuni at Devil's Film
Digital Playground : Katsuni at Digital Playground
Evil Angel : Katsuni at Evil Angel
Jules Jordan : Katsuni at Jules Jordan
Marc Dorcel : Katsuni's French Movies
Naughty America : Katsuni at Naughty America
New Sensations : Katsumi at Digital Sin/New Sensations
Vivid : Katsumi at Vivid
The Nude : Katsuni at The Nude
Babepedia : Katsuni at Babepedia