Asa Akira
Aka Akira Official Website : AsaAkira.com  Twitter : @AsaAkira  Kink : Asa Akira BDSM Content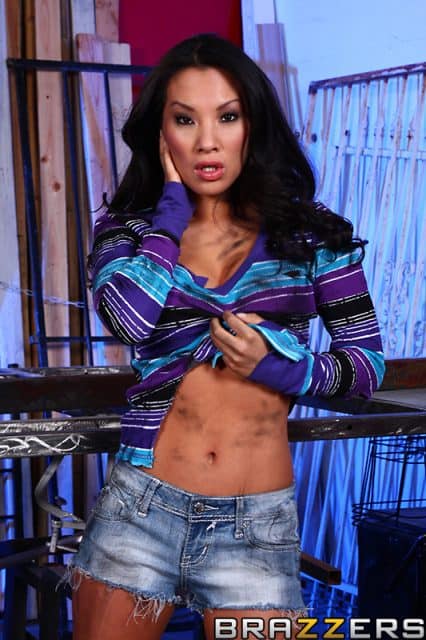 Asa Akira – Personal Info
Name : Asa Akira
Hometown : Manhattan, New York (US)
Date of Birth: January 3rd
Measurements : 32C – 24 – 34
Height : 5'2 (1.57m)
Hair Colour : Black
Eye Colour : Brown
Tattoos : Birds design on the back of her neck, a rose design on her right shoulder blade, a star design on the inside of her left forearm with 'Antoni' script on her lower left forearm, 'Mis/Conception' script on her right ankle, five flowers design across her left shoulder and cherry blossoms design on her left shoulder blade
Shoe Size : Women's 5.5 (US)
Years Active : 2006 – present (as a performer) , 2013 – present (as a director)
Number of Scenes : 250+ (as a performer) , 8+ (as a director)
With an estimated net over of over $1.5 million, the 'Anal Queen' Asa Akira is one of the hottest adult film stars in the industry! Famous for her sizzling star showcases and raunchy web clips, Asa Akira continues to receive a wealth of industry accolades such as being inducted into the Urban X Awards "Hall of Fame" in 2017.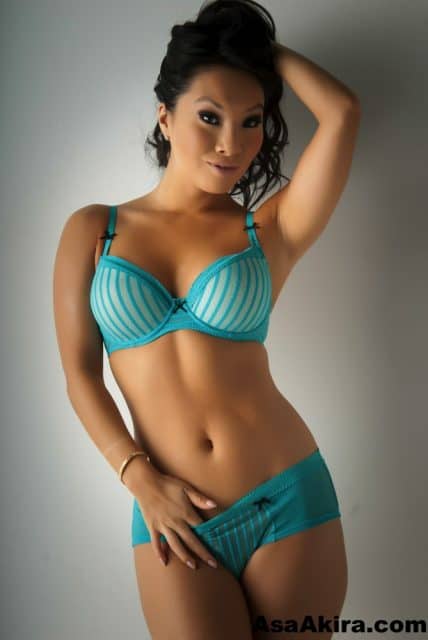 An accomplished performer, writer, director and presenter, Asa Akira was born in Manhattan, New York, to Japanese immigrant parents. Asa Akira lived in Soho until she was  9 years old whereupon she moved to Tokyo with her parents after her father, a portrait photographer, was relocated for work. Asa Akira and her parents moved back to the United States when she was 13 years old and settled within downtown Brooklyn before moving to Clinton Hill. Asa Akira stated within her 2014 New York Post article how happy her childhood was and that she does not fit society's perception of 'the emotionally damaged porn star';
"Besides the moving around, I had a really normal, happy childhood…Honestly, nothing happened to me that can explain all this…The first time I was called a slut was in fourth or fifth grade….I didn't know what it meant, so I looked it up in the dictionary and it said something like 'unkempt woman.' Unkempt? I didn't understand…I think, 'What's wrong with me? What made me gravitate to this?' I know my parents must ask themselves that…Once in a while I think I should go see a shrink to figure this out. But part of me just doesn't want to know".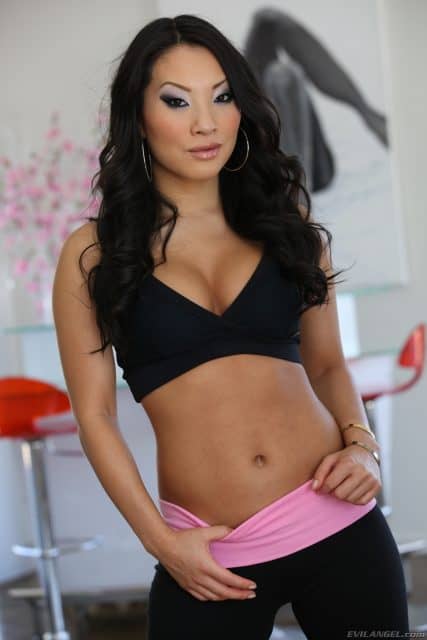 The only child of Japanese immigrant parents, Asa Akira spoke Japanese with her family whilst at home but is also fluent in English. Asa Akira's parents have always been liberals but she revealed within her 2014 Salon feature article that they have yet to come to terms with her adult film career;
"My parents are really liberal, progressive people, but not to the point where they can understand that I'm doing this by choice and that I really love my job. I don't think they want to know that I want to do this. That's almost worse".
During her teenage years Asa Akira worked as a cashier at the Books of Wonder children's bookstore and upon graduating she secured a scholarship to  attend the United Nations International School in Manhattan. Asa Akira secured this scholarship due to the fact that her grandfather had worked as a Japanese diplomat for over 45 years. Describing this period of her life, Asa Akira commented within her New York Post article that;
"I was surrounded by the Manhattan elite. Spoiled trust-fund babies, and children of diplomats who arrived to school in black limousines with special license plates…And I was the scholarship kid".
Feeling distanced from her fellow students, Asa Akira received poor grades in her freshman year and was not invited back to the United Nations International School to complete her sophomore studies. Instead, Asa Akira enrolled at Washington Irving High School in Gramercy Park. Asa Akira transferred to a progressive public school, City-As-School, for her senior year before graduating in 2004.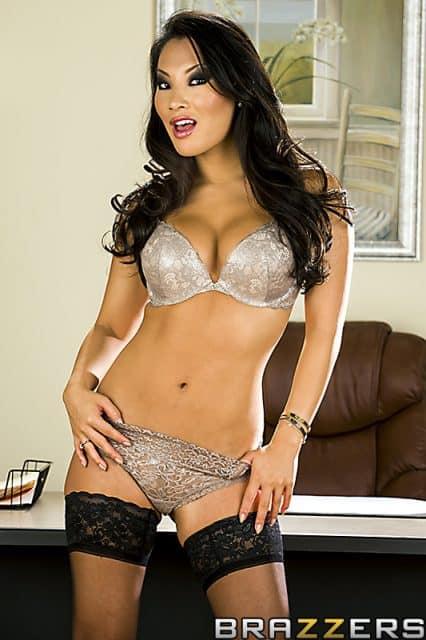 During this time Asa Akira used to watch Howard Stern's TV show on E! and soon became obsessed with the glamorous women he interviewed. When Asa Akira was 14 years old she discovered adult entertainment job advertisements on Craig's List and applied for a bikini modelling shoot. Asa Akira also applied for a 'masseuse' job listing but cancelled after receiving sexual advances from the massage parlour's owner. Even during her teenage years Asa Akira had her eyes set on the adult entertainment industry but was aware that she lacked the necessary business connections to forge an adult film career. As Asa Akira explained within her New York Post article;
"it was a far-away concept. I didn't know anyone in porn. I wouldn't even know the first steps to take. It's like saying, 'I want to be an astronaut.' I wouldn't know the first thing about being an astronaut," she says, and pauses…I'm sure I'm going to offend a lot of astronauts with that statement".
During her senior year at the City-As- School, Asa Akira was required to find an internship in order to graduate. Asa Akira soon found that she hated the responsibilities associated with her internship as a teacher's assistant at a preschool and found that her subsequent internship, working at the high-fashion magazine V, was similarly stressful. In fact, Asa Akira revealed within her New York Post article that;
 "I've never been treated so badly…It was the most degrading thing I've ever done and I've done a lot."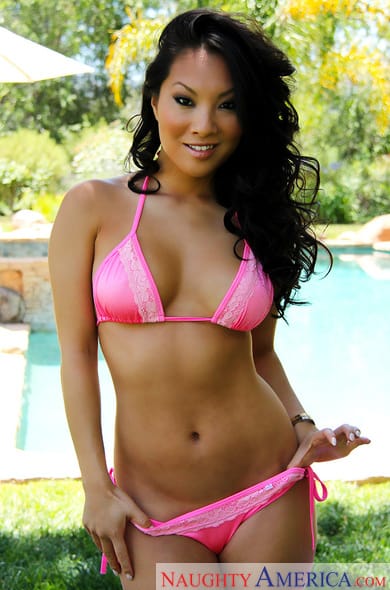 However, as luck would have it, Asa Akira stumbled upon an adult entertainment industry connection whilst walking home one day. After being offered a job at the fetish dungeon, The Nutcracker Suite, Asa Akira swiftly accepted and worked her first shift as a professional dominatrix. Working within this fetish dungeon enabled Asa Akira to socialise with adult film professionals; one of whom secured Asa Akira a job as an erotic dancer at Larry Flynt's Hustler Club. During her Salon feature article Asa Akira divulged her infatuation with the adult entertainment industry and her hyper-sexual nature;
"Intrigued by not specifically porn, but anything sexual. I've always been obsessed with sex. Even when I was really really little, when I saw pregnant women, it would make me so horny. It's weird because at that age I don't think I could identify the feeling of horny, but I knew I felt a certain way when I saw pregnant women. I didn't even know how babies were made. Something in me just knew that she did something to get pregnant. It's really weird. I remember watching "Sesame Street" and when Maria was pregnant, I was like obsessed with her. I just loved looking at women's pregnant bellies and talking about pregnancies. It just really turned me on".
After working as an erotic dancer for several months, in 2006 Asa Akira moved to Florida where she began to make regular guest appearances on the Bubba The Love Sponge radio talk show. Through these radio talk show appearances Asa Akira earned herself the nickname 'The Show Whore' and met the adult film star Gina Lynn who offered Asa Akira her very first role in a pornographic production. Excited by this compelling opportunity, Asa Akira took a bus ride back to New York City in order to film her first ever girl/girl sex scenes with Gina Lynn and her first ever boy/girl sex scenes with Travis Knight for the Gina Lynn Productions DVD feature release Top Notch Bitches 5. Whilst discussing her first ever sex scenes in a September 2016 VICE interview titled 'Anal Queen' Asa Akira Is Having a Porn-Life Crisis, Asa Akira revealed that;
"It felt so natural, like it didn't feel like this big defining moment…It felt almost like when I am on set now. I was really happy, like, This is definitely what I want to do…I am so proud of what I do. I am proud that I am in charge of my sexuality, and I have done it despite what the majority of society thinks I should be doing".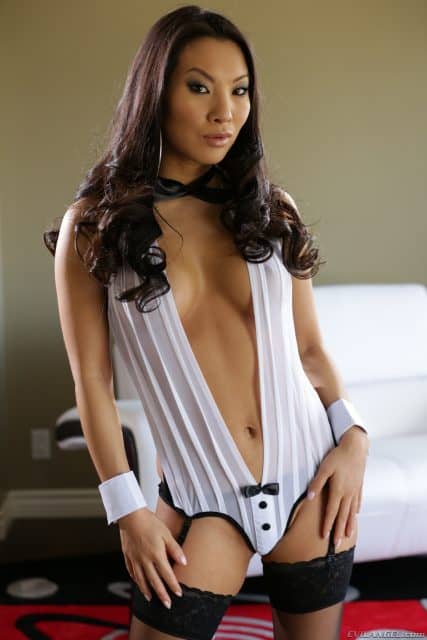 Asa Akira : Adult Film Career
Asa Akira filmed her first ever hardcore sex scenes in 2006 with Travis Knight and Gina Lynn for the Gina Lynn Productions DVD feature release Top Notch Bitches 5 . Asa Akira has filmed multiple DVD feature releases for Gina Lynn Productions over the years including Drowning In Bitch Juice 1, 2 and 3 (2006, 2007, 2008), as well as Fresh Breed 4 (2007) and Ultimate Feast 3 (2009) among others.
Four days after making her adult film debut, Asa Akira flew out to Los Angeles whereupon she signed a six month performing contract with Vouyer Media. During this time Asa Akira starred in such Vouyer Media DVD feature releases as; Bombshell Bottoms, Control Freaks, Fetish Fucks 3 also starring adult film superstar Madison Ivy, Make Me Creamy 4, Poolside Pussy, Asian Annihilation and Self Service 1 also starring Alexis Texas, Kagney Linn Karter and Phoenix Marie which was nominated for "Best Solo Release" at the 2011 AVN Awards.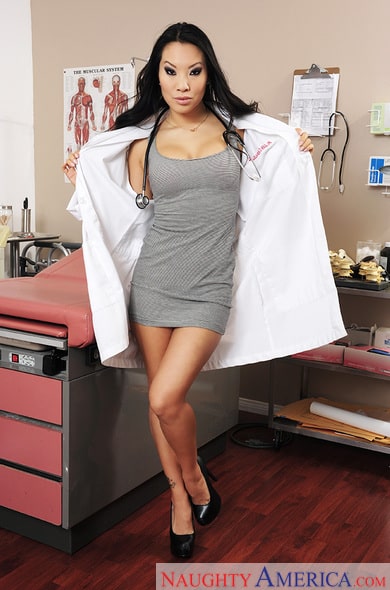 After her six month Vouyer Media performing contract concluded, Asa Akira continued working as a freelance performer for some of the biggest pornographic production companies in Los Angeles. Fans of Asa Akira should check out some of her earlier performances in; All About Me 3 for Diabolic Video also starring Tori Black, Asian Fever 37 for Hustler Video, Ass Trap 2 for Evil Angel which was nominated for "Best Anal Release" at the 2010 AVN Awards, Be My Bitch 6 for Red Light District also starring Dana DeArmond and Aiden Starr, Feed The Models 1 for Jules Jordan Video also featuring Aletta Ocean which was nominated for "Best Gonzo Release" at the 2011 AVN Awards, Inside The Orient 1 for Naughty America, Not Just Another Asian Movie for Wildlife Studios, Oriental Babysitters for Penthouse and Peep Shows 3 for Mike John Productions which won "Best All-Sex Release" at the 2009 RogReviews' Critics Choice Awards.
For her porn star stage name Asa chose her real first name 'Asa' which means 'morning' in Japanese. For her porn star stage surname Asa chose 'Akira'; taken from the title of one of her favourite anime films Akira. When asked about being typecast due to her Asian ethnicity, Asa Akira conveyed within her Salon feature article how;
"I hated being cast as the Asian girl. I hated every time I had to wear a kimono or be covered in sushi or play a masseuse. Not because I felt it was degrading — because I do feel that it's kind of being celebrated. It's fetishized, but I think that's okay. Now, I've learned to embrace it. It's something that's special about me, it's something that guarantees me work as long as I want to stay in the industry. But I would never do anything that's degrading to Asians".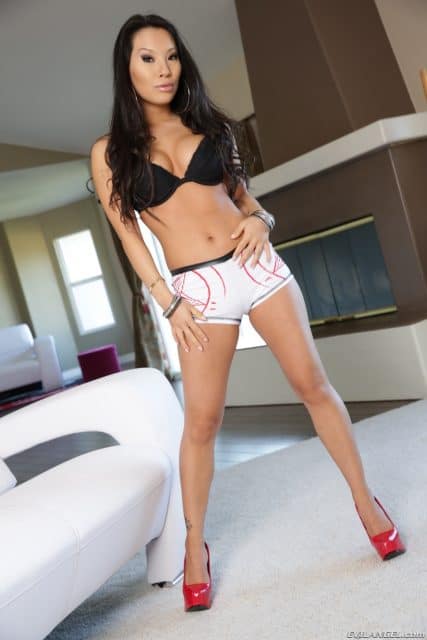 Drawing upon her career experience as a  professional dominatrix, Asa Akira soon began to experiment with a wide range of BDSM content. For instance, in June 2009 Asa filmed her first ever sex scene for the fetish porn site Kink.com. Asa Akira starred in a hardcore sex scene for their Sex and Submission web series titled Asa Akira: First Time Fucked In Bondage alongside male porn star Mr. Pete. Asa has also performed alongside Chanel Preston and Sunset Diamond for Kink.com's Whipped Ass web series and has featured within various instalments for their Hardcore Gangbang, Wired Pussy, Hardcore Gangbang and alternative fetish porn franchises since 2012. During this time Asa Akira also experimented within a wide range of fetish porn DVD feature releases including Belladonna Fetish Fanatic 10 and Belladonna's Fucking Girls 7 which were filmed in collaboration with adult film superstar Belladonna and Evil Angel.
A defining moment in Asa Akira's adult film career came in 2009 when she starred in David Aaron Clark's Evil Angel DVD feature release Pure alongside Aiden Starr. Playing a phone operator at a fetish dungeon who has an affair with the head Mistress's husband, Asa Akira received multiple nominations for her Pure performance such as "Best Actress", "Best Couples Sex Scene" and "Most Outrageous Sex Scene" at the 2010 AVN Awards.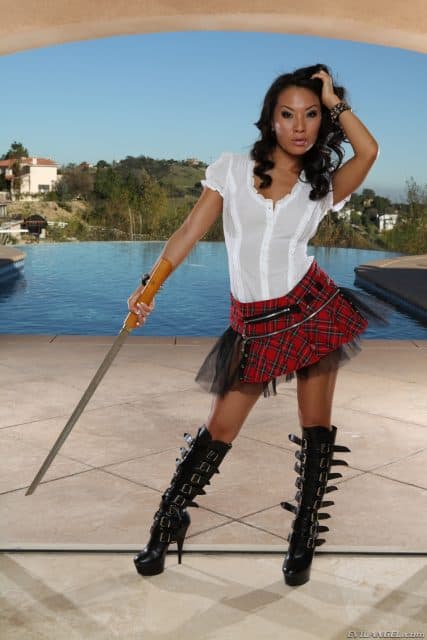 Asa Akira : Anal Queen
Without a doubt, Asa Akira is best known for her show-stopping anal sex scenes. In September 2010 Asa filmed her first ever anal sex scene with Manuel Ferrara for her signature showcase Asa Akira Is Insatiable 1. This Elegant Angel production also featured Asa Akira's first ever double penetration sex scene with Erik Everhard and her future husband Toni Ribas. Asa Akira Is Insatiable 1 was a commercial and critical success; earning Asa a nomination for "Best High-End All-Sex Release" at the 2011 AVN Awards as well as establishing her reputation as the 'Anal Queen'. Asa Akira talked about shooting her first ever anal sex scene during her September 2016 VICE interview and explained that she was originally only supposed to shoot her first double penetration sex scene;
"I was like, 'Fuck it. I will just do it.' I was like, 'Just put it in my ass.' And they were like DPing me, and it was the best feeling ever That changed me, it changed my whole outlook. It made me just go into things with a more open mind… It was really a life-changing moment… When I started doing anal porn, I was like, I want to be the best at this. I really like things I am good at, and I think as soon as I saw that I was good at porn—whatever that means—it made me say, 'OK, now I am really driven, now I want to win all of the awards'".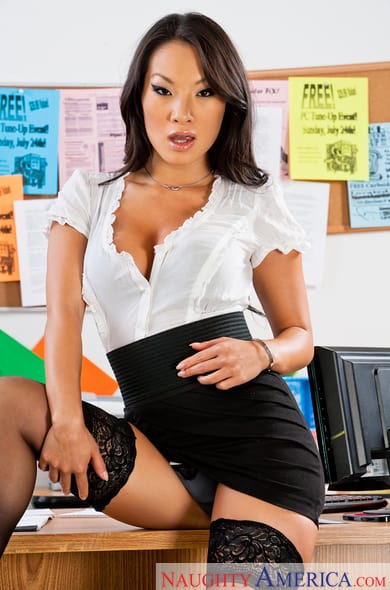 Asa Akira continued to appear in a variety of anal and gonzo-themed releases throughout 2010 such as Buttwoman vs. Slutwoman for Elegant Angel alongside Alexis Texas which won "Best Gonzo Release" at the 2011 AVN Awards, Inside The Orient 3 and 4 for Naughty America, the Penthouse production Next Top Porn Star and Porn Star Superheroes for Elegant Angel which won "Best Release" at the 2010 XRCO Awards.
In September 2011 Asa Akira ascended to adult film superstardom with the commercial release of Asa Akira is Insatiable 2. Featuring Asa Akira's first double vag and double anal sex scenes, this fan-favourite DVD feature release was a critical and commercial success; winning all seven of its 2013 AVN Awards nominations as well as two Urban X Awards and "Best Gonzo Release" at both the XBIZ and XRCO Awards! Starring in Asa Akira is Insatiable 2 also resulted in Asa Akira co-hosting the 2013 AVN Awards ceremony alongside adult film superstar Jesse Jane and the comedian April Macie. This award-winning DVD series spawned another sequel, Asa Akira is Insatiable 3, in September 2012 which also won "Best Gonzo Release" at the 2013 XRCO Awards, three AVN Awards and countless more adult film award nominations.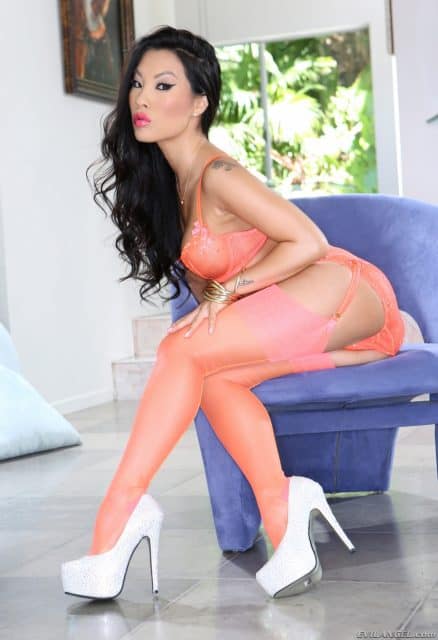 The overwhelming success of the Asa Is Insatiable trilogy, as well as Asa Akira's multiple gonzo- themed productions, anal DVD feature releases and her I Am Asa Akira 1 and 2 signature showcase series for Pornstar Empire, has resulted in Asa Akira becoming one of the adult entertainment industry's most popular porn stars. For example, Asa Akira has been ranked fourth within Complex magazine's "The Top 100 Hottest Porn Stars Right Now" in 2011, ranked sixth within their "The Top 50 Hottest Asian Porn Stars of All Time" list, was ranked third within LA Weekly's "10 Innovative Porn Stars Who Could Be the Next Sasha Grey" list in 2013 and she has been named within CNBC's famous "The Dirty Dozen: Porn's Most Popular Stars" list in 2012, 2013 and 2014. In 2011 Asa Akira even launched her own Fleshlight sex toy line which went on to win the "Best Sex Toy" accolade at the 2012 TLA Raw Awards! Asa Akira was thrilled at this positive reception of her new sex toy line, but confessed to reporters that;
 "I'm secretly terrified it feels better than my actual vagina".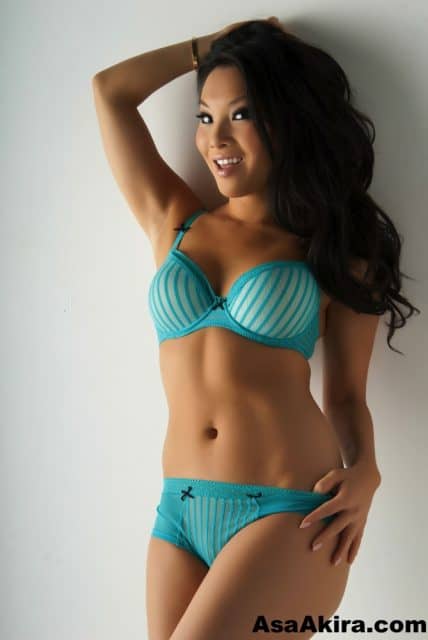 Asa Akira has also featured within multiple DVD feature releases showcasing porn's most popular stars such as; Elegant Angel's DVD series Performers of the Year 2011, 2012 and 2013 with Kagney Linn Karter, Lexi Belle, Remy La Croix, Andy San Dimas and Bobbi Starr which won "All-Sex Release of the Year" at the 2012 XBIZ Awards, Adam and Eve's 40th Anniversary Collection with Kayden Kross, All Stars 3 for 3rd Degree with Chanel Preston, Kagney Linn Karter and Alexis Texas, as well as Best in XXX for Wicked Pictures in 2014 with Bonnie Rotten, Dani Daniels, Mia Malkova, Kendra Lust, Skin Diamond and Veronica Avluv.
In October 2013 Asa Akira signed an exclusive performing contract with Wicked Pictures; a contract which resulted in Asa appearing in multiple smash-hit DVD feature releases such as Asa Is Wicked, Asa Goes To Hell, Asa Akira: Wicked Fuck Doll and Asa Gets Wicked which was nominated for "Best Star Showcase" at the 2015 AVN Awards. Asa Akira has also signed with Mark Spiegler's exclusive adult film talent agency and has performed within a wealth of popular pornographic parody releases for Brazzers, 3rd Degree, Hustler Video, Blue Circus Entertainment, Adam & Eve, Zero Tolerance and Vivid. Some of Asa Akira's most popular porn parodies include; the Official Big Brother Parody, the Official Friday the 13th Parody, Saw: A Hardcore Parody, Seinfeld 2: A XXX Parody, Death Proof : A XXX Parody, Not Animal House XXX, Sailor Poon: A XXX Parody, Barberella XXX: An Axel Braun Parody, Elvis XXX: A Porn Parody, Wolverine XXX: A Porn Parody, Suicide Squad: An Axel Braun Parody and Magic Mike XXXL which was featured within a June 2015 Cosmopolitan article titled I Spent A Day On The Set Of "Magic Mike XXXL" A Hardcore Porn Parody.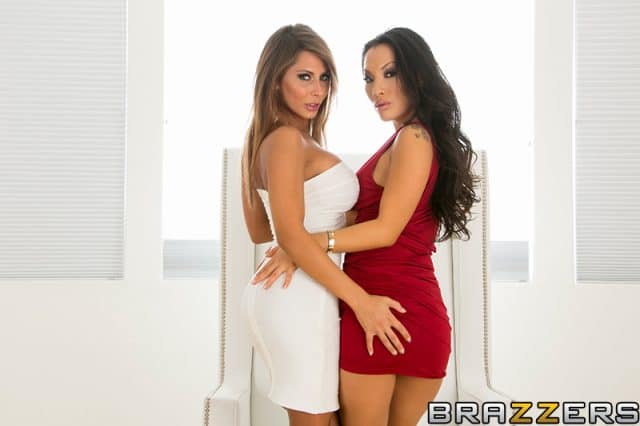 Madison Ivy and Asa Akira at Brazzers
Evil Angel's founder, John Stagliano, praised Asa Akira's notable rise to fame and status as the 'Anal Queen' within Asa Akira's aforementioned 2016 VICE feature article, noting how;
"She worked really hard…She is a unique Asian girl who is really good at doing major lead roles. She is also unique because of her smarts…[With vaginal sex], it is much easier to fake it and not be into the act…Anal sex is hard to do. Some people physiologically just can't do it comfortably. It is a genetic thing as much as a mental thing. But the mental thing is really interesting to watch, to see someone overcome that and go through the pleasure and the pain of anal sex is very powerful." Akira's performances clicked with fans because they could tell that the pleasure she exhibited on the screen was real".
In fact, Asa Akira is so good at shooting anal sex scenes that she has even taught classes about them! In August 2016 Asa Akira visited the House of Scorpio in Brooklyn whereupon she taught a class of her fans and fellow adult film performers about how to prepare for shooting anal sex scenes. During this class Asa Akira outlined her entire process before, during and after shooting an anal-themed release and answered questions from her ardent fan followers.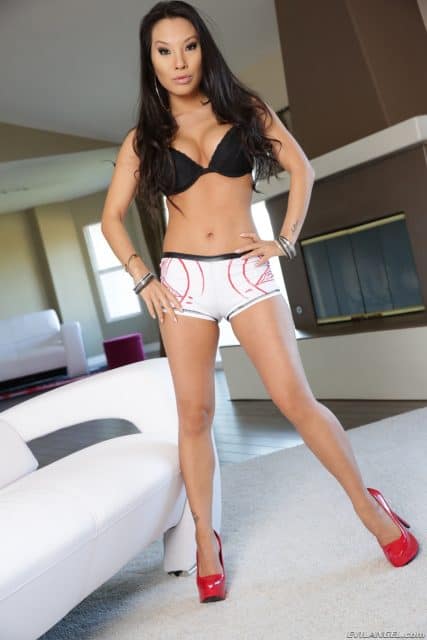 Asa Akira : Industry Accolades & Award Nominations
Known throughout the adult entertainment industry as the 'Anal Queen', Asa Akira has won over 30 adult film awards to date including;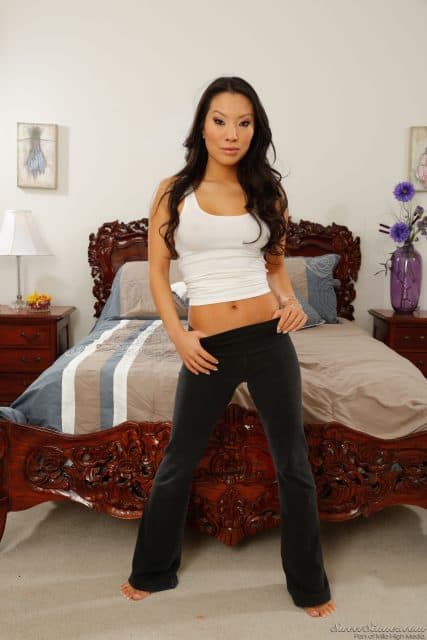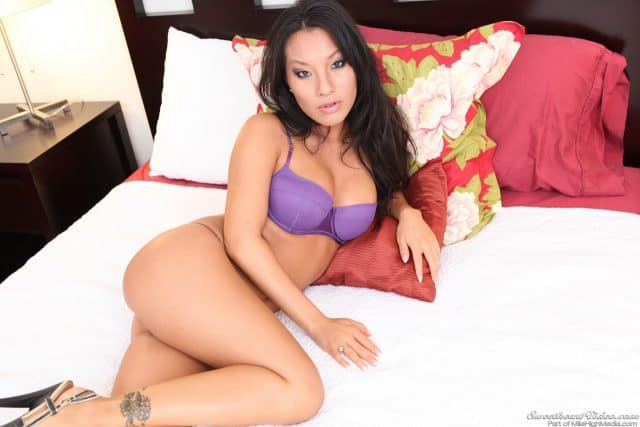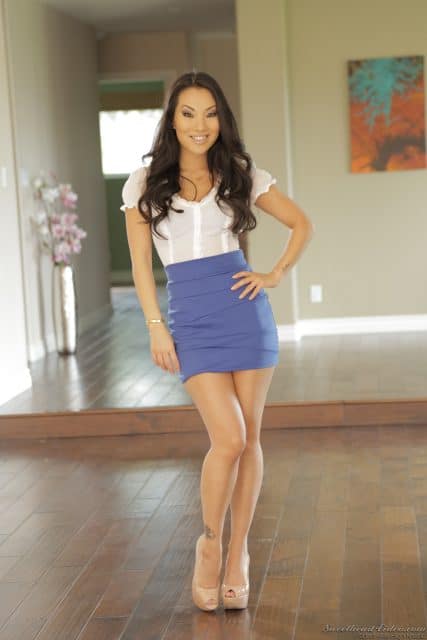 The list goes on!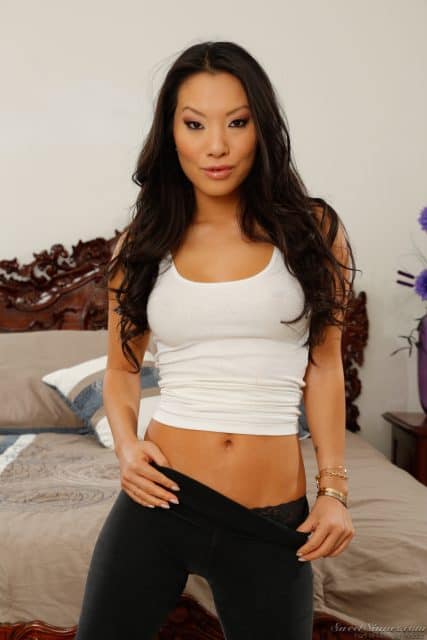 Asa Akira : Directorial Debut
In 2013 Asa Akira directed her first ever pornographic production for Elegant Angel; Gangbanged 6. Asa Akira explained within her New York Post feature article that she had to decline attending her ten year high school reunion in order to direct her first ever gangbang sex scene;
"I told [my friend] to make sure to text me any good gossip — who's gay, who's rich, who's broke, who's fat, who's on drugs, who's dead…Then I realized . . . Me. I'm probably the gossip. 'Guess who's in porn".
Asa Akira's directorial debut received rave reviews from adult film critics and was nominated for "Gonzo Release of the Year" at the 2014 XBIZ Awards. Asa Akira has since directed eight pornographic productions for Elegant Angel and Club 59 including; Massive Asses 7, Performers of the Year 2014 alongside co-directors Toni Ribas, Carlos Dee and Mime Freak, Teach Me 3, Asian Bombshells, Lush 4, Best New Starlets and Cuties 6. Directing these popular pornographic productions has enabled Asa Akira to direct and perform alongside notable female porn stars such as British MILF star Tanya Tate, BDSM experts Casey Calvert, Dana DeArmond and Bonnie Rotten, and rising starlets such as Remy La Croix, Riley Reid, Maddy O'Reilly and Adriana Chechik.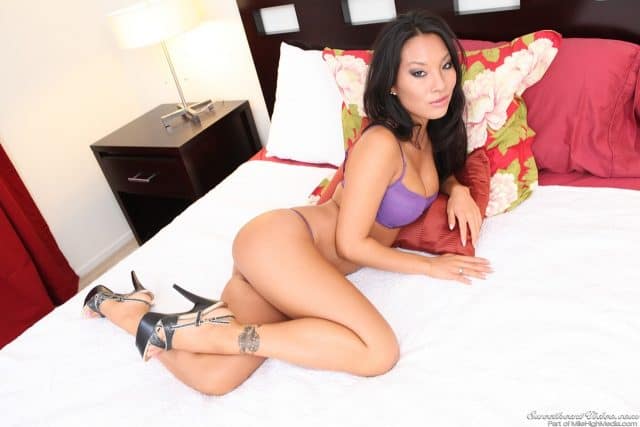 Asa Akira : Mainstream Media Projects
In addition to her extensive pornstar portfolio and thriving directing career, Asa Akira has also begun to establish a notable reputation as a mainstream media star. In 2013 Asa Akira worked with David Choe to create a free online podcast titled DVD ASA. This podcast comprised of 90 minute episodes which endeavoured to help young people to resolve their relationship issues, career dilemmas and any conflicts that they may have with regards to their sexuality  and personal or professional disputes. As matters stand, Asa Akira has also made a cameo appearance within the feature film Starlet which was nominated for numerous International Film Festival awards as well as being featured within a Crave Online photo shoot, Asa Akira Likes It Extreme, in January 2014, appearing as a guest on Dr. Drew Pinksy's Loveline radio talk show in February 2014, appearing in a YouTube video with prominent vlogger Caspar Lee in June 2014. Asa Akira also starred within Season 3 Episode 1 of the Adult Swim comedy TV series The Eric Andre Show with Seth Rogen in November 2014.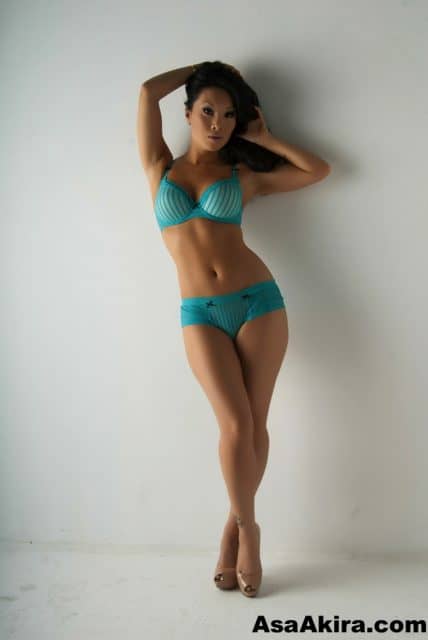 Over the years Asa Akira has attracted a wealth of mainstream media coverage for her literary works. For instance, in May 2014 Asa Akira published her personal memoir; Insatiable: Porn – A Love Story. After publishing this debut memoir via Grove Press, Asa Akira collaborated with Cleis Press in order to publish her second literary work Dirty Thirty: A Memoir. This collection of insightful essays on love, sex, relationships and life in general was published in August 2016. Asa Akira has been extremely candid about her personal experiences and family relationships within her memoirs; even going so far as to include a letter that she wished she had sent to her mother regarding her adult film career. As Asa Akira explained within her Salon feature article;
"No, that letter is fake. It's the letter I wish I could have sent. It's everything I really wish I could say to my mom. We're really, really close in everything except anything related to my career. Even now, I talk to her on the phone every day. But we never talk about that part of my life".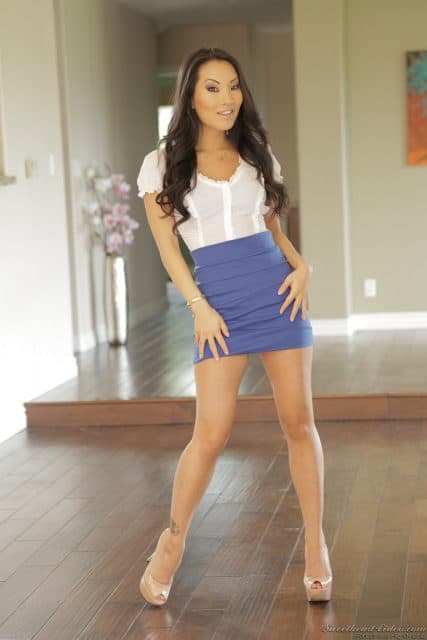 During her interview with Rob Brink for Jenkem Mag in May 2015, Asa Akira also talked about how publishing these books has enabled her to dispel certain myths about porn stars being 'damaged individuals';
"When I wrote my book Insatiable I did a lot more mainstream media rather than porn interviews, and, for the most part, I think the interviewers walked away disappointed that I wasn't some tragic story. I think they were rooting against me. In the book I talk about how I had this happy childhood. I didn't have any traumatic experiences. And they seemed to come into the interview already doubting that and trying to catch me slipping, wanting me to accidentally say I was raped when I was three or something… I think they're uncomfortable with the fact that I'm so comfortable with my sexuality. It just bothers them. A lot of people need to justify it to themselves with something horrible".
Asa Akira promoted her latest literary work, Dirty Thirty: A Memoir, via an Ask Me Anything session with her fans on Reddit. Some of Asa Akira's best answers within this Reddit interview session were featured within a Highsnobiety article that showcased her humble nature and sense of humour. For instance, when a fan asked Asa Akira where she sees herself in 30 years she replied;
"In my house, eating lots of carbs….I do get recognized pretty often, and I secretly love it. When someone tells me they were just jerking off to me, it's my favorite. Kids come up to me a lot, which is awkward, but if anything I see it as a guarantee that I'll still have a fanbase (even if just for nostalgic reasons) when I'm old and fat".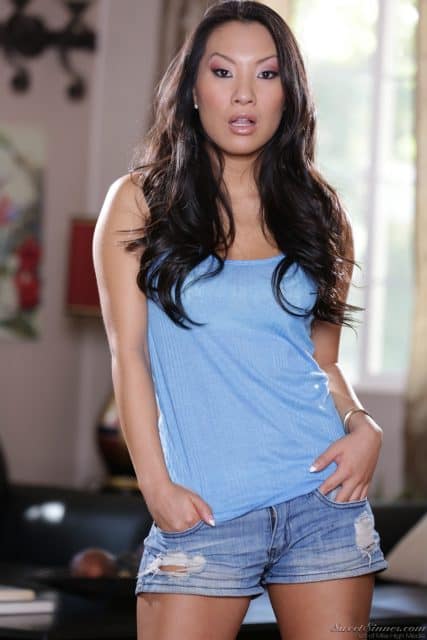 Throughout her adult film career Asa Akira has also collaborated on numerous feature articles for mainstream media publications. Among these notable credits include the January 2014 Cosmopolitan article "4 Porn Stars On How They Stay Fit" wherein Asa Akira joined Chanel Preston, Dana DeArmond and Jessie Andrews in divulging their personal diet and exercise routines. This article was inspired by the comments made by Gabrielle Union who revealed during her TV interview with Conan O'Brien that she copies the healthy eating and exercise regimes of the porn stars who attend her local gym. Given that Asa Akira's parents have always been healthy-eating fanatics, coupled with the fact that Asa Akira rarely ate junk food as a child, she was a natural choice for this healthy living/adult entertainment feature article!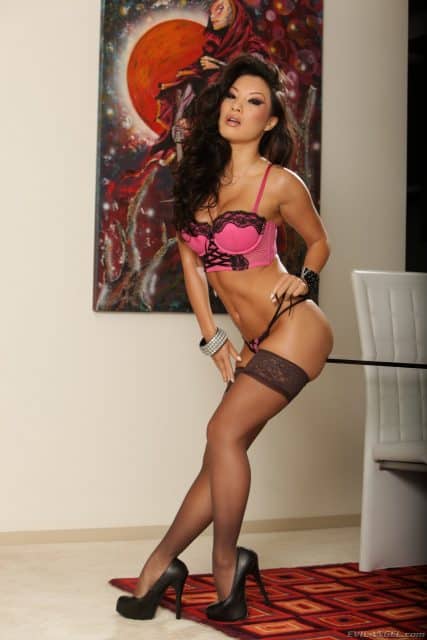 In 2015 Asa Akira put her presenting skills to good use when she replaced notable adult film star Belle Knox as the new host of The Sex Factor; a reality show wherein 16 porn stars competed against one another in order to win a three year performing contract and a $1 million prize. In April 2015 Asa Akira decided to dabble in a wide range of adventurous excursions for a TV series with Bobby Hundreds titled Hobbies with Asa Akira. Within this The Hundreds TV series, Asa Akira dabbled in ice sculpting, boxing, tattooing and taxidermy among all manner of outlandish activities! Within her interview with Rob Brink for Jenkem Mag in May 2015 Asa Akira explained how;
"I've known Bobby Hundreds for a while and we did an interview when my book came out last year. A couple weeks later, he texted me like, "Hey, what do you think of doing a video series?" And I was like, "Ok, let's do it!" not knowing any of the details or anything. We had a meeting where everyone pitched ideas and we decided on hobbies because I'm such a homebody. I genuinely don't have a hobby. I feel like people are constantly asking me, "What do you like to do outside of porn?" and I'm like, "Nothing." My favorite thing in the world is to read and watch movies. House arrest would be paradise for me…I think I've always felt that way and I've never been able to put it into words. It's funny because people will often describe me as a workaholic, but I'm really not. I just love my job so much that I want to do it all the time. If I were working a 9-5 job I'd do the bare minimum, complaining the whole time, trying to take long lunches. I wouldn't be a "workaholic." We're really lucky in that way. I try to remind myself of that all the time".
Asa Akira has been interviewed for a Refinery 29 online article Why Porn Star Asa Akira Isn't Sure She Wants To Be A Mother in September 2016, was featured in an interview and podcast for theCHIVE in August 2016 and even received her own feature article in the New York Post in April 2014! Titled From prep-school kid to millionaire porn star, Asa Akira told reporter Susannah Cahalan how porn has made her dreams a reality;
 "[Porn] shaped me into a woman I had always hoped I would be. I've become more confident, more empowered, more sure of myself than I've ever been…There's nothing else I'd rather be doing…I'm part of the new era of porn…We're feminists, very sex-positive people. We're not victims of rape, not drug addicts, we don't have any daddy issues".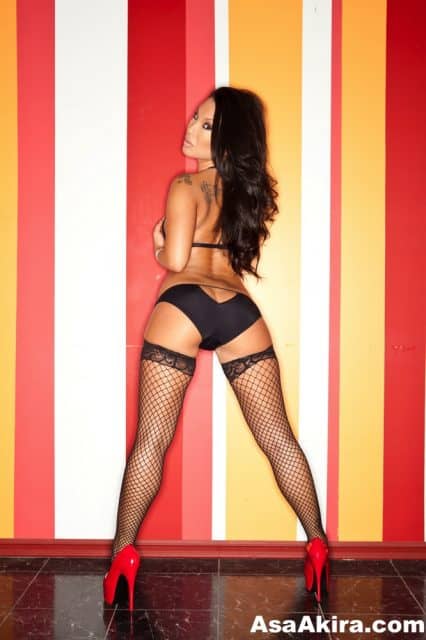 Asa Akira : Married Life & Future Plans
When asked about her romantic relationships Asa Akira has always stated within interviews that her sexuality is 'indefinable' and that she is attracted to men as well as 'girls that look like boys'. Asa Akira has dated male porn stars throughout her adult film career and at one stage was engaged to the prominent male porn star Rocco Reed. However, since December 2012 Asa Akira has been happily married to male porn star turned adult film director Toni Ribas. Aside from their on-screen pairings, Asa Akira and Toni maintain a monogamous relationship.  Asa Akira discussed her hyper sexual nature and how it has affected her career and married life within her May 2014 Salon feature article. As Asa Akira puts it in her own words;
"I also think there's something about porn that, for a really hypersexual person like me, it's the ideal job. I'm having casual sex in the safest way possible. These people are tested, I'm in a controlled environment, I know these people…Outside of work, we are monogamous. I just signed a contract with Wicked Pictures where I only shoot one movie a month. I used to shoot five, six days a week. Now I'm shooting not even five days a month. It's definitely different and I was really scared that I was gonna freak out or act out in some way, but it's been a very smooth transition so far. My husband is really supportive. When I signed the contract, he was like, "Whatever we need to do to make it work, we'll make it work. Don't feel like you have to keep working five, six days a week to control your sexual appetite".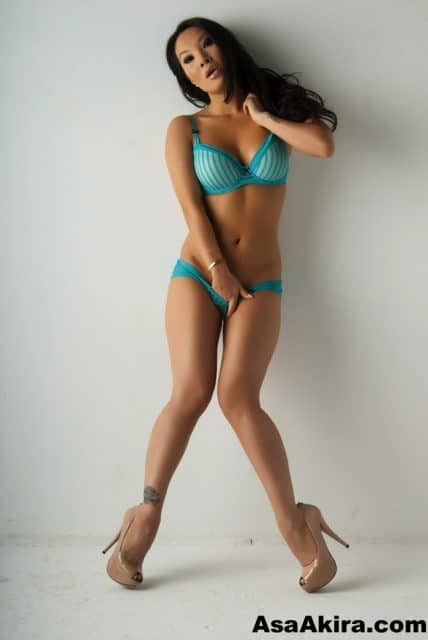 When asked about family life and the possibility of having children, Asa Akira noted within her September 2016 VICE interview how;
"The same way I knew if I had never done porn, I would've looked backed and regretted it forever; I knew that if I never had a child, I wouldn't feel fulfilled in life…It's kind of a hard thing to talk about because I know people who are in porn who have kids. I don't judge them at all for it, and I think they're actually doing a really good job. But at the same time, I remember when I was a kid that every time I'd fight with my parents I was always like, 'Well, I didn't ask to be born!' Which is the brattiest thing to say…I think ultimately that's what I'm afraid of. That once my kids learn that I've done porn and kids at school tease them about it, they're going to be like, 'Why the fuck did she have me'…I wrote a bunch, and it all just seemed to have this underlying theme of turning 30, being a woman, and aging—but not knowing what the next step was…Whenever I quit porn, I'll be starting at square one again—I am going to be where all my friends were ten years ago. I don't know if I want to have kids, so that is a huge issue right now in my mind, too…".
As matters stand, Asa Akira is eager to continue her porn star career and even discussed within her Salon feature article how shooting porn is her ultimate sexual fantasy;
"Shooting a porn scene is the ultimate fantasy for me. Regardless of what kind of scene it is or who it's with. I just really get off on being watched, knowing people will be turned on by it. I guess you could say I kind of feel love at that moment".
As a result, Asa Akira has noted within numerous interviews that she will continue to shoot pornographic productions for as long as she possibly can;
"as long as people will watch me, honestly. When I first got in, I thought I'd just get it out of my system and do it for a couple years. Now I realize I just want to do this forever".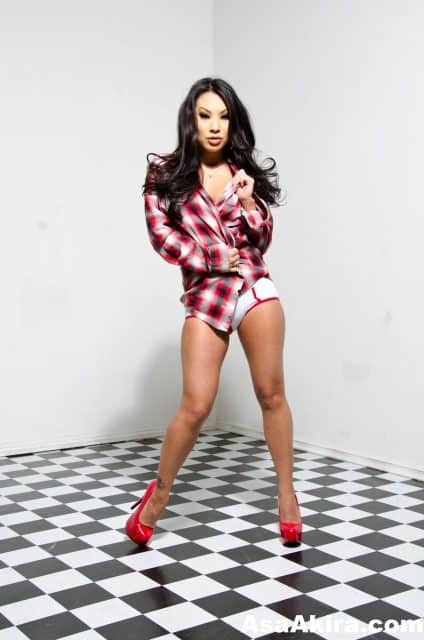 If you would like to continue watching the adult film exploits of the stunning Asa Akira then why not head on over to her social networking channels online today? With new online sex scenes, modelling shoots and pornographic productions being released every day there's just no stopping this 'Anal Queen'!
Asa Akira – Social Networks
Official Website : AsaAkira.com
Twitter : @AsaAkira
Brazzers : Asa Akira at Brazzers
Evil Angel : Asa Akira at Evil Angel
Kink Profile : Asa Akira BDSM & Fetish Content
Naughty America : Asa Akira at Naughty America
New Sensations : Asa Akira at New Sensations
Facebook : Asa-akira
RealDoll : Asa Akira at RealDoll (Enter our exclusive 'xxxbios' promo code to receive 5% off all orders!)
The Nude : Asa at Nude.EU
Babepedia : Asa at Babepedia