Alex Coal
Alex Coal Twitter : @AlexxxCoal  Chaturbate : AlexxxCoal  FanCentro : AlexCoal  Naughty America : Alex Coal VR Scenes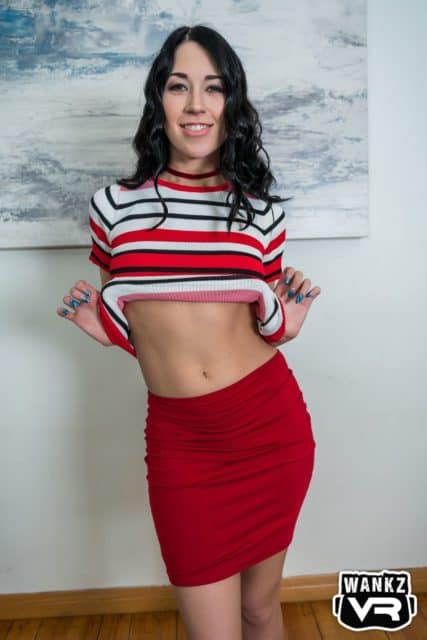 Click here to experience "Roll Coal" with Alex Coal at WankzVR
Alex Coal – Personal Info
Name : Alex Coal
Date of Birth : June 5th
Hometown : Las Vegas, Nevada (US)
Measurements : 34B – 26 – 38
Height : 5'3 (1.60m)
Hair Colour : Black
Eye Colour : Hazel
Shoe Size : Women's 7 (US)
Years Active : 2015 – present
Number of Scenes : 30+
Alex Coal is a fan-favorite webcam model, clip artist, director and adult film star who has been thrilling fans since 2015. Best known for her compelling live cam shows and exclusive videos, all natural pornstar Alex Coal has appeared in a wide range of Girlsway, Mofos, Property Sex, Team Skeet and Girlfriends Films porn productions. Watch this space!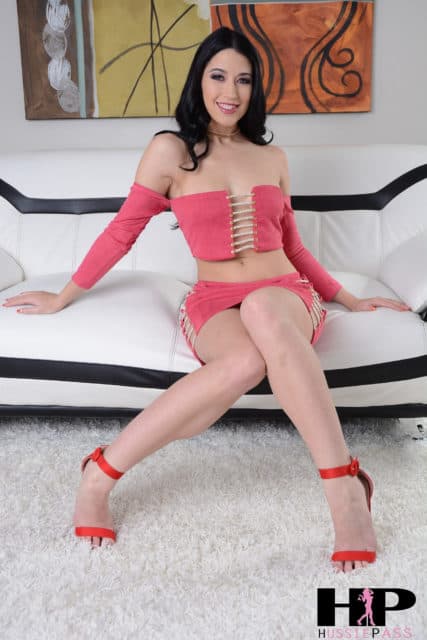 Click here to discover Alex Coal's exclusive videos at FanCentro
So where did it all begin? Born and raised in Las Vegas, Nevada, hot fit and athletic porn star Alex Coal has Native American heritage. Alex Coal has always been an active individual who played basketball in school as well as running track and practising yoga. Talking about her Sin City upbringing during her March 2017 YNOT Cam interview, Alex Coal divulged that;
"A lot of people ask what growing up in Las Vegas was like, and from talking to people and traveling I'd say it's just like growing up anywhere else. What I love is that it's like a melting pot inside a melting pot. I've never visited anywhere else in the U.S.A. with such a wide variety of people from all over the world".
Alex Coal held several jobs before she started working in the adult industry. From customer service roles to management positions! Alex Coal also has a college degree and she is passionate about art. Moreover, Alex Coal has always had a diligent work ethic and she was actually working 3 jobs when she first decided to try webcamming. As Alex Coal explained in her July 2016 MV Exposed interview;
 "I've been camming since Feb of last year, but I started adult work by selling my panties online about 4 years ago…I worked a variety of jobs from customer service to management over the years. I started work very early to help support my single mother, and have always had a strong work ethic. When my roommate told me about camming I was working three jobs to make ends meet. I'd never heard of camming and was skeptical, but he insisted I would be good at it.
I studied it online for about a month before trying it out with a girlfriend of mine. We did three fantastic shows together & I loved it! I quit two of my jobs and started camming & working at my day job full time. Recently I was able to drop back to part time at my day job to focus on camming & hopefully soon I'll be able to quit & focus solely on adult work & my art…I've got a college degree and want to go back for another as soon as possible. Other than that I already mentioned a few fun facts above. :)".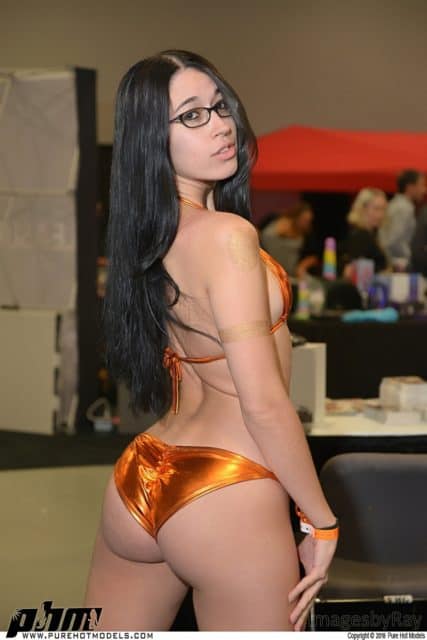 Click here to discover Alex Coal's exclusive videos at FanCentro
In this manner, Alex Coal first started working in the adult entertainment industry in February 2015 as a webcam model. You'll be happy to hear that Alex Coal continues to host regular lusty live cam shows via Chaturbate (as 'AlexxxCoal') and via MyFreeCams (as 'AlexxxCoal'). Alex Coal refers to herself as 'Horde Mother' via her chat rooms and she explained during her March 2017 YNOT Cam interview how this title is a blending of her love of camming, horror movies and video games. As Alex Coal puts it in her own words;
"I love gaming and horror movies. I have had a zombie poster behind me on cam forever, and of course people would ask about it. After camming for a while, inside jokes formed with my guys, and one of those is that they call me Horde Mother. It's a combination of my love of zombies and my love of StarCraft II: Heart of The Swarm. The Queen of Blades is like a mother to the Zerg army she creates, and my guys started comparing themselves to the swarm.
The name for a swarm of zombies is a horde. Bam! Horde Mother was born. My all-time favorite thing about camming is the relationships I form with my guys. They're loving, beautiful people, and I'm so lucky to have them in my life…The reason my profile embraces my love of horror and zombies is because I shared that side of me with my friends, and they were extremely accepting of it. So, it gave me the freedom to do what I wanted and embrace that interest of mine with them".
Alex Coal has always been incredibly thankful to her fans for their ongoing support and praise. After all, as pretty petite pornstar Alex Coal sincerely stated in her July 2016 MV Exposed interview;
"I love my fans because: they are an incredibly diverse group of beautiful people. They trust me and I trust them. We share lots of smiles, laughter, and sometimes tears. They are generous, kind, and accepting of me in ways that I never expected I would be accepted & honestly it makes me emotional just writing this. With them I feel like I'm home".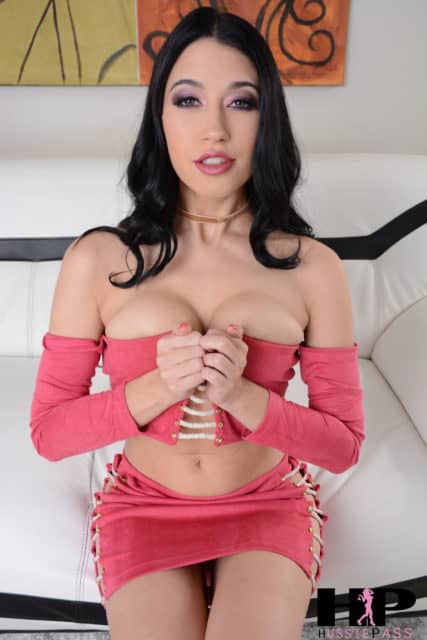 Click here to discover Alex Coal's exclusive videos at FanCentro
Alex Coal : Adult Film Career
Following her successful webcamming debut, in April 2015 Alex decided to join ManyVids where she started shooting her own amateur videos for her official store 'Alex Coal'. Fans of Alex Coal will love watching her steamy Our First Time Our First Kiss sex scene with Llewyn Davis in May 2015 and her kinky Bisexual MMF Three Way Madness porn shoot with Brock Avery and Mike Panic in August 2015. When Alex Coal was asked about the differences between webcamming and shooting her own videos during her March 2017 YNOT Cam interview, she conveyed how;
"I consider most of what I do through camming to be pornography. I don't draw a distinction. What I do with my shows, my lingerie, my videos, it's absolutely porn. Or, I think this is a clearer way to say it, it's all sex work. I am a camgirl because I use a live webcam to reach my audience, but that's all that means. It's still mostly content intended to stimulate erotic feelings. I try not to feed into the whorearchy by saying one area of sex work is better or more prestigious than another because I just don't believe it to be true".
Sexy bespectacled pornstar Alex Coal also discussed the origins of her sultry stage name 'Alex Coal' during this March 2017 YNOT Cam interview, revealing that;
"I put a lot of thought into my last name. I knew I would never change it, so it had to be something I loved. I'm a studio artist and I use charcoal in a lot of my work, so that's where coal came from. I also chose it because 'Alex Coal' is a more masculine name, so not many women show up if you Google it. It's short and easy to spell too, so that it's not hard to remember".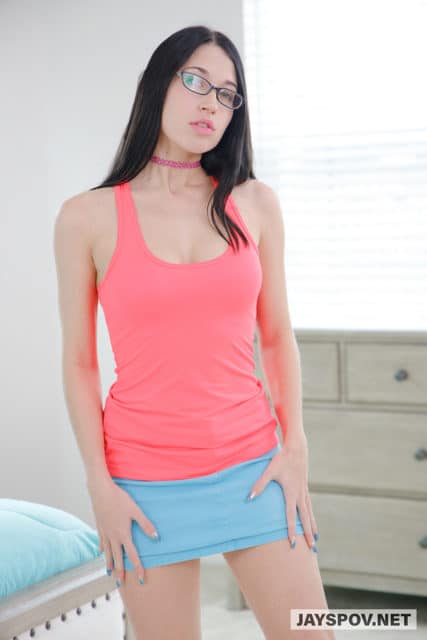 Click here to see more of Alex Coal's hottest sex scenes at Jay's POV
Want to know the best part? Over the years, Alex Coal has collaborated with many prominent porn stars on some sizzling ManyVids videos including Mickey Mod, Mike Panic, Owen Gray and Llewyn Davis. Alex Coal also continues to shoot some sizzling scenes for MikePanicXXX.com and she has filmed a wealth of compelling web clips with Nina Hartley and Lance Hart for her Clips4Sale store 'Alex Coals'. When sexy all natural pornstar Alex Coal was asked to name her favorite porn videos to shoot during her July 2016 MV Exposed interview, she divulged that;
"Definitely my Serendipitous Affair video with Mike Panic. Our chemistry was so intense that we were making out on set before the shoot and had to be told to cut it out so we could film. It was some of the best sex in my life, & finishing with such a huge load of cum all over my glasses & face really inflated my ego. Not to mention how he looked at me like I was some kind of goddess…I love how user friendly the [ManyVids] interface is and how modern the site looks.
The ability to send downloadable video links to members and non-members is extremely helpful with video sales and promotion. I also love that I can advertise freely without worrying about being shut down for mentioning my live camming or twitter. It would be really wonderful if items in the shop were more customizable, like if I could type in add-on options instead of being limited to pre-written ones".
In late 2018, Alex Coal began to be represented by the adult film modelling agency Hussie Models and she has appeared in a series of sizzling sex scenes for HussiePass.com. Our top picks? They'd have to be Alex's professional hardcore porn debut with J-Mac in December 2018 and her first interracial sex scene with Jax Slayher in December 2018. During this time, Alex Coal also filmed some sultry solo scenes for AMKingdom. Not to be missed!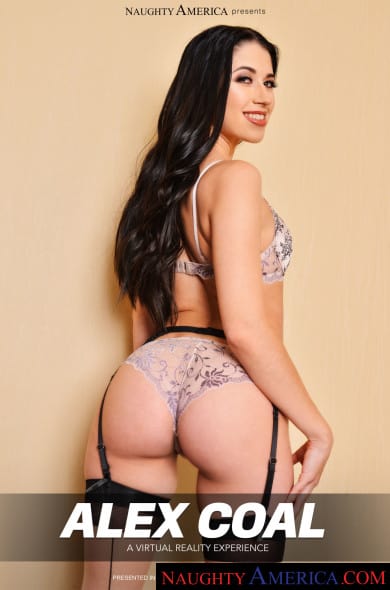 Click here to experience "Alex Coal: Hot As Hell And Fucks YOU In VR" with Alex Coal at Naughty America VR
You'll be happy to hear that Alex Coal has continued to appear in a wealth of popular porn productions. We recommend checking out Alex Coal's raunchy Flu Shot Floozies group porn shoot with Johnny Castle, Kimber Woods and Quinton James that was filmed for Team Skeet's Daughter Swap web channel in February 2019 and her immersive Roll Coal virtual reality sex scene which was unveiled via WankzVR in February 2019. Alex Coal also filmed a saucy A Professional Creampie sex scene with Quinton James that was uploaded via Team Skeet's Teen Pies web channel in April 2019 and she shot some raunchy Into The Wood, Public Park Pickup and Use Me sex scenes with Tony Rubino and J-Mac which were all promoted via Mofos in April 2019.
Hold on, it gets even better. During this time, Alex Coal has filmed an impressive collection of sizzling sex scenes for Naughty America. You'll love watching Alex's thrilling Slut Stepmom threeway porn scene with Reagan Foxx and Quinton James in February 2019 and her raunchy Slut Stepsister roleplay sex scene with Tyler Ford in February 2019. You also have to check out Alex Coal's kinky Sleazy Stepdad sex scene with Jon Jon in March 2019, her steamy Watch Your Wife sex scene with Ryan McLane in March 2019 and her intensely alluring Tonight's Girlfriend bondage sex scene with Derrick Pierce in April 2019.
Alex Coal has even filmed some sensational virtual reality sex scenes for Naughty America VR. You'll love immersing yourself within Alex's titillating The Dorm Room VR group porn scene with Kenzie Madison and Michele James in March 2019 and her seductive Alex Coal: Hot As Hell And Fucks YOU In VR fantasy sex scene in April 2019. It's like Alex Coal is in the room with you!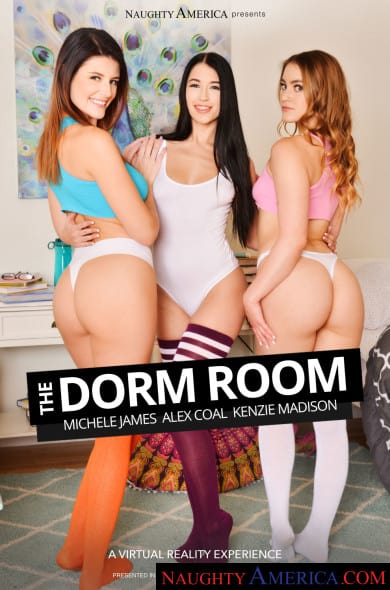 Click here to experience "The Dorm Room" with Michele James, Alex Coal and Kenzie Madison at Naughty America VR
But that's not all. Alongside her compelling web content, Alex Coal has appeared in several bestselling DVDs. Fans of Alex Coal will love viewing her kinky porn scene with Mike Hunt in the Lethal Hardcore movie Cross Eyed Cock Loving Cheerleaders #3 (2019), her raunchy roleplay sex scene with Tyler Ford in the Manipulative Media production Step Brother Sister Perversions #13 (2019) and her saucy sex scene with Tommy Gunn in the Reality Junkies release Too Big For Teens #24 (2019) also starring Allie Nicole, Kyler Quinn and Maya Kendrick.
A landmark moment in Alex Coal's adult film career occurred in February 2019 when she filmed her first ever girl/girl vignette sex scene with Bridgette B for the Girlfriends Films release Net Skirts 19.0 (2019). Alex Coal loved shooting her professional girl/girl porn debut and she enthusiastically stated in a February 2019 XBIZ News press release that;
"I loved working with Bridgette B! She's incredibly beautiful, talented, and I learned a lot from her. I'd take any opportunity to get to perform with her again".
Bridgette B had similarly high praise for Alex Coal, sincerely stating via Twitter that;
"I had the honor and pleasure of being Alex Coal's first GG scene. Thank you for trusting in me and giving such a wonderful scene. Wishing her a beautiful journey and success!".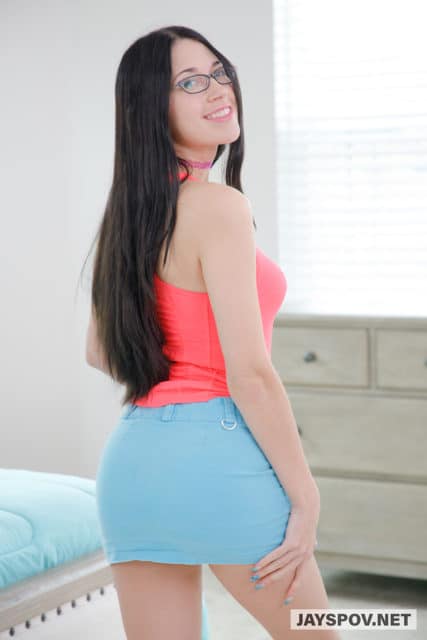 Click here to see more of Alex Coal's hottest sex scenes at Jay's POV
You'll be happy to hear that Alex Coal has since appeared in the Girlfriends Films porn production Lesbian Sex #20 (2019) featuring Eliza Ibarra, Bunny Colby, Cadence Lux, Serene Siren, Dava Foxx, Addison Lee and Eva Long. Alex Coal has also starred in Lance Hart's raunchy femdom release Sweet Femdom Pegging (2019) alongside Charlotte Sartre, Bunny Colby, Pepper Hart and Draven Navarro. As the DVD description hotly hints;
"Sweet Femdom Pegging sticks out on the niche of guys getting fucked by women with strap ons, I only shoot hot women. I only shoot women who actually enjoy fucking guys with Strap-Ons. Most of them cum during the shoot from the friction and just because they love watching muscle men quiver at the end of their dildos. This is not your typical femdom. This is professional pornstars who happen to love pegging (and a little ballbusting) really getting off on each other. We avoid the "femdom protocol" on my shoots. There's no "yes mistress", or "if it pleases you Goddess . . ." That stuff went stale for me years ago. I try to just give you the sexy part that makes you cum before the movie is over and cut out the rest".
As well as performing in these raunchy femdom porn productions, Alex Coal is a director for the kink, fantasy and fetish site Primal Fetish. When Alex Coal was asked about her personal sexual fantasies during her July 2016 MV Exposed interview, she revealed that;
"My personal fetish is for lingerie. I've loved it and collected it since I was young (you can hear the love for it in my voice in my panty modeling video). I have a massive amount of lingerie & every day I crave more, hand washing every piece so that they last. I've had some since 2004 that are still in mint condition! I really love exploring fetishes. A lot of my enjoyment in sex work comes through knowing that I can make people feel happy, comfortable, and accepted through my photos and videos. I hope to expand and explore more in the future so I can learn more about what turns me on & make more people happy".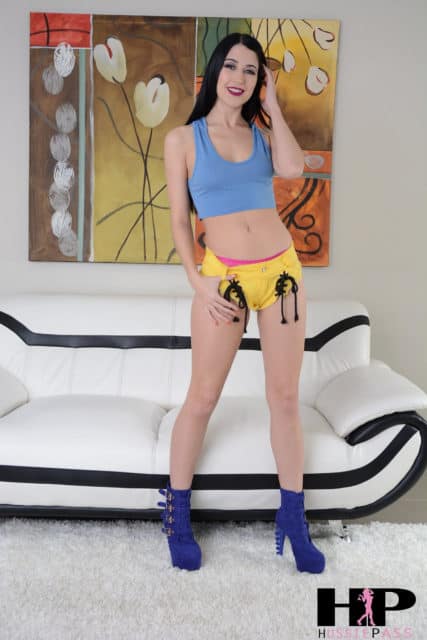 Click here to discover Alex Coal's exclusive videos at FanCentro
When she isn't starring in (or directing) these popular porn productions, petite all natural pornstar Alex Coal enjoys interacting with her fans via social media – especially via her exclusive Snapchat account ('AlexCoal'). As Alex Coal saucily states via her official FanCentro profile;
"I'm Alex Coal and I want to share all my fun adventures with you! I am a camgirl getting into mainstream porn and recording all my experiences! You'll meet the people I meet. You'll watch us have tons of xxx fun together! And you'll get to see my personal sex life & day to day routine. Putting on lotion, showering, talking about everything I'm up to. It'll be a window into my whole life! My snaps are fun, sexy, vivid and totally awesome! If you want to be added to the closed snapchat account where I share bits of my naughtiest moments, daily life, and sex expos it's time to sign up right now! Don't miss out, snaps only last 24 hours! So, if you don't sign up today you'll miss a whole lot of me!".
In her spare time Alex Coal also enjoys volunteering, singing, creating her own artwork and playing video games. As Alex Coal mentioned during her July 2016 MV Exposed interview;
"I love volunteering & helping people. I sing and sell my own artwork when I'm not camming or working on videos…I'm very much into pc gaming, some of my favorites are LoL, Hearthstone, Starcraft II: Heart of the Swarm, Don't Starve Together, etc. Another thing not many people know is that I'm Native American & very proud of that part of my heritage".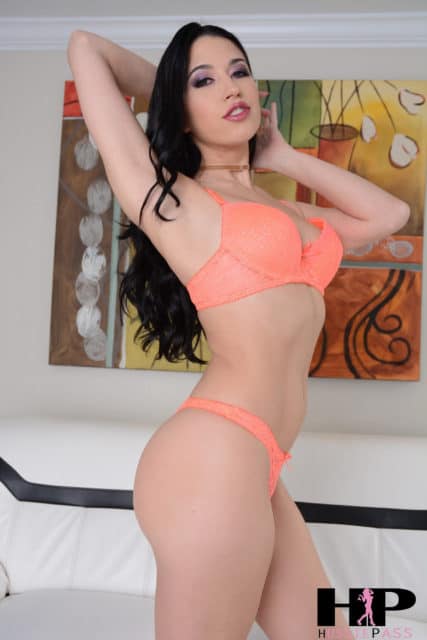 Click here to discover Alex Coal's exclusive videos at FanCentro
Keen to stay connected with captivating cam model Alex Coal? Then use the links provided below to discover all of Alex Coal's hottest sex scenes, exclusive web content and upcoming live cam shows!
Alex Coal – Social Networks
Twitter : @AlexxxCoal
Naughty America : Alex's VR Porn Scenes
Chaturbate : AlexxxCoal
FanCentro : AlexCoal
MyFreeCams : AlexxxCoal
Mofos : Alex at Mofos
Team Skeet : Alex at Team Skeet
The Nude : Alex at Nude EU
WankzVR : Alex at WankzVR
Clips4Sale : AlexCoals
ManyVids : AlexCoal
Adult Empire : Alex's DVDs
 Babepedia : Alex at Babepedia