Mackenzie Moss
Mackenzie Moss Twitter : @xoMackenzieMoss   Brazzers : Sex Scenes   BaDoink : VR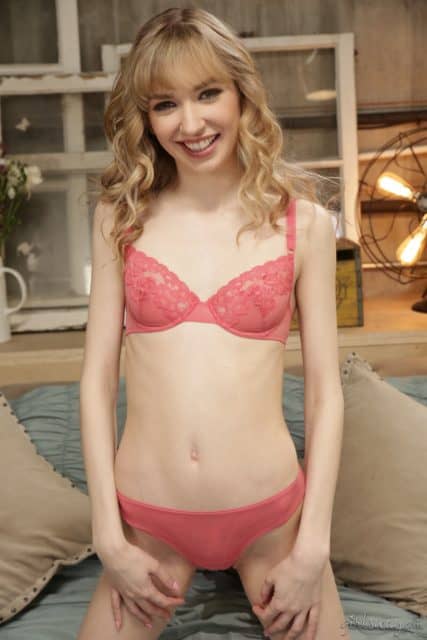 Click here to see more of Mackenzie Moss's hottest sex scenes at Girlsway
Mackenzie Moss : Personal Info
Name : Mackenzie Moss
Date of Birth : October 24th
Star Sign : Scorpio
Hometown : New York (US)
Measurements : 32B – 24 – 31
Height : 5'4 (1.63m)
Hair Colour : Blonde
Eye Colour : Hazel
Piercings : Right nostril
Shoe Size : Women's 8½ (US)
Years Active : 2019 – present
Number of Scenes : 20+
Mackenzie Moss is a beautiful blonde adult film star and model who made her official industry debut in early 2019. Represented by Mark Spiegler, Mackenzie Moss has attracted a devoted fan following due to her steamy sex scenes for Evil Angel, Brazzers and Twistys. Definitely one to look out for in the near future!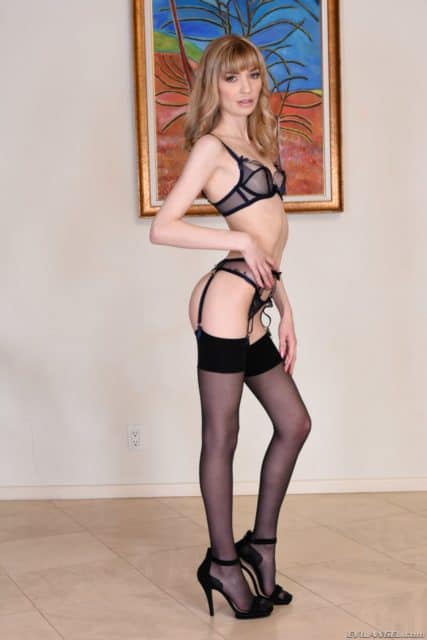 Click here to watch Mackenzie Moss in "Mick's Pornstar Initiations #2 (2019)" at Evil Angel
So where did it all begin? Hailing from upstate New York, Mackenzie Moss is an intelligent individual who took Honors classes throughout high school. Despite her sultry stage presence, Mackenzie Moss was not very confident in high school and she did not start to explore her sexuality until she was in college. As natural beauty Mackenzie Moss divulged in her April 2019 AVN: Fresh Faces interview;
"During high school I wasn't confident in myself. I wasn't like super flirty. I was in all Honors classes. I was always a little bit on the outside I would say…I didn't have sex until my freshman year of college when I was like 19. And I was kind of happy about it because I was like, 'Yes! I made it in before 20! Thank god!' I was kind of relieved…I kind of learned that I was more into kinky stuff and later on one of my boyfriends in college—I remember he almost convinced me to start uploading videos to Pornhub together. But I didn't end up doing it because I was like, 'Ahh, I'm trying to go to veterinary school…I'm just too afraid to do it.' So I didn't".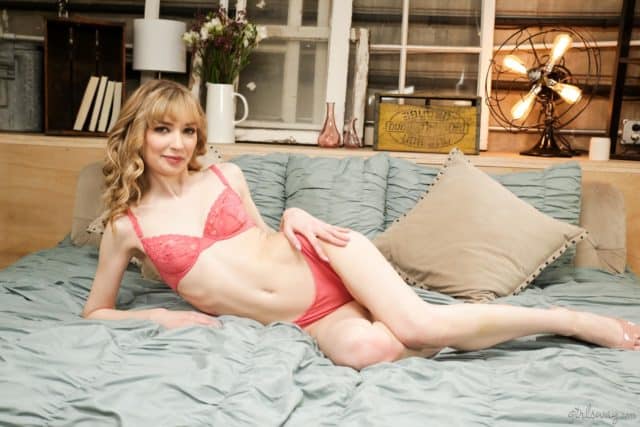 Click here to see more of Mackenzie Moss's hottest sex scenes at Girlsway
After graduating from high school, rising starlet Mackenzie Moss attended college in Boston and she graduated in May 2017 with a degree in Biology. Mackenzie Moss explained in her XCritic column interview with Don Juan how;
"Having a college degree is something that I am very proud to say, that I achieved for myself and I did it the exact same way as my discovery of the adult industry. Having a degree in biology, from a school that I dreamed of going to on the East Coast, that was so special to me. It was four and a half years of a lot of joy".
Mackenzie Moss has always had a diligent work ethic and she organized programs for her college's community service center whilst studying for her degree. As fit and athletic pornstar Mackenzie Moss conveyed in her April 2019 AVN: Fresh Faces interview;
"I would make experiments and lessons for students in different places in the Greater Boston area. Usually, places that are lower economic status that don't have as many extra-curricular things going on. And so I would have people that sign up for my program go out and teach this lesson, experiment with the kids. And try and teach the scientific concepts to them and connect it to a real-life career that they could—if they liked this—maybe they would like doing this thing later on".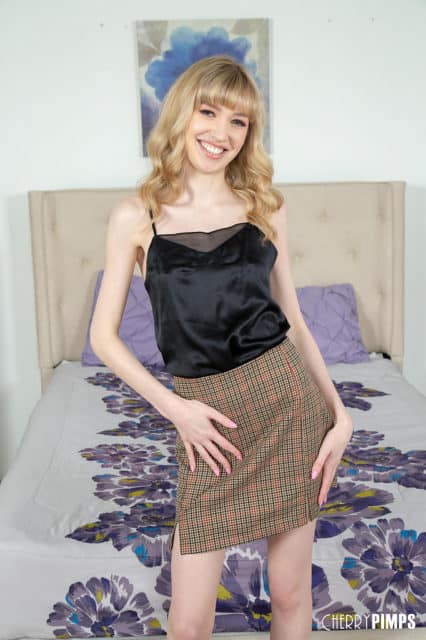 Click here to see more of Mackenzie Moss's hottest sex scenes at Cherry Pimps/Wild On Cam
Upon leaving college, Mackenzie Moss started working part-time at an animal hospital for a year and she originally planned on going to veterinary school. However, although Mackenzie Moss is an ardent animal lover, the prospect of mounting student loans and spending the rest of her 20s in college deterred Mackenzie Moss from pursuing a career as a veterinarian. Talking about this pivotal period of her life during her XCritic column interview, sexy blonde bombshell Mackenzie Moss highlighted how;
"I was getting into veterinary school and when you do not come from a wealthy upbringing, student debt can move things in a different direction I will say. I love animals and after completing my undergraduates envisioning myself at veterinary school was looking so steep in the pocketbook that I do not know if I could be happy, even though I love animals so much…I love that market though and it is not just the animals, it is a very competitive industry. Add in that fact that veterinarians do not get paid as much as medical doctors do, so I just knew that the situation would have been super stressful for me and that is so much to take in after you just spent all this time, all this energy and all this money achieving one goal. It was right there that I decided that I did not want to be in school for the rest of my twenties. Starting a career at thirty is something I do not think enough people truly give a hard look at what the demand asks of you and most importantly, takes out of you. For me, I had to do some traveling, I had to see the world. Looking at things the way that I did, that is when I realized this is the time that I should be taking the riskiest ventures in life. This is when you can do such things in life. I think the combination of happiness, adventure, and my age really are what made me say, 'yes, I will do it!'".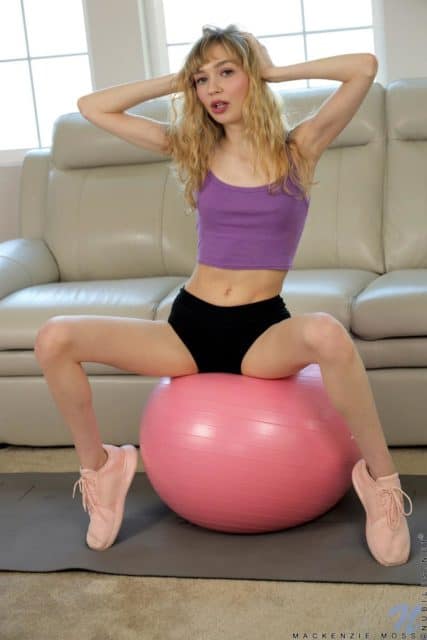 Click here to watch Mackenzie Moss in "Pleasing Her Pussy" at Nubiles
In this manner, hot all natural pornstar Mackenzie Moss moved to the Williamsburg area of Brooklyn, New York, in June 2018 and she started working in the adult entertainment industry as an exotic dancer. During this time, Mackenzie Moss extensively researched the adult film industry which led her to contacting the prominent talent agent Mark Spiegler. As Mackenzie Moss explained in her XCritic column interview;
"The first thing you must know about me, I research things. The industry had always been intriguing to me and for about a year, I really sat down and analyzed everything that I could about the business. I had spent more than a few months just looking at Mark Spiegler and seeing his great track record with models, films and everything in between. What I will also say, there were a few performers who caught my eye, there were a few websites whose pages I jumped on and I talked among the fans seeing what was what. I also was lucky to have a few acquaintances in the adult industry, so I knew some things that most people who are starting up do not. They also gave me some insight into some of the reputations of companies and people already within the business and that once again pointed me to the direction of Mark Spiegler. It was not until I really started to look at things on my own and got serious about this for myself, that I saw that he is truly the best agent in the world within the adult industry. Then I saw the performers that came from his roster, they are just so admirable to me. When you see names like Carter Cruise, Sasha Grey, you see the potential of what a 'porn star' can be. I thought they were not only cool, but they were women who spoke a message of success, of new ideas, of confidence, all from what they accomplished in the industry. It was from there that this certain admiration began to form within me and that is when I knew I wanted to make the jump to becoming part of the adult industry".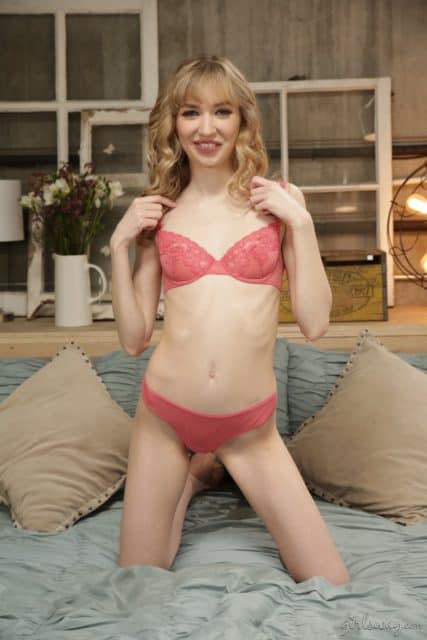 Click here to see more of Mackenzie Moss's hottest sex scenes at Girlsway
Mackenzie Moss's research into the adult industry made her more confident about pursuing a career as a performer. What's more, Mackenzie Moss's research made her admire many of the former Spiegler Girls who had come before her. As sexy rising starlet Mackenzie Moss elaborated in her XCritic column interview;
"When you see these strong women sending out this message of empowerment and their constant struggle to be heard, that is something that you have to really give them their just do son. With the stigma of the industry, most people think that such strong women would not exist but these women, to me they have transcended that stigma and that is what inspired me to aspire to become a part of this business. To me, it is admirable beyond anything I can think of, how open they are to the world and how it inspires so many others and that is exactly what made me say that I want to be that type of person. I want to be that performer that inspires people to believe in themselves, to not care what other people think, not just in porn but in all walks of their life".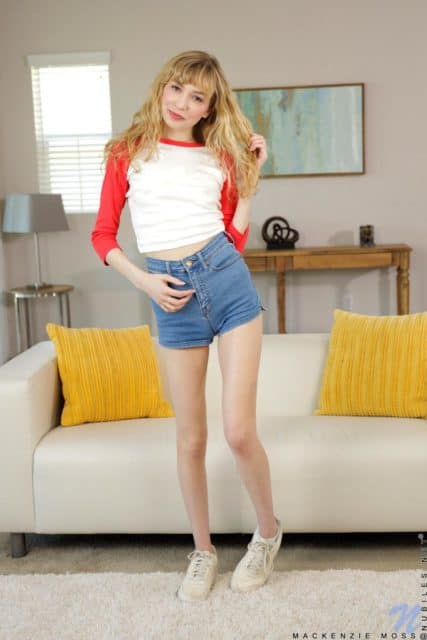 Click here to watch Mackenzie Moss in "Thinking Of You" at Nubiles
Mackenzie Moss ultimately decided to reach out to Mark Spiegler in December 2018 and she ended up flying out from New York to Los Angeles, California, in order to meet with him. Sexy blonde pornstar Mackenzie Moss divulged how she became an official 'Spiegler Girl' during her XCritic column interview, highlighting how;
"What ended up happening, our conversations led to me flying out there on my own dime. I met Mark at his house, and we spoke in detail about why I wanted to be in this industry. He tried to convince me why I should not do this for a living. That was something I will never forget. He told me that is what he does with all his girls, he tries to talk you out of it. At about that time, I was really feeling this confidence take over me. It was coming from a lot of the changes in my own life but also the pursuit of life in this industry. I told that to Mark, that I have a newfound confidence and I wanted to use it, take advantage of the time, whatever you wish to call it. I think it was then we both really met eye to eye, and he saw where I was coming from and I saw where he was. Mark then tells me, "well, all you have to do is move out here now and we can get started. That was the most shocking part and has been ever since, the speed to which the industry moves. The pace is amazing. I planned everything out so that I would be getting here by February. I had this cute little place picked out and ready to go. I flew with my cat out here from directly from New York City as I had been living there before I decided to take this leap. My first scene was January 29th, so planning things out to begin after AVN was massive. Since then, I have done probably around thirty scenes".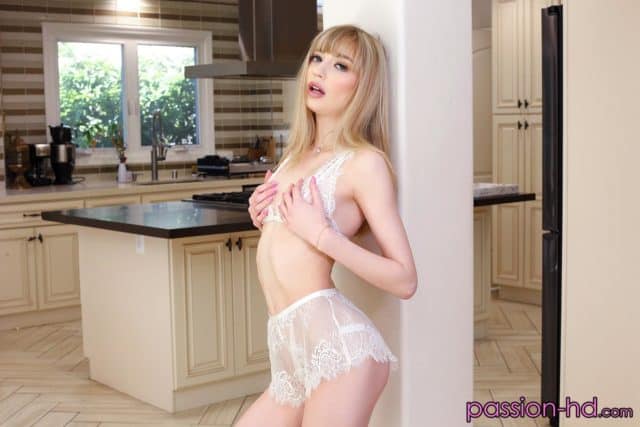 Click here to watch Mackenzie Moss in "Sweet Fruits" at Passion HD
But that's not all. Popular petite pornstar Mackenzie Moss received high praise from Mark Spiegler who advocated in her April 2019 AVN: Fresh Faces interview that;
"She flew out here from New York just to meet me for a couple days, so I knew she was serious. She seems really bright and she's all natural with no tattoos. She's doing really good. Everybody who has booked her is rebooking her for multiple things…She was smart. She bought her website [URL]. She also got all her social media before she started working—like her Twitter, her Instagram—so she would have it. She's got a plan. The thing is I talk to them first. And it's not just the answer to the question, it's the moment before the answer. What I want to see is that they're cute and preferably natural. Smart is a big plus; also I want to know they're a pervert. It's about instinctively feeling them out. To me a hot chick is hot, but a smart chick that's hot is really hot…[Moss] can go pretty much all the way. I'm sure she can act and she's definitely reliable. Someone once said to me, '80 percent of life is showing up.' A lot of girls don't have that down yet".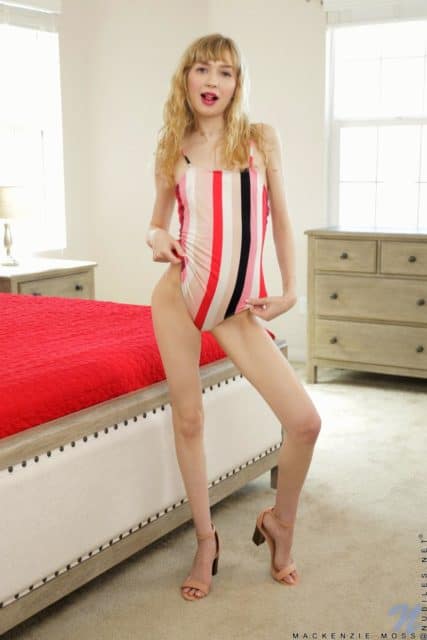 Click here to watch Mackenzie Moss in "Hit The Spot" at Nubiles
Following this meeting, Mark Spiegler told Mackenzie Moss that she could start working as an official Spiegler Girl when she moved to Los Angeles, California. Petite blonde stunner Mackenzie Moss talked about this definitive moment in her career during her April 2019 AVN: Fresh Faces interview, stating that;
"And I was like, 'Oh shit, this is actually happening'. I knew at that point so many girls—like I'm so lucky to have this opportunity because I knew… everyone has been telling me, 'You're so lucky. He doesn't take that many people, let alone people who don't have any scenes.' And I'm like, 'Yeah, I know. Don't put more pressure on me!'. But I knew because I had been doing all this research and reading the forums and reading the articles that he's been interviewed in about how he runs his business, how strict he is—I mean it's just a good way to run an agency, I think. He helps us be the best versions of ourselves—not being late, testing on time, etc. I just felt like I knew he would be able to help me reach my goals the quickest and how he could help me be more diverse with my income streams".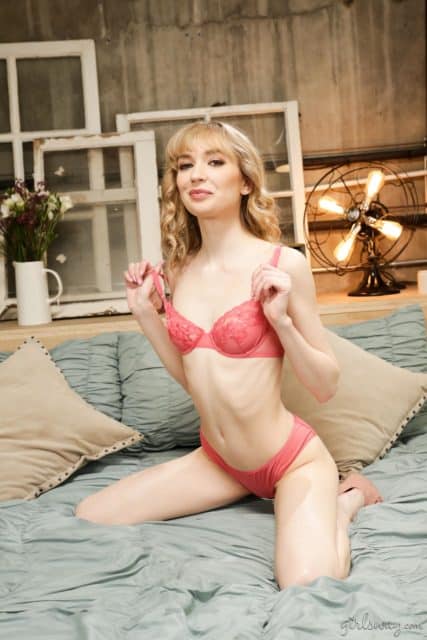 Click here to see more of Mackenzie Moss's hottest sex scenes at Girlsway
Mackenzie Moss : Adult Film Career
Mackenzie Moss filmed her first ever sex scene in January 2019 (January 29th to be exact!) with Donnie Rock for the popular porn site Net Video Girls. When gorgeous all natural beauty Mackenzie Moss was asked about shooting her porn debut during her April 2019 AVN: Fresh Faces interview, she recounted how;
"I think part of it I was nervous I was going to mess something up or like be late. And then obviously I was thinking, 'OK, this is it. Once I do this there's really no turning back'. But then I was kind of like, 'I thought through this for a while. I made this decision for a reason and I need to trust myself.' And once I was in the makeup chair and started talking to the makeup artist all the anxiety really dissolved…I'm trying to stay humble and I just want to work right now. Just like get people's attention a little more. A lot of people probably don't know who I am yet. So I'm just trying to work right now and address my other ambitions like activism or whatever else I want to do later once I have a little bit of a following…I'm very into talking a lot during the scene and just like making it—it's porn, you know. So perform. It's a show. That's something I really try to embrace and not hold back".
Mackenzie Moss's co-star Donnie Rock praised her Net Video Girls performance, divulging in her April 2019 AVN: Fresh Faces interview that;
"She's a super fun girl that's easy to get along with and work with. Any girl's first scene is almost always a bit awkward, but she was great. She is very sexual, so that made things run smoothly. She has a young, fresh face and will work a lot. She's a gem!".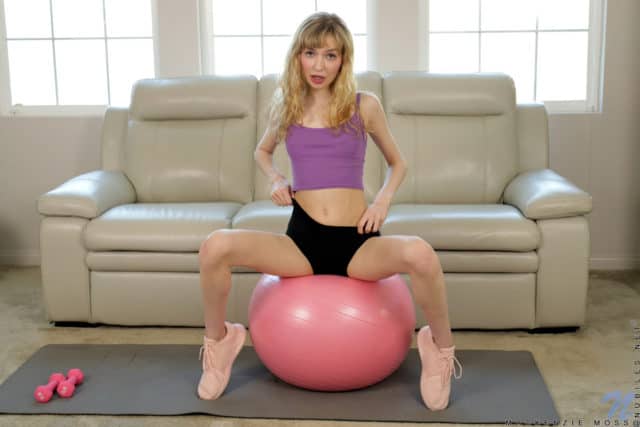 Click here to watch Mackenzie Moss in "Pleasing Her Pussy" at Nubiles
From this point onward, Mackenzie Moss started to shoot a wide range of sizzling sex scenes for many popular porn networks. We recommend watching Mackenzie Moss's saucy Gorgeous Little Blonde Mackenzie Moss Fucking Live sex show with Jake Adams that was first broadcast via Cherry Pimps' Wild On Cam web channel in February 2019, her sensual Sweet Fruits sex scene with Van Wylde for Passion HD in March 2019 and her raunchy Three Hungry Mouths oral group sex scene with Alex Blake and Ava Parker for Swallowed.com in April 2019. Mackenzie Moss also shared a steamy Tonight's Girlfriend sex scene with Lucas Frost in April 2019 and she shot a thrilling Bold MILF, New Tricks threeway porn scene with Cherie DeVille and Ryan McLane which was uploaded via Fantasy Massage in May 2019 as part of their new Parlor Tricks mini-series. Mackenzie Moss has even treated her fans to an immersive Moss Is Boss virtual reality sex scene that was released via BaDoink VR in March 2019. It's like Mackenzie Moss is in the room with you!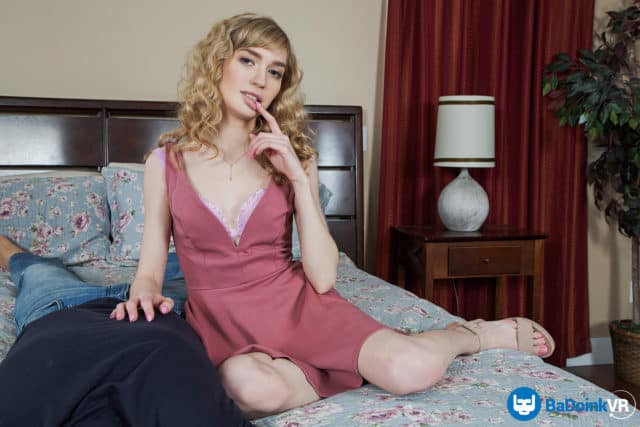 Click here to experience "Moss Is Boss" with Mackenzie Moss at BaDoink VR
One of Mackenzie Moss's most notable sex scenes has been her raunchy Close Your Eyes taboo relations porn shoot with Christiana Cinn and Dick Chibbles that was released via Pure Taboo in May 2019. Mackenzie Moss enjoyed shooting for Pure Taboo and she mentioned in her April 2019 AVN: Fresh Faces interview that;
"I mean Pure Taboo is like such a production and I've watched their scenes before and I was like, 'This is so hot and I want to do this type of thing'. I was nervous because I don't really have any experience acting and everyone kept asking me leading up to it, 'So how's your acting?' I'm like, 'I guess we'll see on that day!'. But I feel like something that helped me is I'm just a naturally very empathetic person. And it's easy to kind of put myself into the character's shoes. So I think I did a decent job. They were saying that I did well. The plot entailed Moss playing a stepdaughter whose mom had died, so she lived with her dad (played by Chibbles) and was 'kind of manipulating his love life'. So I had been talking to him online as another girl because I wanted to have sex with him. Then I hired an escort—who was Christiana—to come in as the girl he had been talking to online".
Mackenzie Moss's acting skills earned her an ardent endorsement from her Pure Taboo co-star Dick Chibbles who stated in this April 2019 AVN: Fresh Faces interview that;
"Mackenzie was a blast to work with. The chemistry she had with Christiana and myself was spot on. Not only the sexual part of the scene, but she fully immersed herself in the character".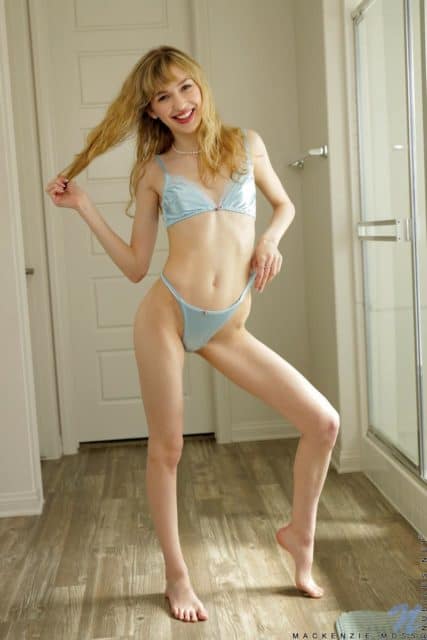 Click here to watch Mackenzie Moss in "Bubble Babe" at Nubiles
Hold on, it gets even better. In addition to her compelling web clips, Mackenzie Moss has appeared in several fan-favorite movies. For instance, Mackenzie Moss shared a sizzling sex scene with Manuel Ferrara in the Jules Jordan Video release Young & Glamourous #10 (2019) and she has been featured in the 3rd Degree production Too Small To Take It All #3 (2019). Mackenzie Moss also shared a raunchy three-way with Esperanza Del Horno and Derrick Pierce in the 3rd Degree movie Cum Swapping Stepsisters #3 (2019) and she shot a sensational sex scene with Mick Blue for his BAM Visions/Evil Angel sequel release Mick's Pornstar Initiations #2 (2019) starring Alexis Tae, Demi Sutra and Vina Sky. Mackenzie Moss enjoyed working with Mick Blue and she mentioned in her April 2019 AVN: Fresh Faces interview that;
"It was cool getting to work with such a big performer so early on".
You'll be happy to hear that Mick Blue had similarly high praise for Mackenzie Moss, highlighting in this April 2019 AVN: Fresh Faces interview how;
"She loves what she does and she is a huge talent. I even shot her [on Saturday] for Throated.com and her dirty talk at the beginning of the scene was out of control. So good!".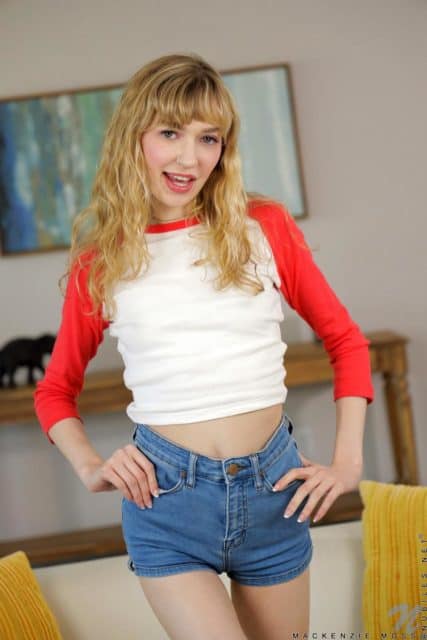 Click here to watch Mackenzie Moss in "Thinking Of You" at Nubiles
But that's not all. Alongside these hot hardcore porn scenes, Mackenzie Moss is a talented girl/girl performer who has starred in some steamy lesbian sex releases. We recommend viewing Mackenzie Moss's sensual Art And Beauty sex scene with Jada Stevens that was promoted via Twistys in March 2019, her raunchy GTL: Gym, Tits And Licking role-play with Milana May which was uploaded via Mofos in April 2019 and her saucy Two Mean Pussies sex scene with Sarah Vandella that was filmed for Brazzers in May 2019. Mackenzie Moss has even shot a feisty femdom wrestling sex scene with Serene Siren that was featured in the Hustler Video release Lesbian MILFs Dominate First Timers (2019). Mackenzie Moss enjoyed shooting this raunchy lesbian domination scene and she divulged in her April 2019 AVN: Fresh Faces interview that;
"I was the one getting dominated because I don't know any wrestling moves. I've been so blessed with all the scenes that I've gotten so far".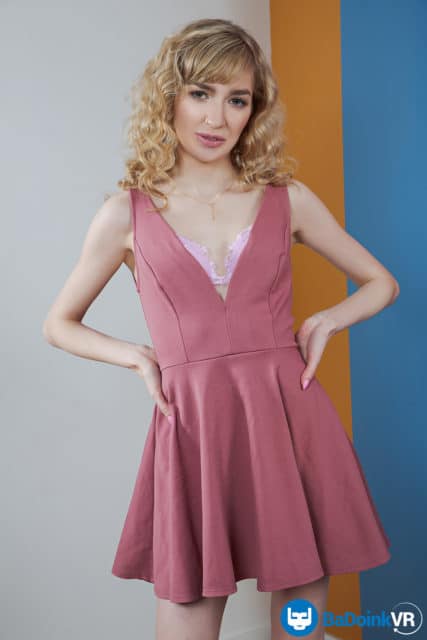 Click here to experience "Moss Is Boss" with Mackenzie Moss at BaDoink VR
Wait, there's even more. You'll love watching Mackenzie Moss's titillating Nasty Cleaning Crew threeway sex scene with Alina Lopez and Kenzie Reeves which was released via Girlsway in April 2019 as part of Adult Time's new Maid For Each Other erotic series. These exciting new Maid For Each Other sex scenes were directed by Casey Calvert with the help of co-director Eli Cross. Casey Calvert discussed this new Maid For Each Other erotic series in an April 2019 XBIZ News press release, hotly hinting that;
"I am excited and honored to be directing for Gamma. They are a great company and their collection of sites under the Adult Time banner is some of the most interesting porn content being created today. I always enjoy performing in high-end G/G scenes, and now getting to direct them for Girlsway is a lot of fun!…With this series, we've been having fun playing with the trope of the naughty maid in really unique ways. We've created some super-fun scenes, and I think the Girlsway fans will love them".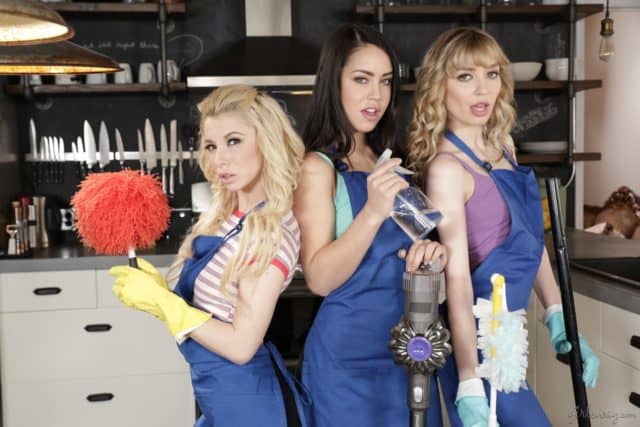 Click here to watch Kenzie Reeves, Alina Lopez and Mackenzie Moss in "Maid For Each Other: Nasty Cleaning Crew (2019)" at Girlsway
You'll be happy to hear that Mackenzie Moss has no plans to slow down anytime soon. In fact, natural blonde beauty Mackenzie Moss discussed her future plans during her April 2019 AVN: Fresh Faces interview and suggested that;
"Getting into porn I felt like I have a really entrepreneurial mindset and want to treat this like a business. And I feel like I can be good at it and will be good at it and that I could potentially grow a platform where it could help normalize sex work or bring these activist movements more to the forefront".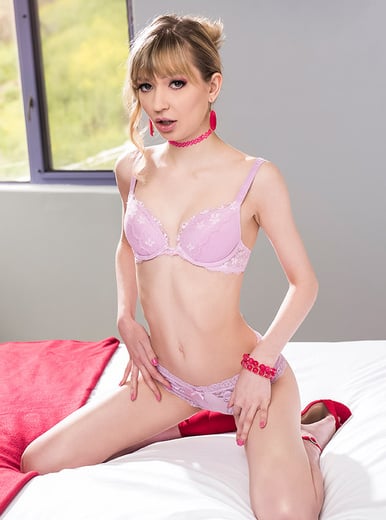 Click here to watch Mackenzie Moss in "Two Mean Pussies" at Brazzers
Keen to stay connected with sensational rising starlet Mackenzie Moss? Then use the links provided below to discover all of Mackenzie Moss's hottest sex scenes, exclusive web content and upcoming projects!
Mackenzie Moss – Social Networks
Twitter : @xoMackenzieMoss
Instagram : @thatblondebrat
BaDoink VR : Mackenzie Moss's VR Porn Scenes
Brazzers : Mackenzie Moss at Brazzers
Evil Angel : Mackenzie Moss at Evil Angel
Fantasy Massage : Mackenzie Moss at Fantasy Massage
Girlsway : Mackenzie Moss at Girlsway
Mofos : Mackenzie Moss at Mofos
Naughty America : Mackenzie Moss at Naughty America
Nubiles : Mackenzie Moss at Nubiles
Passion HD : Mackenzie Moss at Passion HD
Pure Taboo : Mackenzie Moss at Pure Taboo
Swallowed : Mackenzie Moss at Swallowed
Tonight's Girlfriend : Mackenzie Moss at Tonight's Girlfriend
Twistys : Mackenzie Moss at Twistys
Adult Empire : Mackenzie Moss's DVDs
The Nude : Mackenzie at Nude EU
Babepedia : Mackenzie at Babepedia