Alina Lopez
Alina Lopez Twitter : @ItsAlinaLopez   Camsoda : Alina Lopez
WankzVR : Alina Lopez VR Scenes   Brazzers : Alina Lopez Sex Scenes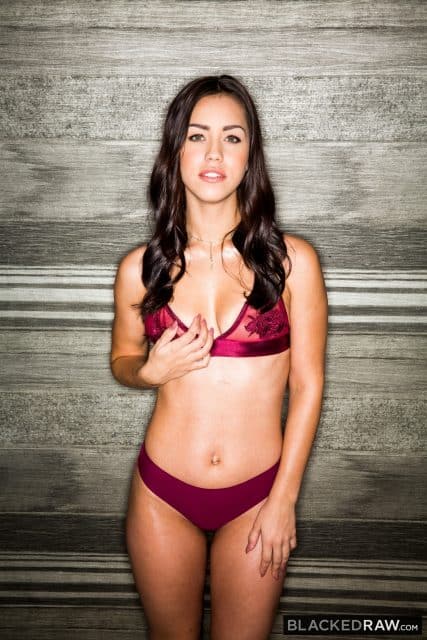 Alina Lopez in Blacked V2 – Blacked Raw
Alina Lopez – Personal Info
Name : Alina Lopez
Date of Birth : September 6th
Measurements : 32C – 24 – 32
Height : 5'6 (1.68m)
Hair Colour : Brunette
Eye Colour : Hazel
Tattoos : 'It's not time to worry yet' script from To Kill A Mockingbird across her ribs, a rose on the back of her neck (Rose is actually Alina's middle name!) and 'Kiss Me' script on her butt. Talking about her tattoos in her May 2018 AVN: Fresh Faces interview, Alina revealed that;
"[Tattoo on her ribs] It's a quote from 'To Kill a Mockingbird…That's my favorite book…[Rose tattoo on her neck] Rose is my middle name and it's really symbolic to me…Because growing up, my whole life was rose-themed. All my clothes had roses on it. All my bedding had roses, so of course I had to get a rose tattoo…Then the one on my ass just says 'Kiss Me.' It's kind of a joke…These two are so meaningful and then I have this one on my ass. Me and my friend went and it was super spontaneous. She got 'Wild One' and I got 'Kiss Me.' … Probably going to regret that one later".
Years Active : 2017 – present
Number of Scenes : 60+
Alina Lopez is a stunning adult film star, model and cam girl who has been performing in porn since late 2017. Over the past few months Alina has amassed an avid international fan following due to her sizzling scenes in several bestselling Babes, Evil Angel, Girlsway, Property Sex and Trenchcoatx productions. It's no wonder why Alina won "Hottest Newcomer (Fan Award)" at the 2019 AVN Awards! Alina also won "Best Group Sex Scene" at the 2020 AVN Awards due to her sizzling shoot with Angela White, Autumn Falls, Lena Paul and Manuel Ferrara in the Deeper movie Drive (2019) and she won "Best Actress – Taboo Themed Release" at the 2020 XBIZ Awards due to her impressive performance in her Pure Taboo release Bishop's Interview: An Alina Lopez Story (2019).
Born in Seattle, natural beauty Alina Lopez was the fifth of seven siblings and she was raised in a conservative Mormon household. Alina moved to Mesa, Arizona, when she was 5 years old where she stayed until 2009. At this point Alina's parents divorced and she moved to St, George, Utah, with her mother. As Alina herself explained within her March 2018 Adult DVD Talk interview;
"We moved around a lot…I ended up in Utah and that's where I live now. I've lived here for almost 10 years. It's super religious and definitely Mormon populated. I'm an extroverted person anyways so switching schools a lot made me really have to develop my social skills. That was a good thing even though it was hard back then because now I can get along with everyone…It's more commonly referred to as Mormon. LDS is the Latter Day Saints. It's the same thing".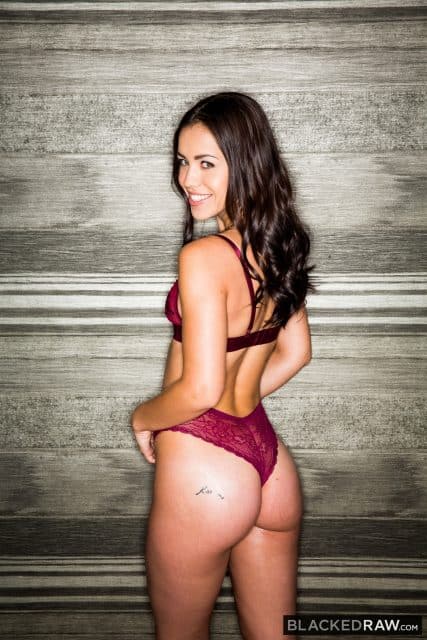 Alina Lopez in Blacked V2 – Blacked Raw
You may be interested to learn that Alina Lopez modelled for Nordstorms and Dillards as a child. Alina was also a talented gymnast who participated in competitive gymnastics until she was 12; winning multiple state championships in Arizona as well as coaching others. Talking about her modelling and gymnastics experience during her March 2018 Adult DVD Talk interview, Alina highlighted how;
"I've been modeling my whole life. When I was 3, I was in the Nordstrom Fashion Shows. I modeled for Dillard's and did a lot of modeling growing up… I was a gymnast from when I was a toddler to when I was 12. I did competitive gymnastics and I won state championships in the state of Arizona a couple years in a row. I didn't do too badly".
You may be interested to learn that Alina Lopez has always had a promiscuous nature. As a matter of fact, Alina saucily stated within this March 2018 Adult DVD Talk interview that;
"I was more on the slutty side, even when I was younger. I never cared about having boyfriends. I remember when my mom found out I was having sex. She said, 'Alina, these boys are just using you. They don't care about you, they're just using you for sex!' I said, 'No, mom. I'm just using them for sex.' I'm not trying to have a boyfriend, I'm not trying to get them to like me…I think at that point, I had made a lot of friends outside the church. Everyone knew I was a slut and I didn't care. People didn't really give me shit about it because I've always had the attitude that I just don't give a fuck what people think about me. No one gave me shit because they knew I wouldn't care anyways. It wasn't hard for me and no one shunned me because they knew it would be their own loss".
Before she began working in the adult entertainment industry Alina Lopez worked as a solar panel technician for a year and she also worked at a boarding school for troubled children. As Alina explained in her May 2018 AVN: Fresh Faces interview;

"Whenever someone got a new system I would go to their house and meet with them and just let them know about the company, like how to monitor their system online…I started learning how to commission systems and restart them when they would have problems or the power would get shut off. So I was working as customer service and a basic technician…

I totally loved [working at the boarding school] and I actually was really sad to go because I worked with special needs youth all through high school, tutoring them and being their guide around school…I kind of had three jobs at once. I was phasing out of solar, getting this job at the boarding school and doing porn trying to figure out how things we're going to work out. As soon as things really started working with porn then I quit the school. I only worked there for like a month and a half".
Alina Lopez first became intrigued about the adult industry during a family trip to Las Vegas, Nevada, when she spotted escort cards on the sidewalk along The Strip. From this point onwards Alina started researching the adult entertainment industry which led her to sign with the famous adult film talent agent Mark Spiegler. As Alina puts it in her own words;

"I remember finding those on the ground and I was like, 'What is this? Who are these girls in these pictures?' I want to do that…Then I just started researching strippers and stuff like that. I just always wanted to do it and I've always been a really sexual person. It was on my mind basically. I thought as soon as I turn 18 I'm gonna do it! But then life got in the way and it kind of got pushed back for a minute. Then just last year I finally felt like it was a good time and I was ready. I just started researching agents and it didn't take me long to find out that Mark would be a good person to contact".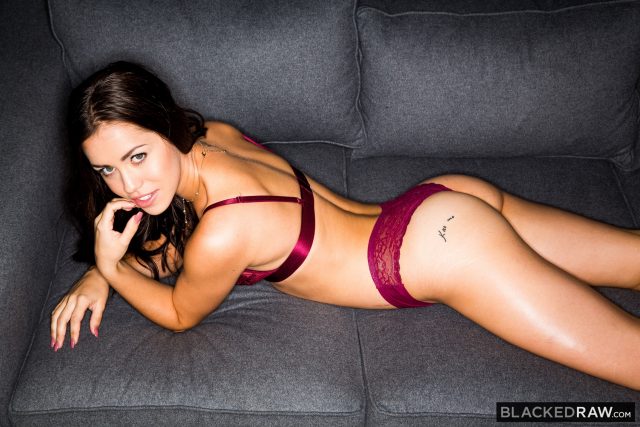 Alina Lopez in Blacked V2 – Blacked Raw
Alina Lopez : Adult Film Career
Alina filmed her first ever sex scenes in October 2017 with Jason Luv, titled Alison Loves To Be Bad, and it was released via the Blacked.com porn site Blacked Raw in November 2017. Directed by Greg Lansky, this sizzling scene has since been showcased in the Blacked DVD Blacked Raw V2 (2017) featuring sexiest pornstars Natalia Starr, Karlee Grey and Valerie Kay. When Alina was asked about shooting her porn debut, and about the origins of her porn star stage name, within her March 2018 Adult DVD Talk interview she revealed that;
"My first scene was amazing. I still think that the scene is the best of my career. It was for BlackedRaw and if you read the comments, a lot of people mentioned that it was so real and believable and that's because it was. I was nervous, obviously, because it was my first scene. But once the sex started, that's what I do, that's my thing. It just took over me and I did it how I can do it and it looks good!…
Alina is the name of one of my favorite music artists, Alina Baraz. She plays soft, electronic, alternative, popish music. And Lopez is an actual family name from my mom's side".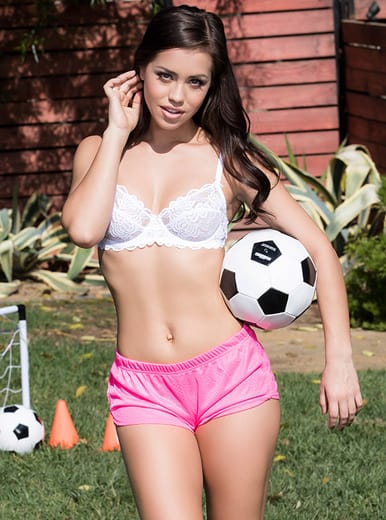 Alina Lopez in Practice Makes Purrrrfect – Brazzers Network
Represented by exclusive adult film talent agent Mark Spiegler, from this point onwards Spiegler Girl Alina Lopez started to appear in a wide range of popular porn productions. We recommend checking out Alina's raunchy Practice Makes Purrrrfect role-play with Keiran Lee for Brazzers Network in December 2017, her thrilling Threesome Rubdown shoot with Kali Roses and Danny Mountain for Reality Kings in January 2018 and her sultry What Do We Do? scene with Xander Corvus for Vixen.com in January 2018.
Most notably, Alina filmed a sizzling Sins Sex Tour: Alina Lopez collaboration with Kissa Sins and Johnny Sins that was uploaded via SinsLife.com in March 2018. Kissa loved collaborating with Alina and ardently enthused via Alina's May 2018 AVN: Fresh Faces interview that;
"Love, love, love Alina!…We decided that we are porn sisters because we love each other that much and we look like we could be sisters—twisted sisters!I think Alina is the next big thing in porn and I'm happy I've gotten to fuck her twice so far. In our threesome for SinsLife.com we just put a camera on a tripod and fucked and loved each other for over an hour…it was magical".
Fans of Alina will also love viewing her sizzling Boning The Bodyguard scene with Jessy Jones for Twistys in March 2018, her steamy She Isn't a Masseuse! shoot with Tiffany Watson that was promoted via the Fantasy Massage porn site AllGirlMassage.com in April 2018 and her scintillating The Tutor Redux scene with Adria Rae for Girlsway in April 2018.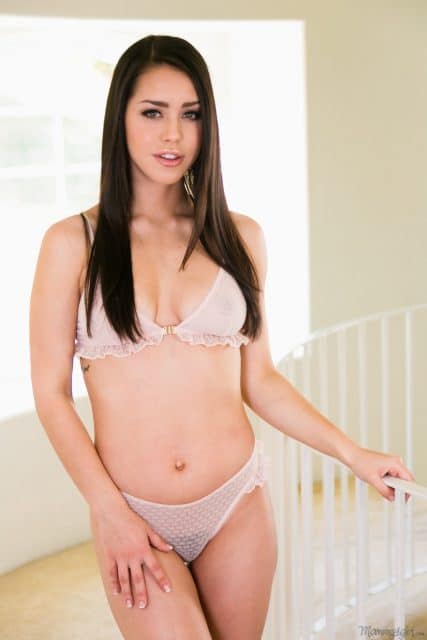 Alina Lopez at Girlsway
You'll be happy to hear that Alina has also been cast in several best-selling DVDs including Bare (2018) for Trenchcoatx. Directed by Kayden Kross, Alina shared a saucy scene with Jenna Sativa and they were both chosen as the box cover models for this fan-favorite all-girl movie. Alina has also starred alongside Mike Adriano in the Evil Angel DVD Swallowed 16 (2018) and she has been featured on the cover of the upcoming Evil Angel DVD Gag Reflex 3 (2018) featuring prettiest pornstars Jynx Maze, Eden Sin, Lily Adams, Kendra Spade, Aidra Fox, Lily Lane and Lana Croft.
But hold on, it gets even better! Alina has started to appear in some amazing virtual reality sex scenes. Fans of Alina Lopez will love immersing themselves within her Dirty Laundry VR experience which was released via Naughty America VR in January 2018 as well as checking out her intensely alluring Lick That Stick scene and her Goodbye Party collaboration with Valentina Nappi which were both unveiled via WankzVR in February 2018 and March 2018.
One of Alina's favourite scenes to shoot has been with Mick Blue for the upcoming Evil Angel DVD Creampied Vixens 2 (2018). Alina has been a fan of Mick Blue for many years and divulged during her May 2018 AVN: Fresh Faces interview that;
"I watched a lot of his scenes. I was a big fan of his…I was watching I think it was Dani Daniels because she was another girl that I liked. I watched a lot of her scenes where she's with guys. I don't even look at the guy. I don't even care. But she shot with Mick and I was like, 'Who's that guy? He's hot".
Mick also has high praise for Alina and mentioned during this May 2018 AVN: Fresh Faces interview that;
"First of all I think she's very beautiful and an exceptional new performer…I think she's going to have a great future in the industry. She truly enjoy what she does and it's such a pleasure to work with her…It's just great chemistry with her. When you have new girls coming into the industry the first thing that comes to mind is OK, are we going to see more of this girl in the future? Is this girl going to be Best New Starlet caliber? I definitely think Alina Lopez has Best New Starlet potential this year".
Alina Lopez in Dirty Laundry – A Virtual Reality Experience – Naughty America VR
When she isn't performing in these popular porn productions, Alina enjoys interacting with her fans via social media and hosting lusty live chat sessions via Camsoda under the screen name 'Alina Lopez'. Talking about her exclusive live cam show within an April 2018 AVN press release, Alina enthused how;
"I'm so excited for my show on CamSoda tonight…I've been teasing my fans on social with scantily clad pictures of myself, and tonight I'll be able to reward them for their patience. I'm really looking forward to everyone tuning in and checking out the show. It'll be so much fun!".
In her spare time Alina enjoys interior design, photography and practising yoga. In fact, Alina has mentioned in previous interviews that she may become a certified yoga instructor in the future. As Alina puts it in her own words;
"I do a lot of yoga. I love yoga, that's what I want to do when I'm done with porn is be a yoga instructor. I love music, I go to concerts. I love swimming and being in the water. There's a couple lakes near my house and they have islands in the middle so we'd go out there and lay out. Boating, anything with the water".
But don't worry, Alina has no plans to retire anytime soon! In fact, Alina stated in her May 2018 AVN: Fresh Faces interview that;
"I look at girls like Riley Reid and Asa Akira and they've really made a career out of this. I really hope to be able to do that for myself as well".
Want to keep yourself updated on all of Alina Lopez's exclusive web content, upcoming live cam shows and saucy social media updates? Then use the links provided below to stay in touch with your dream rising starlet Alina Lopez!
Alina Lopez – Social Networks
Twitter : @ItsAlinaLopez
Camsoda : Alina Lopez
WankzVR : Alina Lopez VR Scenes
Brazzers : Alina Lopez at Brazzers
Girlsway : Alina Lopez at Girlsway
Instagram : @itsalinalopezofficial
Naughty America : Alina Lopez at Naughty America
Reality Kings : Alina Lopez at Reality Kings
The Nude : Alina Lopez at Nude EU