Morena Black
Grooby Girls : Morena's Solo Scenes   TGirls XXX : Morena's Sex Scenes
Morena Black – Personal Info
Name : Morena Black
Date of Birth: April 10th
Star Sign : Aries
Hometown : Boston, Massachusetts / Maine / Ocala National Forest, Florida (US)
Hair Colour : Brunette/Black
Eye Colour : Brown
Tattoos : Winchester brothers protection symbol from the TV series Supernatural above her left breast
Piercings : Two lower lip piercings
Years Active : 2016 – present
Number of Scenes : 10+
Morena Black is a beautiful TS performer who was nominated for "Best New Face" at the 2017 Transgender Erotica Awards. Born and raised in Boston, Massachusetts, Morena Black has mixed Brazilian and Puerto Rican heritage as well as Native American Taino roots. In fact, Morena Black commented within her September 2016 CaramelsTGirls.com interview that one of her biggest pet peeves is when people simply brand her as a 'black tgirl';
"That is actually one of my largest pet peeves, however a reality I've taken creative approach to. Spanish is my first language, but I'm embarrassingly bad at it from disuse.  I've warmed up to people having a fantasy of me, the mixed girl with a huge black she cock, and that's okay.  In the end, maybe I'm just all American and anyone can interpret my race however they'd like.  Who knows?  It could actually be a gift if wielded correctly, appeal to almost everyone because they all can see something they like in me".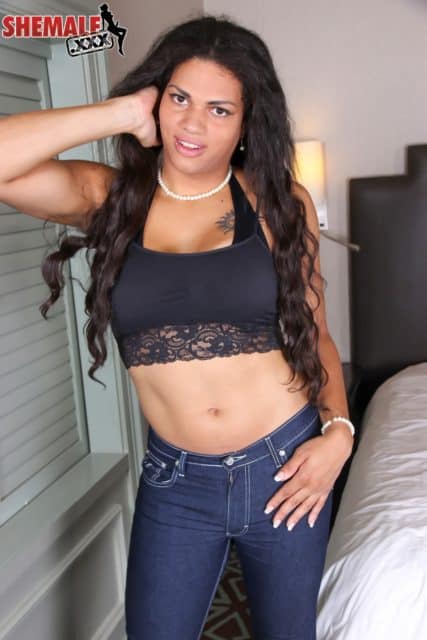 Meet Stunning Morena Black at TGirls XXX
Morena Black explained during her February 2016 TS Dreamland interview that she moved with her father from Boston, Massachusetts to Maine when she was 14 years old but that she regards Florida as her true home;
"This is more my home than anywhere I have lived. I was conceived in Puerto Rico, so I always joke I was "Made in Puerto Rico"! I was born in Boston, Massachusetts, then lived in Maine until I was 14 when my dad retired and decided to come down here for the weather. My hair has regretted the humidity ever since!… I am Brazilian and Puerto Rican. I claim Native American officially, however, because I have a very large percentage of Taino heritage. We weren't all wiped out by the Spaniards, ya know!".
During this February 2016 TS Dreamland interview Morena Black expressed that she has been aware of her true gender identity from a young age. As Morena Black puts it in her own words;
"I always dressed in my mom's clothes and when my little sister got big enough, I'd wear her clothes. I got baptized when I was 8 years old because I thought Jesus would turn me into a girl if I let him into my heart. Maybe God put it in there for me because here I am! Who knows? I went online at age 11 and I found Transsexual.org, and took a fairly comprehensive test, and it told me I was a 'Classic Transsexual' and that I might want to do something about it. What was I going to do? I was about to be 12 for heaven's sake! I started joining chat rooms and pretending to be a girl, having cyber sex with boys online. I always kinda thought I'd grown into a girl, but around high school, I realized that wasn't going to happen and my body was going to fight me every step of the way. I had a pretty thin boy facade and always had at least some panties to alleviate my dysphoria. My dad wasn't too excited the many times he found me dressed!".
Morena Black further elaborated within this February 2016 TS Dreamland interview how she came out to her parents when she was 19 years old and in the early stages of her transition process. By this time in her life, Morena Black had been emancipated from her parents since she was 15 years old and it took several years for her parents to eventually come to terms with her true gender identity. As Morena Black herself explains;
"I always told my mom many times that I didn't feel boyish at all. She always brushed it off as a 'phase', but how long do phases last, exactly? I always confided with her. She would sit on the computer for hours while I'd tell her everything. My mother continues to be a huge support and pillar in my life and she is so proud of me, even doing porn. I was quite embarrassed when she said "Well, honey, I had no idea you were so hung! You must have got it from your father." I will forever be mortified. Thanks Mommy! My little sister as well. She took it hard for years, but now we are sisters...Well, when the cat truly came out of the bag for real, I was 19 and trying to transition. I did the good old shock treatment and showed up to their house fully dressed, wig and all. Needless to say, my mom calmly told me to quit being dumb and my dad chased me out of the house. I'd already been living on my own as I got emancipated when I was 15. Both of them deny this ever happened, but it's an extremely vivid memory for me".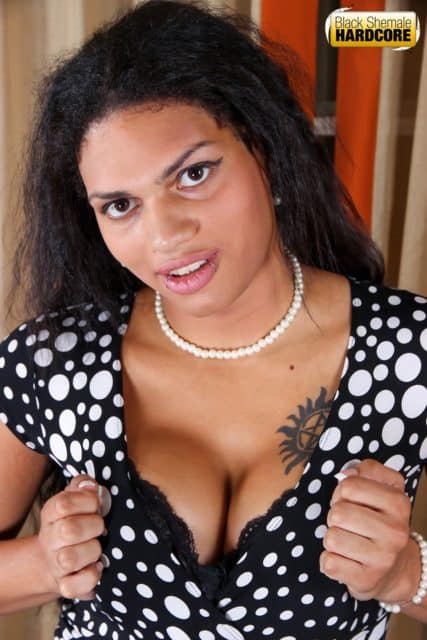 Morena Black at Black TGirls Hardcore
As mentioned above, Morena Black began to publicly embrace her true gender identity during her senior year of high school. Living out of her van, Morena Black struggled with self esteem issues, bullying and had to suffer house arrest and incarceration until she found the medical and emotional support necessary in order to begin transitioning and fully embracing her true gender identity when she was 19 years old;
"I started dressing as a girl in public when I was 18 living out of my van during my senior year in high school. All during high school, I'd wear panties and bras under my clothes and played with makeup once or twice to school, but with little success. I had my own wardrobe amassed hanging on a dowel rod that was conveniently inside my van. I gathered up the courage one night sleeping in a church parking lot to go to the gas station dressed. I looked bad and passed about as well as any boy in a dress could, which was none at all. I was scared witless, but I spent all my downtime dressed because I wanted to see how it'd be. Scary would describe it well…I got called sissy and fag all the time. I was a very skinny kid growing up and not strong like I am now. I'd always get beat up and chased from school to home and back. Moving to Florida changed that because I tried being everyone's friend and it somewhat actually worked...
Like I was mentioning earlier, I tried at 19 to live full time. I was under house arrest, so I thought hey, I got all the time in the world to wear girl's clothes now! I lived full time for six months until I had a violation and ended up in jail again. When I got out, I found all my clothes were stolen and everything I built up feminine wise was gone. I took it as a sign to not transition, but I couldn't keep that 6 month experience out of my head...Yes, I actually did the DIY route and I'm so happy I found a lady doctor who has been a huge supporter and kinda like a second mom to me. She's been awesome! She doesn't know why I request so much STD testing, though".
Upon discussing her transition process in further depth within a more recent September 2016 CaramelsTGirls.com interview, Morena Black highlighted how;
"I wish I could go back to being a kid and having a bit more balls to be a girl, as ironic as that sounds. Seeing these trans kids, I can see where I should have just stuck to my guns and woman'd up…I feel like I'm not done in my transition, ideas float around where I can see enhancing parts of myself. If I do, I'm sure I will be pleased, but for now I don't feel like I have much to do but waist train. When I think of my statistical average lifespan, though, I think maybe I should just go all out and do whatever. I hope to balance between there to find happiness".
Whenever she has been asked about her sexuality during previous interviews, Morena Black has always described herself as 'polyromantic'. Morena delved into the concept of her polyromantic sexuality in greater detail during her February 2016 TS Dreamland interview, advocating how;
"Polyromantic to me means that I like sexual and physical contact with just about anyone I feel I can be more than friendly with. It's somewhat changed and has taken shape recently into polyamoury, actually. I always wished to be polyamorous, in a polyamorous relationship, and that dream has come into realization. Sometimes I'd feel my heart was full of so much love and I'd be sad that I didn't have anyone to give it to. Pornography brings out that polyromance really hard though, as I like to be passionate whenever I film with somebody. That's why I love to talk and flirt a little with someone who wants to film with me, to build that chemistry and have it show through the camera…I always had friends that were boys too, but I clearly remember my 7th birthday party. It was at McDonald's and if you look at the picture that was taken, you'll see I'm surrounded by girls! I HAD to be with girls all the time – it wasn't even a conscious thing. It wasn't until I was 18 did I finally get some boy action, and when I got fucked I have to say, I knew it was meant to be. It was also in a threesome with a girl and it both felt so right, I knew I was for sure split down the middle a true bisexual".
By this stage in her life Morena Black had already begun performing via various adult cam sites as a male webcam model. Consequently, when she first started performing as a webcam model via the adult-cam network Chaturbate in 2014, Morena Black lamented the fact that she had not yet released any content as a trans girl. Fortunately, after commencing her transition process, Morena Black began performing as a transsexual webcam model and soon began to amass an ardent fan following due to her saucy live chat sessions. As Morena Black herself conveyed within her February 2016 TS Dreamland interview;
"I had been camming on and off for about four years , even when I was a male performer and with a girlfriend of mine at the time. When I started to Chaturbate in 2014, I got sad that I never made anything. I really made nothing as a trans girl! So I started performing as male again, even though I was full time for two years by then. When I got titties tho', it was over. People wanted to see me! It wasn't good enough, however. Why wasn't I doing good like these other girls? I'd ask myself that a lot, and started noticing that it was because they did porn, they had fans, and people knew their name. So in October of last year, I knew that in order to continue enjoying my life without conventional work and staying at home, I'd have to do some porn. I never imagined what has come about, though, or that I'd love it so much".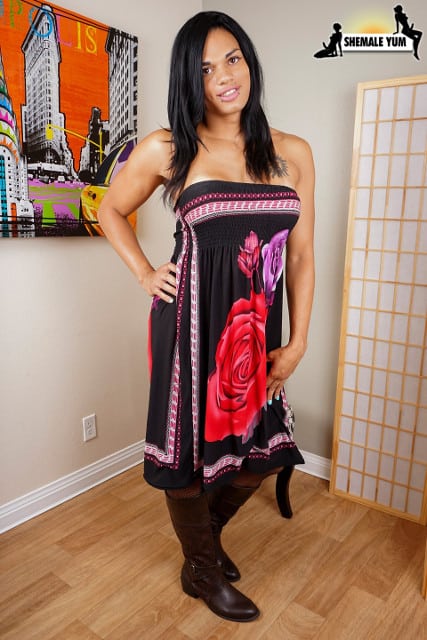 Morena Black at Grooby Girls
Morena Black : Adult Film Career
After performing as a popular webcam model for several years, in January 2016 Morena Black decided to make her adult film modelling debut via the Grooby Network porn site TGirls.XXX with some saucy solo scenes titled Meet Stunning Morena Black. Morena Black made her adult film modelling debut with the help of famous adult film cinematographer Omar Wax with whom she also collaborated on her subsequent Hot Morena Black Jacks Her Hard Cock solo sex scenes for TGirls.XXX in February 2016. During this time, Omar Wax also filmed Morena Black's first ever hardcore sex scenes, titled Morena Black Gets A Taste Of Soldier Boi's Cock!, with male porn star Soldier Boi in January 2016 for Black TGirl Hardcore as well as filming her spectacular tgirls.porn transbian sex scenes with Chelsea Marie in February 2016. Upon being asked about her adult film modelling debut during her February 2016 TS Dreamland interview, Morena Black enthused how;
"Well, I noticed that the best girls are all Grooby Girls, and that if I wanted to shoot any quality porn, that they'd be the best to shoot with. Both Omar Wax and Radius Dark were talking to me, so I was excited when Soldier Boi came to me and was like, "let's do a scene!" It was great and I'm happy with it. He's got his own style and Omar was fun to work with. Radius Dark at the same time came to Florida and we filmed alltgirls.xxx. I absolutely love Radius and his work is legendary".
Following her successful adult film modelling debut, in March 2016 Morena Black shot her first ever solo sex scenes for Grooby Girls titled Morena Black Strokes Her Large Cock. Morena Black was thrilled at the positive reception that her Grooby Girls modelling debut received and she ardently expressed within her February 2016 TS Dreamland interview how;
"I was actually shocked because it came out literally like less than two weeks after it was shot. When Steven came on Twitter @GroobySteven and was like, 'Here's the next BIG thing!' which was a clever double entendre to his credit, I was like, no way, I just shot this like three days ago?".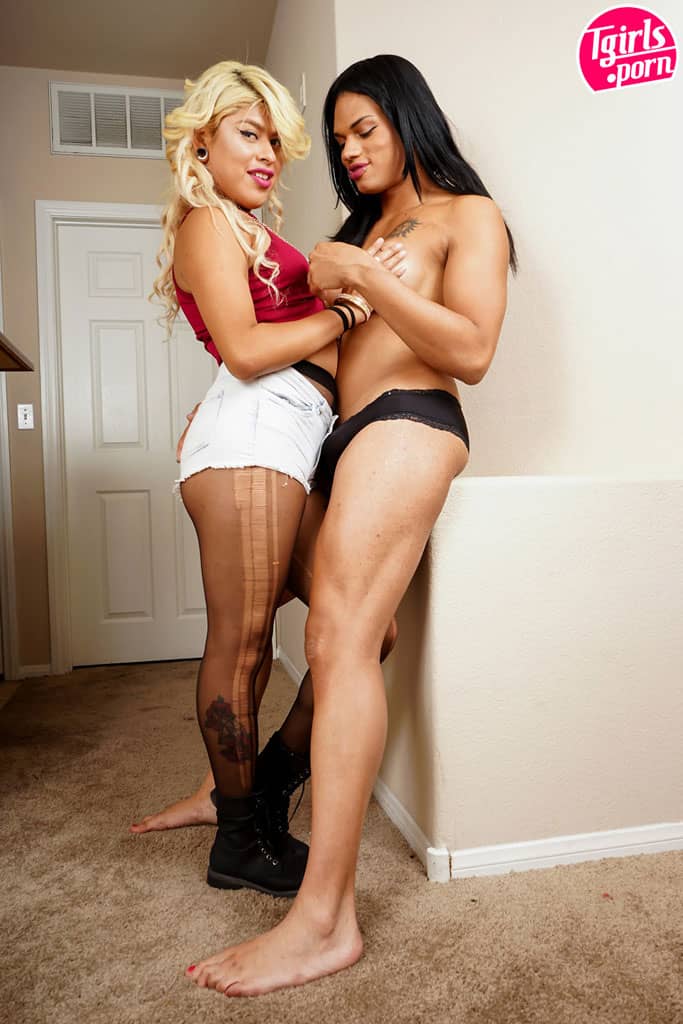 Morena Black and Beth Bell at Tgirls Porn
Morena Black's Grooby Girls solo shoot was directed by Radius Dark with whom she has continued to collaborate on numerous solo sex scenes for Grooby Girls including Morena Black Jacks Off! in May 2016 , as well as Hung Morena Black Strokes Her Cock! and Morena Black Tries The Penis Pump! which were both distributed via Grooby Girls in September 2016. Morena Black has since teamed up with Radius Dark in order to film some sultry transbian sex scenes with Beth Bell for Tgirls.porn in September 2016.
In addition to her online sex scenes, Morena Black has starred within several best-selling DVD feature releases throughout her porn star career including Rogue Adventures 43 (2016) that was directed by Joey Silvera for Evil Angel. Rogue Adventures 43 showcased Morena Black in a sizzling transbian sex scene with Chelsea Marie and she has proceeded to feature within Christian XXX's CX WOW Studios DVD titles Big Booty TS POV Sex (2016) with sexy TS pornstars Jenna Tales, Mia Maffia and Natalia La Porta. Throughout her porn star career Morena Black has worked with Christian XXX on several sizzling hardcore sex scenes that have been distributed via his trans-friendly porn site Pure-TS.com. As matters stand, Morena Black and Christian have starred together in a raunchy April 2016 Pure-TS.com sex scene titled Amazon Beauty Morena Black Gets Fucked & Creampied and in a saucy Busty Amazon Morena Enjoys Getting Dicked Down sex scene that was released via Pure-TS.com in November 2016.
Fans of Morena Black should also check out the Devil's Film feature release Tranny Glory Hole Surprise 3 (2016) also starring Isabella Sorrenti, Jenna Tales and Tori Mayes, and the Grooby Productions DVD T-Girls Porn 2 (2016) which enabled Morena to perform alongside fellow rising TS starlets Chanel Santini, Baby Bratt, Vixxen Goddess, Coco Dahlia, Crystal Sopen, Eva Cassini, Jamie French, Kira Crash and Chelsea Marie.
In May 2016 Morena Black filmed her first ever group transbian sex scene with Nikki Montero, Trixxy Von Tease and Tiffany Starr. This terrific transbian group sex scene was filmed by Ecstatic Ernie as part of his annual T-Orgy shoot and its was distributed via tiffanystarrxxx.com, trixxyvontease.com and latinatranny.com. Morena Black swiftly followed this terrific transbian sex scene with her first ever solo photo set for Sammi Mancini's award-winning SM Strokers series that was unveiled in June 2016. During this time, Morena Black continued to develop her official website and frequently performed as a webcam model who collaborated on several sultry Chaturbate live chat sessions with the amazing adult film stars @kaibailey.xxx, @MissKokoBeans, @AmySpacekitten and @jittanybrane. Upon discussing her official solo website, saucy webcam modelling sessions and her ever-expanding social media following within her February 2016 TS Dreamland interview and her September 2016 CaramelsTGirls.com interview, Morena Black explained how;
"Camming in fact very often has its moments, like when everyone is interacting and I get to feed off the energy going on.  Shooting has a personal excitement to it.  It always feels like a real life interaction, that's the way I like to have it.  It's just like acting, easy to lose myself with a camera in front of me.  Everything I do now prepares me for that.  Feeling natural...My website is gaining some cool content which are as of yet even unreleased, so that's exciting. I'm on the Internet on and off all day putting things together from the country side of Florida, but I'm putting the finishing touches on the next stage of Morena, getting some broader attention, pushing my limits. As you've seen, you never know where I might pop up… I like that I can see myself on the screen and also get live feedback from whomever is watching. There is a lot less pressure to perform, but I enjoy studio porn and the results from shooting maybe a little more...
It literally made my career. I would not be where I am right now without Twitter. It's amazing. I went from watching these people to being in films with them. It's truly amazing, and I have to thank Social Media for that. It also really helps connect with my fans on a personal level, and some fans have been like, absolutely amazing. I love them all!…The Supermen @thesupermentrap have been so nice to me, even using me as their banner for their Twitter page! To call them "fans" is the wrong word, but 'friends' fit better! Things being bought off my wish list have warmed my heart, as well. There is such a down-to-earth vibe between the interaction I have with those who like what I do".
It gets even better;  Morena Black was nominated for the esteemed "Best New Face" accolade at the 2017 Transgender Erotica Awards. Morena Black was thrilled to receive this prestigious adult film award nomination after having been star stuck when she attended the 2016 Transgender Erotica Awards and co-presented the "FTM Best New Face" award with Stefani Special. Reminiscing upon this amazing experience within her September 2016 CaramelsTGirls.com interview, Morena Black expressed how excited she was to attend the 2016 Transgender Erotica Awards for the first time and to meet many of her porn star idols face to face;
"Venus Lux, Honey Foxx, Jane Marie, Kylie Maria, I mean I could go on!  Every single time I turned my head, someone I recognized was right there.  The extremely popular folks have this aura, it's like the energy everyone gives them reflects back out, it's very amazing.  I got to co-present an award with Stefani Special, and I handed the award to Eddie Wood!  I have such a schoolgirl crush on him.  I'm glad Grooby throws the TEA's because it really puts a face on the entire scene".
Based in the Ocala National Forest, Florida, when she isn't shooting popular porn productions, Morena Black enjoys playing guitar, cycling and exercising. Upon being asked about her favorite pastimes and personal porn preferences during her February 2016 TS Dreamland interview, Morena Black revealed that;
"I play guitar and I can also play a few other instruments. Porn is kind of a huge hobby for me too, as in I watch it on a recreational level like anyone would watch television. Other than that I love cycling and exercising…I like some bondage and a few other things people would raise eyebrows, but as far as porn goes I think it just gives me more to work with and makes me less afraid to try anything. I like some bondage and a few other things people would raise eyebrows, but as far as porn goes I think it just gives me more to work with and makes me less afraid to try anything".
Eager to discover Morena Black's hottest career highlights? Then use the links provided below to discover all of Morena Black's hottest sex scenes and exclusive web content!
Morena Black – Social Networks
Chaturbate : morenablack
Grooby Girls : Morena at Grooby Girls
TGirls XXX : Morena at TGirls XXX
Black TGirl Hardcore : Morena at Black TGirls Hardcore
IWantClips.com : tsmorenablack