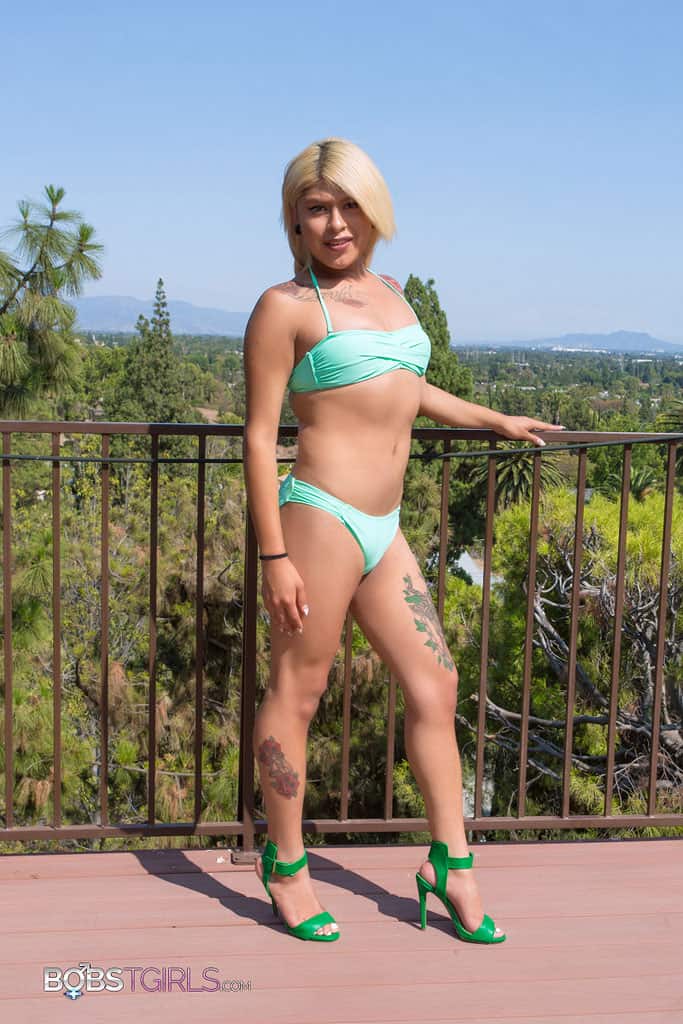 Beth Bell – Personal Info
Name : Beth Bell
Date of Birth: October 30th
Star Sign : Scorpio
Hometown : Salt Lake City, Utah (US)
Hair Colour : Brunette/ Blonde / Lilac
Eye Colour : Brown
Tattoos: 'David' script with two red roses across the right side of her collarbone, an intricate stag design with green leaf detailing across her upper left thigh, two red roses either side of a diamond on the side of her right calf and two large red roses across the left side of her collarbone. Talking about her tattoos in during her October 2016 Porn OCD interview, Beth commented that;
"I have a total of five tattoos. My first one was the one on my right leg. The story behind it was to represent the diamond as my mother, and the roses as my sister and I since we like to say that our mom is our rock".
Shoe Size : Women's 7.5 (US)
Years Active : 2016 – present
Number of Scenes : 10+
If you love watching sultry solo shoots and intensely alluring transbian sex scenes then you have to check out lusty Latina TS star Beth Bell! Within less than a year of making her adult film industry debut, Beth has already amassed an avid fan following due to her ravishing solo shoots which have been promoted via the Grooby Network porn sites Grooby Girls, TGirl Sex and Foot Fetish TS.
What's more, Beth has earned herself multiple "Best New Face" and "Best Scene" nominations at the 2017 Transgender Erotica Awards thanks to her terrific TGirls.porn transbian sex scenes with sexy TS pornstars Mara Nova, Morena Black and Brooklyn Roberts. As such, we think it's fair to say that Beth Bell is one of the most successful rising TS starlets in the adult entertainment industry and she looks set to continue taking the industry by storm for many years to come!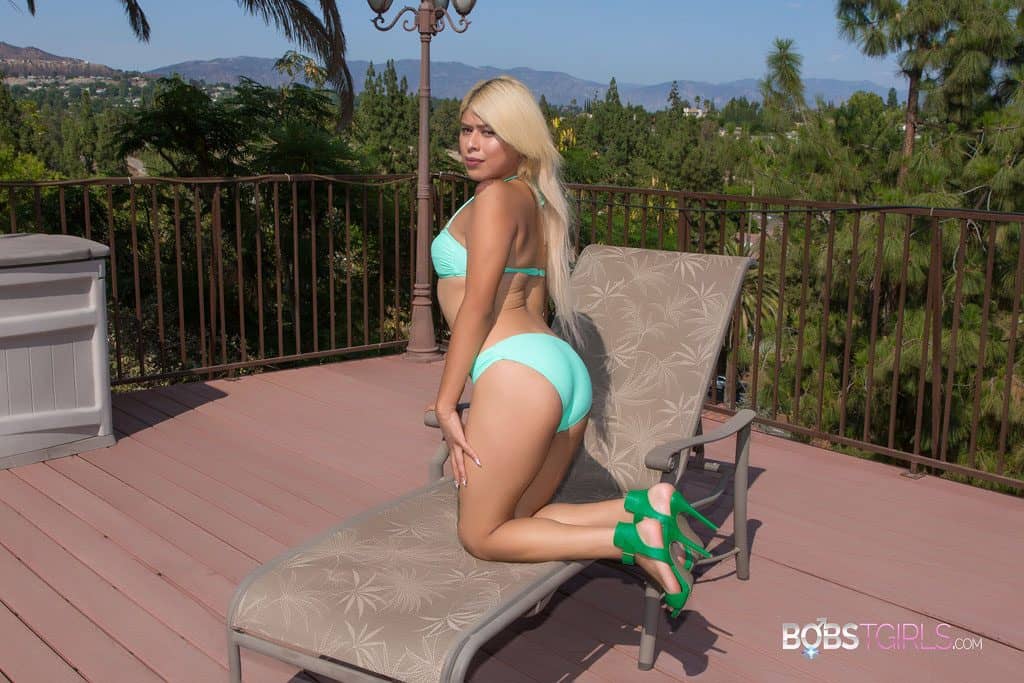 Born in seaport city of Acapulco in Guerrero, Mexico, Beth Bell moved to the United States with her family when she was three years old and she was raised in Salt Lake City, Utah. Beth has been aware of her true gender identity from a young age and, as such, she has explained within her October 2016 Porn OCD interview that  she often felt alienated from others during her school years. As Beth puts it in her own words;
"Growing up for me was rather difficult at times because I always felt different. In Elementary School and Junior High, the bullying really made me defensive. I knew there was something in me waiting to be awoken and I could feel it. Other than that, in my family life, growing up with my sister was very good!…
I first felt like I wanted to become a TS when I started becoming aware of gender roles. I always wanted to do all the girly things. Which I did, since growing up with a sister made it really easy for me to become aware of who I really was. Of course I didn't say, I want to be a TS. I would say I want to be a woman. I didn't know the TS term back then…
My friends knew since I was 15, that I wanted to be a girl so bad, so they kind of expected it to happen. I told my mom right after graduating high school, She was really accepting and so was the rest of our family. My dad is still coming around. I just said hey mom, "You know I've always been different and I'm wanting to start my journey into becoming the woman I've always wanted to become…my closest friends have been really supportive and I thank them so much for it".
Beth is an incredible ambitious and hard-working woman who comes from a close-knit family. In fact, Beth has discussed during her October 2016 Porn OCD interview that her main goal in life has been to provide a better life for her family;
"My first ambition was to provide my family with the life I've always wanted. Ever since I can remember, I always hated being told no you can't get this, not you can't have this. I wanted to always be able to tell my family "yes'. I wanted to pursue a career in law at first, but now I am looking into being a Surgical Technologist…My motto in life is that you have to fight for what you want! You have to get what you want at no matter what price".
So when did Beth first start to consider a career within the adult industry? It all began in 2013 after she watched a video of Domino Presley walking the red carpet at the Transgender Erotica Awards. Spurred on by the glitz and glamour of the adult film industry, Beth started researching various porn production companies and seized the opportunity to shoot with Christian XXX for his trans-friendly porn site Pure-TS.com in March 2016. Talking about these early stages of her adult film career in her October 2016 Porn OCD interview, Beth revealed that;
"I remember watching Playboy TV in 5th grade. I was scrolling though the Pay Per View section and came across the channel. I then would watch it in secret because I loved the blonde bunny look…The idea of getting into porn came to me one day when In 2013, I was watching Domino Presley host the Red Carpet for the TEA awards. I just felt in love with the feel of it, and how fun it looked. I was always an exhibitionist anyways…My very first opportunity came to me in March. I shot for Pure-Ts.com with Christian. It was a really fun shoot, one of my favorites. I did a great job showing my cock sucking skills for the first time on camera!".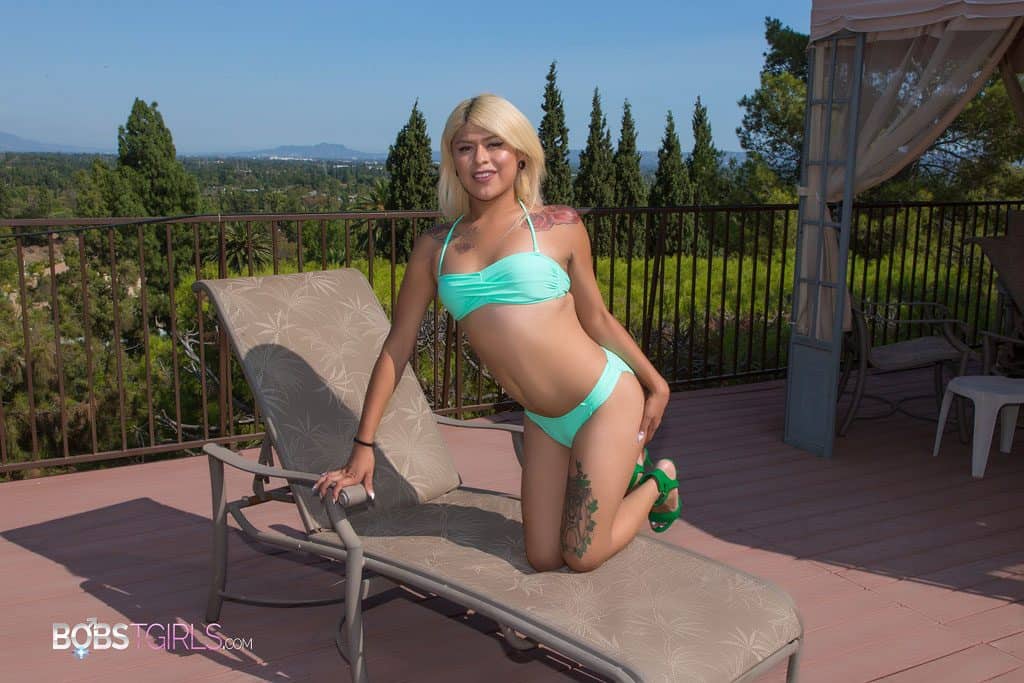 Beth Bell : Adult Film Career
As mentioned above, Beth Bell began working in the adult film industry in March 2016 when she filmed her first ever hardcore sex scenes, titled Amateur Latina Beth Bell Makes Her Porn Debut, with Christian XXX that were commercially released via his popular porn site Pure-TS.com. Upon discussing her adult film industry debut during her October 2016 Porn OCD interview, Beth divulged how;
"My very first shoot was really exciting! At first I was nervous, but I was really easily relaxed and ready for action thanks to Christian. He was really great about how I was feeling. He really did a great job getting me comfortable. Just before I walked on camera I felt like 'Omg this is it bitch, kill it'. Instead of being nervous, I gave myself a little confidence boost by thinking of everything I wanted to accomplish, and that was the very first step…I absolutely feel comfortable and very confident naked. I am working on my body, and working myself into being at where I want to be with my physique! I am naked 24/7 at home! I also prefer to sleep naked".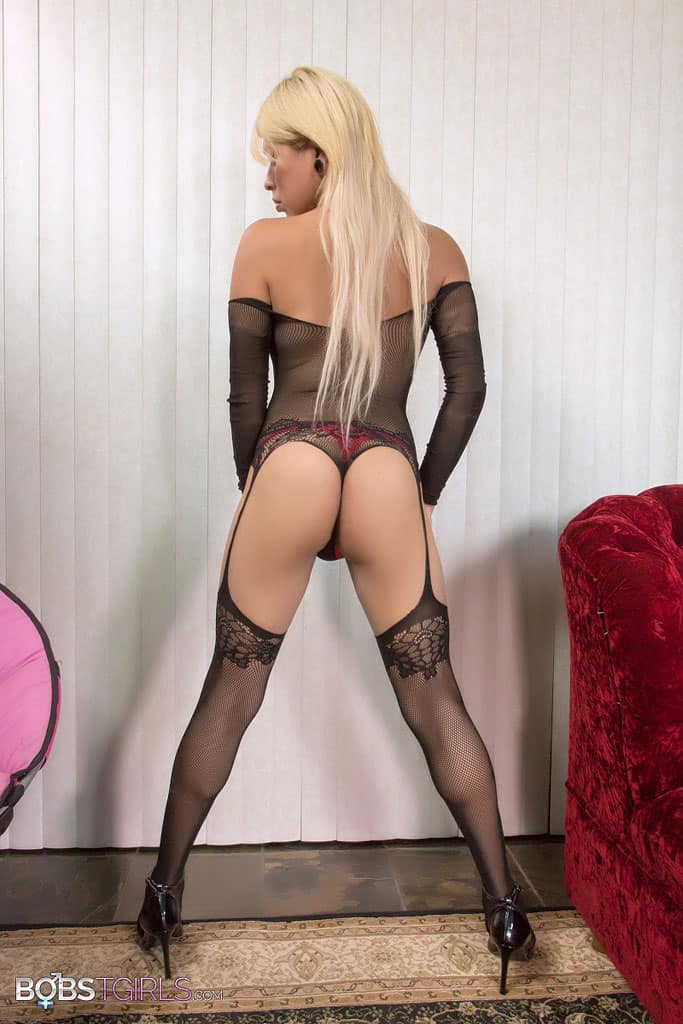 Beth's adult film industry debut was a smash hit among Pure-TS.com fans and it was subsequently showcased within the CX WOW Studios DVD compilation title Amateur Transsexuals 5 (2016) also starring rising TS starlets Chanel Santini, Britney Boykins and Brittany Snow. In the months that followed Beth filmed a thrilling three-way with Christian XXX and Cassidy Chase, titled Cuties Beth & Cassidy Get Fucked At Their Slumber Party, that was uploaded via Pure-TS.com in June 2016 as well as shooting a thrilling three-way with Kennadie Havoc and Christian XXX for TSPov.com in October 2016 titled Blonde Cuties Have Fun With Each Other And A Big Cock.
Many of Beth's sauciest sex scenes have been showcased within the CX WOW Studios compilation title Tranny Handies 4 (2016) for which Beth posed as the DVD cover model alongside Kennadie Havoc. Appearing in these fan-favorite DVD compilation titles has enabled Beth to feature alongside famous TS pornstars Isabella Sorrenti, Rafaella Ferrari, Nikki Vicious, Danny Bendochy, Aspen Brooks, Natalie Mars, Shiri Allwood, Kinky Kora, Brooklyn Roberts and Harper Kelly.

During this time Beth began to film some seductive solo sex scenes for the internationally renowned Grooby Network porn site Grooby Girls with the help of prominent porn photographer Radius Dark. We recommend viewing her Beth Bell Is Smoking Hot solo shoot in June 2016 and her Ring My Bell! solo sex scenes that were first released in August 2016 as well as her seductive Sexy Beth Bell's Hot Tush! anal play solo shoot and her raunchy Sexy Beth Bell Jacks Off! solo sex scenes that were both unveiled via Grooby Girls in December 2016.
Fans of Beth Bell will also love watching her saucy Biology Lesson schoolgirl themed transbian sex scenes that she filmed with Shiri Allwood for the fan-favorite porn site Two Tgirls in June 2016. This kinky schoolgirl shoot was featured within the Two TGirls DVD compilation title TGirl Schoolgirls Volume 1 (2017) also starring fellow rising TS starlets Kira Crash, Valentina Mia, Mara Nova, Jelena Vermilion, Casey Kisses and Sydney Farron.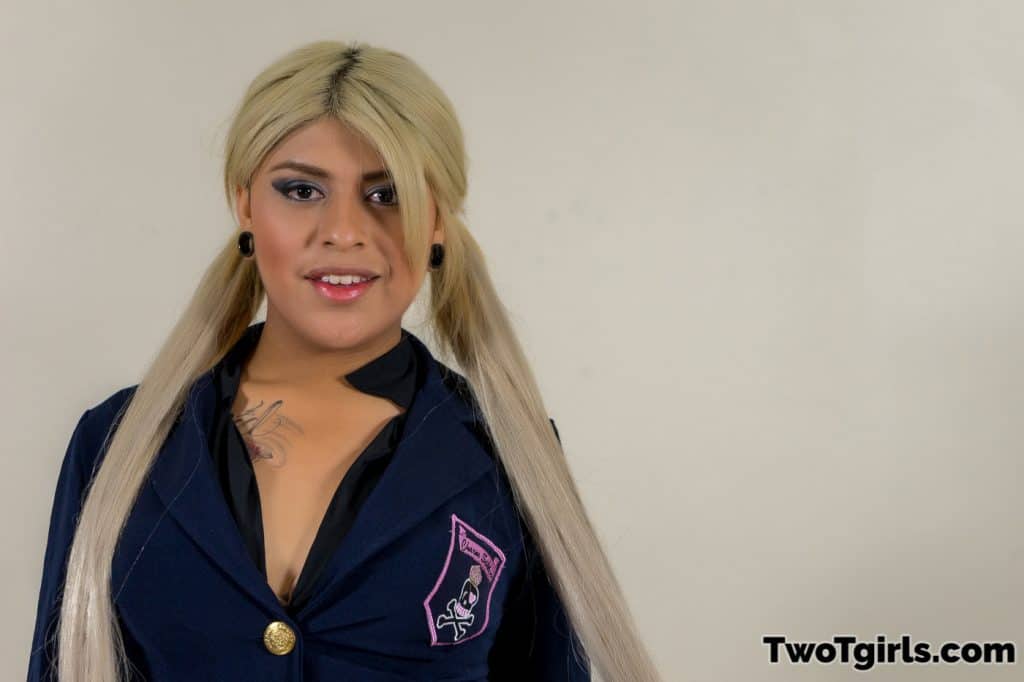 In November 2016 Beth Bell showcased her captivating kinkster side when she filmed some fantastic foot fetish web clips for the Grooby Network porn site Foot Fetish TS. Titled Beth Bell's Petite Feet!, this kinky solo shoot was directed by Radius Dark who has since filmed Beth's thrilling Foot Princess Beth Bell's Feet For Your Face foot worship sex scenes in December 2016. Beth's kinky web collaborations with Radius have been a glowing success among foot fetish fans; so much so the Beth is currently ranked as the #19 most popular performer on Foot Fetish TS!
Throughout her phenomenal porn star career Beth has continued to collaborate with Radius Dark on some hot hardcore sex scenes that were released via the Grooby Network porn sites Grooby Girls, TGirl Sex, TGirls.porn and TGirl Pornstar. Fans of Beth Bell's sizzling hardcore web clips will not want to miss out on viewing her alluring TGirls.porn transbian sex scenes with Mara Nova in July 2016, with Brooklyn Roberts in August 2016, and with Morena Black in September 2016.
Devoted Beth Bell fans will also love watching her  raunchy Beth Bell & Ruckus Fuck Like Rabbits! hardcore sex scenes that were filmed by Radius Dark for Grooby Girls in July 2016; not to be missed! Beth has loved shooting these steamy sex scenes with fan-favorite porn stars Ruckus XXX, Mara Nova, Brooklyn Roberts and Morena Black and she enthusiastically stated during her October 2016 Porn OCD interview that;
"My hardcore with Ruckus was very, very exciting for me! He had that look that I'm so attracted to. He was a gentleman as well. He's a really nice person, such a sexy daddy! So fun to work with, I want to do so AGAIN…
My scene with Mara Nova was very fun! She's so pretty and I loved her attitude! We kicked it off, and had a really great time…Brooklyn has definitely been the biggest so far!! I had so much fun with Ms. Mandingo…I'm not a #SizeQueen, but I definitely enjoy a big cock…
Morena Black was really fun to work with! She also has a very big cock and I loved sucking it and getting fucked by it! It's also a top fave…On my #PornBucketList I have Rain, Robert Axel, and Soldier Boi. I'd love to shoot with any of them".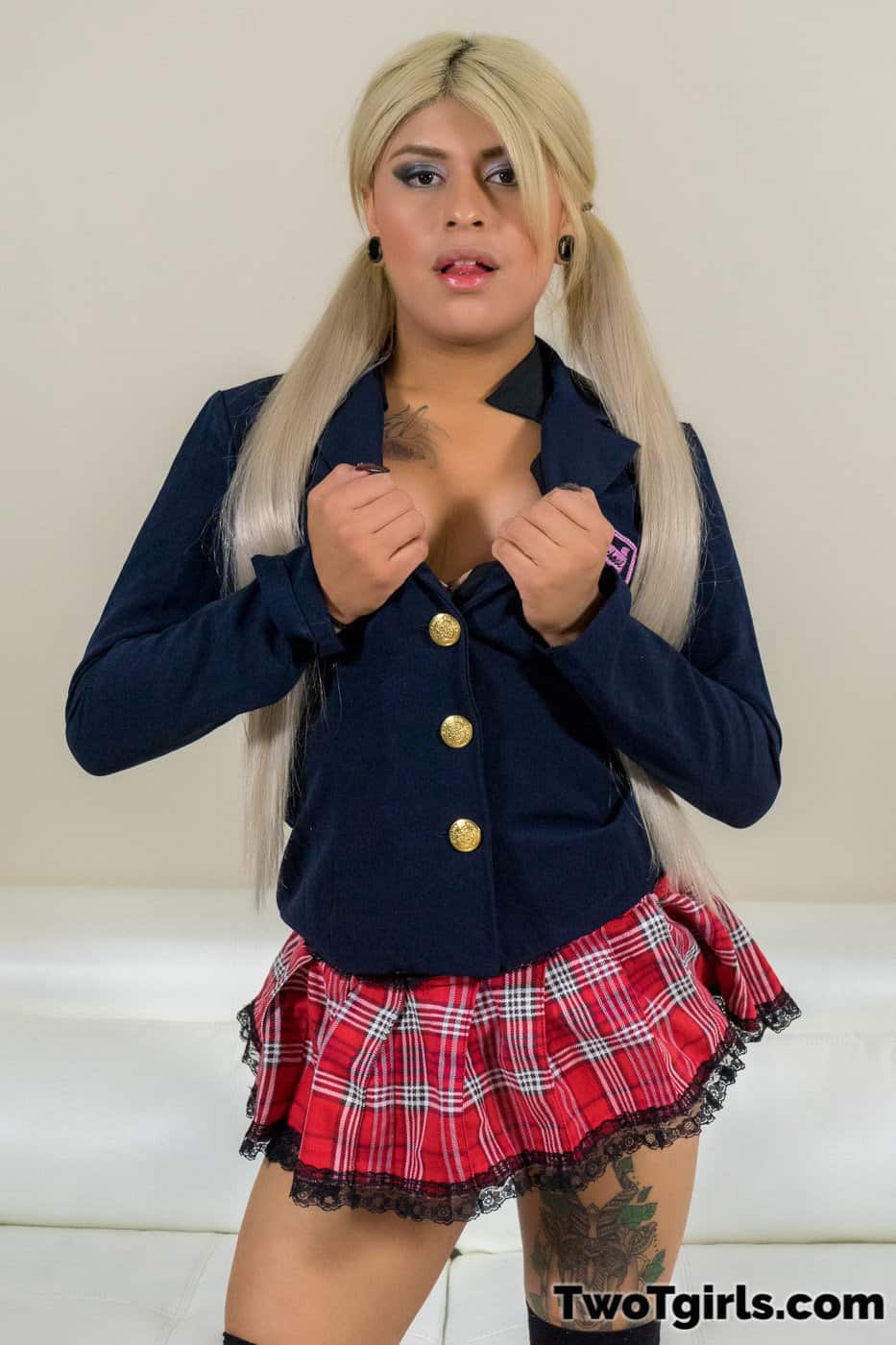 Beth's captivating hardcore collaborations and sultry solo shoots have proved incredibly popular among transsexual porn fans and film critics. As a result, it was only a matter of time before Beth was nominated for some coveted titles at the 2017 Transgender Erotica Awards. Listed below are some of Beth's most notable adult film award nominations;
Never one to rest on her laurels, in recent months Beth has filmed some saucy seasonal sex scenes for Two Tgirls with Kira Crash titled Easter Sluts Fuck Like Rabbits!. Moreover, Beth's award-nominated transbian sex scenes with Mara Nova have since been showcased within the Grooby Presents DVD compilation title TGirls Porn Volume 7 (2017) also starring Natalie Mars, Brooklyn Roberts, Maisie Le Fay, Laura Smith, Lady Chrysallis Estrella, Lusinda Divine, Lana Solaire and Shelbi Trutch. TGirls Porn Volume 7 was highly praised by Grooby Productions CEO Steven Grooby who stated within a April 2017 Grooby News press release that;

"TGirls Porn Volume 7 comes from one of our most popular series to date…We've handpicked some of our best-selling scenes and I think our customers are going to love this new batch of up and coming  performers coming through the pipeline".
Throughout her adult film career Beth has always been eager to thank her fans for their ongoing support. In fact, when she isn't performing in porn, Beth enjoys interacting with her global fan base via social media. As Beth mentioned in her October 2016 Porn OCD interview;
"Twitter is really important to my career!…I keep in touch with my fans as much as I can".
So if you'd like to keep in touch with stunning TS starlet Beth Bell then why not head on over to her official social networking channels? By using the links provided below you can stay updated regarding all of Beth Bell's latest DVD titles, catch up on some of her kinkiest web clips and learn all about her upcoming porn productions online today!
Beth Bell – Social Networks
Twitter : @tsbethbell
Grooby Girls : Beth at Grooby Girls

Tgirls Porn : Beth at TGirls Porn 

Bob's TGirls : Beth at Bobs Tgirls
TGirl Pornstar : Beth at TGirl Pornstar
TGirl Sex : Beth at TGirl Sex
Two Tgirls : Beth at Two Tgirls  
Foot Fetish TS : Beth at Foot Fetish TS