Official Site : Morgan-Bailey.com Twitter : @1MorganBailey
Chaturbate : RealMorganBailey  Grooby Girls : Morgan Bailey Kink Profile : Morgan Bailey
Personal Info
Name : Morgan Bailey
Date of Birth: April 18th 1983
Home Town : Chicago, Illinois
Nationality : Irish American
Measurements : 34D – 28 – 34
Bra/ Cup Size : 34D
Boobs :  Enhanced
Height : 6'3 (1.90m)
Weight : 165lbs (75kg)
Sexual Orientation : Bisexual
Hair Colour : Brunette/ Blonde/ Black
Eye Colour : Green
Piercings: Navel and nipples
Tattoos : Multicoloured sleeve on her left arm depicting a Ganesha style elephant in front of a temple, a series of small stars around her left wrist, flower designs on the inside of her left thigh and a large apple and leaves design around her right hip and rib cage, dragonfly designs across her upper back and a large lotus flower design across her lower back, a small symbol on her pelvis, two Koi fish designs on her butt cheeks, two birds above her breasts and a floral design on the back of her right calf
Years Active : 2009 – present
Number of Scenes : 50+
If you've been looking for an raw, edgy, and instantly alluring porn star then you will soon become obsessed with Morgan Bailey! Her piercing green eyes, seductive moves and bold personality have established her as one of the most commanding, captivating and confident transsexual porn stars in the adult film industry.
Born and raised in Chicago, Illinois, Morgan worked as a tattoo artist and bartender before launching her adult film career when she was 24 years old. In fact, Morgan has spoken candidly via her official blog site about how she began to establish herself within the adult entertainment industry. Just out of a relationship and looking for validation, Morgan explained how;
"Not many months ago I was slacker Tattoo artist/ Bartender in the great party city of Chicago, after being kicked out of almost every establishment and fucking everyone I knew or ever met it was clear I needed another outlet for my intense sexual energy…I had submitted some scandalous photos to a few select companies and within days had multiple offers to shoot. With no hesitation I was on my trans-continental flight to Hollywood CA where I shot multiple scenes and got some great exposure. I knew immediately after spending time with some real porn stars that I had to start finding a way to make this a career….Needless to say I have succeeded, here I am fucking professionally and I LOVE IT!".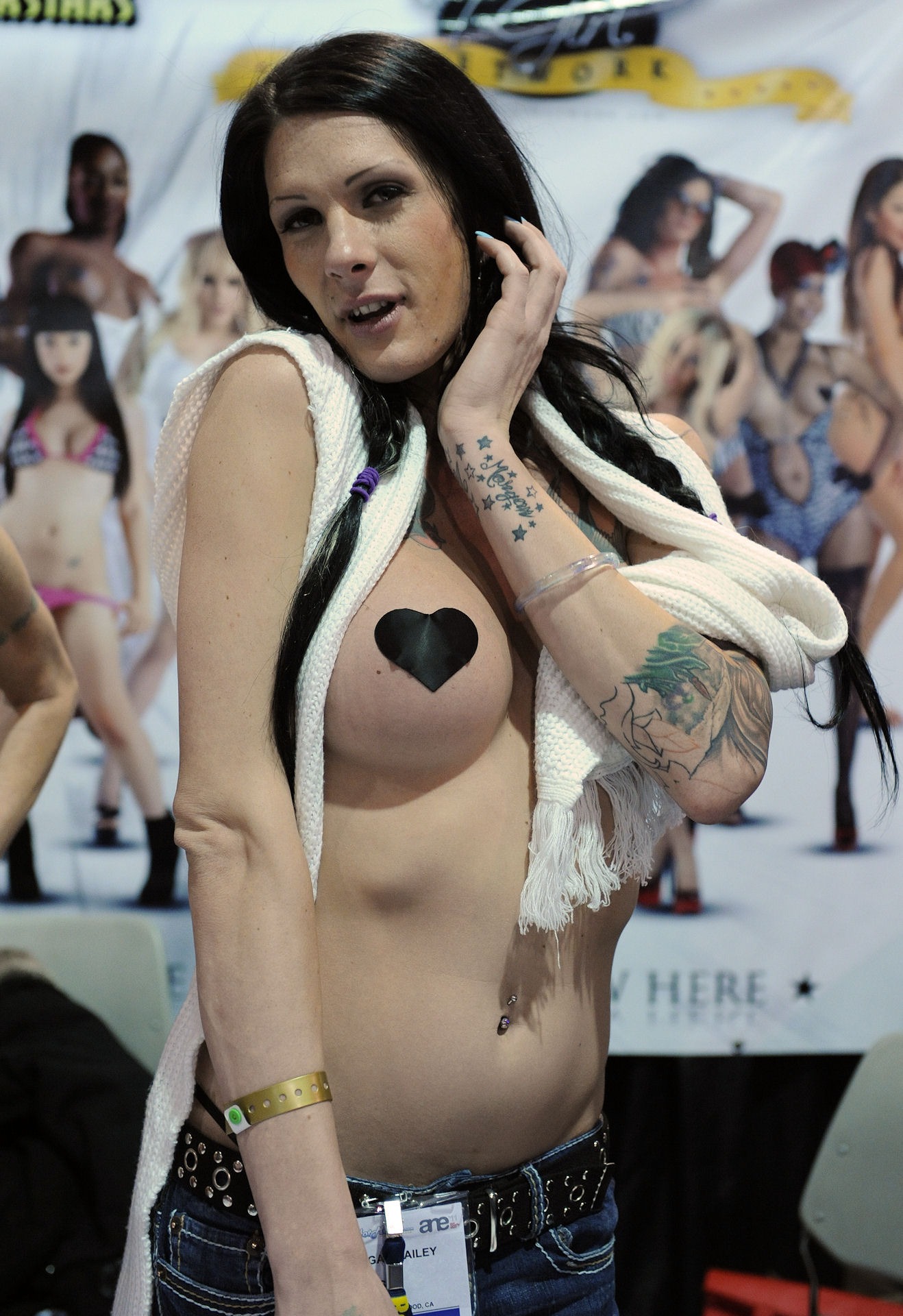 Morgan Bailey at the 2011 AVN Adult Entertainment Expo – Image Source
Morgan Bailey : Adult Film Career
Morgan Bailey's first venture into the adult entertainment industry was a shoot with Grooby Girls in 2008 when she was 24 years old. Her alternative look and vivacious attitude instantly earned her a loyal and adoring fan base. As such, Morgan was quickly signed up for multiple shoots with Grooby Girls as well as filming a variety of raunchy online sex scenes for leading pornographic production companies including; Frank's Tgirl World, TranSex Domination, TGirl Pornstar, Bob's Tgirls, SMClub, pure-ts.com, Eros Arts Productions, tsgirlfriendexperience.com and Pornstar Platinum.
Following her successful solo sex shoots for Grooby Girls, Morgan began to appear within multiple DVD feature releases for trans-friendly production companies such as Devil's Film, Exquisite, Rodnievision and Evil Angel. Performing with such DVD titles as America's Next Top Tranny 5 (2009) and Transsexual Cheerleaders 3 (2009) for Devil's Film enabled Morgan to collaborate with famous transsexual performers Vaniity, Mandy Mitchell, Aly Sinclair, Kelly Leigh, Jessica Fox, Johanna B and TS Foxxy as well as prominent male porn star Christian XXX.
Morgan soon became one of Devil's Film's most popular transsexual starlets and has established herself as a frequent feature within their America's Next Top Tranny and Transsexual Babysitters award-winning TS DVD franchises. Fans of Morgan Bailey should check out her scene-stealing performances within; America's Next Top Tranny 8 (2010) with Carmen Moore, TS Foxxy, Carrie Ann and Christian XXX, America's Next Top Tranny 14 (2011) that was nominated for "Best DVD" at the 2011 Tranny Awards and starred Morgan alongside Carrie Ann, Sarina Valentina, Aly Sinclair and Tiffany Starr, and Transsexual Cheerleaders 8 (2012) with Kelly Shore, Ryder Monroe and Brittany St. Jordan. Morgan also established her status as one of the main TS stars within Devil's Film's Transsexual Babysitters DVD series. In fact, between 2010 and 2011 Morgan featured within Transsexual Babysitters 11, 12, 14 and 15 which enabled her to collaborate with a string of successful rising starlets such as Amy Daly, Kimber James, Astrid Shay, Domino Presley, Jesse Flores, Paris A, Khloe Hart, Yasmin Lee, Kimberly Kills, Madison Montag, Sheeba Starr, Angela Bratzz, Carmen Moore and Holly Sweet.
Another defining moment in Morgan Bailey's adult film career came in 2009 when she first began performing within Sammi Mancini's award-winning She Male Strokers DVD series. Distributed by Rodnievision, Morgan filmed a series of solo sex shoots for She Male Strokers 36, 39, 42, 44, 47 and 55 between 2009 and 2012 and even posed as one of the DVD cover models for She Male Strokers 42 (2010). These solo sex-themed DVD titles were commercial and critical successes for Morgan Bailey; with She Male Strokers 47 (2011), starring Delia DeLions, Brittany St. Jordan, Hazel Tucker, Juliette Stray and Tayla Dieckmann, becoming nominated for "Best Transsexual Release" at the 2012 AVN Awards and She Male Strokers 55 (2012), starring Venus Lux, Tyra Scott, Chelsea Marie, Khloe Reyes, Kitty Kaiti and Khloe Hart, earning multiple nominations for "Best DVD" at the 2012 Tranny Awards and "Transgender Release of the Year" at the 2013 XBIZ Awards.
In addition to her ongoing adult film collaborations with Devil's Film and She Male Strokers, Morgan Bailey soon made a name for herself due to her captivating performances within the best-selling Evil Angel DVD titles She Male XTC 8 (2010) that was nominated for "Transsexual Release f the Year" at the 2012 XBIZ Awards and Next She-Male Idol 3 (2011) that was directed by Joey Silvera and featured Morgan alongside Bailey Jay, Aly Sinclair and Vaniity. Next She-Male Idol 3 was nominated for "Best Transsexual Release" at the 2012 AVN Awards, and paved the way for Morgan to star in TS Playground 1 (2012) that was directed by Jay Sin. TS Playground 1 proceeded to be nominated for "Best DVD" at the 2012 Tranny Awards as well as "Best Transsexual Release" at the 2013 AVN and XBIZ Awards. Spurred on by the success of TS Playground 1, Morgan also starred in TS Playground 2 (2012) that was once again directed by leading adult film cinematographer Jay Sin. Most recently, Morgan has performed in the Evil Angel DVD title She-male Perverts 2 (2015) that was directed by female porn superstar Francesca Le and showcased Morgan's friends and fellow TS stars Honey Foxxx, Jonelle Brooks and Michelle Firestone.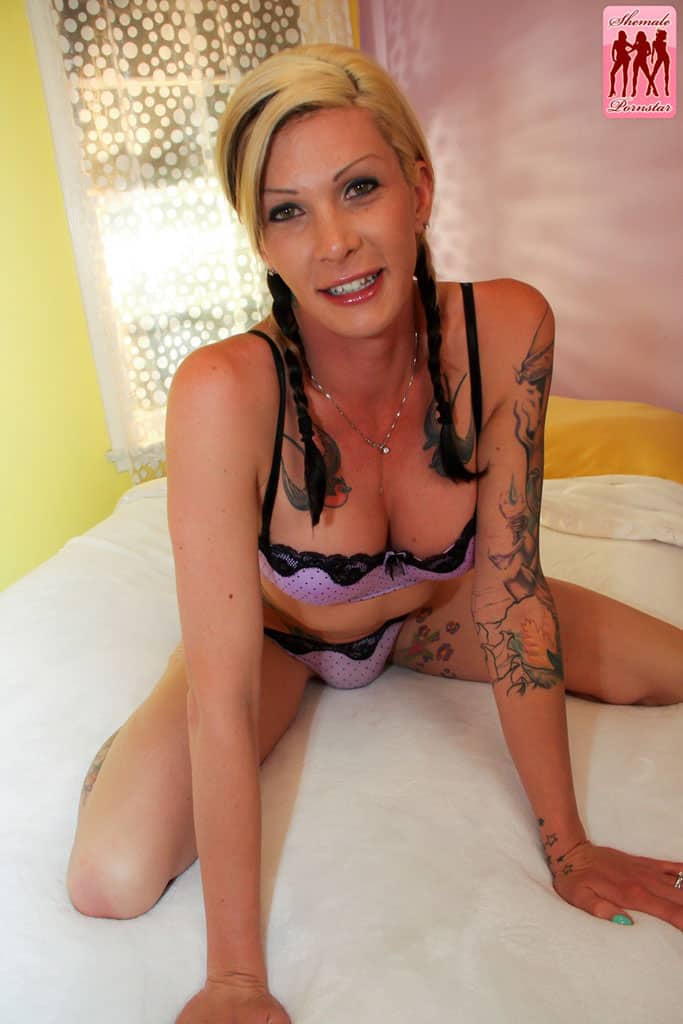 Morgan Bailey at TGirl Pornstar
Morgan's impressive porn star portfolio soon began to attract the attention of leading transsexual porn production company Grooby Productions and in 2010 Morgan was named as a Grooby Girl! This notable naming resulted in Morgan collaborating on a wealth of Grooby Network, Third World Media and SMClub feature releases including her very own signature showcase, Morgan Bailey's Bad Day (2010), which was directed by famous adult film director Buddy Wood. Grooby Girl Morgan Bailey also performed within the SMClub DVD titles Transsexual Superstar: Mandy Mitchell (2011) that was nominated for "Best DVD" at the 2011 Tranny Awards, USA T-Girls 3 (2011) and Trustfund Trannies (2013) that received a wealth of adult film nominations including "Best DVD" at the 2013 Tranny Awards, "Clever Title of the Year" at the 2014 AVN Awards and "Transsexual Release of the Year" at the 2014 XBIZ Awards as well as a glowing endorsement from XCritic adult film blogger Apache Warrior;
"Trustfund Trannies has six scenes about rich spoiled trannies who are used to getting and spending whatever they want. It has a cast of superstars that includes  Morgan Bailey, Danielle Foxx, Ryder Monroe, and Liberty Harkness…Rich trannies Natassia Dreams and her friend Morgan Bailey are window browsing hand in hand. When they get to Natassia's home, they drink a bottle of red liquor. I like their very lengthy chit chat and the usage of Spanish phrases. It creates good anticipation for their upcoming make out session… The slow pace of their entire scene is totally hot. It really feels like two friends having fun with each other…This film could be nominated for Best Transsexual Release for the AVN Awards. Each scene is developed well with a good entertaining storyline. My favorite performance is the Danielle Foxx-Holly Harlow scene. Those two ladies are gorgeous and generate hot heat. Ryder Monroe and Natalia are super sexy. Natassia Dreams and Morgan Bailey are cute in a girly-girly way. Liberty Harkness is solid as the opening act. I highly recommend this gem".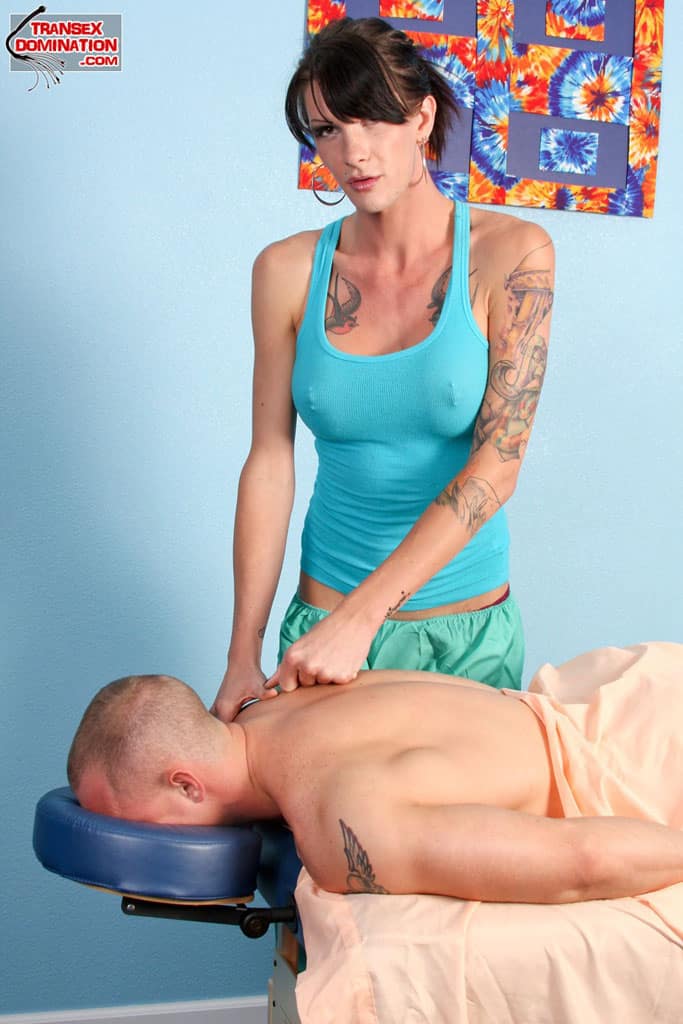 Morgan Bailey at Transex Domination
Over the years, Morgan has embraced her alternative porn star status and has showcased her unique style and skill-set via fetish porn sites such as Kink.com. Ever since her first online sex scene with Chris Ockham, titled The Third Date, for Kink.com's trans-oriented web series TS Seduction in August 2010, Morgan has been enthralling fetish fans across the globe with an eclectic variety of femdom, fetish and BDSM content for Kink.com's fan-favourite TS Seduction and TS Pussy Hunters web series.

Morgan has amassed an international fan following; a large portion of which can be attributed to her ongoing captivating collaborations with some of the biggest transsexual performers in the United States, Europe and across the globe. As matters stand, Morgan has performed with leading Latina lovelies Alessandra Ribeiro, Giselle Davila and Kamila Smith in the 2011 Ultimate TGirl Productions DVD title Tranny Poppers 2, her CX WOW Studios DVD title Christian Loves TS Superstars (2013) with Christian XXX and famous American TS stars Jane Marie, Sarina Valentina and Gianna Rivera, her 2015 CX WOW Studios DVD feature release Popular T-Girlz 3 with British TS star Mia Maffia as well as rising US TS starlets Sienna Grace and Luna Rose, as well as her string of successful Pornstar Platinum feature releases for their Pornstars Love Trannies franchise. To date, Morgan Bailey has performed with Pornstars Love Trannies 2, 3 and 6 (2013-2015) alongside Angelina Valentine, Angelina Torres, Ava Devine, Jessy Dubai, TS Foxxy, Venus Lux, Carmen Moore and Alura Jenson. In fact, Pornstars Loves Trannies 6 proved to be so popular among international TS fans that it was even nominated for "Best Transsexual Movie" at the 2016 AVN Awards; there's just no stopping Morgan Bailey!
This incredible collection of feature release performances and online sex scene collaborations have earned Morgan Bailey a multitude of prestigious adult film awards nominations over the course of her seven year adult film career. Some of Morgan's most impressive adult entertainment accolades to date have been listed below;
2011: AVN Awards nominee — "Transsexual Performer of the Year"
2012: AVN Awards nominee — "Transsexual Performer of the Year"
2013 Nightmoves Awards nominee — "Best Transsexual Performer"
2011 Tranny Awards nominee — "Best Hardcore Model"
2011 Tranny Awards nominee — "Best Hardcore Performer"
2012 Tranny Awards nominee — "Best Hardcore Model"
2013 Tranny Awards nominee — "Best Solo Website"
2013 XBIZ Awards nominee — "Transsexual Performer of the Year"
If you want to discover even more of Morgan Bailey's award-nominated sex scenes then we recommend viewing; American Tranny 1 (2011) for Reality Junkies that was nominated for "Transsexual Release of the Year" at the 2012 XBIZ Awards, her Juicy Entertainment pornographic parody release This Is Definitely Not Ugly Betty: A XXX Tranny Parody (2011) with Carla Novaes, TS Foxxy, Andrea Mel and Christian XXX that was nominated for "Best DVD" at the 2011 Tranny Awards and "Transsexual Release of the Year" at the 2012 XBIZ Awards, Transsexual Activity 2 (2013) with Vaniity, Eva Lin, Natalie Foxx and Jane Marie for Jules Jordan Video that was nominated for "Best Transsexual Release" at the 2014 AVN Awards, as well as the Exquisite DVD feature releases American Tranny Party (2011), American Stroker Party (2012) with Eva Lin, TS Foxxy,  Mia Isabella and Jessica Fox, and I Got My Ass Banged By A Shemale (2013) also starring Wendy Williams which was nominated for "Best Transsexual Release" at the 2014 AVN Awards.
Morgan Bailey : Webcam Model & Transgender Spokesperson
In addition to her prolific porn star portfolio, Morgan Bailey remains dedicated to staying in touch with her devoted fan following and continues to make regular appearances via adult-cam sites such as Chaturbate where Morgan has her own room Realmorganbailey. Every few days Morgan hosts public chat forums via Chaturbate as well as conducting live chat sessions via her official solo website which enable Morgan's adoring fans from across the globe to get up close and personal with her in real-time. You can even talk directly to Morgan and send her gifts via a private chat session. From her favourite pencil skirts and Ray Bans, to Miss Dior perfumes and the Native American wall tapestries and area rugs which she loves, Morgan herself promises "Gift me I gift back!".
Whether you are a fan of Morgan Bailey or an aspiring transsexual performer yourself, these private chats are a great way to glean some exclusive insights from the real Morgan Bailey. In fact, during previous interviews Morgan has discussed the importance of perseverance against adversity with regards to pursuing a porn star career and revealed how several girls within the adult film industry once told her that she wouldn't have a successful career due to her tattoos and overall 'alternative' look. However, instead of feeling discouraged by these negative remarks, Morgan divulged that they only fuelled her fire to establish herself within the industry. In a 2015 Daily Mail interview, Morgan describes how she was discovered;
"I did a scene and it just kind of snowballed … I ended up building a really big career because of it".
Morgan's raw sexuality, edgy look and powerhouse personality are not just limited to her film appearances. For many years, this stunning porn superstar has had plenty to say about transsexual porn stars and their relevance within the adult film industry. For instance, during the 2015 Daily Mail interview mentioned above, in which she featured alongside fellow transsexual porn stars TS Foxxy and Chelsea Poe, Morgan shared her thoughts on the fetishization of transgender women and her own struggles within the adult film industry. Morgan expressed how;
"When I first started doing porn I hated the word "she-male". But that's how you market yourself…If that's a tagline you have to throw on to make something sell, then that's what you have to do… Morgan explained that although she respects younger stars feminist views, she knows that there is no avoiding the fact that these types of labels are what makes films sell". 
Within this illuminating interview it was also stated that;
"Morgan said she believes 'it's great that guys fetishize trans women', but she noted that men can be attracted to trans women without fetishizing them. However, she has no patience for people who ask why she doesn't 'full transition' when they really want to know if she has a vagina". 
Morgan Bailey : Radio Talk Show Hostess, Presenting Roles & Public Appearances
Morgan Bailey's talents do not end with her feature film appearances, web content and modelling shoots. Since 2011, Morgan has established a strong reputation as an excellent radio broadcaster, interviewer and events host. Her initial live broadcasts and webcasts for Speakeasy and The Dr. Susan Block Show introduced a wide network of fans to the seductive charm and quick wit of Morgan Bailey.
These talkative talents led to Morgan interviewing fellow transsexual porn stars including Domino Presley. These highly entertaining interviews resulted in Morgan hosting the exclusive Tranny Strip nightclub event in 2012 alongside Domino Presley as well as fellow transsexual porn star Eva Lin. Hailed as "New York's Best Transsexual Party", Morgan, Domino and Eva wined and dined the night away with their co-workers, friends and fans whilst showcasing the best transsexual dancers, performers and porn stars that the industry has to offer.
Morgan Bailey has also hosted interviews for Grooby Productions' live netcast coverage of the 5th Annual Tranny Awards in 2013. Held at the Beyond the Stars Palace on North Brand Boulevard, this hosting opportunity enabled Morgan to showcase her beautiful long legs and lively personality as she interviewed award winners, nominees and leading figures within the adult film industry as they made their way along the red carpet.
In September 2015, Morgan hosted "The Leather and Lace Party" alongside fellow porn star Aubrey Kate. Held at the Gentlemen's Club and Tranny Strip, Morgan represented 'leather' alongside Aubrey's 'lace' as they both oversaw a lavish erotic event involving transsexual dancers, champagne room parties and lap dances.
In addition to her radio talk show and events hosting roles, Morgan has also made regular appearances at Adultcon, the premier adult film convention, since they opened the floor to transsexual performers in 2011. In the same year Morgan, and fellow adult film stars Aliana Starr XXX, Madison Montag, Jesse and Vanity, took part in the high-end series American Tranny. Produced by Reality Junkies from Mile High Media, the show placed Morgan and her fellow porn stars into real-life scenarios with an XXX twist!
As matters stand, Morgan Bailey is currently living in Los Angeles, California. When she was asked about her plans for the future, Morgan has stated via her official blog site that;
"I guess the only subject in question "is it ever enough for this girl" and my answer is NO! I'm so cock hungry and boy crazy I can never seem to get enough. I'm Morgan Bailey and I'm here to fuck your brains out!".
Make sure you don't miss out on Morgan Bailey's latest feature releases, live chat sessions and upcoming public appearances by checking out her official social networking channels online today!
Social Networks
Official Site : Morgan-Bailey.com
TGirls.XXX : Morgan Bailey at TGirls.XXX
Grooby Girls : Morgan Bailey at Grooby Girls
TGirl Pornstar : Morgan Bailey at TGirl Pornstar
Transex Domination : Morgan Bailey at Transex Domination
Twitter : @1MorganBailey
Instagram : @morganbaileybaby
Chaturbate Profile : RealMorganBailey
Kink Profile : Morgan Bailey Femdom & BDSM Content
IMDB Profile :  Morgan Bailey Filmography
Niteflirt :