Official Blog Site : TSMichelle.xxx  Twitter : @tsmichelleaustin  Grooby Girls : Michelle Austin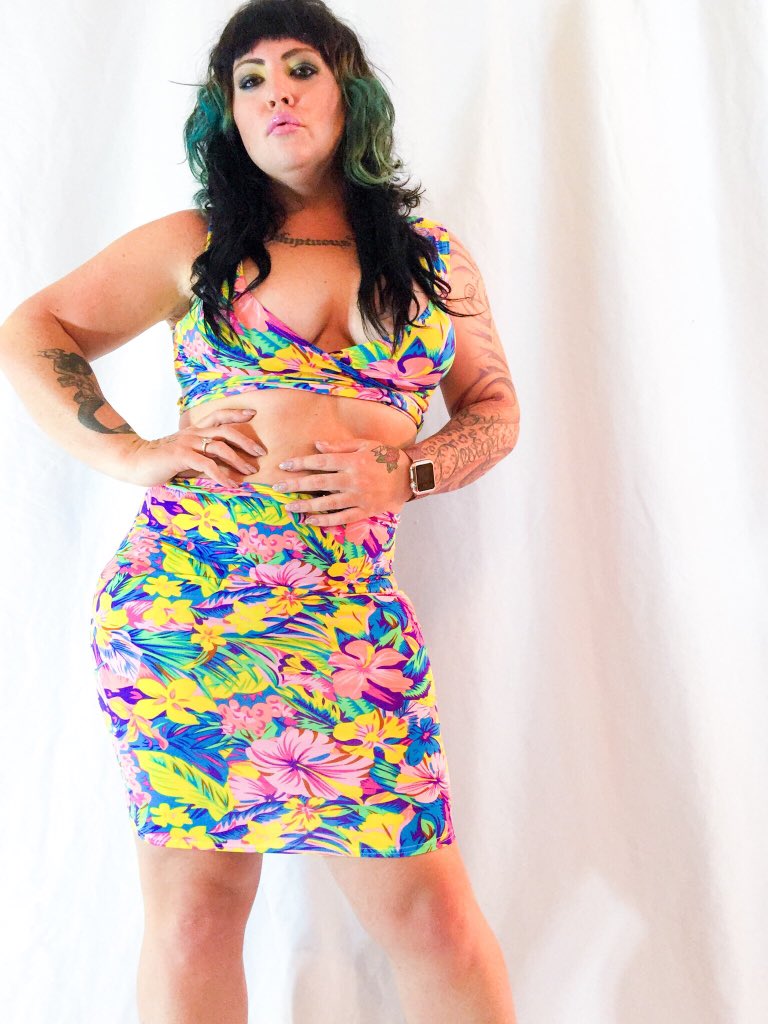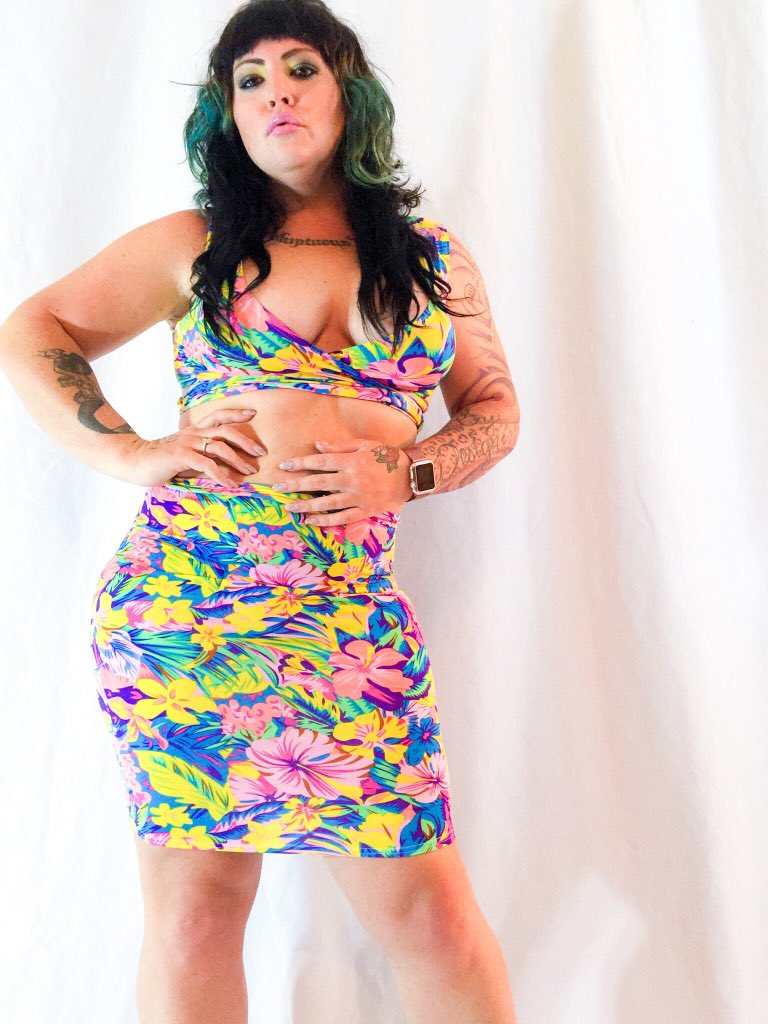 All images in this bio have been used with kind permission of Michelle Austin (@tsmichelleaustin)
Personal Info
Name : Michelle Austin
Alias : Voluptuous Diva
Date of Birth: August 5th 1980
Home Town :  Houston, Texas (US)
Measurements : 38D – 34 – 42
Bra/ Cup Size :  38D
Boobs :  Enhanced
Height : 5'6 (1.68m)
Hair Colour : Blonde/ Brunette
Eye Colour : Brown
Shoe Size : Women's  10/10.5 (US)
Piercings : upper lip 'Monroe', nose, navel and penis
Tattoos : 'Voluptuous Diva' script written across her chest with matching bird designs on either side, a star design on her lower back and a sleeve on her left arm that consists of a blonde pin-up girl, the script 'Beauty Made By Design' and various purple tribal designs
Years Active : 2010 – present
Number of Scenes : 20+
Introducing Michelle Austin, the Voluptuous Diva! Known for her pin-up girl style, this beautiful blonde bombshell has made significant breakthroughs for transsexual performers and BBW models alike since first emerging within the adult entertainment industry in 2010.
Born and raised in a small town just outside of Houston, Texas, Michelle Austin has established a prominent status within the adult film industry by promoting herself as the definitive 'BBW TS Porn Star'. Since 2010 TS Michelle Austin has amassed an extensive porn star portfolio, a large network of adoring fans and has achieved groundbreaking recognition for both transsexual porn stars and plus-size performers within the adult entertainment industry.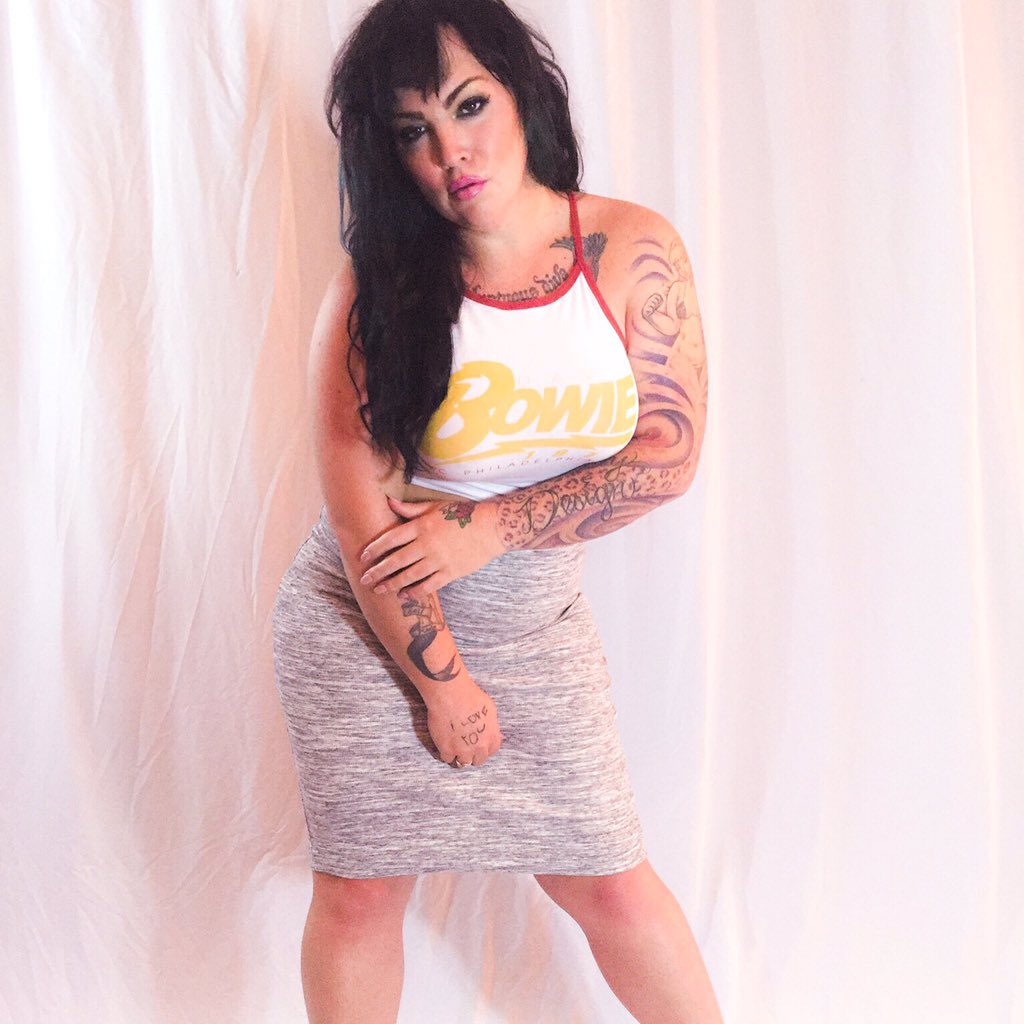 Michelle Austin : Adult Film Career
Michelle's road to transsexual porn superstardom began when she was 21 years old and was first approached to film web content for renowned transsexual production company Grooby Girls (formerly Shemale Yum). However, Michelle initially declined this offer and did not film her first sex scenes for Grooby Girls until she was 30 years old. Michelle explained her reasons for doing so during an interview for the blog site The Heroines in 2014;
"At 21 I was early into my transition when Shemale Yum had approached me to do a set for them. At that time I had been on the cover of Ladylike Magazine and really wasn't ready to be in porn. I didn't think I wanted to be seen as a sex object that early on in my transition. Fast forward to being 30, and I was asked again by Shemale Yum, and I was ready in my life and had been full time and comfortable in my own skin by then to do it!".
Following the success of this initial Grooby Girls web content, Michelle proceeded to collaborate with She Male Strokers, T-Girl Pinups, Interracial T-Girl and Wendy Williams XXX and featured within a wide range of DVD feature releases, web content and BBW modelling shoots.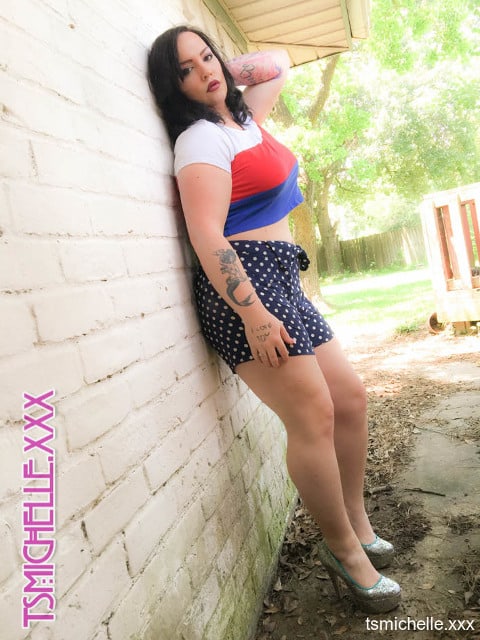 In November 2011 Michelle made adult film history by becoming the first ever BBW transsexual porn star to launch her own solo website on The Grooby Network. This groundbreaking website enabled Michelle to experiment with a broad spectrum of adult film content. These extravagant sexual exploits soon earned Michelle a loyal fan base and were even discussed within a feature article on TS Michelle Austin that was published within the 81st issue of Transformation magazine. As the article stated;
"Michelle enjoys everything to do with her sexuality! She is versatile and loves to have sex with all different types of people. On her site you will see her in action with men, women, BBW, and transsexuals. She doesn't like to be put in a box when it comes to sex. She loves to offer her fans fetishes, and hardcore action! Along with being creative in scenes and always challenging herself to be the best! She wants her fans to keep coming back for more!".
During 2011 Michelle was the leading lady within two DVD feature releases; Michelle Austin: The Voluptuous Diva and Michelle Austin: The Voluptuous Diva 2. The success of these DVD feature releases led to Michelle being chosen to host the 2011 Tranny Awards ceremony.
Throughout 2011 and 2012 Michelle also made appearances in the DVD feature releases She Male Strokers 52 and T-Girl Solos 2. These productions enabled Michelle to work alongside many notable transsexual performers including; Amy Daly, Brittany St. Jordan, Jesse Flores, Jonelle Brooks and Wendy Williams. After T-Girl Solos 2 was nominated for "Best Transsexual Release" at the 2012 Tranny Awards as well as similar accolades the AVN and XBIZ Awards ceremonies in 2013, Michelle went on to feature in the series sequel T-Girl Solos 5. Michelle also continued to collaborate with Wendy Williams when she starred alongside her within the Hot Wendy Productions DVD feature release Some Like It Black in 2013.
Spurred on by these cinematic successes, Michelle formed her own production companies Kennston Productions and Michelle Austin Films with the help of her friend and business partner Dicky Johnson, the transgender male porn star. Michelle and Dicky also formed the first ever straight female-to-male (FTM) adult website "FTM.XXX". This pioneering website featured trans men in sex scenes with trans women as well as various solo action shoots. Under these successful labels, Michelle has continued to perform, produce, direct and edit a wide range of raunchy adult content including the critically acclaimed Trans Men Adventures DVD feature release series which has received numerous notable nominations at the 2015 AVN Awards, 2015 Transgender Erotica Awards and 2015 Feminist Porn Awards. In fact, the sequel in this series, Trans Men Adventures 2 : Men At Work, was reviewed by XCritic's film critic and blogger Apache Warrior who praised Dicky Johnson's appearance, stating that he has a "bright future" ahead of him. Apache Warrior also commented that;
"There is nice chemistry between Michelle and the guys… We also get pretty good attention to each performer's sexual regions. The sex is pretty hot especially the Michelle Austin-Chance Armstrong scene. That one deserves to be nominated for Best FTM Scene for next year's Transgender Erotica Awards (TEA Awards)".
Over the years Michelle also collaborated on Hotel Sex With Curvy TS Michelle Austin, My Transsexual Boss in 2014, as well as Michelle Austin Skips Her Workout And Gets Fucked Bareback, T-Boy Strokers and Workout My Tranny Ass in 2015. Throughout her adult film career Michelle has collaborated with some of the adult film industry's leading TS production companies and distributors including CX WOW Studios, pure-ts.com, clips4sale, Rodnievision, FTMFucker and Hot Wendy Productions amongst others. Many of these pornographic productions featured Michelle Austin alongside leading male porn star Christian XXX as well as her friend and business partner Dicky Johnson. These popular cinematic appearances earned Michelle multiple adult film awards nominations including;
2011: Tranny Awards nominee — "Best Non-Typical Model"
2011: BBW Fan Fest Awards winner — "BBW Plumper of the Year"
2012: Nightmoves Awards nominee — "Best Transsexual Release" — She Male Strokers 52
2012: Tranny Awards nominee — "Best Non-Typical Model"
2012: Tranny Awards nominee — "Best Internet Personality"
2012: Tranny Awards nominee — "Best DVD" — T-Girl Solos 2
2013: AVN Awards nominee — "Best Transsexual Release" — T-Girl Solos 2
2013: XBIZ Awards nominee — "Transsexual Release of the Year" — T-Girl Solos 2
2013: Tranny Awards winner — "Voluptuous Model"
2013: Tranny Awards nominee — "Best Solo Website"
2013: Tranny Awards nominee — "Best Internet Personality"
2015: AVN Awards nominee — "Best Transsexual Release" — Trans Men Adventures
2015: Transgender Erotica Awards nominee — "Best Hardcore Performer"
2015: Transgender Erotica Awards nominee — "Best DVD Director" — Trans Men Adventures
2015: Feminist Porn Awards nominee — "Best Transgender Release" — Trans Men Adventures 1 & 2
2016: AVN Awards nominee — "Favourite Transsexual Performer (Fan Award)"
2017: AVN Awards nominee "Trans Performer of the Year"
2017 Transgender Erotica Awards nominee "Best Scene Producer"
2017: Transgender Erotica Awards nominee "Best Transman Scene" Trans Men Adventures 3: Casting Couch sex scenes (with Johnny Deep)
2017: Transgender Erotica Awards nominee "Best Transman Scene" Michelle Austin: Trans Porn Star (with Eliza Allure and Eddie Wood)
2017: Transgender Erotica Awards nominee "Best Transman Scene" FTM Hunter: Michelle Austin & Eddie Wood (with Eddie Wood)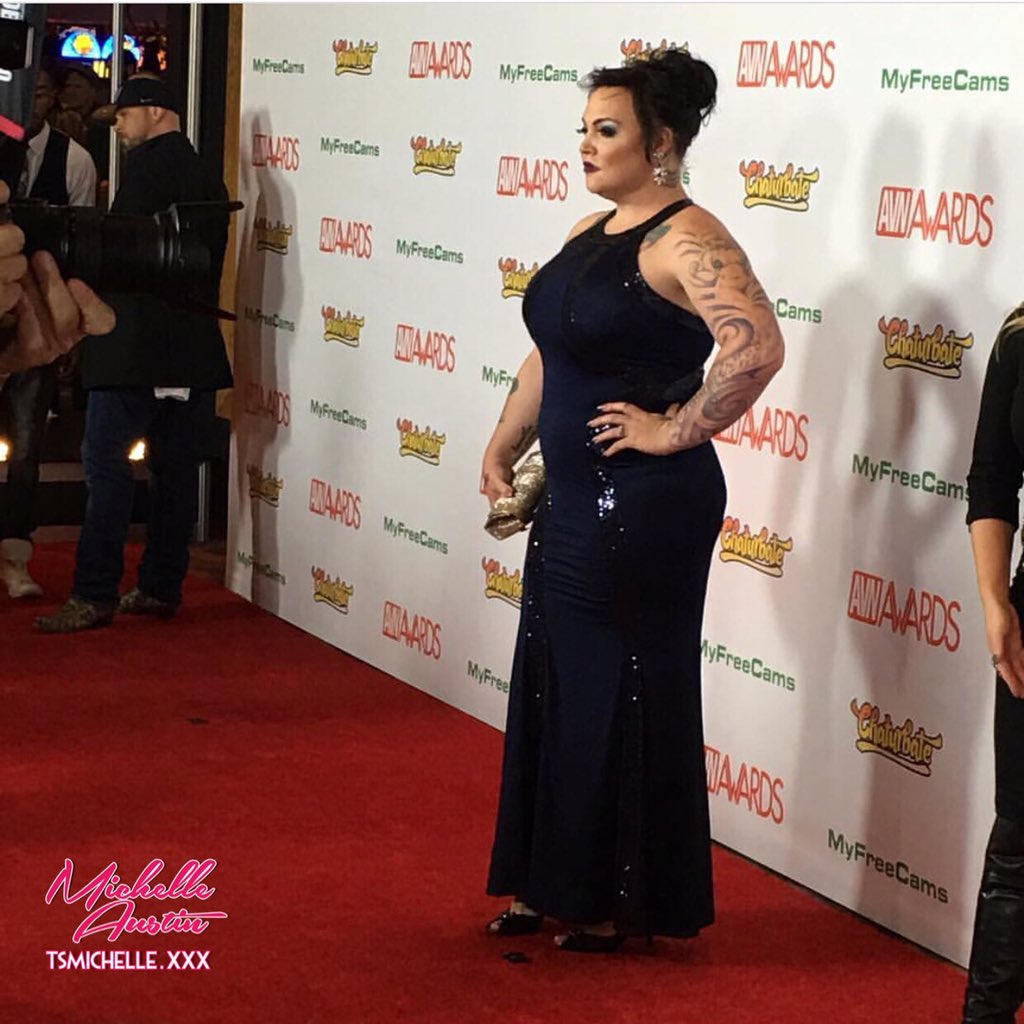 Recounting the circumstances surrounding her first ever Tranny Award win during her "Life Changes" article which she wrote as part of her personal column for Transformation magazine in August 2014, Michelle divulged how;
"Back in February, I finally earned my first Tranny Award after years of being nominated. The producers had opened a category for Voluptuous Models and this was a category I finally had a chance at winning. But I still went into it thinking I may not win; I didn't want to get my hopes up if I didn't win, though I had rehearsed things in my head of what to say and who to thank if I did…
That night started off amazing because I was again asked to be part of the show as a co-host and interviewer all of the winners backstage…As the minutes counted down into seconds, the time came for me to go onstage to welcome the guests to the 6th Annual Tranny Awards (which has been renamed to the Transgender Erotica Awards). I hosted the third year of the event and loved it, so it was great to be invited back to help co-host the show with the amazing Jujubee from RuPaul's Drag Race. Once the crowd was warmed up and excited I brought on Jujubee and then headed off stage to get into interview mode…
After intermission and some additional co-hosting on stage I went back to interview two winners before the Voluptuous Diva Award category, the category I was nominated in. Out of the three awards I was nominated for, I really wanted this one! Kristel from the Grooby staff came to pull me out of my secluded room to have me present in case they called my name. As I sat there on the side of stage with her, I was feeling a huge emotion come over me. If I win this award, what am I going to say? kept running through my head. I started to feel like I was going to cry. All the nominees were announced and in my head I still didn't think I was going to win, but all of a sudden they called "Michelle Austin" and I started crying. I was so emotional, and in a little bit of a shock; to me this was like winning an Oscar. I work very hard and produce almost all of my own content. Most of my career was accomplished by me, promoting myself and making myself a name; determined to keep pushing the boundaries for trans girls of all shapes and sizes…
When I get on stage I am shaking, I have no shoes on and all I see are my friends, sisters and brothers standing up and cheering me on. They know how much this means to me and for a moment I am overwhelmed by their applause. I try to compose myself the best I can and tell the audience that since I always heard "NO" from so many companies that I basically had to do it on my own. I dedicated my award to all the girls and guys out there who also heard the word "NO!" because you should never let "NO" stop you from following your dreams. I also said, "If they won't shoot you, I will!" Which I genuinely meant. I felt beyond honoured and wished to savour the accomplishment but there was work to do so I went right back into interview mode and kept my composure".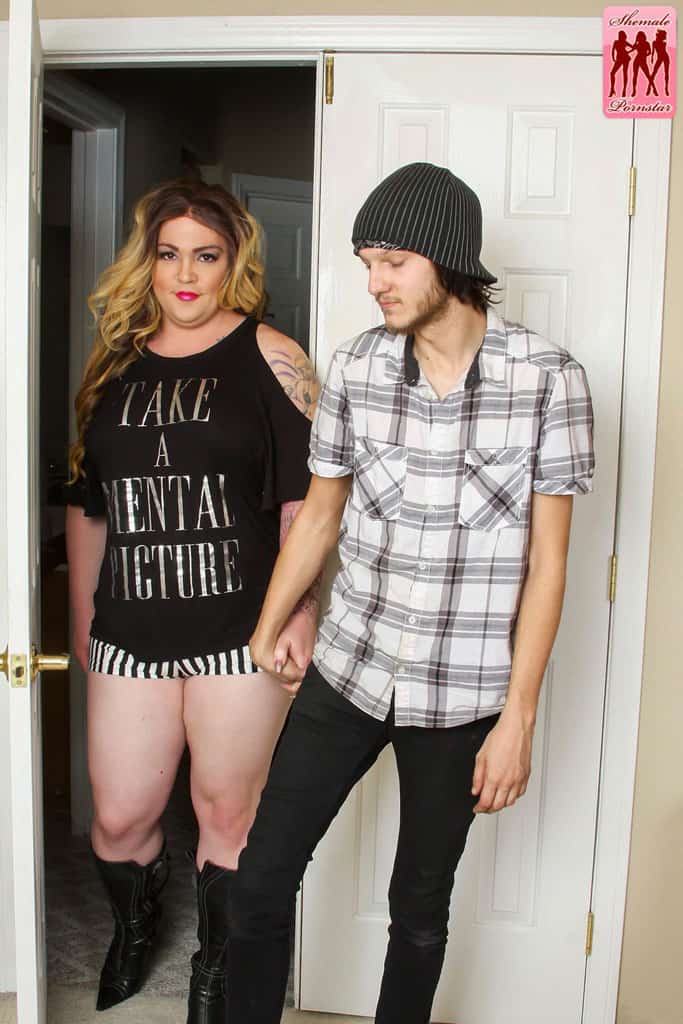 TS Michelle Austin at TGirl Pornstar
In addition to her adult film appearances Michelle has also participated in numerous documentaries, appeared on radio talk shows, such as Trans Talk, and even used to participate in transsexual beauty pageants! The Voluptuous Diva herself discussed during a 2014 interview how;
"I loved it but it's a lot of money and time that I really don't have right now in my life. I love being on stage and entertaining. As for pageants though most look down upon girls who have done porn. So, the only way I would get back into it, would be when I completely leave the industry".
Michelle has also hosted multiple segments for the Transgender Erotica Awards in addition to numerous transsexual parties including the famous "Tranny Strip" NYC nightclub event.
In 2015 Michelle and her business partner Dicky Johnson featured within the documentary Fifty Shades of A Tranny; an insightful project which offered a unique glimpse into the sex life of a transgender couple. As Michelle and Dicky commented during an AVN press release;
"'We came up with the idea to do a BDSM style porn, because Dicky is into that scene' Austin explained. 'I jokingly wanted to do a spoof of Fifty Shades of Gray. That was our idea going into this, then it turned into so much more when we decided to make it more personal and not a spoof. We still liked keeping the name, because in a sense it's still 'fifty shades of two transsexuals.' I wanted people to see how two trans people are more than a porn persona. We are excited to release this to the world!'
It's not the first of its kind in transsexual porn, but it's the first time a real life trans couple has appeared in a full length porn documentary, and it's like nothing seen before. The two make chemistry together and viewers will get to see true love brought to life on film. 
'Michelle really never been tied up, nor has she really been so submissive in a film' Johnson noted. 'I wanted people to see her in that role. It is so nice the audience gets to see me control her in two of the three scenes. I am very proud of this project and hope people will enjoy it as much as we enjoyed making it'".
Upon discussing her romantic relationships within previous interviews,  Michelle has enthused how;
"I think you need love to be happy. I have so much love in my life from the great friends I know, to my amazing family and my husband of six years. I am a blessed person to be so loved, and live the life I want. I know many trans people don't have that opportunity".
Michelle and Dicky were a couple for year after the passing of Michelle's husband and she has expressed in a heartfelt 2016 blog post how;
"Dicky is my best friend, someone that I love and care for and will always be there for him. We have since started to rebuild our friendship, as I am to a point that I am ready to move on with my life. He saved my life in a time that needed to be saved. He made me a better person, he let me see that I can love and be loved again. He also, showed me that I am beautiful and that some man out there will see the same. I learned that I really want to be with a trans guy and grow old with one and share a life with one. Throughout all this I realized that my future partner, has to understand my work and me. I don't want our relationship public, I want it private. I just want to be happy and find a guy who makes me laugh and smile. I am opening myself to the idea of finding that guy and in the meantime I am going to keep focusing on my health and fitness. I just feel that I need to close this chapter of my life, so that my future one can move on its only fair".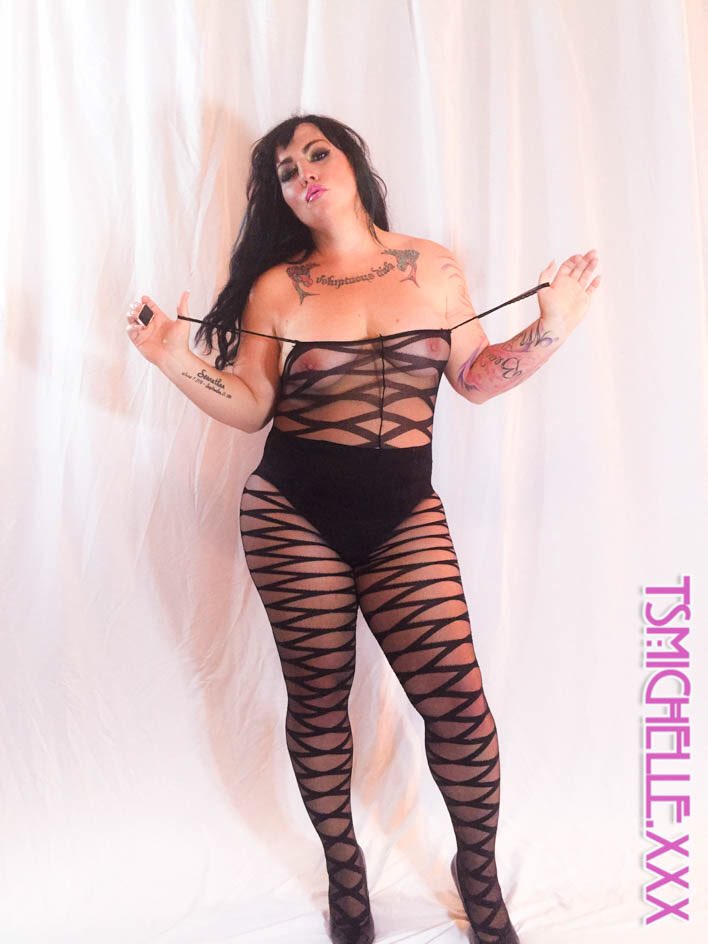 Michelle Austin : Transgender Role Model & BBW Spokesperson
Michelle has always been happy to discuss her personal experiences as a transsexual woman and has been eager to utilise her own gender identity journey as a means to advise and inspire fellow members of the transgender community. For instance, Michelle spoke openly about coming out and about her own transgender role models during a 2014 interview. Within this interview for the popular blog site The Heroines Michelle expressed how;
"I had two coming outs, so my second one was a little easier on things. But it was still rough. But when I decided to transition as a woman, I moved away from my family to do the change away from them. I didn't want them to have to go through the experience with me. By the time I told them I had already been living full time for three years. So coming out to them was a little easier, but they knew I was openly gay so being trans wasn't that much more of a stretch to shock them…
That's the beauty of the trans sisterhood that I cherish to this day. The minute I walked into this world and started to transition I had so many beautiful women take me under their wings. One of the greatest trans women to influence me was Erica Andrews, first trans woman I ever met…
I don't think beauty produces girl power, I believe strength does. I think you need strength and inner love to be empowered. And of course to live the life I live and do the things I do, I have to be empowered".
When asked during this 2014 interview about increasing media coverage of the  LGBT movement as well as her thoughts on the future of transgender acceptance within American society, Michelle stated;
"I think it sucks being a second class citizen in America. We are slowly being viewed in a positive light in some media but still most of the country has no clue what a transgendered person is. We have many more years before it becomes something of the norm… Oh, it is getting there, but here in America, the human rights focus is on gay marriage. I don't think we will see trans human rights for another decade or so. Which is sad".
As Transformation magazine highlighted within their TS Michelle Austin featured article;
"She wants to make the industry see that transsexuals of a bigger size are needed. People want to see them! She knows what it takes to make it a more accepting place and is trying so hard to prove to them that this niche within a niche needs to be exposed more. She wants more companies featuring BBW TS in DVD's and sites. She has heard "No" for so long she is ready to hear "Yes!" Fans are wanting it and there is a big need for it to be exposed more! She plans to change the perception within time!".
Despite her happiness with her own career choices, during her 2014 interview for the blog site The Heroines, Michelle advised aspiring transsexual performers not to pursue a porn star career if their sole motivation is making ends meet;
"I suggest any girl wanting to get into this business, don't do it for the money. I love what I do, but it helps push my other jobs. I work a lot at promoting my brand and doing tons of other things that help me live off of…First off, know who you are. Find yourself, and love yourself and be comfortable in your own skin. This industry will eat you up and spit you out. Also, don't do it for the money but do it for the love. Then, from there go for it!".
When asked during this interview about whether transgender adult films create a negative image of the transgender community as a whole, Michelle responded that;
"I don't think so! As for me, I work a lot with the queer porn world in last year and their porn is used in colleges as educational tools. I think that can be the same for trans porn as well. I also feel like I am a role model to many girls, I am showing them that you can be beautiful at any size, and love your body and who are. We all look at porn!".
Although Michelle has confessed that she is not politically active, she has taught several seminars at transgender conferences across the United States and has participated in transgender panel discussions at adult entertainment expos and LGBT conventions. Michelle also collaborated on Dave Naz's "Identity: In & Beyond the Binary" documentary which chronicled the personal experiences of various transsexual porn stars. You can learn all about this groundbreaking documentary by checking out the full story as outlined within our Eva Lin bio!

In recent years, Michelle has launched her own web series T-Talk 101 wherein she discusses transgender issues via her YouTube channel. Michelle has also announced her plans to write a 'tell-all' book which will recount her struggles growing up and her personal journey which led to her pursuing a career within the adult film industry. As Michelle has stated via her personal website, she;
"plans to keep paving the way for other trans people not only through the adult industry but in the world alone".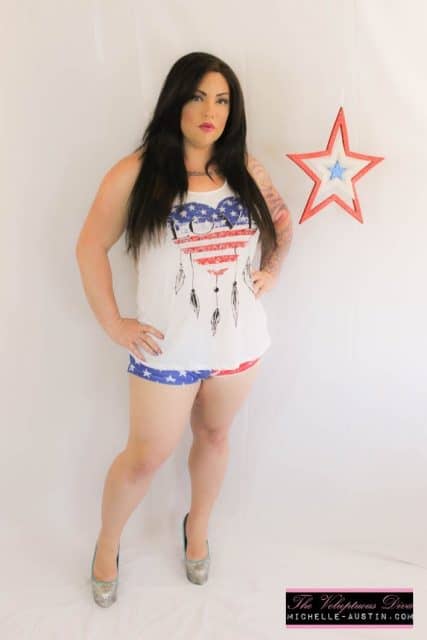 Michelle Austin at Grooby Girls
Michelle Austin : Weight Loss Journey
Despite her seductive charm and confidence on screen, Michelle has revealed via her personal blog site that she has always struggled with her weight and self esteem issues. Even though she has amassed a loyal fan base who love her for her curvy body and amicable personality, Michelle decided to lose weight for health reasons. As such, over the years Michelle has begun to adopt a healthier lifestyle by eating a balanced diet and exercising regularly. This life-long struggle with her weight and self-esteem has been catalogued by Michelle via a series of social media updates and candid blog posts. During one blog post titled "The Weight Change Issue", Michelle wrote about how;
"I have been on a weight loss journey for the past few years. I have been posting pictures throughout my journey on social media. Lately though I have been getting hate mail from fans. They are upset because I have lost weight. So here I am going to address it for good…
I didn't lose weight because someone told me to. I am losing weight for my own health and my own desire. I never wanted to be fat, and for some reason I became one. I am not trying to make my fans hate me, because even though I have lost the weight I am still the same person. I am not doing this for anyone but me….
With that being said, many people have been telling me how much of an inspiration I have been to them in this journey. That means a lot to me, because if people see me doing it, they can too. It takes time, you can't take a magic pill but it takes hard work. Thank you for the kind words and I hope to continue to inspire you!".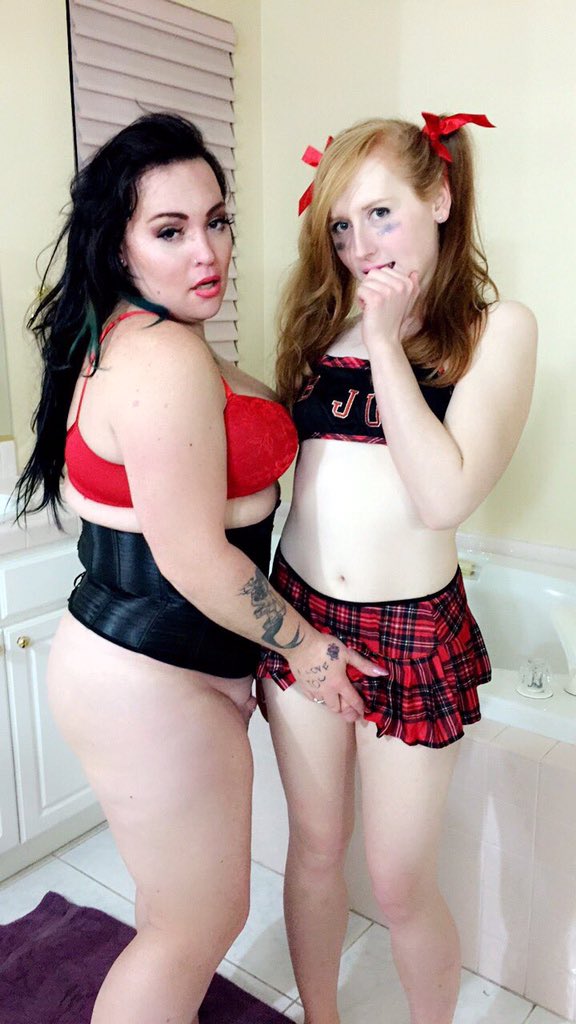 Michelle's most recent article regarding her weight loss journey was uploaded to her personal website in May 2016. Titled "Don't Call Me BBW", Michelle expressed within this article that;
"Let me start by saying that I am not shaming BBW or attacking that community. I was once a big part of that community, and I embraced that label. This is my view on view on body image in the trans and adult industry…
I was almost 300 lbs before I decided to change my life. If you looked at me you probably didn't know I weighed that much. At one point, I couldn't walk from the bus stop to the grocery store without losing my breath. Walking up three flights of stairs to my apartment without having to stop and take a break. That was when I knew I had to make a change on my life; that was three years ago when I started to change. I fell on and off that wagon, I wanted to be skinny so bad and I did everything to get there with tons of fails. When I stopped envisioning myself skinny and envisioned myself as healthy did my brain start to change…
After getting into the adult industry I was called fat. Before that I never thought I was fat. I just thought I was an average girl. The industry fucked my head up on the view of my body and body image in general. I could of taken it many different ways, could of starved myself and got an eating disorder but I went the other route. I did watch girls take pills, starve themselves, etc. months before shoots in LA. That was not going to be me! I thought since they call me fat, and fans like me fat I will eat and do whatever and be more fat. Which, I did that to the point of bad health. When I realized my health was bad I had to change. After three years, I finally got to a point where I did it, and did it the healthy and safe way…
I had been a role model to so many people for changing things about body image in the industry. The industry is still a hot mess on body image but I feel like I put a positive light on body image for trans people. I didn't get into business to be that role model, it just happened. Now, that I am a role model again by documenting my weight loss journey…
The other day when a fan posted my photo on his Instagram with the hashtags: #BBW #Chubby #Fat I got upset. Why did I get so upset? I have worked really hard to get athletic and in good health. Then to have a fan post that I am #BBW was a shock to me gut. I know the adult industry will and still consider me fat, because no matter how much I lose, I will have curves and be voluptuous. So, by industry standards I am fat but I don't want to be put into that box. I have many BBW friends and I love them dearly and understand them (as I was once there), but if you stand me next to them I am not like them body wise. They will tell you that too! I know labels need to be there for porn, I get that. My life and my look isn't that and I don't want to be labelled that outside of my work. Call me Voluptuous all you want, for pete's sake I am the Voluptuous Diva after all!…
Let's start looking at body image in a different way, let's just look at people for people not how skinny or fat they are. Or what number is on the scale or a tag in your clothes".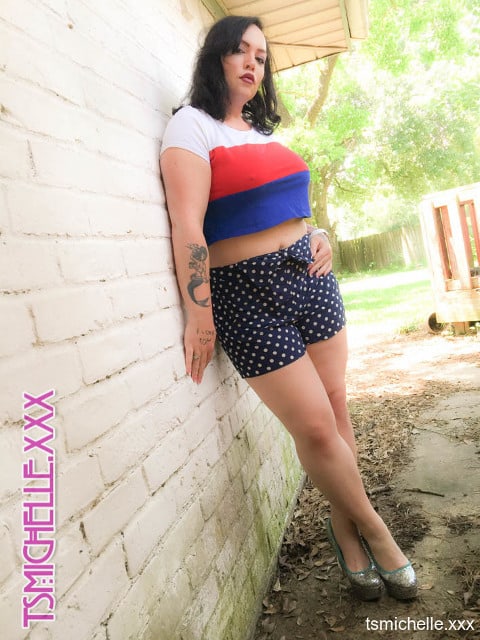 Michelle Austin : Personal Life & Upcoming Projects
Michelle continues to post frequent updates about her life, her latest porn star projects and her upcoming public appearances via her column "A T-Girl's Life" which she writes for Transformation magazine. This advice and lifestyle column has enabled Michelle to discuss the daily trials and tribulations of living as a trans woman and has enabled her to use her own life experiences to advise and inspire others.
Although Michelle has taken a  step back from performing in porn in recent years, she remains just as active as ever behind the camera! Working as a producer and video editor for her new site, AlternaTRANS.com, Michelle has filmed a wide range of content featuring transsexual men and women. As Michelle herself has stated in previous interviews, her long term aspiration for AlternaTRANS.com is that it evolves into a "hot spot for all trans porn needs". During her August 2014 column titled "Life Changes", Michelle ardently expressed how;
"For the last three years I have been struggling to make a name for myself in the porn world. One of the things that was so hard for me was that I was considered a BBW, which hinders you right off the bat in the adult industry. The struggle to hear someone say "yes" was far more difficult than I had ever imagined. I just wanted to be recognized and to show people that Tgirls of all sizes are beautiful…
Life changes all the time and you have to roll with the punches…I dreamed for so long to be recognized by an industry that I love. I work hard at what I do and winning this award made me feel validated and loved by all my peers. So many changes occur in life and we either go with them or we never succeed. I feel like I have truly succeeded, going on my fourth year in the business…
I mentioned in my last article that I have lost weight and to the date of this article have lost 50lbs. After winning my award and showing people the new me, a few doors opened for me; I shot for a site who said no in past, and girls have been emailing me left and right asking to shoot for me. Which is such a cool thing because later this year I am launching a new site dedicated to trans men and women, along with a whole DVD of me in action with trans men which is set to debut this summer on DVD and VOD. I am blessed to have worked so hard for my career and to be part of an amazing community of supporters. I had a dream and I never let other people bring my dreams down. I made them a reality and you can too!".
Currently living in Las Vegas, Nevada, Michelle continues to work as an adult film performer, producer, director and video editor. Most recently, Michelle was nominated for several prestigious adult entertainment accolades at the 2017 Transgender Erotica Awards including "Best Scene Producer" and three "Best Transman Scene" nominations due to her saucy Trans Men Adventures 3: Casting Couch sex scenes with Johnny Deep, her Michelle Austin: Trans Porn Star group sex scenes with Eliza Allure and Eddie Wood as well as her raunchy FTM Hunter: Michelle Austin & Eddie Wood sex scenes that were distributed via her official solo website.
This BBW business mogul shows no signs of retiring; in fact she seems to just be getting started! Why not check out the links provided below to learn more about the latest releases, upcoming live chat sessions and public appearances that will feature the Voluptuous Diva herself? Everything you need to know about this breathtaking BBW TS Porn Star can be found in the links provided below;
Social Networks
Official Website : TSMichelle.xxx
Twitter : @tsmichelleaustin
Grooby Girls : Michelle Austin at Grooby Girls
SMC Network : Michelle Austin at SMC Network
TGirl Pornstar : Michelle Austin at TGirl Pornstar
Email : tsmichelleaustin@yahoo.com
Facebook : tgirlmichelleaustin
Tumblr : tsmichelleaustin.tumblr.com