Danni Daniels
Danni Daniels' Website : DanniXXX.com   Twitter : @DanniDaniels   Chaturbate : dannidaniels   Kink : Danni's BDSM Content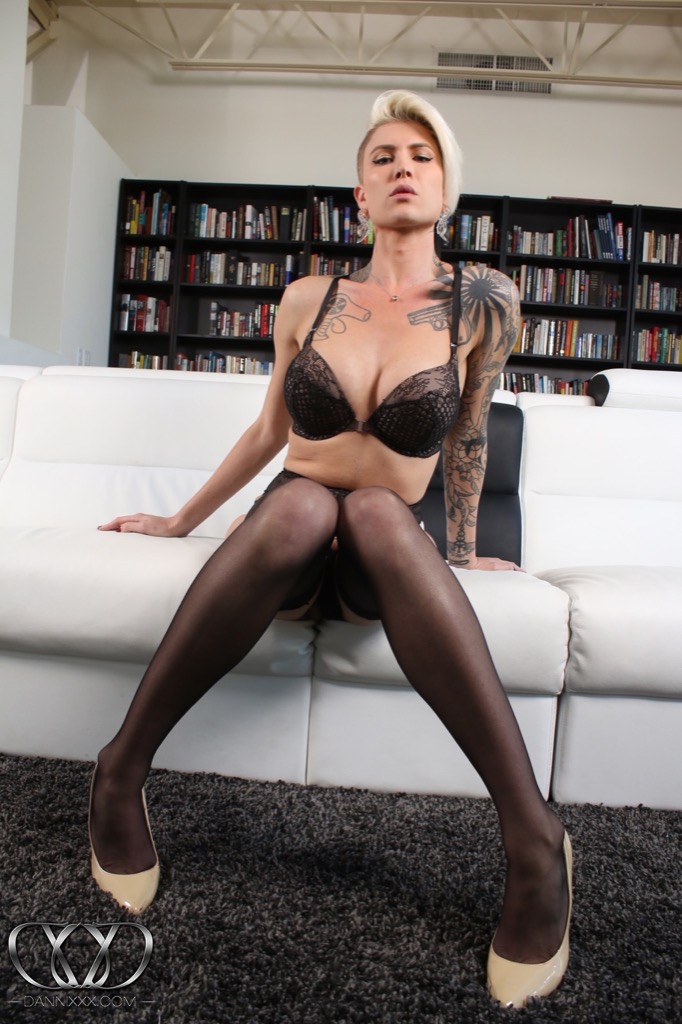 Click here to see more of Danni Daniels' hottest sex scenes at DanniXXX.com
Danni Daniels – Personal Info
Name : Danni Daniels
Date of Birth: February 25th
Star Sign : Pisces
Hometown : New York City, New York (US)
Bra/ Cup Size : 36D
Height : 5'11 (1.80m)
Hair Colour : Blonde / Black
Eye Colour : Blue
Tattoos : Blow-dryer on the right side of her upper chest and a handgun on the left side of her upper chest, upper and lower left arm sleeve that incorporates animal and bee designs, a New York City building, floral artwork, three crosses and various hexagon designs, large designs across the back of her neck, upper back, shoulder blades and lower back, a star design on her upper left shoulder and a floral design across her lower abdomen
Years Active : 2010 – present
Number of Scenes : 10+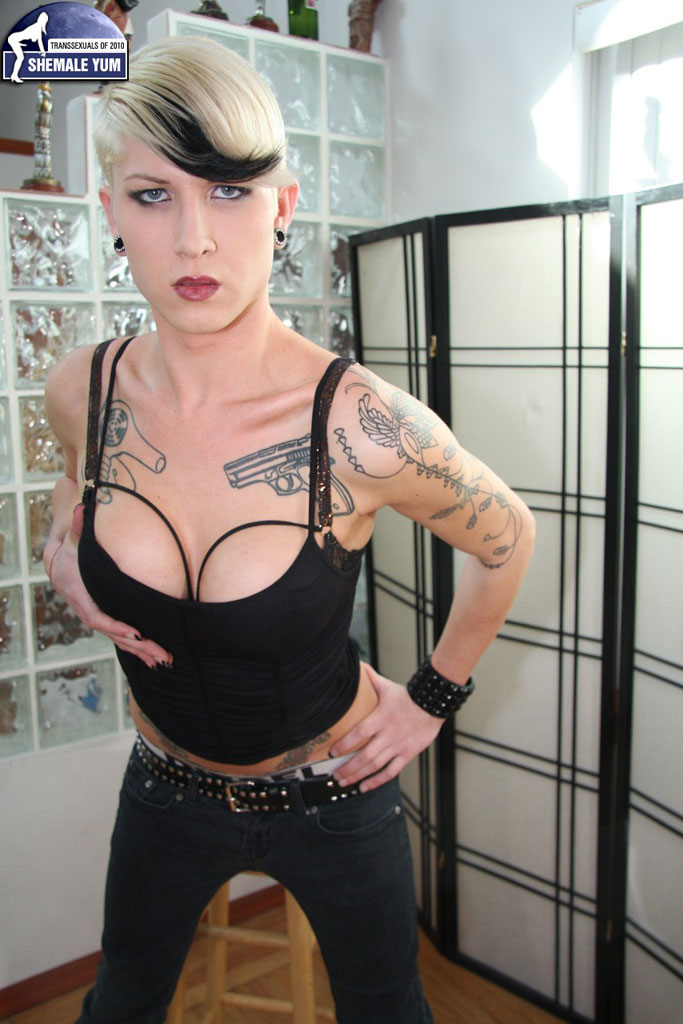 Click here to see more of Danni Daniels' hottest sex scenes at Grooby Girls
Born and raised in New York City, Danni Daniels's statuesque figure and stunning natural beauty drew the attention of modelling scouts and since she was 16 years old Danni Daniels has modelled for several leading fashion editorials including Vogue. However, Danni Daniels divulged during her October 2015 VICE interview that she began to lose work when she started her transition process and began acquiring tattoos. Danni Daniels revealed how;
"When I was 16 or 17, I started doing modelling, editorial stuff. I was in Vogue and a lot of big fashion magazines, but then I started getting tattooed and transitioning and both those things were conflicting with my modelling agency. I was gaining weight and my agency was saying, "You're getting fat, you're getting too alternative, we can't book you for this." When you're on transitional hormones, you're on enough hormones for a pregnant woman with twins. Because of that, I was starving all the time and pissed off. For someone to tell me to stop eating so much, it was like, "If you get between me and my food, I will kill you." So I left".
Danni Daniels has undergone minimal cosmetic surgical procedures throughout her transition process and stressed within her May 2011 Show Studio interview that she is opposed to the intense 'facial feminisation' procedures that many transsexual performers feel that they have to undergo. As Danni Daniels has explained in her own words;
"Mainly hormones, and then I got implants. I've had my nose done and my Adam's Apple shaved. But I haven't had any injections or anything to pump my face. I do have a bit of a stance against it actually…Pour into a mould, let it harden for a couple of weeks then you pull it out and you're a different person. It's scary to me. It's scary to me that a lot of transsexuals have these role models that they feel they have to emulate, and so many of them are so over the top. Its blatantly obvious to me – but not to the young generations of transsexuals – that misery needs company. The topic of conversation goes to plastic surgery immediately, or goes to escorting. You know 90 percent – in fact, I would say 99 percent of transsexuals – working in the pornographic industry also work professionally either as an escort or a dominatrix. That's how they make their money. The pornographic industry can only pay so much and you really have to be on it with affiliates and things to break even…
there's never a point in time where I feel that I'm too masculine or feel that I'm too feminine. The only times that I do feel uncomfortable is when people try to portray me as something, as a single gender. That tends to make me uncomfortable. If I'm in a gown I feel like I'm a total drag queen, it doesn't feel appropriate at all. But on the other side of the spectrum I feel so much more comfortable in a hoodie and jeans and a tank top".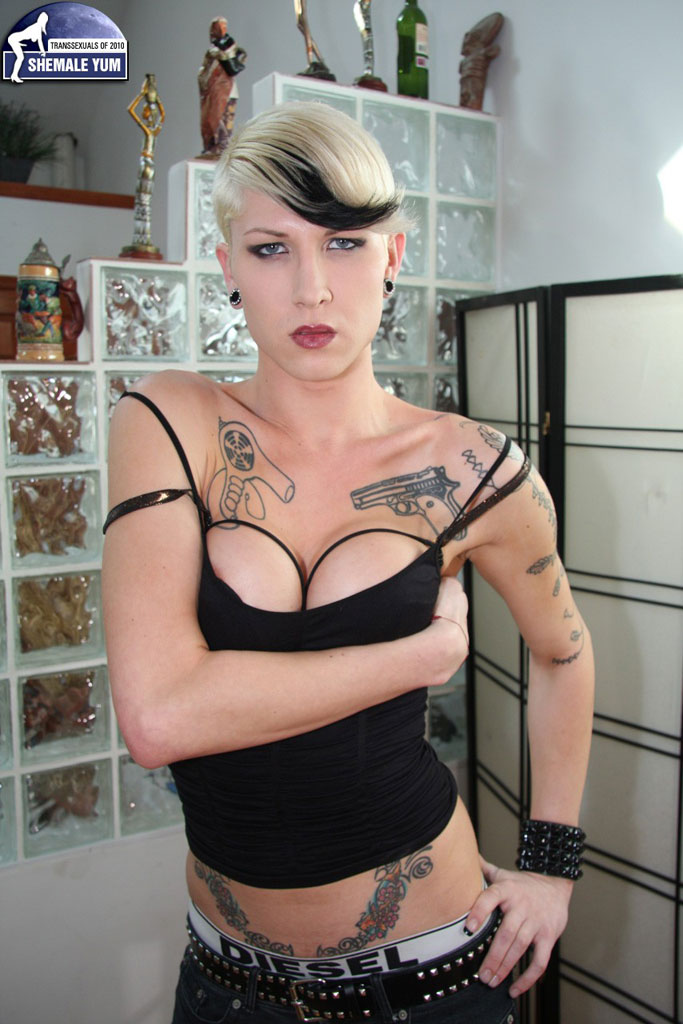 Click here to see more of Danni Daniels' hottest sex scenes at Grooby Girls
In fact, throughout her adult film career, Danni Daniels has striven to remain true to herself and has refrained from conforming to social stereotypes of sexuality and gender identity. As Danni Daniels advocated within this May 2011 Show Studio interview;
"I'm a bit offended by transsexuals who will stop you mid sentence and say something like 'No he. Identified by "he".' I get referred to as female, and I get to referred to as male, all the time. Actually my favourite sentence is when someone starts by saying 'he,' then refers to me as 'she,' and at the end refers to me as 'he' again. And they don't realise it. I love that…
I don't want to confuse people and I don't want to make people feel uncomfortable. I have, pretty much straight down the middle, attraction to females and to males. That's really exciting to me, the fact that I'm appealing to both sexes. Even a really hetero-straight male will never be edgy around me – but also because I have that very relaxed attitude about who I am. A lot of transsexuals have this rod up their ass, the way they hold themselves, the way they alter their voice. That's another big thing is that I refuse to alter: my voice. Lots of transsexuals raise their voice really high and really breathy and sound like a twelve year old girl. I think that's creepy: they take the physical up and beyond, and then alter every other element…It irritates me just as bad – if not worse – when a heterosexual male uses a voice way below their regular octave. Really? That must hurt by the end of the night! Its social stereotypes that hurt me: right now, I want to keep all social stereotypes as far away as possible".
After she quit her modelling career, but before she began working within the adult entertainment industry, Danni Daniels worked behind-the-scenes at a Broadway theatre. Danni Daniels candidly stated within her October 2015 VICE interview that this was a difficult time in her life as she would frequently suffer from panic attacks. Following the tragic passing of her mentor, Danni Daniels decided to face her fear of flying and travel the country. This pivotal moment in Danni Daniels's life sparked the beginning of a six year journey during which time Danni Daniels began performing in pornographic productions;
"I started working behind the scenes in theatre. When the Broadway show I was working on was about to end its run, I started having panic attacks. My mentor also had a panic disorder, and she really helped me learn how to deal with anxiety. But then, right when the show closed, she went through my purse without my knowledge, stole my Xanax, and downed the whole bottle of it and killed herself. So the person who helped me find my place was now gone…I had offers to go into the adult industry before that, but at that point, I just wanted to do something that would be liberating and get me out of New York. Also, I had a real fear of flying and travelling. When I feel that way, I always want to just do the thing that scares me. It ended up turning into a six-year, glorified, homeless adventure".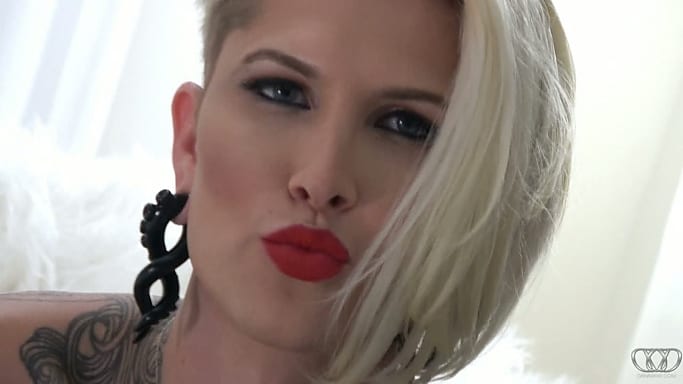 Click here to see more of Danni Daniels' hottest sex scenes at DanniXXX.com
Danni Daniels : Adult Film Career
In March 2010 Danni Daniels made her adult film modelling debut via the Grooby Network porn site Grooby Girls when she filmed a saucy solo scene titled Danni Daniels Shows Off in collaboration with adult film cinematographer Tony Vee. Danni Daniels swiftly followed her Grooby Girls adult film modelling debut with some saucy July 2010 Sexy Danni Daniels solo scenes that were filmed once again by Tony Vee. Danni Daniels has also worked with photographer Trigger on a pair of saucy Grooby Girls solo scenes titled Danni Daniels Being Artistic that was released in August 2010 and Fashionista Danni Daniels that was unveiled in November 2010. Danni Daniels' most recent Grooby Girls shoot has been her Danni Daniels Smoking Cigar fetish content that was filmed by Jack Flash in March 2011.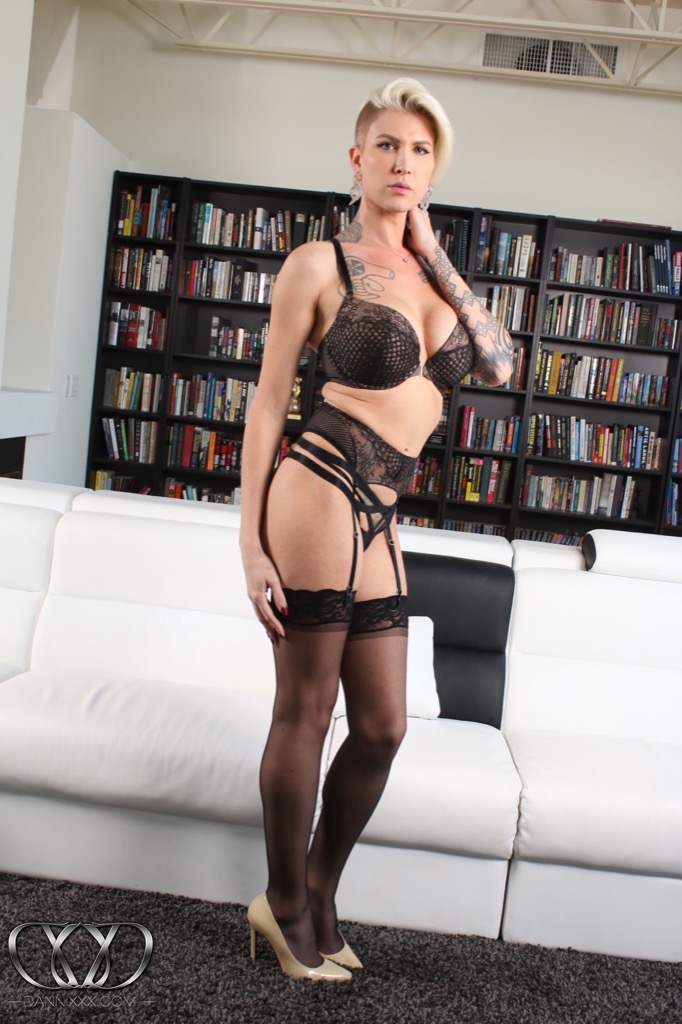 Click here to see more of Danni Daniels' hottest sex scenes at DanniXXX.com
A multi-talented TS porn star and fetish performer, in February 2011 Danni Daniels filmed her first ever sex scenes for the fetish porn network Kink.com. This thrilling three-way with Chloe Camilla and Patrick Rouge was titled TS Danni Daniels Fucks A Straight Couple In: The Red Light Restricted and it was distributed via Kink.com's TS Seduction femdom web series. Danni Daniels has continued to shoot a wide range of thrilling TS Seduction sex scenes for Kink.com throughout her porn star career including The Wrong Woman Transsexual Take Down with Lance Navarro and Jesse Carl in March 2011, Primary Evolution: The Quest For Human with Gia DeMarco and John Magnum in May 2011, Primary Evolution 2.0: Sci-Fi Feature Update with Gia DeMarco and Noah Brooks in November 2011 and Cabaret: TS Danni Daniels Owns Christian with Christian XXX in January 2012. Danni Daniels also filmed Dinner And A Lay: Danni Daniels Cums On Alex Adams in September 2013 which received a glowing review from TS Newsreel column writer HouseKeeper in October 2013 who highlighted how;
"Danni shows off her softer side in a romantic dinner date with her new boyfriend, the two have not been intimate yet so Danni is anxious to see what her handsome man has under his shorts. What ensues is one of the most intense and erotic sex scenes she has ever filmed in the venerable Kink Castle. If you're a fan of Danni Daniels you now this truly exotic fetish queen gives her all in her scenes, in this latest episode of Danni's exploits it seems they just let the camera's roll and told Danni to go at it naturally. This is pure raw sex action at its best, the two performers are so into it, they are completely oblivious to the fact that there are camera's in the room… This is a must see and a must own for fans of Danni, and especially for those who just appreciated good hard fucking and sucking. You can download the scene from the members area of TS-Seduction, or simply buy individual clip from the VOD Store. You'll be glad you did…".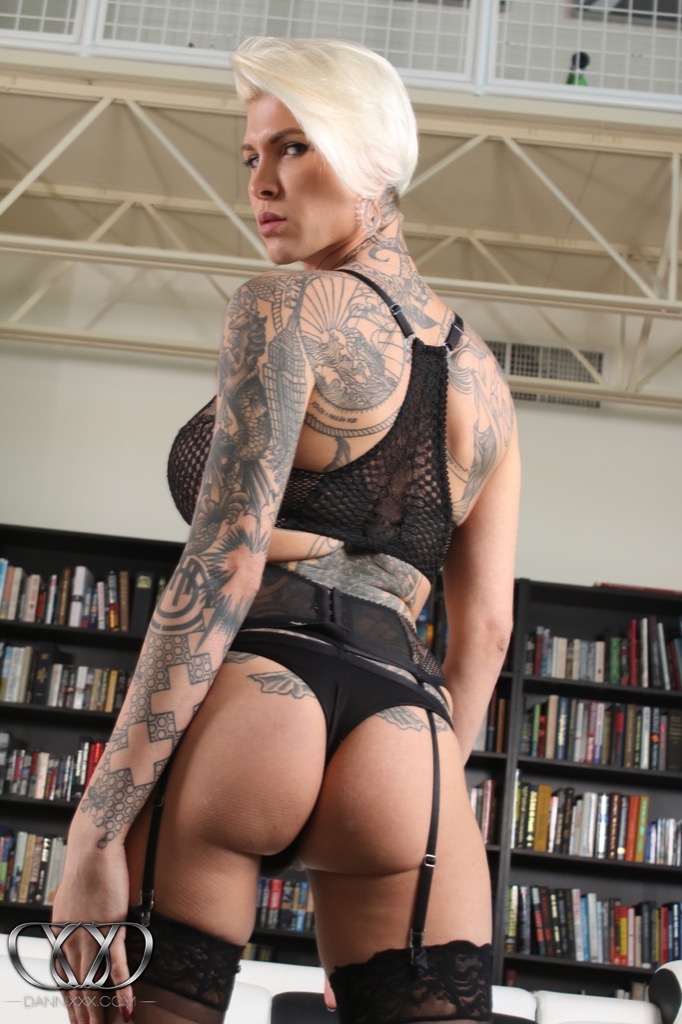 Click here to see more of Danni Daniels' hottest sex scenes at DanniXXX.com
Danni Daniels revealed during her October 2015 VICE interview that working within the adult entertainment industry has significantly improved her self-confidence and enabled her to discover her sexuality on her own terms. As Danni Daniels puts it in her own words;
"I used porn as a way to discover my sexuality and where I fell on the spectrum. I've always been a sexual person, but the adult film industry really helped me clarify what I wanted in life. I exposed myself to as much as possible—all genders, all sexualities, any time something new came up, that was exciting for me. But I now know that I'm a straight, trans woman. I need dick in my life…
But when you go outside your sexuality in the adult film industry, you need to train your body to work as a tool. I would say porn helped me centre myself and work through other issues that weren't even related, just because I was able to apply such a level of control to my mind and body. And being in a professional setting where I was able to be with people who had the same mindset of this being work allowed me to have a nonjudgmental space for my sexuality. But my sexuality is far different from the sexuality I portray on camera, almost a stark contrast to what is seen on film. My sexuality is a very private and very intimate thing for me. I tell people what you see on camera is an act—enjoy it, but it isn't me. It would be like walking up to Robert Downey, Jr. and saying, "Oh my God, you're Iron Man." It's like, no".
Consequently, Danni Daniels has proceeded to film numerous kinky femdom, BDSM and fetish lifestyle sex scenes for Kink.com's TS Pussy Hunters and The Upper Floor web series. Fans of Danni Daniels will not want to miss out on viewing her epic Valentine's Day sex slave orgy with Jessie Cox, Kait Snow, Iona Grace, Cheyenne Jewel, Sparky Sin Claire and Chloe Camilla that was first distributed via Kink.com's The Upper Floor web series in March 2011, her thrilling femdom bondage sex scenes with male porn star Jesse Carl that were released via Kink.com in May 2011, as well as her April 2013 TS Pussy Hunters angels and demons themed sex scenes with Chloe Camilla titled Bonus Party Update For Tax Day: TS Danni Daniels & Chloe Camilla and her amazing August 2013 TS Pussy Hunters sex scenes with fetish porn superstar Daisy Ducati titled Her Biggest Fan: Stalking, Bathroom Fucking, Glory Holes and Cum Shots.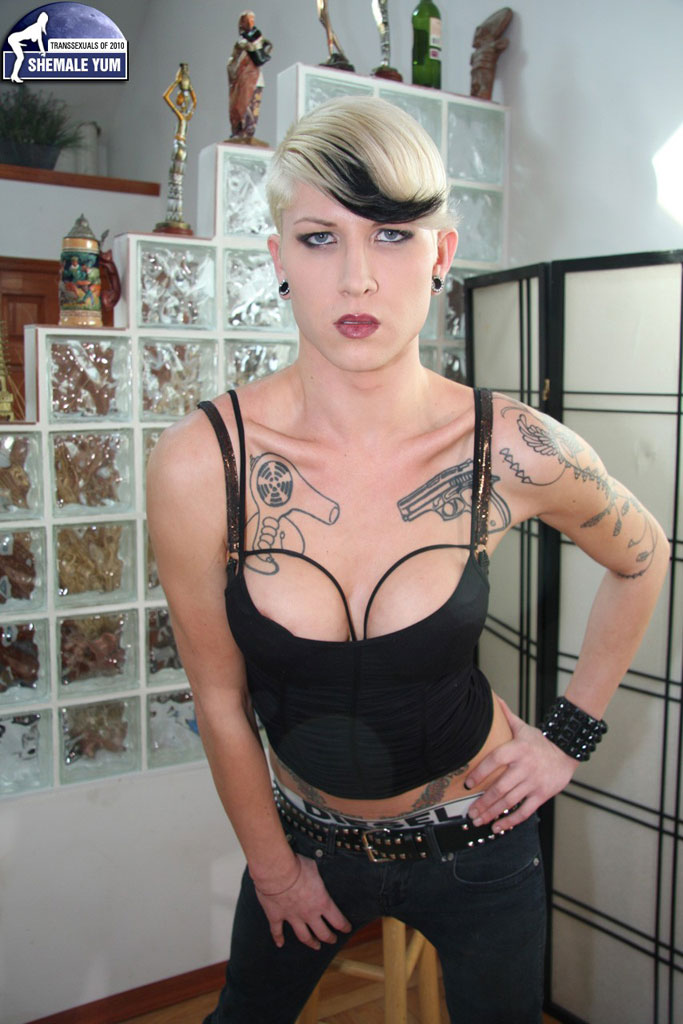 Click here to see more of Danni Daniels' hottest sex scenes at Grooby Girls
Danni Daniels has established herself as a dominant fetish performer; a reputation which has enabled her to command a formidable femdom status within the fetish lifestyle market and the mainstream porn industry. Upon being asked about her femme fatale persona within her October 2015 VICE interview, Danni Daniels conveyed how;
"Walking into the porn industry with a nine-inch dick was gold. It gave me confidence and made it so that I didn't have to work really hard. I just had to show up, get naked, and I was praised for it. I had tits and a dick and was tattooed and alternative, and I could come over and over again on camera. So I was a niche within a niche within a niche, and it allowed me to be more creative and more picky and selective with what I did and who I worked with…
If you are a submissive genetic woman or submissive trans, you get treated like shit. You get treated like an object. I can't tell you how many people offered me tons of money to be passive… that would be the end of my career. Because then I would be treated differently. That's when I would be getting the calls where they would say they could only pay me half of what I requested. When you are seen as a submissive on camera, the production company treats you as a submissive in life. They start thinking, You are just a hole, and you're going to take whatever we give you".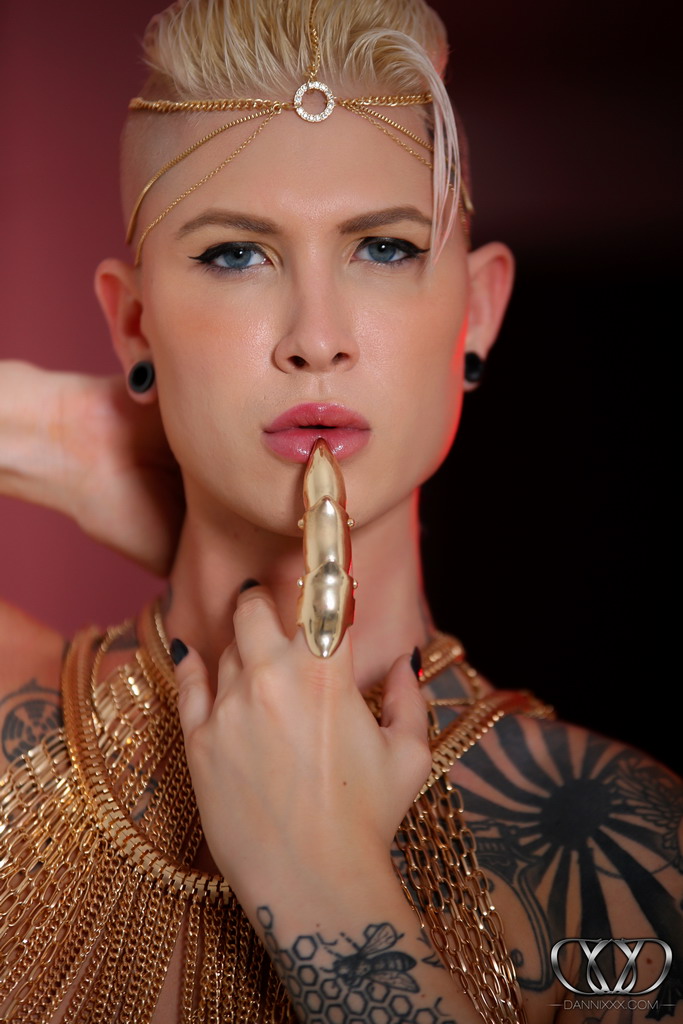 Click here to see more of Danni Daniels' hottest sex scenes at DanniXXX.com
In addition to her Kink.com fetish lifestyle web content, Danni Daniels has also starred in a fantastic three-way sex scene with Ariel Everitts and Gabriel D'Alessandro for the SX Video DVD title Transsexual Bareback (2011) for which Danni Daniels posed as the DVD cover model, she has filmed some hardcore sex scenes with Joe Gunner for the Cazoo Studios DVD title Krass (2012) and she was featured within Sammi Mancini's fan-favorite Rodnievision/ Mancini Productions TS DVD series SM Strokers 57 (2013) alongside sexy TS pornstars Jordan Jay, Sadie Hawkins, Tiffany Starr, Sunshyne Monroe and Addy Rose. SM Strokers 57 was a smash-hit among fans and film critics that was nominated for "Best DVD" at the 2013 Tranny Awards and resulted in Danni Daniels shooting another stunning solo photo set with Sammi Mancini for his popular porn site in September 2014.
In recent years Danni Daniels has performed in Top Trannies Take Control for CX Wow Studios alongside hot TS pornstars Jessica Fox, Sofia Sanders and Katie Fox. Danni Daniels posed as the DVD cover model for Top Trannies Take Control and has since filmed some steamy hardcore sex scenes with Christian XXX in April 2016 for his trans-friendly porn site Pure-TS.com that were titled Top Superstar Danni Daniels Fucks Christian Bareback.

Out of all of her best-selling DVD titles, Danni Daniels is best known for her award-nominated sex scenes with Eva Lin that she filmed for Jay Sin's epic TS Playground DVD series. Directed by Jay Sin for Evil Angel, TS Playground 1 (2012) showcased Danni Daniels alongside Eva Lin, Adrianna Nicole, Kimber James, Natassia Dreams, Foxxy, Kitty Kaiti, Mandy Mitchell, Morgan Bailey, Tameka Milks and Cherry Torn. TS Playground 1 was a critical and commercial success for which Danni Daniels' sizzling sex scenes with Eva Lin earned her a "Best Scene" nomination at the 2012 Tranny Awards and a nomination for "Best Transsexual Sex Scene" at the 2013 AVN Awards. In fact, Danni Daniels has received multiple adult film award nominations throughout her career including;

2011: Tranny Awards nominee "Best Non-Typical Model"
2012: Tranny Awards nominee "Best Non-Typical Model"
2012: Tranny Awards nominee "Best Scene" TS Playground 1 (with Eva Lin)

2013: AVN Awards nominee "Best Transsexual Sex Scene" TS Playground 1 (with Eva Lin)

2013: AVN Awards nominee "Transsexual Performer of the Year"
2013: XBIZ Award nominee "Transsexual Performer of the Year"
2013: Tranny Awards nominee "Best Alternative Model"
2013: Tranny Awards nominee "Best Hardcore Performer"
Spurred on by the success of TS Playground 1, Danni Daniels proceeded to star in TS Playground 2 (2012) with Ariadny Oliver, Mandy Mitchell, Sabrina Suzuki, Morgan Bailey and Michelly Cinturinha, TS Playground 5 (2013) also starring Sarina Valentina, Mandy Mitchell, Jenna Rachels, Gabriella Lira, Gladys Adriane, Tori Lux and Valentina Bittencourt and TS Playground 12 (2014) alongside Eva Lin, Gaby, Julie Berdu, Katja Kassin, Kim Bella, Patricia Texeira and Izabelly Marquesine that was nominated for "Best Transsexual Release" at the 2015 AVN Awards and "Transsexual Release of the Year" at the 2015 XBIZ Awards. TS Playground 12 was highly recommended by XCritic column writer Apache Warrior who praised Danni Daniels' kinky femdom sex scenes with Dustin Reeves and highlighted within his August 2014 film review how;
" I have to say that this role play scene is definitely creative. Dominant blonde tranny Danni Daniels is in charge of her guy toy Dustin Reeves. He is wearing yellow glasses, an antenna type head item, and a cape that looks like wings so that he can be in a role of a bee. Even though the woman has tattoos on her body, it's her sexy legs that provide the most appeal…This film is filled with beautiful women and hot sex. Eva Lin and Katja Kassin along with Gaby B. and Christian XXX have the standout performances. However, the most lingering ones go to the Danni Daniels honey anal scene as well as pretty newcomer Julie Berdu's performance. The three solo scenes by gorgeous Kim Bella, Patricia Texeira, and cute Izabelly Marquesine have much strokable value. I highly recommend this eye candy filled Jay Sin directed film".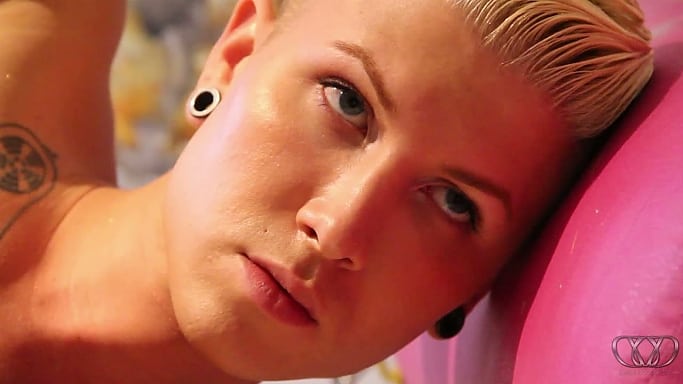 Click here to see more of Danni Daniels' hottest sex scenes at DanniXXX.com
Danni Daniels : Performance Artist, Official Website & Advocacy Work
Danni Daniels is a highly accomplished performance artist who enjoys creating thought-provoking art pornography projects. Upon benign asked about the concept of 'art pornography' and its contrast with high fashion and mainstream porn within her May 2011Show Studio interview, Danni Daniels explained how;
"We're now bringing the two together, there are two companies that have started to create art pornography. Actually in two days a pornographic film I made in San Francisco is being released called Alien Abduction – it's done in green screen, floating-in-space sex! It was really hard to pull off: hanging upside down and trying to penetrate someone, it isn't the easiest…I'm excited for it to come out it was done really well and I'm just really excited to see a lot of the special effects and things that they have used for it…
I want to say that there has been a fight or a struggle to make things unique, but it seems like everything just unfolds. I never stand down, I never back down from who I am. I don't gender identify at all, and I'm never offended by anyone calling me any name in the book: she-male, tranny, sir, ma'am. It never has been an issue of me trying to adapt. It's always been 'Danni is Danni, Danni does what Danni does'. Just stand back and let it happen…It's so interesting because, when I began, I had heard the horror stories. Luckily, I knew my family was okay with anything that I wanted to do in my life. And I've never changed dramatically. I've had very little plastic surgery.  I've only had the breasts done, slightly".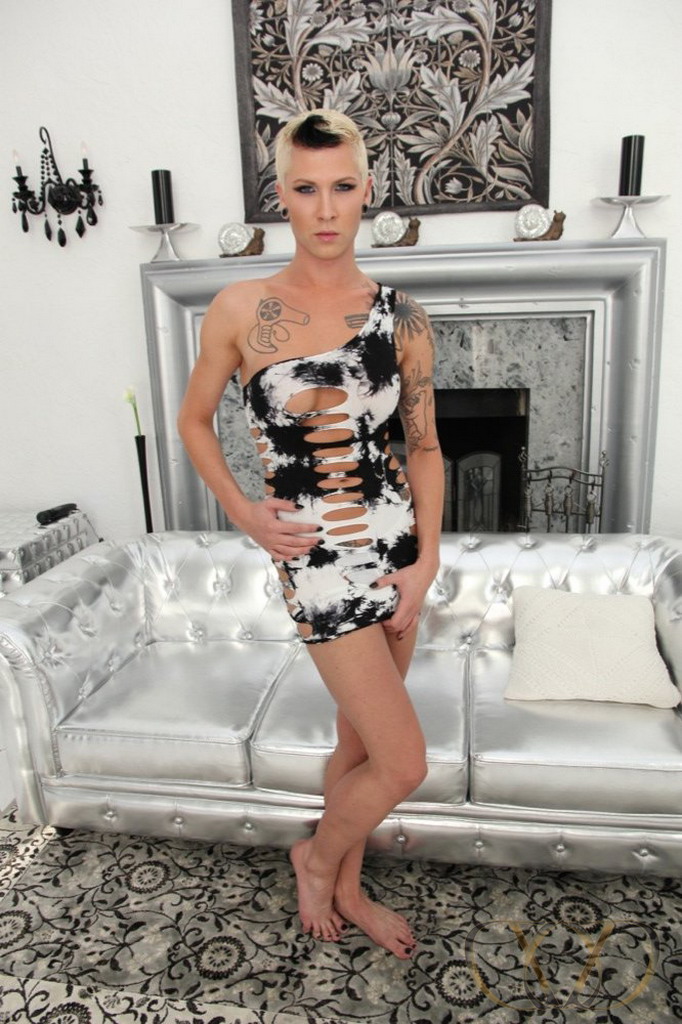 Click here to see more of Danni Daniels' hottest sex scenes at DanniXXX.com
Throughout her adult film career, Danni Daniels has continued to combine her performance art work with her porn projects. For instance, in 2012 Danni Daniels collaborated with Canadian electronica musician Peaches on her rock opera feature film Peaches Does Herself. This pioneering erotic rock opera movie had its world premiere at the Toronto International Film Festival in 2012 and its European premiere was held in March 2013 at the Hebbel am Ufer theatre in Berlin. Peaches Does Herself received rave reviews from news outlet such as VICE who advocated within their  March 2013 Anti Jukebox Musical article how;
"The Hebbel am Ufer theatre in Berlin just hosted the European premiere of Peaches' rock opera cum feature film, Peaches Does Herself. The film showcases 22 songs like "Rock Show," "Talk to Me," and "Fuck the Pain Away," with no dialogue in between. It stars Peaches (obviously), a gorgeous transsexual named Danni Daniels (who fucked for the first time to a Peaches song) and the New York stripper/comedian, Sandy Kane (she sets her tits on fire with firecrackers). Oodles of other talent flies in and out of frame over the course of this epic nod to Rocky Horror, the "anti-jukebox musical," but Peaches is its definitive star, offering a semi-autobiographical take on her exuberant and provocative career as an artist and performer".
Peaches Does Herself was also shown at various film festivals across Europe, Australia, Canada and the United States including the 2013 Sundance London Film & Music Festival in London, England, the 2013 San Francisco International Film Festival, the 2013 Melbourne Queer Film Festival in Australia, the 2013 Helsinki International Film Festival in Finland, the 2013 Hamburg International Queer Film Festival in Germany and even the 2013 Kaohsiung Film Festival in Taiwan but to name a few! Peaches Does Herself was made available for streaming and downloads in June 2014 and it received high praise from film critics such as TIFF co-director Noah Cowan who exclaimed that;
"One of the world's most beloved performance artists and a legendary transgressive rock 'n' roller, Toronto-born Peaches has been an icon of the Berlin art scene for more than a decade. Her constantly evolving practice has created a host of famous and indelible videos, performances, installations, lectures and kick-ass concerts. Peaches Does Herself, her first feature film, brings together all of these elements and more, serving as both a rich retrospective of, and whiplash introduction to, this elemental performer's work".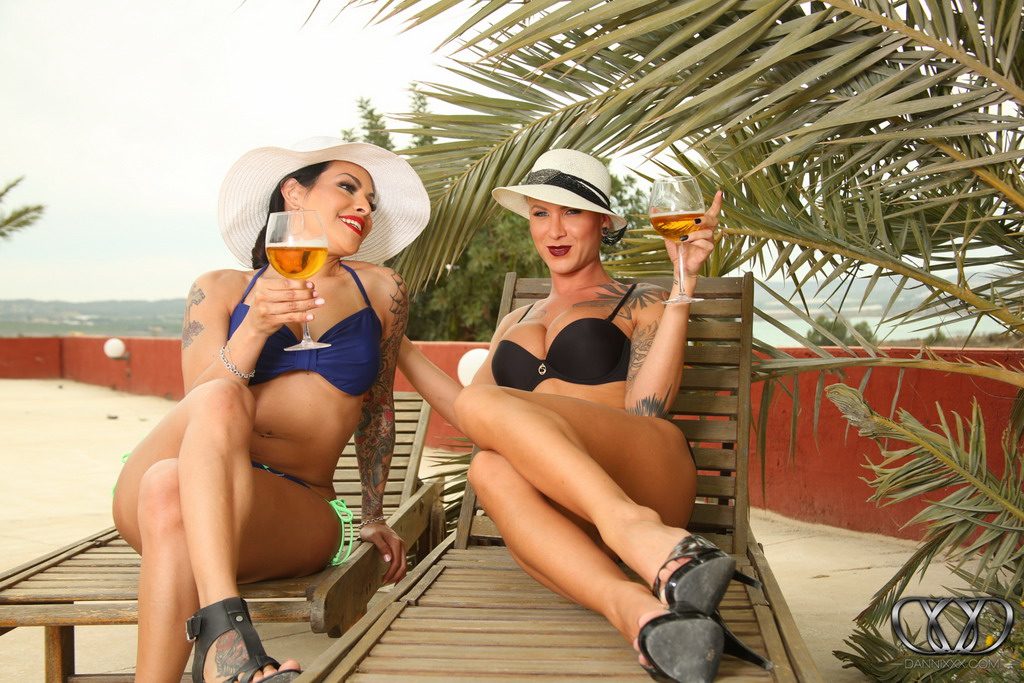 Click here to watch Foxxy and Danni Daniels together at DanniXXX.com
Peaches Does Herself was also praised by IndieWire reporter Peter Knegt in September 2012 and by The Hollywood Reporter film critic Stephen Dalton who highlighted within his April 2013 online review that;
"Screened at the Sundance London mini-festival last week, Peaches Does Herself is an impressively bold statement from its director-star and her team of dancers, choreographers and designers. However, it is also an uncompromisingly avant-garde and sexually explicit work that will struggle for mainstream appeal. Peaches has a strong following among famous musicians – she has worked with Joan Jett, Iggy Pop, Christina Aguilera, Marilyn Manson, R.E.M. and more – but her own commercial profile remains decidedly niche. This film will enhance her cult reputation, but seems more likely to find a partisan audience on home viewing formats than convert new fans on theatre screens…
the 80-minute show that follows is full of dazzling set-pieces, with Peaches reinventing herself along the way as porno-rapper in skimpy pink underwear, heavy metal diva and future-punk Mad Max warrior queen. Wild costumes and graphic sexual imagery abound, from giant labial portals to elephantine strap-on dildos. In the final section, the star vomits fake blood, receives a sex change and acts out a doomed romance with the towering transsexual porn star Dannii Daniels, who performs fully naked…this ambitious rock-doc still pushes plenty of buttons as polymorphously perverse Pop Art spectacle. Peaches shows technical competence as a first-time director, while the taboos she celebrates and subverts onstage make for funny, frank, full-frontal entertainment. Rewriting her musical journey from one-woman vagina monologue to pansexual pussy riot, Peaches Does Herself is a real labia of love".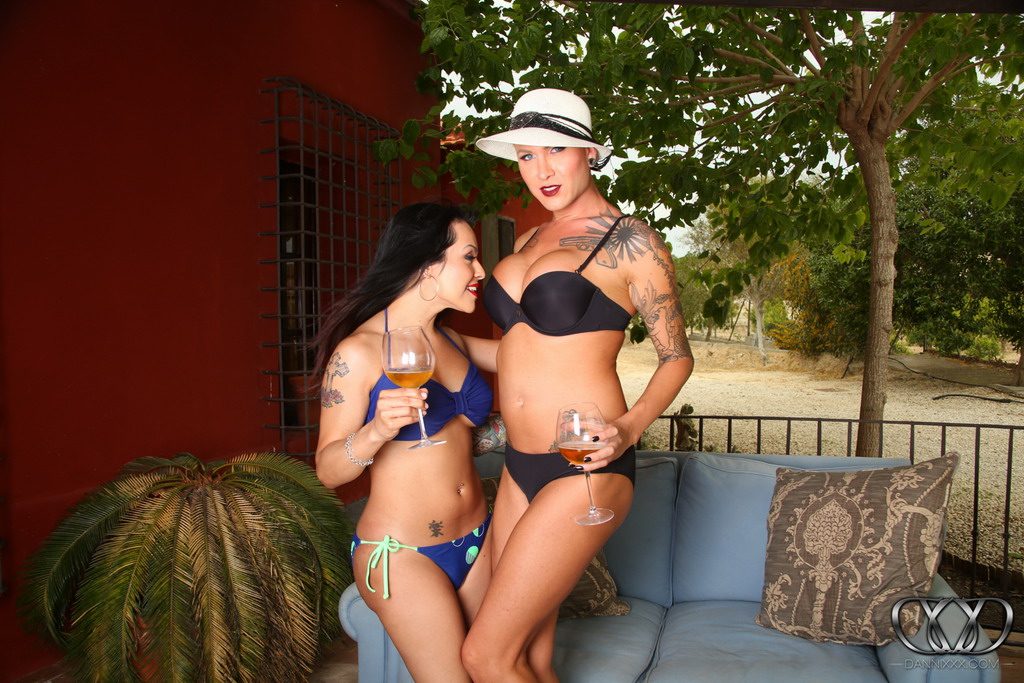 Click here to watch Foxxy and Danni Daniels together at DanniXXX.com
In addition to her ongoing work as a performance artist and porn star, Danni Daniels has collaborated with photographer Dave Naz on his pioneering art book and accompanying 60 minute documentary Identity: In & Beyond The Binary. Between April 2014 and September 2015 Dave interviewed Danni Daniels alongside a broad spectrum of her fellow porn stars about their individual experiences with regards to their sexuality and gender identity. Among the various adult film industry professionals interviewed included; Buck Angel, Michelle Austin, Birdmountain, Matty Boi, Jonelle Brooks, Eva Cassini, Colten, James Darling, Afro Disiac, Jade Downing, Evie Eliot, Jenny Elizabeth, Foxxy, Michelle Firestone, Jamie French, Khloe Hart, Mia Isabella, Tara Jolie, Tasha Jones, Riley Kilo, Kristel, Jiz Lee, Eva Lin, Kelli Lox, Venus Lux, Mandy Mitchell, Chelsea Poe, Andre Shakti, Shawn, Kendra Sinclaire, Stefani Special, Tiffany Starr, Wendy Summers, Tristan Taormino, Courtney Trouble and Wolfe Moon. These illuminating interviews amalgamated into a groundbreaking documentary that highlighted the ways in the adult film industry, and society as a whole, views the LGBT community and the parameters of gender identity. Talking about the evolution of Identity: In & Beyond The Binary from an art book into a documentary during a September 2015 XBIZ News press release, Dave Naz revealed how;
"When I started photographing the subjects for this series and hearing their stories, I knew I needed a video camera rolling…I got that camera, and the result was an interesting and insightful glimpse into their lives".
All throughout her adult film career Danni Daniels has striven to dispel gender norms and tackle many of the social stereotypes that are projected onto transgendered men and women on a daily basis. One of the ways in which Danni Daniels would like to further tackle these issues would be through a hard-hitting underwear advert. Danni Daniels has outlined her plans for this underwear advert within her May 2011 Show Studio interview, expressing that;
"So many of these transsexual girls will spend two hours on make-up before they will leave the house. There are so many things that they are uncomfortable with that they won't let anyone see them before they've completely done up their face to be a woman…But it's one of my really big passions is that I really want to do a male underwear ad. A topless, male underwear ad: David Beckham-style black and white, sweaty, bulge, that's it. I think it would be really exciting, I think it would just blow people's minds if it was just on billboards. That's one of my really big passions now, and it has been for a while… It's my goal to kind of start a revolution. The role models for transsexuals nowadays are so fake, and it's so easy to become overwhelmed. I fell into it as well: when you first start there are hormone injections, body therapy, there's electrolysis, just tons and tons. And I was like 'Oh fuck all that, screw it! I'll get around to that if I feel like it but I'm just going to go about it that way!'".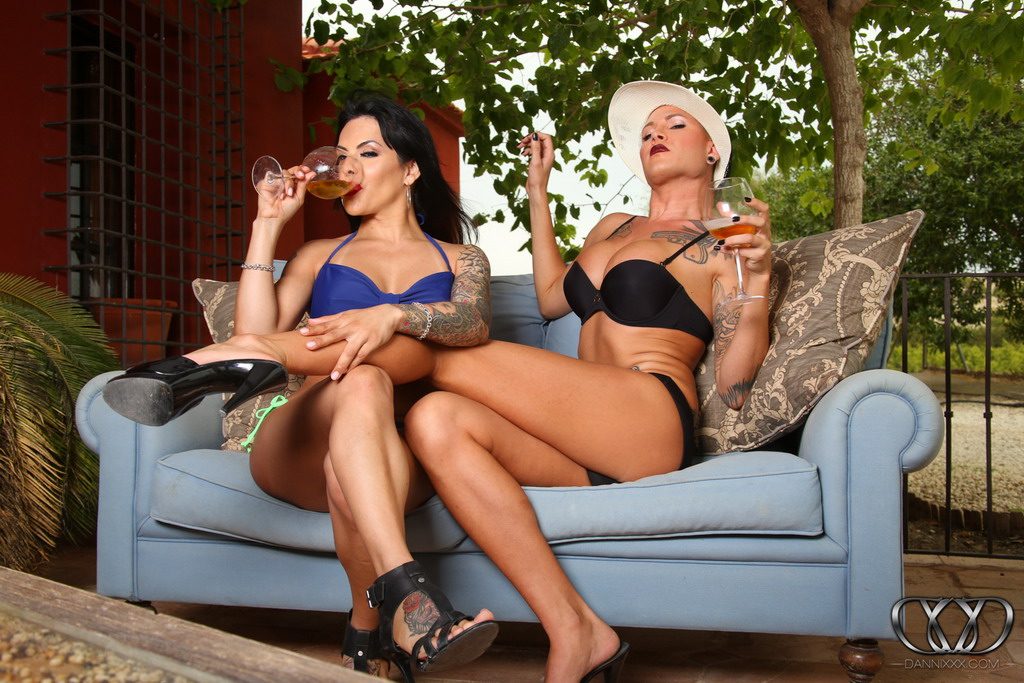 Click here to watch Foxxy and Danni Daniels together at DanniXXX.com
As well as pursuing her performance art pieces, porn projects and transgender advocacy work, Danni Daniels has garnered an international fan following due to the thrilling web content that she has distributed via her official solo website; DanniDaniels.com. Danni Daniels launched her official solo site in June 2014 in collaboration with the popular porn network SMClub and you can click here to visit her website. Danni Daniels loves working on content for her website and enthused within her October 2015 VICE interview how;
"I still do my thing with my site and my company, and I love them. It's mostly solo stuff, not scenes…Oh yeah, it relaxes you completely. It's like, It's mine, it's my baby, people are still paying for it. And it's also making it more exclusive. It's driving traffic to me, and I'm getting all the profits, as opposed to it being directed through three or four other companies. And I really only do solo scenes when I want to. I don't feel obligated to, which is great. It allows me to produce material I really want to produce and just be proud of putting my name on everything that I do".
Keen to stay connected with fantastic femme fatale Danni Daniels? Then use the links provided below to discover all of Danni Daniels's hottest sex scenes, lusty live cam shows, exclusive web content and latest artistic creations!
Danni Daniels – Social Networks
Official Website : DanniXXX.com
Twitter : @DanniDaniels
Chaturbate : dannidaniels

Kink Profile : Danni's Femdom & BDSM Content
Grooby Girls : Danni at Grooby Girls