Official Website: Club-Vaniity.net  Kink : Vaniity Femdom & BDSM Content  Twitter: @Vaniity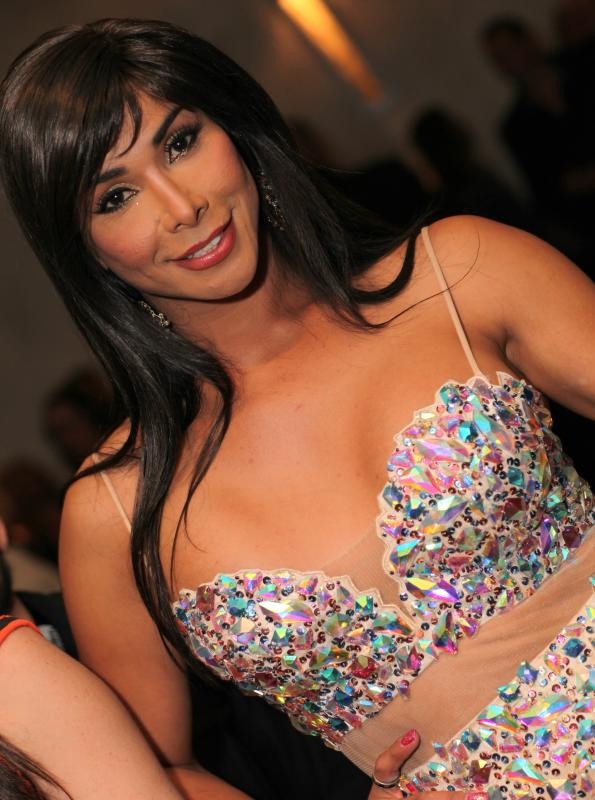 Vaniity at the 2013 AVN Awards
Personal Info
Name : Vaniity (born Pedro Mora Katero)
Alias: Vanity, Delilah Katero
Date of Birth: July 26th 1973
Home Town : Uruapan, Michoacan (Mexico)
Measurements : 36D – 26 – 36
Bra/ Cup Size : 36D (75E)
Boobs :  Enhanced
Height : 5'10 (1.78m)
Weight : 134lbs (61kg)
Hair Colour : Brunette
Eye Colour : Brown
Piercings : Navel
Religion : Buddhist
Years Active : 1998 – present
Number of Scenes : 85+
Without a shadow of a doubt, Vaniity is an iconic transsexual porn star who has paved the way for future aspiring transsexual models and performers within the adult entertainment industry. As a reporter for Canadian National Newspaper once stated;
"Vaniity (yes, with two "i"s) may be the best-known transsexual performer in the adult business".
After all, since she first began shooting pornographic productions in 1998, Vaniity's raw talent, mesmerizingly beautiful good looks and charismatic personality have enabled her to achieve landmark successes for the transgender community within the adult entertainment industry.
However, to give this transsexual porn star the credit she deserves we have to start from the beginning. Despite her eventual adult film industry superstardom, Vaniity comes from humble beginnings. Born Pedro Mora Katero in Uruapan, Mexico, in 1973, Vaniity's parents were both of Mexican descent. Vaniity has explained in interviews that her family have;
"traces back to the Spanish Conquistadores and the Purepecha Indians". Upon describing her family in this interview, Vaniity noted how "My father was a photographer, a songwriter, a Casanova of sorts, and unfortunately always absent. My mother meant everything to me. She is the main reason I am who I am today. I have learned goodness, love, strength, humility, faith  and all that has helped on this lifetimes journey through my mother".
Vaniity was born into a large family, the eighth child of eleven with six brothers and four sisters. When Vaniity was 7 years old her family migrated to the United States of America where they settled in Sunnyvale, Northern California, close to where her mother's family were based. Looking back at this period of her life, Vaniity has described how her family;
"moved around the Bay Area cities and grew up in Redwood City, Mountain View, Sunnyvale and San Jose. My life has been like one of Princes songs full of passion, sex, controversy, love and melodrama. In fact, Prince was the first singer I related to through his music".
From an early age, Vaniity has also been conscious of her sexuality. In interviews she recounts browsing through a magazine when she was 5 years old and feeling attracted to the men in it. When she confessed these feelings to her brother he became incredibly angry and as such Vaniity learned how to disguise her true emotions. Vaniity divulges how, from a young age;
 "I always looked kinda feminine. I used to get teased in school cos I had a high voice and my mannerisms were always feminine…I kept it all in. I knew there was no way to let it out. I went through life not knowing why I was different".
However, Vaniity always knew within herself that she was different. Her heroines growing up were always strong women, and when her friends played superhero games she always undertook the role of Wonder Woman. As Vaniity herself describes;
"I dreamed of being a wonder woman of sorts, I have always admired strong women, especially brunette women, I secretly wore my sisters dresses, openly played with Barbies, played make-up artist & fashion consultant to my mother and sister."
It was not until Vaniity was in her late teens that she even discovered the transsexual community. Equipped with this enlightening knowledge and a new lease of life, Vaniity left home when she was 16 years old and bravely began her transformation into a woman. To date, Vaniity has undergone breast augmentation surgery but does not have any plans to have any further procedures. This is primarily due to the fact that Vaniity's appearance and voice are already extremely feminine without having undergone any femininity procedures and she fears that any gender reassignment surgical procedures may cause her to lose genital sensation and never have an orgasm again.
Whereas her natural curves, feminine looks and voice had once made her feel isolated and abnormal, Vaniity soon found that these traits were embraced and revered when she began to interact with the transgender community. At this time Vaniity was just getting to grips with her sexuality and had no plans to forge a career within the adult film industry. As she stated in a "Vaniity Exposed" interview;
"My girlfriend was already doing porn while I was being a secretary and thinking that I'd never get into the porn business. That would be the last thing I'd think of. I was pretty conservative back then".
However, her views on pursuing an adult film career rapidly changed following the end of her first serious relationship. Vaniity severed all ties with the Bay Area; quitting her job, packing her bags and heading to Los Angeles with a close friend. It was in the City of Angels that Vaniity was approached by Devil's Film Productions whereupon she signed to become a contact girl.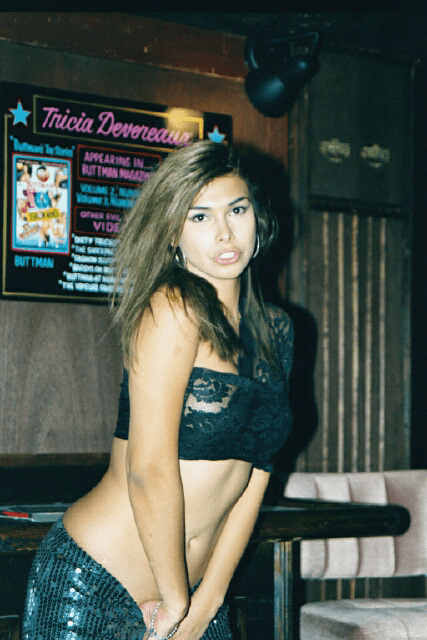 Vaniity at the 2002 Adult Entertainment Expo
Vaniity : Adult Film Career
At 25 years old, Vaniity included a double "ii" within her stage name (due to her belief in numerology) and began to appear in her first pornographic productions. After filming her first few feature films and sex scenes with Devil's Film Productions, Vaniity quickly caught the attention of Joey Silvera with whom she collaborated on numerous pornographic productions throughout the early 2000's.
Before long, Vaniity had established a formidable reputation as one of the most popular transsexual porn stars within the adult entertainment industry. During this time, Vaniity was asked if she was ever attracted to females in real life, to which she responded;
"I love women and I think you're all beautiful, but I'd be lying if I told you that I'm into girls. I have a weak spot for men. I love masculinity…".
This love of masculinity was evident throughout her initial adult film appearances; with her energetic scenes with men and GG women earning her a devoted fan following. Vaniity's first sex scene with a fellow transsexual occurred in 2008 in the production T-Girl Fantasies #12. Her ravishing good looks, innately feminine nature and alluring personality took the transgender community by storm and soon began to earn her respect and adoration from all manner of straight, gay and transgender fans.
In fact, throughout her adult film career Vaniity has amassed a devoted fan base which includes loyal public followers, adoring co-stars and even smitten celebrities! Take for instance Sam Junaidy, a fellow actor and one of Vaniity's co-stars in The Chick Magnet (2005). Junaidy has been quoted as enthusiastically stating that;
"To know Vaniity is to love her. Everybody knows Vaniity, the beautiful transsexual woman whose name bespeaks indulgence and also sounds like an expensive perfume. She's the Queen of "tranny" porn. To this date she is still on top of her game and oozing with sensuality. The lady has managed to Lord over porn and mainstream fans alike, leading her pack at ray of light speed. In other words, she's way ahead, of all of us! She not only has screen presence, an intriguing personality, yet also some sort of raw originality. And she expresses her sexuality via song/rap, via your TV screen, and even makes special appearances in your wildest dreams! It seems as though she has managed to conquer the heart of America, and now has even declared a thirst to conquer the world! She is our "Wild Child" our "Queen T" and with that wicked sweet smile the lady is managing to steal all men's hearts worldwide by the mobs!".
Similarly, Brandy Scott from SexualTranssexuals.com has commented how;
 "Almost from the very beginning of her notoriety, Vaniity has generated her share of followers including me. To be sure, all other TS star wanna-be's owe just a little something to Vaniity's bigger-than-life persona."
Vaniity has even been pictured dancing with the rapper Chingy at the AVN Awards who was unaware she was a transsexual. Recent rumours have also suggested that she has had amorous encounters with Justin Bieber!
Throughout her career Vaniity has produced a diverse array of content for distinguished pornographic production companies including Evil Angels and Devil's Film, as well as Kink.com, TS Pussy Hunters and TS Seducton where most of her raunchiest content can be viewed!
This prolific adult film career has earned Vaniity a series of groundbreaking award wins which have had significant ripple effects throughout the transsexual porn star community. For example, not only was Vaniity the first transsexual actress ever to win an AVN Award in 2004 but she also became the first transsexual performer ever to be nominated against a female porn star, Jenna Jameson, at the 2007 AVN Awards for her role in Virtual Vaniity (which was in itself the first ever transsexual interactive DVD!).
A veritable inspiration with countless victories under her belt, it was truly deserved that Vaniity was inducted into AVN's exalted "Hall of Fame" in 2013. As AVN stated in a 2013 press release, the title of Hall of Fame Inductee is reserved exclusively;
"for individuals who've left a perennial imprint in the history pages of the adult entertainment industry".
If you'd like to learn more about Vaniity's numerous adult film industry awards and nominations then listed below are some of her most prestigious entertainment accolades;
2004: AVN Awards winner — "Transsexual Performer of the Year"
2007: AVN Awards nominee — "Transsexual Performer of the Year"
2007: AVN Awards nominee — "Best Sex Video" — Virtual Vaniity
2008: AVN Awards winner — "Best Transsexual Video" — Transsexual Babysitters 2
2011: Tranny Awards winner — "Lifetime Achievement Award"
2013: AVN Awards winner — "Transsexual Performer of the Year"
2013: AVN Awards winner — "Hall of Fame Inductee"
Speaking about her two AVN Awards for "Transsexual Performer of the Year" in a 2013 AVN press release, Vaniity explained how;
"Of course winning the first [Transsexual Performer of the Year] award was exciting, phenomenal—and kind of just a tiny little bit disappointing that I wasn't able to go up on stage and get it the first time…But after 15 years, I was excited that I got nominated, and I really did not know I was going to win. I thought Eva Lin was going to take it. I love Eva, and she and I were hanging out, and we were looking at each other, and we said, 'Okay, it's either you or me. Whoever it is, may the best man win, and who cares? I'm gonna celebrate you, I hope you celebrate me' kind of deal, you know?…it's always nerve-wracking going to AVN, you know: looking fit; the skin's gotta work; gotta have a makeup artist and your hair's got to look good, you know?"
Moreover, in 2013 Vaniity was once again at the centre of a groundbreaking moment for transgender porn stars. This was due to the fact that her 2013 AVN Award win was the first time that the "Transsexual Performer of the Year" accolade had ever been presented to the winner onstage. Describing her euphoria in this moment, Vaniity enthused that;
"Well, it had been said before in other years that, 'Oh, it's finally gonna happen. We're gonna be able to accept up on stage…But there was a rumour going around that this year was the year, so I was like, 'Okay, that's cool!' So I was a nervous wreck, and then I'm thinking, 'I'm just going to put that in the back of my mind and just have a good time,' you know? And I was having a good time, and in the middle of the show, to my surprise, is when they announced Transsexual Performer of the Year, and I was like, 'Oh, my God! Okay; I've got to stop being silly and taking pictures and all that and pay attention.' And the names were called, and then the spotlight hits me, and I'm like, 'Oh, fuck!' It was super-exciting, you know? It was tongue-tying exciting. I really did not know what to say. I was like, 'Uh, uh, uh, uh.' And all I could think of was like Joey [Silvera]; Joey's really the one who put me in the spotlight, and I love him, adore him. So it was super-exciting".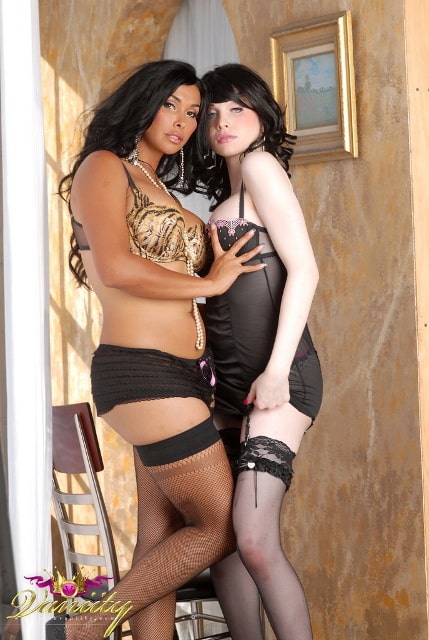 Vaniity and Sarina Valentina at Club-Vaniity.net
When she was asked about her upcoming projects in this 2013 press release, Vaniity revealed;
"I'm going to start shooting my own line, and I'm kind of doing a spoof on Wonder Woman," she confided. "I'm gonna be Wonder Woman, with my magic lasso, so as soon as I get back, we're going into production on that, and I'm still in partnership with SMC, and they're still doing my website, so I'll be shooting with them. Basically I'm going back to doing more creative stuff and really getting more involved this year. As soon as the year started, I was like, 'I'm getting involved, no matter what.' I'm starting to really get into my shoots; I want to do more shoots and I want my artistic side to come out this time, now that I'm single. I went from one relationship to another with guys that were really possessive, but now that I'm on my own, I feel I'm free to be me. It's been a long time coming".
Whereas Vaniity once dreamed of becoming Wonder Woman as a self-conscious child, she has now been able to star as the Amazonian superhero herself in The League of Extraordinary Transsexuals: Part 1 Super Hero Feature which was released in 2014.
Vaniity has also enjoyed mainstream movie stardom due to her appearances in The Chick Magnet (2005), The Journey (2013), Wifi Killer (2014) and the independent feature film The Devil Within (2010). Vaniity has also appeared on the US TV comedy The Man Show, HBO's Pornucopia TV series and has filmed numerous factual films including an autobiographic documentary titled A Measure of Vaniity.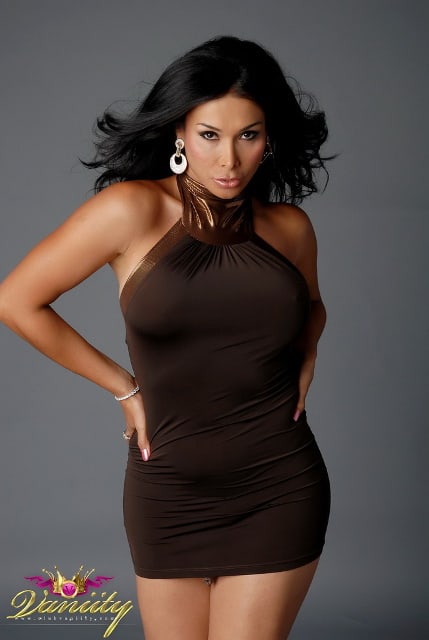 Vaniity at Club-Vaniity.net
In addition to her screen appearances, Vaniity has featured as a guest on the radio talk show "Inside the Industry" with host James Bartholet and co-host Tia Cyrus to discuss her AVN Awards wins and nominations as well as her latest cinematic projects. By appearing on talk shows such as these, Vaniity has remained connected to her loyal fans. Keen to interact with her dedicated fan base in whatever way she can, Vaniity also frequently hosts live chat sessions on adult cam-sites.
Currently living in Las Vegas, Nevada, Vaniity shows no signs of slowing down! Fans looking to score some face time with this groundbreaking transsexual porn star can check out her profile page on the adult cam-site chaturbate. Vaniity frequently hosts live public and private chat sessions with her adoring fans on these adult cam-sites and posts daily updates about her latest exploits on Twitter. You can also check out what this transsexual superstar has planner by visiting her blog site for official updates on her latest productions and public appearances. One thing's for certain, there's never a dull moment when you're hanging out with Vaniity!
Social Networks
Official Website: Club Vanity
Twitter: @Vaniity