Official Website : WendySummers.com  Twitter : @WendySummerscom   Adult Empire : Wendy Summers Movies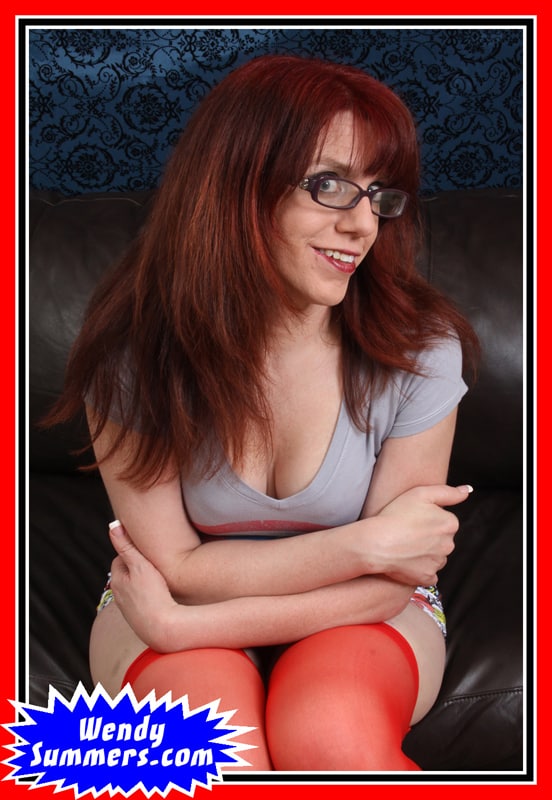 Wendy Summers at WendySummers.com
Personal Info
Name : Wendy Summers
Hometown :  New Jersey
Date of Birth: July 3rd
Measurements : 34C – 30 – 32
Height : 5'7 (1.70m)
Hair Colour : Brunette / Blonde / Red
Eye Colour : Blue
Years Active : 2011 – present
Number of Scenes : 15+
Introducing the 'Queen Of Personality Porn' Wendy Summers! Famous for her sizzling WendySummers.com content and award-winning DVD collaborations, Grooby Girl Wendy Summers has been a pioneer in producing unique, enthusiastic 'personality porn' since she first began performing as a webcam model in 2011.
Born and raised in New Jersey, Wendy first began to recognise her true gender identity when she was 4 years old. Wendy has explained within her March 2012 Caramel's TGirls interview that;
"At four, I first remember having thoughts that I was a girl.  The pretty much got squelched out of me, but when I hit puberty it became an issue again.  At 12 I started to develop breasts – it was a confusing puberty to be sure.  I was stick thin and my parents and doctors lied to me — they claimed the development was just I was fat (yeah wonder where the anorexic thoughts come from — thanks Mom!).  School was weird; everyone knew I was different and I was ostracized for it, but by the same token, people were so afraid to acknowledge it, they avoided the topic of my body like the plague.  I'm lucky I had a good home life — I suspect had I not had that stability, I would have been another statistic.  I grew up in a house full of love and humour… it's made me a very upbeat person".
When she asked during this interview about her future plans with regards to cosmetic procedures, Wendy revealed that;
"Given, I've had my entire life getting used to being in a mixed body, I don't think I have quite the same drive most transsexuals have to align my body.  For me transition has been far more about my place in the world, rather than a physical transformation.  So I don't think I will ever have either surgery...That being said, I've been struggling greatly over the past year with some major hormone issues which have largely kept me off of HRT (Hormone Replacement Therapy). Observant fans from my early days will likely have recognized I've lost significant breast mass over the past year.  If medically I need to stay off HRT in the long term, then I might consider some sort of [breast] augmentation but definitely I would stay within the 'natural range'".
After graduating from high school, Wendy pursued a thriving career within the corporate finance, marketing and data management sectors. This extensive business experience has proved invaluable with regards to her adult  film industry endeavors because it enabled Wendy to establish herself as one of the leading webcam models via the adult-cam network iFriends.
From 2011 onwards, Wendy performed as a web cam model via iFriends and managed her own chat room titled Wendy TG Next Door. In fact, Wendy became the first trans performer ever to be invited into iFriends' Adult Star Program and was one of their first ever TS chat hosts. Wendy discussed these landmark achievements within her March 2012 interview with Caramel Black, highlighting how;
"It was cool to be the person who brought those gender walls down. iFriends is a fairly unique microcosm since unlike pornography there isn't quite the same segregation of the genders.  While TS's have their own section on the website, iFriends didn't restrict our appearance in their top hosts list.  That lead to a unique situation where typically heterosexual fans were discovering my feed — I was a gateway drug.  More frequently my traffic correlates with the top "Girls Home Alone" rather than the other TS hosts.  iFriends took a chance and began promoting me like their top genetic women to the benefit of both them and myself.  It's opened folks eyes a little wider to the possibilities of a cross-over market".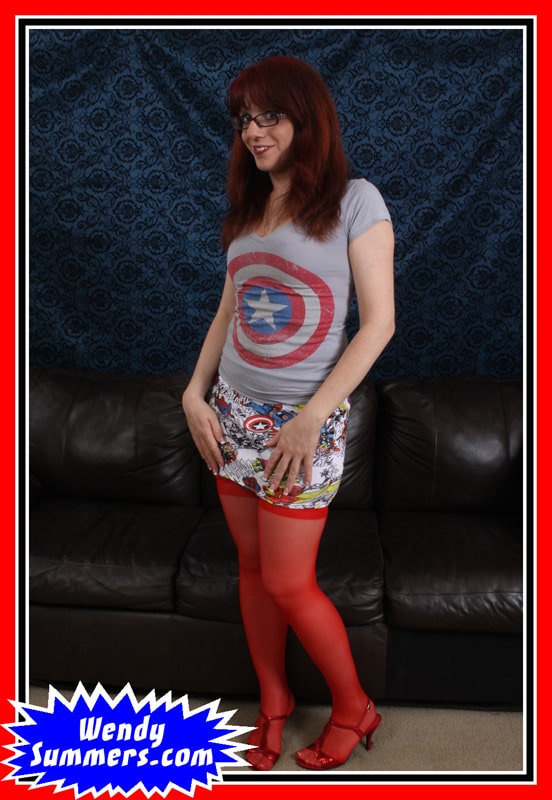 Wendy Summers at WendySummers.com
Wendy Summers : Adult Film Career
Wendy's live chat sessions via iFriends soon garnered the attention of leading adult entertainment network Grooby Productions and, after filming some raunchy solo scenes for Grooby Girls in October 2011, Wendy became one of the first performers to launch her official solo website via the Grooby Network. WendySummers.com was up and running in November 2011 and was officially promoted by Grooby Productions in March 2012. Wendy enthused about this exciting business venture within her Caramel's TGirls interview, divulging how managing her solo site has enabled her to share her signature style of 'personality porn' with a vast international audience;
"Since I shot my first promotional pictures for iFriends, it was always in the back of my head that I'd end up creating a solo website. But I always imagined it being an unpolished amateur sort of thing.  But to my surprise, enough folks dug the work I was doing on my iFriends platform that there was suddenly a budget for shooting.  It was easier to have someone behind the camera other than me, so I sought out professional producers — it really brought things up to a different level.  When the opportunity came up to join the Grooby Network, it seemed like an ideal fit…
To see the website up now, is mind-blowing.  This is something I've created from the ground up.  I've been lucky to get to work with some amazing talent to make this happen.  Producers like Remy, Tony Vee, Sergio and Kevin Moore; Performers like Sadie Hawkins, Christian XXX, and Tempest; my unsung copywriter Naughty Quill — each brought something which helped shape the site.  But largely this website is me — I've had no companies financing my work; no producers whispering in my ear "Your site should look like this."  I'm trusting my instincts on this one and judging by fan response, I've been on the right track...I don't think it's a surprise to anyone in the Industry that I'm NOT the typical TS performer.  I'm older, I'm not particularly glam, and I'm definitely quirky.  But it's those very attributes which place me outside the Industry which have made my website appealing to many.  I had a sit-down out in LA with Steven Grooby, the owner of Grooby Productions and he described the website as a cheezy throwback to eighties porn.  I'd call it High-concept LOL".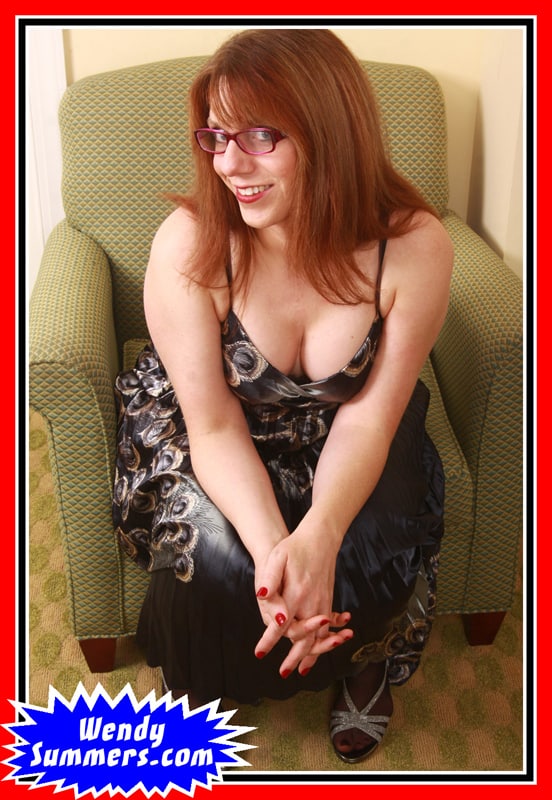 Wendy Summers at WendySummers.com
In no time at all, Wendy's official solo website had earned an ardent fan following and multiple "Best Solo Website" nominations at the 2013 and 2015 Transgender Erotica Awards. In fact, WendySummers.com was so popular that Wendy won their distinguished "Best Internet Personality" accolade for two years running in 2013 and 2014!
If you're eager to discover some of Wendy's fan-favourite web content then we recommend viewing the following WendySummer.com video clips; her phenomenal 24 hour webcam marathon event from April 2012, her May 2012 Dirt Money Sell Out shoot that was shot by prominent Grooby photographer Remy, her May 2012 raunchy She's Playing With My Joystick sex scenes that she filmed with Sadie Hawkins, her captivating September 2012 sex scenes with Tempest (of TS-RockDolls.com) in the fetish themed shoot Destruction: The Corruption of Eve, Wendy's Halloween themed solo set titled My Pumpkin Bitch that was distributed in October 2012 and her Breaking My Balls BDSM video clips with Eris DeSaire and Kitty Doll that were uploaded in August 2013.
Fans of Wendy Summers will also love watching her wide range of saucy sex scenes with Amy Gray that have been distributed via WendySummers.com in June 2013 and January 2014 respectively, her Spiderman lingerie photo set that was distributed in March 2015, her Magic the Gathering strip poker session and Patriotic Playmate solo shoots that were both released in July 2015, her thrilling three-way with Rebeka Refuse and Amy Gray that was distributed in October 2016, her stars and stripes 'Election Special' lingerie shoot in November 2016, her spellbinding Gryfinnwhore solo shoot in August 2017 and most recently her I'll Steal Your Heart photo set in September 2017. Not to be missed!
In addition to producing, shooting and starring within innovative web content for WendySummers.com, over the years Wendy has also filmed a series of exclusive video clips and solo photo sets that have been distributed via Wendy Williams' official website WendyWilliams.XXX. Among some of these captivating WendyWilliams.XXX collaborations include Wendy's August 2012 Fleshlight Fuck photo set, her series of lingerie solo shoots that were distributed via WendyWilliams.XXX in March 2012, July 2012 and January 2013, as well as her scintillating February 2013 solo sex shoot wherein Wendy sampled some of the best sex toys from Wendy Williams' exclusive new product line.
From 2012 onwards, Grooby Girl Wendy Summers starred in several best-selling TS DVD series for CX WOW Studios, Hot Wendy Productions and Trans 500 Studios. One of Wendy's most popular DVD feature releases has been TS Girl Solo 3 for Hot Wendy Productions featuring TS business mogul Wendy Williams, Paris Pirelli, Kourtney and Jesse Flores.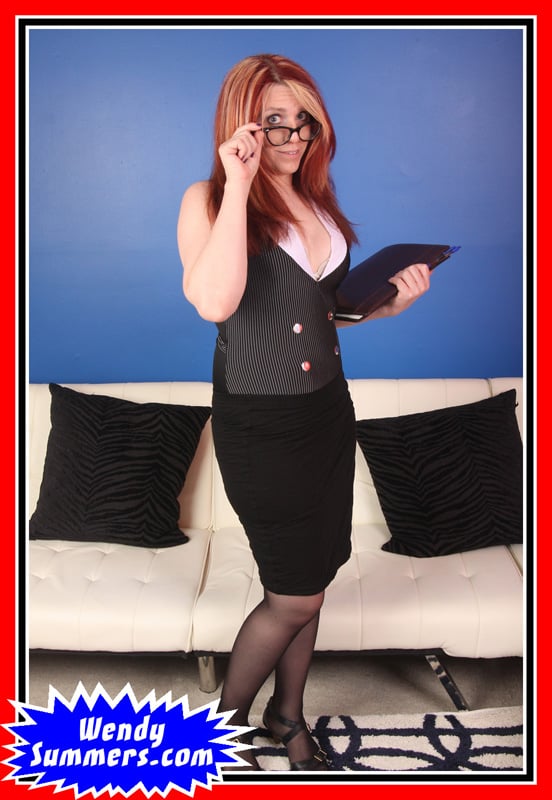 Wendy Summers at WendySummers.com
In 2012 Wendy appeared in I Kill It TS 1 for Trans 500 Studios which was directed byJosh Stone and starred rising TS starlets Brittany St. Jordan, Walkiria Drumond, Luz Adriana, Camila Poskam and Ramon. I Kill It TS 1 was nominated for "Best DVD" at the 2013 TEAs, "Best Transsexual Release" at the 2014 AVN and XBIZ Awards, and has transformed into a best-selling TS DVD series with over 10  successful sequels. Wendy posed as the DVD cover model for I Kill It TS 1 and received a glowing endorsement from XCritic adult film blogger Apache Warrior who commented via his online film review that;
"Ramon meets Wendy Summers as she is leaving work. He gives a monetary proposal that she cannot refuse…Wendy and Ramon have good playful chemistry… I love seeing authentic stuff…Their entire performance is an intense winner. It is one of the best of the year… Josh Stone and Ramon are going to be forces in the transsexual genre. This film is a refreshing gonzo slice of life…All of the ladies gave solid performances and deserve to be used more often. As a matter of fact, the very intense Wendy Summers-Ramon scene deserves to be nominated for a Tranny Award for Best Scene. It is definitely one of the best this year. Brittany St. Jordan was also intense too. I see a very good future for this studio. I Kill It TS is a recommended treat".  
Throughout her adult film career Wendy has cited fellow TS performer Brittany St. Jordan and distinguished Grooby Productions photographers Tony Vee and Remy as her close friends and mentors. Within her interview with Caramel Black, Wendy confided on the ways in which these influential adult film industry professionals have helped her to make a smooth and successful transition from webcam modelling to performing in award-nominated DVD feature releases;
"Brittany St. Jordan had roughly the same path I did, started as a webcam host before venturing into porn. So her willingness to share her experience and helping me find my footing was invaluable.  Webcam is a very different beast than porn...Being very good at one doesn't necessarily translate to being good at the other.  Even though both rely on video, in webcam you're dealing with a fixed camera.  As a performer you're responsible for composing and maintaining the focus of your shot.  With porn, its more about making yourself available to the videographer. Add on top of that the additional set of skills required for modelling and you're in another zip code.  I was lucky to be able to work with two such experienced producers; they really gave me a crash course in the basics of porn.  I honestly think having them on board elevated the quality of my work immensely".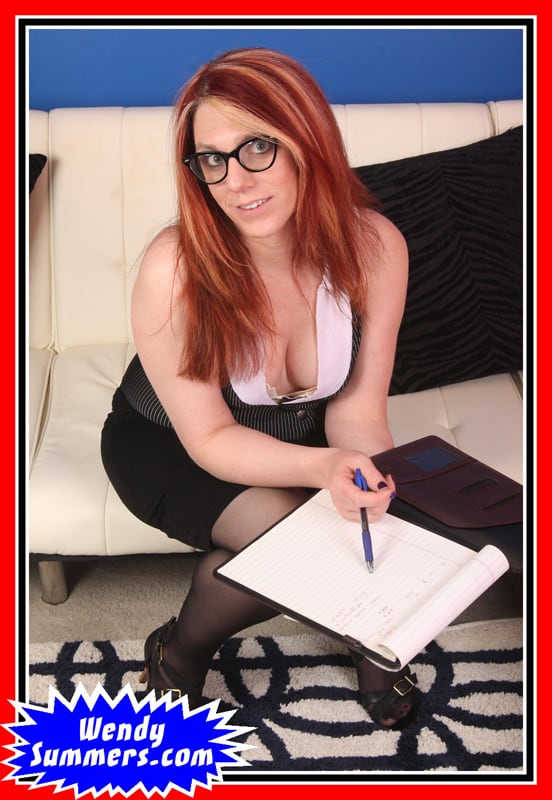 Wendy Summers at WendySummers.com
Wendy Summers – Best-Selling Movies, Industry Accolades & Award Nominations
Over the years Wendy has continued to collaborate with famous adult film cinematographer Sammi Mancini on multiple Rodnievision, Exquisite and Mancini Studios DVDs. Some of Wendy's fan-favourite Mancini Studios collaborations include; SM Strokers 50 (2012), SM Strokers 62 (2014) that was nominated for "Best Transsexual Release" at the 2015 AVN Awards, and Bang My Tranny Ass 10 (2012) with Joanna Jet, Tiffany Starr, Jordan Jay, Sadie Hawkins and Teighjiana. Bang My Tranny Ass 10 was nominated for "Best DVD" at the 2012 AVN Awards and "Best Transsexual Release" at the 2013 AVN Awards. In fact Wendy's steamy sex scenes with Sadie Hawkins, titled Managed, won them both the "Best Transsexual Sex Scene" accolade at the 2013 TEAs! During her interview with Caramel Black, Wendy discussed how she and Sadie first met over coffee before becoming close friends and award-nominated on-screen partners;
"Initially Sadie started following me on Twitter.  We decided to meet up for coffee and we immediately hit it off.  From the first moment, it was clear the kind of talent she had, and with how our personalities clicked there was instant chemistry.  I had been talking with Sammy Mancini from SM Strokers about shooting a TS/TS Hardcore scene and I knew Sadie was the perfect choice.  Thankfully Sammy did too. LOL…The chemistry between us has been so good we ended up shooting a slew of content together for WendySummers.com before she headed off to the West Coast.  As it stands I think I have more footage of her than any of the companies – but given her talent I don't expect that will last long LOL.We launched my website with one of those sets, "Managed" and we have two others which we'll release later this year".
These Sammi Mancini collaborations, alongside her vast collection of compelling web clips, have earned Wendy a string of adult film award nominations over the course of her show-stopping porn star career. Some of Wendy's most prestigious adult entertainment accolades have been listed below;
2011: TEAs nominee "Best New Face"
2011: TEAs nominee "Best Non-Typical Model"
2012: TEAs nominee "Best Internet Personality"
2012: TEAs Awards nominee "Best Solo Model"
2012: TEAs Awards nominee "Best Non-Typical Model"
2013: TEAs Awards winner "Best Internet Personality"
2013: TEAs Awards winner "Best Scene" Managed (from Bang My Tranny Ass 10 with Sadie Hawkins)
2013: AVN Awards nominee "Transsexual Performer of the Year"
2013: AVN Awards nominee "Best Transsexual Sex Scene" Bang My Tranny Ass 10 (with Sadie Hawkins in a scene titled Managed)
2013: TEAs Awards nominee "Best Hardcore Performer"
2013: TEAs Awards nominee "Best Solo Website" WendySummers.com
2013: Nightmoves Awards nominee "Best Transsexual Performer"
2013: The Fannys Awards nominee "Transsexual Performer of the Year"
2014: TEAs winner "Best Internet Personality"
2014: AVN Awards nominee "Transsexual Performer of the Year"
2014: XBIZ Awards nominee "Transsexual Performer of the Year"
2014: Feminist Porn Awards nominee "Best Website" WendySummers.com
2015: TEAs nominee "Best Internet Personality"
2015: TEAs nominee "Best Solo Website" WendySummers.com
2015: TEAs nominee "Ms. Unique"
2016: AVN Awards nominee "Favorite Transsexual Performer (Fan Award)"
2017: TEAs nominee "Best Solo Website" WendySummers.com
2017: TEAs nominee "Ms. Unique"
2018: TEAs nominee "Best Solo Website" WendySummers.com
2019: TEAs nominee "Best Solo Website" WendySummers.com
Wendy was extremely humbled to receive these notable nominations and expressed her immense gratitude during her 2012 Caramel's TGirls interview;
"The [TEAs] nominations to me are a true affirmation of just how far, as an outsider, I've managed to come in such a short time.  Those nominations were fan driven — at the time of the nomination process I think only three sets which I shot for other companies were actually released and eligible.  The joke is everyone gets one nomination so they don't feel left out.  To get two with so little work out — I'd like to think that means I'm doing something right in the eyes of fans…In my mind the real test will be 2012… by then my website and my unique work will be very visible.  If fans respond then as they have now, I'll have found my tiny little corner of the Industry".
After winning the "Best Internet Personality" accolade at the 2013 TEAs, Wendy was a natural choice to host Tranny Strip, "New York's Best Transsexual Party", which was held at the Evolve Lounge in New York City in September 2013. Tranny Strip sponsored the "Best Internet Personality" title which Wendy won so she has been one of their first choices to host these weekly erotic extravaganzas. As a result of her award wins, Wendy was chosen to appear in Third World Media's annual DVD title 5th Tranny Awards: The Winners (2013) alongside fellow rising TS starlets Jane Marie, Jesse Flores, TS Foxxy and Jessica Fox.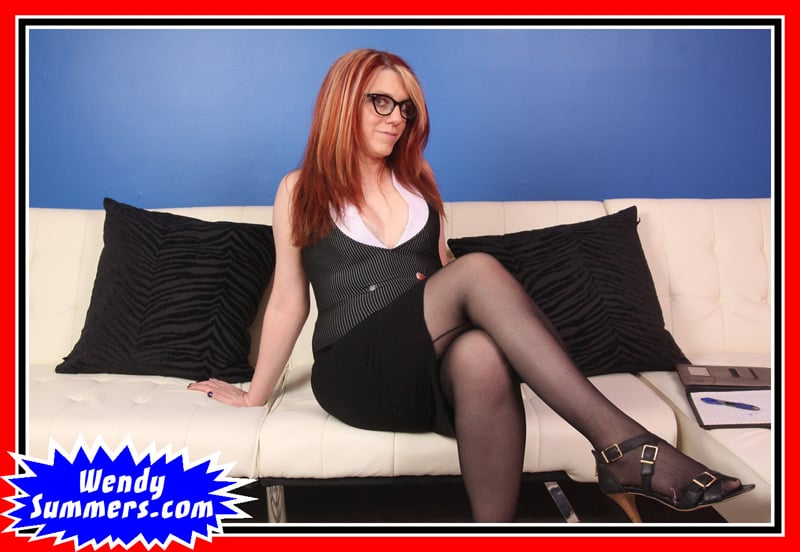 Wendy Summers at WendySummers.com
Over the years Wendy has established an ardent fan following within the fetish lifestyle market due to her wide range of foot fetish, femdom and BDSM content. Although Wendy did not know much about the foot fetish genre upon first embarking on her adult film career, she has since collaborated with leading fetish porn producers such as Sergio and has hinted that she plans to continue pleasing her fetish lifestyle fans for many years to come;
"Not only did I have no clue there was such a market, I also didn't realize how into foot fetish I would personally be.  It all happened accidentally… I had one webcam fan who asked me to shoot a set.  That was a hit and like my iFriends performances was getting play outside the TS porn market, so I sought out Sergio.  He started to educate me in the fetish and the more I learned, the more I dug it.  There's nothing like getting my toes sucked on.  It's funny because I'm now actively seeking ways to sneak my feet into sets, even when they aren't the focus.  Thankfully a lot of my co-stars have been humoring me LOL...Given I've yet to meet a (legal) kink I don't enjoy, there will definitely be more content coming".
In recent years Wendy has filmed a variety of raunchy online sex scenes with famous male porn star Christian XXX for his pornographic production company CX WOW Studios as well as for his trans-friendly porn site pure-ts.com. In fact, Christian XXX was the first male porn star with whom Wendy ever filmed. Wendy discussed her on-screen collaborations with Christian and her 'Hardcore Curse' within her Caramel's TGirls interview;
"My long time fans will tell you about my Hardcore curse LOL.  For my first six months, every time I had a hardcore scene lined up to shoot, something would interfere: Earthquake, Hurricane, one guy came down with mono… but I think in the end it worked out.  Being paired with  someone as experienced as Christian worked out well.  He really knows his craft… nothing like getting tossed around on set by him LOL".
If you're a fan of Wendy and Christian's online collaborations then you will not want to miss out on viewing Tranny Cock Craving (2014) that was filmed alongside Jessy Dubai, Nadia Gurl and Tyra Scott, MILF TS Slumber Party Leads to Bareback Anal Threesome (2015) and Robbi Racks Slutty SM (2015) both of which starred Wendy's friend and fellow performer Robbi Racks, as well as the DVD feature release Workout My Tranny Ass (2015) that enabled Wendy to collaborate with famous TS stars Delia DeLions, Michelle Austin and Tyra Scott.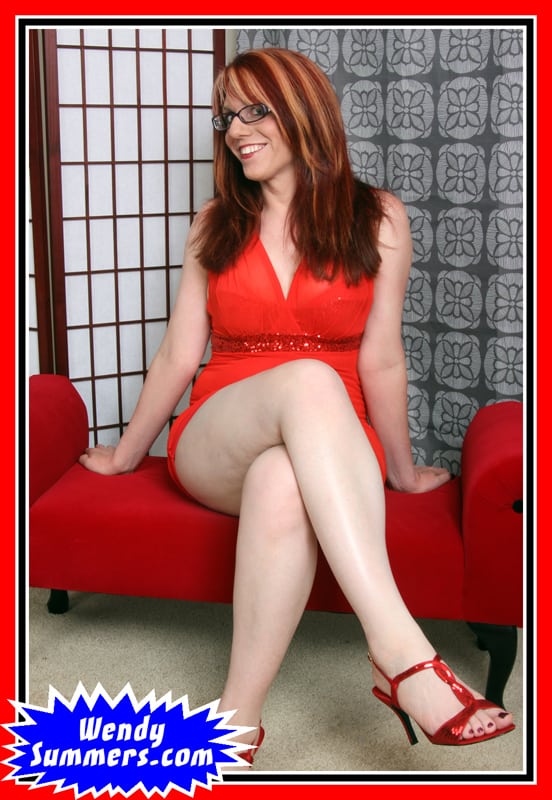 Wendy Summers in red at WendySummers.com
Wendy Summers : Transgender Spokesperson & Advocacy Work
Ever since her early days as an iFriends chat host, Wendy Summers has played an important role in promoting transgender porn and highlighting its immense crossover appeal with heterosexual porn. For instance, during March 2012 Caramel's TGirls interview, Wendy took some time to endorse the practices of iFriends and similar chat room models who have bridged the gap between TS porn and heterosexual porn even further;
"To folks in the know, there's a large amount of speculation that the cross-over market between transsexual and heterosexual porn exists.  But past efforts to try to tap into that have failed due to a lack of understanding of the true interplay between these markets.  Coupled with the transphobia which still pervades elements of the adult entertainment business it's no wonder many are afraid to explore this untapped market. Folks eyes are slowly opening up to the potential, and I think the iFriends model may provide clues on how to make this work on a broader scale".
In fact, Wendy's official solo website has even been nominated for a Feminist Porn Award in 2014. Speaking about this landmark achievement via an XBIZ press release, Wendy conveyed how;
"I never set out to build a feminist website; I simply wanted to make porn that was fun and reflective of who I, and the other talent I work with, are as people. Receiving a nomination from the Feminist Porn Awards is truly an honour and a validation of the type of work I do. My biggest challenge with the nomination is I now have to overcome the perception of being a stereotypical feminist".
In addition to highlighting important issues which impact trans performers, Wendy has also used her significant adult film industry influence in order to offer advice and support to aspiring porn stars. During her Caramel's TGirls interview Wendy outlined her three fundamental principles with regards to working within the adult entertainment industry;
"Three things.  If you want longevity, figure out what sets you apart from everyone else.  There's new faces each year who will be younger, prettier and more willing to do things you won't.  Anyone who has lasted more than a few years has an identity, a niche, which they own. Figure out what yours is and own it…
Second, diversify your efforts in Adult Entertainment… most can't live on just porn; don't just model for others, but develop and monetize content of your own; learn how to webcam; learn about affiliate programs.  A little bit of work in all these areas can yield a sustainable income…
Third, interact with your fans.  Being open and friendly with them… they are the ones who bring you success; it has nothing to do with you.  Give them with the same respect you'd treat a friend with".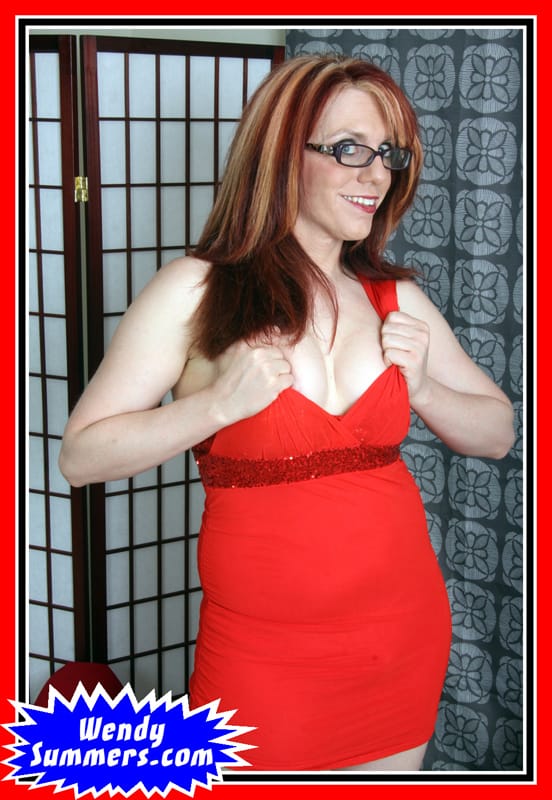 Wendy Summers loves her red dress at WendySummers.com
Wendy has often utilised her official solo website and adult film industry influences to showcase aspiring trans performers. For instance, Wendy chose Chelsea Poe to be the first guest model ever to be showcased via WendySummers.com. Wendy directed and photographed Chelsea Poe in a saucy solo set titled Not Your Fuck Toy that was promoted via Wendy's official solo site in May 2014. Wendy has since used her prominent porn star status to sponsor the TEAs (Transgender Erotica Awards). Speaking within a Grooby Network press release about her upcoming sponsorship of the 2014 TEAs, Wendy conveyed how;
"I've always been a 'grassroots' sort of pornstar…My success has been driven entirely by the support of my fans. I sponsor the Tranny Awards to say thank you to all my fans.  It's an amazing event. Where else can the guys who dig our work in TS porn meet so many of us in one night?".
Steven Grooby, founder of Grooby Productions, praised Wendy's ongoing sponsorship of the Transgender Erotica Awards within this October 2013 press release and advocated that;
"We are thrilled to have Wendy as our first sponsor for the upcoming Tranny Awards…In addition to being a past Tranny Award winner and sponsor, she's an absolute pleasure to work with.  Her sponsorship starts the Tranny Award season on a high note and I'm looking forward to seeing her again at the show. You just never know what kind of surprises she has planned for her fans!".
As a result of her adult film industry influence and ongoing transgender advocacy work, Wendy was one of a select few performers chosen to participate in Dave Naz's groundbreaking adult film documentary Identity: In & Beyond The Binary. This 60 minute documentary featured interviews from adult film professionals such as Buck Angel, Michelle Austin, Birdmountain, Jonelle Brooks, Eva Cassini, James Darling, Afro Disiac, Jade Downing, Evie Eliot, Jenny Elizabeth, Michelle Firestone, Foxxy, Jamie French, Khloe Hart, Mia Isabella, Tasha Jones, Kristel Penn, Jiz Lee, Eva Lin, Kelli Lox, Venus Lux, Mandy Mitchell, Chelsea Poe, Andre Shakti, Kendra Sinclaire, Stefani Special, Tiffany Starr, Tristan Taormino, Courtney Trouble and Wolfe Moon in order to reveal the experiences and personal revelations that each of these trans, gender queer, butch and queer performers have faced with regards to their gender identity. Speaking about this landmark project with a Grooby Network press release, famous adult film photographer Dave Naz divulged how;
 "When I started photographing the subjects for this series and hearing their stories, I knew I needed a video camera rolling…I got that camera, and the result was an interesting & insightful glimpse into their lives".
You can watch the entire Identity: In & Beyond The Binary via Dave Naz's YouTube channel.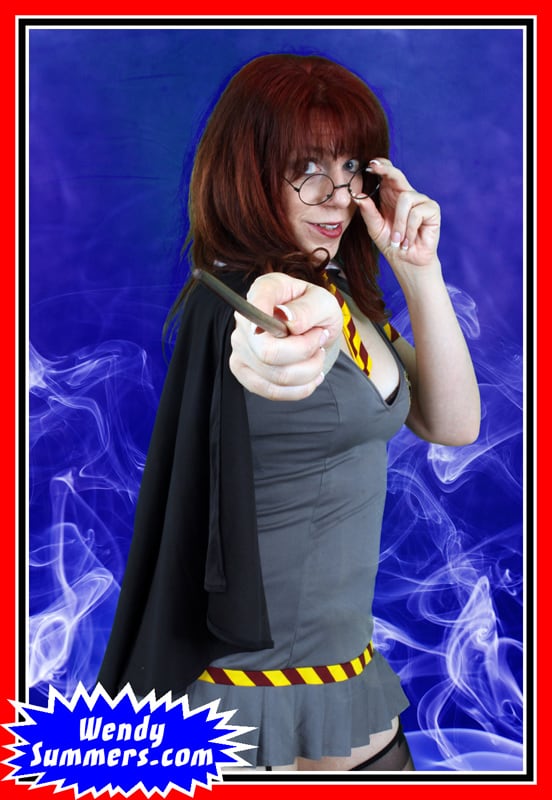 Wendy Summers at WendySummers.com
Wendy Summers : Latest Releases & Future Plans
As matters stand, Wendy continues to manage her official solo website and shoots with all manner of trans-friendly porn sites such as TGirl Pornstar, SMC Network and Trans500 . Wendy remains a frequent feature upon her friends and fellow performers' solo sites including WendyWilliams.XXX and TSMichelleAustin.com among others. Wendy is dedicated to producing, filming and starring within her own Wendy Summers.com video clips and has created her own cornerstone within the TS porn industry that is devoted to showcasing uniquely colorful and fun content. As Wendy herself aptly puts it;
"However you want to view it, the website is imbued with my personality; there's life and fun in these sets.  These aren't sets named by the colour of the lingerie I'm wearing.  In my mind, TS porn takes itself way too fucking seriously.  A pretty face, on a pretty set getting a pretty fuck. Now don't get me wrong: THAT's a formula that sells.  Companies like Grooby and SMC wouldn't have their longevity if they weren't "doing it right".  But it doesn't ALL have to be that….By letting the reality of my life shine through (be it my love of geeky stuff in sets like "Captain Cave girl" or "Set Phasers to Cum", expressions of my own desires to have  someone special in my life — "Movie Night", or just self indulgent explorations of shit I love — "Grinding with You aka Coffee porn"), I'm adding another layer to the typical wank and fuck fests folks are used to seeing.  A few years back I read an article about Sasha Grey during her peak in porn and the author posited her ability to make the viewer feel like she really dug what she was doing was why so many found her hot.  By making these sets fun for me to shoot, I'm finding I show that level of enthusiasm on film…I feel that personality adds another level to the eroticism of a scene from that voyeuristic viewpoint.  But even more so, it makes the scenes fun for me to shoot.  I don't need to do porn.  I've got a full-time corporate job.  Even if that ever falls through, I could make a living doing webcam full-time.  I shoot porn because I love it.  So if I can make a scene more playful by incorporating my interests then fuck yeah!".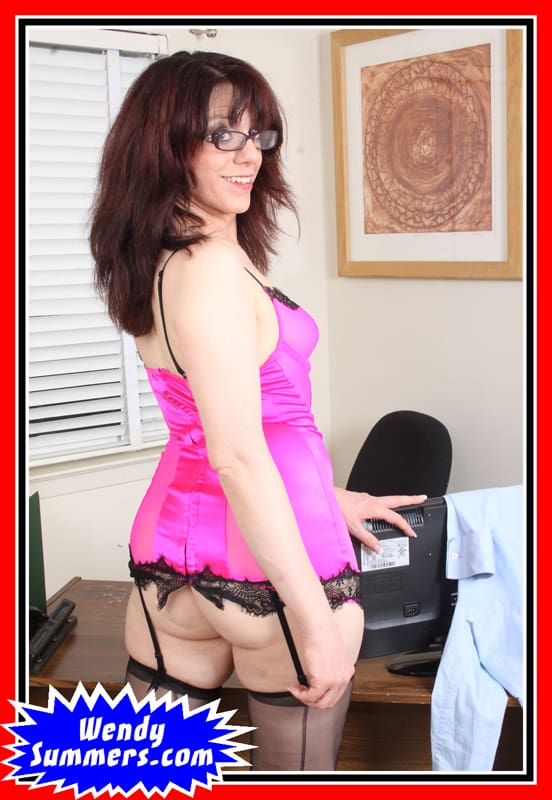 Wendy Summers at WendySummers.com
When she isn't working on her latest adult film projects, Wendy loves mountain biking and cooking in her East Coast home. Within previous interviews Wendy has also divulged her passion for epic tales, comic books and graphic novels; professing a love of the Atomic Robo and Mouse Guard series as well as the X-Men and Avengers Academy franchises and any other comic book series featuring artwork by Scottie Young! A prolific reader with a broad spectrum of interests, Wendy enjoys reading science fiction and fantasy novels as well as delving into Comparative Mythology academic essays in her spare time. Ever the natural born artist at heart, Wendy regularly visits local art museums and has voiced her preference for sculptures over paintings within her Caramel's TGirls interview;
"Show me an impressive composition, an innovative use of line or a brilliant spattering of colour and I'm entertained for hours… literally.  None of my friends will go to art museums with me because I can spend hours on a single piece that captures my eye.  LOL if I like something I really dig getting into the details of it — getting to know the piece of art like an old lover.  To study the little lines, the tiny details intimately knowing all the crevices… you get the drift".
Thankfully, upon being asked about her long term adult film industry plans and the possibility of retirement Wendy ardently stated;
"Retire?  Fuck no! LOL.  Honestly, I see the rest of my years being spent in porn on a business level.  I come from a strong business background having worked in corporate finance, marketing and data management.   Those are skills transferable to any endeavour". 
So if you'd like to keep up to date with Wendy Summers' latest live chat sessions, epic online sex scenes and upcoming public appearances then please do not hesitate to visit her official social networking channels online today. Links for all of Wendy's social media platforms have been listed below so that you can interact with the Queen of Personality Porn herself and catch up on her collection of unique, enthusiastic and thoroughly compelling content!
Social Networks
Official Website : WendySummers.com
Twitter : @WendySummerscom
Adult Empire : Wendy Summers Movies