Whitney Wright
Whitney Wright's Twitter : @whitneywrightx   Instagram : @whitneywrightxo   Camsoda : whitneywright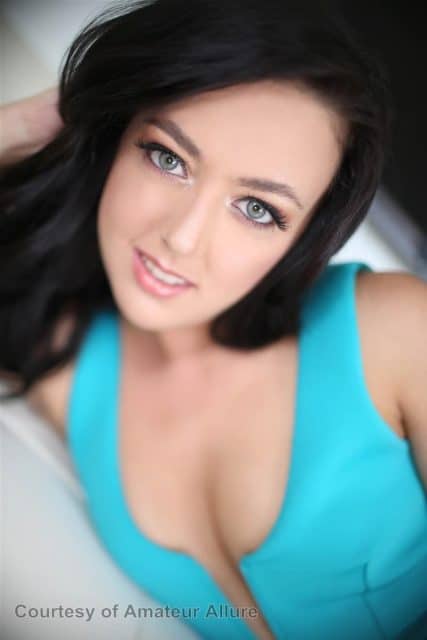 Whitney in Cum Swalling Auditions #28 – Amateur Allure – Adult Empire Galleries
Whitney Wright – Personal Info
Name : Whitney Wright
Date of Birth : September 20th, 1991
Hometown : Oklahoma (US)
Measurements : 34B – 25 – 36
Height : 5'6 (1.68m)
Hair Colour : Black/Brunette
Eye Colour : Green/Blue
Piercings : Navel
Pets : A kitten. Whitney is an ardent animal lover who mentioned in her December 2016 Adult DVD Talk interview that; "I'm getting my Mercy For Animals in a couple of days and I'm going to downtown LA to pass out pamphlets. I'm getting involved with shelters. I recently adopted a kitten. I'm always looking for new ways to get involved with animals".
Years Active : 2016 – present
Number of Scenes : 100+
Introducing Whitney Wright; a stunning Spiegler Girl who made her adult film industry debut in 2016. In a short space of time, Whitney Wright was nominated for "Best New Starlet" at both the AVN and XBIZ Awards due to her sensational sex scenes for Babes, Evil Angel, Mile High and Pure Taboo. Definitely one to watch throughout 2018!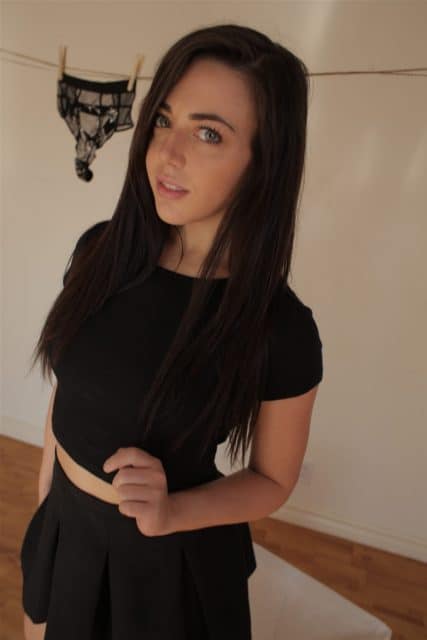 Whitney Wright in Bang Maids – Evil Angel – Adult Empire Galleries
Born and raised in Oklahoma, Whitney Wright has Welsh and Native American heritage. Whitney had a small town upbringing and attended a private Christian school. Whitney has fond memories of her childhood and expressed in her December 2016 Adult DVD Talk interview how;
"I grew up in a small town in Oklahoma, in a town, not the country or anything. It was good, I had a great life growing up. My mom raised me and my sister and we had a great family. I went to a private Christian school my whole life from pre-school to senior year. Looking back, I'm definitely grateful for it because it fleshed out my personality and taught me how to treat other people. Throughout all of high school, I was the funny, not-so-popular one. I lost my virginity at 15 with my first boyfriend. We're still really good friends today. He's a news anchor in Texas and we still talk every once in a while. But he doesn't know what I do. (laughs)".
Whitney has always been an incredibly active individual who played basketball and volleyball throughout her high school years. Whitney is also a skilled dancer who mentioned in her December 2016 Adult DVD Talk interview that;
"I played basketball and I played volleyball in my spare time. I've always been very active. I still go to the gym today. I love to swim. Dancing? I love to dance… I can put one ankle behind my head, not two. I used to be able to get really close to doing the splits but, since I stopped, I lost a little flexibility. I run and lift weights and still go to the gym".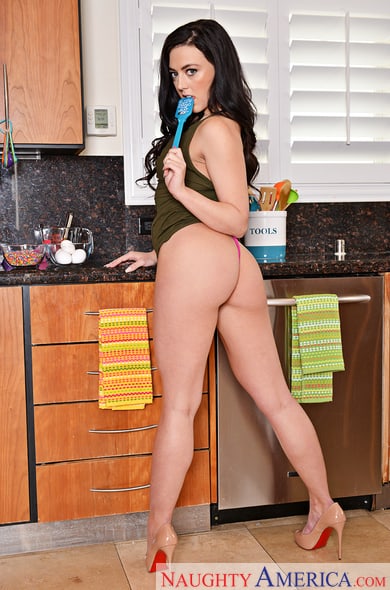 Whitney Wright at Naughty America
As a matter of fact, before she began pursuing a career as a porn star Whitney performed as an exotic dancer in clubs across the United States in Oklahoma, Texas, New York and Miami. You may be interested to learn that Whitney is also a skilled lyra and aerial silks dancer! After graduating from high school Whitney attended college and she has studied to attain her nursing certification. As Whitney herself explained in her December 2016 Adult DVD Talk interview;
"I went to college for two years. I'm getting my prerequisites for nursing. Technically, I could just have my transcripts transferred here and get into a nursing program. But I don't think I want to do nursing for the rest of my life".
Wondering how Whitney discovered her porn star potential? Well, Whitney's decision to make her adult film industry debut actually came about after reading a Cosmo magazine article about a girl who had become a porn star. Inspired by this performer's story, Whitney submitted some pictures online and before you know it she was shooting her first ever scene for FTV! Whitney discussed this pivotal period of her life in her December 2016 Adult DVD Talk interview, highlighting how;
"My whole life has been a series of impulsive decisions that I followed through with and didn't really think of the consequences. Usually, it's gone pretty well for me. The website was an impulse thing and I started dancing before I got into porn. That was an impulse thing too. I went with a guy friend one night, never danced before. He was going to go alone and I said, 'Don't go alone, I'll go with you and we'll have fun.' I went and got super drunk on margaritas. A few of his regular girls said, 'You're so hot! You should dance! I have some extra shoes in the back!' So I said, 'Yeah!' I put her shoes on, I went up there and made a total fool of myself. I fell out of one of my shoes while I was dancing.
I even had two girls come up to me and they said, 'You're a pretty big mess right now. You need to pull it together.' I totally bombed but when I got off-stage, one of the female managers came up to me and said, 'I really like you. You're super hot. You want a job here?' She didn't say anything about the dancing of course. I was still drunk and just said, 'Hell yeah!' I thought I would just stay for a week after that. But, of course, when you're a new girl, all the guys want you because they can sense the awkward, Bambi, deer-in-the-headlights look. I stayed and did really well. Within a few months, I ended up being the #2 earner in the club. I started going to pole dance classes and looked online to see what to do with my clothes, my makeup, how to talk, how to label people into categories and I did pretty well for myself. That was another impulsive decision that turned out really well…
Then one day I was reading this Cosmo article. I forget the gist of it but it was about this girl who was in college and started doing fetish work, foot fetish and the like. Then she got into porn and was making really good money. I've always been a little risky anyways and that sounded so crazy and exhilarating. I wondered if I could do that so I submitted my pictures. My agency found me and now I'm out here for 3 months. It's been great! That's another decision that turned out really well".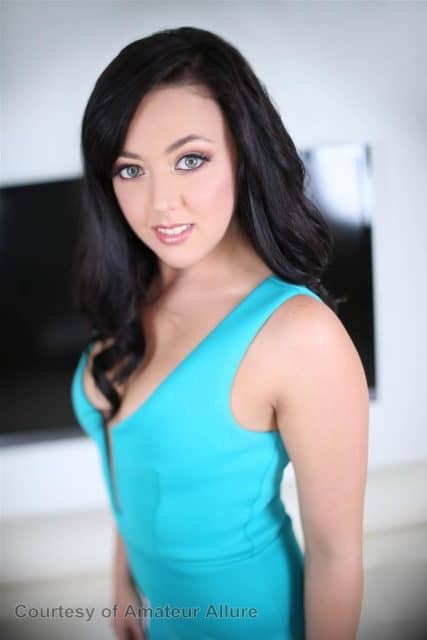 Whitney in Cum Swalling Auditions #28 – Amateur Allure – Adult Empire Galleries
Whitney Wright : Adult Film Career
Whitney filmed her first ever sex scenes in 2016 for the popular porn site FTV Girls. Despite her initial nerves, Whitney enjoyed shooting her adult film industry debut and divulged during her December 2016 Adult DVD Talk interview that;
"I was a little nervous. I was more excited though because it was something new and it was exhilarating and exciting to be finally doing it. I got rid of the nerves pretty quickly. My first scene was with FTV. It was just really great. The guy I worked with was really great and easy to get along with. He was cooperative and understanding that it was my first scene. It was really laid back".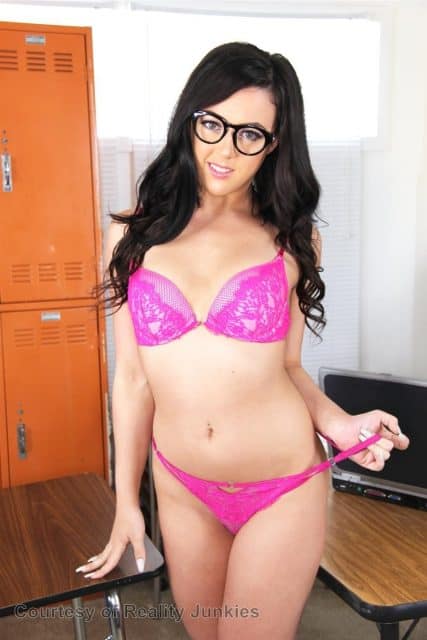 Whitney in Straight A Students – Reality Junkies – Adult Empire Galleries
From this point onwards Whitney began to star in several best-selling porn productions including Seduced By The Boss's Wife 7 (2016) for Devil's Film, Oral Xperts Volume 4 (2016) for Jay Rock Productions, Family Friendly (2016) for Digital Sin which was nominated for "Best Taboo Relations Movie" at the 2018 AVN Awards, Amateur Introductions 24 (2017) for Amateur Allure which won "Best Amateur/Pro-Am  Movie" at the 2018 AVN Awards and Bad Babes Inc. (2017) for Adam & Eve which was nominated for "Best Comedy" at the 2018 AVN and XBIZ Awards.
But that's not all! Whitney is also a popular girl/girl performer who has starred in several epic all-girl DVDs. We recommend checking out her saucy scenes with Lena Paul in Lesbian Schoolgirls (2017) for Airerose Entertainment which was nominated for "Best All-Girl Movie" at the 2018 AVN Awards and "All-Girl Release of the Year: Non-Feature" at the 2018 XBIZ Awards, her raunchy role-play with Alex Harper in Yoga Girls 4 (2017) for Addicted 2 Girls as well as her steamy Lady Boss: The Research Assistant shoot with Angela White and her Will Work For Pussy scene with Natalia Starr that were both promoted via Girlsway.com in January 2018.
A landmark moment in Whitney's adult film career came in March 2017 when she filmed her first ever anal scenes with Mick Blue for Tushy.com. When she was asked about shooting her anal debut during her Sinful Magazine interview, Whitney conveyed how;
"I had so much fun that day. The whole crew and my scene partner helped me feel prepped and relaxed and I was very grateful for that. Every detail was taken care of and I thought that the pictures and scene came out well…I've already filmed five more anal scenes since then and have many more scheduled. It takes some getting used to but it gets easier, but my last two were so great and went so smoothly".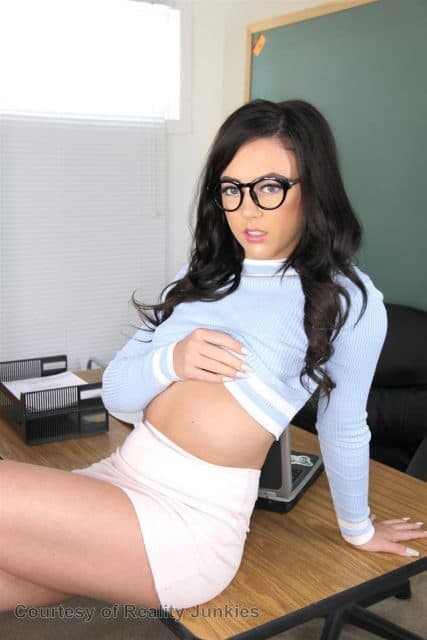 Whitney in Straight A Students – Reality Junkies – Adult Empire Galleries
You'll be happy to hear that Whitney has since featured in several fan-favourite anal themed DVDs including Anal Cuties 7 (2017) for Hard X, Anal Domination 3 (2017) for Deviant Entertainment, the LeWood/Evil Angel DVD She Loves Anal (2017) and Mick's Anal Teens 6 (2018) for BAM Visions/Evil Angel featuring Andi Rye, Rebel Lynn and Saya Song.
Previously represented by Plush, in 2017 Whitney signed with the exclusive adult film talent agent Mark Spiegler. Talking about how she became a Spiegler Girl during her November 2017 Adult DVD Talk interview, Whitney explained how;
"Basically, after my contract with Plush was up, I decided to go independent instead of resigning because I had a different idea of where I wanted my career to go. I want it to go as far as I can take it, basically. I felt that Spiegler was the best. If I was going to sign with anyone, I wanted it to be the best and, to me, Spiegler was the best. Other agencies offered me one-month contracts but I turned them all down because I was waiting for Spiegler. Well, first I was waiting for my first IR scene, then Spiegler. I thought I should be able to say that I do more. And then things fell into place".
Throughout 2017 Whitney featured within a wide range of thrilling taboo relations titles, swingers themed DVDs and fetish porn productions. Interested in exploring Whitney Wright's captivating kinkster side? Then you'll love viewing her saucy scenes in My Cute Little Stepsister (2017) for New Sensations, her sizzling scenes for the Fetish Network porn sites OperationEscort.com and TeenCreeper.com, and her epic group sex scene with Chloe Scott, Sophia Grace, John Strong, Marcus London and Seth Gamble in the Devil's Film DVD Neighbourhood Swings 19 (2017). Whitney enjoyed shooting this raunchy group scene with Chloe Scott and enthused in an AVN press release how;
"Working with my best friend Chloe Scott was awesome…We're roommates and we both are already so goofy in our personal lives and we loved laughing and joking around and the scene came out really well".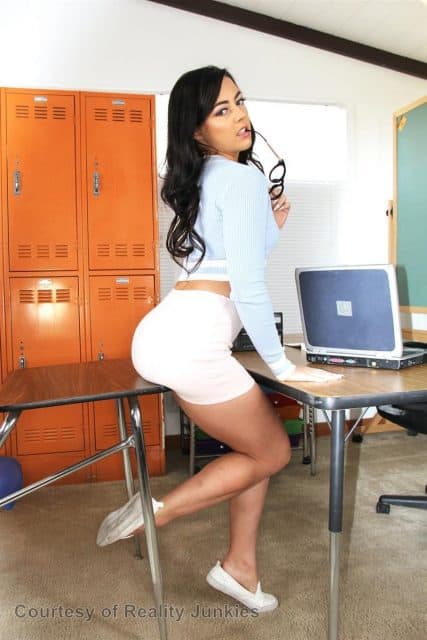 Whitney in Straight A Students – Reality Junkies – Adult Empire Galleries
Most recently Whitney has starred in the thrilling taboo relations titles My Dirty Family 4 (2018) for Diabolic Video and My Stepbrother Took My Ass (2018) for Zero Tolerance featuring Alexa Nova, Chloe Cherry and Riley Nixon. Talking about her personal kinkiest experiences in her Sinful Magazine interview, Whitney raunchily revealed that;
"The most sinful thing I've ever done in my private life would probably be participating in swinger's parties… participating in a lot of them. [Laughs] Anywhere from hot tub orgies in Cancun to sex swings and bondage crosses in Vegas. All involving several men and women and alcohol. I had a pretty wild life before porn".
Without a doubt, many of Whitney's most thrilling forbidden erotica scenes have been those which she has filmed for the pioneering new production  company Pure Taboo. Thus far Whitney has starred alongside India Summer and Robby Echo in A Mother's Choice (2017), she filmed The Pickle with Tyler Nixon in January 2018 and she shared a compelling Prom Night group sex scene with Codey Steele, Kyle Mason, Matt Sloan and Robby Echo in November 2017. Whitney discussed her Prom Night shoot in greater depth in a November 2017 Adult DVD Talk interview wherein she explained how;
"I play this girl named Julie who is 18, in high school, and has been a loner her whole life. She gets asked out by the popular guy in school to her prom. She's pretty excited but she's also really suspicious because she has no friends, sits alone in the library and doesn't really talk to anyone. She's really ecstatic and her mom is helping her get ready for prom. She's starting to doubt herself and her mom says, 'Julie! Relax, have fun, it's going to be a blast!' She says ok and gets picked up by this guy who is perfect. They start making out and he asks if she wants to pull off and go somewhere to mess around a little bit. She says, 'Yeah!' So they do that and they pull up to the park where there are all these cars.
She's wondering what's going on and he's yelling, 'Hey boys, I brought her, just like I said I would!' And it ends up as a prom night gangbang with all of his friends…I thought it was a perfect role for me because I'm shy and reserved. I told Bree (Mills) that I never got to go to prom because I went to a private Christian school so she get me a prom dress and a corsage and everything. (laughs)…Bree had not previously worked with me. I posted something about my Fetish Network shoot where I had to act like I was stranded. She saw me post that and then called me the next day to shoot for Pure Taboo. It turned out pretty good. The first one was A Mother's Choice and then this one was Prom Night".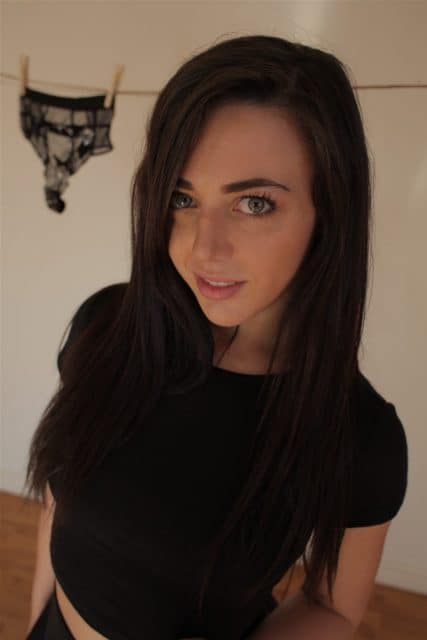 Whitney in Bang Maids – Evil Angel – Adult Empire Galleries
Director Bree Mills had high praise for Whitney Wright's Prom Night performance and advocated in a November 2017 AVN press release how;
"Whitney is fairly new to the business and already she's such a passionate performer…did an amazing acting job, conveying the fear, anxiety, anticipation and desire of her character perfectly…This is the extreme version of the classic 'losing your virginity at prom' scenario mixed with taking a wrong turn into an unknown location and that fear of 'Where are you taking me?'".
Whitney enjoys tackling these complex characters and conveyed in her November 2017 Adult DVD Talk interview that she would like to pursue more acting roles in the future. As Whitney puts it in her own words;
"I love acting! And I'm really, really looking forward to getting other roles… When we're doing the acting part, I love that. It's my favorite. I don't care if there are 20 takes on the same scene. I just love storylines and making a movie and getting excited but how it's going to turn out…
I just basically try to get really into it. What I try to do is, we all have been slighted somehow in our lives, and I felt, with this, I just had to express feelings of betrayal. My character is usually the one who has been manipulated or someone has been using me as a pawn. I try to imagine how I would feel if this happened to me. I try to harness the energy for the scene from what you felt when it happened to you. I find it to not be hard".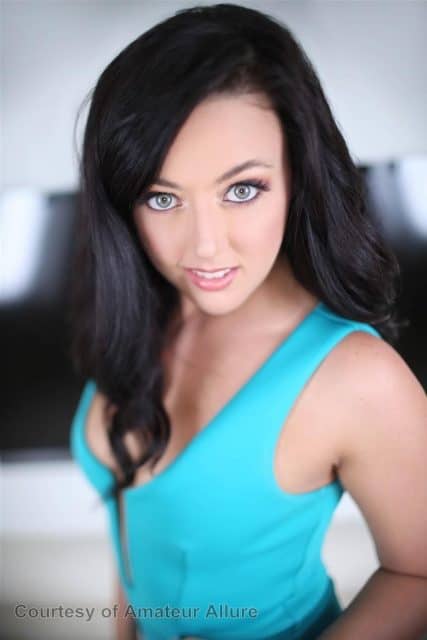 Whitney in Cum Swalling Auditions #28 – Amateur Allure – Adult Empire Galleries
Whitney Wright : Award Nominations & Future Plans
Over the years, Whitney Wright received several coveted industry accolades and notable nominations including;
2017: AVN Awards nominee "Hottest Newcomer (Fan Award)"
2018: XRCO Awards winner "New Starlet" (in a tie with Lena Paul)
2018: AVN Awards nominee "Best New Starlet"
2018: XBIZ Awards nominee "Best New Starlet"
Whitney Wright was thrilled to receive these notable nominations and has enthused in previous AVN press releases how;
"I'm so humbled and honored being one of your 2017 AVN Hottest Newcomer nominees…So many of you have supported me from the beginning and I could not have gotten this far without you. Thank you to all the fans who have voted for me consistently throughout this entire contest. You're amazing!…
To me, being nominated for AVN Best New Starlet means that you've maintained relevancy all year through a number of ways: shooting, self-promoting, interacting with fans, and maintaining a great attitude and reputation. It's seeing the effort that you put into your scenes come back to you".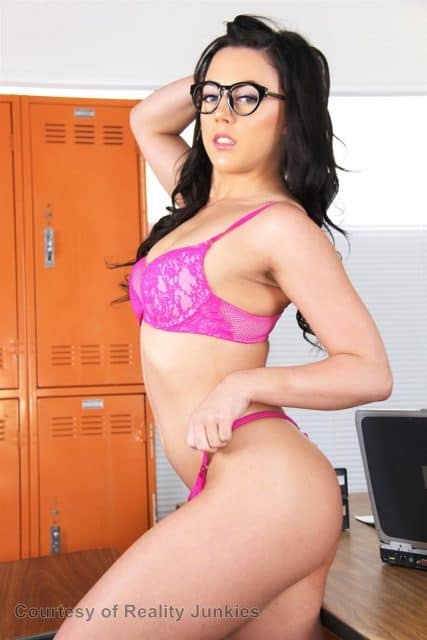 Whitney in Straight A Students – Reality Junkies – Adult Empire Galleries
Wondering what the future holds for sexiest rising starlet Whitney Wright? Dedicated as ever to broaden her career horizons, Whitney hopes to win a performance award in the future. As Whitney herself expressed in her Sinful Magazine interview;
"One day it would be nice to win female performer or a similar award. I feel like I have some ways to go but I believe I have the potential to get there…Coming out here, my only goal was to "make it" in the industry. Which, now being in the industry for seven months, I realize that it's an ongoing process. You must stay engaged and constantly be setting goals for yourself and doing things that you know we're going to bring you closer to those goals. For me, "making it" isn't something that happens and then it stays that way. You must constantly work at it and then stay on top of your game week after week. My first actual goal was to do my first anal scene for Tushy. Once I achieved that I felt so satisfied, and I'm still proud of myself. Now it's onto the next goal".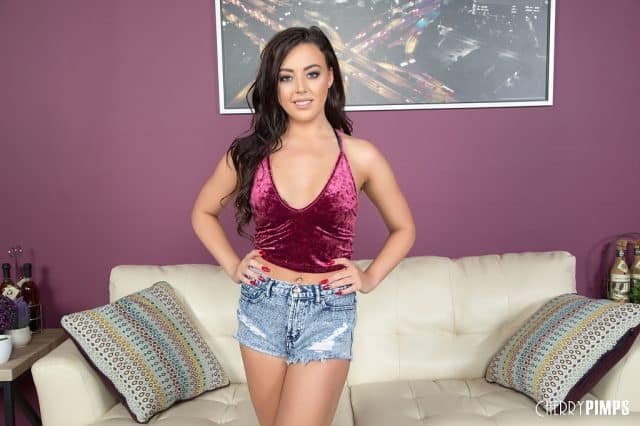 Whitney at Wild On Cam – Cherry Pimps
When she isn't performing in bestselling movies, Whitney Wright enjoys interacting with her fans via social media and hosting some lusty live chat sessions via Camsoda (under the screen name 'whitneywright') and on Cherry Pimps' Wild On Cam channel. Whitney has also met her fans in person at the AVN Adult Entertainment Expo in Las Vegas, Nevada. Whitney enjoys attending these adult film conventions and mentioned in a January 2018 AVN press release that;
"AVN has been so good to me since I started in this industry not so long ago…and the AVN show is an excellent place to meet the fans, as well as conduct business for career future opportunities. I'm so happy to be a part of it!".
Want to stay connected with your favorite rising starlet Whitney Wright? Then use the links provided below to discover all of Whitney's hottest sex scenes, exclusive web content and upcoming projects!
Whitney Wright – Social Networks
Twitter : @whitneywrightx
Brazzers : Whitney Wright at Brazzers
Camsoda : whitneywright
Instagram : @whitneywrightxo
Naughty America : Whitney Wright at Naughty America
Wild On Cam : Whitney Wright at Wild On Cam
The Nude : Whitney Wright at The Nude