Alex Harper Twitter : @alexharpermodel  Instagram : @modelalexharper  Kink Profile : Alex Harper
Alex Harper – Personal Info
Name : Alex Harper
Date of Birth : October 18th, 1993
Hometown : Missouri (US)
Measurements : 34B – 27 – 34
Height : 5'7 (1.70m)
Hair Colour : Red / Black
Eye Colour : Blue
Shoe Size : Women's 7 (US)
Years Active : 2015 – present
Number of Scenes : 30+
Alex Harper is an adult film actress, fetish performer and model who was nominated for "Hottest Newcomer (Fan Award)" at the 2018 AVN Awards. A fan-favourite performer due to her ravishing red locks, statuesque physique and raw sexual charisma, Alex Harper is widely regarded as one of the industry's most popular rising starlets.
Born and raised in Missouri, Alex Harper had a rural upbringing and has mentioned in her May 2016 Adult DVD Talk interview that;
"I was born and raised in Missouri. I stayed there for a while. I grew up with my sister, pretty much in the country. I grew up pretty much a tomboy, started modelling and now I do what I do".
Before she began working in the adult film industry, Alex Harper worked as a fashion model for five years. Talking about her progression from modelling to performing in porn within her May 2016 Adult DVD Talk interview, Alex Harper highlighted how;
"I modelled for about 5 years and people think that I just fell backwards into porn but it was a really slow process. I've been wanting to be a part of the adult industry since I was 18. I didn't end up joining, obviously, at that age. I started with fashion, then I worked my way to nude, then I started doing more erotic and fetish, then some solo stuff and girl/girl, then porn. (laughs)…
I didn't really do runway much. I don't really like that, to be honest, you're just walking in a straight line while being blinded by lights and it's not very fun. (laughs) I've been published, I've been in galleries and all that. I think at one point, I was on a bumper sticker, that was pretty cool".
Alex Harper : Adult Film Career
Alex Harper first began working in the adult entertainment industry in 2015 as a fetish performer. Many of Alex Harper's earliest porn productions were filmed for FM Concepts such as Four Naughty Nudes Play Knotty Games (2015), Tape Bound 23 (2015), Naked and Chair Bound (2015) and Tied Up For Pleasure (2015) which showcased Alex Harper in a kinky bondage shoot with Susan Ray. When she was asked about shooting her first ever sex scenes and the origins of her porn star stage name during her May 2016 Adult DVD Talk interview, Alex Harper divulged that;
"Personally, I was pretty anxious and excited but I wasn't really scared. I'm a pretty open person in general and sexually so I didn't have any doubts or cold feet…
On Google, I went to a name search and put two names together. In two seconds, I was done. The funny part is, if you put 'Alex Harper' in Google, without porn or adult or anything, it'll bring up a children's show on Nickelodeon. (laughs) It's a couple character's name, one was Alex and one was Harper. How didn't I know that? I used to watch that show as a kid".
You may be interested to learn that Alex Harper has since filmed some thrilling BDSM scenes for the fetish lifestyle network Kink.com. Thus far Alex Harper has starred in an Anal Inquisition scene with Xander Corvus for Kink's Sex & Submission web series in June 2017. Alex Harper filmed a Fresh Meat bondage shoot that was promoted via Device Bondage in July 2017 and she appeared in a captivating Anal Extra Credit femdom session with Chanel Preston which was released via Whipped Ass in October 2017. Most recently Alex Harper has starred in an epic Bound Gangbang group shoot with Eddie Jaye, Cody Steele, Cyrus King, Mr. Pete and Donny Sins. Alex Harper also filmed a formidable Training Of O slave training session with Tommy Pistol which were both released via Kink.com in November 2017. Talking about her personal kinkster preferences in her May 2016 Adult DVD Talk interview, Alex Harper explained how;
"With women, I'm 98% dominant. Even if I have a scene or a photo shoot where the other girl is supposed to be the dom, for some reason, I just naturally assume the dominant role. I like seeing people's emotions and their sounds and the way that their bodies move, I'm really into that. But with guys, that's the part where it really depends because, depending on the guy, he can really, really dominate me. But, personality-wise, I'm just outgoing and have dominant traits, it's pretty easy for me to want to peg them. (laughs) I have dommed a few guys in my life before but I haven't found one that I really matched well with. I'm all about, if you're going to put in the effort, you might as well go 110%…
I'm really into Fuda. It's another term for transsexual porn. I'm really into that and I also like bondage…anything that's really fucked up. (laughs) I like age play and all that fun stuff. Regular porn has lost its appeal to me".
From 2016 onwards Alex Harper began to star in a series of best-selling Evil Angel DVDs. Thus far Alex has appeared in Anal Young'uns 5 (2016) within which she shared a thrilling three-way with dynamic directing duo Francesca Le and Mark Wood, Anal Players 3 (2017) and Deep Anal Action 4 (2017) as well as starring in Aiden Starr's critically acclaimed Evil Angel DVDs Lesbian Anal Sex Play (2017) and Slutty Stepsisters (2017) which was nominated for "Best Taboo Relations Movie" at the 2018 AVN Awards and "Taboo Release of the Year" at the 2018 XBIZ Awards. You may be interested to learn that Aiden actually directed Alex's first ever gangbang, titled Alex Harper Bound and Gangbanged by 5 Horny Homebuyers. It was released via Kink.com's Bound Gangbang web series in November 2017. Alex Harper loves working with Aiden Starr and sincerely conveyed in an AVN press release how;
"As far as 'firsts' go, I had been wanting to do a gangbang for 10 plus years, and I finally got to experience the joy of having all of my holes overwhelmed simultaneously…I had the pleasure of working with Aiden Starr, who is one of my favorite directors and people. It was an incredible experience and I'm glad she directed and filmed my first time".
Eager to explore some of Alex Harper's most popular porn productions? Then we recommend checking out Young and Curious 2 (2016) for Digital Sin, Jacky St. James' Sweet Sinner DVD Catfished (2017), Cream Virgins 3 (2017) for Reality Junkies, Interracial Anal 4 (2017) for Dark X, Let's Bang The Babysitter 5 (2017) for Zero Tolerance within which Alex Harper shared an epic three-way with Dana DeArmond and Small Hands, The Dirty Dolls (2017) for New Sensations which was nominated for "Best Ingénue Movie" at the 2018 AVN Awards and Tell Me Something Dirty (2017) for Wicked Pictures featuring Abella Danger, Adria Rae and Asa Akira.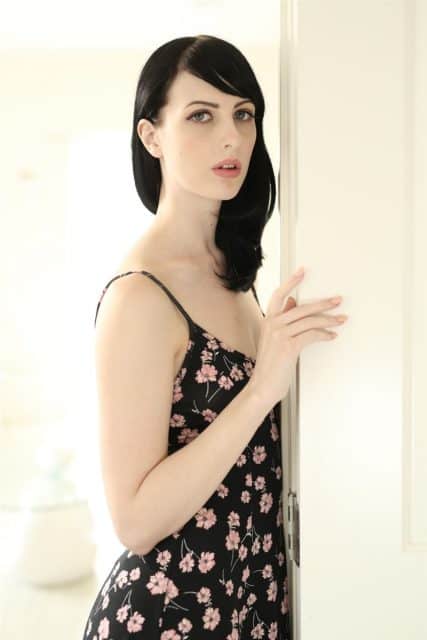 Alex in Interracial Anal 4 – Dark X – Adult Empire Galleries
One of Alex Harper's most popular porn productions to date has been the Adam & Eve action/thriller Agent 69 (2017). Directed by Jay Allan and starring Eva Lovia, Honey Gold and Elsa Jean, Agent 69 was a critical and commercial success which received numerous "Best Editing", "Best Art Direction", "Best Action/Thriller", "Best Music", "Best Cinematography", "Best Music"  and "Feature Movie of the Year" nominations at the 2018 AVN and XBIZ Awards. Director Jay Allan had high praise for Alex Harper and her fellow Agent 69 cast members, commenting within a September 2017 AVN press release that;
"I was very fortunate to get the exact cast I wanted…I was partially inspired by the Jason Bourne films and by The Girl With the Dragon Tattoo. Being stuck on a bridge at midnight with Elsa Jean and Alex Harper is not the worst thing in the world! I cannot wait to see what our fans think of Eva, Elsa, Alex and Honey as secret spies. Shooting almost the entire movie at night was a huge challenge but it looks great so it paid off. I am already thinking about the sequel".
But wait, it gets even better! Agent 69 also received an ardent endorsement from several prominent porn critics including Roger T. Pipe who stated in his December 2017 RogReviews film review that;
"The nominations for Best Thriller, Editing and Cinematography are certainly well earned. Agent 69 is a slick looking spy flick starring Eva Lovia and Mick Blue. They are tracking down a list of agents stolen by a hacker. Along the way they meet and fuck some hot girls. What impressed me the most is how the movie looks. It is well edited and every scene looks gorgeous. The lighting is immaculate and they do a great job of showing off the beauty of the female cast. Eva Lovia has two scenes and looks great. Honey Gold also gets into the action twice…
Moving on to the next phase of the mission, Eva asks Alex Harper some questions. In a matter of moments they take the conversation to the couch and being to disrobe. Hey, if you like pretty lesbian sex in front of a roaring fire, I can already tell you that you are going to enjoy this…
This is a great looking movie with a few outstanding non-sex scenes. Mick Blue following Honey Gold on a train really stands out. It has enough story to keep us interested and if you like super-pretty girl on girl action, will keep you coming back for more".
You'll be happy to hear that Alex Harper has continued to shoot a wealth of sizzling girl/girl scenes. We recommend checking out her Filly Films DVDs I Love My Lesbian Stepsister (2017) and Lesbian Office Romance (2017). Within which Alex Harper shared a sultry session with Blaire Ivory and Lily Cade. Most recently Alex Harper has starred in a saucy Gape Play scene with Casey Calvert that was unveiled via LesbianX.com in January 2018. Talking about her first lesbian experience in her May 2016 Adult DVD Talk interview, Alex Harper divulged that;
"I had my first lesbo experience when I was 20 or 21, so not that long ago. It was with a model, not adult, just a model. It was pretty great. I had been interested in girls for a while but had always been a closet freak. And, once I experienced it, I was, 'Oh, yeah, this is what I like!'… I do prefer guys but everyone loves boobs, c'mon! (laughs)".
Due to her sensational scenes in so many popular porn productions, it was only a matter of time before Alex Harper was nominated for "Hottest Newcomer (Fan Award)" at the 2018 AVN Awards. Alex Harper was thrilled to receive this notable nomination and enthused via an AVN press release;
"I'm very excited to be nominated as AVN's Hottest Newcomer. I had a happy panic attack when I first received the news. This is my first time being nominated for an AVN award and I couldn't be more ecstatic".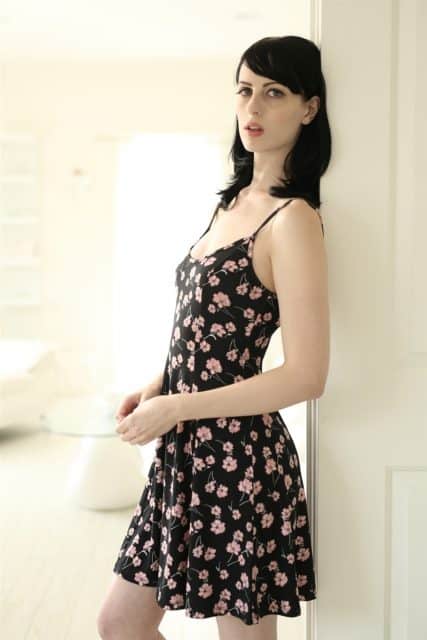 Alex in Interracial Anal 4 from Dark X at Adult Empire Galleries
Currently represented by exclusive adult film talent agent Mark Spiegler, in January 2018 Alex Harper teamed up with her fellow Spiegler Girls Abella Danger, Casey Calvert, Vanessa Sky, Kira Noir, Anna DeVille, Chloe Cherry, Victoria June, Chanel Preston, Anikka Albrite and Kendra Spade. They got together in order to shoot a Spiegler Girls Car Calendar. Talking about her collaboration on this 2018 charity calendar in her November 2017 AIP Daily interview, Alex Harper highlighted how;
"I'm helping organize the Spiegler Girls Car Calendar for the charity; "The Animal Rescue Alliance." Part of the proceeds go to helping local animals get proper care. We're pre-selling calendars through @SpieglerCAL on Twitter and will also be selling at the Spiegler Booth at AVN Expo. Sexy Girls on Sexy Cars for animals, what's not to love?".
As a matter of fact, Alex Harper was a driving force behind the creation of this Spiegler Girls Car Calendar and she mentioned in a January 2018 AVN press release how;
"Kevin Britton from KB PhotoImagery and I had an idea to work on a calendar together…We thought that it'd be great to incorporate Spiegler Girls and exotic cars for an animal charity. We decided to choose the charity, The Animal Rescue Alliance, owned by Kelly Holland. All of the models and car owners involved were very kind to take time from their busy schedules to help our cause. Spiegler Girls are always punctual, stunning, respectful, and all the ladies brought their A game. It was a pleasure seeing everything come together so nicely…
KB is an amazing photographer and I'm glad that he was available to shoot the Spiegler Girls Car Calendar. He has 10+ years of experience with photography, retouching, and graphic design so he was able to not only shoot the calendar, but also design it. Kevin is a part of several automotive groups that helped organize cars for the shoots…
Overall the calendar turned out very well and I'm happy to have helped organize it…We're currently selling them on my ManyVids account, and will also be selling them in person at AEE at the Spiegler Girls, Penthouse, and Kink.com booths for $25".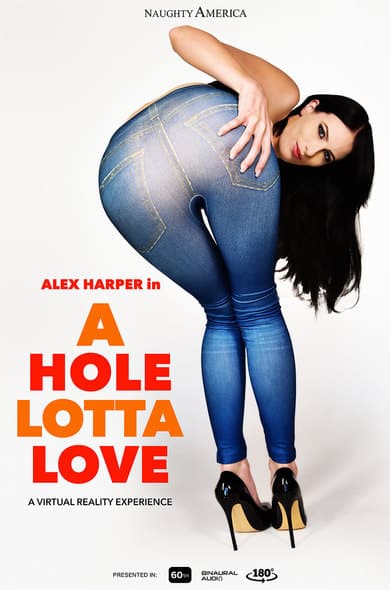 Alex in A Hole Lotta Love at Naughty America VR
So what does the future hold for rapidly rising starlet Alex Harper? As matters stand Alex Harper enjoys shooting custom videos for her fans and has expressed an interest in feature dancing. As Alex Harper puts it in her own words;
"I would love to feature dance because I love dancing and entertaining crowds. I'm not much for camming, but I sell custom videos and those are fun…Most likely a parody scene of all the stereotypes of porn. I'm a fan of comedy and that would just be brilliant and fun to create…The list is far too long but I'd love to work with a trans performer, more specifically; Natalie Mars".
You can keep yourself updated on all of Alex's Harper's exclusive web content and upcoming porn productions using the links provided below. With just a few quick clicks you can stay connected with your favourite rising starlet Alex Harper!
Alex Harper : Social Networks
Twitter : @alexharpermodel
Instagram : @modelalexharper
Kink Profile : Alex's BDSM & Fetish Content
Brazzers : Alex at Brazzers
Naughty America : Alex at Naughty America
AVN Profile : Alex at AVN.com